Wondering what the best things to do in Prague are?! You're in the right place! I've got a seasoned Prague expert here to share her secrets.
I visited Prague last summer on my whirlwind of a trip to Europe that took me to over 10 countries in 8 weeks – there's never enough time! I was only able to spend a short weekend in the magical city of Prague, so I've asked my friend Allison of Seeking Neverland to share her favorite things to do in Prague with us all! I think a return trip is most definitely in order for this girl (me!) 🙂 Enjoy – and let me know in the comments below if you've ever been or have plans to go!
Prague is easily one of my favorite cities. It's an enchanting destination located in central Europe, and a must visit for anyone looking to travel in and around Europe. Prague may be on the smaller size when compared to other major cities throughout Europe, but I promise you there is more to do here than most assume. Here are the top 15 things to do in Prague.
Pre-Travel Guide to Prague
Best time to go to Prague
You will find plenty of things to do in Prague no matter what season you decide to go. The winters are very cold but you get amazing Christmas Markets. And by by amazing, I mean the absolute best in Europe. Prague even offers travel packages just for people to come and visit during Christmas — yes, the markets are that good!
On the other hand, Prague is filled with outdoor activities and beautiful parks. Because of this wonderful green space, I have to recommend the spring/summer months for travel to Prague. I am an outdoors and sunshine gal, so I appreciate the warmer months when I can walk around the city without freezing to death.
Recommended Items to Pack for Prague
Cross-body bag to keep in front of you and away from potential pickpockets. A coin bag since they have a ton of coins in their currency. A light jacket for breezy nights during fall and spring travels. Touchscreen Gloves during winter so you can use your phone without taking off your gloves. Walking shoes – I live in my Converse and black Nikes when walking the whole day. Portable battery charger in case your phone dies.
Where to Stay in Prague
Prague is divided into 10 districts. Prague 1-10. Depending on what you plan to do while in Prague, this will determine where you should stay. If you are looking for a more touristy experience, than Prague 1 would be your best option.
Prague 1 is the biggest and most popular district for tourists. It is divided by the Vlatava River. You have Prague castle on one side (Prague 1) and on the other side of the river you have Old Town Square (also Prague 1).
Prague 2 is a gorgeous neighborhood also very close to the center of the city. It is home to many expats and better food than you will find in Prague 1. Prague 7 is also a great neighborhood for those wanting an even more local experience. It's home to Letna Beer garden which I will explain in more detail below. 🙂
Airbnb is my preferred choice, but if you are looking to stay in a hotel here are my recommendations:
Luxury: Mandarin Oriental
Economy: Ibis Praha Old Town Hotel
How to get around Prague
Prague has a very easy and efficient transportation system such as: Buses, Trams, Subways, and Uber. I have even rented a car to get around. However, I don't recommend a rental car unless you are planning to road trip outside the city. The roads are too crazy.
Uber is ridiculously cheap. Also, the newest tramlines offer free wifi. If you choose to take the trams, buses, and subway you can purchase them at kiosks in metro stations or in their version of convenience stores. Make sure to have plenty of cash on you. An adult ticket costs around 300 CZK ($12) for a 3-day pass. Pretty good value if you ask me.
15 things to do in Prague:
The first timer things to do in Prague:
1. Paddle Boat on the Vltava River.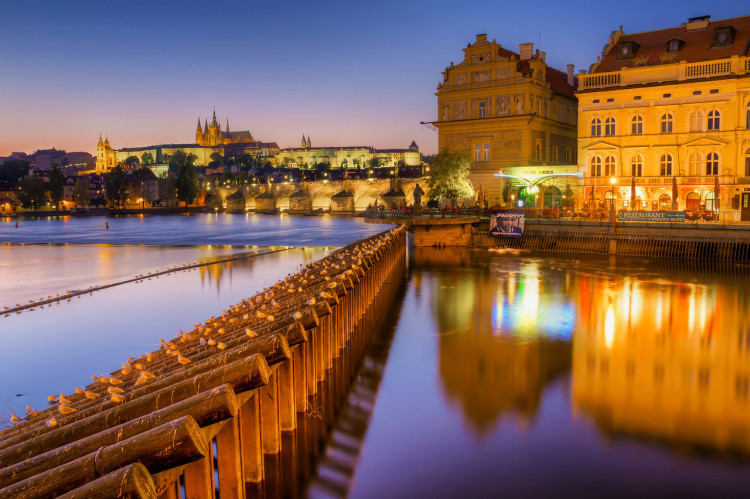 The Vltava River is the longest river running through Prague. Gorgeous buildings, bridges, and swans surround it. For less than 100 CZK you can rent a paddleboat for about an hour and take in the gorgeous scenery.
2. People watch in Old Town Square.
Old Town Square is the most popular square in Prague; home to the Astronomical Clock, restaurants, bars, and museums. Although I don't recommend eating there (tourist trap), I do recommend paying to visit the Old Town Hall Tower and Astronomical Clock. Adults tickets are around 100 CZK ($4).
3. Hang out at a Letna Beer Garden.
If drinking 40 CZK ($2) beer is not your thing, then come for the best views of Prague. You might just make a few furry friends too. Letna Beer Garden is attached to a park with play grounds, grass fields, and walking paths all offering great views of the city.
4. Take a vintage car tour.
If you want a private and comfortable experience then the vintage car tour is perfect for you. Sit back and ride in style as you learn fun facts about the history of Prague. Prices for this tour can range anywhere from 3,500-14,000 CZK ($150-600).
5. Tour the grounds in and around Prague Castle.
The grounds are comprised of various buildings with St. Vitus Cathedral being the main building you see in every photo. They offer various ticket packages with access to few or all the buildings. I recommend going with at least their B package to make it worth your while.
6. Visit the Prague Beer Museums.
Learn about Prague Beer duh and finish with a complimentary beer flight.
7. Go shopping on Parizska Street.
I like to call it the Champs Elysees of Prague. This is where you will find high-end designer brands.
8. Get a photo with the Dancing House.
As someone who has spent a ton of time in Prague, I can tell you, this is the most overrated thing to do in Prague. However, as a first timer you must get a photo with the Dancing House. It's first-timer tradition.
Free things to do in Prague:
9. Stroll down Golden Lane.
They have a free medieval armory museum. You can see dozens of old weapons and even a torture room. Oh my!
10. Admire the colorful Baroque architecture buildings.
What you may not know about Baroque architecture is that some windows have been painted on to keep the building symmetrical. Can you spot the fake windows?
11. Take a photo at the Lennon Wall.
Quite possibly one of the best free things to do in Prague is visit the Lennon Wall. Such an important piece of history, especially in Prague, when younger kids struggled to find hope during communist rule.
12. Go on a Free Walking Tour.
The free walking tours are the best way to see the city. It's told by locals and is always a good time. The best part of the tour is passing through the Jewish Quarters. They teach you a ton about the history of the Jewish people in Prague. The Jewish Quarters is now the most expensive neighborhood in all of Prague.
13. Have a picnic in Vojanovy Sady.
You may be starting to realize I enjoy my outdoor leisure. My favorite park in the whole world (ok in Europe) is Vojanovy Sady. If you are looking to relax while reading a book, having a picnic, whatever then this is the perfect place for you.
For when you are reading to party:
14. Take a shot of Slivovitz without making a funny face.
Pilsner may be the preferred choice of beer around Prague, but Slivovitz is the preferred spirit. It's terribly strong and almost impossible to take it with a straight face. Can you take the challenge?
15. Go on your own bar crawl.
Prague is known to consume more beer than anywhere else, so naturally the bar scene is out of control. My favorite thing to do in Prague is walk around searching for those hidden bars full of character and surprise.
Further Reading and Resources for a Trip to Prague
Prague is a very popular destination, and because of that, there's certainly some very valuable resources to read when planning your trip. A few of my favorite resources include:
Tips for Getting the Right Accommodation for Your Budget
Whether your budget is quite large or you're hoping to visit with minimal expenses, finding the best deal on accommodation is super important. One of the most important parts of travel planning, actually!
TRAVELING TO PRAGUE SOON?
Don't forget travel insurance! I'm a big fan of SafetyWing when traveling abroad. Be sure to protect yourself from possible injury and theft before it happens. Learn more and Sign up here.
Have you been here before? What were your favorite things to do in Prague? If you have any questions, feel free to ask in the comments!
Photos via 0 | 1 | 2 | 3 | 4 | 5 | 6 | 8 | 9 | 10 | 11 | 12 | 13 | 14 | 15