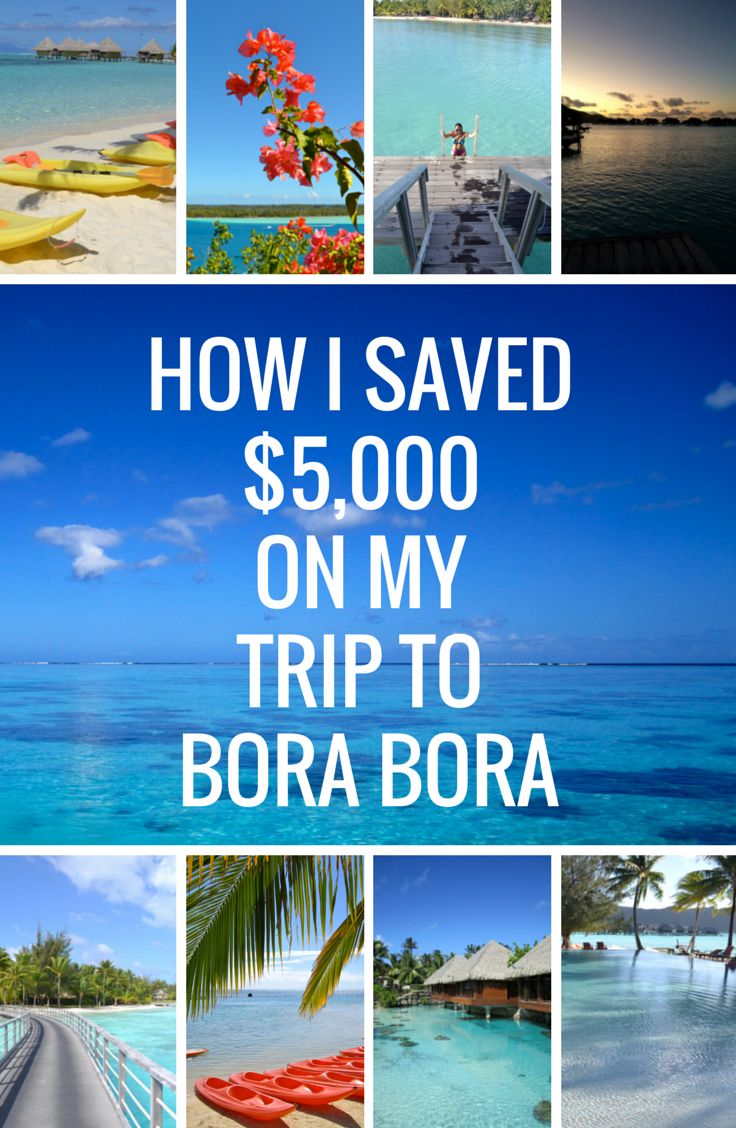 Tahiti is Magical. Stunning.  Peaceful. A true paradise. With it's turquoise waters, luxurious over-water-bungalows, and world-class scuba diving/snorkeling, it's understandable why Tahiti and her islands are at the top of so many bucket lists. 
But all of this extravagance comes at a price. A pretty hefty price tag if you ask me. The average trip to Tahiti costs approximately 10-12k, and can run way over quite easily. 
Being one of the most remote group of islands in the entire world, it's understandable why prices are astronomical. Still doesn't make it right though! AHHHH – that's me screaming at the top of my lungs when I found out just how much a 2-week vacation in paradise would cost…
If you want to save money in Bora Bora, you've come to the right place.
Thankfully, there are numerous ways to cut costs (I compiled a list of 22), which will hopefully make that dream trip a little more attainable. You'll be thanking me in a few when you realize French Polynesia might actually be in your reach.
Save money in Bora Bora by following some of these tips below.  You're pocket (and bank account) will thank you later! 🙂
UPDATE: I've compiled a list of packing items for Bora Bora – many which you probably wouldn't think of! Check it out here!
Best Ways to Save Money in Bora Bora (and Tahiti in General)
1) Use points.
It goes without saying and really is quite obvious, but points can save you thousands and thousands of dollars. Points can be used for both airfare and hotel in French Polynesia, although you'll most definitely need a lot.
We racked up over 200,000 Delta Amex miles (a combination of flying A LOT and their $1 a mile program), and used all of those towards two roundtrip coach flights from NYC to Tahiti. Sure, we took 4 flights to get there, but we got there for free (plus $900 in taxes). 
My husband had a few (well, more than a few) IHG points which he accrued over years of business trips, and we put those towards over water bungalows (!!!!!!!!!!) on both Moorea and Bora Bora. 
Extra Quick tips:
+ On long haul flights (like this one to Bora Bora) I suggest taking some fun inspirational playing cards, an adult coloring book (yes, they exist), and a Kindle paperwhite.
+ If you want some peace and quiet (from your nagging husband – say what? or that annoying chatterbox to your left) noise canceling headphones are the way to go.  My husband swears on these bad boys (I guess that makes me the nagging wife). 😉
Even if you don't travel a lot, you can still come up with ways to earn points. Look out for credit card offers that have a high sign-on bonus, usually in the form of miles. Just make sure to pick one that you'll actually be able to put to good use.
Just know (and come to terms with) that there is no way to use points for interisland flights. And if you found a way, please enlighten me! 🙂 That will help me during my next trip to Bora Bora… when? I'm not entirely sure.. but I'll get back there eventually!
2) Buy alcohol at local markets 
Or beforehand in the LAX airport duty-free. This will really help offset the cost of any alcoholic drinks you may wish to consume. And how could you resist those fresh pineapple and mango mixers?!  Keep your beer cold with a festive cozy like this one and make sure to pack a small cooler (this one's the perfect size) so you can stock up after the market!

3) Bring along snacks from home.
Sure, it might seem silly, but oatmeal packets, small non-perishable snacks (such as pretzels, fruit snacks, granola bars, nuts, etc) and anything else you can shove in your bag are all good items to have on hand in case hunger strikes.
You'll be happy you saved those precious dollars ($30 to be exact) to use on something other than a burger and fries. Plus, who wants to get up once you find a comfy spot on your chaise lounge? Not I!
4) When dining at your hotel, split meals.
Avoid buffets if at all possible (unless you decide to stuff your face at breakfast and skip lunch altogether).
Unless a meal plan is included in your hotel rate, expect to pay ridiculous amounts (think $50pp per day for breakfast alone!) If you're staying at the Intercontinental, share the continental american breakfast one morning, which is brought directly to your bungalow and much more romantic in my opinion. 
Plus, you'll have more money for fun activities, like ATVing in Moorea!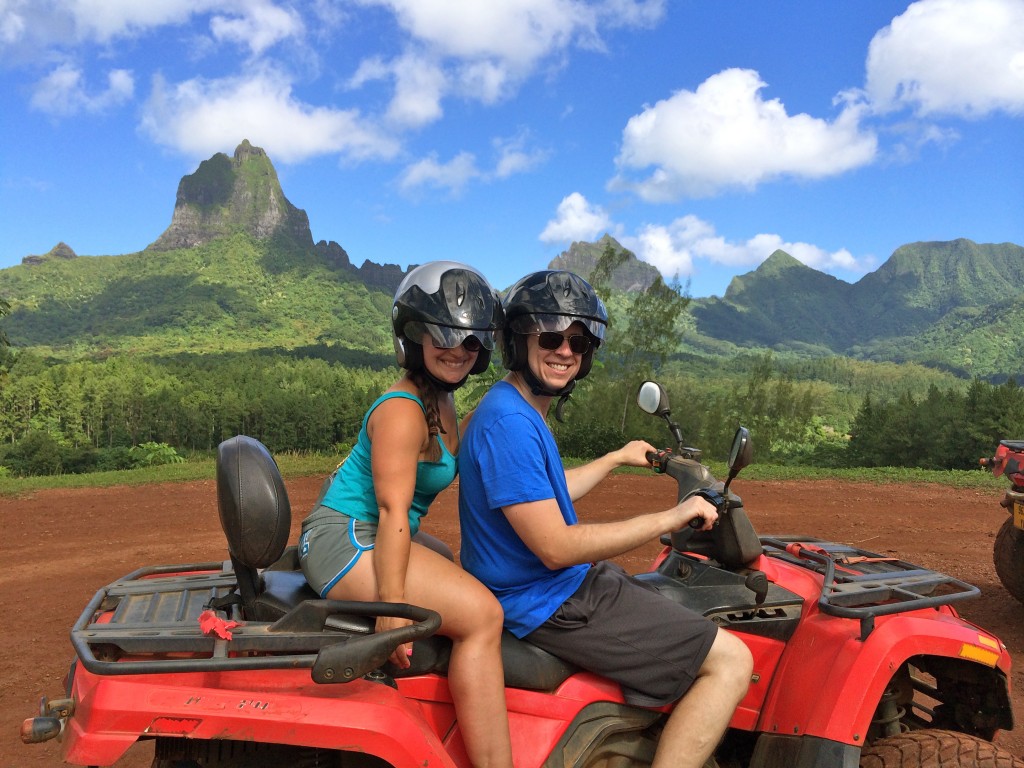 5) Understand the local tipping practices.
Or lack there of. In all of Tahiti and her islands, tipping is NOT customary. Some tourist spots on the larger islands are beginning to request tips, but in general, Tahitians do not expect a tip since it is already included in the final price.
You may offer a monetary tip if you encounter exceptional service, but note that it may not be accepted. We were confused about the tipping customs the beginning of our trip, and shelled out some unnecessary extra dough that we could have put towards cocktails at the pool! Oh well- ya live and ya learn. 🙂
6) Book activities and tours in ADVANCE.
Book through the company directly. I did a ton of research on Trip Advisor beforehand, and was able to contact all companies via email to ask questions and make reservations. If you wait to book through the hotel, you'll pay more and take the risk that the tour is sold out. Not something you want to do on a once-in-lifetime trip.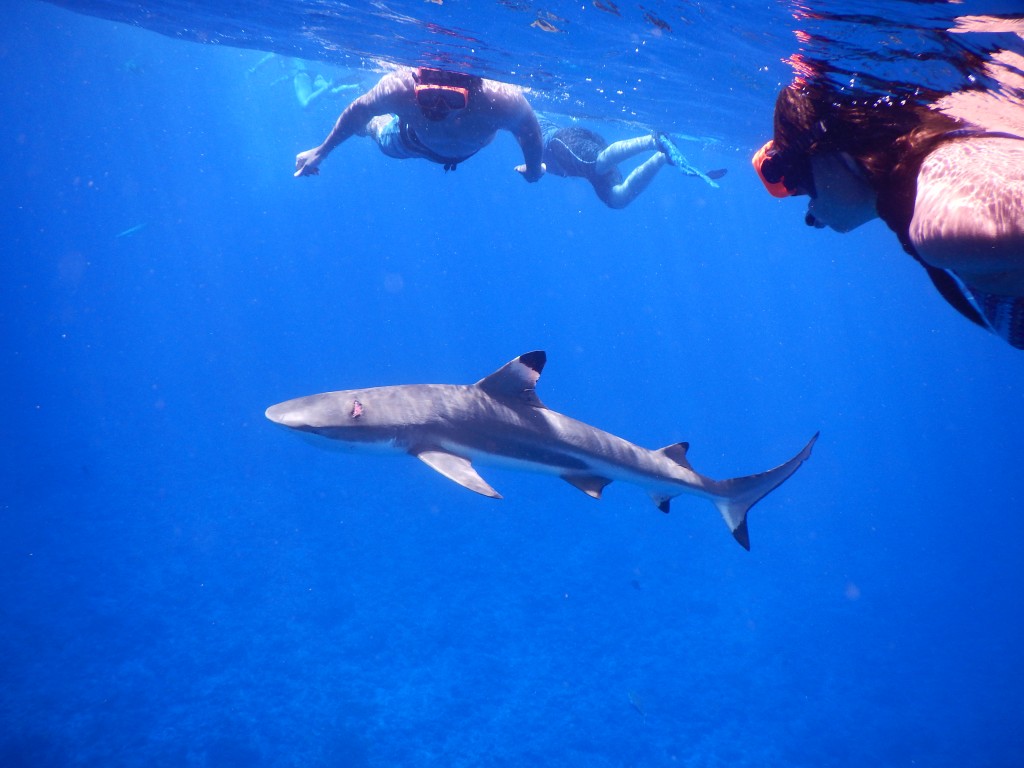 7) Stay in a garden bungalow in Moorea.
Theres really no need for an overwater bungalow here. Save the splurging for Bora Bora – it really is "that" much more luxurious there. On our trip, we decided to upgrade the standard garden bungalow for about $200 bucks a night to a premier OWB.
While we enjoyed our experience and the never ending ocean views (!!!), the water wasn't ideal for swimming and our suite was exceptionally far from the pool and beach area. I'm not one to complain about exercise, but when you want to run to your room to grab a few things, it takes longer than needed.
8) Head to the local markets.
Here you can stock up on fresh juice, water, and Hinano beer. Mango juice was my absolute fave- had it every day! You can also get some snacks here, which are great to munch on between meals if you don't want to order a $12 plate of fries.
9) If you run out of water, refill at the gym.
The water is free here (and it's about the only free thing you'll find at the resorts)! Trust me, those $10 water bottles at the hotel add up pretty quickly.  Just make sure you pack a reusable water bottle.
10) Take advantage of happy hour.
You can't beat 2-for-1 drinks when each one alone is normally $20! Note that this deal is per person, meaning that you technically can't share a happy hour deal.  
They kind of get you this way but it's still a better deal than paying full price.  Drink your cocktails in the pool (on stools at the bar) or on chaise lounges on the beach watching the sunset. Can't go wrong with either choice!
11) Consider Air Tahiti Nui's Island Hopper pass.
If you plan on heading to a few islands, this is a great deal, which starts at around $380 per person.  Definitely seems like a lot, but considering we spent over $1,000 flying from Tahiti to Moorea to Bora Bora and back to Tahiti, we could have saved a pretty penny if we knew about this package beforehand.
Also, taking the ferry from Papeete (Tahiti) to Moorea instead of flying can save you about $45 per person as well.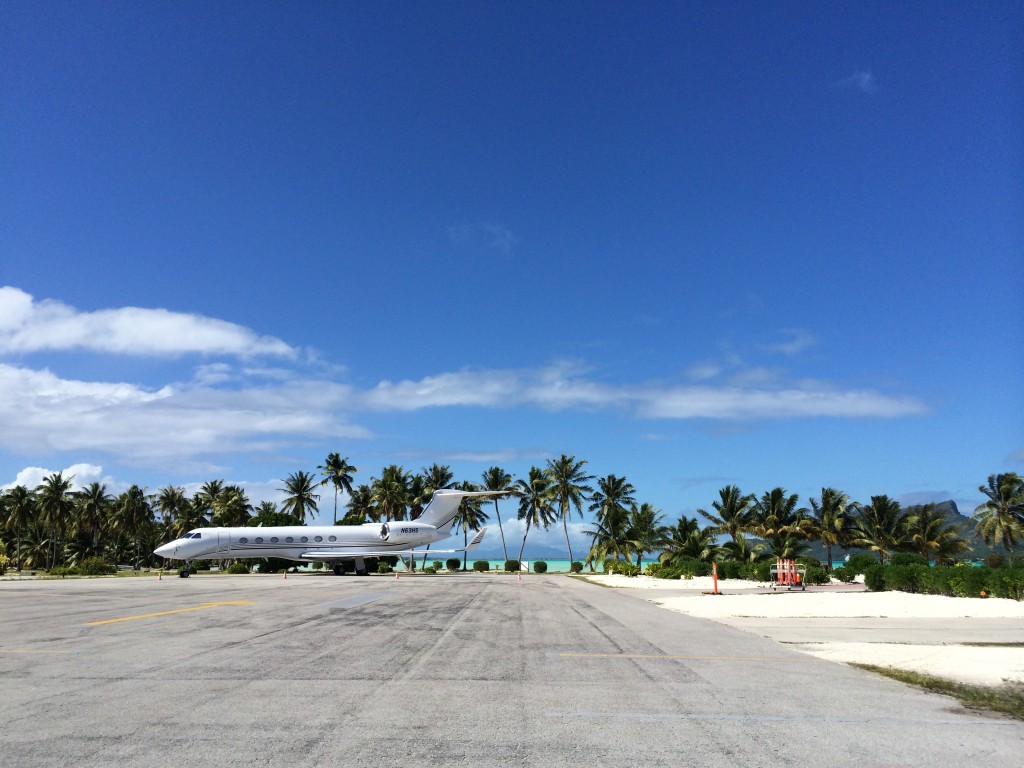 12) Don't be afraid to eat at local restaurants.
After a few days of getting super annoyed by the ridiculously high prices of food at our resort (I was so mad I didn't want to eat), we ventured off the hotels' property and found prices to be much more reasonable. Many restaurants will even pick you up from your hotel for free!
However, do note that some resorts on the motu (in Bora Bora) charge a fee to use the shuttle to the mainland (where most if not all restaurants are located) after certain hours. Be sure to check the schedule beforehand to avoid any hidden fees!
13) Go the lesser known islands.
Bora Bora is by far the most expensive, and you'll likely spend your entire budget in just a few days if you don't plan on staying elsewhere. With that being said, it would be a pity to come all this way (no matter where you're coming from) and not experience the overwhelming beauty of Bora Bora at all.
Promise me you'll spend at least 1-2 nights on this breathtaking, albeit pricy, area of splendid sand. 
14) Go during the low season.
Willing to take a chance on the weather? Travel between December-March (Bora Bora's rainy season), and you'll find lower rates on those ridiculously-priced over water bungalows (normally close to a whopping $1,000 a night!) April and November are also slightly less expensive than during high season, with a lower percentage of rain.
15) Bring more than enough sunscreen and bug spray.
Buying these items in FP can sure be a pretty penny! My advice- bring along a few band aids and anti-itch cream as well. Those mosquito bites can be annoying! Bring along any medications you may need as well, including Tylenol, Pepto, etc. Again, they can be very expensive, especially in the hotel's gift shop.
More ideas on what to pack here!
16) Do not overpack!
For real! You'll only need about half the clothing as you think you do (c'mon, you'll be in bathing suits all day)! Air Tahiti Nui (the only airline that flies inter island) charges a hefty fee for any bags weighing over 44lbs, which is less than the standard 50lbs on most US airlines.
17) Avoid credit cards that charge foreign transaction fees!
This goes without saying, but who wants to return home from paradise only to find unwanted charges on your bank and credit cards?!
18) Get some local currency (XPF) at a bank before your trip.
Using an ATM in the airport is a smart choice as well. Don't wait until you get to your hotel- they usually have the worst conversion rate.
19) Take advantage of free activities at your resort!
Our hotel, the Intercontinental Thalasso, provided guests with kayaks, stand up paddle boards, snorkeling equipment, and paddle boats free of charge. Can't get cheaper than that! You could easily spend a few days entertaining yourself on the water.
20) Book a package deal.
If you don't have lots of points at your disposal, booking a vacation through a travel agency can be a great way to save a bunch of cash. Make sure to choose one who specializes in French Polynesia, as they are usually able to include free upgrades and score you extras for your trip at no extra cost to you.
A great suggestion is Pacific for Less- two of my friends trusted them for their honeymoon plans and couldn't have been happier!
21) Forgo planned tours and activities and explore on your own.
French Polynesia has some of the best snorkeling in the world, so bring your own snorkel gear (these come highly recommended) and view the diverse underwater world. Other ideas include to rent bicycles and ride around the island, go hiking, and sunbathe on Matira Beach in Bora Bora, which has no entry fee and is the best public beach on the island.
22) Don't stress!
You'll be in French Polynesia! If you don't have the cash for a luxury spa treatment or a $500 dinner (yes, those exist), just realize you're in one of the most sought after destinations in the world and enjoy yourself.
For Your Bora Bora Packing List: