Headed to Greece and looking to take a day trip to Delphi from Athens? Keep on reading for tons of information, as I did just that on my last trip to the country not too long ago! Everything you need to know about Athens to Delphi, coming right up!
After honeymooning in the Greek Islands a few years ago, I had arrived back in the country eager to see a whole different side of it.  With only a limited time to see a whole lot, I quickly signed myself up for a 2-Day Tour to Delphi and Meteora, which ended up being a wise choice. 
I opt for organized trips when I am pressed for time (like the Valley of Fire and Grand Canyon from Las Vegas and Monument Valley in Utah), as I find them uber convenient and easy.  Plus, I always find fun new friends to hang out with.  And the folks I met on my trip to Delphi and Meteora were just the sweetest!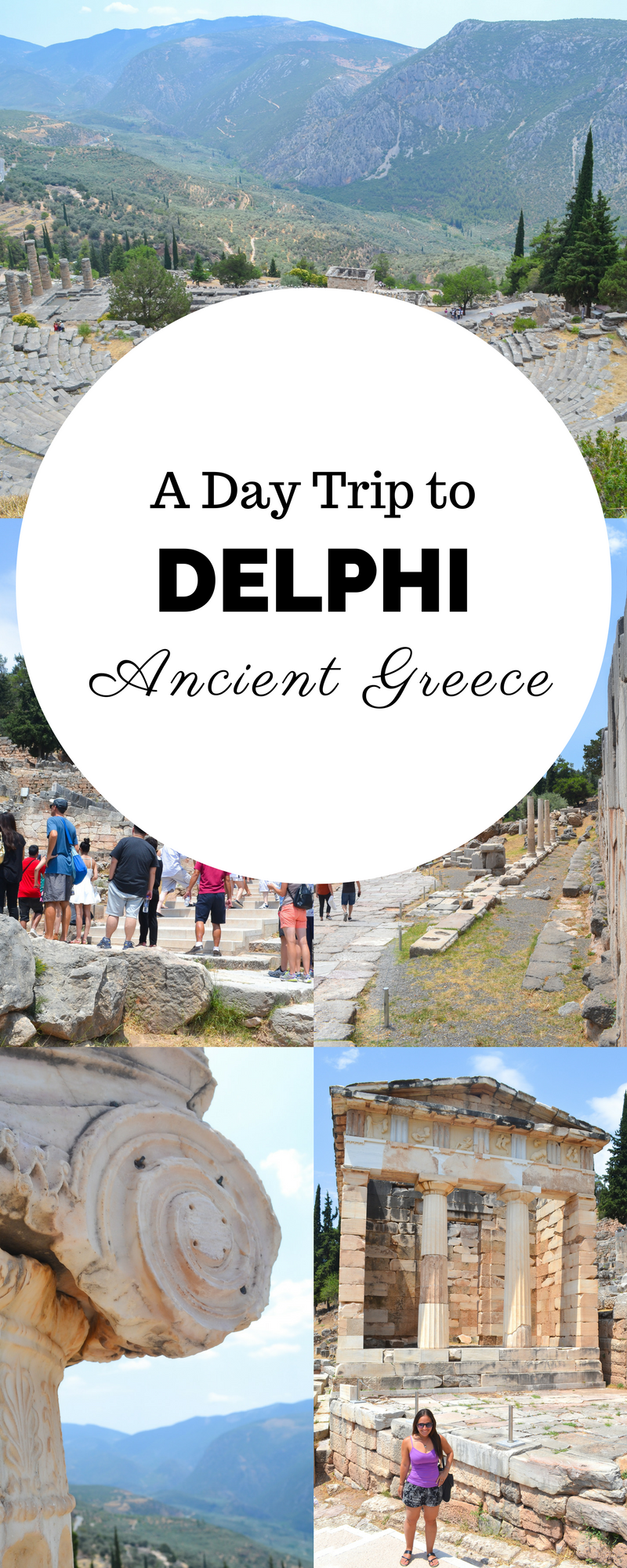 How to Get from Athens to Delphi:
You can totally drive yourself, as you may want to stop along the road (it's quite scenic in parts!)
However, since it's a 2.5 hour drive into a fairly remote part of Greece (one way), you may want to consider taking a day trip from Athens to Delphi. This tour not only lets you explore the ancient ruins of Delphi, but also includes entrance to the highly sought after Delphi Museum, complete with impressive artifacts and stunning scenery.
And you'll still get to admire the rolling hillsides along the way, complete with tomato vines and olive trees. I appreciated being able to relax and just stare out the window, letting someone else do the driving (and navigating and narrating all things Greek history and mythology) for me.
If you want to visit Meteora (like I did and highly recommend), THIS is the tour to book. First you'll do a deep dive into the history of Delphi and all it's impressiveness, then you'll head to the stunning rock formations and historic monasteries of Meteora.
Day Trip to Delphi from Athens
After an early morning pick up and a rest stop for some quick lunch (spinach pie, anyone?!), we arrived in Delphi ready to explore. And boy did we explore all right! Little did I know, navigating throughout Delphi would involve hiking uphill (the entire way). Those calories from the spinach pie?! Goodbye! I indulged in some extra deserving sweets that night to balance it all out. 😉
I'm not normally a history buff, but the few facts we learned on the bus had me craving more. Thankfully, this 3rd most visited archaeological site in Greece is full of history, and I soaked in as much as my (summer-crazed) brain could handle. The history of Delphi is older than old! It dates back to ancient Greece, 510-323 BC.
One of my favorite stories I learned about Delphi: Delphi was regarded as the center of the Earth during ancient Greek times. According to historic legends, the God Zeus sent two eagles flying from opposite ends of the world and they crossed paths over Delphi. This was marked by an "omphalos" (a religious stone artifact), and it is said to have represented the "navel" or center of the Earth. You can view the omphalos in the Delphi museum.
The Top Attractions of Delphi
As we walked to each section of Delphi, we were greeted with more and more ruins, as well as spectacular mountain views. The top sites of Delphi I came across included:
The Sacred Way
The first ruins you'll come across as you make your way up throughout the site of Delphi. In ancient Greece, these pillars held important monuments and treasuries built by various cities in the country, but only the bases remain today.
The Temple of Apollo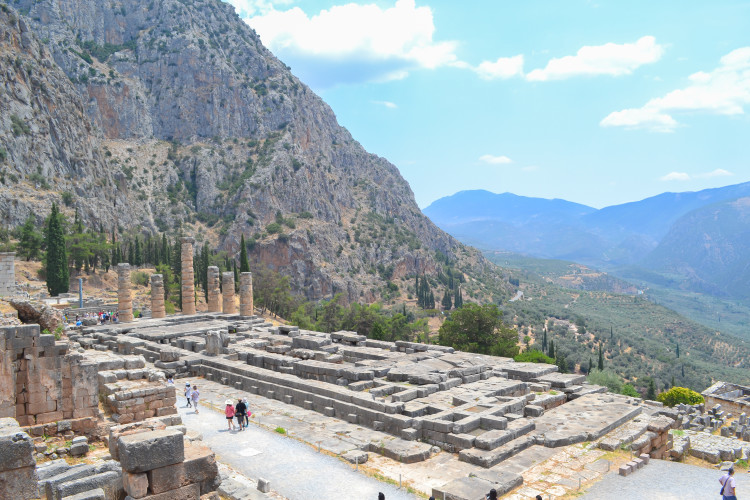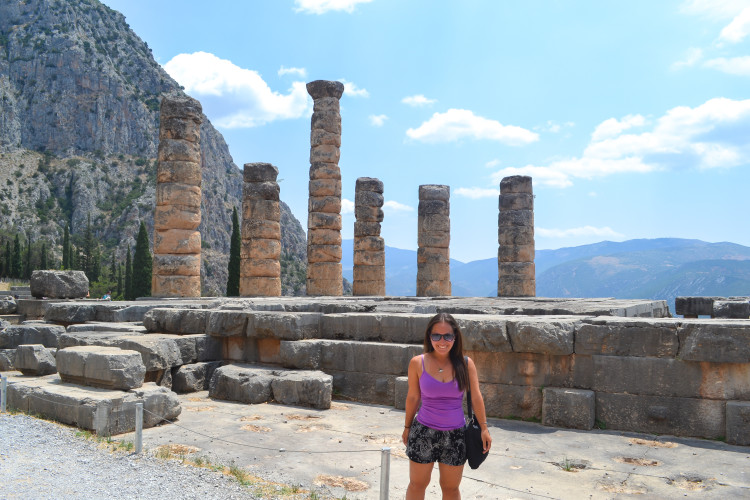 It is said that the Temple of Apollo is the most important building in the sanctuary of Apollo at Delphi. After being burned down in a fire in 548 BC, it was replaced around 500 BC, but then destroyed yet again in an earthquake around 373 BC. The base remains, and you can view a few reconstructed columns of the temple. Apparently, legend states that Apollo defeated a dragon here in order to protect the naval of the Earth. This is where Greeks worshipped Apollo.
Treasury of the Athenians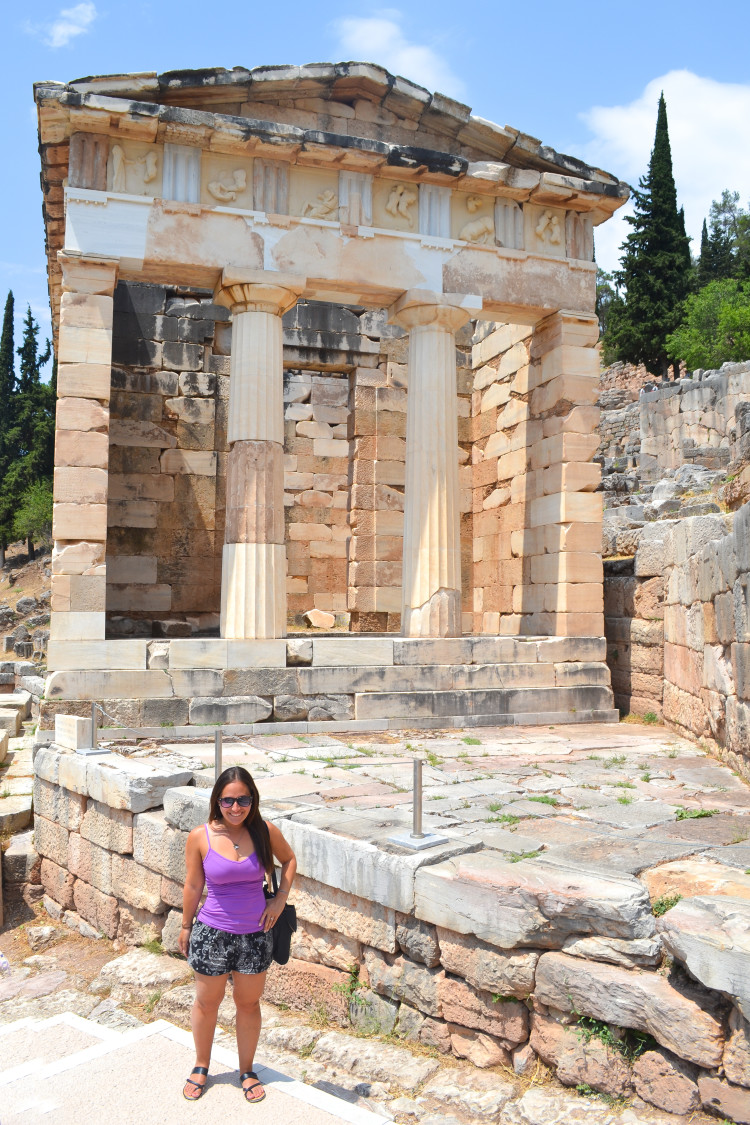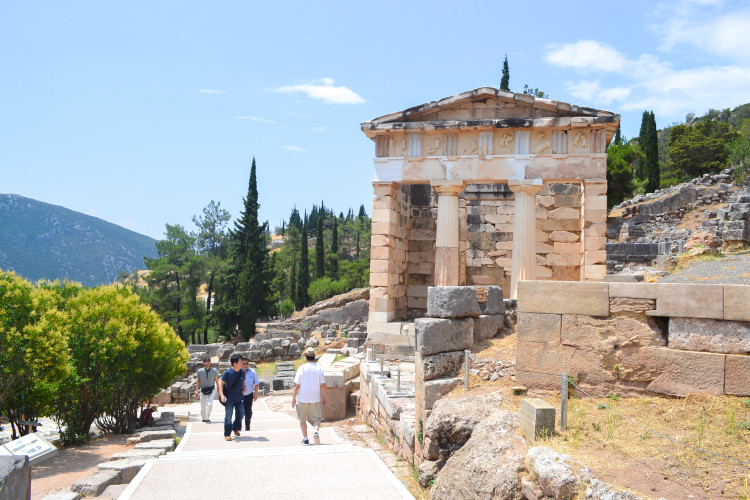 Notice how this monument is the only one that looks almost complete? It's the only one that had enough original building material to be preserved in order to reconstruct almost the entire thing! Pretty impressive. I took about 50 pictures of it, alone.
Delphi Theater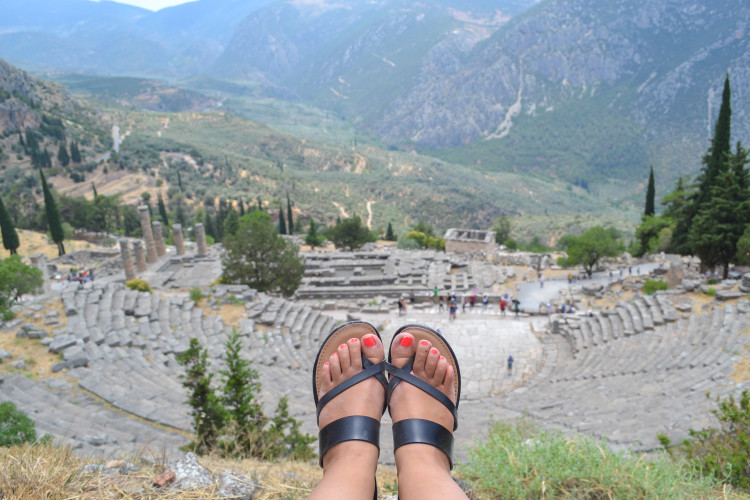 Any fans of the Olympics out there? You'd be interested to learn that Delphi was thought to be the precursor of the modern Olympics! In ancient Greece, athletes from all over the country would complete every four years in the Pythian Games.
Not only was I utterly amazed at all the rich history my brain was processing, but those mountain views! Swoon!
The future for Delphi looks promising. The history and excavation will never be complete and yet, is always ongoing. Germans began the archeological research in 1860, and The Greek Archeological Service and the French School at Athens are continuing to research and conserve the sanctuaries so very important to the history of ancient Greece.
An exhausting trip to say the least, but well, well worth it.  If you dont have time for the two day tour to both Meteora and Delphi, I highly suggest tackling Delphi as a day trip.  It's located about 2 1/2 hours driving distance from Athens.
Next up on the two-day tour: the majestic monasteries of Meteora!
BIG SWOON!
Disclaimer:  I was a guest of Key Tours, but as always, all opinions are my own.  🙂