Planning a trip to western Canada and looking for the best things to do in Vancouver? You've come to the right place!
I'm excited to be taking a trip to Vancouver this summer – I tacked the city onto a longer trip throughout British Columbia!  Since I haven't been before and am currently planning my trip there, I've asked my friend Elise from Travel Work and Play to round up her favorite things to do in Vancouver.
Vancouver is perfectly positioned between the ocean and the mountains. With that being said, this lends itself to many wonderful outdoor things to do in Vancouver – any nature lovers delight!
Continue reading this Vancouver travel blog for some of the top things to do in Vancouver on your next visit!
Pre-Travel Guide to Vancouver
When to go to Vancouver:
If you're skiing – head to Vancouver before Christmas to enjoy ice skating, festive light displays and Christmas tree competitions. Otherwise, the best time to visit is between May-September for the long, sunny summers.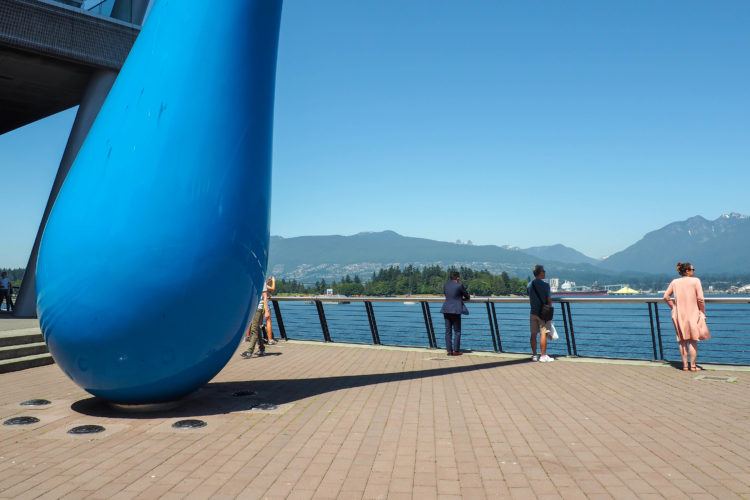 Its presence inside the most northerly rainforest brings lush tree-lined parks and unfortunately…. a lot of rain. While the summers are long and hot, a trip here between October and February can be grey, chilly or totally washed out.
This is perfect for the ski crowds though, and the Vancouver area boasts many of the top ski locations in North America.
How to get around Vancouver:
On foot, with rented bicycles, or using the bus & skytrain system. Day tickets or a reloadable compass card can be bought from the stations. Many journeys can also be taken by boat!
What to pack:
An umbrella (just in case!) and comfortable shoes so you can hit the many hiking trails. West coast chic is very relaxed, so bring anything you are comfortable in. And don't forget your hiking gear!
Where to Stay in Vancouver:
Hotels in Vancouver are notoriously expensive. For a treat, try the Rosewood Hotel Georgia (or stop by for rooftop drinks!) or the Fairmont. If on more of a budget, Airbnb has some of the best options on price, although should be booked well in advance if you're visiting in the summer months.
Many good options can be found slightly out of the city with good transport links to get downtown. If backpacking, there are some budget hostels around Granville Street but quality can vary greatly!
Things to do in Vancouver:
There is plenty to do within the city, but actually, some of the best things to do in Vancouver actually require getting a little out of town!
Luckily, everything is either a short bus, train or boat ride away. All of the suggestions outlined below are within 1-1.5 hours from downtown Vancouver and are perfect as half-day to day trips.
1) Shopping in the Downtown Core
From high end to high street there is excellent shopping to be done in Vancouver. Try 'Roots' – a homegrown brand that kitted out all the Olympic athletes back in 2010.
Start at Waterfront Station to enjoy the views along Canada Place and then walk southwest to Granville, Burrard & Robson street – Vancouver's 5th Avenue. There are many walking loops and the city is easily traversed on foot.
2) Stanley Park
Stanley Park, one of the world's largest urban parks, is located in between Coal Harbor and Sunset Beach. Walking the adjoining route along the seawall is regularly voted as one of the top things to in Vancouver.
If you walk around the outer edge, it's around 9km from one end to the other, walking past beaches and spotting sea life. Seals are regular visitors here and orcas and grey whales have been known to pay surprise visits!
There are also many inland walking routes through the park, appearing out onto rose gardens, lakes and monuments. For a rainy day, head over to the Vancouver aquarium located in the park.
3) Gastown
This area of the city feels entirely different to the glossy offices of downtown! The cobbled streets, beautiful buildings, and dramatic ocean views would be worth the visit even without the myriad of fantastic bars, coffee, artisanal shops, and independent restaurants.
You can spend an afternoon walking along Water Street and then looping round to walk back up Cordova Street, stopping off at Blood Alley for some tacos or to L'Abbatoir for a fancy feed.
4) Granville Island
Granville Island is one of my absolute favorite things to do in Vancouver. It's not technically an island, but a little patch of land poking out into the inlet.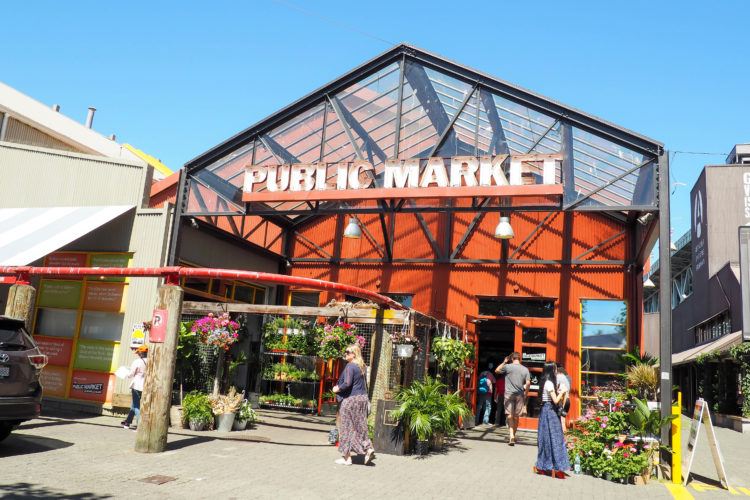 It's an old industrial district that has been transformed into a little oasis of unique shops (think brooms and artisanal chocolate) and restaurants.
There's also a brewery, a distillery, a sake house, and a fabulous indoor market filled with treats for lunch or to take home with you.
Granville Island also houses the Emily Carr Art campus, several theatres and scores of art galleries and studios which lures an arty, hipster crowd. Try lunch at Edible Canada or on one of the biggest patios in the city – Bridges.
Arrive via the bus from downtown or take a seabus from one of the docks along false creek. There is a jetty just by science world if you'd like to take the scenic route.
5) Commercial Drive
Commercial Drive in East Van is one of the coolest areas of the city. It is traditionally the most multi-cultural area of Vancouver where European, African and Asian culture became a melting pot of delicious food and unique culture.
Now, some of the best coffee and pizza and can be found on 'The Drive' and you can easily while away an afternoon here. The neighbourhood is filled with heritage homes, beautiful street murals and bags of character.
If the sun is out, there are also some fantastic patios, try Havana for Cuban tapas or Saloniki Greek Taverna. There is also an eclectic mix of different shops, delis and cafes to explore. Come hungry!
6) Beer
Vancouver is famed for its beer. There are literally hundreds of breweries in the Vancouver area, many producing excellent, unique brews and have tasting rooms that you can visit.
The East Van brewery trail even has a passport to collect stamps with a free beer on completion! Try Storm Brewing for really wild flavours or Brassneck for a chic tasting room with hand delivered Cartem's donuts. Around Main Street are several terrific options, and plenty of shops and restaurants to keep you entertained if beer isn't your thing.
To really get a true feel for Vancouver's love of beer, hop on a beer and wine tasting tour!
7) Beaches
One thing that many people don't realise about Vancouver is that it has many fabulous beaches! Sunset beach, Kitsilano, Jericho and Spanish Banks in particular all have a different atmosphere.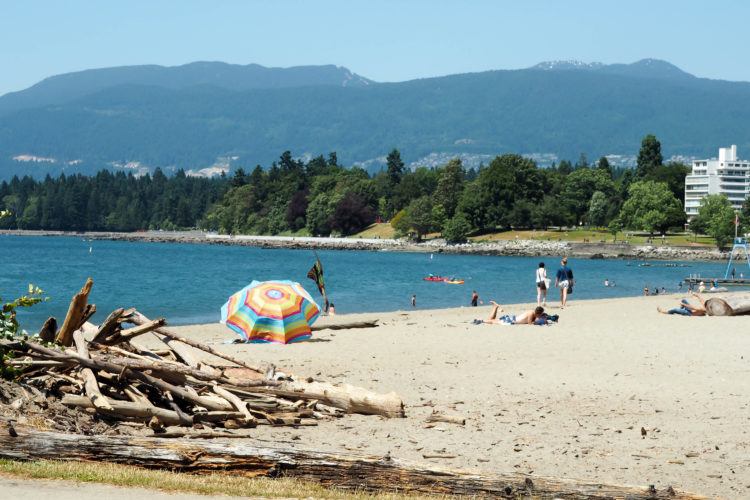 Sunset is a buzzing downtown place to sunbathe and hangout, Kitsilano has mellow student vibes, Jericho is perfect to enjoy fish and chips at sunset and Spanish Banks' shallow tides and wind is great for watersports….and this is only a few of them!
8) The UBC area of Vancouver
This area is worth spending an afternoon at – it has the Musuem of Anthropology, beaches (including a nudist beach!) and the stunning Pacific Spirit Ridge park. Reachable by buses that run along Broadway or from Granville Street if downtown.
9) Queen Elizabeth Park and Van Dusen Gardens
These absolutely beautiful gardens, in South Vancouver, are reachable by skytrain or bus from downtown. Queen Elizabeth park is the highest point in the city and on a clear day offers spectacular views of the city.
Van Dusen gardens are pretty all year round but have particularly lovely seasons around the cherry blossoms in April and December for the Festival of Lights.
10) West Vancouver and Lighthouse Park
Just over the Lion's Gate Bridge in Stanley Park is West Vancouver and Lighthouse Park. Here lives some of the best views in the tri-city area.
You can enjoy magnificent scenes looking back at the city of Vancouver over the water, coastal islands, boats, birds and maybe even some whales!
The trails here are through the forest but relatively easy. Pack a picnic and find a secluded spot! Easily reached if you rent a car or take the #250 bus from Downtown Vancouver.
11) North Vancouver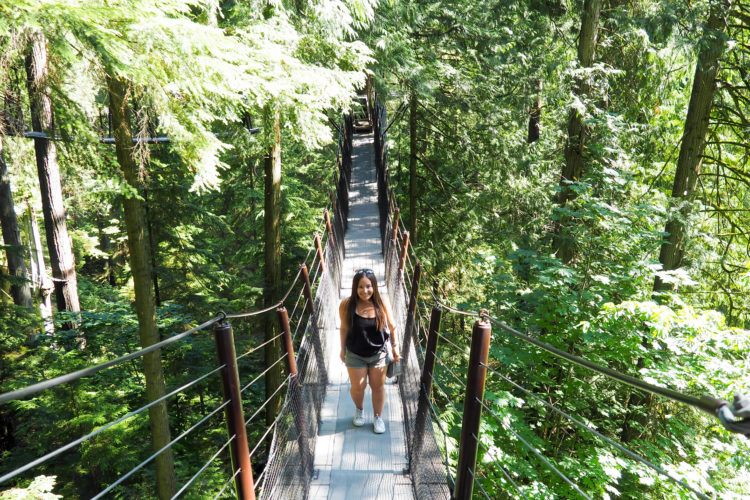 Across the water in North Vancouver (just east of West Vancouver –confusing right!) is a treasure trove of activities, fabulous hiking spots and glorious views.
Top things to do here include hiking around Lynn Canyon (the suspension bridge here is free!) or Capilano Canyon. You can also kayak and scramble up Quarry Rock at the beautiful Deep Cove. Take a gondola up Grouse or Seymour mountains for views of the whole city.
The seabus leaves from Waterfront station and arrives at Lonsdale Quay where you can shop and eat, or make yourself a picnic for your trip at the brilliant market and food court. Onwards there are several local buses from here to take you to your chosen spot.
12) Steveston
Next on the list is Steveston, a seaside town built around the docks and only 30 minutes from Downtown Vancouver. There are quant little shops and cafes and some fantastic seafood restaurants right by the water.
Both Supernatural and Once Upon a Time were filmed here for any fans of the show! Reachable by skytrain & bus from Vancouver.
13) Lakes
The landscape around Vancouver is punctuated by beautiful lakes, perfect for hiking, camping and BBQs. Top local choices are Buntzen, Aloette and Coquitlam but there are many more to explore if you want to go a bit further afield. Best explored with a rented vehicle although some have public transport links.
14) Bowen Island
Bowen Island is just a short ferry away and is a lovely day trip from Vancouver. Ferries run regularly throughout the day and take just 20 minutes. This charming island can be explored on foot, bicycle or by renting a scooter.
Just 20 sq miles total – it has a laid-back community and is filled with artisan made arts, crafts and food as well as water activities and arguably the best ice cream in BC!
15) Whistler
While not actually IN Vancouver – no trip here could be complete without a trip to Whistler. It's beautiful all year round and worth it even if you aren't skiing. Try the exhilarating mountain ziplining and the cable car to Blackcomb for unbeatable views.
In summer there are countless hikes and even dirt bike riding on the ski slopes. Check out Porteau Cove, hike The Chief or go white water rafting at Squamish on your way up. It takes around 1.5 hours to drive from Vancouver, or you can book a seat on a shuttle bus.
Other Things Not to Miss If You've Got More Time:
I (Jessica) just got home from a weekend in Vancouver a few days ago, and am itching to go back already! While I was able to cover so much of the city, there are few things in Vancouver I wish I had more time for!
If you're really interested in spotting some orcas and other whales, book a whale watching tour to Victoria, one of the greatest places to see these amazing creatures (seaplane tour included!).
The Granville Island Public Market shouldn't be missed as well, and you'll find a tour through Granville Market to be one of the most authentic ways to experience Vancouver. Plus, who doesn't love fresh, local, seasonal produce? I visited the market but was completely overwhelmed and really wish I had hopped on a quick tour through the area.
If you're in the mood for some food, hop on a Gastown food walking tour for some of the best delights in the area! While walking through the town, there were numerous eateries I was itching to try, and a food tour sounds like the best bet!
What are your favorite things to do in Vancouver? Let us know in the comments!