Planning a Canadian road trip and heading from Vancouver to Banff? Smart choice – it's an absolutely stunning drive! But don't even think about making the long trek without stopping, there's just too much to see (cue all the waterfalls, mountain ranges, and waterfront parks).
Continue reading for recommended stops on any Vancouver to Banff road trip, as well as what to do (plenty), what to eat (lots), and where to stay (tons of options).
Psst – you may wanna grab a pen and take some notes: this is a long post we're about to dive into!
Ohhh, Canada, and the Rockies in general (no, I won't start singing the national anthem). I've been to this part of the country quite a few times now in the last 2 years (4 to be exact), and I have to say, British Columbia and Alberta are places I can see myself heading back to for years to come.
I'm usually all about that "new-place, new-experience" mindset, but Canada keeps calling me back. And I'm a-okay with that.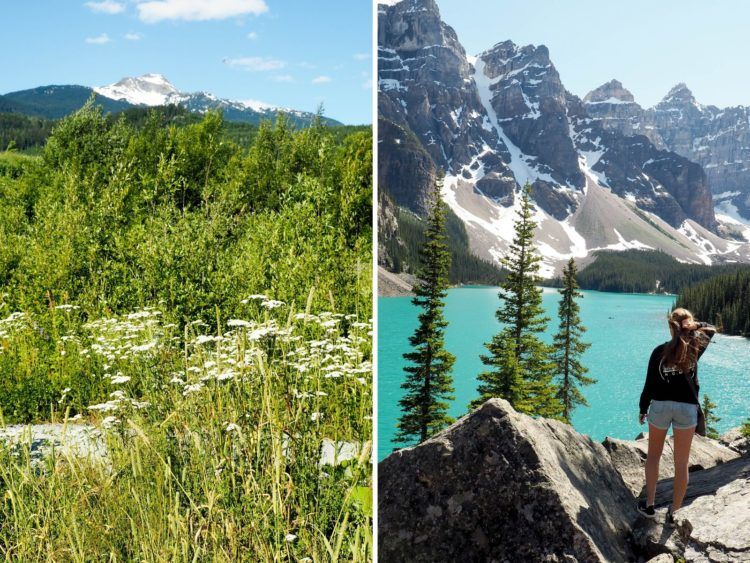 I took a 2 week road trip throughout the Canadian provinces of British Columbia and Alberta not too long ago, and whoa. WHOA. I had seen a few photos of this area on Insta and Pinterest before (okay, who am I kidding, I've basically stalked Explore Canada's feeds for ages), but was not expecting what I saw firsthand.
So much raw beauty it was un-f***king-believable. I swear, every day was better than the last, and I left with a newfound appreciation (and unsatiated lust) for my neighbor up north.
Planning other travels in Canada? Check out my top recs in Montreal (summer and winter), Fernie (summer), Vancouver, Toronto (winter), and Niagara Falls.
If you follow this Vancouver to Banff road trip itinerary, I can promise that you'll discover more rugged natural beauty, towering trees, glistening glacial lakes, and tasty treats (hellooooo Nanaimo bars) than you thought possible along the way.
This trip to the Canadian Rockies will have you wondering why you haven't explored the region before, and you'll quickly see why!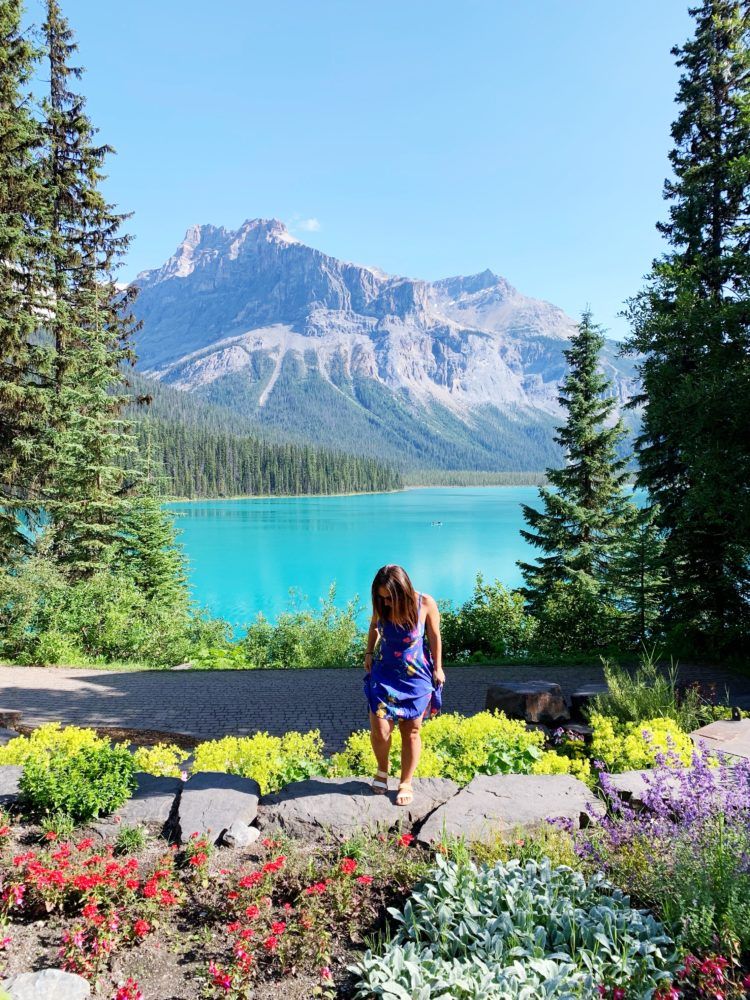 Over the course of the road trip, expect to drive approximately 12 hours (one way) and around 600 miles (or 950 km – and yes, they use km in Canada!).
In order to drive from Vancouver to Banff in a reasonable amount of time and still do all the things (besides just drive), you'll want to allocate at least a week for this trip, preferably a bit longer (10 days would be absolutely ideal so you don't have to rush around like a madman).
If you have any long hikes on your wish-list, you may want to plan a few extra days into your itinerary so you don't miss the top tourist sites as well. And thankfully, there's only a few bouts of driving longer than a few hours, as many of the stops are relatively close to each other.
→ Check out my road trip packing guide for must-have items and other handy tips and tricks (helpful even if you're an experienced road tripper, promise!)
Overview of this Vancouver to Banff Drive
Estimated Driving Time (scenic route): 12 hours
*Note that you can drive directly from Vancouver to Banff in a mere 9 ½ hours (okay, so it's actually not much shorter time wise), but what's the fun in that?! May as well spend a few extra days exploring on the road.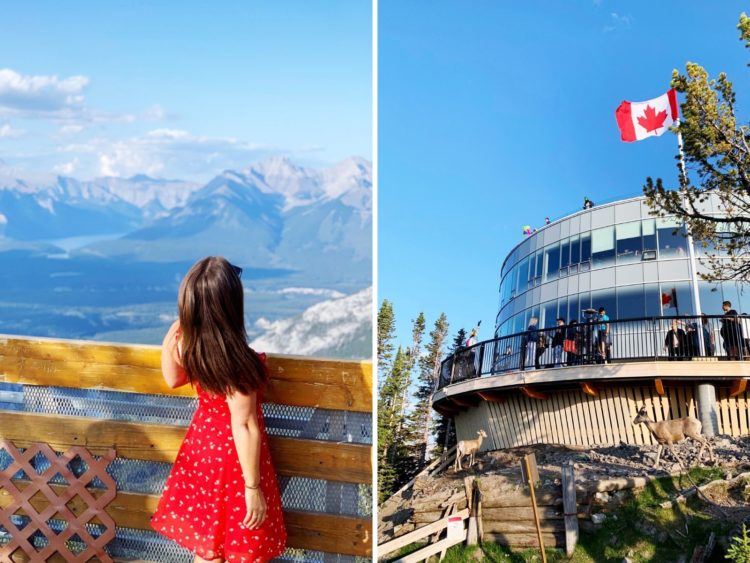 Stop 1: Vancouver
Stop 2: Squamish
Stop 3: Whistler
Stop 4: Kamloops
Stop 5: Glacier National Park of Canada
Stop 6: Golden
Stop 7: Emerald Lake
Stop 8: Lake Louise
Stop 9: Banff
Getting to Vancouver
First things first, if you're not a resident of Vancouver, you'll of course need to get yourself there! Since Vancouver International Airport (airport code VYR) is a major international airport, (it's actually the second busiest airport in Canada), you can easily find cheap airfare within the states, especially from the West Coast.
Coming from SFO, I can typically find flights for as little as $250 (roundtrip), dependent on the time of year and how much flexibility I've got of course.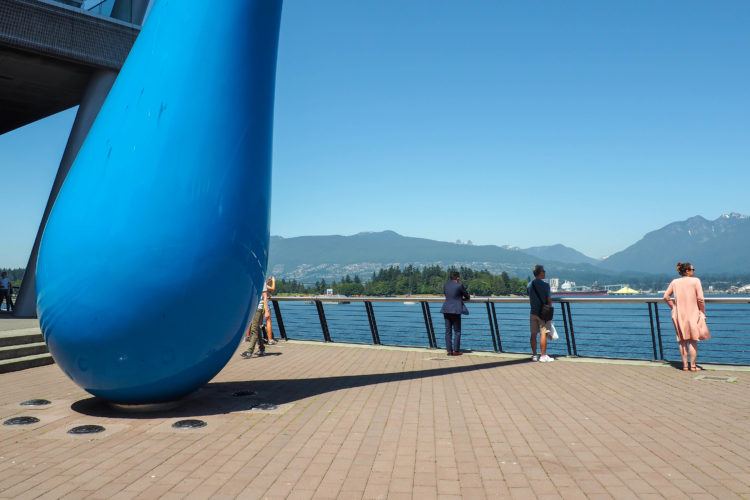 I swear by Skyscanner and Google Flights whenever searching for airline tickets, and more often times than not, find the cheapest prices on one of them. The ability to track prices (and get email notifications whenever there's a price drop) is top notch and one of my favorite features. Take advantage of Skyscanner, you guys!
If you'll be following this Vancouver to Banff itinerary and heading east (without driving the direct 9+ hours back to Vancouver), you'll want to book two one-way tickets. 1) HOME → YVR (Vancouver), 2) YYC (Calgary) → HOME.
Make sure to search for one-way flights when booking tickets. ? They're not always more expensive compared to roundtrip as many think, and I frequently choose this option when it saves me a great deal of time (especially helpful for us folks who have full-time jobs and all).
Renting a Car
Since this is in fact a road trip, you'll need a vehicle to get you from place to place! Worth mentioning so you don't forget to account for the cost of a rental car when following this Vancouver to Banff drive! I like to search via this site in order to compare rental companies to see who has the best price.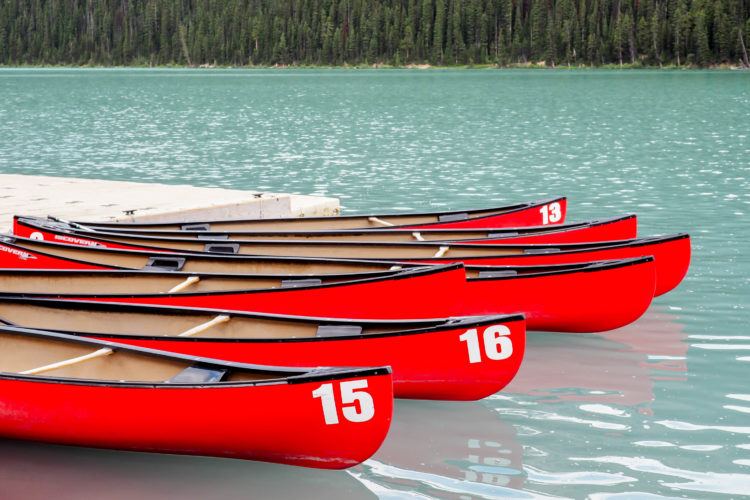 Note that many rental car shops charge extra for returning their cars at different pick up/drop off locations – just something to keep in mind (worth the extra cost to me – I would rather pay an extra fee than drive an extra 9+ hours (with gas!), plus the cost of a possible hotel on the way back depending how you time your trip).
And if you're thinking of driving roundtrip, consider stopping at a few places en route to Banff, and save the rest for the way back to Vancouver. Basically, break it up so you're not seeing all the things on the way to Banff, and then nothing on the boring ride home.
Do note that many car rentals in Canada require proof of insurance. My credit card includes car rental insurance, so I book with that and it's automatically covered. Be prepared to show proof, or pay up for the over priced insurance through the car rental agency once you get there.
→ Search for the best car rental prices here. I bet you'll find a great deal! We saved over $100 on our last rental just by quickly using this site.
When to Take this Vancouver to Banff road trip:
This post assumes you'll be driving during the warm summer months of June-September, although anytime between April and October will do.
Summer
Summer (June-September) in the Rockies and this part of Canada in general is absolutely glorious. It doesn't get ridiculously sweltering like it does in parts of the states, with a good amount of cool nights and fresh mornings. I took this trip in July (and then re-visited Banff/Jasper again the following year in mid-August), and the temps were just right.
Do note that the summer months of June-August are the most popular, and therefore the most crowded, but well worth it to have the greatest chance of picture-perfect weather.
There will still be snow on the ground in some parts (especially in the mountains of Whistler), and as you veer away from July/August it'll be cooler. Plan to take a jacket or two during summer as it gets quite chilly at night and in the early morning.
Winter
October through March will be cold and rainy/snowy throughout much of both BC and Alberta. While Banff in winter is absolutely gorgeous, unless you're a super experienced driver or absolutely die-hard love the snow, I wouldn't suggest driving from Vancouver to Banff in the dead of winter.
If you're set on visiting the area then, I highly recommend just flying from Vancouver to Calgary and making the 1.5 hour drive to Banff. Alternatively, there are 2-day sleeper trains that go directly from Vancouver to Banff, if you'd rather stare out the window admiring the snowy flakes instead of missing out on them from above.
However, do note that the drive is possible as long as you use caution (the Trans-Canada highway is as good as it's gonna get), but you can never predict the winter weather (which may cause driving to be difficult/unsafe).
Always use caution when planning to drive in the winter months, and stock up on necessities (water, extra tire, etc) just in case you somehow get stranded on the road (highways shut down/flat tire/etc).
Where to Stay Along the Drive from Vancouver to Banff:
If you're following all the stops on this Vancouver to Banff road trip itinerary, you'll want to make hotel reservations in advance, especially if you're visiting from May to October.
We 99.99% book accommodations beforehand (minus that one time we booked day of during our cross-country road trip), and this is one of those trips where I feel it's necessary to get everything squared away early on during planning.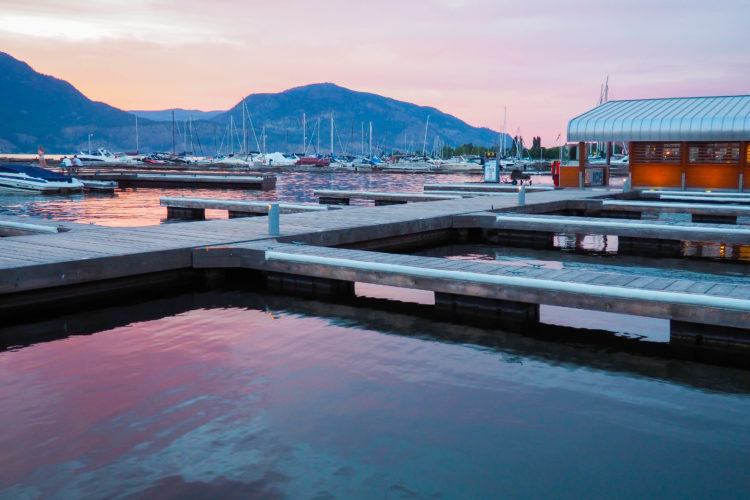 It should be noted that hotels book up exceptionally fast in the Lake Louise/Banff/Jasper area, so if you're planning on spending the night over in those parts, plan to book at least a few months out.
When we were finally ready to finalize accommodation in Banff and Jasper, a lot had already been sold out and we didn't have much to choose from. Plan (and book) early to get the greatest flexibility when it comes to accommodation, in terms of budget and location.
For a 10-day road trip, I recommend staying in the following areas with preferable number of nights:
Vancouver (2 nights)
Squamish (1 night)
Whistler (2 nights)
Kamloops or Golden (1 night)
Lake Louise (2 nights)
Banff (2 nights)
And if you've got an extra two days or so, head up north via the Icefields Parkway en route to Jasper! I mean, if you're already all the way over here, it'd just be plain silly to miss out on these two stunning additions.
If you have your heart set on visiting Jasper as well, it may make sense to book a flight home out of Edmonton, just FYI, as it's closer to Jasper than driving back to Calgary or Vancouver.
Enough jibber jabber! Now let's get this Vancouver to Banff road trip under way!
The Complete Vancouver to Banff Road Trip Itinerary
*Note that distances are approximate only. If you're visiting in the busy summer months, expect some traffic. And if you're visiting in the winter, you'll need to account for unfavorable weather and possible road closures.
It's wise to start your mornings early to not only beat some traffic, but to arrive at destinations before the intense crowds start to take over the place. Plan to begin any long hikes early on in the day as it gets extremely hot once the summer sun gets high in the sky!
Stop #1: Start in Vancouver
Vancouver to Banff trip officially begins! | Stay 2-3 days
Get ready, because this west coast seaport city is your starting point for your entire Vancouver to Banff road trip! And depending on whether you live in Vancouver or not (which I'm most likely guessing not), you'll want to make sure to spend a few days in the area before setting off for Banff!
First things first – Vancouver is absolutely gorgeous (as you'll see with the bulk of the stops on this itinerary). Let's just say, despite Vancouver being a city and all, you'll never feel deprived of nature – it's got snow-capped mountains to the north and that deep blue Pacific Ocean to its left.
It's beauty has even made it on multiple "Most Beautiful Cities of the World" – including Forbes and Buzzfeed. And all that nature just gives way for tons of outdoor recreational activities – from skiing and snow sports in the winter to kayaking, hiking, camping, and biking most months outta the year.
Besides getting into nature (green space within the city included), Vancouver's got a thriving art, theatre, and music scene, some of the freshest seafood you'll find around (salmon lovers won't leave hungry), and a local fave – BC Bud (yup, apparently marijuana is a big thing here).
With two days in Vancouver, you can easily fit in these activities:
Stanley Park: Now here's a public park you shouldn't miss (along with it's 8 million annual visitors). Since the park covers a great deal of land (I mean, it is over 1,000 acres), plan to rent a bike so you can really see all it has to offer. Lovely beaches, miles of trails, ever-blooming gardens, and even a pool and an aquarium.
Many bike the Stanley Park Seawalls, a 10km seawall loop around the park, which passes by Coal Harbour, Siwash Rock, Brockton Point, Lumberman's Arch, the Totem Poles (don't miss these), and much more.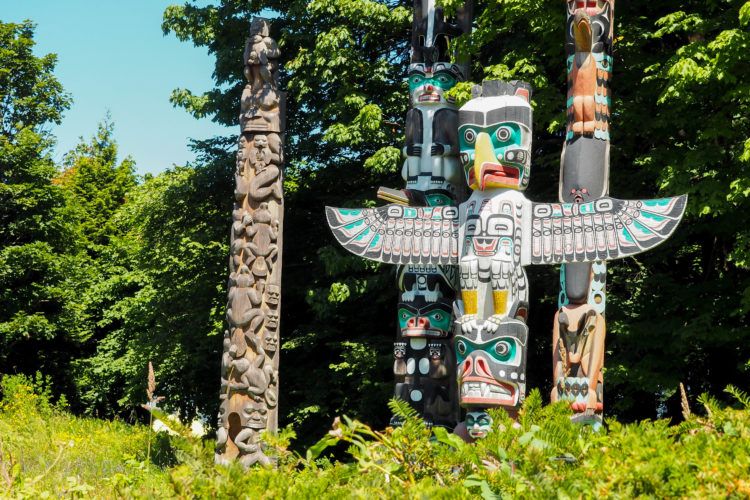 Hit up the Beach: Betcha didn't realize that Vancouver is actually a city full of beaches. There's swimming at English Bay within Stanley Park, volleyball and a heated outdoor pool at Kitsilano Beach (known as Kits Beach to locals), and tennis, volleyball, and fishing at Jericho Beach.
Locarno's quite quiet, Second Beach boasts an outdoor pool (like Kits), while Third Beach is great for sunset barbecues. Do note that the ocean water stays rather chilly around 60F (yes, even in summer), so don't count on swimming for long. Steer clear of Wreck Beach if nudes aren't your thing – it's Canada's first (legal) clothing-optional beach!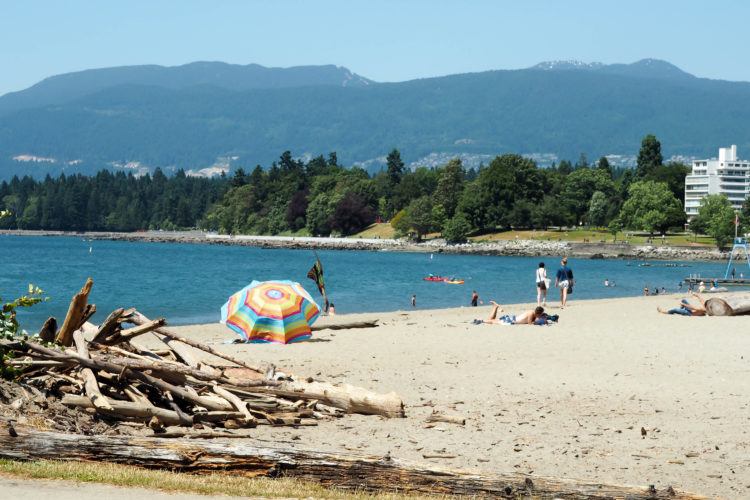 Check out the Waterfront/Canada Place: Sure, Canada Place is technically a convention center, but one visit will prove way more than a hotel and ferry terminal. Built to look like a ship, you'll find sweeping views of the Vancouver Harbour as well as tons of restaurants, shops, and bars.
Stop by the Digital Orca, a lego-ized sculpture of a killer whale located right next to the Vancouver Convention Centre for some fun photos.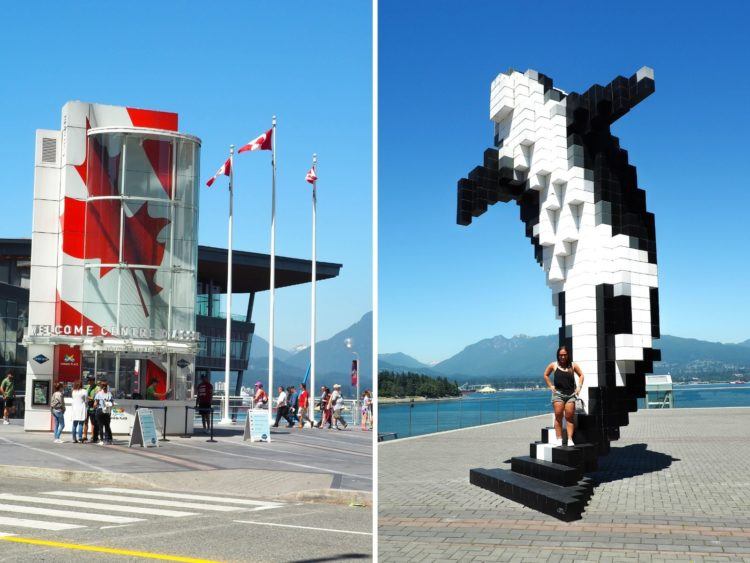 Grouse Mountain: Grab your hiking boots, because we're going hiking! This vast alpine playground is just 15 minutes from downtown Vancouver, and is the perfect place to get in your steps (it ain't called "Mother Nature's Stairmaster" for nothing)!
The Grouse Grind has a steep grade and tons of elevation gain (2,800 feet!!!), making for an intense 90-minute morning trek.
But once at the top, be prepared for stunning panoramic views of the area below – including the Pacific Ocean, Gulf Islands, the city of Vancouver, neighboring mountain peaks, and nearby inlets and bays. Thankfully, if you don't want your thighs to hate you, there's a gondola which takes visitors up the mountain wilderness, offering the same views as the grueling hike.
Capilano Suspension Bridge Park: Get high above the treetops, and you'll be rewarded with panoramic views of the rainforest and canyon below. Included in the price of admission is three, heart-wrenching activities: the world-famous Capilano Suspension Bridge (spanning over the Capilano River), 7 bridges of Treetops Adventure, and the thrilling Cliffwalk (sitting 700ft above the granite cliffside).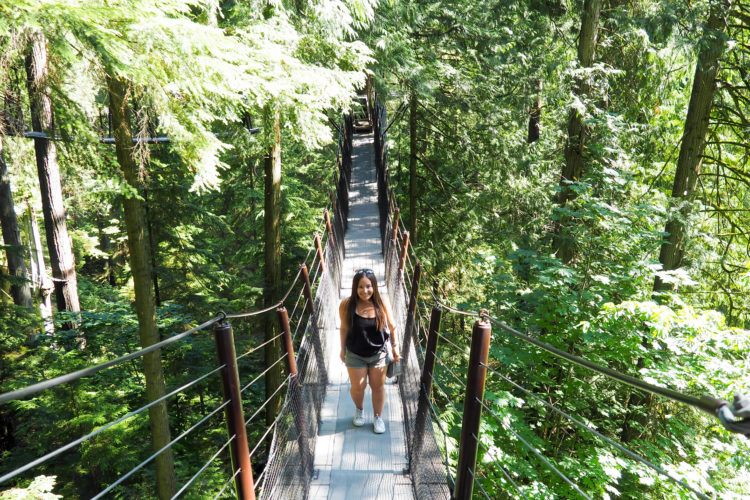 P.S. If the descriptions didn't give it away, this may not be the best place for those with a fear of heights. Despite being one of the most popular tourist attractions in Vancouver, I honestly found it a bit underwhelming and theme-park like.
The gals I were with loved it; pretty sure it has something to do with having redwoods and other larger-than-life trees right near me in The Bay Area of California.
Do note that it gets rather crowded, which may unfortunately distract from enjoying the nature and grounds.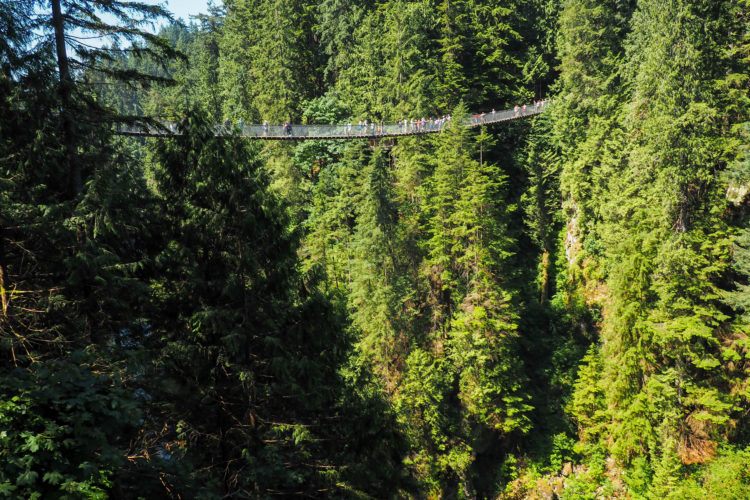 Granville Island: This old industrial district has been transformed into a little oasis of unique shops (think brooms and artisanal chocolate) and restaurants. There's also the Granville Island Brewing Company (cold beer, anyone?), a distillery, a sake house, and a fabulous indoor market filled with treats for lunch or for later on in the trip.
You'll find a tour through Granville Market to be one of the most authentic ways to experience Vancouver. Plus, who doesn't love fresh, local, seasonal produce? I visited the market but was completely overwhelmed and really wish I had hopped on a quick tour to actually learn about the area.
And no, Granville's not technically an island, but a little patch of land poking out into the inlet (which makes it, in fact, a peninsula).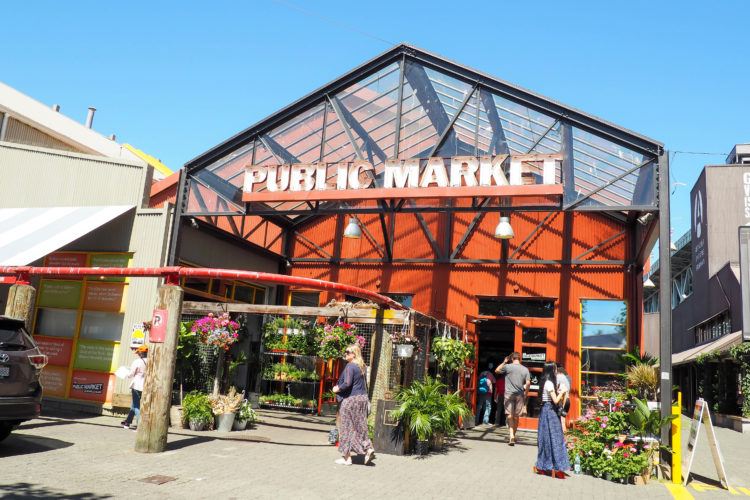 Gastown: This lively neighborhood in Vancouver, full of cobblestoned streets, beautiful Victorian buildings, and dramatic ocean views would be worth the visit even without the myriad of fantastic coffee bars, indie art galleries, and hip eateries.
Besides checking out the whistling Steam Clock (yup, don't miss this quirky attraction right on the street), spend an afternoon walking along Water Street.
You'll want to loop around and walk back up Cordova Street, stopping off at Blood Alley for some tacos or L'Abattoir for a fancy feed. If you're in the mood for some food, hop on a Gastown food walking tour for some of the best delights in the area!
→ Read Next: Top Things to do in Vancouver
A few other things Vancouver's got going for it:
That sweet, sweet fresh mountain (and ocean, and forest, and beach) air. Vancouver's surrounded by mountains and located practically next to the sea. You definitely won't be missing nature, that's for sure!
You can walk almost everywhere in Vancouver! There's no freeways, which must mean it's quite compact, right? Psst – no need to rent a car just yet! Biking is the way to go around these parts. However, do note if you wanna get to the Capilano Suspension Bridge, you'll need to catch a bus or taxi (Uber's banned in Vancouver, just FYI), as it's not within walking distance in the least bit.
Vancouver as a whole is regarded as a very safe city. Just be aware of petty crime – it's unfortunately quite the problem in Vancouver (surprisingly, since this is Canada we're talking about).
Vancouver's actually one of Canada's most ethnically diverse cities, which I love considering the fact that I grew up right outside of New York City and worked in Harlem for a bunch of years.
So basically, yeah, Vancouver is kinda awesome. You just might not wanna leave (but then you'll miss out on all the beauty in Banff – and that's my absolute favorite place in all of Canada – so keep moving!).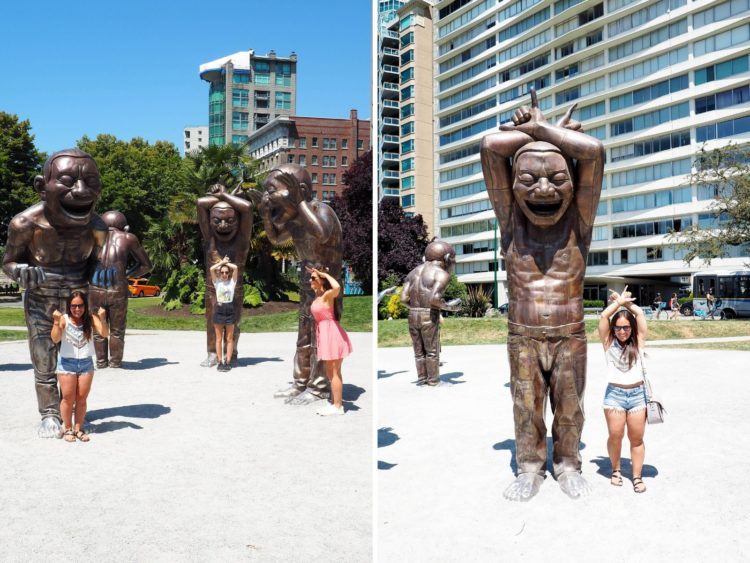 Where to Stay in Vancouver: There are quite a few neighborhoods in Vancouver and it can get overwhelming to say the least. I recommend staying in Downtown Vancouver (in either Gastown/Chinatown, Yaletown, or along the Waterfront) at the Fairmont Hotel Vancouver, Rosewood Hotel Georgia, L'Hermitage Hotel, or Wedgewood Hotel and Spa.
Stop #2: Squamish
TOTAL DRIVE TIME: 1 hour from Vancouver | Stay 1-2 full days, dependent on desired hikes
*As you make your way from Vancouver to Whistler, you'll be driving on the awe-inspiring Sea-to-Sky Highway (officially known as BC Highway 99). "Sea" for Vancouver's location next to the ocean, and "Sky" for the grandiose height of the Pemberton mountains a bit north of Whistler.
The route through Squamish I'm suggesting is just this, so you won't miss any of the sites! And while the stops I'm suggesting are the most popular, feel free to explore further if you just can't part with the views (although the whole trip will be filled with 'em, you'll see).
Be sure to make a few stops, favorites being Porteau Cove Provincial Park for it's stunning blue views, Shannon Falls Provincial Park (to witness this 335 meter waterfall), and the ever-so-popular Sea to Sky Gondola.
You've gotta head north anyways, so you may as well make a stop at Squamish, better known as Canada's outdoor adventure capital! It's an absolute mecca for rock climbers, mountain bikers, and kite surfers, with white water rafting, paddle boarding, kayaking, and windsurfing available as well.
Hikers will find tons of famous, awe-inspiring trails, leading to turquoise-colored, glacier-fed lakes and through flower-filled meadows. But if you're not a professional athlete (I sure ain't one), don't fret – there's still a bunch to do for us not-as-physically-gifted common folks.
This authentic West Coast mountain town, built around mining and forestry, features farm to table dining, sidewalk cafes, and even driftwood beaches.
Sea to Sky Gondola: If there's just one thing you do on your drive from Vancouver to Whistler, make it be this one. This dramatic gondola over the Howe Sound is as stunning as it sounds – views from both the gondola and lookout platforms are incredible.
Over the course of the 12-minute ride, the spectacular views gradually unfold, and don't stop once you arrive at the summit! Besides the snow-capped mountains and ocean inlets to photograph, you'll also find some great walks starting at the summit, a rocky (yet perfectly safe) suspension bridge, and a cafe/restaurant.
Shannon Falls Provincial Park: As the 3rd largest waterfall in British Columbia, and towering above Howe Sound at 335m, Shannon Falls is one of the most popular sights on the Sea-to-Sky Highway.
And since it's only a 15-20 minute walk to reach the falls (along the Shannon Falls trails) from the parking lot, this provincial park is well worth the short stop on your Vancouver to Banff drive.
Please, oh please, if you're heading near/in the water, be extra careful over there – a few vloggers were swept to their deaths not too long ago. We only hiked to to the viewpoint and didn't make it in the water, but I heard the slick rocks closer to the falls make this pretty dangerous. Use your judgement and never risk your life for a photo/video. Just please.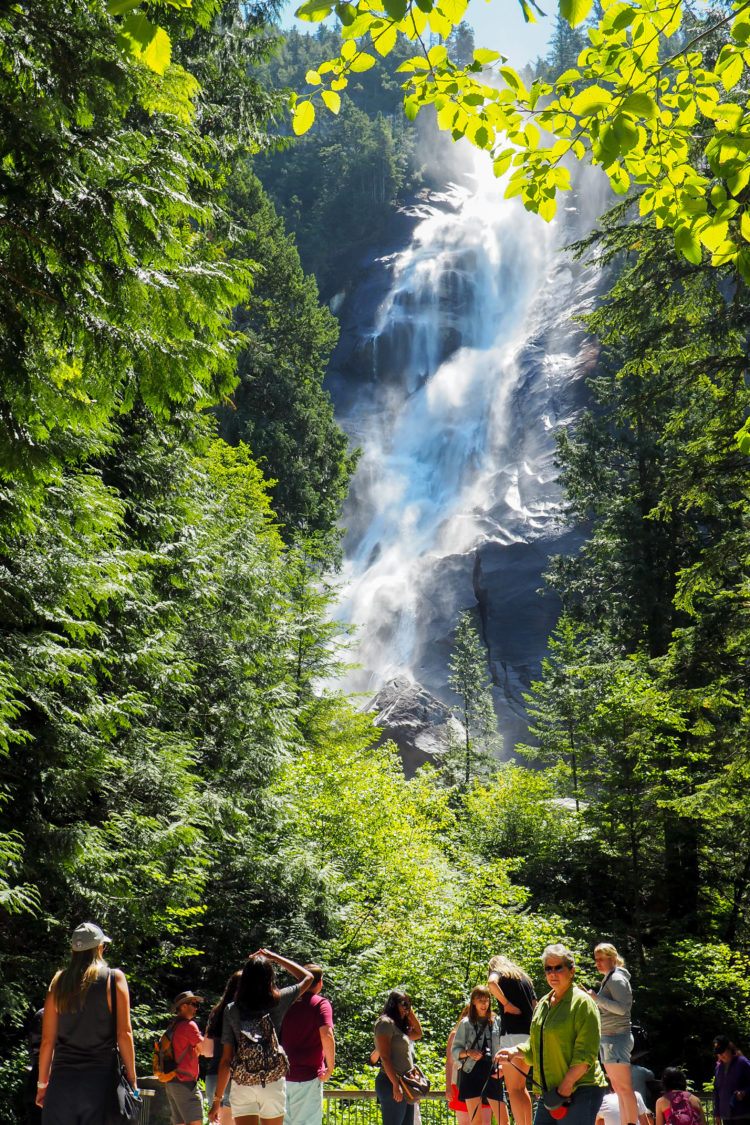 Mount Garibaldi and Garibaldi Lake: Seen from so many vantage points in the area, this massive (still-active) volcano is monstrously huge (with peaks up to 8786 feet high), with Garibaldi Lake below.
If you wanna get in a long hike, check out Panorama Ridge, a 28.3km (18 mile) heavily trafficked loop trail, complete with a stunning turquoise lake, deep forests, idyllic streams, and flower-filled meadows.
You'll definitely need to account an entire day (or longer) for this trek, as many choose to camp out along the way since it takes between 9-12 hours (making for an exceptionally long day hike). But those pristine views of Garibaldi Lake are well-worth the exhausting effort.
But thankfully, if you're not up for a super-strenuous day, you can still get great views of Mount Garibaldi from elsewhere, such as Brandywine Meadows high up in the mountains.
Hike The Chief: Not up for a multi-day hike, but still wanna get your legs moving? The Stawamus Chief hiking route, a classic hike in the Squamish area, may be just what you're looking for.
It's still considered an intermediate hike (just wait for those challenging uphill sections), taking roughly 90 minutes or so to reach Peak 1 (with an elevation gain of 500m), and slightly longer/higher to reach the other two peaks. And you can even begin this trek right off the Sea to Sky Highway.
Breweries: Beer lovers, you're in luck – Squamish is full of local craft beer, with its trio of local breweries (affectionately dubbed the Squamish Ale Trail): Howe Sound Brewing, A-Frame Brewing, and Backcountry Brewing. You'll find brewpubs, rustic tasting rooms, and a large range of beers, and on-site pizza, in addition to two cideries and a spirit distillery in town as well.
Where to Stay in Squamish: You'll find accommodation of all shapes and sizes in Squamish, from charming riverside cabins and budget-friendly motels to fully equipped suites and luxurious hotels.
My top picks include:
Stop #3: Whistler
TOTAL DRIVE TIME: 45 minutes from Squamish | Stay 2-3 Days
Whistler is mostly known to be a winter destination, having one of the largest ski resorts in all of North America (and that my friends, is the famous Whistler Blackcomb). And although it's claim to fame is it's freezing winter months, I ended up visiting Whistler during the summer, and still found enough activities to fill two entire days.
If you've only allotted one day in this mountain town when driving from Vancouver to Banff, do the following: head up the Peak 2 Peak Gondola, go for a short trek (the Train Wreck Hike or Snow Walls have my vote), and go for a little stroll around Whistler Village (ice cream from COWS in hand).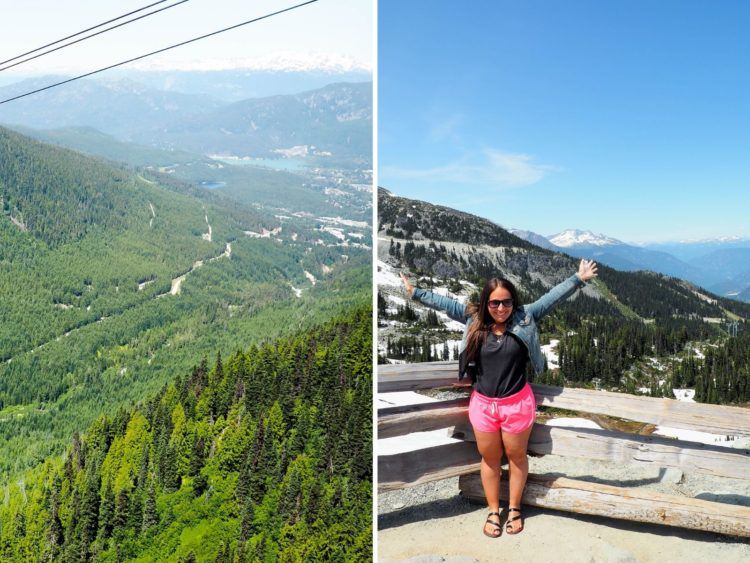 However, with two-three days in Whistler, you can easily do all the activities below if you plan properly. Pick and choose your favorites if you've got less time.
Wander around Whistler Village: Nestled at the base of Whistler and Blackcomb mountains, Whistler Village has a sort of European charm that you'll instantly feel after only spending a few hours in the area. It's compact, super pedestrian friendly, and full of cute chalets.
And trust me, it's one of the most authentic alpine villages you'll ever visit with stone walkways, little bridges, lots of nature, and tons of shops, restaurants, bars, and activities.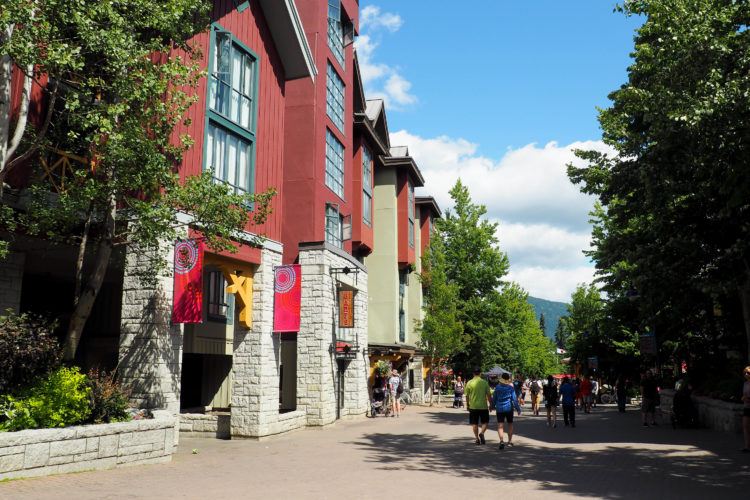 Peak 2 Peak Gondola: The PEAK 2 PEAK Gondola (which links the side-by-side mountains of Whistler and Blackcomb) provides an awe-inspiring scenic experience in Canada's coastal mountains. We're talking views for days (and days and days and days).
It was one of my favorite activities during my few days in Whistler (although, surprise, surprise – I kinda enjoyed everything we did). And if you're really feeling it (and don't mind shelling out a few more bucks), you can ride the special silver glass-bottom gondola (hello tree tops and valleys and glaciers and mountains).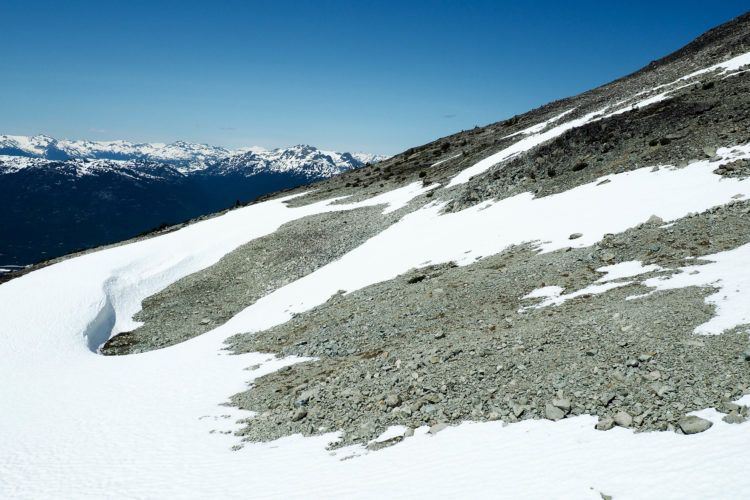 Note that a ticket on the PEAK 2 PEAK gondola not only gives you a birds eye view of all that impressive nature stuff below you, but provides access to all the mountain attractions in one day (snow walls, dining on the rooftop, numerous hikes, etc).
You may even see (or hear) a marmot, a stocky creature commonly found sunning themselves on nearby rocks (sounds like my kinda afternoon).
Whistler ziplining: If (literally) flying through the forest sounds like your idea of fun, you've gotta book yourself on a zipline tour in Whistler.
Be one with nature and soar over ancient, lush rainforests, spectacular creeks and through majestic old-growth trees on plenty of lines (including The Sasquatch, which just so happens to be North America's longest zipline #truestory).
I've ziplined in Belize and Croatia as well, and always love the adrenaline rush of zipping above the trees (while being strapped in the harness of course).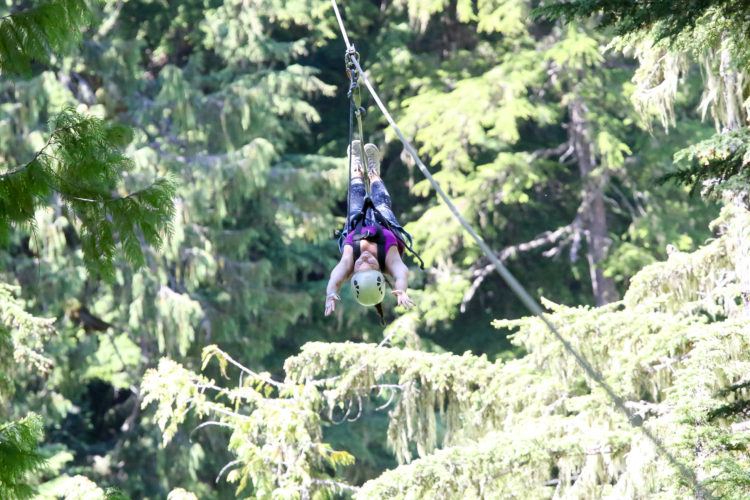 Go Inukshuk hunting: Inuk what?! That was exactly my question when I first heard of them. I quickly learned that inukshuk are structures of rough stones stacked in the form of human figures, used traditionally by the Inuit people. Today, they are known as symbols of hope and friendship.
Psst – they won't be hard to find (we found inukshuks almost everywhere we went in Whistler).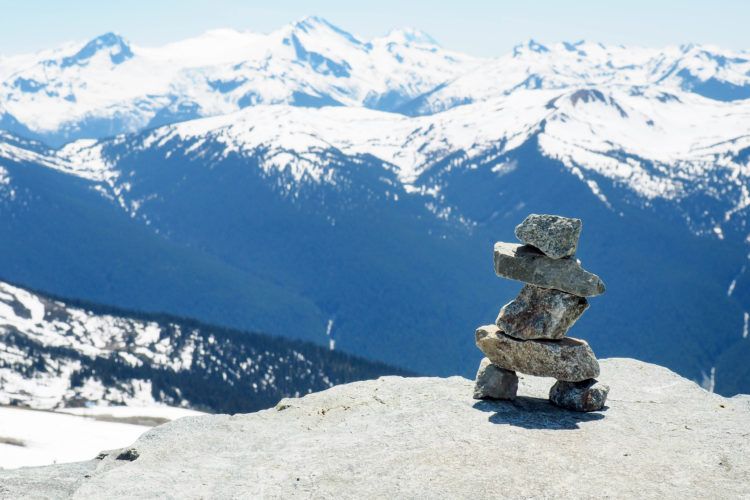 Train Wreck Hike: Ever thought you'd be trekking to old derailed train cars scattered next to the Cheakamus River? Yeah, neither did I, until a few friends coaxed me into getting my fitness on one morning (good thing, because I was throwing back a few too many nanaimo bars).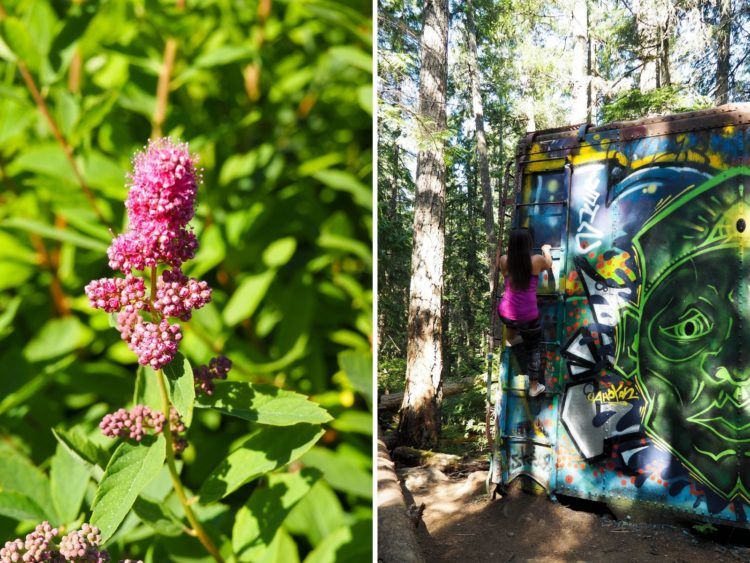 And being only 3 miles roundtrip on mostly flat terrain with only a handful of hilly sections, there's a reason this trek is a long-time favorite among hikers and mountain bikers.
Once we got there, we couldn't stop taking photos of the cars, climbing on the cars, exploring the graffitied cars, and walking around/under/over the seven train cars.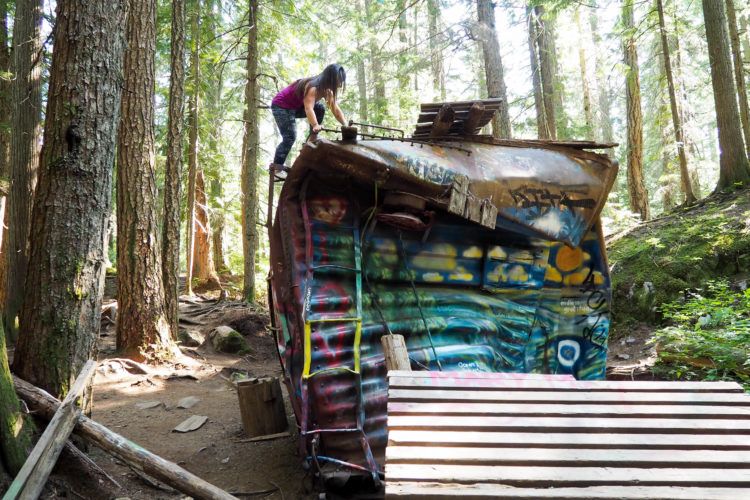 Hike the snow walls on Pika's Traverse: Imagine walking between two giant walls of piled-high snow over 10 feet high. Yup, it's possible on Whistler Peak. Do note that a walk between the snow walls is only possible select months of the year, particularly in early summer, once the previous winter snow has started to melt.
I honestly didn't know what to expect, and wow, it's like nothing I've ever experienced. Psst – this short(ish) trek is relatively easy on flat land, and will take roughly 60-90 minutes. You'll need to take the gondola up Whistler Mountain to find Pika's Traverse and the labyrinth of snow walls. A must stop on any Vancouver to Banff drive!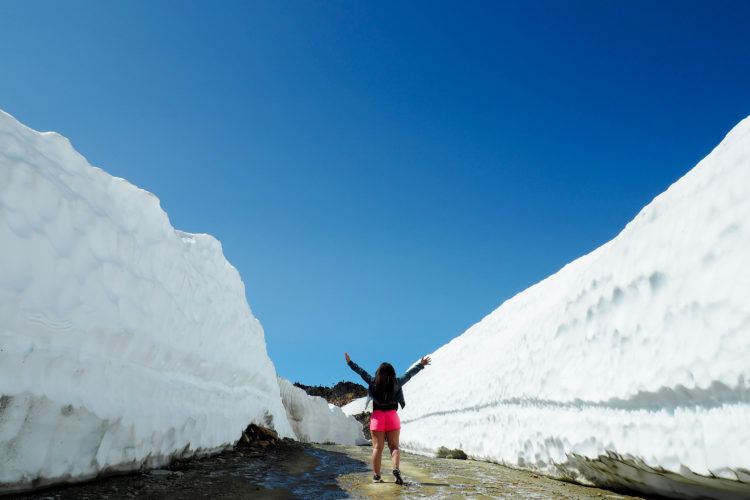 Brandywine Falls Provincial Park: One last thing not to miss – another waterfall (I mean, this is the place for it). And thankfully, this one's as easy as it gets – you can reach the viewing platform (which overlooks those spectacular 70meter high falls) in a mere 15 minutes from the parking lot. On flat terrain I might add – aka no climbing!
Where to Stay in Whistler: While there's lots of choice in the area, I recommend staying directly in Whistler Village, the main hub with access to lifts, a great variety of restaurants, shopping, and oh so excellent people watching along the Village pathway (pedestrian only).
Check out Pan Pacific Whistler Mountainside (with a prime location at the base of Whistler mountain), Summit Lodge Boutique (who can say no to a hot tub for a great value!?), and the Pinnacle Hotel Whistler (affordable luxury).
Stop 4: Kamloops
TOTAL DRIVE TIME: 4 hours from Whistler | Stay: 1 day (including morning drive from Whistler)
Today's a bit of a longer drive, so either get out early and start making your way to Kamloops, or spend some extra time in Whistler and choose to spend the second half of the day on the road.
I mean, you could technically skip Kamloops and drive the 7 hours straight to Glacier, but if you've got time, might as well stop, at least to stretch your legs and throw back a glass of wine (or two).
And hey, the locals of Kamloops are known as "The friendliest in BC", so you're bound to run into a good time or two.
Speaking of vino, Kamloops boasts BC's newest wine region, with a handful of vineyards and wineries along the Kamloops Wine Trail. It's nowhere near as large as Napa, but its emerging – so expect new tours among the grapes to be popping up every year. Lots of tastings available in this little city, so be sure to come thirsty.
Kamloops is not as well known as it's neighboring cities of Whistler and Glacier National Park of Canada, but it's worth a stop as it's surroundings aren't any less stunning. As you'll see on this Vancouver to Banff road trip that basically all of Canada is just as impressive as your last stop, even the places you've never heard of.
*I don't recommend spending the night in Kamloops, unless there's a dire need for it. Not to say that it's unsafe or anything, but you won't find too much to do in terms of nightlife. I suggest making your way over to Glacier, stopping for a quick bit, then spending the night in Golden.
Stop #5: Glacier National Park of Canada
TOTAL DRIVE TIME: 3 hours from Kamloops | Stay for afternoon at Rogers Pass, longer for hiking
Don't let its name confuse you; Glacier National Park has no affiliation with its name twin over in Montana. But yes, it's still rich in natural wonders and steeped in history like you'd expect.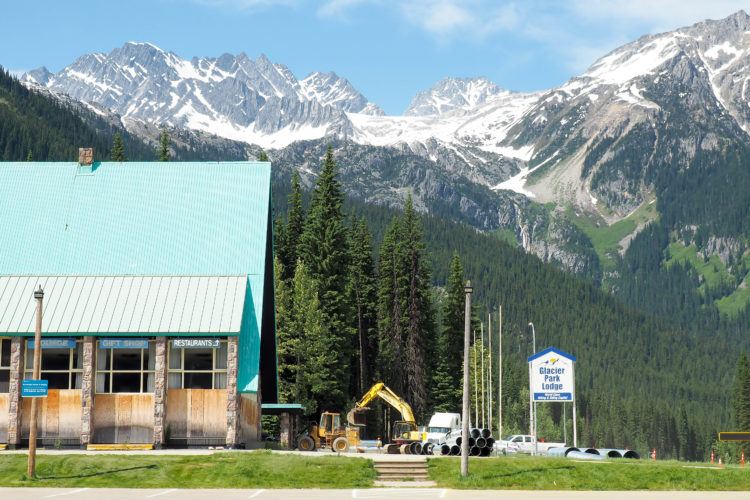 Although Glacier National Park of Canada doesn't have the same fame of Banff or Jasper, it's still worthy of a quick visit (and less crowded to boot)!
Don't miss Rogers Pass (a mountain pass with history exhibits), hiking to the toe of Illecillewaet Glacier (you'll need more than a quick visit for this), checking out 360 degree views from Glacier Circle, and taking a 1-hour stroll on the short yet streep trail down to Bear Creek Falls.
For full transparency, we just made a super quick stop here, getting out to stretch our legs and learn a bit of history at Rogers Pass.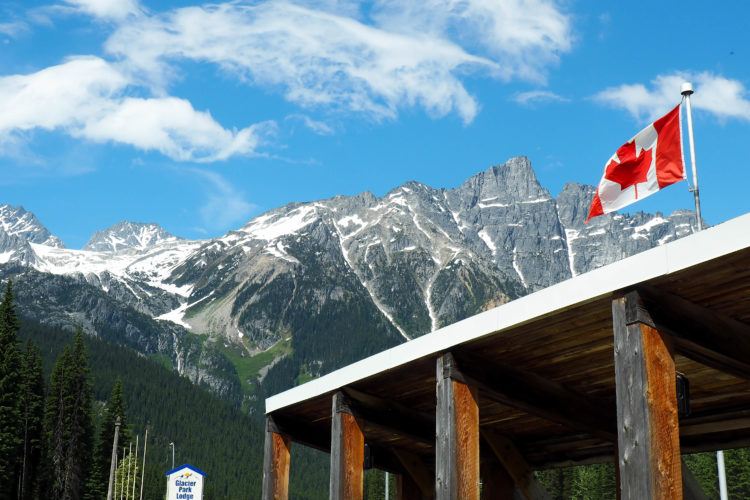 Stop #6: Golden
TOTAL DRIVE TIME: 40 minutes from Glacier NP | Stay 1 night and 1 day
The friendly mountain town of Golden, surrounded by mountain ranges and historic rivers, is a great place to break up the drive from Kamloops and Yoho National Park. You won't find many accommodation options in Glacier National Park, so may as well sleep in Golden (for a lot less money than in Lake Louise or Banff for that matter).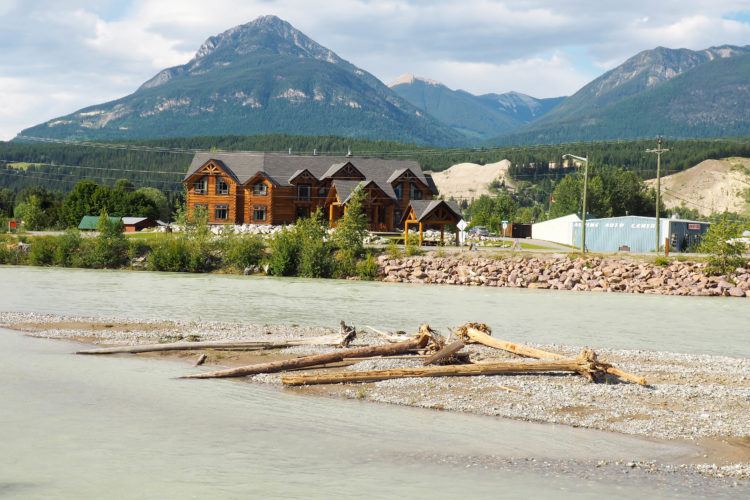 Golden is known as the "Heart of the Parks" (makes sense since it's surrounded by six of Canada's national parks), so you're well connected and not terribly far from anything in the area.
But before you rush outta town, check out the Northern Lights Wolf Centre (a wildlife preserve dedicated solely to wolves), Kicking Horse Pedestrian Bridge (Canada's longest freestanding timber frame bridge), the Art Gallery of Golden, and possibly even go on an alpine rafting adventure.
Golden's claim to fame is Kicking Horse Mountain Resort, with tons of ski runs (perfect right after some fresh powder), in addition to an on-site grizzly bear named Boo (who was rescued as a baby when his mother was hit by a car).
And if you're into white water rafting, Golden is the perfect spot for some intense Class 3/4 rapids on the Kicking Horse River. Be aware that the water is never warm, so you'll need to get all bundled up in dry and wet suits (which companies thankfully provide – no one keeps a spare wetsuit in their trunk, right?).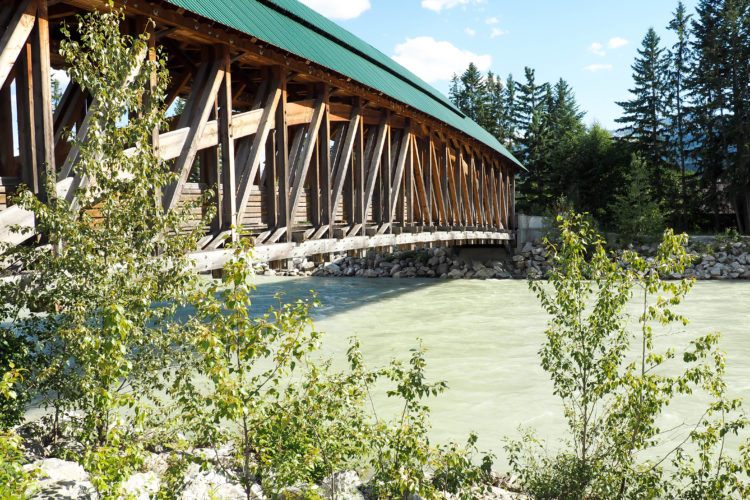 We chose to sleep in and get some much needed rest, so we skipped out on the rafting and decided to walk along the Columbia River instead. Plus, I know for a fact I would have fallen riiiight into the water, oars and all. Some of my friends went rafting and loved it, so know that if you're less clumsy than me, you'll probably have a grand old time.
Visiting during winter? There's skiing (downhill and cross-country), snowmobiling, apres ski, and snowshoeing, just to name a few of its namesakes.
Where to Stay in Golden: If your funds don't allow you to stay at the iconic Kicking Horse Mountain Resort (or it's all booked up), plan to stay at either Mount 7 Lodges (with private hot tubs and mountain views), Winston Lodge (luxurious and intimate), or Glacier Mountaineer Lodge (more great views!)
Stop #7: Emerald Lake in Yoho National Park
TOTAL DRIVE TIME: 50 minutes from Golden | Stay ½ – 1 day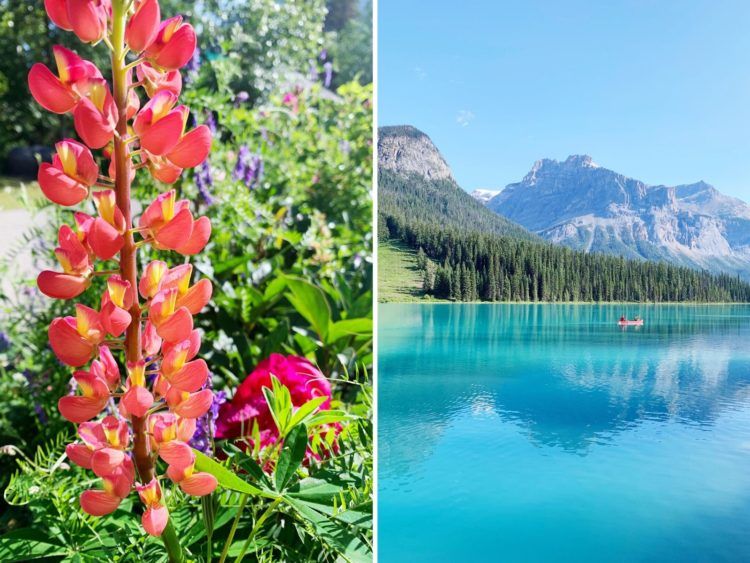 Ohhhh, Emerald Lake. Possibly my favorite of all the alpine lakes in all of Canada, even more so than the stunning Lake Louise (bold statement, yes I know). A few hours will be sufficient, but make sure to get an early start to the day to reach the lake before the masses arrive (and they do so in bus loads)!
If you plan to sleep in Golden the night before, you'll be under an hour from Yoho National Park, and Emerald Lake in particular.
Trust me, after seeing the glistening, emerald waters with the greenest pine trees reflecting in the water, you'll never want to leave. Happened to us! My friends had to literally drag me to the car, that's how much I loved it.
Be sure to take a walk around the perimeter, as you'll find yourself away from the crowds with the place almost to yourselves.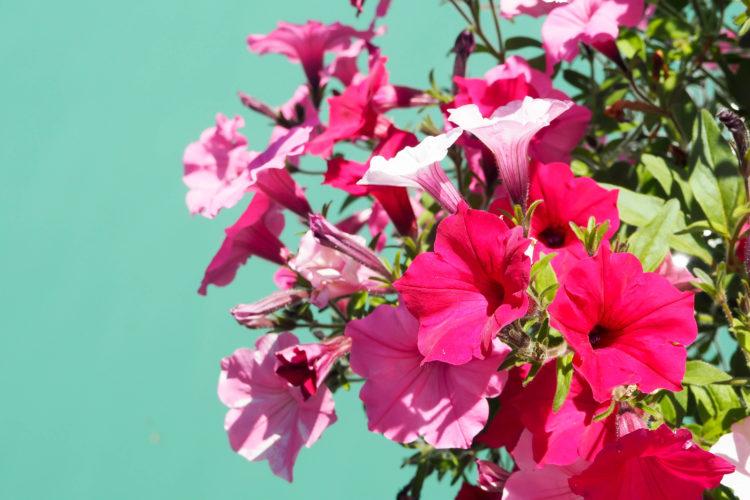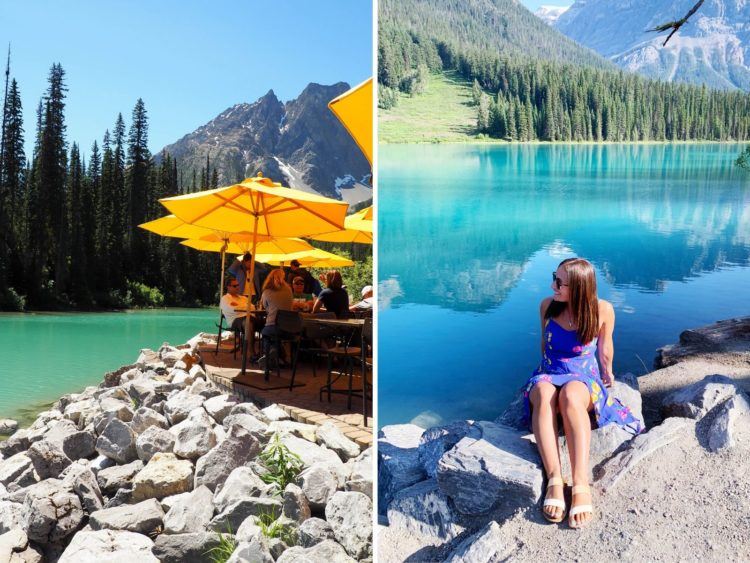 And plus, despite the high price tag, renting a canoe and paddling the lake is high on my bucket list. We hadn't accounted for the time we'd need to do so, so unfortunately missed out on this (there's always a next time for us)!
You can also make a short stop at Takakkaw Falls in Yoho, although we did not have time for this (we spent too much time gawking over the water at Emerald Lake – figures).
Some plan to spend a few nights at Emerald Lake Lodge, a peaceful resort overlooking the lake, but I think one night is more than enough (although entirely not necessary). However, I can't even begin to imagine how peaceful it must be waking up to those emerald green lake views below.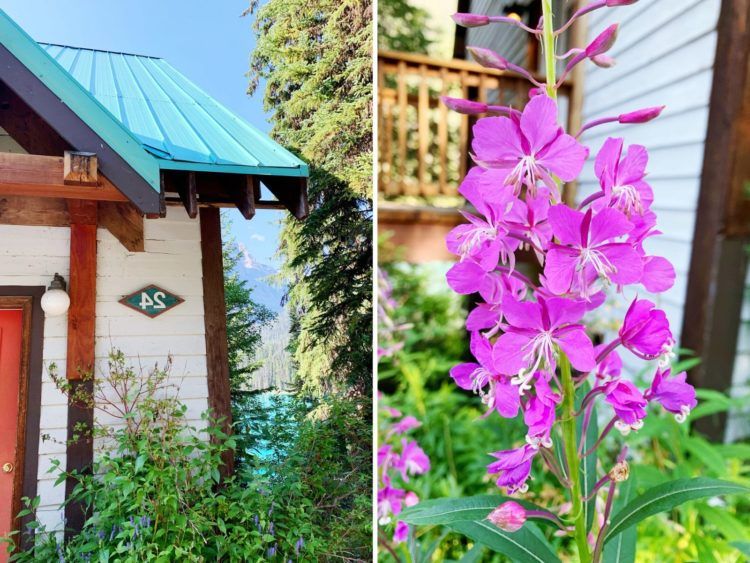 Stop #8: Lake Louise and Moraine Lake
TOTAL DRIVE TIME: 30 minutes from Emerald Lake | STAY 1-2 days, dependent upon hikes you choose
Get ready, because today is full of striking turquoise-colored lakes, snow-covered mountain tops, those famous red canoes, and loads and loads of people (face it, this is a sought after part of the world). You'd be downright silly to skip out on either of these during your Vancouver to Banff drive.
MORAINE LAKE
Moraine Lake is by far the most picturesque of all the hotspots in the area (and many even call it more spectacular than Lake Louise, myself included). BUT it's kinda a b*tch to visit (you heard that right).
You need to plan your timing right if you actually wanna see the lake in all its glory, since you need to visit very early in the morning (and I mean early).
The parking lot gets filled up by 6-7am at the absolute latest (and, yes, I'm dead serious), meaning in order to ensure a spot, you'll want to arrive no later than 5am. Yupppp, insane, right?!
There's another way to visit without all the crowds, although it'll still be a very early morning wake up call. Not many take advantage of this, but there are early bird buses departing from the overflow parking lot of Lake Louise right off the main road.
These buses will take you directly to Moraine Lake for just a few bucks (departing from 6-7:30ish, be sure to check the schedule in advance). This way, you don't need to get there at 5am, and can easily park in a lot.
Really have a thing against early mornings? You can plan to take the shuttle bus from Lake Louise to Moraine Lake, but be sure to get your ticket as soon as you arrive (tickets were sold out once we finished exploring Lake Louise and wanted to head to Moraine Lake).
We thought we could casually walk up to the shuttle line and snag a ticket – no siree!
Once you arrive to Moraine Lake, plan to climb up the large rock pile, as that's where the famous lookout spot is located (and where these photos were taken). This view, the lake surrounded by the Valley of the Ten Peaks, is actually one of the most photographed images of nature in the world. The world. Aka don't snooze your alarm!
The hike only takes a few minutes (15 minutes tops), and despite what others say, the path is pretty well-marked and clear. I climbed up in Converse and was just fine.
You can also rent a kayak over here, but in my honest opinion, the most rewarding views are from up above. From up here, you'll get to witness the snowy peaks of the mountains mirrored in the still turquoise waters below; it's an absolutely mesmerizing sight. Promise me you won't forget your camera.
LAKE LOUISE
Psst – If I had all the time in the world, I'd choose to visit Lake Louise twice. Once right after Emerald Lake in Yoho, and then again so the following day after Moraine. One day will suffice if you aren't planning on tackling too many hikes in the area.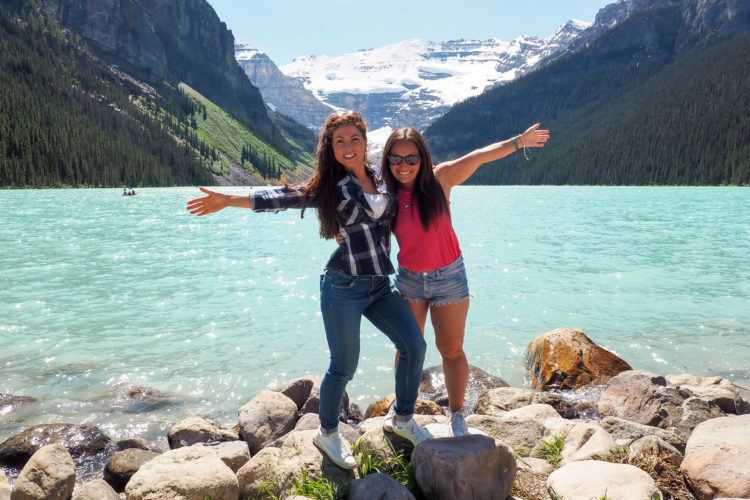 Ohhhh Lake Louise. The crown jewel of the Canadian Rockies. I promise you, a stop over here will be one of your favorites on this Vancouver to Banff road trip.
She's an absolute stunner, known for her chilly, turquoise waters with Victoria Glacier and soaring mountains overlooking the lake (with the beautiful Fairmont Lake Louise on her shoreline).
You'll want to plan at least a few hours here, if not a whole day, as you'll find yourself in awe at every corner and with enough activities to last quite a while.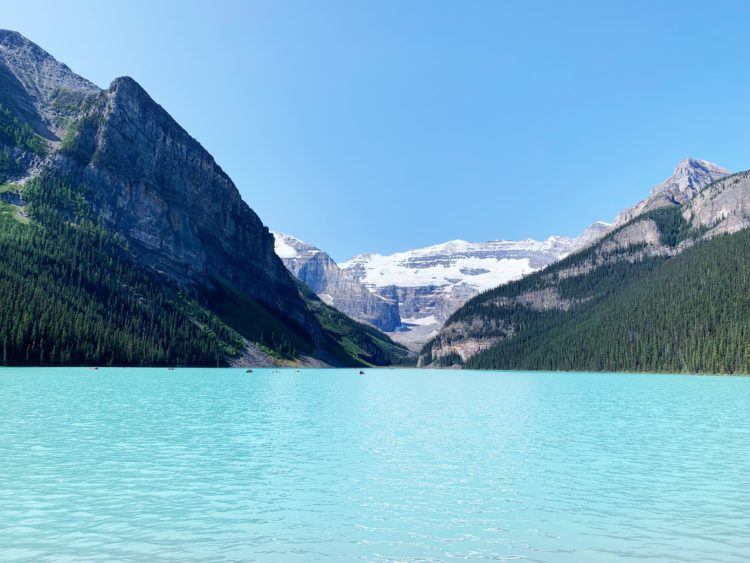 However (yes, of course there's a however), the time of year you visit Lake Louise makes a hell of a difference. Note that the waters of Lake Louise do not fully thaw until late May or early June, so if you're hoping to witness the lake in all her stunning glory, wait until mid-late summer for a visit to the Rockies.
April and May will bring more tranquility and solitude, but no one can promise those striking turquoise waters until July. And, as expected, the lake will be iced over in the freezing winter months.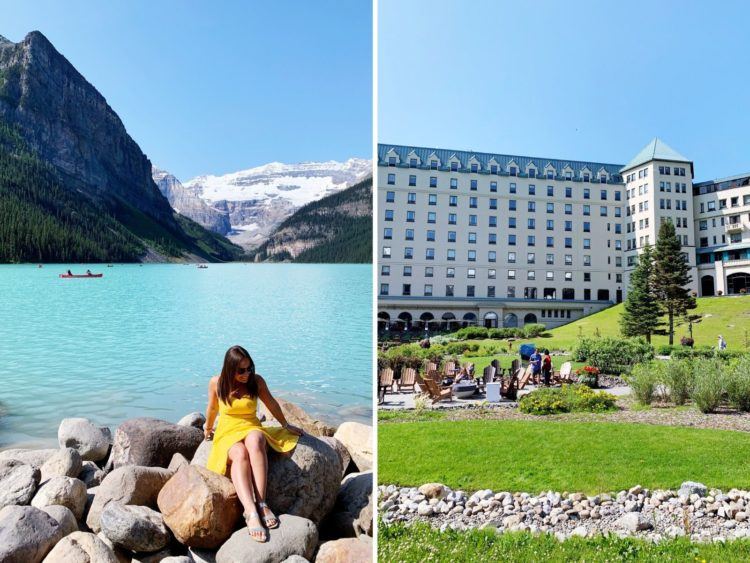 Don't fret though, each season comes with an abundance of activities. There's a canoe dock in the summer (with those famous red kayaks for rent), along with numerous hiking/sunbathing opportunities, while a skating rink on the frozen lake and an ice bar await in the winter.
I've visited Lake Louise in both summer and winter, and have to say, choosing between seasons is no easy task (they're both downright stunning in their own way).
Once you arrive, you'll see that everyone and their mother (and grandmother, sister, uncle, nephew, etc) wants to take photos on the boulders at the shoreline, and people actually line up to do so. All for the same rock!
Little do they know, there's large rocks bordering the entire shore, so if you just walk 2 minutes, you're bound to find another worthy boulder to stand on for your insta-photo. TL;DR: there's no reason to wait in line for photos here.
And on that note, yup, it's crowded beyond disbelief. However, if you stray from the area near the hotel, you'll find much more peace and quiet. Plan to walk around the lake on the Lake Louise Lakeshore Trail (at least part-way), and you'll encounter tons of milky-blue creeks and picturesque meltwater along this easy and super-scenic trail.
Look back and you'll even get great views of the grand Fairmont Lake Louise, which is a stunner in it's own way.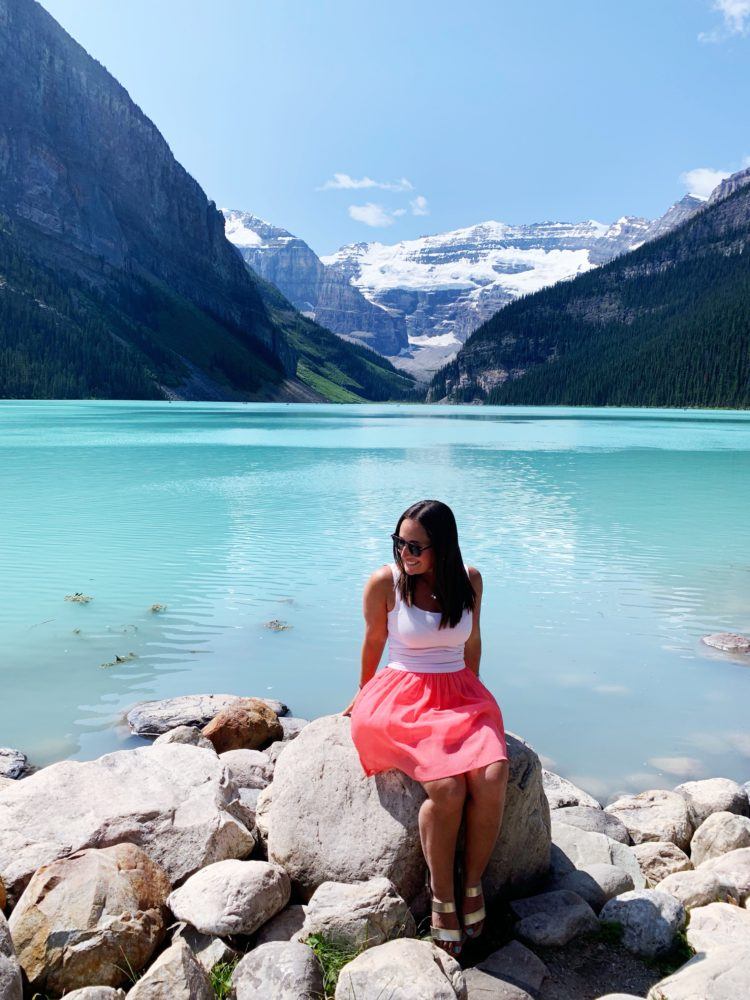 Wanna see Lake Louise from above? What about burning off some of those BeaverTail-induced calories? There are numerous hikes to quaint mountain top tea houses above Lake Louise, including Lake Agnes Tea House (4.4miles/6.2km) with the additional extensions of Little/Big Beehive (+2/3 km), and the Plain of Six Glaciers (8miles/13km).
These have quite the view to effort ratio (meaning phenomenal views for only moderate activity). You'll want to set aside a few hours for each of these hikes, and expect the tea houses to be fairly crowded in the summer months.
Where to Stay in Lake Louise:
Many opt to spend the night at The Fairmont Chateau Lake Louise, and after checking it out a few times, I can honestly say I'll be booking a night (or two) here with my husband on my next visit (it was all sold out last time – we planned our trip kinda late).
Thankfully, non-guests are allowed inside the resort, so we can all just swoon with jealousy (hahaha, but no, really, the resort is just gorgeous and I get why it's high on everyone's bucket lists).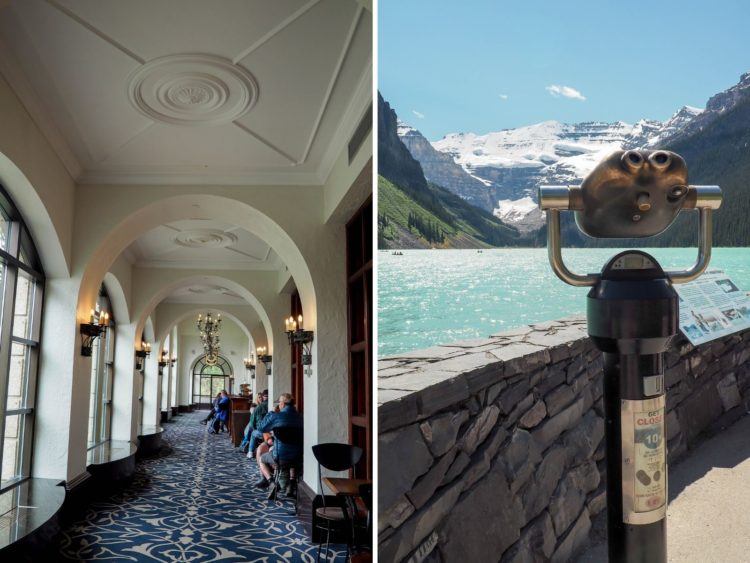 If handing over your first born child isn't your idea of fun (but in all honesty, now's a great time to visit since the US dollar is oh so strong – you'll essentially save ~25% if you go now when the conversion rate is to our advantage), check out other hotels in the area, including Lake Louise Inn, Deer Lodge, and HI Lake Louise Alpine Center (great hostel for those of us on a more budget option).
Do note that there isn't really much "budget" accommodation around here – hotels know they've got prime real estate and aren't afraid to make you pay for it.
Stop #9: Town of Banff and Beyond
TOTAL DRIVE TIME: 40 minutes from Lake Louise | STAY 2-3 days
We made it to Banff! Phew! It seems like a whole lotta driving, but in reality, it's not terribly long. This town is the epitome of a true mountain town – with peaks dominating its skyline, chateau-style hotels, lots of souvenir shopping options, and tons of wildlife (yes, bear spray is much-needed over in these parts).
Technicallllyyy, Banff National Park includes Lake Louise and Moraine Lake, but we've already visited those on our drive from Vancouver to Banff. You can choose to spend these nights in Banff Town and visit the lakes from here, as the accommodation options are sparse and/or more expensive the closer you get to Lake Louise.
With two days in Banff proper, you can easily fit in these activities:
Johnston Canyon Hike: If rushing waterfalls, limestone cliffs, and turquoise pools get you going, plan a morning at Johnston Canyon. Note that the farther you venture, the more you'll see. You can easily hike to the lower falls in 1 mile (roundtrip), upper falls in 3 miles (roundtrip), and the ink pots in 6.5 miles (roundtrip).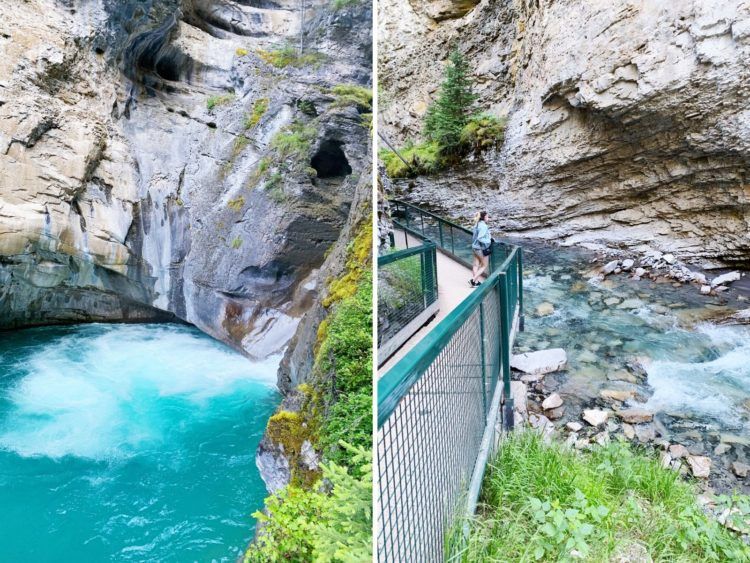 We managed to trek to the lower and upper falls in roughly 2 hours or so, and most definitely recommend this! The hike to the falls is relatively easy, partially on wooden/steel catwalks and paved roads.
In winter, it's covered in snow and a whole different spectacle. Think ice crystals and icicles at every turn; it's like stepping into Narnia. You'll want to get here early if visiting in summer (yes, we already established it's busy, busy, busy this time of year), as the parking lot gets filled up quite early.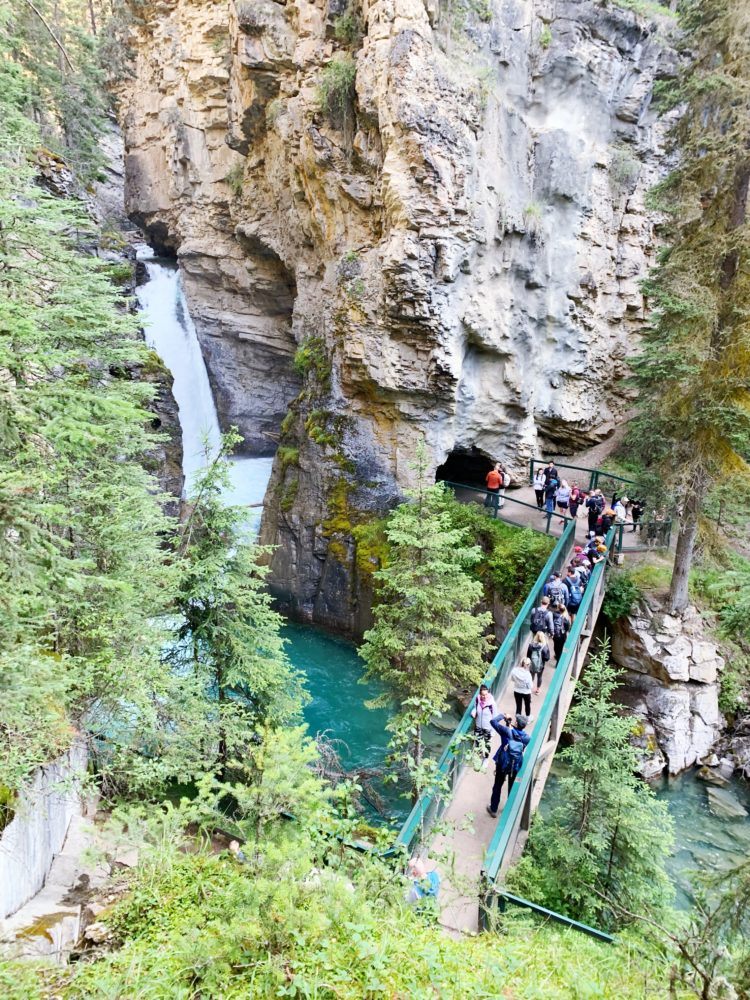 Banff Gondola: One of the most popular things to do around here is the Banff Gondola, a scenic cableway heading to the summit of Sulphur Mountain to reach its 360 degree rooftop observation deck. From up here you'll get panoramic views of the town of Banff, stunning Bow River, and the surrounding mountains.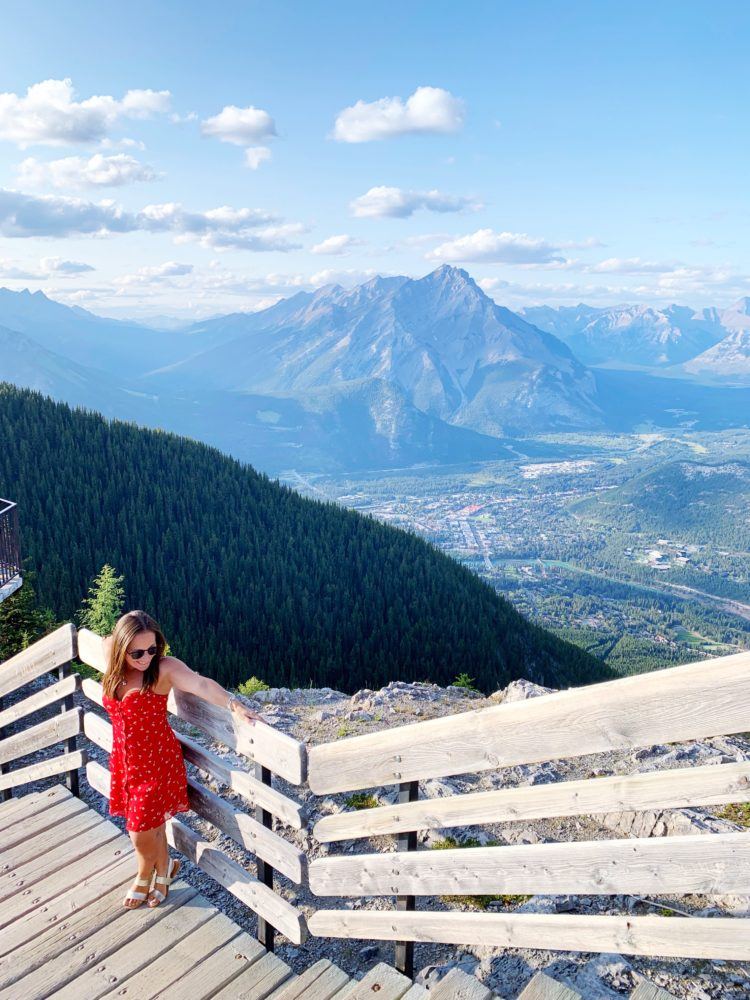 We were in such awe the entire time; pictures do not do this place justice (take my word for it). We found the best views by walking a bit more, along the Banff SkyWalk Vista Trail, where thankfully the crowd dispersed quite a bit. We even saw a few bighorn mountain sheep up here, casually strolling around and posing for photos.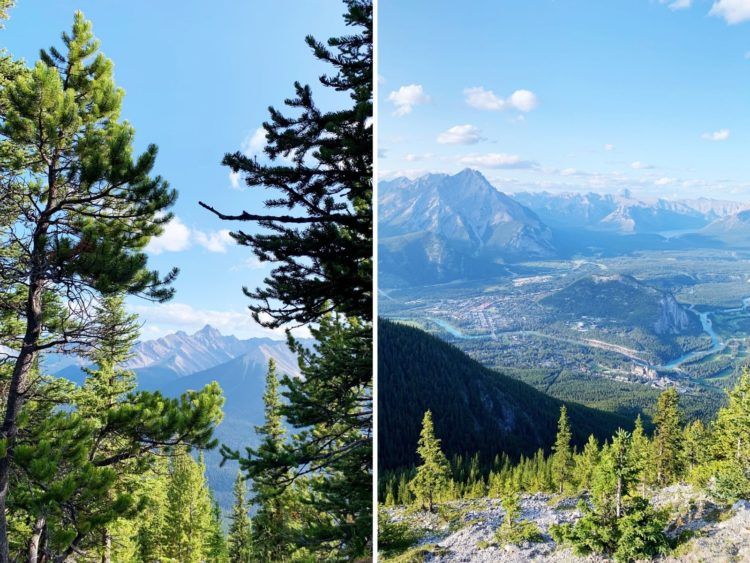 Do note that it's kinda expensive to take the Banff Gondola, with prices currently around $55CAD. If you wanna slash the cost of that admission ticket, plan a 2 hour hike up the summit of Sulphur Mountain, and get the same views fo' free!
This moderately-strenuous hike (6.8miles of a series of switchbacks) provides stunning views of Bow Valley almost the entire way.
Sunshine Village Gondola at Banff Sunshine Meadows: This place is pretty packed come winter, but you'll find it relatively quiet in the hot, summer months. Banff Sunshine Meadows is a ski resort on the outskirts of town, known for its intense ski trails come winter and moderate hikes once ski season is over.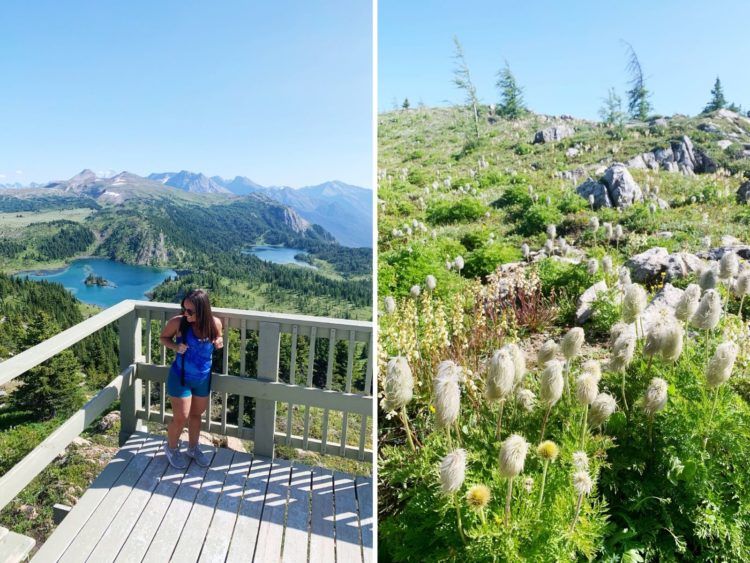 We took the gondola up, and loved walking throughout the wildflowers. We almost decided to take a short hike to one of the lakes for closer views, but quickly decided against it once we heard there'd been a grizzly sighting near the path just the day before (and we had no bear spray with us!).
The view from the lookout point was satisfying enough – just check out that photo! And be sure to bring along some bear spray if you're planning a hike!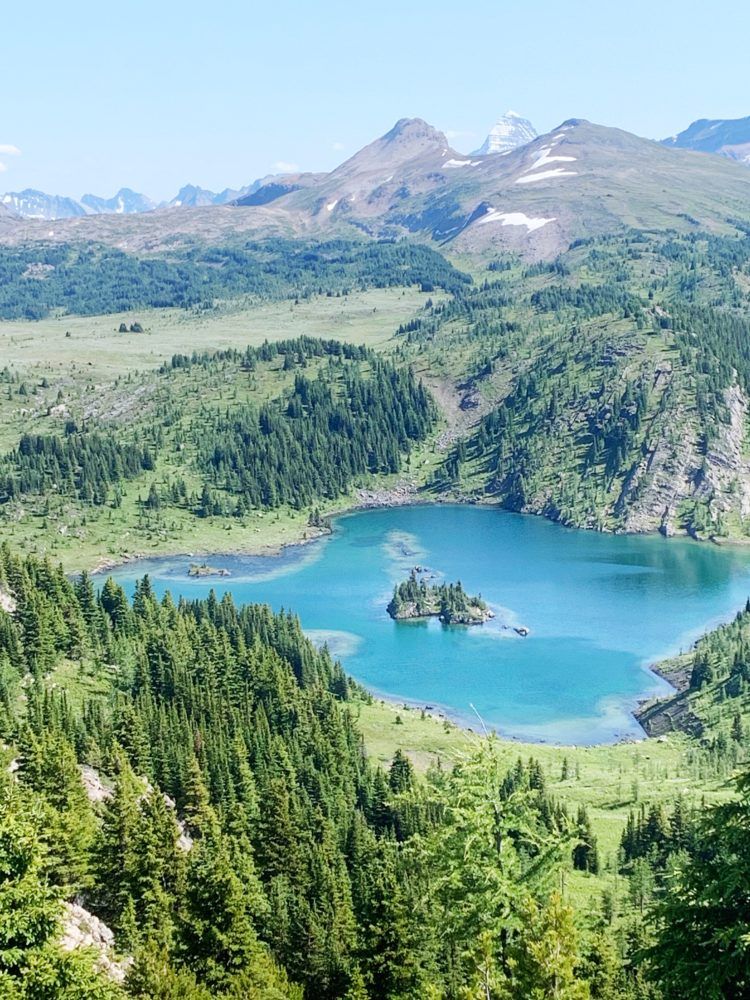 Walk along Banff Avenue and in town: Banff has got to be one of the cutest mountain towns I've encountered in a very long time, and this bustling main street can't be beat. You'll find dramatic mountain views while walking down the popular street, in addition to tons of shops, restaurants, art galleries, and more.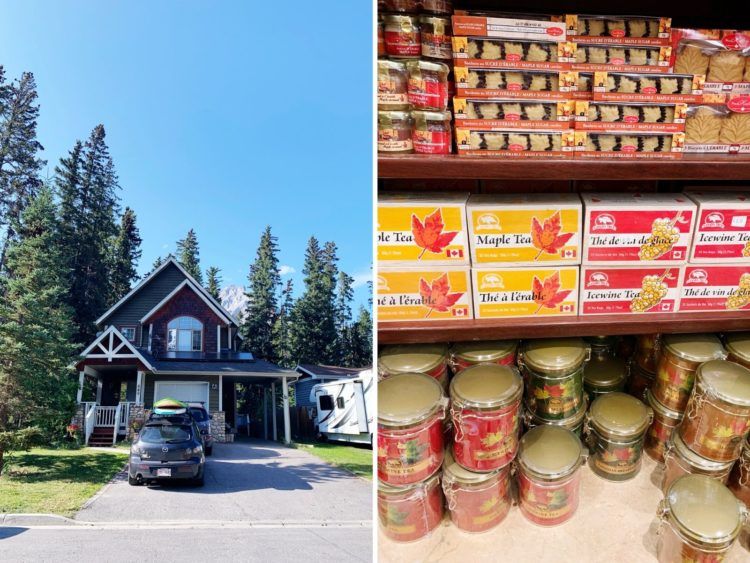 Can't find what you're looking for? Just walk up and down the side streets – you'll find BeaverTails (don't miss this iconic greasy treat), homemade fudge, ice cream, and possibly even a few deer! Just be aware you won't be the only one going for a stroll – summer sees a swarm of visitors, so be prepared to dodge some crowds along the way.
Banff Upper Hot Spring: I mean, what could be better than soaking in a warm bath with 63,537 of your closest friends? Nothing, as long as said bath is nestled in the Canadian Rocky Mountains with views of Mt. Rundle across the valley.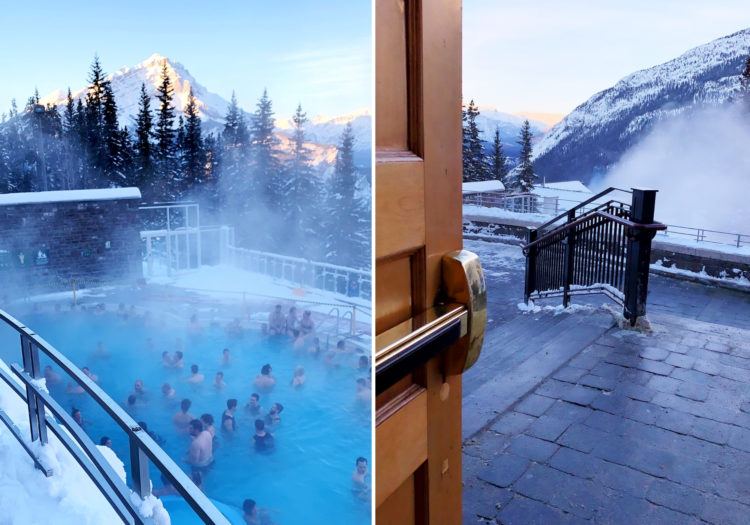 I visited twice (once in winter and the other in the heat of the summer), and have to say that the Upper Hot Springs are even more spectacular when the temps are below zero (and yes, your hair will freeze and turn gray – it happens to everyone, and returns back to its normal state quickly after leaving).
Be prepared to wait in line, as the hot springs are a popular attraction no matter the weather.
Surprise Corner Viewpoint: You're driving and driving along Tunnel Mountain Road, and BAM! There's the Fairmont Banff Springs Hotel (and Sulphur Mountain) in the distance. You'll only need a few minutes over here to check out the view, but boy, is the short drive worth it. There's no sign here, so just follow your Google Maps and you'll see it straight away.
What/Where to eat in Banff:
Indulge in some fondue: Creamy, cheesy, deliciously-indulgent fondue. No matter the season, make sure you spend a night stuffing your face with some of the good stuff. I've had the fondue at both Waldhaus at the Fairmont ($$$) and Ticino ($), and can honestly say I left wishing for more (although my stomach definitely couldn't handle another bite). Don't miss the chocolate fondue – great at both spots as well!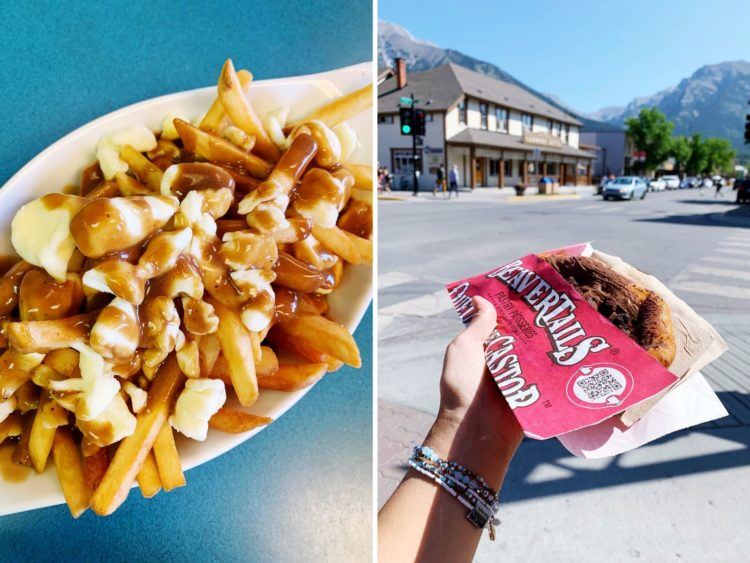 Grab yourself a BeaverTail (or two): Craving a sweet, sweet, sugary midday snack? Stop by and pick up one of these greasy goodnesses – they're kinda like a Canadian institution around these parts. Five parts fried dough, two parts toppings of your choice (I opted for the nutella and reese's pieces), and 6,371 calories (kidding of course, but you'll see what I mean after you stuff it down your throat).
Poutine: Fries with cheese curds and gravy; enough said.
Breakfast spots: A hearty breakfast is extra important if you'll be out exploring all day. I particularly enjoy Whitebark Cafe, Wild Flour, and Good Earth Coffeehouse.
Where to Stay in Banff: I recommend staying as close to Banff Ave as possible, as there are numerous hotels directly on this long road. By doing so, you'll be within walking distance to a wide array of restaurants, so they'll be no need to park your car over here (many hotels have at least some parking).
Be sure to book your stay WAY in advance should you be visiting during the prime tourist season of summer.
A few recommended options: Fairmont Banff Springs Hotel (it's literally a castle and absolutely breathtaking, so of course I have to suggest it), Elk + Avenue Hotel (hip and trendy with mountain views), Moose Hotel & Suites (super stylish), and Samesun Banff (centrally located hostel).
After quite a bit of a drive, the road trip is officially over! Unless you want to continue on up north via the Icefields Parkway to Jasper National Park (plan an additional 2-3 days for this). More info on these spots coming up shortly – be on the lookout for those!
Are you planning an upcoming road trip from Vancouver to Banff?! Bring me home a few BeaverTails, please and thank you! 🙂