Heading to Greece and looking for things to do in Mykonos? You're in the right place, my Mediterranean-loving friend!
I first visited Greece for my honeymoon a few years back, and was lucky enough to spend a bit more time in the country last summer as well. The little island of Mykonos was one of the highlights of my entire trip, so I've enlisted Bailey from
The Gay Globetrotter
to share some of the best things to do in Mykonos for any Mykonos itinerary!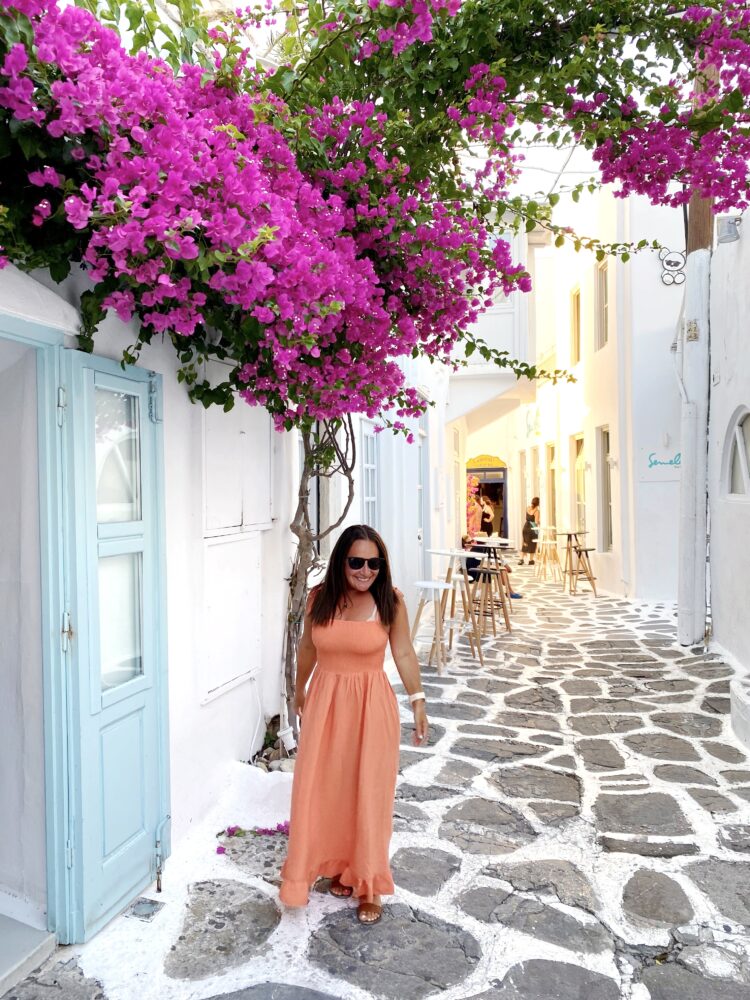 Once you visit this beautiful island, you will understand why it is such a popular travel destination for backpackers and travelers alike. There are a ton of things to do in Mykonos, whether your tastes include hiking and snorkeling or luxury shopping and tanning at the beach!
Mykonos has always had a soft spot in my heart, and I cannot wait to revisit this magnificent island. Below is a list of my favorite things to do in Mykonos, which will most definitely assist you when planning out your Mykonos itinerary!
So, let's dive right in.
Mykonos Pre-Travel Guide
How to get around:
In Mykonos, you will land by ferry or flight near the main port. From here, there are a ton of shuttles and busses around to help you get to your hotel or area!
The most popular way to get around Mykonos is to rent an ATV and ride it through the hilly and windy streets. It is a great way to see the island without waiting around for buses, tour guides, or taxi services, and one of the best things to do in Mykonos.
Other ways to get around the island included taxi boats, shuttle buses, and taxis. These are all fairly inexpensive options, depending on how far you are traveling!
Important things to pack:
Greece uses the Euro, so make sure you have some of those ready to go before you travel to Mykonos. The exchange rates can be pretty high on the island, as it is largely a tourist destination. Make sure you pack sunscreen, a hat, and sunglasses as well as the island is hot, and you will need to make sure you protect yourself from the sun. No one likes a nasty sunburn on their vacay!
Where to stay:
While I was in Mykonos, I got a great deal on the Acrogiali Hotel located on Platis Gialos beach. I could not recommend it more! If you are looking to party, stay closer to Paradise beach or Super Paradise beach. These have the busiest parties going on throughout the summer season!
Hostels can be a great option if you are looking to cut back on the costs during your stay in Mykonos. Hostels will typically cost you about €35 a night, whereas hotels will set you back about €75. There are a ton of things to do in Mykonos, so no matter where you decide to stay you will still be close to some fun!
When to go:
The busy season on the island of Mykonos is between June and September. Supply and demand means that you will see an increase in lines, tourists, and prices. This is unavoidable if you are planning to go for the party season, so just be ready to secure a hotel well in advance and expect for things to be a little more crowded!
I found that the optimal time to visit Mykonos is between April-May, or September-October – the sun is still shining, and everything is a lot less busy! Beware if you venture too far off season while planning a vacation to Mykonos, as a lot of hotels and restaurants do shut down. Call and double check with the place you'd like to stay that they are open the dates that you will be traveling!
Important phrases:
There are a ton of things to do in Mykonos, and because of this the island is super busy during peak season. Most people who work and live in Mykonos are well versed in English, from interacting with so many tourists.
That being said, I have found the locals to be much more acceptive and willing to help if you at least make an attempt to learn the local language. Below are some of the common phrases that are good to know while you are traveling Greece!
Hello – Χαίρετε (Chaírete)
Thank you – ευχαριστώ (efcharistó)
How do you get to _____ – πώς πας στο (pós pas sto ____)
Can you take my photo? – μπορείτε να πάρετε τη φωτογραφία μου (boreíte na párete ti fotografía mou)
WIFI AND STAYING CONNECTED
Although you will most likely have wifi at your accommodation, it's a good idea to bring along a pocket-sized personal WiFi hotspot, to keep you connected during your time in Greece. WiFi hotspots are a cost effective option to ensure you can use GPS apps like Google Maps, check your emails, and catch up with friends and family while away.
With this portable device, you'll have WiFi wherever you go (even if your phone doesn't have service), unlimited internet (on up to five devices at a time – meaning you can share with friends/family!!!), and it's fast and reliable. At less than $9 a day, this device can't really be beat.
Note that some cell phone plans allow for international use, but many of these are costly. I once accidentally turned on my phone service for LESS THAN 2 MINUTES and got charged $150 by my phone carrier! I desperately wished I had a personal WiFi hotspot with me then!
Find more information and plan options here. HIGHLY RECOMMENDED especially when you don't speak the native language of the country you're going.
And now, what you've been waiting for, a list of things to do in Mykonos! Whether you're spending three days in Mykonos or only have one day in Mykonos, you can be sure to find a bunch of exciting things to do on this sweet colorful little island.
Best Things To Do In Mykonos
Explore the Town of Mykonos
Mykonos is known to have one of the most beautiful little towns in the world! You will find yourself lost amongst cobblestone streets and white stone buildings with blue trim – an aesthetic specific to Greece.
The town of Mykonos is filled with a maze of streets lined with houses, shops, restaurants, and friendly locals! I have gotten lost in the beauty of the town of Mykonos many times, and then literally gotten myself lost. It is definitely a maze!
Take Photos at the Windmills
The windmills in Mykonos are perhaps the most famous landmark on the island. There are 5 windmills perched atop a hill located just outside one of more popular areas on the island. Make sure you have your camera ready!
They are definitely photo-worthy. As with any landmark attraction, the windmills can get a little touristy so be prepared to wait patiently to get a good photo. The bright side is that there are a ton of things to do in Mykonos located around the windmills, so you won't be waiting too long!
Eat Some Street Gyros
Gyros are one of the cheapest and popular foods in Greece. They're basically all I wanted to eat! Vertically roasted lamb or beef is shaved and stuffed into a pita. It is then topped with onions, tomatoes, tzatziki, and delicious french fry-goodness!
Street gyros will only set you back about €1, so they make the perfect quick meal while you are roaming the streets and crossing off some of these things to do in Mykonos! Check out this Greek food guide for lots more tasty things to cross off your Mykonos bucket list! 🙂
Rent An ATV
One of my favorite things to do in Mykonos is to rent an ATV. Some of the beaches and attractions are quite spread around the island, so it is definitely a favorite transportation option for backpackers and travelers alike!
You will find ATV shops scattered around the island, and all that is required to rent them is a passport and/or a driver's license. Be aware though, some companies have been reported to scam tourists and report damages on the ATVs after they have been returned. Be sure to take photos of any preexisting damage, and never give your ID over to a company, only photocopies!
Attend a Beach Party
Similar to Ibiza, Mykonos is known globally to throw some crazy parties. Around the island, you will find tourists flocking to the hotels and hostels for parties that go into the wee hours of the morning. Mykonos attracts some of the biggest DJs in the world during peak season, and a lot of their parties are themed!
Mykonos and Ibiza have a rivalry for being the craziest party destination in Europe! You will find neon t-shirts throughout the town that say things like "Mykonos trumps Ibiza" and "Mykonos > Ibiza", as well as a few that I probably shouldn't repeat!
If you want to avoid the party season, make sure you visit Mykonos between April-June, and September-October! There are still a ton of things to do in Mykonos while not being around during the peak season. The end of the season parties are usually thrown about halfway through September, and the island begins to settle down shortly afterwards.
Grab Dinner in Little Venice
A quick Google search of Mykonos will show you how picturesque Little Venice is. Little Venice is not actually a town, but rather a street of restaurants and shops that hang over a beautiful ocean area next to the windmills.
Little Venice is known to have most of the fine dining, and caters to a more luxurious crowd. I would also suggest making a reservation before trying to dine in Little Venice, as it can get pretty busy during peak season. A definite must on your list of things to do in Mykonos!
Go Snorkeling From Platis Gialos
Platis Gialos is a beautiful beach that offers ferry boats out to other beaches around the island. From this mini port, you can go on guided snorkeling tours around the island! Snorkeling was one of my favorite things to do in Mykonos.
We had a blast seeing some of the marine life around the island. You can take half day tours, or full day if you are feeling a little more adventurous!
Take A Day Trip By Boat Around the Island
Another option out of the mini port on Platis Gialos are the day tours that they offer around the island. Mykonos offers so many different beaches; it can be hard to see them all! The day trips will give you access to a few beaches that can only be accessed by boat, as well as give you a few hours at each beach to do what you'd like – be it drink in the sun (my go-to), swim, take photos, or just nap!
Explore the Nightlife In the Town of Mykonos
While Mykonos is known for its crazy beach parties that attract a ton of party-crazy tourists, a lot of people forget to visit the town of Mykonos. In the town of Mykonos, you will find a lot of smaller pubs and bars scattered throughout the cobblestone streets, which are often packed with locals. I found these nights to be a ton of fun!
From dancing, to singing, and drinking ouzo with my new friends! Make sure you don't get caught up in the whirlwind of fun in Mykonos and pass up the opportunity to learn and live like a local while you are traveling!
Soak up the sun on Platis Gialos or Elia Beach
If you are hoping to get away from the busier beaches, these beaches are for you. I found that a lot of my time was spent on Platis Gialos, with a few day trips over to Elia beach. Platis Gialos does not attract many tourists, so it's perfect if you just want to relax.
You will find people come around with drinks, food, and massages right to your beach chair, which is honestly heaven. If you aren't staying on the beach, you will find that beach chairs will set you back about €20 a day.
Be prepared to pay this if you are on a beach away from the hotel you are staying at! Elia beach is famous for being a clothing optional beach, and as such has fewer families relaxing at it.
There's also a fun gay area on Elia beach if you are interested in that at all! If you are comfortable with clothing optional beaches, I could not stress enough how beautiful Elia Beach is!
Explore the Private Beaches around the Island
A lot of the beaches in Mykonos are connected by trails around the Island, which make for a beautiful and scenic hike around the island if you're a big hiker like me. I found that if you venture off trail a little bit, you will stumble upon many small private beaches and caves.
I brought a bottle of wine and a speaker with me, and just relaxed on a little private beach I found without worrying about anyone stopping by!
Taste the Greek Wine
If you know anything about me, you know that I will never pass up a glass of wine! The food in Greece is amazing, but so is the wine! I didn't have a single glass of wine that I didn't enjoy. Many restaurants around the islands offer wine tastings that are fairly inexpensive, and I found them to be very helpful for a more inexperienced wine drinker!
Converse with the locals
One of the most important aspects of traveling is to learn about the culture of the place you're in, and really absorb what you can to bring it home with you. The locals on the island of Mykonos all have such a rich history, and are very, very friendly.
I found it so interesting to learn about how the locals in Mykonos have lived their lives, and how different it is from mine back in Canada!
Feed the Cats
Greece as a whole has a large population of stray cats, and Mykonos is no exception. There are stray cats scattered throughout the island, which is cute but a little sad.
I might be particular to cats (crazy cat gay guy over here), but I think it is an important ethical practice to ensure any living being is properly cared for on this planet. In my travels, I dedicate at least an hour a day to buy some food to feed the strays in the area.
A great thing to do in Mykonos is to grab some cat food at any corner store. Feed the strays you see. Take an hour to do it, I promise you its rewarding. Whatever you do though, don't pet or play with them as a lot of them do not have their shots and can pass their illnesses onto you.
Barter at the vendors
Mykonos is known to host a lot of more elite tourists with money to spend, so a lot of their shopping is designer. Head a little further north in the town of Mykonos, and you will find many smaller vendors and shops.
You're able to barter in a lot of these, which make for cheaper souvenirs! I grabbed some oregano and olive oil for my family and friends, and got it nicely discounted. Half of the fun of barter shopping is the actual bartering!
Are you spending three days in Mykonos any time soon? Have you been to Greece before? What would be on your Mykonos itinerary?!