Looking for the best things to do in Dubrovnik, Croatia? Welcome, my Mediterranean-loving pal, you're in the right place! Even if you've got only 2 or 3 days in Dubrovnik, a weekend in Dubrovnik is enough time to see many of the cities highlights.
Every time I plan out my summer, Croatia ends up at the top of my list. And then it never works out. For some reason or another, I can't figure out how to easily fit it in with the rest of my complicated itinerary. I did make it to a little northern island off the coast – Pag Island – and beautiful Zadar, but I'm still dreaming of visiting Croatia's hot spots including Dubrovnik, Split, and Hvar.
Thankfully, I've enlisted my Croatian-loving blogging pal Kristen from Travels & Treats to share with us her favorite things to do in Dubrovnik. And honestly, after reading this list of things to do in Dubrovnik, the city (and country as a whole) now holds a firm spot in my future travel plans.
PRE-TRAVEL GUIDE TO DUBROVNIK
When to go
The summer is by far the most popular time to travel to Dubrovnik. The weather from May to September is best for spending time on Croatia's countless beautiful beaches.
However, with the gorgeous weather comes swarms of tourists and cruise ships, so be aware that you will likely encounter crowds and higher prices during peak season. If you aren't so interested in hanging by the beach, offseason is much quieter and way less crowded.
Keep in mind that many businesses, restaurants, and bars are said to shut down during the slow offseason. Shoulder season (April and October) is the sweet spot, with cooperative weather and tourist attractions still being open.
Where to Stay
Because the summer months are so popular in Dubrovnik, most hotels are known for implementing extreme increases on nightly rates. Renting an apartment is usually a much more affordable option, and such a better value. For less than the price of a hotel, you can find lovely apartments through AirBnb that are available in prime locations, such as within the old city walls or up on the hill next to the Old Town. Due to the hilly landscape, many of the apartments in Dubrovnik come with incredible views of the sea.
How to Get Around
Once you get to Dubrovnik from a larger city, say from Split, you'll have an easy time getting around. Dubrovnik is a fairly small city, so walking is the most sensible form of transportation. Most sights and points of interest are in the same general area, so you likely won't need to move around much.
If you do want to explore more of the city, head to the outskirts or go for a day trip, renting a car is likely going to be your best option. Another option is to hire a driver, as the public transportation across Croatia isn't as abundant as other European countries.
Important Things to Pack
If you're visiting Dubrovnik during the summer, as most travelers do, you definitely need sunscreen as your number one item to pack. It's better to come prepared, as it's expensive to purchase in the local shops. For the beaches, you'll want sandals or water shoes that can get wet.
Note that the beaches in Dubrovnik are not sandy, but rather quite rocky. While the beaches are incredibly beautiful, they can be hard on your feet. The rocks are also home to sea urchins, which are a sure way to ruin your vacation if you accidentally step on one walking into the ocean. Ouch!
For more practical information about the city, check this out!
Up next: itinerary options for a weekend in Dubrovnik!
15 THINGS TO DO IN DUBROVNIK
1 | Watch the sunset from Mt. Srd
Dubrovnik is full of gorgeous views, but Mount Srd might offer the best. Topped off by a fortress that has been used during periods of war in Dubrovnik, the hill overlooks the entire city and sea, making this an absolute must-see spot in the city.
A hiking trail will lead you to the top on foot, or if you're feeling a bit lazy/hot, you can opt to take the cable car, which is a much easier route. There is a fee to ride the cable car, but you will not be disappointed when you reach the top.
The view is beautiful no matter what time of day you choose to make the journey up the hill, but going up in time to watch the sunset is absolutely magical and highly recommended as one of the best things to do in Dubrovnik.
2 | Try a Peka Dish at Konoba Dubrava
Once you're on top of Mt. Srd, you'll be within walking distance to one of the best things to do in Dubrovnik—eating a traditional peka dinner. The walk is about twenty minutes from where the cable car drops off, but it's worth it for a chance to taste some of Dubrovnik's best food.
Peka is a meat meal that is cooked under a hot iron bell for approximately three hours. Konoba Dubrava excels at making this dish and it is a must for every traveling foodie.
The secret is that you have to order this meal in advance because it does take hours to cook. Luckily, the restaurant allows you to make a reservation and place your dinner order via email before you even leave for your trip. Pretty fancy, am I right?
3 | Take the ferry to Lokrum Island
From the Old Town Port in Dubrovnik, you can hop on the ferry and have your feet down on Lokrum Island within 15 minutes. Here you'll find botanical gardens, an old monastery, and a number of colorful roaming peacocks, freely wandering around the island.
If you need a break from the city scene in Dubrovnik, Lokrum Island is the perfect spot for a quick escape into nature. If you get hungry, there is a restaurant located towards the center of the island. The ease of access, beautiful scenery, and countless swimming spots makes it high on everyone's list of top things to do in Dubrovnik.
4 | Eat oysters from nearby Ston
Hopefully you like seafood, because Dubrovnik offers some of the best. The Croatian town of Mali Ston is famous for its oysters, which are said to be some of the best in the entire world. Dubrovnik restaurants proudly serve oysters from Mali Ston since the oyster hot spot is less than an hour away.
Looking for places to eat in Dubrovnik? Check out this restaurant guide!
It's said that the reason the oysters are so delicious is due to the blend of nutrients in the Mali Ston Bay. Whatever the reason may be, you should try them and taste for yourself.
5 | Sunbathe at Banje Beach
You can't go to Dubrovnik and not spend time at Banje Beach. Popular among sunbathers, snorkelers, and vacationers of all ages, this beach is one of the must-see things to do in Dubrovnik.
The water is crystal clear and the beach offers a straight-shot view of the old town walls. Being surrounded by the old town, which carries such a rich history, definitely makes Banje Beach a unique, unforgettable beach experience. It doesn't hurt that the water is the most beautiful shade of turquoise. Just look at the water! Perfect!
6 | Walk the historic city walls
Sometimes the most popular tourist destinations in a city end up being really overrated and disappointing. Thankfully, that is not the case with the historic city walls in Dubrovnik.
The historic city walls run around the perimeter of the Old Town. For a fee, visitors get to climb to the top of the walls and circle the Old Town from above. Every step you take offers a stunning new view of the Adriatic Sea, islands in the distance, burnt orange rooftops, and pedestrians strolling the town below. You'll definitely want your camera in hand, that's for sure!
7 | Taste Croatian wine at D'vino Wine Bar
Did you know Croatia has a bustling wine scene? The country has an abundance of wineries that much of the world is unaware of because the Croatian wine industry doesn't export much of its product. If you're a wine afficionado, wine tasting is surely one of the things you must do in Dubrovnik.
Croatians are proud of their locally produced wine and it's actually really good—and affordable! You can pick up a bottle at any local market, but why try just one when there are so many choices? At D'vino Wine Bar in the old town, you can order tasting flights and sample multiple wines that are produced in the local area.
8 | Shop at the market in Old Town
Street markets are a great way to get a taste of the local lifestyle, cuisine and overall food culture. Gundulićeva Poljana market is no exception. This open-air market sets up in a small square of the old town where local farmers and vendors sell their fresh produce and products.
If you are staying at a place with a kitchen, this market would be the perfect place to grab a few things to cook a meal. The fresh fruit for sale also makes for a great snack while walking around the old town, especially in the summer heat.
9 | Go for a swim in the adriatic
If you're visiting in the warmer months, swimming in the Adriatic Sea is one of the absolute best things to do in Dubrovnik (!!!). The sea is really calm, so the lack of crazy, rough waves makes it really easy to swim around safely.
More importantly, the sea is gorgeous! The water is incredibly clear and blue, making it a great place to throw on a pair of goggles and explore what's going on beneath the surface. If you have a waterproof camera, like a GoPro, you're going to want to bring it. Dubrovnik is the perfect place to capture some awesome underwater shots.
10 | Grab a drink with a view at Buza Bar
Imagine what a bar might look like in paradise, and you'll probably have an image in your head that's pretty close to Buza Bar. Hanging off the edge of a cliff—literally—Buza Bar offers panoramic views of the Adriatic Sea and Lokrum Island.
There's not a bad seat in the house, as every table faces the water. And on hot days, which is all summer season in Dubrovnik, you can cool off in the sea. A short flight of stairs leads down from the bar directly into the water. This bar is truly a dream and a great way to kick off a weekend in Dubrovnik.
11 | Eat for cheap at Buffet Skola
Dubrovnik has gained a reputation for being an expensive city to travel and eat. Whether that's true or not, it's always nice to have cheap food options without sacrificing quality and the local experience. Buffet Skola is just that—cheap, yet tasty and authentic!
Prsut, similar to Italy's prosciutto, is a popular cured meat in Croatia. The prsut sandwich at Buffet Skola is one of the best cheap eats in Dubrovnik. You save money, but still get to taste delicious food that is treasured by the locals.
12 | Pretend you're in Game of Thrones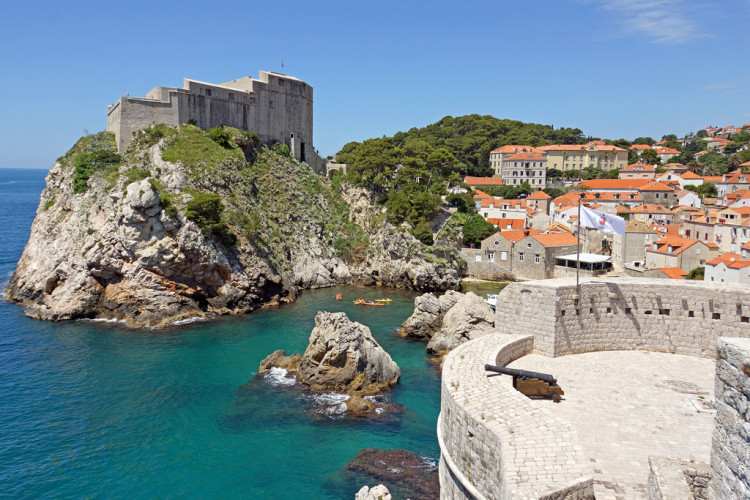 It's hard to be in Dubrovnik without thinking of Game of Thrones. Fans of the medieval fantasy series will have a blast retracing the footsteps of their favorite characters, or visiting the exact spots where some of the most epic scenes were shot.
If you're really serious about the show and hitting all of its famed spots, the city has a variety of guided tours available that will take you around to all of the must-see GOT filming locations. Or you could opt to save the money and go hunting for the filming locations scattered around the city yourself, although this will require much more time and energy.
13 | Wake up early for the sunrise
Sometimes it's hard to wake up early on vacation, but you'll want to force yourself to do it at least once during your time in Dubrovnik! Not much beats a Croatian sunrise. There's nothing quite like seeing the sun slowly start to illuminate the crisp blue Adriatic Sea.
For this reason alone, it's worth trying to book an apartment to stay somewhere up on the hill adjacent to the Old Town. Most apartments face the sea and come with balconies, perfect for viewing the sunrise and sipping on a warm cup of coffee.
14 | Educate yourself on Dubrovnik's painful history
Dubrovnik has been through so much in the last few decades, which might be a surprise to many tourists because the city is so charming and beautiful. When visiting a new place, many travelers are interested in learning more about the city's history.
The War Photo Limited is a gallery featuring images that were taken by a photojournalist during the '90s in the Balkans. The collection documents the harsh reality of war and attempts to educate visitors on the painful years the city had to endure.
If you'd like to get a glimpse of what this incredible city has experienced, this exhibit should be on your must-see list for things to do in Dubrovnik.
15 | Spend a day on the water
Beach time and water activities are one of the most popular things to do in Dubrovnik if you are traveling during the summer season. Don't limit yourself to spending all of your time in the Old Town, get out on the water!
There is an endless supply of boats for rent. If you're willing to splurge, you can hire a boat driver to take you out on the Adriatic for half-day or full-day tours. There are islands to stop at, blue caves to explore, and crystal-clear water to swim around and snorkel in. You can search for rental options online in advance, or head down to the dock in the Old Town to check availability.
Have you been to Croatia before? What were your favorite things to do in Dubrovnik?! Have any to add to the list? Share below in the comments!
Photos via 0 | 00 | 1 | 2 | 3 | 4 | 5 | 6 | 7 | 8 | 9 | 10 | 11 | 12 | 13 | 14 | 15