Traveling to Mexico soon and looking to spend a long weekend in Cabo?! Welcome, my sun-loving, beach-kissing friends!
When my husband suggested we celebrate his thirtieth birthday with a long weekend in Cabo, who was I to say no?! That would just be silly of me! :p A trip to paradise was surely in order!
Having a kick-ass weekend in Cabo is really pretty easy. However, I'd never turn down a vacation in Los Cabos – sun, sand, sea, and unlimited cocktails is where it's at these days (and all days, who am I kidding).
Here are a few pointers to make it even more special and stress-free:
0) Upgrade to First Class.
By all means this is not necessary (hence the zero), but if you find a remarkable upgrade deal like we did, don't pass it up! A little luxury before vacation even begins is never a bad thing! Plus, who can say no to plane food? I swear, it's pretty decent in first class! Plus, you get to drink your coffee in real mugs. It's the little things that make a big difference.

1) Stay at an All-Inclusive Resort.
When you want an easy and stress-free vacation, an all-inclusive resort is the perfect answer. No difficult transfers, no decisions on where to eat every meal, no taking out money at the bank. Easy peasy, lemon squeasy.
Also, many all-inclusives have easy ways to coordinate your transportation to the resort. One less thing to do!
2) Make that an ADULTS-ONLY all-inclusive resort.
Ahhh, do you hear that? Me either. No kids screaming (or laughing for that matter). No getting splashed in the face while laying by the pool. I work in an elementary school, so I obviously have a thing for kids. But that gives me even more reason to say goodbye to them (all of them) during vacation. You can still feel (and act) like a kid without having any kids nearby.

3) Indulge.
You're on vacation! Order that extra sushi roll! Have that piece of cake. Don't worry about that those few extra calories – if you stay at an adults only all-inclusive resort (which will most likely be a tad classier and possibly a few extra bucks), the resort won't be filled with stick skinny early 20-somethings partying until the wee hours of the night. Therefore, of course you want to look good, but you won't feel pressured to compare yourself to skinny minis. Remember that time I stuffed my face in New Orleans? I didn't care. The food was too good to pass up.

4) Drink like your credit card don't care.
Because it doesn't! Drinks are free and on me! If you already paid for them months ago, it really doesn't matter how much you drink. You might as well get what you paid for! All-inclusives really aren't all that worth it if you don't have a few each and every day. If you must, have a few Mimosas at breakfast! It's never too early to start drinking the bubbly!
Mojitos. Bahama Mamas. Pina Coladas. Margaritas. They're all acceptable.
5) Plan a snorkeling trip to the Arch.
You can't go to Cabo without making a least one visit to the famous arch! It just wouldn't be a proper trip! In all honesty, the snorkeling isn't the absolute greatest if you go on a large snorkeling boat (too many people in the water crowding the fish). Definitely not as good as the snorkeling in Hawaii or Belize. However, if you push away from the masses, you'll see some pretty remarkable creatures. I even held a puffer fish!
Better yet- stay until the sun sets below the water. Those Mexican sunsets are sure to put a smile on your face.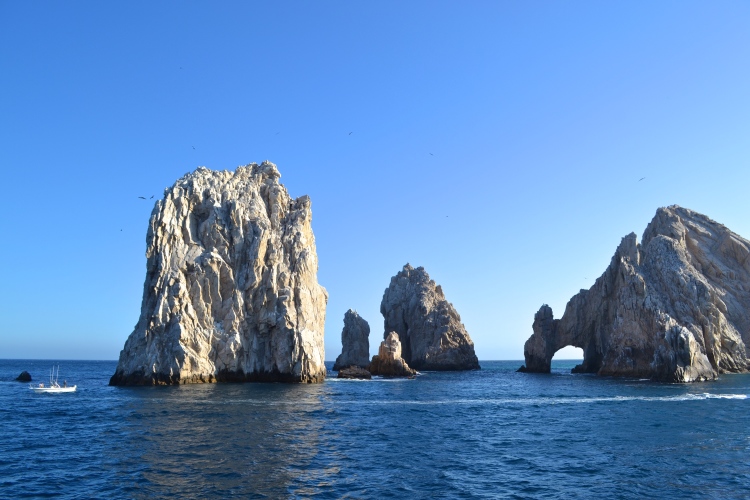 6) Eat at the pool.
Why eat a table indoors when you could spend your time outside in paradise?
Ok- there's more than one acceptable option. You can eat on your balcony overlooking the pool or eat at a restaurant next to the pool or ocean. Basically, don't eat indoors at all costs. The palm trees would be disappointed in you.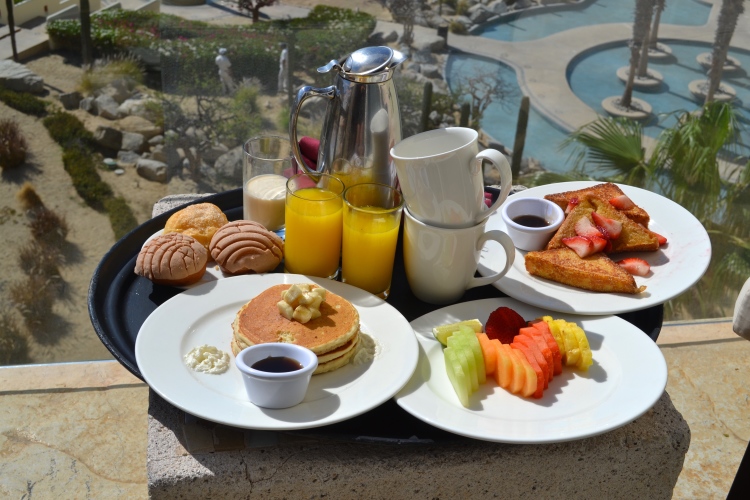 7) Spend too much time IN the pool.
You're at an all-inclusive resort. Take advantage of the multiple pools! We made sure to hang by the pools (for hours), and met a few fun couples who we'll hopefully see in the future. Meeting people on vacation is the best! Especially when you're already planning on going to a concert with them in a few months!
8) Wake up LATE.
Or wake up early and do as above. Be lazy by the pool. Forget about all your problems back at home. Because that's what a long weekend in Cabo is all about!
9) Watch the sunsets.
Every night. They are remarkable. Stop what you're doing and watch the colors in the sky disappear. Nothing can beat a sunset in Santorini, but those in Cabo come at a close second.
10) Pretend it's your Birthday.
Or do like we did, and actually go for a birthday celebration. You won't get any extra value (it's all you can eat and drink already), but a little extra attention never hurt anyone. 🙂
Recommended Items:
click to purchase 🙂
| | | | | |
| --- | --- | --- | --- | --- |
| | | | | |
| | | SPF Sunscreen (VIP!) | | |
| | | Polaroid Camera (so fun!) | Sunnies (my favorite) | |
Now, here's to you and your long weekend in Cabo!
Go and book that ticket to Mexico, pronto!