Headed to Greece and looking to fulfill all those Greek island fantasies but don't have tons of time? You're in luck, because these picturesque Greek islands near Athens can all be seen in just one day! So start planning, and get ready for a one day cruise from Athens!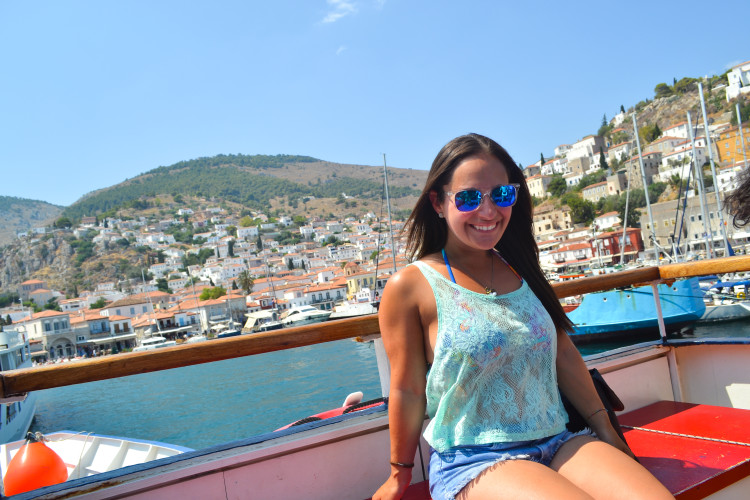 The Greek Islands are everyone's dream.*  So when I had an extra day in Athens I ultimately decided I should tick off more of these islands, because, well, why the hell not?!  After some quick research, I booked myself on a one day cruise from Athens, which actually advertised visiting 3 islands near Athens.  Yes, THREE exquisite islands in one day.  It sure was a long, draining 12 hours or so, but well worth it in my opinion.
*I probably shouldn't make a blanket statement, but if these islands are not currently on your bucket list, I highly urge you to do a quick Google Image search (or check out some of my favorite photos here).
Have more time in Athens? Check out Meteora and Delphi as well, two other favorite day trips of mine.
Sailing to Three Greek Islands near Athens (in one day!)
The Ship
The ship was very well-maintained, and although not huge, was fun to explore on the one day cruise from Athens. And thankfully – since we were on the ship for over 6 hours, it's a good thing there were multiple levels, both indoor and outdoor.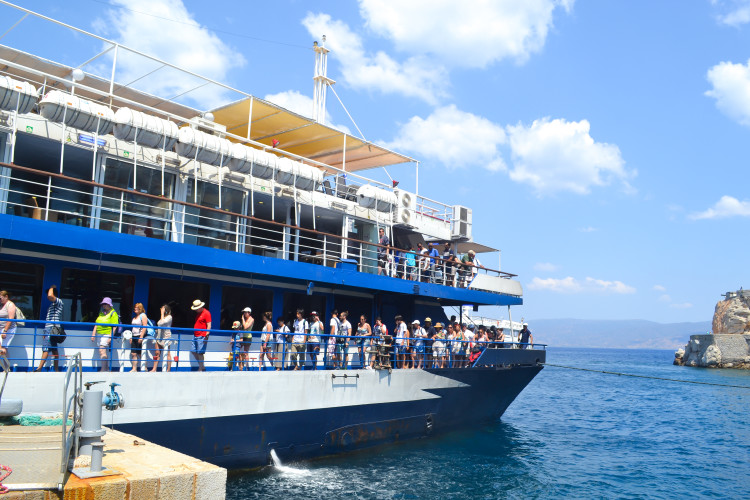 I spent my time tanning on the deck, reading my kindle, and snacking on the treats I bought at the market the night before. When I wasn't sunning myself on a chaise lounge, I was staring out into the ocean, admiring the large cliffs that we drifted by en route to each island. And sailing to three picturesque Greek islands near Athens in just one day sure was memorable!
Mid trip, a hearty Greek lunch was provided, and I made sure to eat my weight in grape leaves and traditional Greek cake.
The Greek Islands Near Athens We Visited
Book your One Day Cruise from Athens here. Boats tend to sell out in high-season, so it's best to book beforehand. And if you're gonna do it, you may as well secure your ticket/s in advance anyways. 🙂 I always aim for less stress on vacation.
Hydra
The first island we arrived to, and my favorite of the three islands near Athens we visited on our one day cruise. I mean, c'mon, just look at that water! And after being on the boat for what felt like forever, it was nice to step on dry land and stretch my legs.
The crystal clear water, the traditional craft shops, and the cantaloupe gelato won me over (yes, cantaloupe!) And plus, with no vehicles allowed on the island, Hydra was the perfect place to go for a long stroll around the Port admiring the boats and watching the tourists and locals go by.
Yes, donkey's are the only way to get around, besides walking on foot!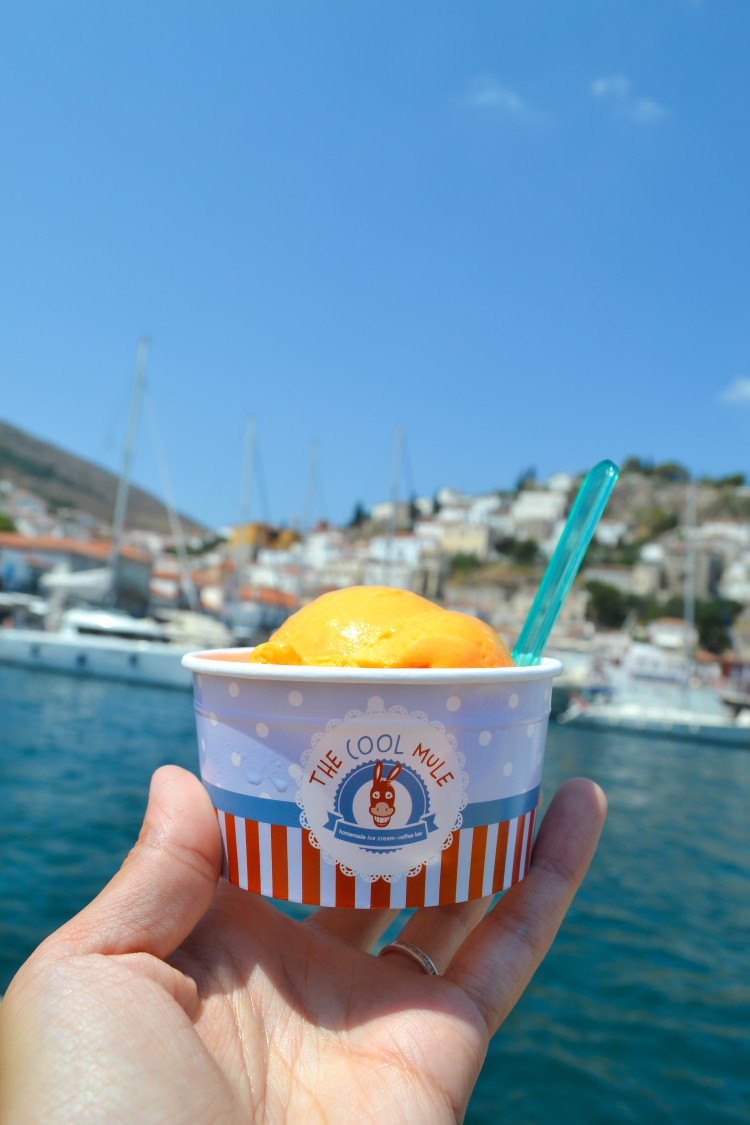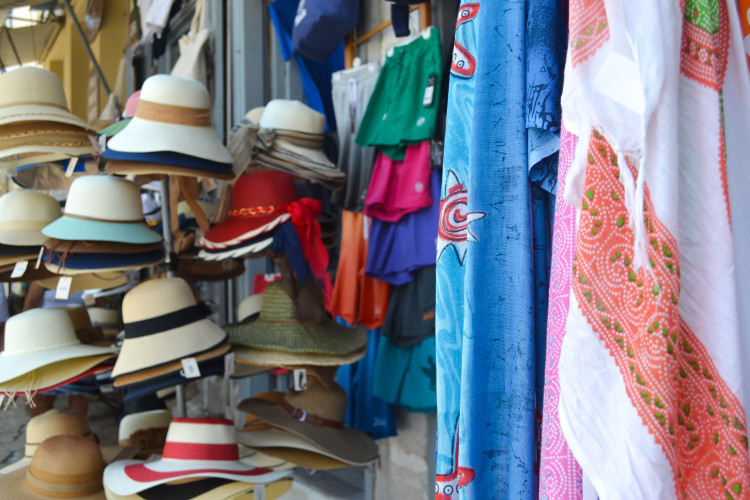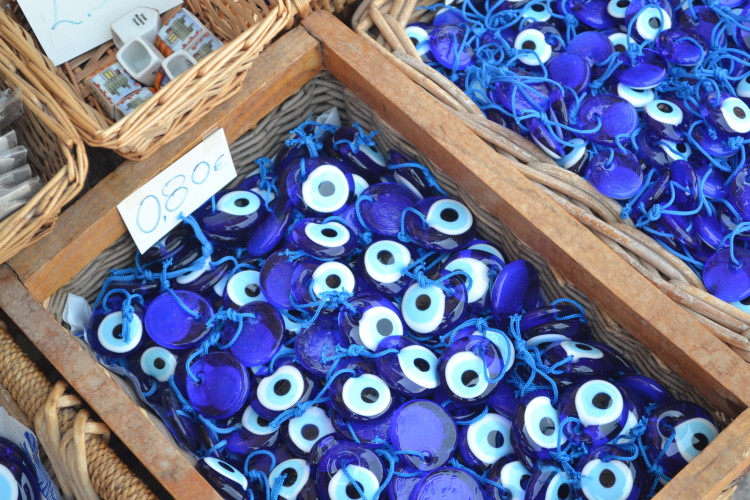 I noticed some steps leading to a higher vantage point, so of course, up I went! The steps were narrow and probably not the smartest idea to climb given the fact that I was wearing sandals, but those views! Swoon! Totally worth the time and effort.
An hour wasn't enough on this idyllic island full of picturesque red tiled houses and narrow stone-paved streets. I'd gladly revisit this pretty little spot on my next trip to Greece.
Poros
Despite being the smallest of the three, Poros is a volcanic little island filled with great beauty and lush, green vegetation. It sure was a highlight of the 3 Greek islands near Athens that we visited. And yes, there was more gelato, because when you're dripping from the intense Mediterranean sun, it's never enough gelato.
As soon as the island came into sight, we were greeted with enchanting panoramic views. I decided to walk around and admire the sail boats and the small cafes nearby. What a charming and authentic tiny island – I'd love to come here for a romantic weekend with my husband!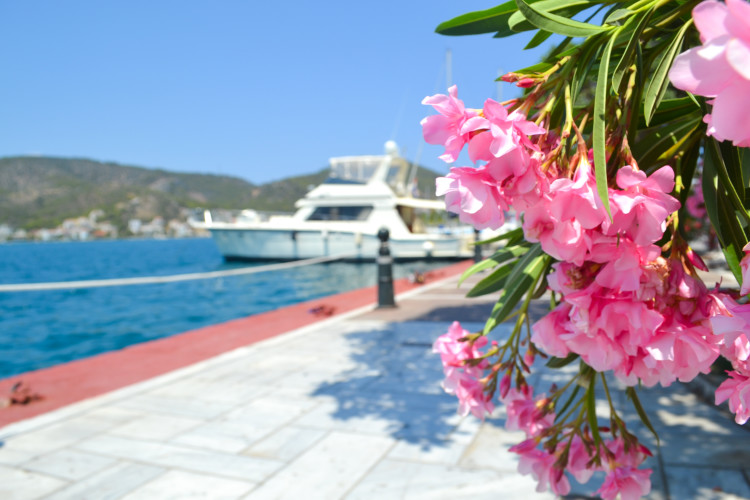 Although I wasn't able to visit, I highly recommend seeing the ruins of the Temple of Poseidon and the Monastery Zoodochos Pigis, as well as the many old, interesting buildings in Poros town. Be sure to head up the clocktower as well. I guess I'll have to come back!
Aegina
Earlier in the day, we were given the option of taking a tour on the largest of the three islands, Aegina. After some thought, I ultimately decided to relax on the beach and find some little alleyways to wander down myself.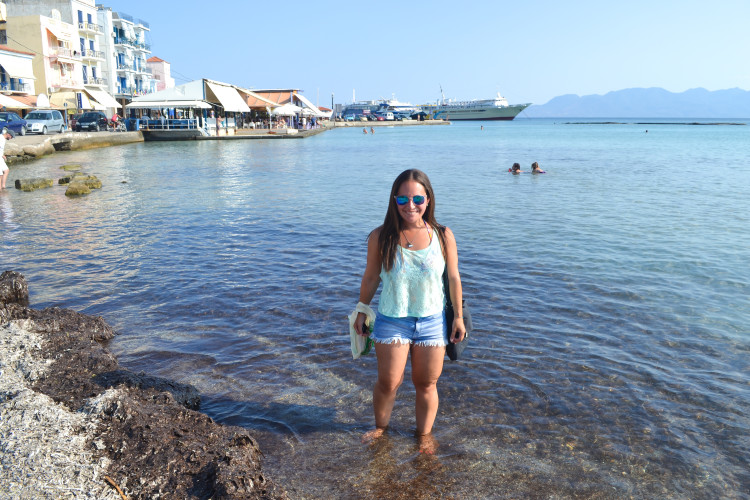 Oh, and I also made it a point to find some spinach pie. I was cravvvving it all day! When in Greece, am I right?
Up and down the waterfront I found pistachio stands, offering loads of samples, which you know I devoured. Little did I know, pistachio trees have been cultivated on Aegina Island since the 1860's! To say they are quite famous here is a massive understatement!
The Overall Experience
Yes, I felt like I was on a boat for a good portion of the day. But ultimately, the one day cruise from Athens was a spectacular way to see three more of Greece's highlights.
And plus, I couldn't resist hanging out on the open dock with the sun shining down, cool breeze in my hair, and overall lively atmosphere. I was able to devour a decent chunk of my book on my Kindle as well. #nerdbutlovingit
If you're looking for a relaxing day on the sea to three islands in one day from Athens with all of your transportation and lunch fully organized, consider booking this tour which is especially similar to mine!