Looking for the best places to go in Japan? Looking for the ultimate experiences to add to your Japan bucket list? Make sure to devour this article – you'll find all that in here and more!
Japan is a truly fascinating country, hence the reason for this list of the best places to go in Japan. It's intriguing, spiritual, safe, harmonic, and traditional, among a thousand other things.
Anyone who visits this country makes note of the eccentric normality, musical high-tech toilets, and the modern yet still ancient vibe.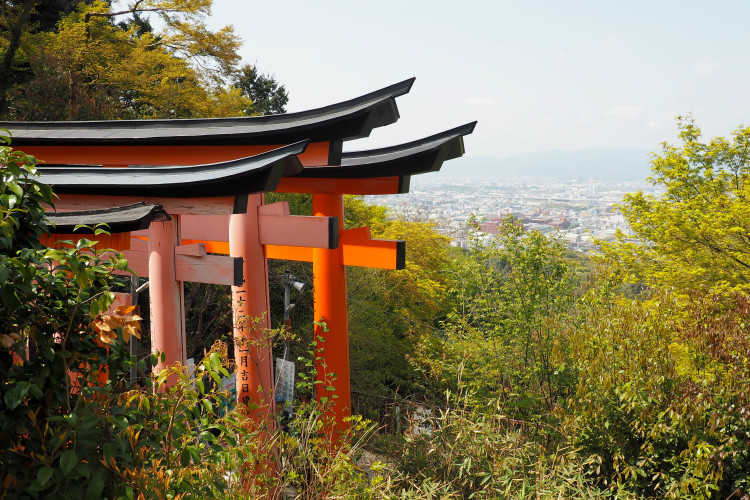 If any country has the ability to defy your expectations on a routine basis, it's Japan. The place where you can get lost in bamboo groves, gaze up at more castles than you could ever imagine, and smell cherry blossoms on every other street corner- heck, there's even a whole museum dedicated to their beloved ramen.
You'll find some of the most orgasmic food here, from the okonomiyaki, tonkotsu ramen, and Kobe beef, to the black sesame ice cream, taiyaki, and mango mochi (to name a few of my favorites).
Not only are the Japanese some of the most polite, considerate, and hospitable people in the world, but their country is just so welcoming to us visitors.
And I'm not alone in my complete obsession with the country, either. When gathering responses for this collaboration of the best places to go in Japan (along with some other bucket list-worthy experiences), I noticed an obvious trend.
The majority were completely enamored with this country as well – no surprise there! What makes Japan so special? Check out this list of best places to go in Japan and let me know in the comments which/what you're hoping to visit/do as well!
→ You might want to bookmark this page if you're in the process of planning a trip to Japan, or just want to visit in the future! Juuuuust sayin'!
So without further ado, here are some of the absolute best places to go in Japan, along with a few top-notch must-do experiences as well. Enjoy, my matcha-loving, kawaii-intrigued friends. 🙂
Best Places To Go In Japan
1. Rabbit Island (Okunoshima)
One of my favourite locations in Japan is Okunoshima, a little island just off the coast of Hiroshima, in the Inland Sea of Japan. Okunoshima is also known as Rabbit Island because of its thousands of cute, furry critters that inhabit it – it's a true kawaii dream, with lots of bunnies hounding you as soon as you step off the ferry!
However, Okunoshima also hides a dark secret. The island used to house a poison gas factory, and a small museum dedicated to it survives to this day. The bunnies are not the offspring of test rabbits – rather, they were introduced to exorcise the negative past of the island.
That's why I love it – because it is a beautiful place, and the bunnies are just adorable, but it still has the traces of a dark past. // Margherita Ragg | The Crowded Planet
2. Nikko
Nikko is a small, but significant, mountain town in Japan's Tochigi Prefecture. You can reach it from Tokyo on a two-hour scenic train ride.
Nikko is one of the best sites in the country to view some of Japan's glorified architectural treasures. Its temples and shrines are protected as a UNESCO Heritage Site. There are a few famous temples here, such as the Toshogu and Futarasan Shrines.
There's a well-known Japanese saying "Never say 'kekkō' (beautiful) until you've seen Nikkō" – which is an accurate description that captures the essence of this place.
Due to its higher elevation in the mountains, the cherry blossom season in Nikko runs a few weeks later than it does in the rest of Japan. It is a highly-celebrated season, and tourist information centers provide town maps that highlight the best trees to view. During this time, everything is lit up throughout the night for visitors and locals to enjoy.
For hiking lovers, there are a few amazing trails surrounding the Nikko landscape to view some of the sakura trees. Ancient tombs, temples and shrines, dotted with blossoming cherry trees, are a must-see. // Ha Lef | The RTW Guys
3. Takayama and Hida Folk Village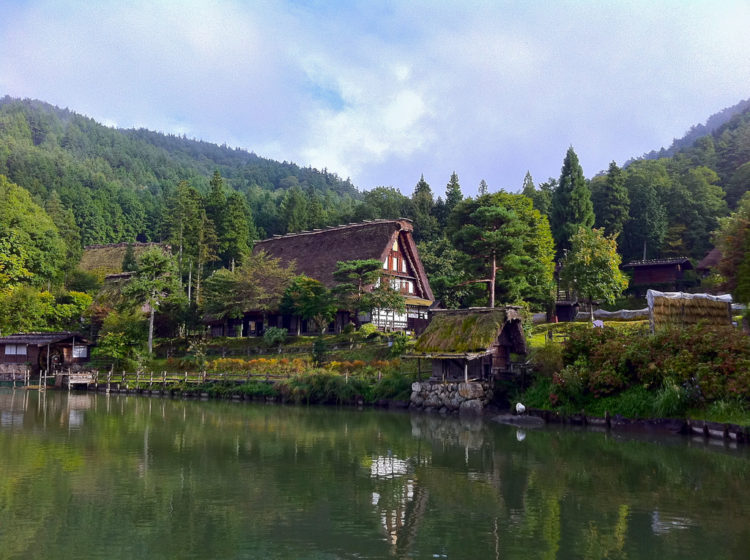 Takayama is a small city high up in the Japanese Alps. The area is a great place to find out about traditional Japanese life, as well as enjoying the spectacular mountain scenery.
Takayama's main attraction is its ancient centre, the Sanmachi Suji district. Here, the streets are lined with ebony coloured wooden buildings containing immaculately presented shops, restaurants and sake breweries. The streets are pedestrianised and without many obvious signs of modern life, so it's easy to imagine that you're back in Samurai-era Japan here.
Just on the outskirts of Takayama you'll find the Hida Folk Village. This is an open air museum of traditional Japanese alpine homes, called gassho-zukuri, set around a pretty lake and gardens. The homes all have sharply sloping thatched roofs to keep the snow off during winter and it gives them a distinctive look.
You're able to walk inside the homes and take a look at traditional Japanese life. And if you'd like to stay in one, head to nearby Shirakawa-go where many of these homes have been turned into B&Bs. // Emily Cole | Kids and Compass
4. Arashiyama Bamboo Forest, Kyoto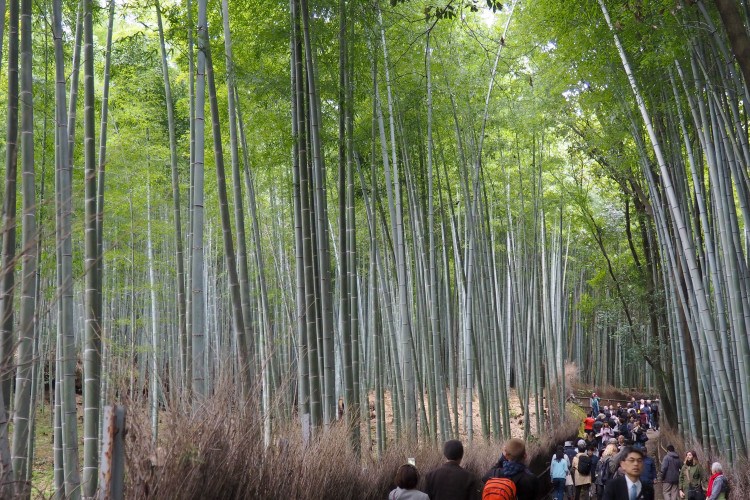 Arashiyama is a must see destination for anyone visiting Kyoto and arguably worth visiting Kyoto alone just for this destination! Although filled with temples and shrines, the shining star of any visit to Arashiyama is the Bamboo Grove.
A paved walkway takes you through a thick grove of mature bamboo trees. Even having seen photos of the bamboo grove, nothing quite compares to the sensation of literally being surrounded by a thicket of bamboo trees.
As an added bonus, the bamboo grove is easily accessible from the main street in Arashiyama and the meandering walk will eventually lead you to Tenryu-Ji Temple, a sprawling Zen temple with immaculate gardens and views of the mountain. // Nancy Canter | We Go With Kids
5. See the deer in Nara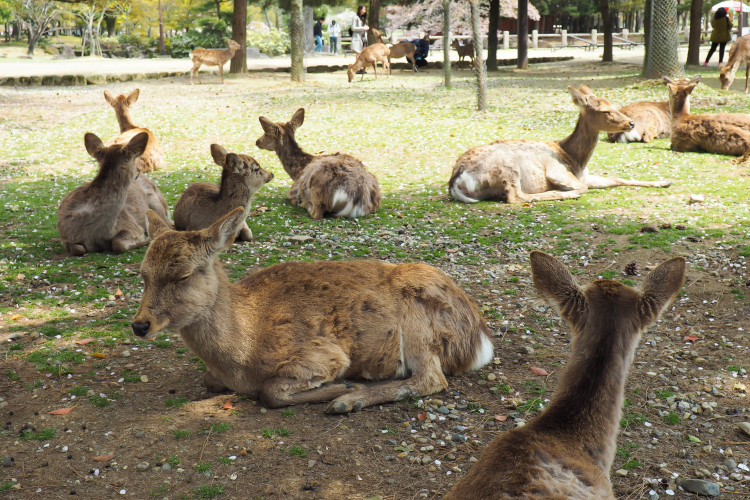 A trip to Nara should be on your Japan bucket list, since it's an easy and perfect daytrip from either Kyoto or Osaka. It's very easy to reach Nara station by train from both cities, and since Nara is quite small, it's easy to explore the area by foot or by renting a bicycle.
The most famous part of Nara is the huge deer park. The landscape is beautiful and it's a nice escape from the busy and crowded Japanese cities. And the deer are actually everywhere! Since the animals are so used to tourists, they are very tame, and you can easily pet them or take pictures with them.
However, Nara has more to offer than deer – there are also some beautiful religious sites around the park, such as the Todaiji Temple (the largest wooden building in the world!), as well as the Tamukeyama Hachiman-gu Shrine, the Nigatsudo Temple and the Kasuga Taisha Shrine.
As you see, a daytrip to Nara is full of temples, shrines, nature and deer – and therefore a trip that you shouldn't miss in Japan! // Patrick Muntzinger | German Backpacker
6. Miyajima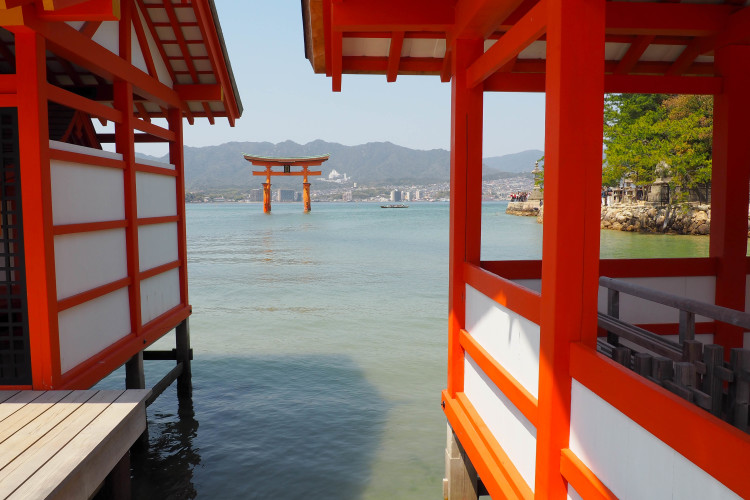 A short ferry ride away from Hiroshima is this tiny island of Miyajima. Officially this island is called Itsukushima and is famous for its floating Torii gate which can be seen from a distance as your ferry pulls up.
For the locals this is a holy land where they come to pray at the Itsukushima shrine on top of the hill. It's fascinating that the first ones to welcome you on the island are friendly deers in Miyajima.
Walk through the market area and you will notice many shops selling sweets called Momiji in a shape of a maple leaf. It's a traditional local sweet highlighting this islands beautiful maple trees. We loved our sunset walk around the great tori gate after spending our day in Hiroshima going over its rough past.
You can come here as a day trip from Kyoto as well, which is what we did. Take the bullet trains from Kyoto to Hiroshima and then a ferry to Miyajima. If you have Japan Railway pass then the ferry ticket to Miyajima is covered on the pass. // Richa Joshi | My Tickle Feet
7. Hiroshima
Hiroshima is one of Japan's most famous places, due to the tragic event that took place about 70 years ago when the Japanese city became the target of the world's first atomic bomb attack.
The bomb wiped out huge parts of downtown Hiroshima and killed an estimated 60.000 – 80.000 people. These days, Hiroshima is a modern, prosperous city, with some important landmarks to remember that tragic day.
You can visit the A-bomb dome, one of the most well-known symbols or the Peace Memorial Park. There is also a Peace Memorial Museum, which educates about the events before, during and after the bombing. Visiting the museum is unforgettable, saddening and somewhat overwhelming experience.
Hiroshima also has a nice park and garden, which are worth a visit. Don't miss Hiroshima during your visit to Japan! // Manouk Bob | Bunch of Backpackers
8. Fushimi Inari Shrine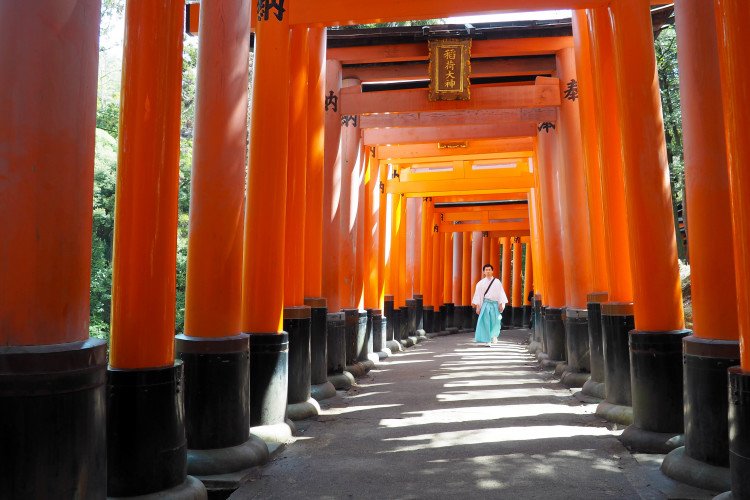 Over 5,000 vibrant orange gates line the forest walkway of the Fushimi Inari Shrine in Kyoto, one of the most iconic shrines in all of Japan.
Fushimi Inari is the head shrine of over 30,000 smaller Inari shrines located throughout Japan and was originally dedicated to Inari the Shinto god of rice. Foxes are considered Inari's messengers and, as a result, the shrine is dotted with many statues of foxes carrying items such as keys, jewels and scrolls in their mouth.
Visiting the shrine is a very spiritual experience and the bright orange gates are in beautiful contrast to the lush green forest.

The Torii Gates are a magnificent sight and a visit is an essential part of any Japan bucket list. Try to visit at sunset and hike a little into the shrine to escape the crowds and enjoy the incredible views. // David Murray | The Whole World is A Playground
9. Jigokudanai Monkey Park
A visit to the Japanese Snow Monkeys is one of the most underrated attractions in Japan. These cute little creatures are the northernmost monkeys in the world, meaning they have to survive some pretty chilly temperatures. One way they do this is by bathing in an onsesn (a natural hot spring), and watching them do so is a very special experience.
Jigokudanai Monkey Park, where the (wild) monkeys bathe, is less than an hour from Nagano. That means it's an easy day trip if you're staying in the Nagano area, but it's also possible to take a day trip there from Tokyo.
If you want to see the monkeys at their best, however, you'll want to be at the park first thing in the morning or right before sunset, which is when they're most active and most likely to be bathing.
It's well worth booking into a hotel or ryokan in the nearest town, Shibu Onsen, for a night – and while you're there you can also enjoy an onsen yourself. // Jodie Dewberry | A La Jode
10. Tsukiji Fish Market
Food markets are always at the top of our list of places to visit when we travel. So when we were in Tokyo a visit to Tsukiji Fish Market was a must do. The Tsukiji Fish Market is most famous for its early morning Tuna Auction.
To view the Auction you will need to arrive at 5 am and secure your place (the visitor numbers are restricted to a daily maximum). If you prefer a more leisurely start to your day arrive at 10am when the inner market is opened to the public.

In the inner market, you will see fresh seafood for sale, tuna, crab, whale, oysters, octopus, fish and sea urchin. The smells are subtle compared to other fish markets I've been to. Eating is not allowed in the market but a garden lined roof terrace makes the perfect spot for a picnic of fresh sashimi and oysters.
The bustling outer market is a grid of narrow lanes lined with restaurants, stalls selling fresh produce, kitchen supplies, and my favorite, resin food that looks good enough to eat. The market will be relocating sometime in 2018 so be sure to double check the location before your visit. // Kaylie Baker | Happiness Travels Here
11. Uji

Uji is a lovely town located on the south of Kyoto famous for being green tea lover's paradise and the Byodoin Temple. With two UNESCO World Heritage sites and with Uji River passing through, the town should be on visitors' bucket list.
At only 20 minutes from Kyoto, you reach the town centre by crossing the Uji bridge. As you continue on the quaint main street, you will find with shops after shops selling tea and tea-related products. People know Uji for Uji-cha or Uji green tea.

Stop by one of the shops to try tea-flavoured ice cream or buy a souvenir. After sampling some of the delicacies, head to the Byodo-in Temple (the motif of the Japanese 10 yen coin) Cost will be 900 yen which includes 600 yen for the temple and 300 yen for the Phoenix Hall.
After admiring the temple and exploring the museum and garden, head towards the river and stop by one of the many restaurants for a light lunch of tea-flavoured soba and crispy tempura.
After the meal, take a relaxing stroll along the river banks and finish your day by joining an "Ukai" fishing demonstration. Ukai is a traditional fishing method were cormorants dive to get fish. // Mayi Mac | Secret Moona
12. Mount Fuji
Iconic Mount Fuji is the stuff of legends and a symbol of Japan. But does it really live up to the hype? Yes! That is, if you can actually see it. The elusive peak is often shrouded by clouds. To maximize your chances, visit in winter, go early, and stay for multiple days.
Mount Fuji can be seen from many places, even Tokyo on a clear day, but to get up close and personal with the mountain, head to the Fuji Five Lakes. Each lake offers stunning Fuji views (reflected on the water if you're lucky!), with Lake Kawaguchi being the regional hub.
Get a higher view on the Fuji Panorama ropeway, or see Fuji from a rollercoaster at Fuji Q Highland. If these aren't close enough for you, bus to Fuji 5th station or join the summer crowds and climb the peak! // Nick Kembel
13. Beppu
Beppu, located in the north of the Kyushu province is well known for it's hot spring resorts. Surprisingly the small city produces more hot spring water than any other resort in the country!
The 'Hells of Beppu' are seven hot spectacular hot springs, which can only be viewed, not bathed in. The 'Hells of Beppu' which can be visited with one entrance ticket contain an alligator hot spring, white pond hot spring, shaven monk heads hot spring, sea hot spring and the blood pond hot spring.
When visiting Beppu make sure to try the local caramel pudding which is made using hot spring steam. It can be purchased at most hot springs or in local souvenir shops.
The hot springs are located in the outskirts of Beppu and can easily be reached by bus or taxi. // Marie Shin | Be Marie Travels
14. Alpine Route in Shirikawago
Shirikawa, located in the alpine area of Japan in the Gifu prefecture, is just a few hours bus ride from the largest city of Takayama. Getting there by regional bus service is the only way to get to this picturesque little mountain village still intact with Gassho-zukuri.
These are traditional style homes with steep pitch roofs made with straw to protect from severe snow in winter time.
The village is very scenic and walking around the hillside areas looking down into the village and other short hikes gives you a sense of place and a different vibe of what the alpine community is like here.
A great time to visit would be late spring to summer when all the wildflower blooms are popping up around the village area including home gardens and decorations owners lavish around their homes. // Noel Morata | Travel Photo Discovery
15. Ishigaki Island (Okinawa)
Japan might be known as the country, which is crowded, full of people and always super busy with neon lights blinking at night and tons of subway trains rushing through the underground. However, there is another side of the country, which is worth seeing: Ishigaki island. The island belongs to the prefecture Okinawa and is quite off the beaten track.
Located in the Southwest of Japan, the island is know for its picturesque snorkeling sites, for its greenery and for its people, who are some of the happiest people in the world. Come here, if you want to experience the remote side of Japan, if you want to listen to stories of stores that have been here for generations and generations and if you want to dance to Japanese reggae.
Above all, you can easily reach the other Yeayama Islands that are located just off the coast of Ishigaki island. // Clemens Sehi | Travellers Archive
16. Ashikaga flower park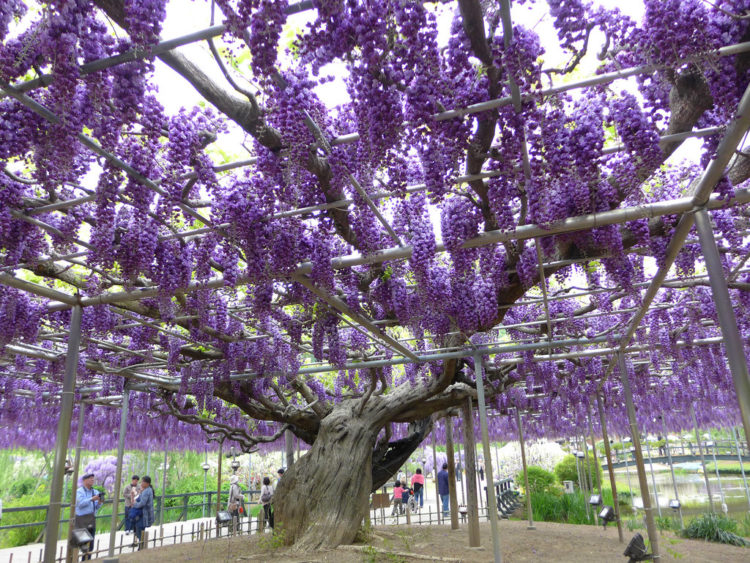 Japan is all about aesthetics, this we know. Whether it be food preparation, landscape, ceramics, calligraphy, tea ceremony, and flower arrangements to name some.

And hanami/flower viewing is one such occasion where the beauty of things are appreciated. Cherry blossoms and plum blossoms are the usual flowers involved in Hanami, but it you get to visit Japan on months that the flowers of both trees have all fallen, Ashikaga Flower Park in Toshigi, Japan is one of the best parks to go to.
Depending on the month you visit, the fragrance of white, mauve and pink wisterias, yellow laburnum, azaleas, tulips, hydrangeas, lavenders, sunflowers, roses, chrysanthemums would welcome you. It is a very large area that requires 2-3 hours of viewing.

The park highlights a giant wisteria tree that is 143 years old. It is certainly bigger than most houses. With all its beauty, 2 hours of traveling by rail from Tokyo is worth it. You get to the park from the Ueno Station in Tokyo, take the JR Tohoku Main Line, get off at Oyama Station then change to the JR Ryomo Line, then get off at Tomita Station. Ashikaga Flower Park is a 13 minute walk from there.

Grab some food when you pass by the stalls before entering the park so you can have a picnic while there. 🙂 Nothing perfect than having Japanese food under the flowering trees and among the fragrance of beautiful blossoms. So bring your picnic mats, or simply enjoy while dining on the benches and tables provided. // Marie Gizelle | Our City Travels
17. Nishiki Market, Kyoto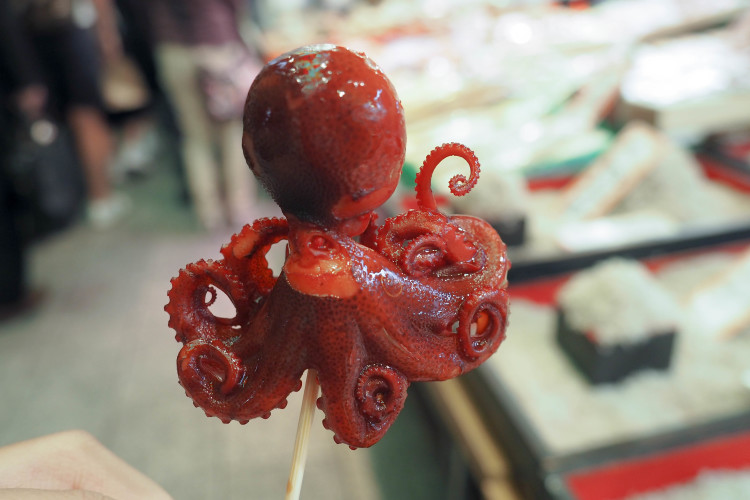 You can't talk about Japan without talking about the incredible food culture and culinary scene, and you definitely shouldn't miss Nishiki Market in Kyoto if you are traveling to the land of the rising sun! Nishiki Market is one of the oldest food markets in Japan and is sometimes referred to as "Kyoto's Kitchen"; it is made up of more than a hundred shops sprawled across five blocks, and is an absolute paradise for food lovers.

Start at one end of the market and slowly make your way through stalls selling fresh mochi, grilled octopus, traditional hard candy, fresh fruit, barbecued beef skewers, rows upon rows of fresh daily catch, pickled vegetables and much much more.
Nishiki Market offers a visual feast for the eyes as well as a literal feast for your stomach – make sure you come hungry! The market opens at approximately 9 AM and closes at 6 PM, though some shops will close during particular week days.
Most places only accept cash so make sure you have some Yen on hand. One of the best places to go in Japan if you're looking for some lunch options! // Florence Shih | Yoga Wine Travel
18. Yufuin
Yufuin is a lovely onsen town located in Oita – the South of Japan. This place is a perfect day trip from Fukuoka, or from Oita. Taking a scenic train from Oita, you can visit the Yufuin, which is located on Yufu mountain.
Visiting this town, not only can you enjoy the hot spring but also have a great time wandering around the area. There are several shops, restaurants and street vendors around the town. If you love cheese, you will love Yufuin because Yufuin offers several cheese products from cheesecakes, cheese ice-cream, cheese with bacon, etc.
Also, enjoying a nice cup of coffee with a great view of Lake Kinrinko is amazing as well. Yufuin is also famous for Yufuin Floral Village, which has different houses presenting each anime. Furthermore, there are some small but interesting museums around the main area that you should visit. If you are looking for adventurous activities, you can climb Yufu mountain. // Ha Truong | Expat O Life
19. Big Buddha, Kamakura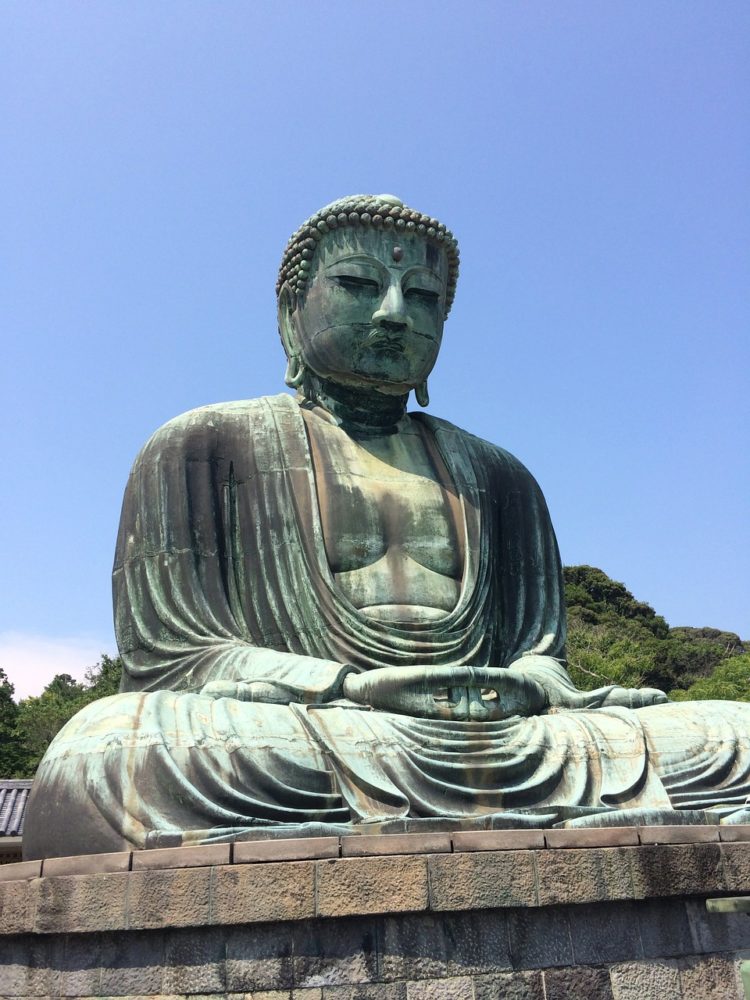 The coastal city of Kamakura is an outstanding place to visit if you want to immerse yourself in Japan's heritage. It lies 44 kilometres southwards of Tokyo — an hour's train journey from today's capital of Japan. Interestingly, between the 12th and 14th centuries Kamakura was itself the national capital.
Kamakura is dotted with ancient temples, making it a great destination if you enjoy photography. The city's Hase-dera temple, which was founded in 721, features a statue of the god Kannon, the 11-headed deity that inspired the name of the camera brand Canon.

If you're pushed for time, head straight to the Taiizan Kotokuin Shojosenji, often better known as the Kōtoku-in Temple. It is home to the iconic Great Buddha statue, that sits cross-legged and towers more than 11 meters high.
The serene sculpture survived a tsunami, more than 500 years ago, that washed away the temple that once surrounded it. // Stuart Forster | Go Eat Do
20. Himeji Castle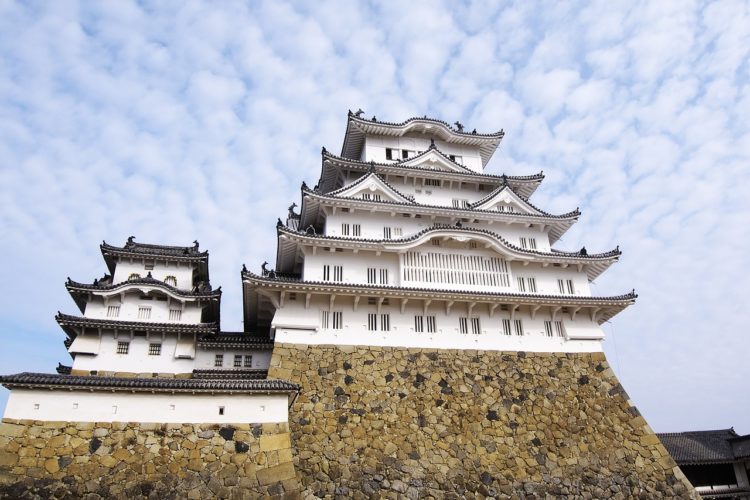 The castles of Japan are often awe-inspiring and the mother of them all, in my opinion, is the stunning Himeji Castle in the town of Himeji, along the southern coast of Japan a few hours' west of Osaka.
Himeji Castle is the largest castle in the country and has been extensively restored in recent years. Thanks to its fame it does get an awful lot of visitors, but like so many tourist sites in Japan, they have created a very organised and orderly system so that you can explore the castle without too much hassle.
My most recent trip was with my seven-year-old son and we were both really excited to climb to the top of Himeji Castle. It is set in a huge complex, and is visible from the moment you step out of the JR train station, so it's a very impressive experience.
There are a whole lot of steps inside – and bear in mind that you will be required to take off your shoes and carry them in a plastic bag, so wear socks – but you can look out the windows at each level to see incredible views across the castle complex and back to the town. We were there at the start of cherry blossom season so it was even more magical. // Amanda Kendle | Not A Ballerina
21. Osaka Castle
Osaka Castle (Osaka-jo) was begun in 1583, with construction officially completing in 1931 with the reconstruction of the castle tower that had been struck by lightning and burned down in 1665.
The castle is a lovely spot to visit in bustling Osaka. Take your time walking around the grounds, which are particularly beautiful in spring, and be sure to climb inside the castle to the top and admire the view, and then back down through the castle stopping on each level to see the excellent displays detailing the history of the castle and the stories of its owners over time.
On the roof level, take note of the four, large golden sea creatures that appear to watch over the gardens below. In the castle grounds lie a beautiful garden and lake, plus street food outlet. The milk flavoured soft serve is exceptional. An admission fee is charged for entry into the castle, but you can walk around the grounds for free. // Christine Knight
22. Skiing in Hokkaido
There's a reason why Japan gets dubbed Ja-POW by the world's skiers and snowboarders – it's a haven for powder skiing and boarding. Up in the northern island of Hokkaido, there are over a hundred ski fields, from the popular Niseko to the back-country haven of Furano. Cold air sweeps across the island from Siberia means the snow is frequent, dry and powdery, which is what the area is famous for. ​
Grab your fat skis as you're bound to find yourself waist-deep in the powder on any given day on the slopes, or making fresh tracks on untouched fields. Sharpen up your turns as you'll need them to whiz between the trees, lined with inches of snow. Then, once your legs can't take any more, warm up the insides with a slurp of hot ramen or sukiyaki at the end of the day in the village. // Juliette Barret | Snorkels to Snow
23. Hirosaki Castle in Aomori
Hirosaki Park in Aomori City, Japan is a must- visit especially during the spring season. The cherry blossoms don't bloom at once, so travellers have more chances to see the different variants of the beloved tree at an extended period. Just don't forget to respect the trees, alright?
Others shake the trees so that the cherry blossoms would fall. But that's frowned upon even if you get the perfect Instagram shot for doing so.
It is common to see food stalls in and outside the Hirosaki park, especially during Hanami Season. The Hirosaki Castle stands in this park as well. A trip to Japan shouldn't be complete without making your way to Aomori and experience being one with the locals.
Have a taste of their delicious apple juices while you're at it, too! // Stella Marie Encina | Her Brave Soul
24. Niseko
Whether you arrive in Japan when it's hot or cold, you'll find some amazing things to do in Niseko, Hokkaido.
While it is better known as a premium ski destination with powder snow and Mount Fuji lookalike Mount Yotei, summer provides a host of nature-centered activities. In winter, you'll find exquisite ski resorts on the slopes of Mount Niseko-Annupuri.
If it's your first time on skis, it's a great place to learn as there are courses for all levels.
Not keen on riding down a mountain? Then relax in one of the many onsen, some are even outdoors. Summer in Niseko provides a different kind of experience, although still packed with adventure.
From a 2.5h zip-line course to canyoning and rappelling, Niseko is a must for thrill seekers and intrepid travelers. Apart from teeing off on the pristine golf course, another top activity is white water rafting down the Shiribetsu River. Get your adrenaline pumping in Niseko! // Cal Andrew | Singapore n Beyond
25. Cape Hedo, Okinawa
There is quite possibly a Japan unbeknownst to you made up of 160 large and small islands, pristine beaches, unimaginable coral reefs and lush forests. Only a short 1 hour plane ride from the mainland lies an incredible chain of islands known as Okinawa.
Unfortunately this destination slips under the radar for most travelers in Japan. Thankfully I was fortunate enough to visit this beautiful part of the country with my best friend who also happens to be Okinawan!
One of my most cherished memories in Okinawa was driving up the coast to the most Northern part of the island called Cape Hedo. The island is fairly small and quite easy to explore by car.
It's a remote and largely untouched part of the island where two oceans merge-the Pacific Ocean and the South China Sea. I was captivated by all of nature's glory here, the killer views across the horizon, the jagged edge cliffs, and the smell of the salty ocean air.
The icing on the cake was running into one other tourist, you read that right. One. // Brittney Disov | My Cultural Curiosity
26. Golden Temple (Kinkaku-ji Temple), Kyoto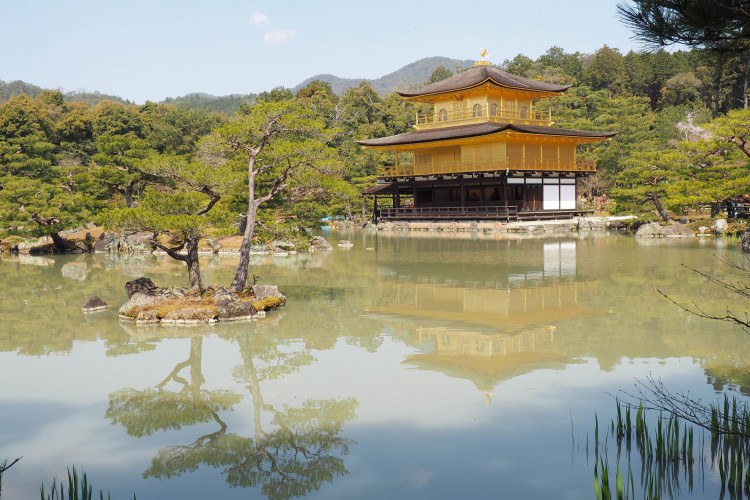 A big piece of gold sparkled in the clear afternoon lake as I stood staring at the majestic sight towering before me in awe.
Set against a spectacular backdrop of mountains amid a thick cluster of greens, standing quietly in the centre of a small pond, the remarkable building of the Zen Buddhist Kinkaku-ji temple or the Temple of the Golden Pavillion (formally known as Rokuon-ji) left me bedazzled with its splendidly gleaming persona.
The second and third stories of the temple were completely covered in gold leaf, both within and without while a meditating figure of Buddha peeped out from the ground floor. One of the best places to go in Japan? I think yes!

A few meters away is as close as we, the tourists, could get to witnessing the beauty of this beguiled gold-leafed structure and yet its unusual sense of intriguing history was clearly palpable, even from a distance.
The present gold leaf-construction dates back to 1955, five years after the 14th century original was burnt down by one of the temple's monks. An iconic attraction for both the locals and tourists alike, Kinkaku-ji temple in Japan today stands as not only one of the most popular buildings in Japan but also finds a space in the 17 World Cultural Heritage sites in Kyoto. // Arti Shah | My Yatra Diary
27. Kiyomizu-dera, Kyoto
Kyoto has its share of famous temples and shrines, and Kiyomizu dera is one of the highlights. The temple, which is a UNESCO World Heritage site and one of the most celebrated in all of Japan, was founded in 778 (its present buildings were built in the 1600s and were constructed without nails).
Kiyomizu dera stands on the site of the Otowa waterfall, which also is the inspiration for its name, which means "pure water temple." Visitors can purify themselves (a tradition when visiting temples in Japan) with water from the falls.
Kiyomizu dera is best known for its wooden veranda that juts out from the main hall and offers a spectacular view of the hillside and city. It is a truly spectacular sight in the spring (when the cherry blossoms are in bloom), or autumn (when the leaves change color).
Another popular attraction at Kiyomizu dera is the Jishu Shrine, or "love shrine." At the front of the shrine are two large stones, placed 18 meters apart. It is said that one who can successfully make their way from one stone to the other with their eyes closed will find true love (which I did, so where is my true love?). :p // Caroline Ikeji | Pictures and Words Blog
28. Naoshima Island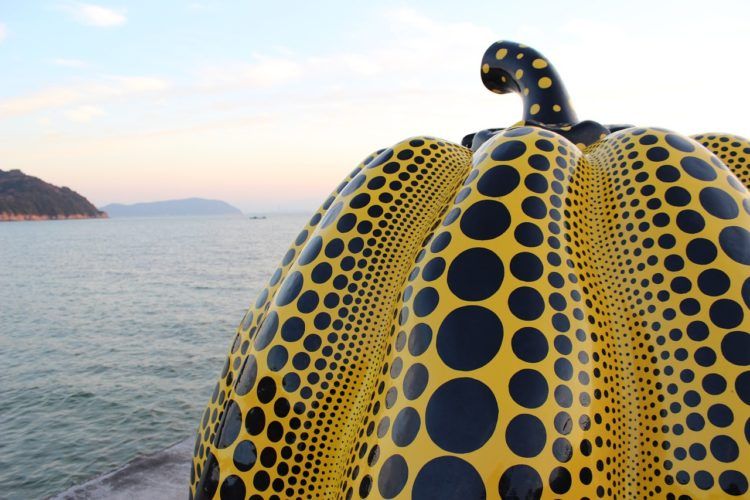 If you're looking for one of the best places to go in Japan, Naoshima, a small island located in the Seto Island Sea, should be on your list for sure!
What draws visitors to Naoshima is not its beautiful sandy beaches, but the art that calls this island home. Naoshima practically oozes art – in the form of museums and outdoor art installations, art work is on every corner here.
Must visits include the Chichu Art Museum (home to Monet's "Water Lilies" series), Benesse House (which also doubles as a hotel so you can visit the museum in your pajamas!) and the incredibly photogenic "giant pumpkin" by the Japanese artist, Yayoi Kusama. If you love art or if you want to experience something different, it's worth visiting Naoshima Island! // MG | Wandering Suitcase
Japan Bucket List Experiences
29. Becoming a Geisha
Geisha are one of the most famous and fascinating elements of Japanese culture and often times a bucket list item when visiting Japan.
I booked a geisha dress-up session at one of the studios that specializes in it and it was a 4 hour experience I shared with three other friends. Men can also participate and will be dressed up as samurai.
The process is incredibly time consuming because the makeup part of it takes over an hour. Then there is a wig fitting, a dressing up part and the photo session which is another hour. While the photos are stunning and you are practically unrecognizable, the experience is quite tiresome and by the end of it I had a headache from the very heavy wig and the tape pulling my face and hair background.
However, I also left with a new appreciation for this art form. // Mar Pages | Once in A Lifetime Journey
30. Ride the Shinkansen bullet train
Tokyo is an amazing city and there are so many bucket list items for you to tick off. One of my top experiences was riding the Shinkansen a.k.a the Bullet Train. We had a 7 day pass for the Bullet Train and we used between Osaka and Tokyo, Osaka and Hiroshima and Osaka and Kyoto.
The Bullet Train travelled at speeds of over 400kms an hour cutting the travel time between Osaka and Tokyo down to only 3 hours.
The Shinkansen requires you to have a Japan Rail Pass, the Shinkansen operates out of Tokyo Station and enables you to utilise the JR Circle Line whilst in Tokyo. We were able to get around mostly on the JR Circle Line and had to purchase very little other rail passes while in Tokyo.
While the Japan Rail Pass is rather expensive, we found that given the time we saved it was definitely worth it and would likely have cost us more should we have tried to pay separately for each section. // Sally Lucas | Our 3 Kids V The World
31. Travel During Cherry Blossom Season
When it comes to creating your Japan Bucket List, Cherry Blossom Season is certain to be high on your list.
Typically starting in April and lasting through to early May, this time of year is incredibly exciting in most Japanese towns and cities with residents and visitors alike celebrating the arrival of the sakura with hanami (gathering together under the blooming cherry blossom to celebrate the arrival of spring with drink, food and companionship) which culminates in the annual Golden Week.
Before even thinking about where to see cherry blossoms in Japan, it is crucial to look up the projected sakura forecast which differs from year to year. This will help you identify when the blossoms will start blooming across the country (it usually starts in Okinawa and moves north).
But where is the best place to see them? When it comes to the sakura in Japan, there are countless places to view this incredible phenomenon. Our favorites include Philosopher's Path, Kyoto; Nara Park, Nara and Shinjuku Gyoen in Tokyo.
You can use this Cherry Blossom Viewing in Japan map to help. // Leah Smileski | The Kid Bucket List
32. Stay in a Luxury Ryokan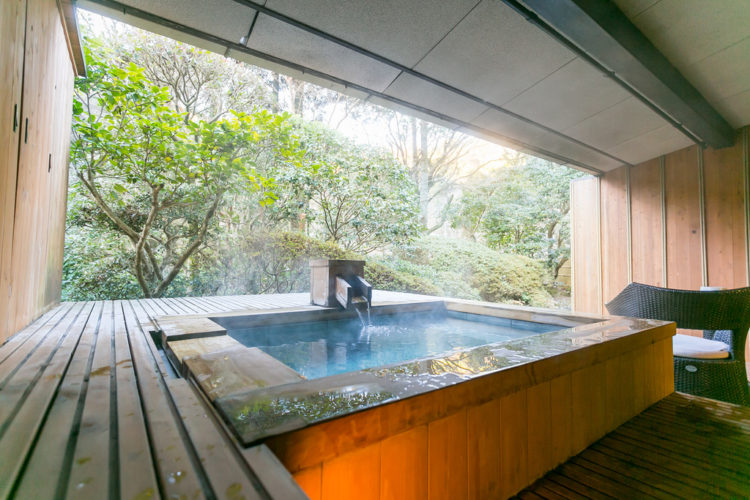 If you are looking for an off the beaten path destination to visit in Japan that also provides the ultimate luxury experience, Kinosaki Onsen is the perfect remote destination! While in Kinosaki Onsen, splurge and stay at a luxury ryokan – a Japanese-style inn. During our time in Kinosaki Onsen, we stayed at Nishimuraya Honkan which has over 150 years of onsen history itself.
To make your experience at this ryokan even more romantic, opt to have a room with a private onsen so you can relax and enjoy the hot springs at your own pace rather than a time slot. Later, dine in your room with a kaiseki-style meal, a style of Japanese dining that offers a preset menu of artistically created dishes all with unique flavors.
Nishimuraya Honkan also provides their guests with yukata or kimono to wear while strolling the streets of Kinosaki Onsen and visiting the public onsen in town. // Kallsy Page | Pages of Travel
33. Watch Sumo Wrestling
Sumo wrestling is one of Japan's national treasures, with many flocking to witness the intense matches during the odd months of the year. But if you are after a unique experience, why not try fighting one yourself? The Asakusa Sumo Experience in Tokyo offers guests the chance to get up close and personal with ex-sumo wrestlers and even attempt to win a sumo wrestling match (good luck!).
Aside from the fun and games of wearing a sumo suit and putting your strength to the test, you get to learn the history of sumo wrestling, learn about the technical aspects of sumo wrestling and even see a few short rounds.
After the matches between the sumos (and anyone bold enough to challenge them) are over, everyone is served a delicious and hearty lunch, including the sumo staple – chanko-nabe. Chanko-nabe is a tasty soup full of veggies and meatballs, and fit for your inner sumo. This fun and insightful experience is one that will leave you breathless – literally! // Kim-Ling Richardson | Travel-Ling
34. Wearing Kimono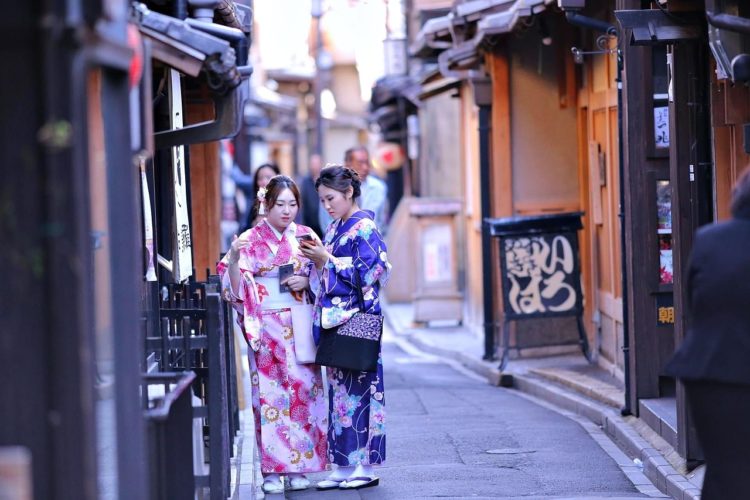 One of the best experience I had in Japan was wearing a kimono. In Kyoto, you can see quite a lot of Japanese dressing this traditional outfit on a regular day, both men and women.
If you want to feel like a local, you should try it too! Renting kimono is an experience offered in multiple places around Kyoto. It is relatively cheap as it costs around 30 USD for the whole day. The only thing you need to take into account is that it takes more than an hour to get dressed with professional help!
I was amazed to see how many layers of clothing Japanese women put under kimono. I was wearing three different "underwear" robes, socks for special wooden flip-flops, a traditional silk belt and a bunch of other accessories. If you decide to try this bucket list experience, make sure to immortalize your moment on pictures. // Marta Kiedrzynska | Where Life is Great
Foodie Experiences in Japan
35. Sushi making class with sushi chef
Japan and sushi go hand in and hand so why not learn from a sushi chef while you're visiting? That's exactly what my husband and I did! We stayed at the Aman Tokyo and organized the experience through the hotel.
The private sushi-making class took place at Ginza-Iwa, a one Michelin star restaurant, with our very own sushi chef also known as itamae. I have a newfound respect for sushi chefs after this experience, they make it look so easy! Turns out making the perfect little 10-gram rice bed to lay your sashimi over is no easy feat.
We had a translator present for the entire experience since the sushi chef did not speak a word of English. Talk about an authentic experience! The class was broken down into two parts, the first consisted of making the sushi together and then we each took turns to make sushi for the other.
The selection of sushi included Hirame, Maguro, Ikura, Toro, and Uni. I couldn't recommend this experience enough, it was truly unforgettable and should be added to your Japan bucket list! // Pamela Chieffallo | Travel Life A Chieff
36. Eating Kobe Beef in Kobe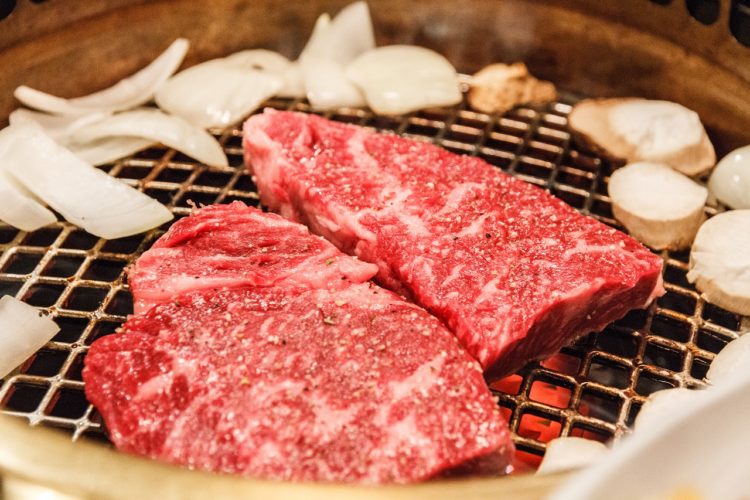 Sinking my teeth into a hunk of Kobe beef has been on my Japan bucket list for as long as I can remember. Who wouldn't want to try a cow so pampered, it's rumoured to be fed beer, massaged for hours and listens to classical music?

Marbled with fat throughout, incredibly tender and flavourful, it's one of the most expensive cattle in the world. At its source in Kobe, Japan though, it's possible to experience it relatively affordably. From my first bite, I was transported to steak nirvana. The meat basically evaporated in my mouth, leaving a taste so rich, light and flavourful, it was hard to believe it was just meat.

There's a million and one places to try it around Sannomiya Station, but I happily devoured it at Steakland – a restaurant that's famous for it's cheap Kobe beef sets. Visit at lunchtime to maximize your yen. The most expensive sirloin steak set, including soup, salad and coffee runs about $75, and it's worth every penny. // Shelley Lee | Travel-Stained
37. Okonomiyaki Cooking Class in Osaka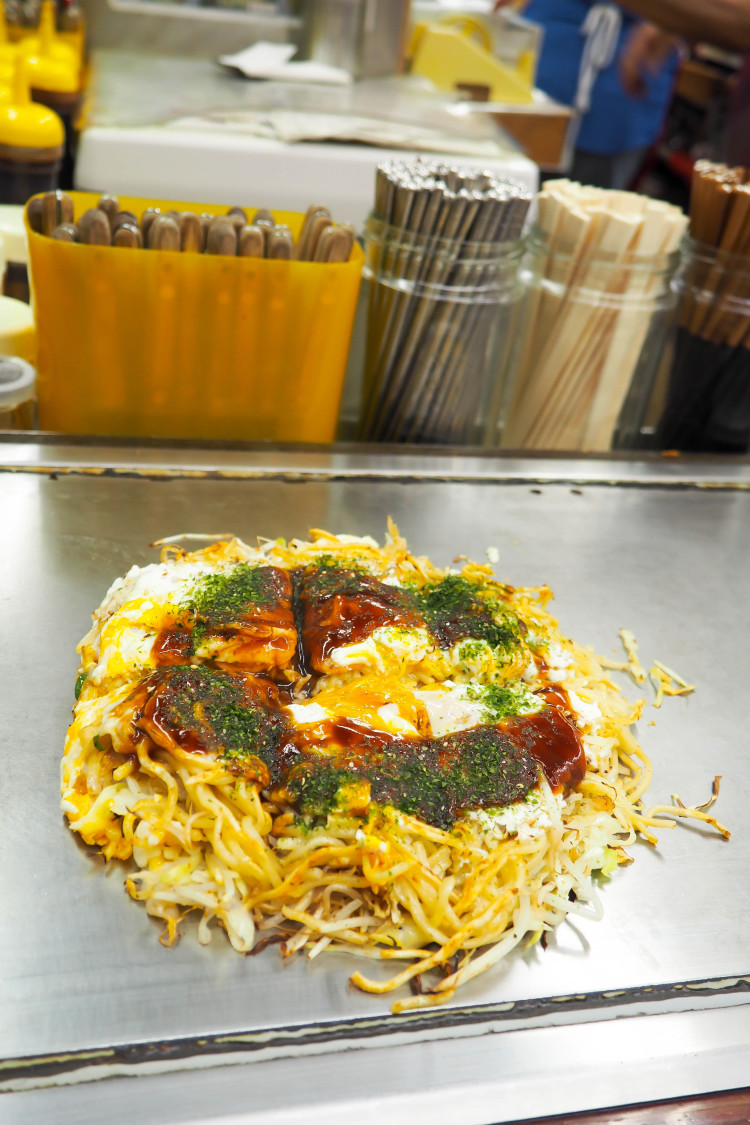 The food in Japan is top notch, but can be a little intimidating for people who are unfamiliar. Even for travelers who eat a lot of Japanese food at home, Osaka offers so many unique specialities that are above and beyond the typical gyoza dumplings and fried tempura.
There's okonomiyaki, a Japanese-style pancake, and takoyaki, Japanese-style octopus dumplings. And, these aren't even the detailed descriptions of what these dishes are. There is so much to eat in Osaka.

That's why taking cooking class in Osaka should be on the top of any Japanese travel bucket list. And, not just any cooking class, but a cooking class in the home of two, young Japanese sisters. They learned everything from their grandmother, and learning the inside family secrets is certainly a unique experience.
The cooking class started with a traditional Japanese tea ceremony. Then, while enjoying the tasty Osaka specialities, the sisters teach students all about sake. // Amber Siobhaun Hoffman | With Husband in Tow
38. Street food in Tokyo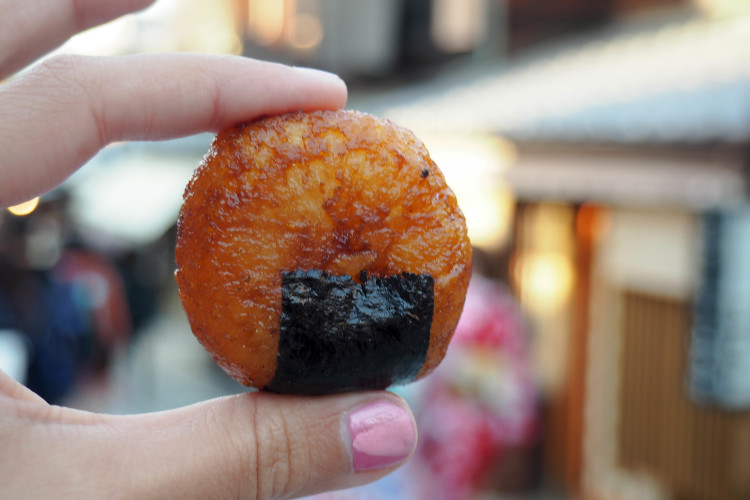 When visiting Japan you must try the street food in Tokyo. There are several festivals held in various districts all year-round, so you can be sure there is always street food available throughout Tokyo. One of my favourite places was around Ueno Park where you can get lost in a network of small alleyways, all lined with stalls selling delicious food.
Of course, Tsukiji Market is a great way to get introduced to Japanese street food and let's not forget the magical Memory Lane in Shinjuku where you can find the best yakitori in the city. We recommend you try the famed octopus balls (takoyaki), squid on a stick, matcha dangos and soy doughnuts dipped in strawberry and chocolate sauces.
Street food in Tokyo is relatively inexpensive, safe and delicious so you can dedicate at least one-day sampling Japanese specialties whilst walking around the mega-metropolis. // Cory Varga | You Could Travel
39. Drink matcha tea
One of the best ways to really experience traditional Japanese culture is through tea, and more specifically, the tea ceremony. This is where matcha (a type of powdered green tea with tons of reported health benefits) is ritually prepared and drunk. It's not exactly the kind of thing that you can take a noisy four year old to, so it's something I had to miss out on during my last trip to Japan.
However, the next best thing for us was sampling all the many, many varieties of matcha flavored sweets on offer in Japan. There is matcha pocki (a chocolate covered pretzel stick), matcha pancakes, matcha cookies, matcha mochi, and of course, our all time favorite, matcha ice cream.
Nothing could keep my four year old away from the "green sweets" and we made sure to indulge in a daily matcha ice cream. // Jade Shannon | Our Oyster
40. Eat soba in Okinawa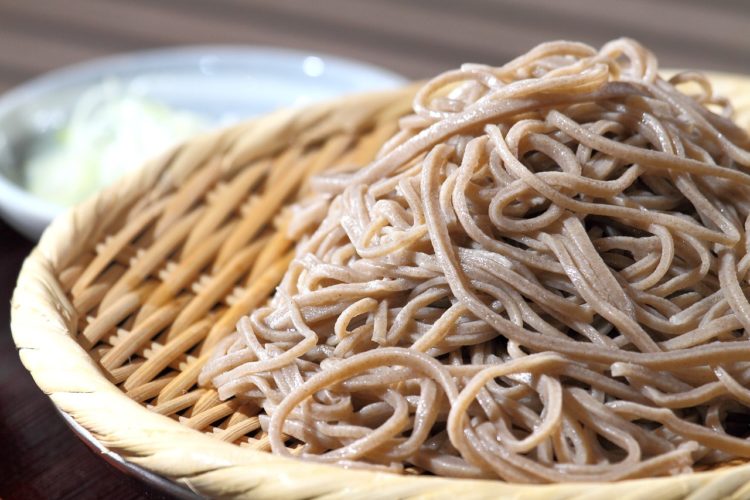 Okinawa doesn't seem to be on people's radar when they think of Japan and that's an absolute shame! The Southern most prefecture of Japan is home to a many unique cultural treasures only found in Okinawa. One of them has got to be Okinawa Soba.

There's many places you can find this dish on the island, but there's one you have to go to. Udunyama, a 150 years old eatery in a traditional Okinawa house. It's up a hill near the Shuri castle and you'll probably walk right pass it because of all the greenery that covers the place.

They make their noodles by hand in the traditional Okinawa way, with wood ash. The wood ash is from local trees found in Okinawa and then treated for up to 2 years before using. The whole process is extremely labour intensive and the end result is a bowl of mouth watering Soba. // Winnie MD | Million Dollar Winnie
41. Instant Noodle Factory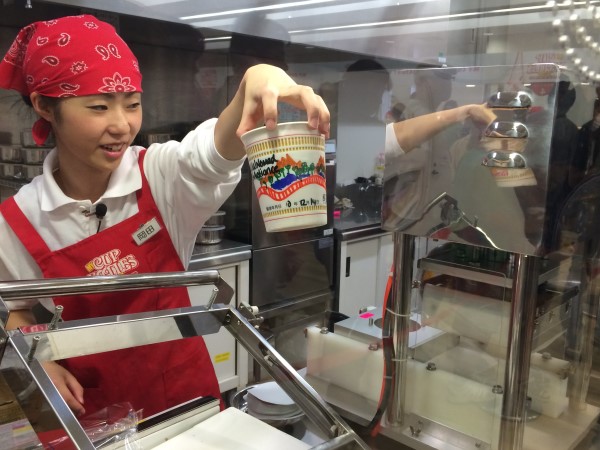 There are two things that for me go absolutely together for Japan and that's cup noodle and a factory tour. So heck, why not combine them and go to the birthplace of instant noodles, Ikeda, near Osaka. It's here on August 25, 1958, that the instant noodle was invented. Momofuku Ando, here not only invented the instant noodle but also the cup (or pot) noodle. And for that, we issue a million thank yous.
The museum itself is free to enter, but you'll want to throw down the 300 JPY that gets you into the area where you get to MAKE YOUR OWN CUP NOODLE. I know I'm shouting, but this is seriously exciting stuff. If you've ever been a student you'll know what I mean. This is HEAVEN in a cup or pot. And here you get to design the pot. And the stuff that does in it. WAY COOL.
You draw the design on your cup/pot and then you go around the "factory" asking for and getting the ingredients that you want. It's genius. And brilliant. I and I could stay here all day. So long as they fed me all my inventions. Do you have kids? They'll love this. You don't? Heck. Who needs kids, this is my kind of place.
You get your finished cup noodle all sealed, ready to go, and they put it in a special sealed bag too. Genius. I love it. So now I'm carrying it back to Osaka on the train and everyone can see not only my design genius but also my cool culinary taste too. // Sarah Carter | ASocialNomad
So there you have it! Some of the best places to go in Japan! Tons of Japan Bucket List inspiration for ya! Planning your first trip to Japan and want to see the highlights? Check out my complete 10-day Japan itinerary!