Headed to French Polynesia and looking for things to do in Bora Bora?! You're in the right place!
Ever since I saw a photo of those dreamy overwater bungalows (pictured below), my heart was set on making Bora Bora a dream come true.  Being the ultimate paradise for honeymooners, I was positive I would convince my soon-to-be-husband (back in 2011!) to make Bora Bora our choice of honeymoon destination.  The universe had other plans for us, and we ended up jetting off to the
Greek Islands
 instead (no complaints here!)
However, we did make it to French Polynesia a year later (2nd honeymoon, anyone?), thanks to a massive amount of both airline and hotel points.
Heading to this tropical destination soon?  Find more posts here:
Everyone speculates that there's not really much to do on the islands, and personally, I have to disagree.  Dubbed "Bora Boring" by many, this slice of paradise had more than enough to keep this adventurous beach bum happy.  I was able to fill 5 full days of fun, with a little relaxation time as well.  There are lots of adventurous things to do in Bora Bora – trust me!
Read below for some of my recommended activities and things to do in Bora Bora.
So where is Bora Bora anyway?!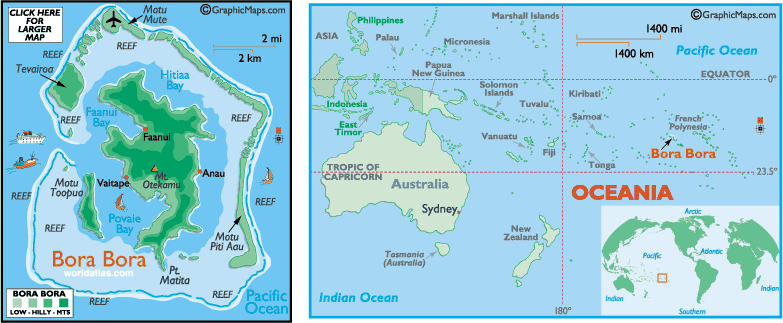 Bora Bora is an island in the Leeward group of the Society Islands of French Polynesia in the Pacific Ocean. Located about half-way between South America and Australia, Bora Bora is an 8 hour flight from Los Angelos and is approximately 2,600 miles south of Hawaii. Yes, it's far, but yes, definitely worth it.
Bora Bora was discovered in 1722, and is arguably the most beautiful island on the planet. I can say from experience that it will definitely stay in my top 5 no matter how many other ridiculously gorgeous islands I am fortunate to visit.
Top Things to Do in Bora Bora:
Snorkeling in Bora Bora is top notch.  The water is crystal clear, with temperatures in the high 70's/low 80's (depending on time of year). Make sure to go on a shark and ray tour, where you get to swim with both black-tipped reef sharks and sting rays >> neither dangerous to humans!  If staying in an over-water bungalow, make sure to bring your own snorkel gear, as you can jump into the lagoon and explore right there!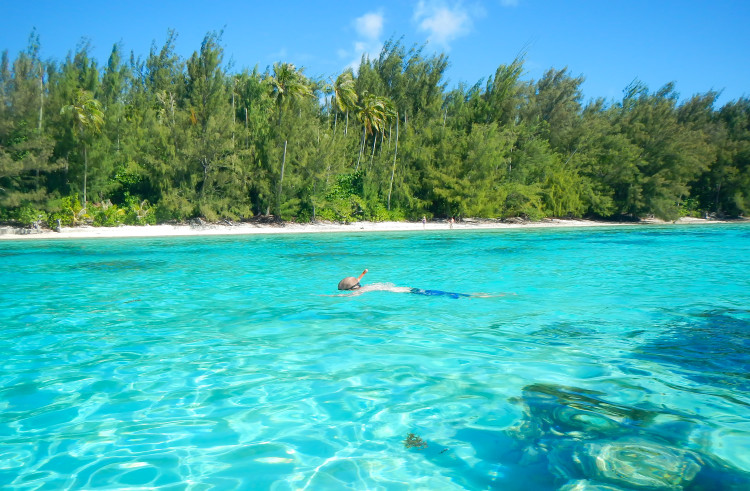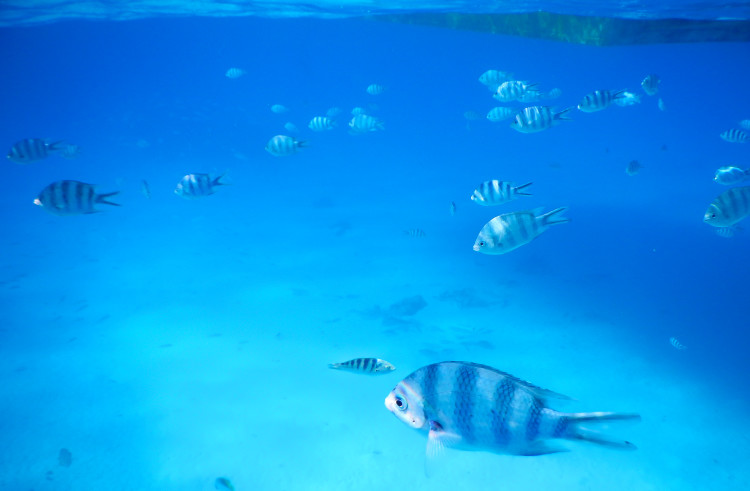 Take a Boat around the Island
Being one of the top things to do in Bora Bora, there are numerous companies offering cruises around the islands, and you can decide whether you'd like to go for snorkeling or sunset. Both sounded like fantastic choices, but we opted for the snorkeling cruises since I have a slight obsession with swimming with the fish! It's true – the water really is that clear! And turquoise!
Recommended Sunset Tour: Sunset Cruise with Romantic Dinner
Recommended Snorkel Tour: Deluxe Bora Bora Boat Tour and Picnic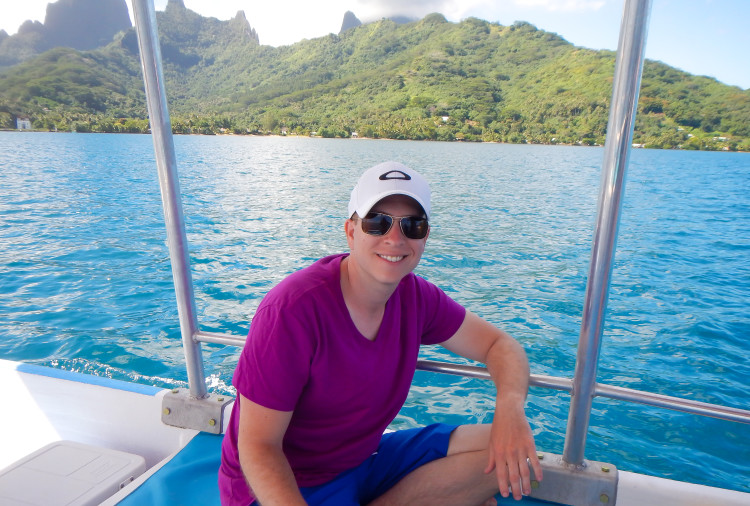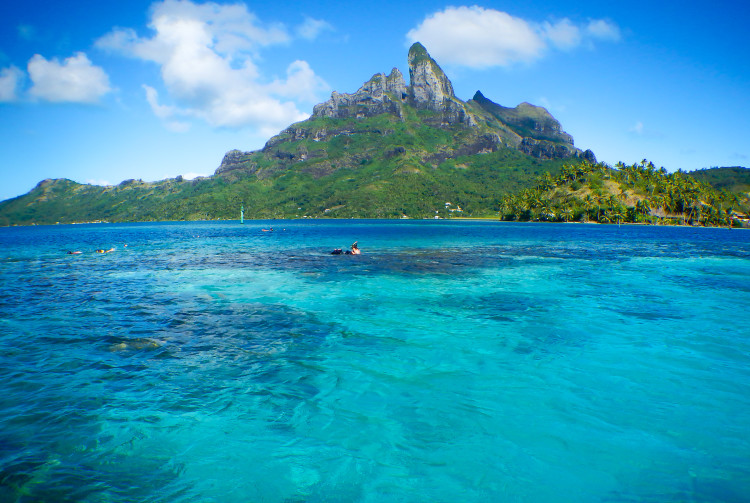 Craving a "higher adrenaline" kind of day? Tour Bora Bora via Jet Ski, and and stop for a coconut show on a Motu. Try doing some donuts with the jet ski >> you'll surely impress everyone! Snorkeling is even included on many tours! We ended up on a private jet ski tour offered by our hotel, and it was much more difficult than I ever speculated! Thankfully I had my husband to hang on to, but even then I thought we would tip over with every ripple in the water.
Find a similar tour here: Bora Bora Jet Ski Tour
Combo Tour: Jet Ski, Lunch, and Shark/Ray Safari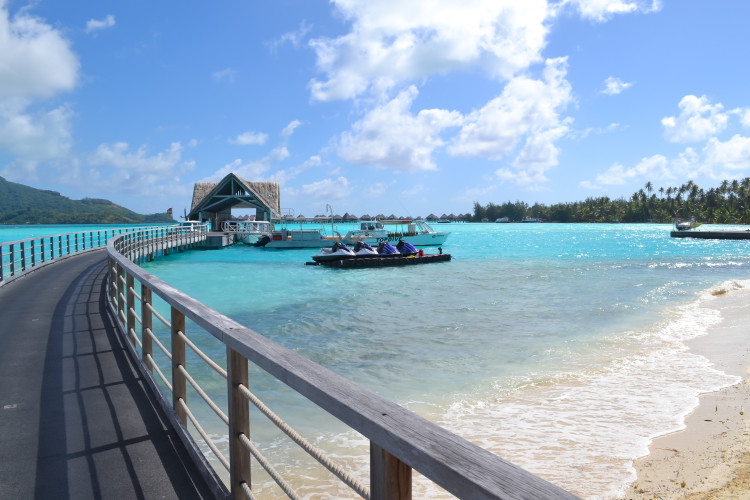 Stand-Up Paddling
Stand-Up Paddling is great exercise, and much harder than it initially looks! With it's calm waters, Bora Bora is the perfect place to practice! You can even kneel down or sit on the board if you get tired. Unfortunately, we left this activity until the last day, and with our luck, it was the only morning the waters were choppy. If this is high on your list, make sure to cross it off the first or second chance you get.
Watch the Sunset
The sun setting below the over-water bungalows were really something else. My suggestion: grab a drink at your hotel a half hour before sunset, lay on a chaise lounge on the beach (or your balcony!), and just relax! Watch the sun dip below the horizon and you'll be making it a new tradition.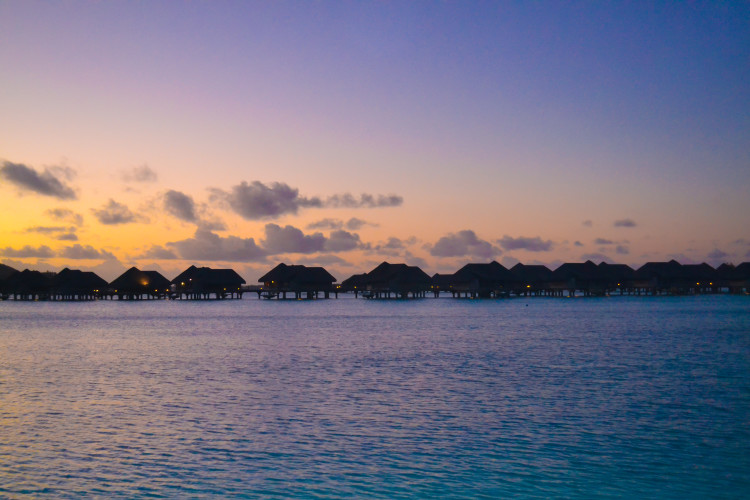 Try a Local Beer
You can't come all the way to Bora Bora and not try a local Hinano beer! The mango juice ain't half bad either, even if it's from a can! 😉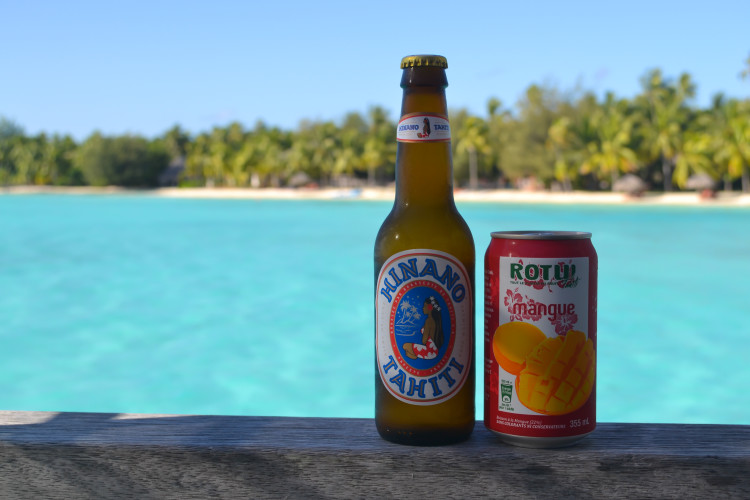 Helicopter Ride
Companies offer 15-30 minute helicopter rides around the island. See Bora Bora from above, and witness all those shades of blue, green, and turqouise as shown below. Isn't it spectacular?! It's rather pricey, but totally worth it for this one-in-a-lifetime experience. I recently took a
helicopter ride in Hawaii
and it was the highlight of our trip. Just go for it! I know I would! Want to see these stunning views without the high price tag? Keep your eyes peeled on the ocean during your initial flight into the island (take-off's pretty amazing, too).
Lagoonarium
The Lagoonarium is an outdoor aquarium that specializes in displaying the fish and marine life of a lagoon. It offers up close interaction with sharks and rays and even a chance to be pulled along by the fin of a shark if you're interested (not my favorite thing as I'm sure the animals aren't crazy about this)! Many marine species can be found here- some that you are not able to see while snorkeling in the open water. If you come here, make sure to talk a walk around the island as we were treated to even more fantastic views!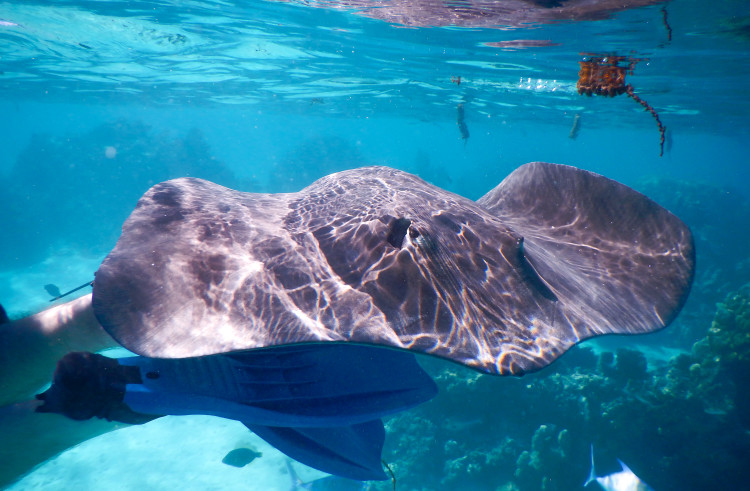 Swim with Sharks
After
swimming with sharks in Belize
, I knew this was something that I needed to do in Bora Bora!  Unlike the Nurse Sharks that you find in Belize, you can swim with black tipped reef sharks and lemon sharks in French Polynesia!  
We swam with black tip reef sharks in both waist-deep water, as well water that was 40m deep!  That deep water was the cleanest, clearest, and most outstanding I've ever seen (and I've been lucky to snorkel in some pretty spectacular places – Belize, Hawaii, Mexico, all over the Caribbean, and the Greek Islands for staters).  What a remarkable experience. One of the most thrilling things to do in Bora Bora!
Jeep Tour
Water activities and lounging at the pool is nice (uh, yes please!), but the interior of the island should be checked out as well!  We took a half-day tour of the island via jeep, and not only saw some of the most fantastic views, but learned how taros are made!  We even got to try some on!
If you're looking for some adventure and have had enough of the beach and pool (at least for a little while), check off one of my favorite things to do in Bora Bora – the Jeep tour!
Kayak/Paddle Boat
Most high-end resorts have kayaks and paddle boats for rent (many for free!) Wouldn't it be amazing to explore these crystal-clear waters yourself, and be able to hop in for a swim or snorkel whenever you please?! I mean just look at that water! We spent an afternoon traversing our resort via paddle boat, and got some of the best views, like those in the photo below!
Lounge by the Pool
Okay, so this one isn't exactly "adventurous". BUT, it's an absolute must-do when visiting Bora Bora! All of the upscale resorts have the most beautiful pools with an even better view, and some even boast over-water-bungalows with private plunge pools!
Turtle Sanctuary
The Le Meridian has a unique care center for turtles – where you can observe these beautiful animals and eventually you can swim together.  After
swimming with turtles in Hawaii
, and ultimately falling in love with them, this is definitely something I would absolutely love to do!  We didn't make it to the turtle sanctuary on this trip, but oh Bora Bora, I'll be back for ya. A definite must-do on any list of things to do in Bora Bora.