Headed to the Meteora monasteries soon?! Read on to see how I spent my time in this truly majestic part of my favorite country – Greece!
Meteora. Wow. What can I say? Spiritual, inspiring, magical, breathtaking, mystical, immense, and impressive. There really are no words to truly capture the effect the Meteora monasteries have on it's visitors. This majestic spot in Central Greece is surely unlike any area I've ever seen.
Ever since the husband and I spent our honeymoon in Greece a few years back, I've been itching to return to this ridiculously beautiful, laid-back country that is Meteora. And although exceptionally beautiful, someplace different than the islands and it's beaches.

So when I had a few extra days in Athens, I knew booking a 2 day tour to Delphi and Meteora was the way to go. Since getting from Delphi to the Meteora monasteries is known to be difficult on one's own (there is literally no public transportation between the two), I opted for an organized tour originating in Athens. It really couldn't have been more convenient, and I'm glad I made the most out of my limited remaining time in Greece. #timesaver that's for sure, and our guide was such a fun character to hang with!
After spending the previous afternoon exploring the ancient ruins of Delphi, we were off to the UNESCO World Heritage Site of Meteora. We arrived in Kalampaka, the small city under the towering rocks of Meteora, after a long bus ride from Delphi, and I was thankful to have the rest of the night to relax. Who knew sitting on a bus for so long could end up being so tiring?!
I really wasn't sure what to expect. Sure, I had peeked at photos when I booked the tour and was intrigued by those I found on Pinterest, but would the Meteora monasteries live up to the hype?
Take a look at the photo below and you tell me….
I thought so. Even after visiting dozens of landscapes around the world, I honestly couldn't believe my eyes…
A Little Background Information on Meteora
Wondering how these unique rock formations were ultimately formed? In simple terms, numerous earthquakes and floods created these smooth cliff walls we see today. Definitely different than most mountains you're used to. And standing up to 1200 ft [400m] tall, I'd say they're pretty impressive to say the least.
Way back when in the 15th century, 24 monasteries were built atop the rock formations by monks. How they managed to build these grand buildings is beyond me, with their limited resources and extremely difficult accessibility to the mountain tops. To say they had an immense amount of bravery is a huge understatement! And why so high?! They believed these vertical cliffs were the perfect place to discover peace and harmony due to their complete isolation from the rest of the world.
Only six of these Meteora monasteries remain, and all six are open to visitors throughout the year, with one closed each day of the week to give the monks compete respect and privacy when praying.
Visiting these Marvelous Mountaintop Meteora Monasteries
Throughout our one day in Meteora Greece, we visited two monasteries complete with a bunch of photo ops thrown in for good measure. The landscapes were truly remarkable, and I had an exceptionally difficult time putting my camera down. I think you can understand why…
Looking out at the immense vistas puts you in perspective; you really are a tiny speck in this wide gigantic world of ours. Inspiring and impressive, mystical and magical. Just a few words to properly describe the Meteora phenomenon.
Great Meteoro Monastery
Our first stop of the day, and boy did it give us a good workout. Since the monasteries were built on top of the towering rocks, it's no surprise that in order to visit most, you'll need to climb quite a few steps. Pretty fitting that it's called the monastery that was "suspended in the air" (meteoro). The Holy Monastery of Great Meteoro is the biggest and oldest one of all, and we were able to explore all that it had to offer.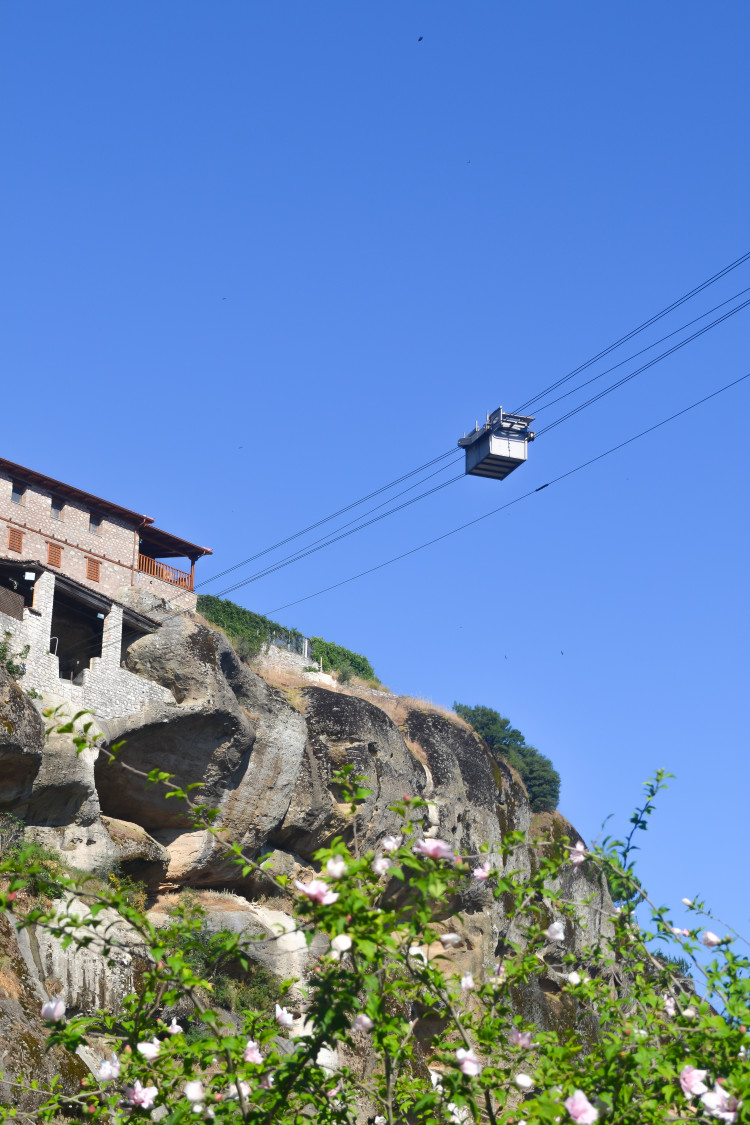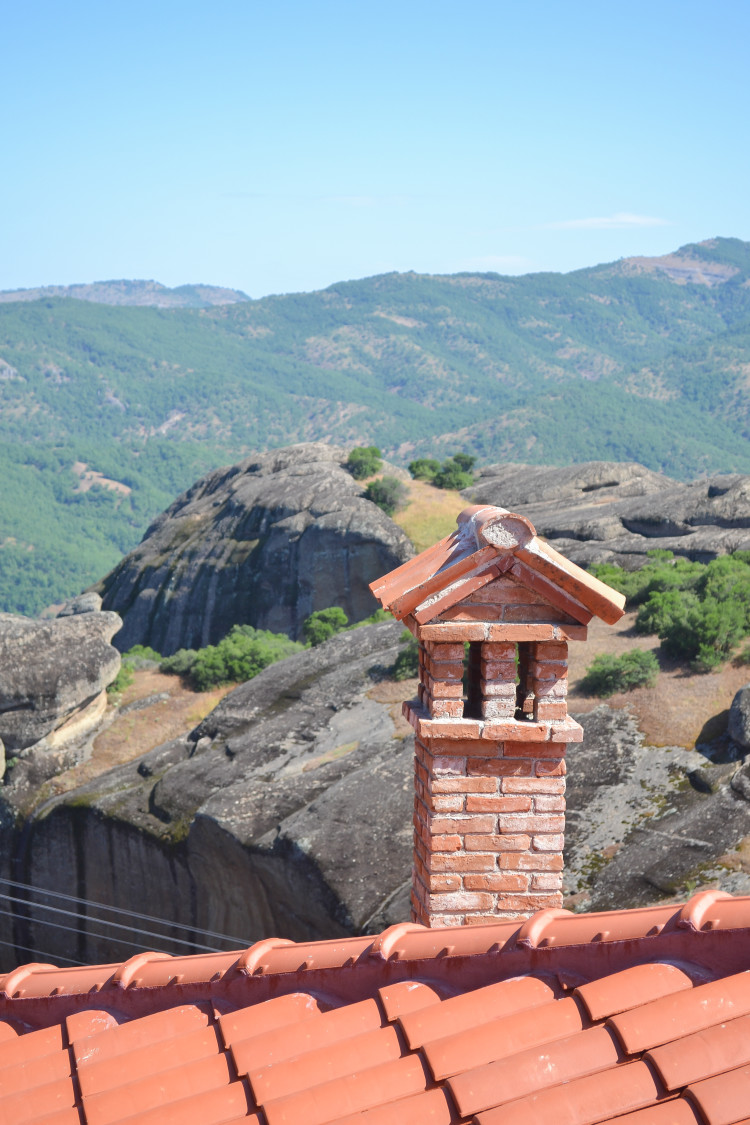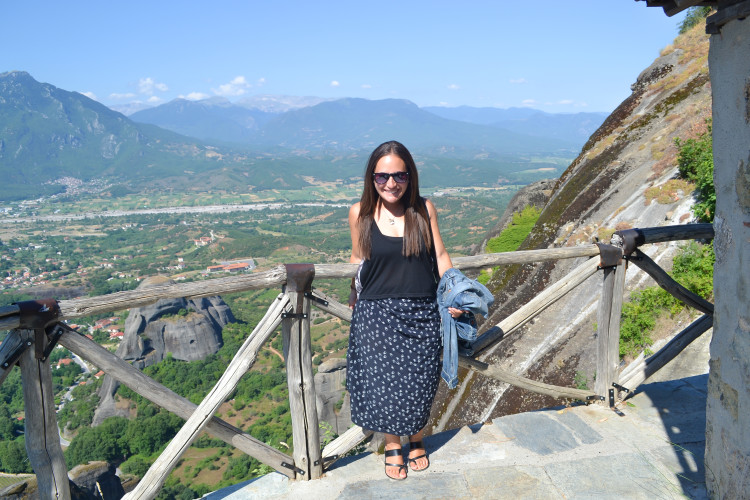 Although photography isn't allowed inside the actual place of worship, I still found numerous spots at the monastery worthy of the shutter button.
St. Stephen's Monastery
Despite being closer to ground level, St. Stephen's Monastery was nothing short of extraordinary. The Holy Monastery of St. Stephen is the only monastery inhabited by nuns.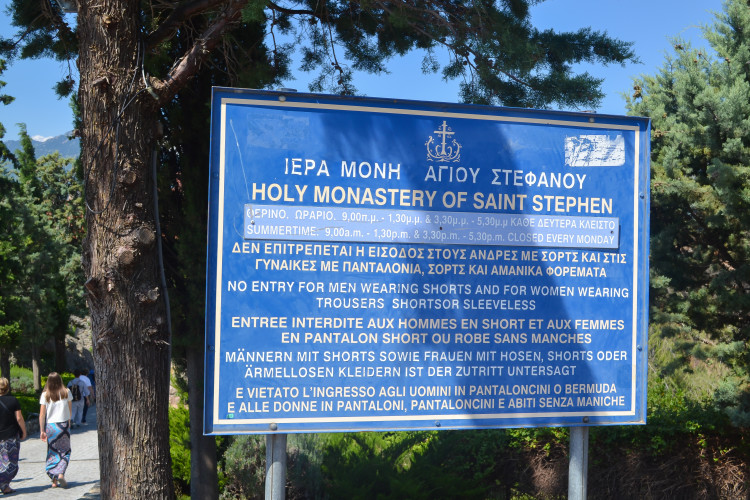 Note that this is the most accessible monastery, and since crossing a small bridge allows entry into the monastery, it is ideal for for those who are unable to climb a massive amount of steps. Definitely appreciated after hauling my bum to the Great Meteoro Monastery!
It's hard to remember that a visit to the Meteora monasteries is more than exquisite landscapes and overwhelming rock formations. The UNESCO World Heritage Site of Meteora is a holy place for all Christians around the world, and many make the far pilgrimage to the area to visit and pray.
However, visit the Meteora monasteries even if you are not deeply religious. You'll find yourself super inspired regardless of your religion or lack there of. I was; that's a fact. And I was pleasantly surprised by how much we were able to see with just one day in Meteora Greece!
Bizarre but beautiful, Meteora surely cannot be missed on any trip to Greece.
Know before you go:
Cost: If you decide to venture to Meteora solo, the entrance fee for all monasteries is 3 Euro per person.  All fees are included on this 2 Day Delphi and Meteora tour, and they'll even put you up in a 3 or 4 star hotel, depending on booking. (Book sooner than later for possible upgrades).
Dress Code: Before you visit any of the monasteries, please understand the dress code.  You will be required to cover your shoulders and knees out of respect when entering the Meteora monasteries. 
If you do not have proper coverings, you will be provided with them at each entrance free of charge (which I appreciated and took advantage of).  Summer is hot hot hot in Meteora, so I was glad I opted to use the provided coverings.
Transit: If you're hoping to visit both Delphi and Meteora, understand there is no public transportation between the two.  A 5-hour train from Athens to Metoera is possible, and I highly suggest you stay at least two nights if you're not visiting as part of an organized tour.  
Part of a tour?  One day in Meteora Greece is sufficient. I highly recommend this 2-day tour, as it's extremely similar (if not the same) as the one I took (and ABSOLUTELY LOVED).
Dinner and breakfast the following morning are included at the hotel when you book with Key Tours, but be prepared to fork out your own cash for lunches both days.
So once you're done exploring the ruins in Athens and a few of the islands (say Santorini, Mykonos, Hydra, and Leros), be sure to head up north to see Meteora for yourself.
Have you spent at least one day in the Meteora monasteries on your last trip to Greece? If not, time to add it to the list for next time!
Disclaimer: I was a guest of Key Tours' remarkable hospitality, but as always, all opinions are mine and only mine.