Heading to Italy soon and looking for the best day trips from Naples? Welcome, you're in the right place! There are numerous Naples day trips just waiting to be explored!
I visited Naples and the Amalfi Coast last summer as part of a Mediterranean Cruise. We unfortunately only had ONE day in the area, so weren't able to take as many day trips from Naples as we had originally wanted! Thankfully, we were able to squeeze in a few picturesque spots into one very long and tiresome yet deliciously beautiful day! It's that Italian sun, I'm telling you! Since we're itching to get back to this part of Italy sooner than later, I asked my friend Nicky from That Anxious Traveller to share her favorite day trips from Naples! Enjoy and let me know if you have any questions for Nicky!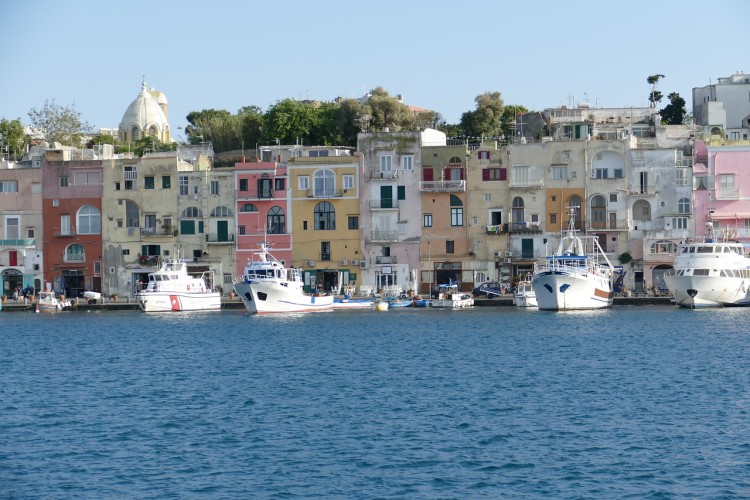 [divider style="thin" title="" text_align=""]
When you first think of Naples, what instantly comes to mind? The view across the bay? The controlled chaos of the city? The hordes of tifosi at the San Paolo stadium? The PIZZA? These are all fantastic answers – promise me you won't forget to sample that pizza!  However, Naples is way more than just that cheesy slice of dough.  😛 The city also serves as an excellent and affordable base to visit some of the most famous sights of Italy! So, with this new found knowledge, let's have a look at the best day trips from Naples!
Pre-Travel Guide to Naples
How To Get Around
Naples has its own Metro system, which is well worth visiting – some of the stations are quite literally a work of art. Designated 'art stations' such as Garibaldi, Dante, Toledo and Museo are as attractive as they are functional. In fact, Toledo station was named the most beautiful Metro station in the entirety of Europe! Bear in mind though that there's large swathes of the city which are not near a Metro station. The city is well-served by overground rail services, however, including the Circumvesuviana line which is very handy for day trips from Naples.
[divider style="thin" title="" text_align=""]
Important Things To Pack
A hat, sunglasses, and sensible, comfy shoes. You're going to be doing a lot of walking in the heat, and a lot of it will be on Roman cobblestones. Whilst these are undoubtedly lovely, and engagingly historic, they can be somewhat unkind to those wearing stiletto heels! You'll also thank yourself for the hat and sunglasses, especially if you're taking a boat trip. If you want to fit in with the locals, wear a jacket from September onwards.
[divider style="thin" title="" text_align=""]
Where To Stay
Don't worry too much about Naples' rough-and-ready reputation – its hotels are up there with the best. You'll find a great range of options, and at far more affordable prices than you'll ever find in its neighbouring glam-spots of Capri and Positano.  The Historic Centre is a wonderful base, near the train stations and surrounded by the best of Naples, whilst hotels on the Lungomare have a few of the bay and are convenient for the harbour trips. Try the Grand Hotel Vesuvio for view of the eponymous volcano, or the Hotel Piazza Bellini for a splash of luxury. Hotel Correra 241 and Hotel Palazzo Decumani are also great picks.
[divider style="thin" title="" text_align=""]
When To Go
My personal picks are May and September – in both cases, you're out of the low season (when some attractions are closed, and trips to Capri and Ischia can be difficult thanks to rougher seas), but not in the high season when the area is choked with tourists. Plus, both months have weather absolutely perfect for exploring: plenty hot enough, without crossing that line into melted-puddle-on-the-floor territory.  😛
[divider style="thin" title="" text_align=""]
Important Phrases
Ciao – Chow – Hi and Bye
Arrivederci – Ah-ree-ved-DEH-chi  –  Goodbye
Per favore – Pear FAH-voor-ray   –  Please
Mi scusi – Me Scoo-sie  – Excuse me
Dove? – DOH-vay? – Where is?
Grazie – GRAH-zee-eh – Thank you
[divider style="thin" title="" text_align=""]
WIFI AND STAYING CONNECTED
Although you will most likely have wifi at your accommodation, it's a good idea to bring along a pocket-sized personal WiFi hotspot, to keep you connected during your time in Italy. WiFi hotspots are a cost effective option to ensure you can use GPS apps like Google Maps, check your emails, and catch up with friends and family while away. With this portable device, you'll have WiFi wherever you go (even if your phone doesn't have service), unlimited internet (on up to five devices at a time – meaning you can share with friends/family!!!), and it's fast and reliable. At less than $9 a day, this device can't really be beat.
Note that some cell phone plans allow for international use, but many of these are costly. I once accidentally turned on my phone service for LESS THAN 2 MINUTES and got charged $150 by my phone carrier! I desperately wished I had a personal WiFi hotspot with me then!
Find more information and plan options here. HIGHLY RECOMMENDED especially when you don't speak the native language of the country you're going.
And finally, what you came here for, the absolute best day trips from Naples, Italy!
[divider style="thin" title="" text_align=""]
Best Day Trips from Naples, Italy
1.Capri
Probably the best-known of the day trips from Naples, and also one of the most sensible, as staying in one of Capri's boutique hotels can give the bank balance a hefty knock. But Capri is well-worth its price tag: the luxurious island is a paradise on earth, where azure seas glitter around a land scented with lemon and pine trees. The Blue Grotto may be it's most famous sight (catch a tour boat from the marina you arrive at), but catch the funicular up into Capri Town, and you'll be transported into a world of high-end designer goods, perfumes, and jewellery. Or you can leave material goods behind, go for a hike, or take a chairlift up Monte Solaro for some breathtaking views. Catch a boat to Capri from Naples' Molo Beverello harbour; it'll take about 40 minutes.
2. Ischia
Capri's less well-known, but larger neighbour may get less visitors, but that doesn't mean that it's any less beautiful. A volcanic island, it's famous worldwide for its thermal baths, hot springs, and warm gloopy mud, which makes it the perfect spot for anyone fancying a little bit of a pamper after the 40 minute journey from Naples' Molo Beverello harbour. Ischia's other main sight is the La Mortella Gardens, founded by an Englishman, and filled with Mediterranean plants which thrive in Ischia's climate and rich soil. The gardens overlook the town of Forio and the sea beyond – what better spot for a day to refresh the senses?
3. Procida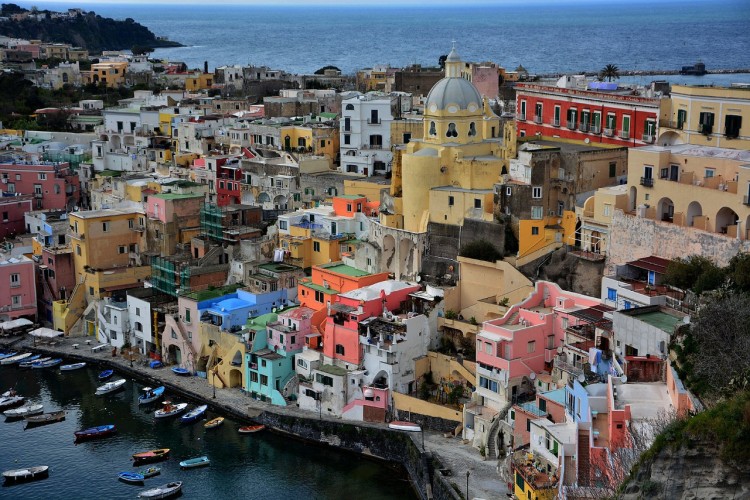 The little island sister of both Capri and Ischia – what it lacks in size, it makes up for in color. Have you ever seen photos of colorfully-painted Italian houses, nestled around a neat harbor, fishing boats moored nearby? Yup, that'll be Procida. Whilst it may not be jam-packed with sightseeing venues, it's just a wonderful place to wander and get away from the crowds – you'll fall in love with the typically-Italian streets, little churches, and peaceful beaches. You can catch a boat, again, from Naples' Molo Beverello. An absolutely wonderful day trip from Naples!
4. Pompeii
A 35-minute train ride from Naples (take the Circumvesuviana line from Centrale station, and the train heading to Sorrento – alight at Pompei Scavi – Villa dei Misteri), Pompeii draws 2.5 million tourists per year, and is your chance to see a large Roman town frozen in its death throes. An eruption of Vesuvius in 79AD devastated the town, killing the inhabitants and burying the town in layers of solidified ash and pumice until its rediscovery in 1599. A walk around here is truly like travelling back in time, and you'll be able to enter the same buildings and arenas, and use the same road crossings that the Roman did. Be warned though: this is definitely somewhere you'll need your comfy shoes, and if you visit in the summer, a hat and water are essential.
5. Herculaneum
Herculaneum is to Pompeii as Ischia is to Capri – less-known, but thoroughly worth visiting, and an easy day trip from Naples (follow the same travel instructions as for Pompeii, but alight at Ercolano Scavi station). Smaller in size than Pompeii, but better preserved, Herculaneum's burying beneath mud meant that houses were discovered almost intact. You can walk into a Roman's villa, your feet on the same brightly-coloured mosaics – even a fragile wooden partition has survived. The saddest sight of all is that of the human skeletons down by what was a quay, huddled together with no chance of survival. Seeing both Pompeii and Herculaneum is recommended for history fans; they really complement each other very well – Pompeii has the variety of buildings, whilst Herculaneum shows you all the small details of daily Roman life.
6. Vesuvius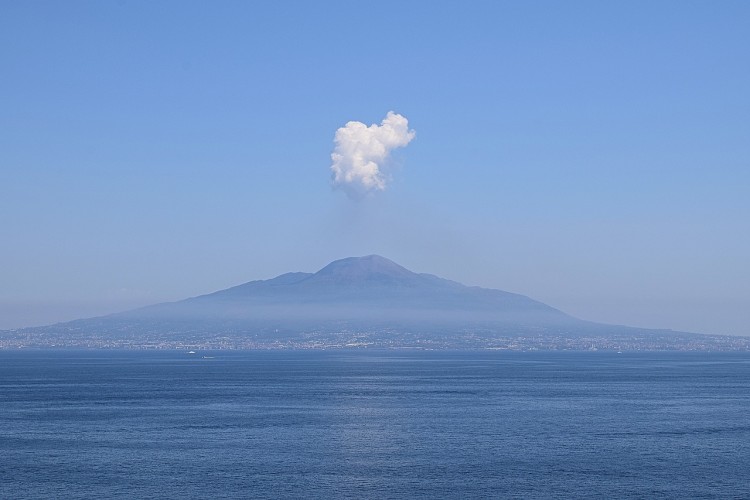 If the talk of the devastation that this volcano caused hasn't put you off, you're in luck – you can go right to the top of it! Most visitors arrive in tour buses from Naples which go directly to the car park near the summit; if you'd rather do the journey by your own steam, follow the travel instructions for Herculaneum, and catch a bus from Ercolano Scavi – there's a bus station just outside the station. It's not a terribly hard hike to the top, where the path curves around the crater – and it's got to be worth it to tell everyone back home that you hiked up a volcano, right?? Don't expect to see splashing lava, though: although Vesuvius is an active volcano, the most you'll see is some steam emerging from the ground. If you see lava, you're in trouble!
7. Sorrento
Just across the Bay of Naples, Sorrento is a jewel of a town, and you have two choices of how to reach it – you can either take a fast boat from Molo Beverello harbour, or the cheaper option of the Circumvesuviana train (takes between 45 mins and 1hr 25mins). Sorrento is fantastic for doing a little bit of souvenir-hunting – as well as the ubiquitous lemon products, candies and limoncello liqueur being ever-popular,  the town is famous for its inlaid wooden furniture and boxes. You'll see these everywhere in town (it's also not uncommon to stumble across a workshop with the pieces being worked on by craftsmen, templates strewn across tables), and a music box playing the gorgeous tune of Torna A Surriento ("Return to Sorrento") makes an ideal memory of your day trips from Naples.
8. Amalfi
The Amalfi Coast is famous as one of the most beautiful regions in the world – and it lives up to the hype. Roads wind around the cliffsides, producing dazzling views of the sea and towns, and dropping the stomachs of those who are less fond of heights! Amalfi sits in the centre of its eponymous coast, a small town but one with a proud history – it was once a major power in Italy, and an important trading centre. These days, it's more suited for strolling around its streets and admiring the wonderful Byzantine-style cathedral; pop inside for a look at the cathedral's many religious treasures, including the remains of St. Andrew, and Roman sarcophagi. It's also a great place to eat seafood – it doesn't come much fresher! The best way to reach Amalfi is to go by train to Sorrento (see instructions above), before taking the SITA bus outside the station.
9. Positano
Positano is the Amalfi Coast's own glamour spot, and you can see why it's a haunt for the rich and famous. Ridiculously picturesque, with pastel-colored houses tumbling down the cliff sides towards a clear blue sea, Positano will have you living la vita bella in no time at all. Most visitors are drawn to its wide sandy beach – parasols protect sun-worshipers from getting too scorched – whilst shoppers and fans of all things lemon-flavored will love the shops on the side streets, selling Positano's most famous product. You'll find lemon in everything from limoncello to soaps to tablecloths to perfumes, and the gelatos are perfectly Instagrammable. It's also a great spot for art lovers, with a number of galleries in town. Follow the same travel instructions as for Amalfi; Positano is the previous town.
10. Ravello
Perched up in the hills above the Amalfi Coast, Ravello is a stunning spot, but a little trickier to get to – it's one of the longer day trips from Naples. You can either catch a bus from Amalfi, or you may want to crack open the wallet and pay for a taxi transfer, which takes the travel time down to a much more acceptable 1hr 15mins. But however you get there, prepare to have your camera close at hand: you'll have stunning views of the valleys below, covered in vineyards and heading down towards the sea. The town is best known for the beauty of the gardens at Villa Rufolo; pay a small fee to enter and see the flowers fully in bloom, and stand on a terrace with a view of seemingly endless blue oceans. You're not likely to find superior views anywhere in the world.
Are you visiting Italy soon? Which of these day trips from Naples will you be adding to your itinerary?!