Headed to Mexico soon and looking for the best things to do in Oaxaca?! Read on for what to do in Oaxaca, plus a whole slew of day trips from Oaxaca you can take as well!
I've been to Mexico, but only that part of Mexico you think of when Spring Break comes to mind. Cancun, Cabo, Tulum, Riviera Maya, yea, those are the ones.
I've heard wonderful things about other parts of Mexico recently, specifically Mexico City and Oaxaca, so I've enlisted Adrien from Strangers Abroad Podcast to share with us the best things to do in Oaxaca! After reading through this post myself, I'm now itching to get below the US border and check out more of what Mexico has to offer. And plus, I have a bunch of students who visit family in Oaxaca during school breaks, so I'd love to learn more about the city myself to put their stories to life.
Pre-Travel Guide to Oaxaca, Mexico
How to Get Around Oaxaca
Oaxaca City is the largest city in the state that shares its name (like how New York City is in New York state). To arrive there, you can fly into Aeropuerto Internacional de Oaxaca (OAX), which is located about 5 miles south of Oaxaca City. You can take a collectivo, private cab, (approx. 150 MXN) or airport van (approx. 80 MXN) to the city's Zocalo (town square) or there is a local bus ( approx. 7 MXN).
If you are coming into Oaxaca City from Mexico City, there is a 6-hour bus that will drive you along the edges of canyons, see the sleeping peaks of volcanoes, and fields of wild agave plants. Oaxaca is a central connecting hub to get to other areas in the state and to outside cities, so you will be able to travel to the beach, Chiapas, and other long distance locations from there.
Once you are in the city and decide to stay there, you will find that it is quite pedestrian-friendly, with the main vein of the city, Andador de Macedonia Alcala, a pedestrian walkway.
There is no metro as the city is small enough for you to spend most of your day on foot. Although a little hilly at times, this is a city where you want to be able to stop and find the secrets, like dip into an art gallery only to find there is a mescal bar in the back, or go to a bookstore to find there is a walled outside reading room and garden. The city is filled with layers that you want to have the freedom to take your time and explore.
If you want to venture to the outskirts of the city, there are local buses and collectivos, both of which will try to shove as many people into a vehicle at a time, so get used to the tiny abuelas and their chickens and bags of garlic.
Important Things to Pack
Since Oaxaca is closer to the equator, the temperatures throughout the year remain constant and has two main seasons. The dry season is from October to April where they experience little rainfall. It is best to pack plenty of sunscreen, a bathing suit, long skirt (for the ladies), and a sweater and scarf for chillier nights. May through September is the wet season, so don't forget to bring your rain jacket and umbrella.
Universal items you should bring are probiotics, a good pair of hiking or walking shoes, your typical first aid kit, and a small portable bag for all your smaller items.
Some helpful apps to download ahead of time include Google Maps where you can save maps offline, Duolingo to practicar espanol, Stellar to document and create beautiful travel photography stories, and Travello to make friends who are also traveling in similar regions.
Where to Stay in Oaxaca
Like mentioned previously, Oaxaca is a walkable city, so even if you don't stay close to the town center it is an easy walk or cab ride away. The center is rather touristic and can get loud later in the evenings, so don't restrict yourself to the historical center if you are looking to sleep off all the mezcal you had the night before. A few neighborhoods that are on the fringes of the center are Barrio de la Noria, Barrio Jalatlaco, Diaz Ordaz (close to the bus station) or La Paz to help encourage you to explore different areas.
Scheduling your Time
Ideally, 5 days in Oaxaca would be best to get a good taste of the landscape, culture, and nightlife of the city. That would give you enough time to take two day trips and relax in the land of Mexican art + chocolate.
Important phrases in Mexico
I truly find that taking the effort to learn another person's language gives you a better experience. It makes you seem more trustworthy, friendly, and respectful towards the land, people, and culture you are inhabiting. People are more likely to go out of their way to help you (or show you the good stuff) if you charm them in their own language. Do not go there and expect to be spoken to in English, it is rude.
You can find a list of important and basic phrases to say in Mexico here, here, and here. But if you want to walk and talk like the locals, here are five phrases that you can slip into your scrambling to find a bus or the best tacos that will make them feel like you are putting in the extra effort. Nothing hits closer to home than ones native tongue.
Que onda/ Que tal?/ Que paso – How's it going? What's up?
No manches!! – 'No way!' or 'Unbelievable'
A poco – No kidding / That's unbelievable / Wow, you don't say / Are you serious?
No hay bronca – No problem, don't worry about it.
¿Mande?- What?
Chido- Cool -It will blow their minds if you say that to them.
Best Things to do in Oaxaca, Mexico
1) Eat all the Mole
Although all of Mexico is blessed with incredible cuisine and ingredients, there is truly magic in Oaxaca's kitchens and that starts with mole. The old Spanish word for mix, mole can come in several varieties based on types of ingredients.
There can be anywhere from 20-30 ingredients in the sauce alone, and the mix highlights the breadth of regional Oaxacan ingredients. For some moles, the secret ingredient ranges from cinnamon to chocolate, coffee to hot peppers. It is typically served over a meat and rice dish.
There are some Oaxacan restaurants that specialize in mole, but most places serve it and it is hard to find a bad one anywhere. You can also buy bags of it at the local markets and bring it back home with you.
2) Mercado Organico El Pochote Market
Go to the Mercado Organico El Pochote market on Friday or Saturday and you will walk out with more body weight but a slimmer wallet. This market is a fresh offering of Oaxaca's classic ingredients while still offering the less conventional ingredients that people don't always come to but defines Mexico as a country.
Pigs heads dangle from the butchers ceiling, fried seafood, cloth bags of cacao beans ready to be churned into chocolate, strips queso blanco ( for a country that was colonized by the Spanish, I find it strange that this is their main cheese), and deep-fried crickets, or Chapulines.
Walk slowly and relish in the aromatic melody of garlic, chocolate, and fried seafood that can only make sense in Mexico. You are surrounded by ingredients that have been cultivated for thousands of years and you will walk away with an appetite from another time.
3) Tlacolula Market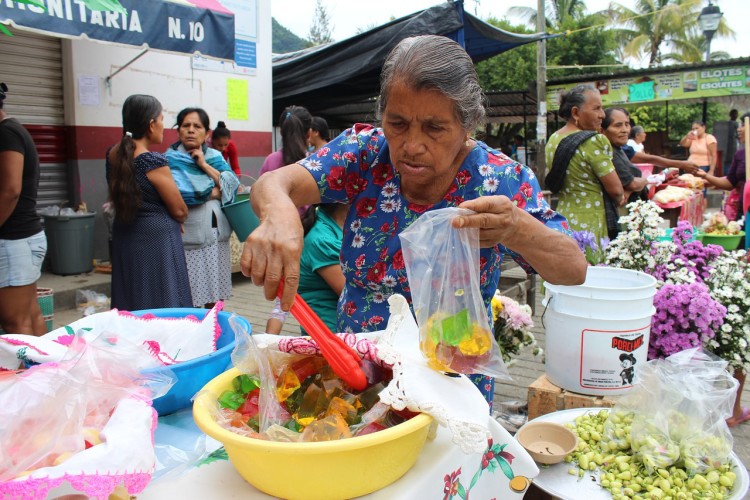 Tiangus are outdoor markets that spill out onto the street and is overflowing with items from all time periods and locations. You can get herbs dug up from the surrounding landscape for spiritual practices, cheap iphone headphones and chargers, or handmade embroidered pouches, shirts, and skirts; traditional Zapotec pottery made of black clay, blankets, rugs all for mind-blowingly low prices.
It's a great one stop shop for those little souvenirs for everyone back home without breaking the budget (but maybe breaking your suitcase). You will see several pop up all over the city but the largest one is on Sundays called Mercado de Tlacolua and brings indigenous communities from all over the Oaxacan Central Valley in their billowy white skirts and prismatic stitched shirts.
4) Chocolate and maize tour
Chocolate and maize? Well, if you don't remember from Spanish class, I'm alluding to corn! I didn't think they really went all that well together either → that is until I tried it. Don't knock it 'till you try it, right?
I was lucky enough to partake in Chris' Food of the Gods Chocolate + Maize Session, and boy was it informative (and obviously delicious). On the tour we learned all about the mysteries of, you guessed it – chocolate and corn, visited mercados, chocolatiers, and of course tried plenty (and plenty) of samples. However, the chocolate and maize tour was way more than just a sampling of Oaxaca's finest – we dove deep into the Mexican customs, traditions, and history that make these flavors just oh so special.
And of course we ate! We indulged in pre-hispanic cacao drinks (chocolate atole and tejete both had such interesting flavors), rare types of chocolate, and lots of corn-infused foods, allll while learning about the significance of these two food groups to the area. If you haven't figured it out by now (the name of the tour kinda gives it away), chocolate and maize are the Mesoamerican foods of the gods! However, I don't wanna spoil all the secrets (it's just so fascinating and Chris explains it wayyyy better than me).
Psst – the tour included enough food to keep me full for a few hours, and we even got to sit down at a local restaurant for an early lunch at an organic mercado (which was ohhh so good). Make sure you get to try some memelas – those were my absolute favorite! Thankfully Chris ordered for us – it's always helpful to have a local share their secret meals when you have absolutely no idea what to stuff your face with!
Chris is so passionate and it truly shows – he knew his stuff and explained everything so well and with such enthusiasm (even for someone like me who gets distracted in .3 seconds). I definitely left the session with a deeper connection and appreciation to my beloved chocolate, that's for sure. And with chocolate having such a cultural significance to the city of Oaxaca, it'd be a shame to leave without actually understanding why.
If you're looking for a chocolate tour that goes beyond the typical surface-level stuff, check out this tour. You won't be disappointed – just bring your stretchy pants (I warned you!) Go try the tejate (a surprisingly delicious cold drink made with both cocoa and corn) for yourself!
5) Art galleries
The art in Oaxaca is truly one of a kind. Clearly inspired by peyote trips, ancient folklore, and modern experiences, Oaxacan art stands out on its own. Most of the art galleries are within walking distance of each other and are open during the afternoons and evenings for you to have drinks in between and see something different every time you go in ( some even have bars in the back).
6) Mescal festival
If having free samples of mescal wasn't enough for you at the factories, you can come and enjoy an entire weekend where you get to drink basically para gratis! The Feria Nacional del Mezcal festival entrance fee is 40 pesos which is roughly $3 American dollars. Festival goers receive unlimited shots and samples for half the price of a shot in Manhattan. It's dumb cheap and possibly dangerous. The 10 day festival in July is one of the craziest or best time to visit Oaxaca, depending on your purgative.
Fortunately, you can sop up the spirit of Oaxaca at the food vendors selling regional cuisine like zucchini flour quesadillas, tacos filled with every kind of meat, and the smell of freshly roasted corn wafting through the air.
7) Museums
In contrast to the traditional art that has been passed down through the indigenous generations, Museo de Arte Contemporáneo de Oaxaca, MACO, displays the works of Mexican tradition collaborating and clashing with the modern world. From paintings of skulls in grocery carts, large painted poems of oppression, and graffitied images of their ancestors, the museum exhibits the Mexican mentality of the modern world.
Rufino Tamayo, Rodolfo Morales and Francisco Toledo are permanent Oaxacan artists featured in the museum. They use multiple mediums to demonstrate the complexity of their messages ranging from graphic art to sculpture, weaving to pottery and painting, showing that Mexico can not be defined in a singular way.
The space is small but holds a lot. The white arched building has indoor and outdoor exhibition spaces and a peaceful patio with three curving trees shading the space from the Mexican sun.
8) Take photos of the street art
The Oaxacans are not confound to having their art hanging in nice gallery walls as you will find nearly as much avant garde art on the streets as you will in the nice and orderly walls of an art gallery. You can find artists put their tags and styles in different corners of the city. They styles vary from paper and glue, stickers, stencils or paint and are hidden around the colorful city like Easter eggs.
9) Gardens
If you are looking to find a slice of peace in this lively city, take an afternoon tour of the ethnobotanical gardens just outside of the city center. What was once the Santo Domingo monastery has been repurposed into a 5-acer garden that depicts the diverse flora of Mexico's most biologically versatile state. Its round cacti, linear ferns and origami flowers are organized by temperate and separated by walking paths and angular pools of water: it's like walking through a mandala.
There are comprehensive tours with limited times in English. While moseying around this geometric garden, you will learn about the country's history, evolution, and influence of Mexican culture through its flora.
The garden is open and calm; it lets in the sun's rays but silences the rest of the city. This garden highlights the multitudes of Oaxaca state, from walking through the shade of giant lush ferns from the jungle to the arid shadowless cacti that stand tall and stoic like a row of men off to battle. The garden is connected to a library is frequently offers lectures, workshops, and meetings.
10) Street food
An obvious, but necessary, marker of a city is its street food, and Oaxaca rises to the challenge. The open-air food markets cover the city and you are never more than walking distance from an outside taqueria or snack stands. The smells of fresh cut garlic, roasting pig, and frying tortillas will guide you to the open square in the middle of the city with food vendors selling the regional food in every form.
You can watch little abuelas flip 15 tortillas at a time on steaming hot frying pans in the middle of summer without breaking a sweat. Or watch fire lick skewers of meat slowly roasting and dripping over an open fire. Or watch children chop onions and garlic so finely it will give Anthony Bourdain a run for his money. The ambiance of mariachi bands and people of all ages dancing in the streets gives the community feel of a block party.
Mexico is the land of snacks, so you are never out of reach of dulce de leche caramels, chili covered peanuts, roasted lima beans, alfajores, or crispy corn snacks sold on every corner ( sometimes hanging out right next to each other swapping local gossip and recipes).
11) Coffee shop culture
I would be remiss to not indulge in Oaxacan coffee culture. Although every place "has amazing coffee" Oaxaca's is hard to beat. Imported beans from their neighboring regions of Chiapas, with the ideal mountainous temperate to grow stellar coffee, Oaxacan coffee shops take this beverage just as seriously as Ethiopian coffee rituals. Pair it with a bar of Mayordomo chocolate and you have a perfect indulgent Oaxacan moment.
12) Crash a wedding
If there is a singular wonderful aspect about Mexican culture (and we have just run through a whole list of great ones) it is that they don't keep the party to themselves. I have never traveled to a country where they openly party in the streets and that isn't limited to their weddings.
You can easily mistake a wedding for a parade with crowds of people dancing in traditional colorful outfits, loud brass and mariachi bands filling the streets with music, and that reliable uncle who is passing around bottles of tequila to wedding attendees and tourists passing by.
Children in attendance painstakingly carry large piñatas of the bride and groom. If you happen to get swept up in one make sure you get invited to the after party.
Day Trips from Oaxaca
1) Arbol de Tule – The Widest Tree in the World
El Árbol del Tule is a quick day trip from Oaxaca and is an enigmatic expression of our earth. This mountainous Montezuma cypress holds the title of being the stoutest tree in the world and has recently become a UNESCO site.
It is located on the grounds of a church in the tiny town of Santa Maria del Tule. From a distance, it looks like a mini forest, but those branches all stem from one trunk. It's so big, you can't even take a selfie with the whole thing.
Local tour guides will point out the expressive designs of the gnarly trunk. Knots and bulges of bark twist themselves into shapes that look like all kinds of creatures, petrified within the trees bark. Roaring beasts, ancient gods, human profiles, rushing rapids, it is as magical and hidden with earthly figures as the Tree of Life at Disney World, only with less plastic and oil to operate.
The age is unknown, with estimates ranging between 1,200 and 3,000 years, and even one claim of being 6,000 years old.
2) Hierve del Agua – A Petrified Waterfall
Hierve del Agua, an hour and a half journey from Oaxaca City, is another Oaxacan geological rarity. It is one out of the two petrified waterfalls in the world (the other is in Pamukkale, Turkey). Natural hot springs have sputtered and spouted minerals and calcium carbonate over a cliff. They were then crystallized cascading down the cliff to form long, dripping, white rocks, shaped like an elegant hand in an evening glove.
Cradled at the top of the petrified waterfall are blue mineral pools that people can bath in and are believed to have healing powers. The pools aren't terribly deep, but you could submerge your whole body in them, come up for air, and have your breath be taken away again by the stunning view of the mountains and wonder, how could mother nature have been so kind.
I suggest to creep off track to the right of the waterfall and walk down a trail filled with graffitied cacti and spiky agave that will give you a perfect profile of the waterfall. It's a strangely enchanting sight, like looking at icicles that have survived through the hottest summer days.
There are also local eateries on your way to the cite for you to bring down and picnic with as you bask in the sun and take in the arch of the mountains that look like sleeping beasts under a blanket.
It also holds the world tiniest hot spring popping out of the marbleized waterfall floor that bubbles and spurts occasionally. It's very threatening.
3) Mescal Factory
If the state of Oaxaca had a middle name, it would be mescal. Smoother and older than its eastern counterpart, tequila, mezcal has made a name for itself over the past few years in the Western markets.
There are several distilleries in the area that make for a nice afternoon trip. The owners will give you a tour of the farms, walk you around the pointy patterned fields of agave, and will show you the distilling process.
The tours usually end with a tasting room. The farmers there are generous with their sampling because they know that if they allow you to "try the rainbow" you will have the brilliant idea to take one of everything, which isn't a terrible idea since the mescal purchased at distilleries tends to be discounted, so you won't wake up with a terrible headache or empty wallet.
They have mescal like they are awards, gold, silver, and bronze. The specialties are the crèmes, which is mezcal infused with cream, sugar, and different types of sweet flavors ranging from fruity pineapple to dark flavors of chocolate and coffee. They will inform you about the specific aromas and flavors which become increasingly more interesting with each free sample.
4) Market outside of Oaxaca
If you are looking for a cultural excursion outside of Oaxaca, take a day trip to the surrounding artisanal towns of San Bartolo Coyotepec, Santo Tomás Jalieza and Morelos Ocotlán in Oaxaca's Central Valley. You will have opportunity to explore the quintessential towns that feel unchanged for hundreds of years.
You can meet the artisans who hand design Oaxacan ceramics, belts, textiles and other handicrafts. The region is known for its unique pottery barro negro, black pottery, which design has been traced back to Zapotec people.
5) Ruins
The region of Oaxaca was ruled by the Zapoteco people for thousands of years, not nearly as large as a juggernaut empire as the famous Maya and Aztec civilizations that dominated Mexico and Central America, but still maintained a consistent ruling over the area for hundreds of years. The ruins of Monte Alban and Milta are their most defining and remaining accomplishments.
Monte Alban is one of the oldest standing cities from Mesoamerica and is believed to be the political and economic center of the civilization where Milta was and can be seen by the difference in their architecture.
Monte Alban has a collection of escalating pyramids and platforms, which you can walk around on. These once mighty structures are now slowly being encroached by grass and native plants.
You received panoramic view of the soft mountain range fencing the landscape brightened by the hues of blue and violent in the sky and get a glimpse of what it felt like to live here thousands of years ago, breathing in the same air the ancients did thousands of years ago, walking and resting on the same stones like the Z did thousands of years ago.
Only a few miles away lies the religious epicenter for the Zapoteco: Milta. The name translates to "place of rest" and was believed to be the gate between the living world and underworld. What stands out and has stayed standing is the intricate mosaic patterns etched and polished into the tombs, building walls and panels. These patterns are still embroidered onto handmade shirts, embellished onto leather belts and turned into straps on backpacks.
Have you been to this part of Mexico before?! What were your favorite things to do in Oaxaca?!