Looking for things to do in Montreal? You're in the right place! I just returned home from a weekend in Montreal a few weeks ago and can't wait to share my favorites!

I've been wanting to visit Montreal for some time now. Ever since I heard of the cities' European-like status and abundance of maple ice cream, I just knew this eastern Canadian area was right up my alley. Oh, and poutine. POUTINE! How had I spent the last 30 years of my life depriving myself of this greasy gooey goodness?
So when a friend asked if I wanted to join her on a summer trip to Montreal, I jumped at the chance and we began planning our jaunt through this eclectic yet contemporary city.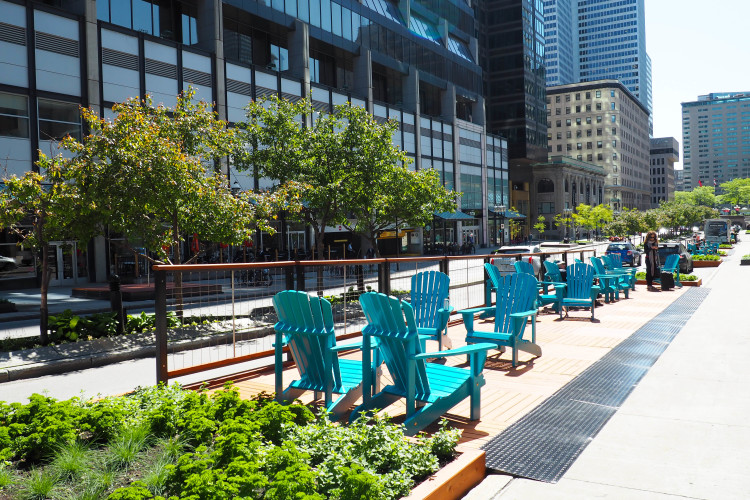 Here's a quick(ish!) recap of our weekend in Montreal:
If you're visiting Montreal for the first time, it's best to stay in the middle of all the action in the Downtown area, which will make visiting the cities' sights extra convenient.
We stayed at Le Germain Hotel Montreal and couldn't have asked for a better few nights! Our favorite features of this swanky hotel included:
Deluxe complimentary breakfast, and not just the standard fare. They don't call it deluxe for nothin'! Our first meal of the day consisted of those famous Montreal Fairmont bagels, homemade fruit smoothies, chocolate pastries, fresh fruit, and yogurt with granola. I could have gone back to Le Germain every few hours for a bite of the quiche! If only breakfast was served throughout the entire day!
Complimentary car shuttle service, which took us all around the main parts of the city, including Atwater Market and Old Montreal. Yes, we probably could have walked, and yes, we probably should have walked after indulging over breakfast each morning, but forget about that- we were on vacation! A little unnecessary luxury never hurt anyone! Plus, it rained a bit, and who wants to walk around damp all day if you don't have to? I do wish the car service was more readily available as we had to wait quite a bit only to find out it wouldn't be at the hotel until after we needed it.
Cozy rooms and first class linens and shower amenities. Oh and speaking of the shower… it was better than divine, and the most perfect water pressure. Super comfy beds put us sound to sleep every night. And coming home to fancy chocolates on our pillows – fine by me!
Some of the most accommodating and kind/friendly/welcoming staff I've ever encountered. People had warned me that the French aren't known to be of the go-out-of-their-way type, but that is quite the opposite of what we encountered (in all of Montreal for that matter, not just at Le Germain). Just goes to show that you really need to take others' opinions with a grain of salt.
Best Things to do in Montreal
Visit the Notre-Dame Basilica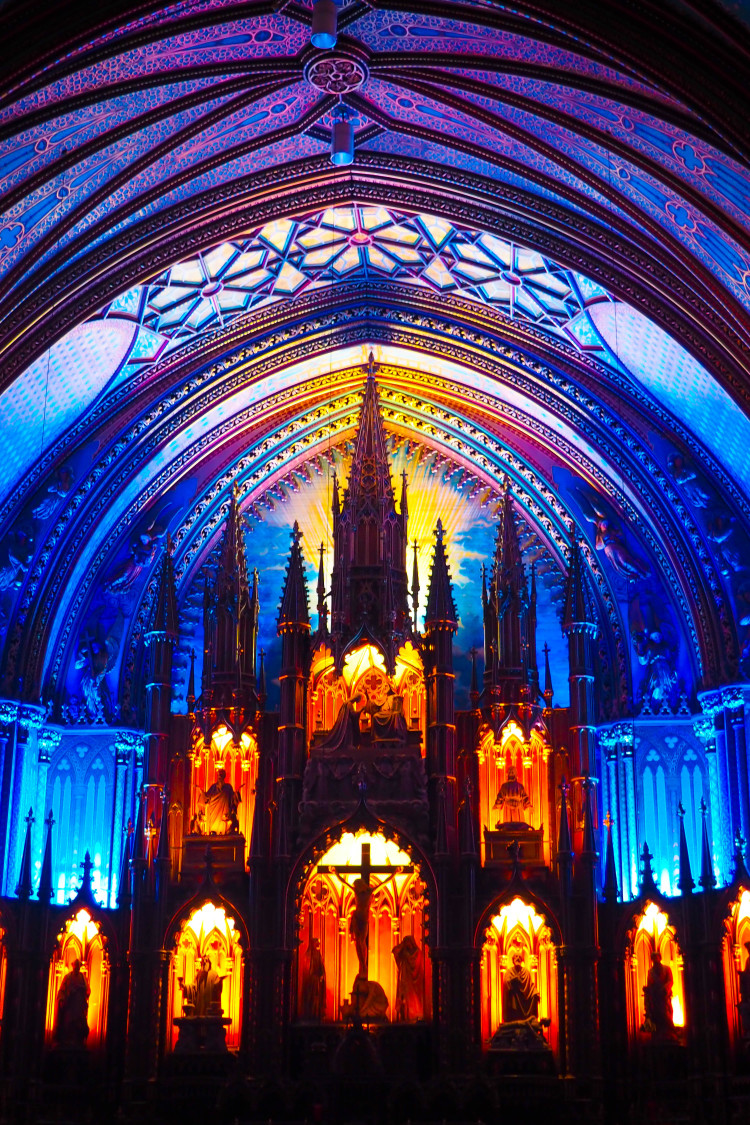 We enjoyed the beauty of the Basilica so much that we went back twice! Once during the day, and once at night to see Aura, a sound and light show inside the Notre-Dame. With that being said, I highly recommend both visits. Sit in the middle pews for the greatest seats to the show. 😉
Aura blew me away, and I was mesmerized at the attention to detail and the heavenly/ethereal music. A friend I met in Montreal even went back for a second viewing of the show it was that spectacular. Promise me you'll go when you visit Montreal. It was a definite highlight of our entire trip and I wouldn't want you to miss it.
Old Port of Montreal
What a downright beautiful area of the city, with its cobblestone streets and euro architecture! There are numerous activities in this area, including zip lining and a skywheel, but we chose to gallivant around in the sun admiring the boats and food trucks.
You can even take a cruise on the Saint Lawrence river, but time didn't allow us to do so on this trip.
Visit one of the Markets
There are two main markets, Jean-Talon and Atwater, and we ended up at both, one each morning! Both markets feature cheese, local produce, baked goods, and meat from a variety of vendors. We found maple soda and maple lollipops at the markets and couldn't be more ecstatic.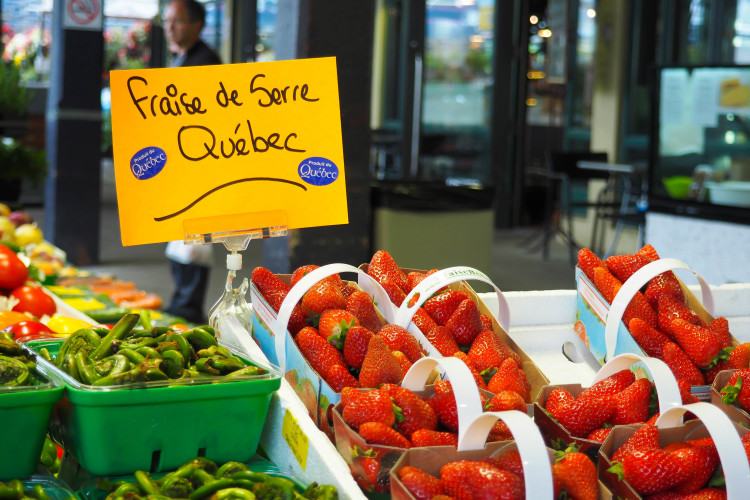 Try the Quebec strawberries if they are in season during your visit – they are absolutely delicious (and huge)! And don't miss the flower markets! If the weather's decent, buy some food and head off on a picnic nearby.
Musée d'Art Contemporain de Montréal
Despite it's small size, this contemporary art museum showcases numerous exhibits of Québec visual works & cutting-edge international art. Don't miss the sculpture garden outside! The space itself is very intriguing, almost like an art piece itself. It's easy to walk through the museum in just about an hour, and perfect for that occasional rainy day.
Browse the Boutiques and Street Art of the Mile End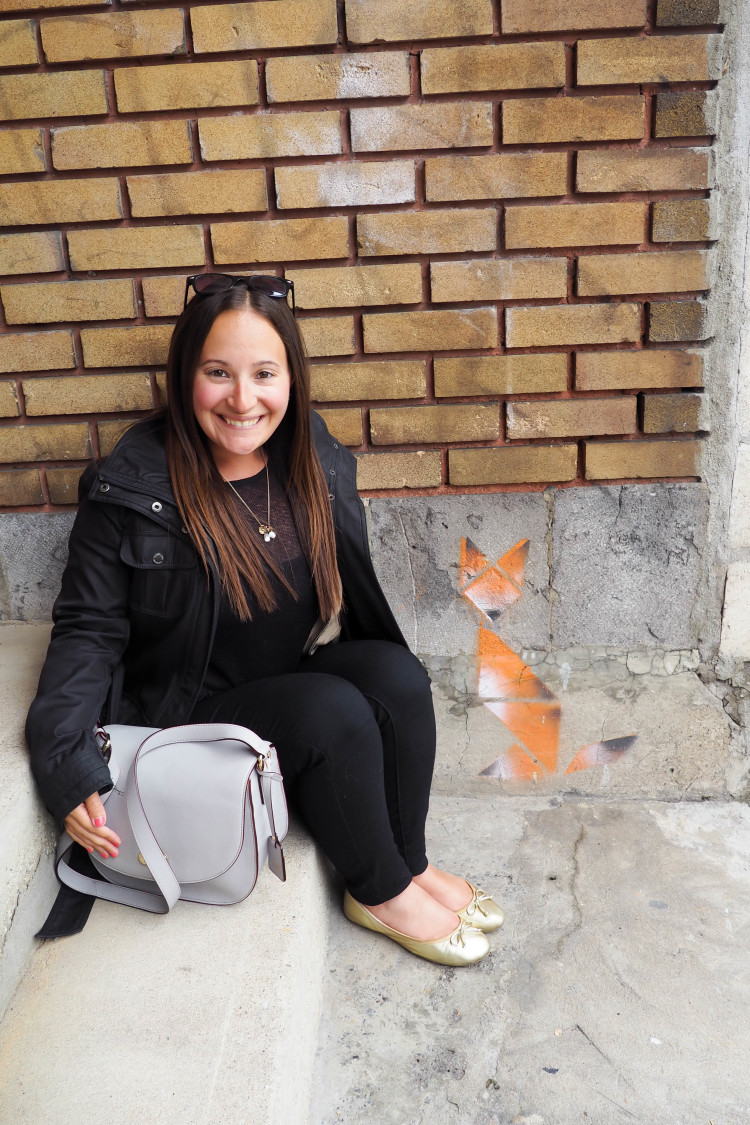 What a cute and eclectic area! I particularly loved the colorful murals found here. Talk to local shopkeepers and artisans about their craft/specialties, as they love to share what they're passionate about.
Note that many shops don't open until after 11am, so it's best to go a bit later in the day or after taking a Mile End Food Tour, like we did! We loved checking out the local prints, despite being unable to afford most!
Wander around Plateau Mont-Royal
Another super hip and funky spot, located near Marche Jean-Talon. You'll find laid back local residents blending with tourists, among the area's shops, restaurants, and bars. Definitely worth a wander for a bit.
Sky High Views at Au Sommet
No better way to see Montreal from above. Tip: double check visibility with the front desk before you purchase tickets. Trust me- the views are far more superior when the sun is shining and the sky is clear.
From the 46th floor, you'll encounter a 360 degree view of the city, and on the floor below, make sure to check out the exposition about local montréalais attractions and history.
You can even print out a scavenger list of things you like by adding things to your wristband (all explained by the staff at Au Sommet – it's not as complicated as it seems).
Check out Old Montreal
An absolute must for any first-time visitor to the city of Montreal. You'll find a good mix of European and North American cultures in all of Montreal, but most specifically, down by Old Montreal.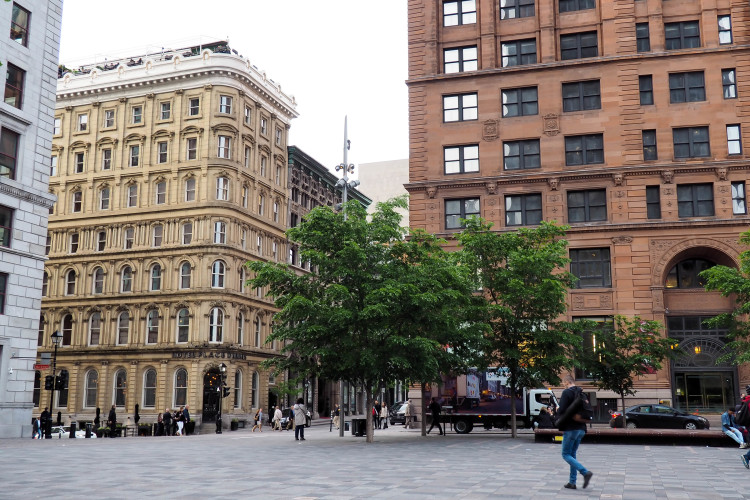 We walked in awe admiring the grandiose buildings and continuously exclaiming to each other just how old-world atmospheric it felt – just like being in Europe, but not! Each street we turned down was more picturesque than the last, and we were thankful we saved a whole day for this district.
A few must do's in Old Montreal:
Place d'Armes (square with the Notre-Dame Basilica, you can't miss it!)
St. Paul Street (uber-charming)
Place Jacques Cartier (bustling with lots of people and maple ice cream)
Bonsecours Market.
Visit the Underground City
Montrealer's know how to do it right in the winter – they have a full underground network connecting a multitude of shopping malls, office spaces, eateries, and other places! If it's raining or a bit chilly outside, or you happen to be visiting during the winter season, definitely take advantage of the Underground City.
A bit confusing to navigate at first, but worth it to stay out of the harsh weather elements. You can even see a piece of the Berlin Wall here!
Eat ALL the Food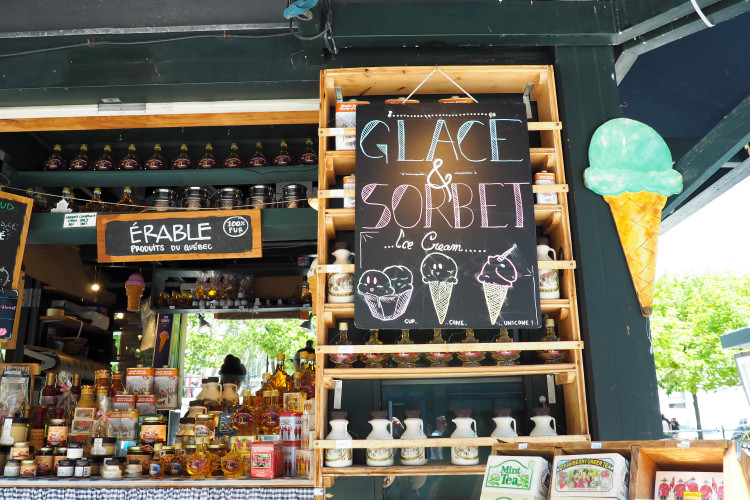 We really had our fair share of sweets and treats during our time in Montreal, and I'm not just talking about the maple ice cream! We pigged out on poutine, smoked meat, fancy chocolates, montréalais pastries, etc. To say we stuffed ourselves is a huge understatement. More below on the food. 🙂
More Things to do in Montreal and Suggested Tours
What/Where to Eat and Drink in Montreal
Take a Food Tour of the City
This was definitely one of the highlights for us during our few days in Montreal, and I'd highly recommend it to anyone – well, anyone who likes food! Come hungry – you'll be demolishing a full meal and then some!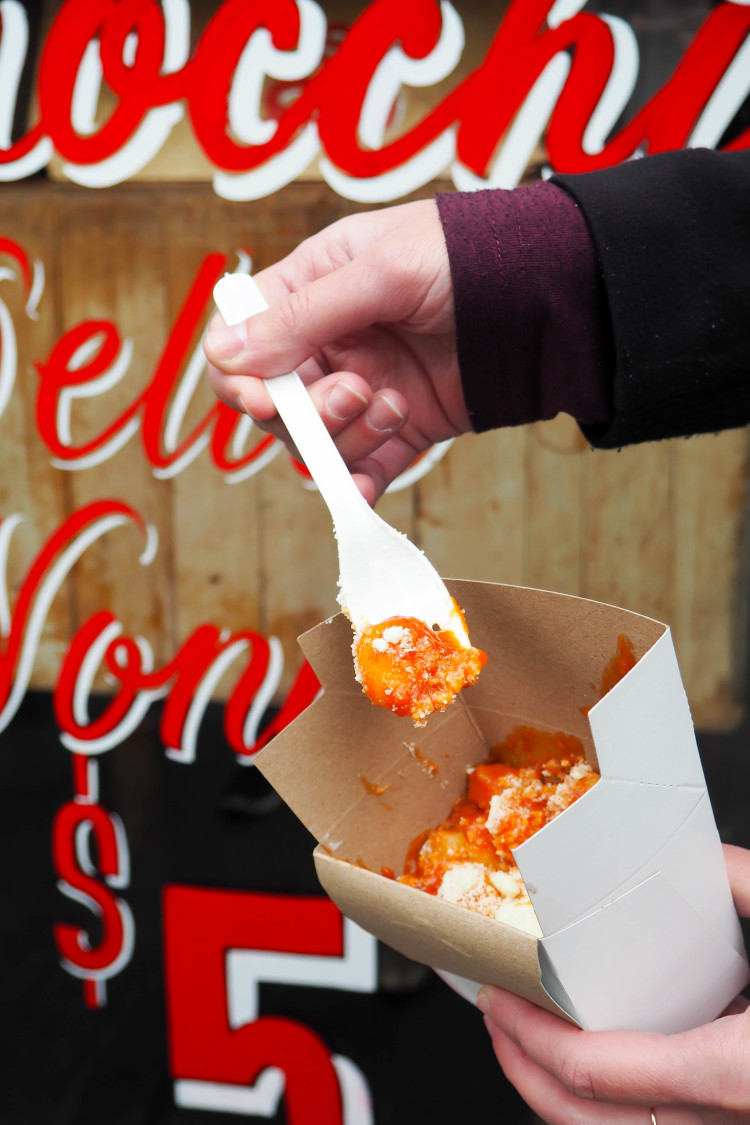 A few of our favorites noshes on the Mile End Montreal Food Tour included: "Montreal's best falafel" from La Panthère Verte, caramel chocolates and brownie-batter inspired hot chocolate (yes, brownie batter!), fresh homemade gnocchi with Montreal's best tomato sauce (gimme more!), and some local meats and cheeses.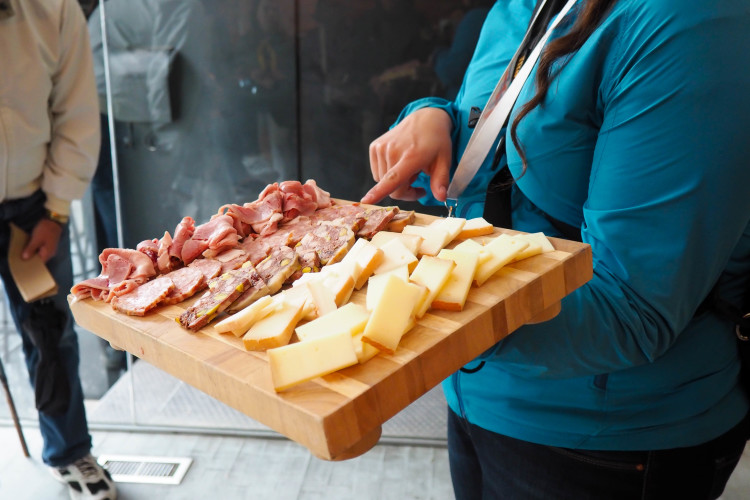 We also got to sample a famous Montreal Bagel from St-Viateur Bagel, which unfortunately didn't make the cut in my book (being from NY and all…). We ended off the food tour with the most delicious white chocolate mushroom-shaped pastry.
An added bonus – you'll get to check out another area of Montreal, one full of artists and grunge and local hipsters (aka, my kinda place). And the houses? So incredibly cute, I could have photographed each and every one!
Food Chain
We randomly stumbled upon this casual eatery while walking home one night, and had to taste test the magic bread after the owner insisted (the place was closed and he saw us peeking in). A wonderful combination of onion, cheese, and garlic-y flavors. I could easily eat this each and every morning. And yes, it's really called magic bread!
Les Enfants Terribles
Excellent views and excellent food. Les Enfants came as a recommendation from the staff at Le Germain Hotel, and for our first night in Montreal, what a great suggestion it was! While eating our beet salad and poutine, we got beautiful views of the entire city of Montreal from the top floor of the Place Ville Marie Building – on the 44th floor! Just look at that cotton candy sunset!
Maple everything
Sure, it may be a stereotype, but Canada really does have tons of maple food options! We tried as many as we could, including Becs Maple Soda, maple lollipops, maple snow cones, and my all-time new favorite, maple ice cream (which of course I had on multiple occasions).
And once we got to Quebec, our next stop, we indulged in even more sugar shacks! (Post coming on Quebec City, soon!)
Montreal-style Bagels
Even though they weren't my favorite, you can't leave the city with trying a famous Montreal bagel from either Fairmont or Viator Bagel.
Unlike bagels found in NYC and most other parts of the states, the bagels in Montreal are boiled with honey water and no salt, making them very different than the bagels I grew up eating – smaller, less salty, and more doughy. I guess I like my salt! 😉
Montreal Smoked Meat Sandwich
Calling all meat lovers! You will absolutely fall head-over-heels with the smoked meat. While it somewhat reminded me of pastrami, it had its own distinct flavor and unbeatable taste. You've got to head over to Schwartz's, one of the oldest deli's in Canada, for a classic smoked meat sandwich larger than you've seen before.
I was too stuffed from all the other food, but I thankfully managed to squeeze one in once we got to Quebec City.
Poutine
OH, the poutine, where can I even begin. We had our first taste of the gooey-greasy good stuff during our first meal at Les Enfants Terribles, and then couldn't get enough of the squeaky cheese (yes, it really squeaks!)
Not entirely sure what poutine is? Poutine is a Quebecois dish highly popular in Canada, made with fries and cheese curds topped with a light brown gravy. Basically, heaven on a plate.
While we indulged at quite a few places (when in Canada, right?), our favorite was the ever-so-popular La Banquise, featuring over 30 variations of Poutine and open 24 hours.
Have you been to this European-influenced city before? What are some of your favorite things to do in Montreal?
Special thanks to Le Germain Hotels for a comfortable stay in Montreal, Tourisme Montreal for helping us form an itinerary of things to do in Montreal plus passes to particular attractions, and Bitter NYC for coordinating our trip!