Whenever I arrive in a city, whether it be for a week or a weekend, I always find myself making a long checklist of all the must-see places.  The logistics are difficult – figuring out the route, how to get around, where to eat, etc.  Sometimes you just want an easy pre-planned day, and someone to drive you around for once!
A Day in LA Tours provided just that- a fun-filled jam-packed day loaded with all the highlights any visitor coming to Los Angeles would want to see. From Santa Monica and Venice Beach to Hollywood and Rodeo Drive, the carefully planned out itinerary was at our fingertips and all we had to do was enjoy the scenery as we were rolling by.
And lets face it- when "Honk if you love cheese" bumper stickers and Bob Marly tapestries decorate the bus, you're kind of obligated to have a good time.  At least in my book.
Santa Monica
The day started out nice and early in Santa Monica, where we were provided fruit and orange juice and a little time to officially wake up for the day.  We had a few minutes to walk around the area before all the fun started, which we graciously used to admire the stunning beach and the never-ending palm trees views.  The pier was just a just short walk away, but we decided to save that experience for another day when we had more time.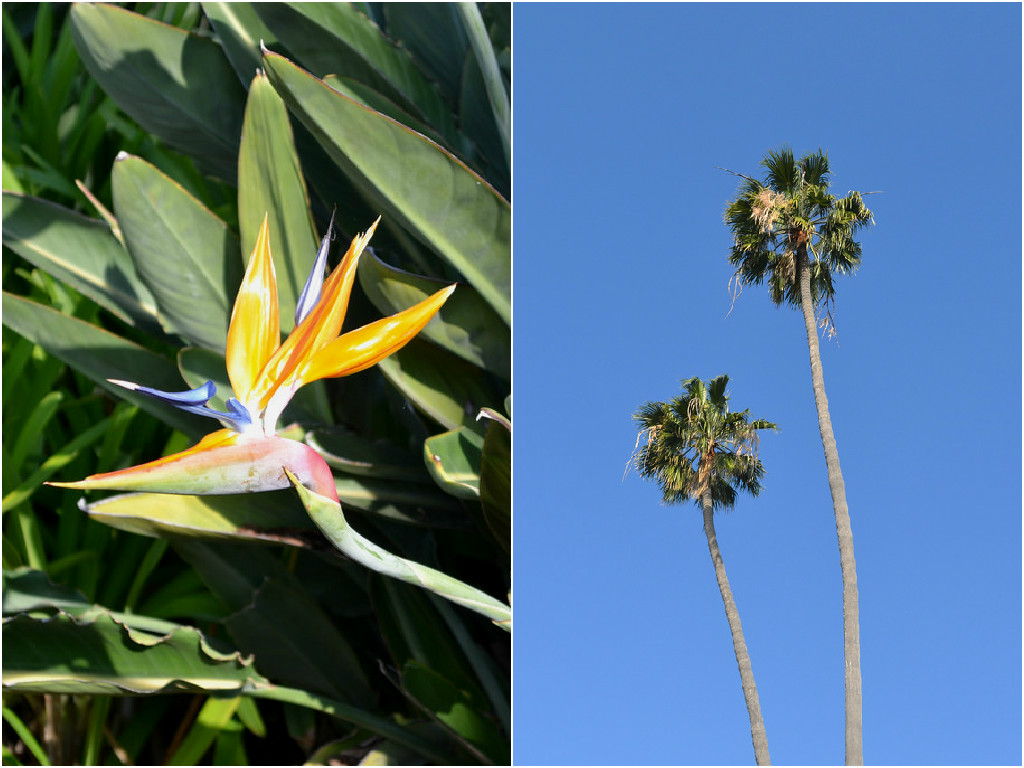 It was then time to board our vehicle for the day, a colorful bus decked out in funky bumper stickers, and meet the others on our tour.  Our group was a good mixture- consisting of a few couples (of all ages), a solo traveler, and a group of friends.  Raul, our tour guide and driver, was a hoot- telling us hilarious stories about his time on camera and those commercials we should look for him in (including "Hanes" with Michael Jordan)!  There was never a dull moment with Raul, and he kept us informed (and laughing) all day.
Venice Beach
Venice Beach, our first official stop of the day, can be summed up in three words- colorful, eclectic, and funky.  We literally ran around for the half hour we were given, from Muscle Beach to the famous basketball courts to the skateboard park to the unique shops, trying to take in all the sights in minimal time.  We arrived rather early and beat the crowds, although there were still some interesting suspects to spot.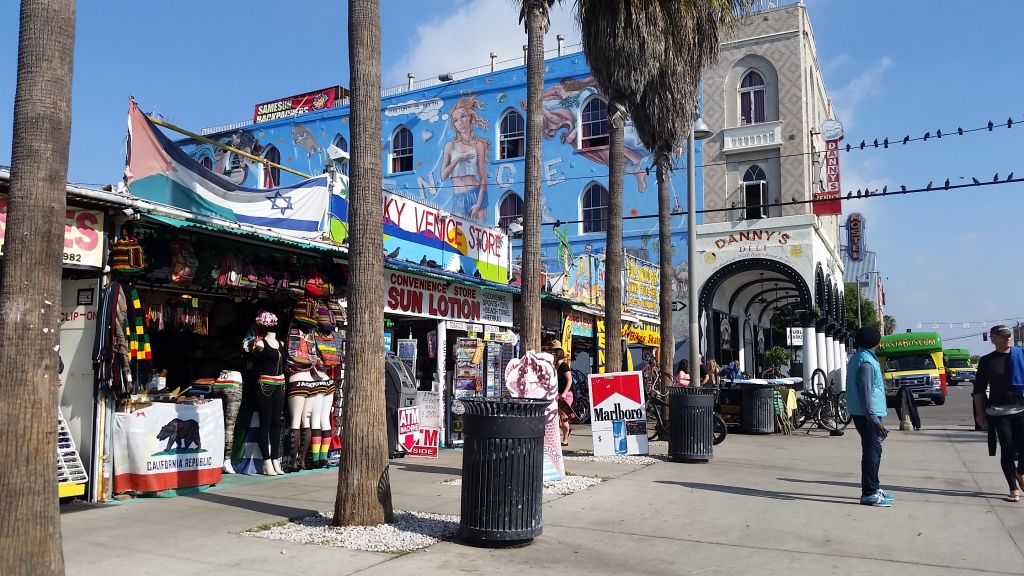 Oh, and the beach?! Absolutely gorgeous! Clean, yellow sand, with a bike path running alongside for when we come back (sooner than later, hopefully!) and rent some wheels.
Although I've heard others use the terms "gritty" and "grungy" when describing the area, I actually found it to be rather inspiring.  So much "character" and interesting people to gawk at.  Sure, there are a few homeless people with unpleasant fragrances roaming the area, but if you enjoy the beach, you'll find Venice a good time regardless.  Just make sure you come with an open mind.
And speaking of an open mind, if you happen to come across people in neon green scrubs, please don't yell for them if you suddenly require some professional health care.  They're medical marijuana "doctors", and don't fill out their "medical survey" unless you know what you're getting yourself into…
We stopped for a few moments  to watch the skateboarders practice, and its remarkable to think they are just little kids.
Beverly Hills
Rodeo Drive is the complete opposite of Venice Beach, with it's grandiose marble buildings and expensive, luxurious vibe.  Palm trees and boutiques line the avenue, along with million dollar sports cars- basically, the life style of the rich and the classy, and possibly famous.
The whole area was chic and posh, for lack of better words, with high-class people walking their perfectly groomed and perfectly cute tiny dogs.  There's even an intersection with cobblestone streets and a European influence, which looks like it could be on a postcard in Italy.
I definitely felt out of place here, and window shopping was all we could afford. Every time I looked up I noticed another store who's merchandise I've seen featured in popular glossy magazines, including Gucci, Prada, Ferragamo, Chanel, LV, etc.  Every person walking in and out of those stores were more beautiful than I could ever imagine, and I secretly wished I had chosen a better outfit for the day.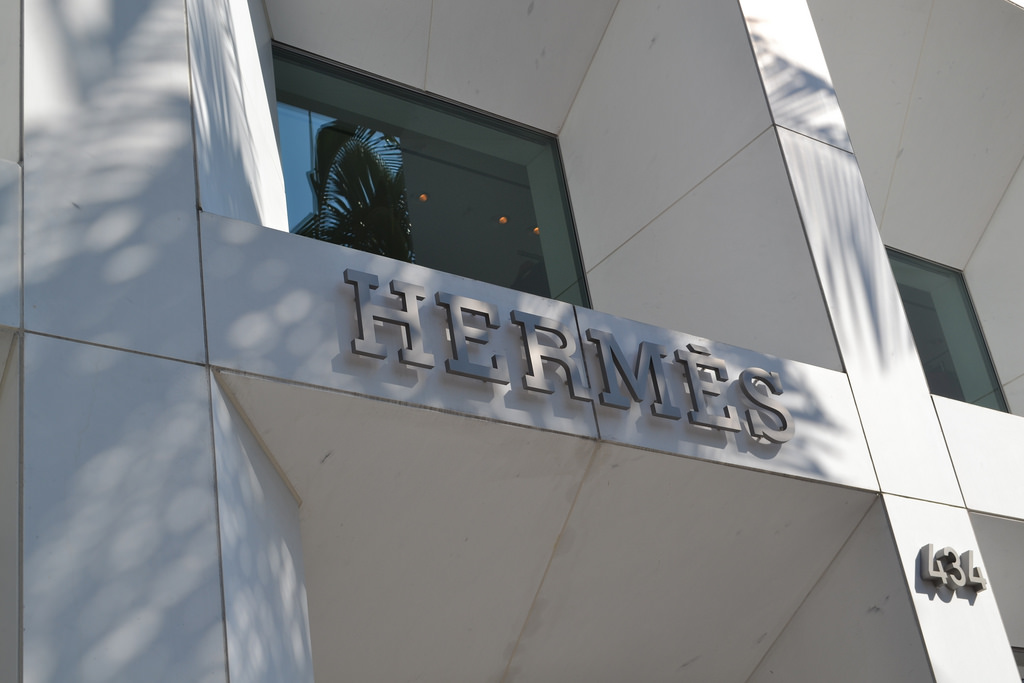 Beverly Hills was much more relaxing, and we were thankful to sit down for at least a few moments in the fresh air after our busy busy morning in Venice Beach.  We left feeling refreshed and poor, but no poorer than when we originally started the day. I thought about convincing my husband that a new purse was absolutely necessary, but ultimately decided I was too indecisive and the shopping trip would probably take all day.  Hey, it was my birthday after all!
Farmers Market/The Grove
By this point in the day it was lunch time, and we were starting to get rather hungry.  Raul suggested we opt for Brazilian bbq, which sure did look (and smell) tasty.  However, due to a long line and my husband's verge of hangriness (ya know, hungry + angry), we ended up with savory crepes.  Warm, cheesy, made-before-your-eyes crepes.  No complaints here!  And due to the short line, we had ample time to walk around and take in the rest of the market.
We perused the area for a bit, walked by the fountain, admired some cute dogs. And of course I couldn't pass up the Bennett's ice cream we saw – cookie dough and chocolate chip it was!
Griffith Observatory
After a filling lunch of crepes and ice cream, we ventured on the Rasta Bus towards the next stop of the day – the Griffith Observatory.
Traffic began for miles outside of the park, and we couldn't be more thankful we were on the bus.  As we drove up, we saw people hiking up the mountain, tired and sweaty looking before they got to the observatory, let alone even see it! The price of the tour is worth it just to dismiss the crazy headache parking would have been. Raul drove right up to the facility, bypassing the guards, and let us out feet away from the entrance.  Thank the heavens! After our jam-packed busy morning, I don't think I would have made it up that hill!
The views of the Hollywood Sign couldn't be beat!  We took pictures from a bunch of different angles, and walked up the steps of the observatory to get even better views.
The grounds are just lovely and this was by far my favorite stop of the day.  Anyone who says LA doesn't have much green space is clearly wrong.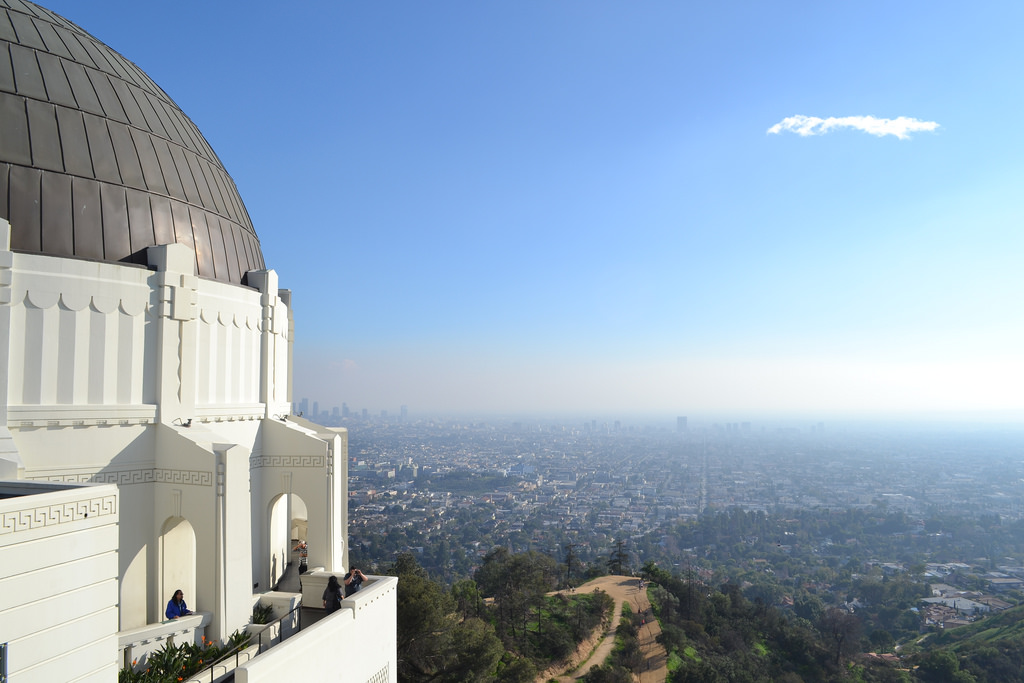 Besides boasting phenomenal views of the city, Griffith Observatory is the place to be when you want to get your science on.  The inside of the facility has top-notch astronomy displays, including a full display of every element on the periodic table (if you're into that kinda stuff) and a wide array of constellations and planets to oogle at.  I'm fascinated by the night sky, so this place was right up my alley.  We'll have to come at night next time.
Hollywood
Ahh- the Times Square of California, at least that's what it reminded me of.  Hollywood kind of felt like home to me, considering I've lived in New York up until a few months ago.  The energy, the absent-minded tourists, and the dressed up characters are kinda what Hollywood (and Times Square) are all about.
We saw all the expected tourist spots in Hollywood – the stars, the hand prints, the Chinese Theatre, and the Dolby Theatre.
Raul let us in on some Hollywood tidbits- like how it costs 30,000 dollars to have your name on a star, and how almost (if not all) of the characters work on tips from tourists.  Don't even think about snapping a photo of Darth Vader – Raul informed us that he can get pretty unpleasant and rude.
I must say- the people watching was absolutely phenomenal.
After leaving the Hollywood area, I completely remembered why I normally stay away from super-touristy spots.  The congestion was unbearable, and we fought for a few of those pictures above with the stars – but hey, it's something you have to experience at least once when you're in the LA area.  I just won't be heading back in a very long time.
I must say, by the end of the day the sun was setting and I was drifting – my eyes were closing and I could barely keep them open.  Blaming it on the comfy seats is surely an option, but all the running around we did made me tired!  Thankfully Raul kept quiet on most of the ride back, and I was able to rest my eyes in comfort.  And every one knows, if I fall asleep on the way home – it means I had my favorite kind of day – productive and exhausting, both in a good way. 🙂
•••
Disclosure: I was a guest of A Day in LA Tours, but, as always, opinions are my own.