As my latest post states, "You can have just as many new experiences in your own backyard, as you can trekking through the jungles of Vietnam, as long as you approach the situation with right mindset." It's true- adventure really is a state of mind. To keep up with that all-important notion, we decided to venture out about 15 minutes north to Foster City and explore the canals.
With no map and no clear directions (we couldn't find "Foster City Canals" on our GPS), we were a bit confused as to how to navigate towards the area.  Thankfully Google came to the rescue (when does it not?), and we headed over the bridges and arrived to the deep blue water in no time.  (FYI- if you're looking for this place on Google Maps, you'll need to enter "Foster City Lagoon".)
We parked in the Dog Park lot (unintentionally, but yay!!!), and admired them running and prancing around.  I just love it when dogs can be off their leashes, doing what dogs do best – jumping, playing, yipping…and smelling each others' butts a bit.
The Foster City Canals are filled with extensive water ways and walk ways!  The area truly looks like a resort in paradise – just look at those houses and that water! I was amazed we were only 15 minutes from our apartment.  I even told my husband that I felt like I was on vacation!
SO much water- over 16.5 miles of canals, all which can be navigated by boat.  Oh, what I'd do to buy a house on the water, boat included. 😉
We found a cute dock area, and next time you can bet we'll be sharing some strawberries and a kiwi under there.
Although we had most of the area to ourselves, we saw some people kayaking, stand up paddling, and taking their boats out for a spin.  I really want to come back and rent kayaks soon. You can even go Wind Surfing here in the summer! Think I found a new Jess-approved hot spot!
The views from the bridges were phenomenal, and I absolutely loved that the area is built for walkers.  The ducks were cute to watch, too!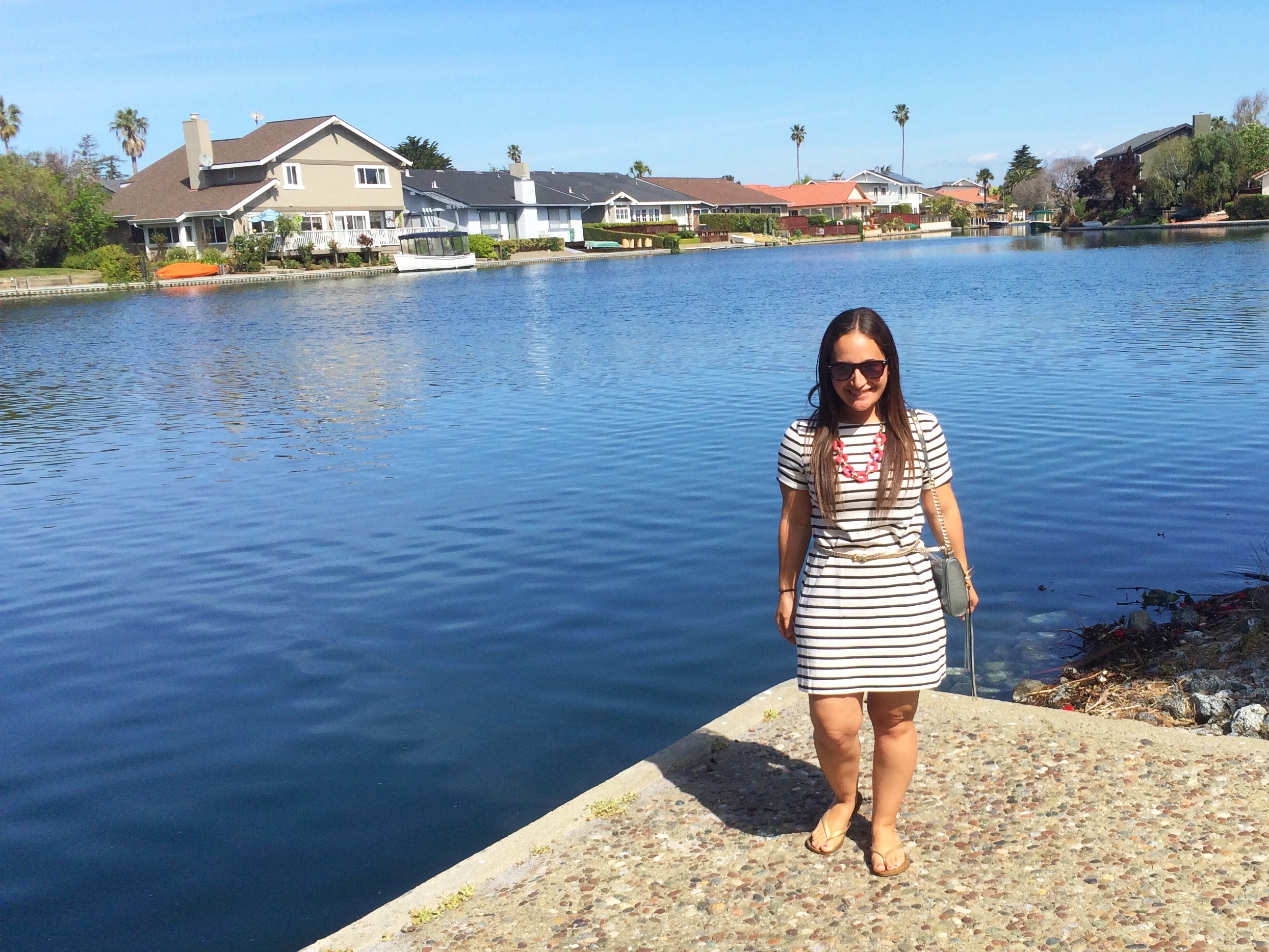 How I had not put this on my San Francisco Bucket List still amazes me.  SF-ers, write this one down.  It's a treat. I promise.
What have you discovered close to your hometown recently?!