Since we had just drifted away in a hot air balloon above the desert the morning prior, why not see the desert a little more up close and personal today?! And that's exactly what we did.
I'm a big fan of guided tours as they take you to the best locations with the best views.  No second guessing yourself whether you've chosen an ideal spot.  Plus, it's hard to get lost when someone else is driving you around.  😉 I could get used to that!
The company arrived to our hotel in a hot pink jeep (we couldn't miss them!), and we drove off into the heart of the Sonoran Desert.
The Cactus Canyon Adventure Tour (which just so happens to be the newest tour in the Phoenix area), whizzed us around the McDowell Sonoran Preserve for an enjoyable few hours.  We learned all about the ecology, geology, and history of the Sonoran Desert, and got to witness the plant and animal life up close and personal. Very personal, as seen in the photo below!  Make sure you don't get too close!
I'm no history buff, but our guide presented the information in a highly amusing way and had everyone laughing the entire time.  We saw a few wild horses, cows that had escaped from a former pen, and a jack rabbit which ran away at the speed of light.  I was only able to catch a slight glimpse of him!
It was a bit chilly on this overcast day, but thankfully Pink Jeep Tours provided us with the comfiest blankets to warm up in!  And they were pink, of course!  All to keep the companies branding consistent, right? 😉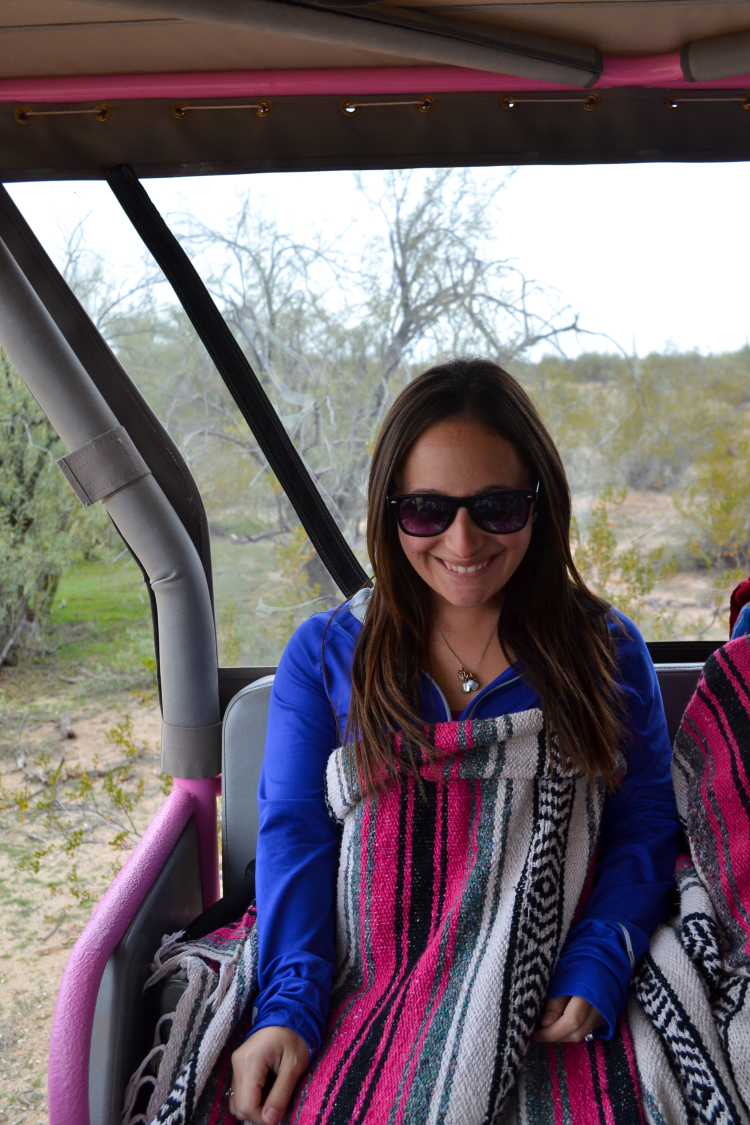 All throughout the tour, we were provided with unparalleled views of this Southwestern landscape.  I learned so much about cacti it's kind of ridiculous (in a good way), and our tour guide was able to answer every outrageous question I had. The true test for a knowledgeable guide!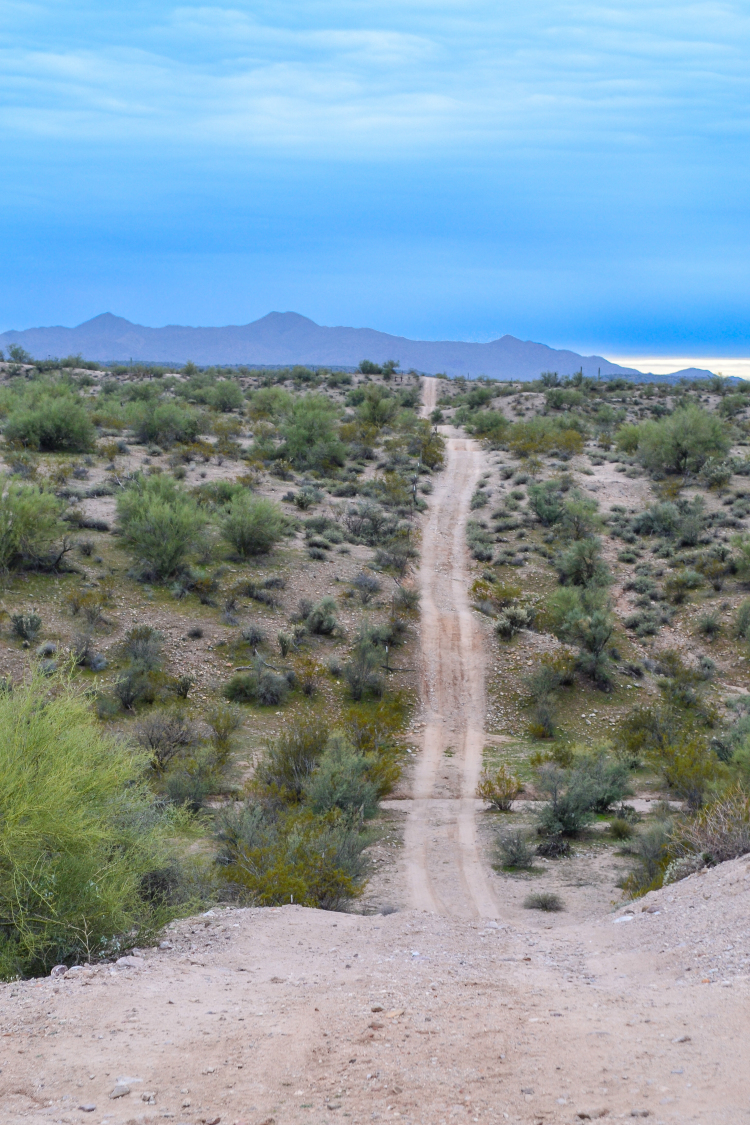 We ventured out of the jeep on a short guided nature walk through the desert, where our guide identified the cacti around us and explained a few bits in more detail.
And the best part…
We were riding around in hot pink Jeeps! What could be better?!
The vehicles are PINK! Can you tell I was a bit excited about this part?  I'm a big fan of brightly colored vehicles, these pink jeeps included.  Take one look at these bright and cheery vans and jeeps, and you'll be smiling your biggest smile like I was. Had the jeep tour been in a different color, I'm not sure I would have been as enthralled as I was. 😉  Too bad I didn't plan my outfit for the occasion…
A few tidbits of information about the desert that stuck out to me:
Surprisingly, the Sonoran Desert is actually the wettest desert in the entire world.
It has the second highest biodiversity in the world (even more than the ocean!), with more than 650 species of animals, 300 species of birds, and 2,000 species of plant life.  I was honestly floored, as I could not believe just how many species are able to live in such harsh conditions of the desert.
The Sonoran Desert is the only place in the word which has the perfect landscape, climate, and elevation that can support a saguaro cactus (those ridiculously tall cacti you picture when you think "desert").
If you ever find yourself stuck in the desert, note that you cannot (and I repeat), cannot drink the water from a saguaro cactus.  The water is too acidic and therefore poisons the human body. Definitely don't want that to happen when you're in the middle of the desert!
If you're heading to the Scottsdale area, I highly recommend a Pink Jeep Tour through the Sonoran Desert!
Have you ever hugged a cacti before?
Please don't.  😉
And let's finish off with a horribly funny cactus joke, shall we?
Why did the cactus cross the road?
Because he was stuck to the chicken.
Bahahaha (or not…). Haha.
[divider style="thin" title="" text_align=""]
I was hosted by the Scottsdale CVB and Pink Jeep Tours, but as always, all opinions (and unexplainable love for pink blankets) are my own.