When you're in a city for only a short amount of time, you need to prioritize.  With so much to do, it can be difficult to decide on what tourist attractions to head to and which ones to skip.  I recently had only 4 full days to explore Seattle and it's surrounding areas.
I'll share a few of my favorites here:
1) Space Needle



While this is an obvious choice, the observation deck of the needle just cannot be beat.  From almost 600 feet up, you get unparalleled views of the Seattle skyline as well as the Puget sound.  I strongly encourage you to go up during both daytime and at night – you get totally different aspects of the city this way.  And it only takes 41 seconds to reach the top! The Seattle CityPASS, which I got beforehand, comes in handy – not only can you skip the line (something you'll appreciate once you see it!), but your pass gives you access to the observation deck twice – once during day time hours and the other at night.
Admission cost: $34 for day and night observation -OR- included with the Seattle CityPASS.
2) Chihuly Garden and Glass



I didn't really know what to expect here since I'm not an art museum junkie, but boy am I glad I visited.  The museum is like no other, featuring works of art by the one and only Dale Chihuly.  His passion and creativity will blow your mind, and outside near the glass house, you can even watch a short presentation on how his pieces of art are made.  My favorite features included the 40-foot tall Glass House and the surrounding gardens.
An audio tour is included with the Seattle CityPASS.  Even better- you get a complimentary digital photo (something a solo traveler always loves)! Good bye, selfie stick!
Admission cost: $18 -OR- included with the Seattle CityPASS.
3) Argosy Cruises Harbor Tour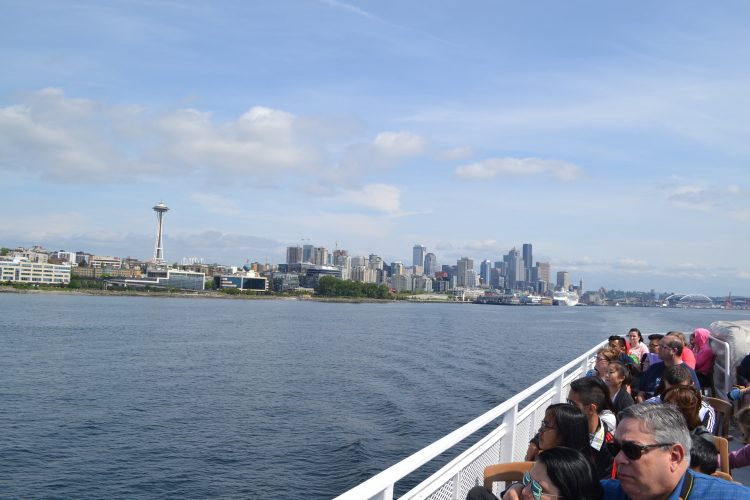 What better way to spend a warm and sunny day than cruising along the Puget Sound with Argosy Cruises?  The one-hour fully narrated cruise takes you all around the harbor, and points out all the important landmarks of the city.
If you're into never ending skyline views (Space Needle included), an hour out on the water, and possible sightings of Mt. Rainier, you're in for a treat.
Admission cost: $23 -OR- included with the Seattle CityPASS.
4) EMP Museum



I had saved this museum for a cloudy morning (because I would prefer to spend my time outdoors when blue skies are present), but I would HIGHLY recommend this interactive pop culture museum to anyone, anytime of day.  This is not your normal museum, (also known as the Experience Music Project).  There are exhibits that cover everything from contemporary pop culture, video games, science fiction literature, and horror cinema.  They were also blasting some of my favorites in the Sky Church (basically a huge room with music videos playing- so fun!)
Best parts about this place?  Testing out rock 'n' roll instruments in the sound lab (I rocked out to the keyboard and even learned a few tunes), playing video games of independent game developers (and creating my own backgrounds), and viewing that giant guitar sculpture you just can't miss.  Any Nirvana or Jimi Hendrix fans out there?  This "museum" is for you.
Oh, and the architecture of the museum is unreal.  Just look at those shapes and colors!  A permement iridescent ombre effect!
Admission is $25 per adult -OR- included with the Seattle CityPASS.
5) Seattle Aquarium



With exhibits including an underwater dome, a window on Washington waters, pacific coral reefs, and marine mammals,  you'll easily spend an hour or so perusing the aquarium.  They even have puffins!  This is not your typical aquarium- they put forth much effort into conservation and sustainability.  Something more zoos and aquariums should be doing, in my opinion.
Another worthwhile contender for a cloudy morning or a rainy day – something that's bound to happen on your Seattle trip.
Admission cost: $22 -OR- included with the Seattle CityPASS.
These two attractions below aren't included in the CityPASS, but I just loved them SO very much and wanted to share them with you.
6) Olympic Sculpture Park



This is one of those Seattle landmarks you just can't miss.  Perfect for a picnic or a walk on a bright, cheery day. Make sure to bring your camera, there are a whole bunch of sculptures, covering over 9 acres.  Technically part of SAM (Seattle Art Museum), but in a whole separate location.  There's a 60 minute tour which I wish I had time for!  A great place for people watching, too.
Admission cost: FREE! (yay!)
7) Seattle Great Wheel



Who says ferris wheels are just for kids? At just over 175 feet, this newly constructed (in 2012) offers views of the city skyline and Elliott Bay.  Best to go on a clear day!
Admission cost: $13
Pro Tip: Consider investing in the Seattle CityPass – for only $69, you can receive entry into 5 top tourist attractions. The cheapest ticket to get to the observation deck of the Space Needle is $19, and the Chihuly Glass Museum is another $25. For just a few more bucks, you can see the others too.
Plus, with the CityPass, you can skip the lines (including at the Space Needle), giving you more time to explore and less time for waiting.
Attractions included in the CityPASS: two visits to the Space Needle, Seattle Aquarium, EMP Museum, Chihuly Garden and Glass, one hour Argosy Cruise Harbor Tour, Woodland Zoo, and Pacific Science Center.  Tough to beat that.  You can buy the pass beforehand, or at any of these attractions.  But make sure you buy the pass BEFORE any tickets to attractions!
Other Recommended Seattle Activities:

Disclaimer: I was provided complimentary CityPASS booklets in order to write this review.  However, I highly recommend it for any first-time visitors to the city!