Heading to California and only have one day in Yosemite National Park?! Don't fret – you can still see so many of the park's highlights in only a few hours!
The first time I visited the park, I only had one day in Yosemite. And you can bet I made sure to see oh so much in such a short amount of time. I actually came alllll the way from San Francisco just to see Yosemite in all it's glory for just one day. Was it worth it – 100% yes. Here's a recap of my incredible day:
I was off to Yosemite, yes, with an alarmingly early wake-up call, but to one of California's most attractive National Parks nonetheless. There's a reason over 4 million people visit each year. But the even better part- I didn't have to drive because I took a tour. If you only planned for one day in Yosemite from San Francisco when figuring out your itinerary, it's ok! Sure, Yosemite deserves way more than just one measly day, but if that's all you got, you still have a bunch of wonderful options (you'll just have to spend a bit of time on the road).
Recommended one day in Yosemite Tours from San Francisco:
Heading to Yosemite from San Francisco and don't feel like renting a car? Check out these awesome one-day tours straight to Yosemite from San Francisco:
One Day in Yosemite National Park
After a quick Google search a few months prior, it was apparent that Incredible Adventures was the company to choose. Not only do they offer eco-friendly day trips from the city, but each tour has a maximum of 15 guests – a really important factor for me. Personalization? Yes, please! Find similar trips above. 🙂
After a quick and easy pick-up in the city, we were off on our one day in Yosemite National Park road trip!
Psst: Heading to Yosemite in the winter? Check this out!
Rest Stops:
As soon as I sat down, I scoured the bus for a bathroom (it's a four hour drive!) Mitch calmed my fears and assured us that we could stop the bus at any time for a potty break. Thankfully, the drive was broken up into manageable chunks by stopping every so often for snacks and bathroom breaks.
We first stopped at a local farmers market, filled with organic fruits and veggies, dried nuts and fruit, and my all-time favorite, chocolate candies. I opted for some dried mango, and after a quick stop at a nearby grocery store to pick up lunch (cheaper than any food found in Yosemite), we were off to the park. More specifically, to Tuolumne Grove to hike to the giant Sequoia Trees. The first activity during our one day in Yosemite!
The drive was long, but I spent the time chatting, laughing, and admiring the girl's Thai accent. Oh, and we made sure to eat our snacks, too. What's a road trip without some proper snacks?
Tuolumne Grove:
Since the Yosemite area did not experience as much snowfall as usual, we were able to stop at Tuolumne Grove. From here, we went on a short(ish) hike to the giant Sequoia Trees, where we found massive pine cones and 3-4000 year old trees. Look up- you'll feel so tiny and humbled in their presence!
I must say, it was nice to spend a bit of time exercising after being on the bus for so long! My new friend and I bonded with some other girls on the hike, and we pushed each other (both physically and mentally) back to the beginning of the trailhead. The hike back up was much more difficult than I thought, especially with the unforeseen high temps in March!



Photo Stops:
What better way to relax a bit after our hike than to stop at some of the must-see views in Yosemite? Nothing. And you can bet our one day in Yosemite was fullllll of beautiful scenery and easy, no-hiking photo stops.
This was our first view of the park, and as soon as I stepped out of the bus, I was blown away by its sheer size and magnitude.
We saw waterfalls, huge granite formations, and enough greenery for days. I'll just let the photos speak for themselves.
All of the viewpoints were pretty spectacular, but tunnel view, being 4,500 feet above sea level, easily provided the greatest views.
Free Time:
Although the photo stops were great, I always love to have some time to myself to explore an area at my own pace. When Mitch explained to us that we would have about two and a half hours sans group, I was overjoyed. My new friends and I decided to meander around and hike a trail or two, until we came upon this waterfall:
It was our mission to hike to the base of the waterfall, and we did just that. I only made it part-way due to the fact that I was not wearing proper footwear (climbing over large boulders in flip-flops is certainly not the easiest nor safest). However, my friends made it all the way to the base and showed me their photos on the bus later. If hiking to a waterfall seems like your cup of tea, I strongly urge you to wear sneakers or hiking boots with decent tread – it was definitely slippery at times! A great option for your one day in Yosemite National Park, that's for sure!
The end of our time was spent perusing through the gift shop, and laughing at some of the items in the gift shop. Bear poo, anyone?
Other ways to spend your free time: rent bikes and cruise around the park or take the park shuttle to a few of the many picturesque stops. Whatever you do, make sure to take a map from the visitors center!
El Capitan:
After regrouping, we headed towards El Capitan for our last stop of our one day in Yosemite. We were on the search for climbers, and thankfully, saw a few! Luckily Mitch brought along some binoculars, which we all used to spot the hikers high up on the side of the massive granite rock formation.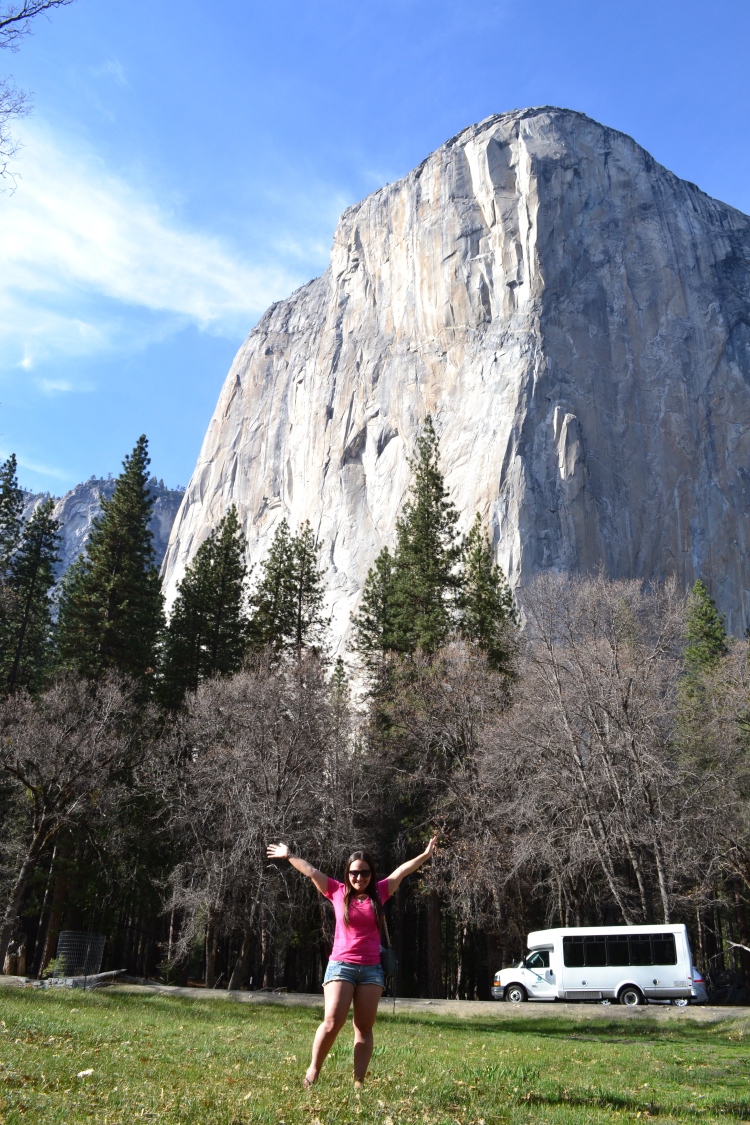 Overall Conclusion:
GET TO THE PARK, pronto! Even if you only have one day in Yosemite, I can honestly say it's beyond worth it. It's easily one of the most beautiful places on Earth. John Muir wasn't wrong when he said, ""It is by far the grandest of all the special temples of Nature I was ever permitted to enter."
If you are going to San Francisco, this day trip is an absolute must, just make sure to bring a sweater for the bus ride! The day trip was definitely well worth the 7-8 hour round trip bus ride.
All in all a good day- and we didn't see any bears!
Disclaimer: I was a guest of Incredible Adventures, but as always, all opinions remain my own.