With only a few nights in Austin, it was essential for us to choose a hotel that's smack dab in the middle of the action. Hyatt Regency Austin did not disappoint – from the winning location and the instant lake access to the craft cocktails and the in-room cookies (and wine!), it's safe to say we thoroughly enjoyed ourselves.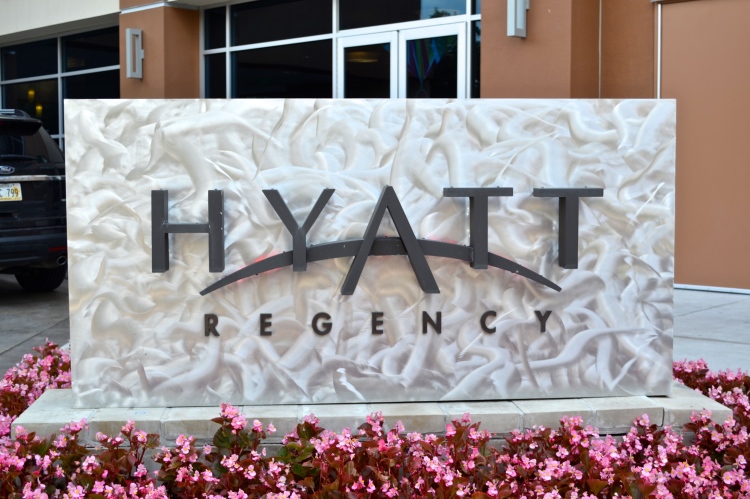 All About the Hyatt Regency Austin
Rooms at Hyatt Regency Austin
The rooms at Hyatt Regency Austin are inspired by the cities vibrant music scene- and how fitting considering Austin is known as the "Live Music Capital of the World". Minimalistic in nature, the room featured a dramatic display of graphic artwork above the bed, created using x-ray technology. Innovative doesn't even begin to describe the finished design. And I must say, those LED lights were some of my favorite features in the room.
Colors are soft and subdued, a combination of soft greens and tans, among rich browns, a perfect way to attribute the cities remarkable skyline and views.
The floor to ceiling windows boasted views of Town Lake and Downtown Austin, and the sofa was the perfect place to admire the ever changing sky during the one thunderstorm we encountered on our stay. We literally sat there for an hour, bottle of wine in hand, watching the clouds and shrieking in excitement every time a lightening bolt struck.
The Hyatt brand never ceases to amaze me, and I'm overjoyed whenever I open the doors to any of their hotel rooms. Hyatt Regency Austin offered oversize pillows atop a pillow top mattress (an absolute dream), upgraded bath amenities, and a 32″ flat screen TV, complete with an iHome stereo. For those traveling on business, there's an oversized work desk, morning newspaper delivery, and complimentary in-room coffee and tea to help you wake up before your meeting. Or if you're like me, and need a few cups before you can fully function.
The completely renovated and redesigned guest rooms were spotless and screamed comfort and style. I'd say the $12 million renovation was well worth it.
Outside Patio
What better way to escape the Texas heat than by sipping a few cocktails under a shaded outdoor patio? Not many, in my book.
The drink options were plentiful, as the bar was fully stocked and the bartender was full of great suggestions. And the fact that he gave us extra maraschino cherries (my absolute favorite), won me over. It's the small things in life that put a smile on my face.
Choose to relax in nature, or come with friends to watch some sports on an oversized HDTV. Either way, make sure to snag one of the couches for some ultimate comfort.


The patio overlooked a running trail, so bring your sneakers if you're a fitness fan. Me? I'd rather sit and have a drink (or two).
Restaurants and Bars
We ordered our drinks from Hyatt's upbeat patio bar, Marker 10, and as noted above, couldn't have been more pleased with both the service and quality. Marker 10 offers hand-crafted cocktails, microbrews, drafts, and wine, which can all be enjoyed on the outdoor patio.
Hyatt Regency Austin's signature restaurant, Southwest Bistro, serves regional southwestern cuisine with fresh, seasonal ingredients. Ahi Tuna nachos with queso fresco and habanero mustard, anyone? What about Southwestern mac & cheese, a savory blend of rigatoni, smoked ham, and poblano chilies? I'll have two of each, please!
If southwestern food isn't your style (what's wrong with you?! :p), there's always room service! I'll gladly choose to eat in bed on some fine china any day.
Location
One of my absolute musts when choosing accommodation? A killer location. If a hotel is too far from tourist attractions or public transportation is not easily accessible, I decide not to stay there. Easy as that.
On that note, Hyatt Regency Austin quickly proved to be situated in the best possible area. Not only is the hotel minutes away from both Sixth Street and South Congress Ave (two places you'll definitely want to check out), but it's literally a hop, skip, and a jump away from Congress Bridge. If you haven't been to Austin yet, you're in for a treat. This is the best place to see those 2 million bats you've been hearing so much about. It's an experience you need to see to believe.
And with views like this from the bridge (↓↓↓↓↓), you'll want to come both day and night. That's the Hyatt, situated right on the water over there.
Since Hyatt Regency Austin literally stands over Lady Bird Lake, it's a super convenient place to rent kayaks and other fun water sports. It gets hot in the summer, trust me on that. You'll appreciate the super short walk to the lake.
Don't miss Gordough's Doughnuts and Torchy Tacos – two staples in Austin, both located on First Street, a 15 minute walk from the hotel. Walk both ways, and the calories don't count!
Favorite Features
Although we didn't use the pool (or gym), they both looked extremely clean and ready for action. If we had an extra day, you can bet I'd be in my bikini lounging by the pool all day.
A major plus? FREE wifi in both guest rooms and public spaces. Don't you hate it when hotels charge an absurd amount for internet access nowadays? I know I do, it's one of my pet peeves.
OH! I cannot forgot the complimentary lemonade and grapefruit-infused water that was served each and every morning. Refreshing doesn't even begin to describe them. Isn't the Texas heat just an excuse to have some extra lemonade? 😉
STARBUCKS, because who can function early in the morning without any caffeine?
Final Word
With it's stunning outdoor lounge and complimentary wi-fi, there isn't much not to love about Hyatt Regency Austin. Austin, I'll be back – have the tacos and cocktails waiting!
More Information
Hotel: Hyatt Regency Austin
Follow them on Facebook, Instagram, and Twitter.
Location: 208 Barton Springs, Austin, Texas, USA, 78704
Accommodation: Upscale Hotel
Price Range: $$
Disclaimer: I was a guest of Hyatt Regency Austin, but as always, all opinions remain my own.