Heading to Seattle soon and thinking of taking a day trip to Mount Rainier?  You've come to the right place! 
I'm a sucker for National Parks, and try to squeeze them in whenever possible.  Some prime examples:
A few months ago, I spent over 8 hours on a bus to take a day trip to Yosemite.
Road tripping to Idaho this summer (from California), and you can bet we're stopping at a few along the way. Crater Lake is a definite.
Been bugging my husband to take me to Utah for the longest time (for the National Parks, not skiing).  Just ask him. You've never met a girl so keen on Utah before.
Basically got stuck after driving 3 hours on a dirt road to find the entrance to Rocky Mountain National Park… next time…
Secretly planning a visit to Palm Springs later this year to sneak in a quick day or two in Joshua Tree.
With all that being said, when I started to plan for my trip to Seattle, I just knew a quick jaunt to Mount Rainier was a no-brainer. Seeing and experiencing the mountain was an absolute must-do for me.  After scouring the internet for day tours from the city (because there was no way I was driving alone), I instantly came across this tour, a company who not only specializes in small group tours, but provides cookies and wine too.  I knew I had met my match for my day trip to Mount Rainier from Seattle.
I was sold.  It really was that easy. I like my cookies more than most.
I must say, those two hours to Mt. Rainier went by in a breeze.  The time on the bus was spent chatting about travel and National Parks (my favorite topic), learning about the other group members, and listening to our naturalist speak about the mountain and it's ecosystem.  And eating a scrumptious breakfast of homemade banana nut bread. (And then eating another piece.)
Day Trip to Mount Rainier from Seattle
Mountain OUT!
And before we had even officially arrived, THIS was our first view of the mountain:
Pretty remarkable, huh?  I'll let you gaze at it for a moment, because I know, it's a lot to take in.  My day trip to Mount Rainier from Seattle surely was getting off on a good start!
Interesting facts:
Mount Rainier is not only the highest mountain of the Cascade Range of the Pacific Northwest, but is also the highest mountain in Washington.
It is considered one of the most dangerous volcanoes in the world!
On exceptionally clear days, the mountain can be seen from Portland, Oregon and Victoria, British Columbia.
According to John Muir, the view is best appreciated from below. That's not saying the view from the top isn't spectacular!
At over 14,410 feet above sea level, the mountain is most definitely a landmark in Washington's landscape. You'll know when you see it.  That's for sure.
And the views just got better as the day went on.  Iconic.  Majestic. Grandiose.  Trust me, it's hard to describe those views. No words truly capture that feeling you get staring up at it.  So, I'll leave you with some photos. And a shameless selfie.  :p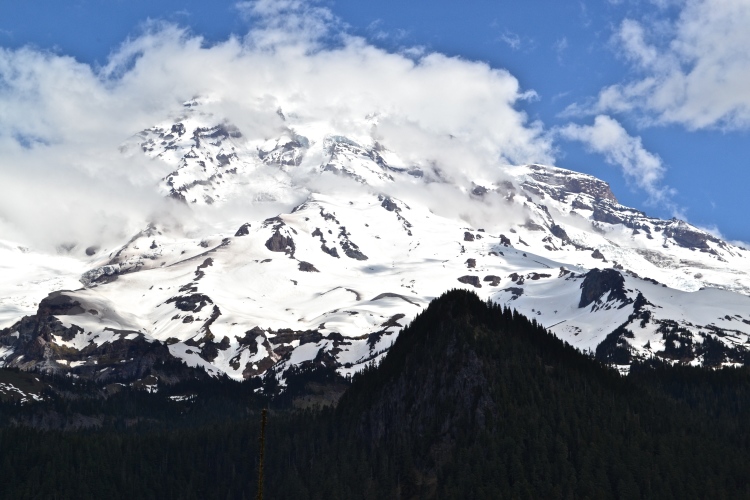 Just look at that.  No wonder 1.5-2 million people visit each year.
Throughout the day, we went on numerous short hikes in the area, all with impressive views of the mountain volcano.  Did you know Mt. Rainier is actually a volcano, because I didn't.  It last erupted in 1894, and is due for another big blow soon-ish.
All those beautiful views were accompanied by explanations of the how the mountain formed, interesting facts about climbers who attempt to scale the mountain, and wildlife in the area.
The snowiest place on Earth!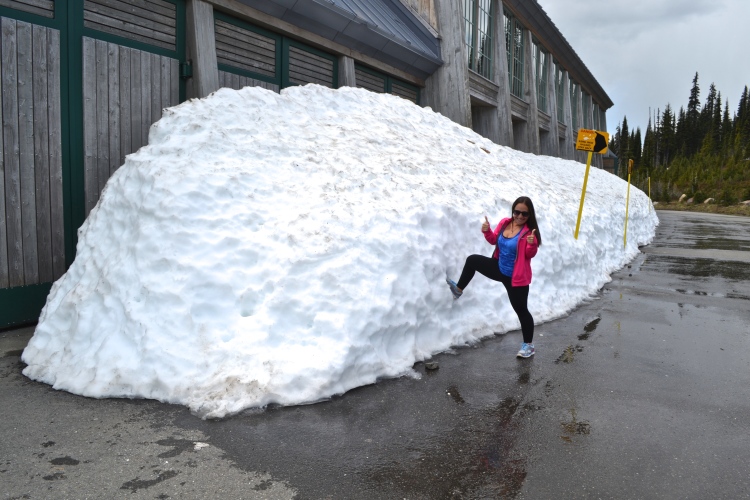 Snow Shoeing
It's one thing to see the mountain from afar, but it's another to actually hike/snoe shoe ON the mountain itself. So, naturally, we did just that. The views were remarkable- you could even see the glacial ice in the distance on the mountain rather clear! Looked like the clearest and iciest blue I've ever laid eyes on. A snowmobile would be an amazing way to see the scenery also. Up North Sports sells a wide array of equipment for snow sporting so they'd be a good source for anything from boots to jackets if you're in the market for those.
The hike wasn't too strenuous, and the snow shoes definitely helped with chomping down in the snow.  As the guide said, "If you can walk, you can snow shoe".
[maxbutton id="1″ url="https://www.partner.viator.com/en/23841/tours/Seattle/Mt-Rainier-Small-Group-Tour-with-Lunch/d704-5412MTRAINER" text="Book Tour" ]





Hiking in the Lowland Forest
Our guide was really knowledgeable about the plants and animals that are found in the forest, and we learned an abundance about the different species and how they function in the park's ecosystem.
He could have talked for days about each species of tree in the park (for real), but he kept the group interested and didn't go in too much detail with extraneous information.  (Thank you, Eric!)  No question was left unanswered.
Evergreen conifers, western hemlock, and Douglas fir.  A few names I'd never heard before, and with some reaching as high as 200 feet into the sky.
I felt so small (in the best way possible) in the forest.
Waterfalls
Over the course of the day, we took numerous short trails which led us right to large flowing waterfalls.  We got lucky as the waterfalls are best viewed in the early summer and fall, as the snow melts and feeds the streams.
One of the most spectacular waterfalls we hiked to was Christine Falls, aptly named after one of the first climbers of Mount Rainier.

Breakfast and Lunch
FOOD! Yes, please! Thankfully all meals were included, as it would have been a bummer to make the short trek to Pike Place at 7am.  If you don't know by now, I'm not an early riser, and literally scream at the world when I need to be up before sunrise.  (Unless I'm climbing a mountain to watch the sunrise… that's another story.)
Thick slices of banana nut bread, coffee, and tea were passed out, and that's really when I started waking up.  We made a stop a few minutes before the park to get ourselves oriented with the day's plan, and have a few snacks. AND french press coffee.  In the middle of nowhere.  Ridiculous, in a good way.
Lunch was a great combination of chicken, roast vegetables, quinoa salad, AND pelligrino and local wine.   Probably the healthiest meal I ate all week.  When Evergreen says they provide lunch, they really go all out.  No brown bag lunch here! This company knows me well.  Real plates and real utensils!?  Who doesn't love a little luxury in the forest?
More Information/More Photos
Park entry fees, snowshoes in the winter, and seasonal lunch included. Evergreen Escapes picks up at hotels in downtown Seattle, cruise terminal, or guests can meet them nearby at 400 Pike Place.  Transportation is comfortable and stylish in nature, with bio-fueled Mercedes vans and luxury SUVs to bring you to your destination. Oh, and the cookies. AND wine.  #companyperks?
[maxbutton id="1″ url="https://www.partner.viator.com/en/23841/tours/Seattle/Mt-Rainier-Small-Group-Tour-with-Lunch/d704-5412MTRAINER" text="Book Tour" ]