There are just some trips that are better taken with your girlfriends. Girlfriends who enjoy $4 bottles of wine, taking bubble baths in the tub together, and having picnics in the parking lot- not that we did any of those things. 😉
Napa Valley just so happens to be one of these places.
Napa is located just an hour or so north of San Francisco, making it the perfect weekend getaway for those living in or visiting the city. And with dozens of vineyards within a few miles of each other, you really can see so much of what the area has to offer in a short period of time. Heck, we drank/chilled/picnicked at SEVEN different wineries! And we didn't feel rushed at all.
See below for my guidelines on how a to have a killer girl's getaway to Napa Valley!
Wineries
Peju
With a beautiful pinkish building and soft, luscious grounds, Peju wins the title of "most girly" in Napa. Come here if you're a lover of red wines- I heard they don't disappoint.  No reservations are needed for a tasting, which is definitely a plus when you're out and about all day.  
And driving through that entrance (see below, last photo of Peju), you'll feel like you're transplanted to a different world for a few moments.  How they make that happen? I have no idea!
Artesa
From the moment we booked our trip to Napa, I just knew we had to make it to Artesa.  The modern architecture of the building inspired me, as did the numerous contemporary sculptures leading up the main area.  Come here if you want a very different experience and view, as the winery and vineyards are located up on a hill.  
The orange poppies we found at the base of the hill were a pleasant surprise (it was February after all), and I must admit they were the perfect setting for our picnic of leftovers.
Castello di Amorosa
If you've ever wanted to hang out in a castle, you need to make your way up the highway to Castello di Amorosa.  Inspired by designs in Tuscany, this winery should not be missed.  You can opt to tour the castle via guide (for $20 including a wine tasting), but we ultimately decided to go at our own pace.  Although some areas are restricted to paying guests, the free views were outstanding.  
Plus, the animals on the grounds make for a very interesting and fun morning! We literally spent hours playing with them, photographing them (goat selfies, anyone?!), and watching them run away from the barking dogs (not something I condone).  
I really appreciated the fact that the chickens, sheep, and goats were free to roam around sans fence, including in the grape vines (do chickens enjoy grapes?!) and surrounding areas. The two emu had a large area to wander around as well.
Domaine Carneros
This has got to be one of the prettiest wineries in all of Napa. The architecture resembles that of a French chateau, and you'll find cherry blossom trees every where you look. The perfectly manicured gardens were fun to frolic around in as well.
V. Sattui
With it's beautiful picnic tables and wide array of cheeses, V. Sattui is the perfect place for a proper picnic (if you don't want to sit in the parking lot admiring the poppies like we did). Come for the wine, but stay for the cheese. 🙂
Robert Mondavi
We were looking for a spot to watch the sunset, and what better place than Robert Mondavi.  As soon as we walked under the arch and saw the open green space, we knew we made the right decision.  
With the sun low in the sky, we had a little too much fun taking silly shadow photos- you should have seen me trying to balance my phone on my knee with my elbow…
Must Do's
Olive Oil Tasting
There are numerous spots for some olive oil tasting, which is a fun activity to do once the wine tastings become redundant. A girl can never have too much wine you say? Oh, you should have seen me back in my college days…
We spent a bit of time at Lucero Olive Oil (located in Downtown Napa), and were surprised by how rich the different flavored oils were. Rosemary, garlic, lime and even chocolate olive oil were only a few! Sipping olive oil was definitely something I've never thought about doing before, and ultimately chose to stop sipping after sampling a few (I mean, how healthy can that be?!)
There were also a few tapenades to taste, which were absolutely delightful (probably because I'm one of the world's greatest olive fans).
Picnic at the Wineries
I have to admit, we bought our picnic foods at Safeway (prosciutto, sour dough bread, provolone, and snacks), and found a picnic table to eat at.  We ended up eating our leftovers in a parking lot the next afternoon, a very nice parking lot overlooking a vineyard and a bed of wildflowers if you must know!  We're girls on a budget- what can I say?!
And didn't your mom ever tell you not to let your food go to waste? :p As noted earlier, if you prefer a more authentic experience, V. Sattui has beautiful picnic grounds and a nice selection of meats and cheeses in the shop.
Relax!
Napa is the ultimate getaway if you need a little extra R & R in your life. There are outstanding spas nearby, or you can just chill in your room (if you are lucky enough to have a tub with bubble bath).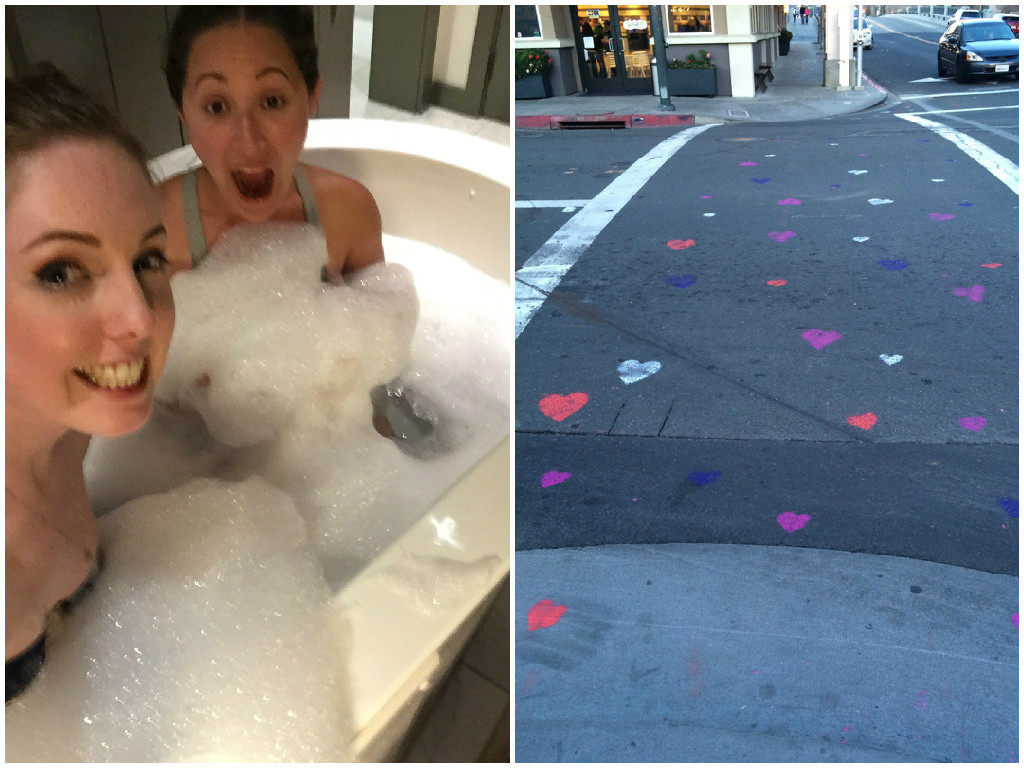 Where to Stay
Andaz Napa
Deep soaking tub, complimentary wine at check-in, and free mini-bar?  You bet we took advantage of them all! Why can't all hotels offer this level of service?  The service at Andaz Napa definitely won me over.
Located in the heart of downtown Napa, the location couldn't be better. Being only a 15 minute walk to Gott's Roadside and Oxbow Public Market, we had a variety of restaurant options for dinner each night.


When and where was your last girlfriend getaway?