Ever since we moved to San Francisco 6 months ago (more on that later), I've been wanting to explore every inch of the West Coast. So when I found cheap(ish) tickets to Los Angeles for the weekend of my birthday, I knew we'd be traveling a few hours south of our new city.  Spending my birthday in southern California seemed like a great idea to me.  Palm trees, Mexican food, and Hollywood- what's not to like?
Like any trip I plan, I found a way to pack in more activities than humanly possible.  I mean, whats the point of a weekend getaway if you sit in your hotel and do nothing? Might as well sit at home on the couch!
We arrived to LA Friday night around 9pm, picked up our rental car, and checked into our hotel at The Orlando.  After some Mexican food at a nearby taqueria (a new staple in our diet since we moved to CA), it was time to snuggle up into our comfy King bed and rest up for our busy weekend ahead.
Side Note: If you're looking for a relaxing weekend away, this is NOT the itinerary to follow.  🙂
Saturday: My Birthday (!!!)
We started the morning nice and early with breakfast at The Georgian, offering fantastic views of the Santa Monica palm trees and that cold Pacific water.  This meal reminded me that I need to start eating outside more often.  The fresh air promises a great start to any day, my birthday or not.
The remaining part of the day was spent exploring the city with A Day in LA Tours.  Sometimes it's nice to have someone else plan the itinerary for the day, especially on my birthday! We toured all the best spots in the city, from Rodeo Drive and the Griffith Observatory, to Venice Beach and Hollywood.  I instantly regretted wearing jeans the second we exited the bus on our first stop, as it was in the mid-high 70's.  Thank goodness for ice cream!
It surely was an exhausting day, but I was just glad to have someone drive us around.  And that someone was a super cool (almost-famous) actor named Raul, who kept us laughing all day and informed about the city's best kept secrets.  If you come to LA and take the tour (which I strongly suggest you do), request Raul – he's the man!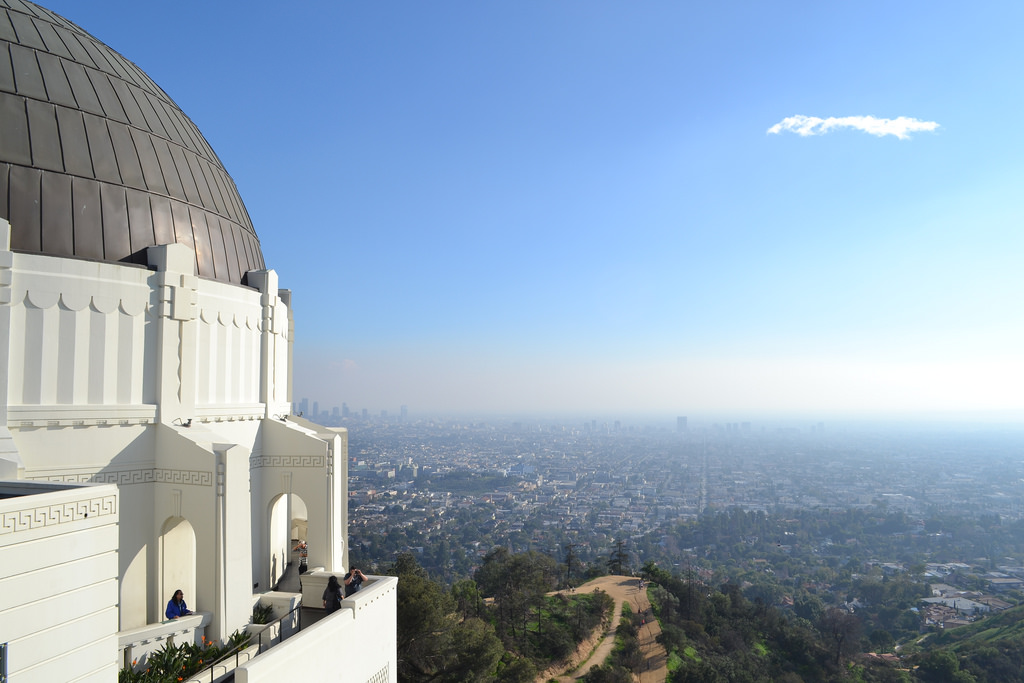 The tour dropped us off in Santa Monica, where we wandered around the shops after sunset.  Santa Monica is a bustling area, and I'm glad I had enough energy to walk around and watch a few street performers.
And to top off our night, we celebrated with a birthday dinner at Chipotle (my absolute favorite, for reals).  Ok, we couldn't make a decision (story of our lives), and Mexican was right across the street.  However, I wouldn't have it any other way– this girl loves her rice bowls.  After a quick pit stop at Dunkin' Donuts (there are NONE in northern California – the only downside to moving there), we made our way back to The Orlando for another night of restful sleep.
Sunday:
How could we come ALL the way to Los Angeles (ok, it's not that far) without making a stop in Orange County?  With some friends down in the area, we knew we couldn't miss out on a fun day of catch up and sun.  The drive down was phenomenal, with more palm trees dotting the highway than we could imagine.  And the weather couldn't have been more perfect – I was sporting a skirt that day, on the first of February!
Our friends played tour guide for the day (another nice surprise), taking us to the best restaurants (Mexican, again, surprise, surprise!) and the best lookout spots in Laguna Beach.  Crescent Bay Point Park and Heisler Park were my favorites.  I could have stayed at either all day putting my photography skills to the test (although I'm convinced there is so such thing as a bad picture here).  We spent the afternoon petting the most adorable little dogs, hunting for shells, playing in the tide pools looking for sea anemone and hermit crabs, and spotting seals swim around in the ocean .  Oh, and stuffing our faces with three scoops of gelato- each. It was a rough day, lemme tell you.

Monday:
Every since we moved to the San Francisco Bay Area, I've really taken a liking to climbing up hills, or hiking if you may.  But only those hikes with rewarding views at the top.  So when I discovered there was a hike a few miles from our hotel that showcased the Hollywood Sign AND The Griffith Observatory, I made sure we packed some hiking clothes.
Please tell me I'm not the only one who takes selfies before going on the hike…
After finding parking nearby (my advice- go super early, parking is a b****), we walked our 20 or so blocks to the start of the trail.  The hike up Runyon Canyon wasn't as challenging as I had thought, but after our mile walk getting there, I was thankful for that.  No celebrity sightings today, but we did see our fair share of dogs (which I'd prefer any day).
Thew views were phenomenal – you could see the LA city skyline nestled among the palm trees and greenery.
Post hike, we filled up on pizza and sorbet before packing our bags and heading to the airport.  Lunch at The Churchill, the restaurant of choice at The Orlando restaurant, was just what we craved.
All in all, my birthday weekend was fantastic.  Think I'll be back down south in the near future.
And after this weekend, I made the executive decision that we'll be spending my birthday traveling every year! Hmm… any suggestions?!