Driving around Lake Tahoe and looking for the most scenic spots? Keep on reading, because I'm sharing my favorite look out points, sandy beaches, and short hikes! You won't wanna miss this Lake Tahoe drive! It's absolutely stunning!
Lake Tahoe is a dream come true. There's fresh mountain air, brisk turquoise water, scenic short hikes, and epic sunsets. It's actually the largest alpine lake in all of North America. There's nothing much better than a few days in the mountains of Lake Tahoe, in my opinion.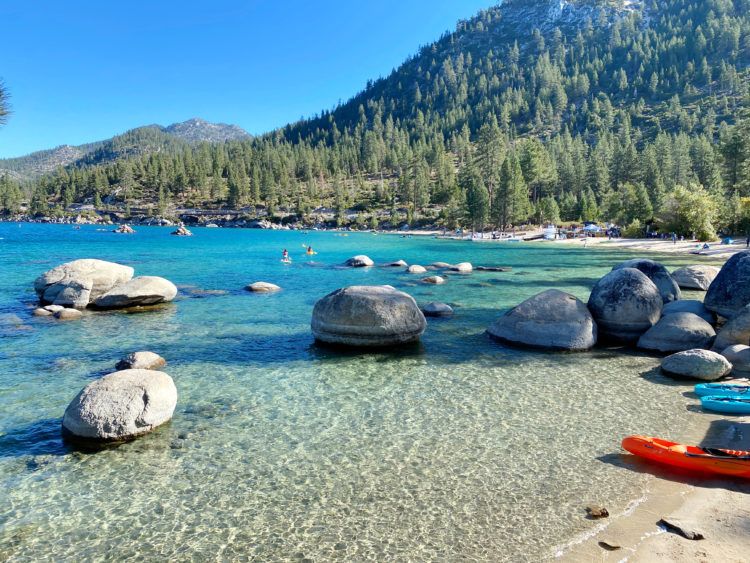 And coming from San Francisco, we visit at least once a year — I mean, how could we not, it's so close! Tahoe is one of our favorite mini road trips from San Francisco, and a great weekend trip as well! I bet we'll be visiting even more now that we have family living nearby in Nevada City!
Sure, you could spend your time relaxing by the clear, cool, cobalt blue waters of the lake. Nothing wrong with that! Or you can go on a scenic drive around Lake Tahoe, stopping at various beaches and lookout points along the way!
Everytime we visit, we always find new things to do. I recommend doing a bit of both — driving around Lake Tahoe one day and beaching it up/relaxing the next!
FYI: The drive around Lake Tahoe is 72 miles and takes about three hours roundtrip — without stopping AT ALL! Yeah, the lake's one of the larger ones in Northern California/Nevada.
If you're attempting to drive around the entire lake, plan a whole day (or at least 6-7 hours) so you can really enjoy all (or some of) the stops. In addition, don't feel like you need to drive around the whole lake in just one day. When we're doing the drive, we typically drive (and explore) part of the lake one day, and save the rest for the next.
Sure, it's a bit more driving, but why rush it? Scenic drives are always better when you take your time, right?! Make sure you give yourself enough time for some swimming, hiking, beaching, and eating.
Quick Facts about the Lake Tahoe scenic drive
Location: Lake Tahoe straddles the stateline between California and Nevada in the Sierra Nevada Mountains
Road Type: fully paved and in great condition!
Services Available: Plenty! → Stop in Incline Village, Tahoe City, King's Beach, and more if you're feeling hungry and/or need to fill up on gas.
Trip Length: 72 mile loop around Lake Tahoe
How long does it take to drive around Lake Tahoe: about 3 hours without stops; plan a whole day!
How to get to Lake Tahoe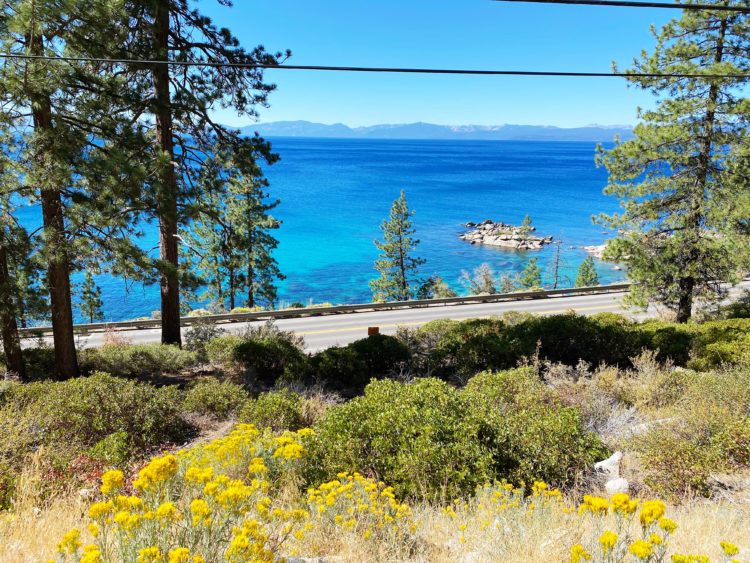 Driving to Lake Tahoe
Lake Tahoe is super accessible from a whole bunch of areas in Northern California. We're from the SF Bay Area and try to visit Tahoe at least once a year, either summer or winter. Whether you're from NorCal or are visiting any of the spots below, do yourself a favor and tack on a day or two for Lake Tahoe (I promise it's worth it!).
Reno: ~1 hour (40 miles)
Nevada City: ~1 hour, 15 minutes (65 miles)
Sacramento: 2 hours (105 miles)
Yosemite: 2 ½ hours (125 miles)
San Francisco: 3 ½ hours (188 miles)
Redding: 4 hours (215 miles)
Note that distances and times largely depend on exactly where in Lake Tahoe you're headed! But — if you're planning to drive around Lake Tahoe, it honestly doesn't matter (too much) where you start!
Flying to Lake Tahoe
You can't actually fly directly to Lake Tahoe, but you can get kinda close! The nearest international airport is the Reno-Tahoe International Airport (RNO), only a one hour drive to South Lake Tahoe. Sacramento International Airport (SMF) is another airport nearby, roughly 2 hours away.
However, I can almost guarantee you'll find cheaper flights to San Francisco International Airport (SFO), Oakland (OAK), or San Jose (SJC), all about 3-3 ½ hours away. Definitely check all airports if you're willing to drive a few extra hours to save some serious cash.
Things to Know Before Driving Around Lake Tahoe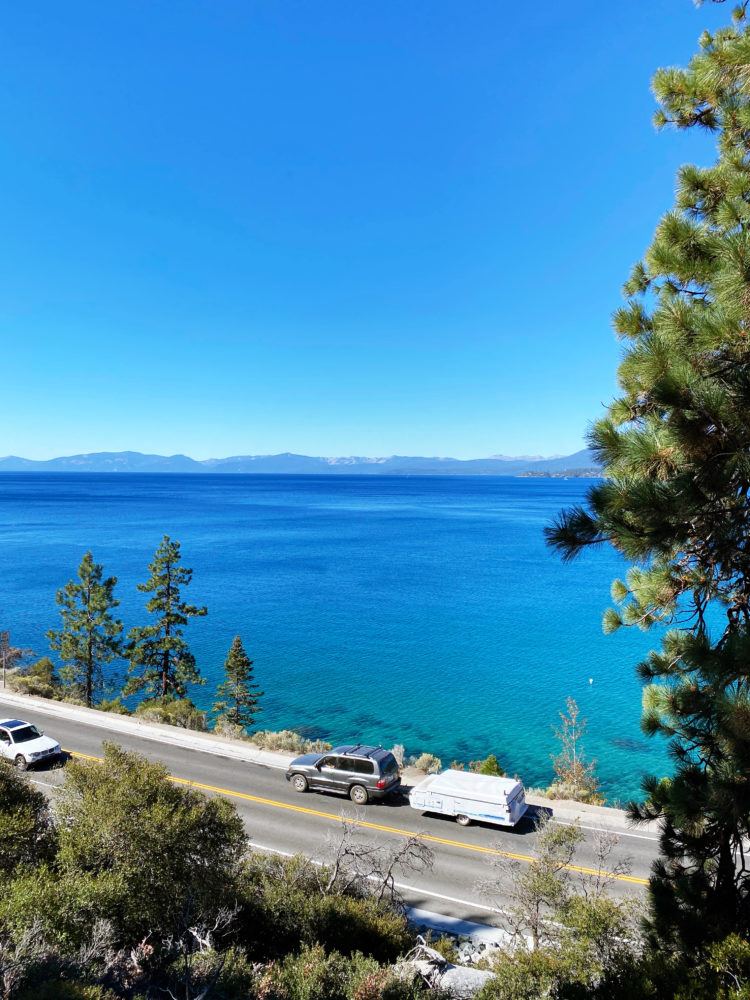 When to Plan Your Lake Tahoe Scenic Drive
We've visited Lake Tahoe (and even driven around), in both summer and winter. When you go highly depends on what exactly you wanna do!
Visit during summer for boating, kayaking, and stand-up paddling on the lake.
Winter is a haven for snow-sport lovers, with lots of skiing and snowboarding available.
The area gets exceptionally busy in the warm summer months, so plan your drive around Lake Tahoe as early as possible before everyone finishes breakfast. If you can, aim to visit the lake on a weekday, as you'll find way less crowds.
Psst — this Lake Tahoe scenic drive guide focuses on visiting during the summer months. But definitely still handy for those visiting in the snow as well!
Driving around Lake Tahoe in the winter
Can you drive around Lake Tahoe during the winter? Yes, but you'll definitely want a car with all-wheel drive (AWD) or 4-wheel drive (4WD). Expect some snow and ice on the roads, drive with caution, and go slow! Oh, and don't forget to carry tire chains just in case you need them (practice putting them on at home first!).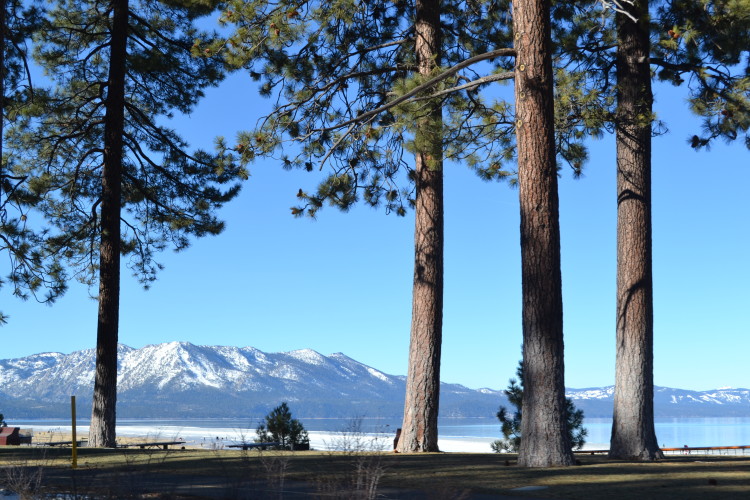 The lake doesn't freeze (due to some science stuff I can't understand), so you can enjoy the views even in the dead of winter.
And not many know this – but the first snowfall can happen as early as September or as late as November. AND the last snowfall typically happens in JUNE! Make sure to check the weather before you go!
With this being said, snow's a possibility anytime between September and June. So yea, July and August are the areas only snow-free-for-sure months! You just never know! It'll definitely be snowy (at least a little bit) between November and March.
Where to Get Gas Around Lake Tahoe
Plan to fill up in South Lake Tahoe (we filled up at Safeway near Stateline – it was way cheaper than other stations), Tahoe City, or Kings Beach. Most gas stations are either on the north or south side of the lake, with limited options on the east and west sides.
Just good info to know, although you probably won't need to fill up if you've got a full tank already.
Where to Start your Drive Around Lake Tahoe
In all honesty, you can start driving around the lake from any point. We tend to stay in South Lake Tahoe, and typically drive north in a counterclockwise fashion. But it really doesn't matter. Unless you wanna ensure you get a spot at Sand Harbor (because the lot fills up FAST).
Which side is most scenic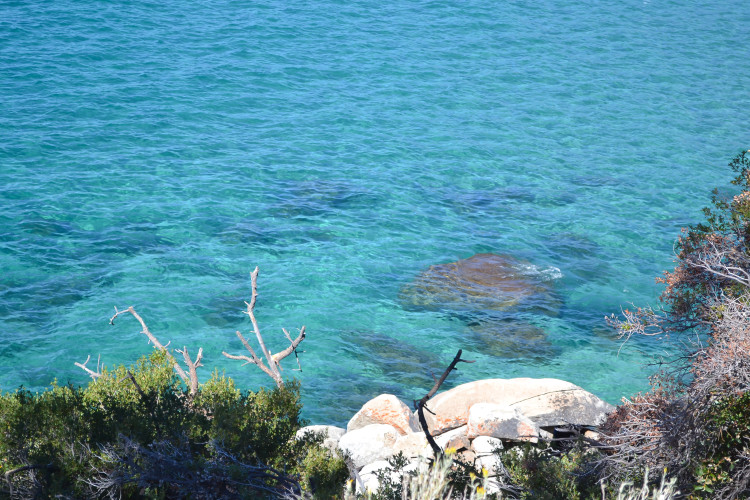 Personally, I LOVE the east side of the lake — there's Hidden Beach and Sand Harbor (my two favorite spots). However, the west side's got D.L. Bliss, the Rubicon Trail, and Emerald Bay, so it's kinda hard to pick a favorite. If you only have time for a partial drive around Lake Tahoe, you can't go wrong with either side. Promise!
How much does it cost to drive around Lake Tahoe?
Besides the cost of gas (and obviously any meals you get), driving around Lake Tahoe is free! Do note if you want to enter any of the state parks (and there's a quite a few!), you'll need to pay entrance and/or parking fees. These are typically $10 per car; you can sometimes bypass the fee by parking on the street if you don't mind doing a bit of extra walking.
But — let's support our state parks, shall we?! 🙂
Swimming in Lake Tahoe
I don't think many people realize this, but the lake is pretty damn chilly. You won't find the warm waters of the Mediterranean, Caribbean, or Hawaii over here (although it's just as clear and turquoise)! Don't plan on spending much (if any) time in the water if you're not a fan of the cold.
There's boating, kayaking, and stand up paddling instead. You will see people swimming, but they're either putting on a smile and braving the cold, or are used to it. You don't need to get wet to enjoy Tahoe — promise!
Before we get started:
Keep Tahoe Blue. PLEASE oh please protect this special place, and do your part to keep it clean. This means disposing of trash PROPERLY (never leaving it on the beach or eek — throwing it in the water), NEVER feeding any wildlife, and packing out all your trash and belongings.
Campfires are NEVER allowed on Lake Tahoe beaches. Don't even try it!
Be swim and boat smart. The water is beyond COLD, so before heading out into the water (should it be via kayak/stand-up paddle or motorized boat), understand your risks and stay alert!
Dog owners, be respectful. Pick up after your pet, and use a leash (please!). 🙂 Bears frequent the area, so give them no reason to attack.
So, without further ado, let's get to my favorite stops to make when driving around Lake Tahoe! There's lots to see!
Scenic Stops on the Lake Tahoe Drive
Stop #1: Sand Harbor State Park
We're making one of the most popular (and scenic) spots our first stop while driving around Lake Tahoe. We definitely didn't save the best for last here!
Imagine giant rocks and boulders in crystal clear water, mountain views as far as the eye can see, and soft, sandy beaches. That, my friends, is Sand Harbor State Park. And it's as stunning as it sounds.
Here you can rent a kayak, go stand-up paddling, or just take in the views. Just remember, if you're planning on making the full drive around Lake Tahoe, you won't be able to sit and relax for too long. Walk around, admire the views on the nature trails, dip your toes in the lake, take a whole bunch of photos, and aim to visit Sand Harbor for longer another time.
NOTE: With all it's natural beauty, come crowds. Sand Harbor is by far the most popular beach in all of Lake Tahoe. People actually start lining up at 7am to get in (it's not open 24 hours). We got there around 9:30am and got right in, but next time I wouldn't chance it and I'd plan to arrive a bit earlier.
A few tips for a successful visit to Sand Harbor State Park:
Fees: There's a $10 entrance fee for Nevada residents, $12 for everyone else (although the attendant just asked us for $10 without checking ID).
Crowds and parking: The state park gets full by latest 11am on summer weekends, so come early! And no walk ins or drop offs are allowed, so get here early to ensure you get a parking spot! The lot is thankfully pretty big though.
Lake Tahoe is COLD. It's not the place to go for bathwater swims, but rather adventure and water sports. Try kayaking and stand up paddling instead!
Stop #2: Hidden Beach
Sad to leave Sand Harbor? Don'tchu worry, our next stop on this scenic drive around Lake Tahoe takes us to a spot just as spectacular. AND it's WAY less crowded (that is, until everyone finds out about it!).
Hidden Beach can be accessed via the Tahoe East Shore Trail (our next stop while driving around Lake Tahoe). It's about a mile walk from the trail's starting point, but if you're lucky enough to find a spot on the side of the road, it'll take way less time.
Do note that some of the parking spots on the East Side between the East Shore Trail and Hidden Beach are for residents only, so parking may be difficult. Always check the signs — you don't wanna get caught with a nasty parking ticket!
Stop #3: Tahoe East Shore Trail
Looking for a scenic walk with views of the lake but don't feel like expending too much energy? I feel ya. The newly-completed East Shore Trail is your answer. First off, you can walk as little or as long as you want, and it's mostly paved!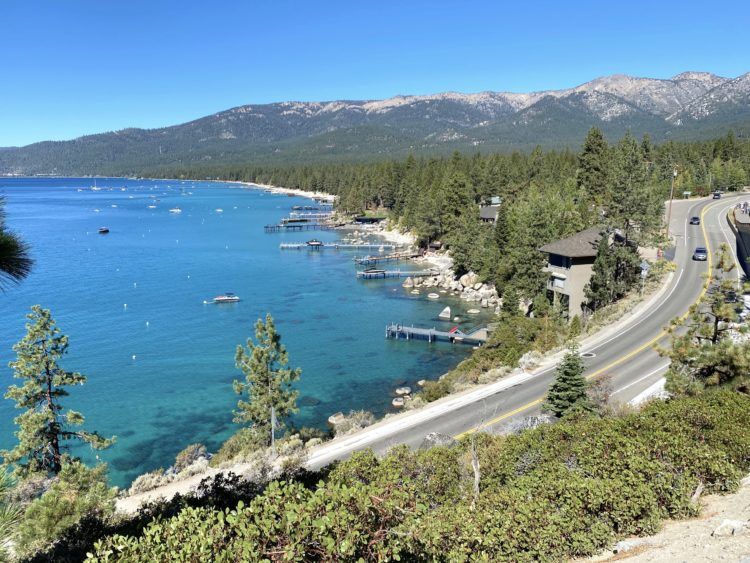 The Tahoe East Shore Trail takes you from Incline Village all the way to Sand Harbor — but you don't need to walk the entirety to see spectacular landscapes. I mean, it's been dubbed as "America's Most Beautiful Bikeway", so yeah, expect lots of natural beauty. Psst — it's actually a bike path, but you'll find lots of walkers here too.
The first mile of the path is closer to the mountain, but keep on going! The next two miles are directly next to the coastline (aka, the views – and photo opps – will be insane!). You'll pass Memorial Point Scenic Overlook, Hidden Beach, and more (there's actually 16 specified vista points).
If your goal is to drive the entirety of the lake in one day (possible, but tiring!), don't count on walking the full path – it's 6 miles round trip! I recommend walking the mile to Hidden Beach (above), and turning back to continue your drive.
There's paid parking at a few small lots near the Tunnel Creek Cafe (at the northern end of the trail), although they tend to get filled pretty fast. Another reason to start this Lake Tahoe scenic drive on the earlier side!
Stop #4: Incline Village
Congrats, you've officially reached the north shore of Lake Tahoe! By this time, you'll probably be hungry for some lunch, so stop at one of the many restaurants in the town of Incline Village. Although the atmosphere of the restaurants is primarily on the casual side, the food is upscale (think eclectic flavors and influences).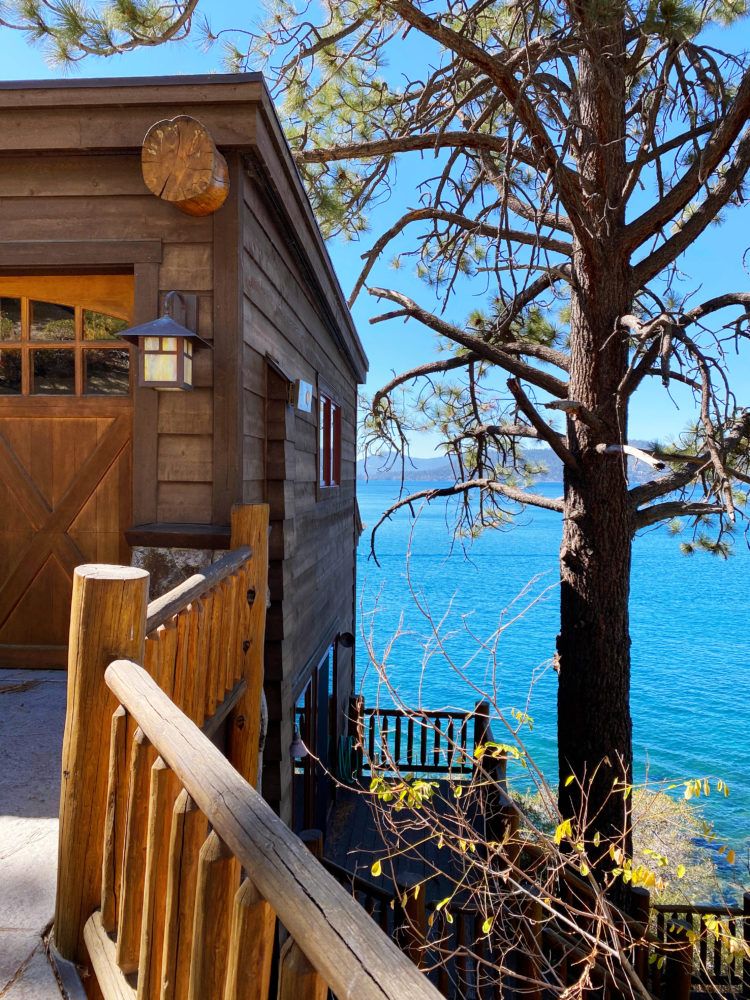 Incline Village is a bit more upscale than other Lake Tahoe towns, but there's still a great vibe! You can spend some time shopping for almost anything you need for your trip. But, move on after lunch, we've got more to see!
Stop #5: Tahoe City Marina
Get great views of the yachts and boats from this waterfront walkway. We had fun guessing the price of the huge yachts and just walking around the marina. I couldn't believe how crystal clear the water was here! Take a walk on the pier and admire all the scenery, then walk a bit further to the small beach area.
If you weren't hungry earlier, plan to grab a late lunch at either the West Shore Market (great soup and sandwiches, and pretty quick), or at Sunnyside Restaurant (perfect water views but plan to spend a decent amount of time here). There's also quite a few restaurants at the marina with lake views.
A short stop but well worth it!
Stop #6: Eagle Rock Trail
Next up on the drive around Lake Tahoe — Eagle Rock Trail!
The trail is only 1 ½ miles round trip, so as long as you've got some sturdy footwear, don't miss this short climb. There's multiple points along the way to see the lake and take photos.
There's no reason not to do it — it takes less than 20 minutes to climb to the top! Do note I heard it's kinda steep (and dusty), with a few slippery spots, but the trail is well maintained. From there you'll find sweeping views of the entire lake and surrounding mountains.
I'm sad we didn't make it here, but there's always next time!
Stop #7: D.L. Bliss State Park
D.L. Bliss is usually visited by those staying at the park campsites, but if you're looking for a quiet(er) beach with stunning views, you can't go wrong here. Plus, there's a bunch of trails if you're looking to get your hike on, including part of the Rubicon Trail, one of Tahoe's most scenic paths (!!!).
If your main objective is to drive around Lake Tahoe in full, you won't be able to do much hiking, but you can definitely get in a quick stroll! I kinda wanna convince my husband to walk the Rubicon Trail with me next time (shhh). I also heard the Lighthouse Trail is nice, too!
FYI: D.L. Bliss is in fact a state park, meaning you'll need to pay $10/car to enter, just like at Sand Harbor.
Do note that the parking lot at the beach gets full pretty quickly, so you'll need to make the 2 mile walk (each way) to access the lake. Be prepared, as most of the walk is in direct sunlight and there's zero facilities on the way (or even at the lake).
We made the mistake of thinking, "oh, 2 miles, NO BIGGIE", and were not proud of ourselves later on once our small water was gulped in 3 minutes. If the park ranger doesn't let you drive in and park, I honestly would skip this spot on your Lake Tahoe drive. There's just too much else to see.
Psst — if you're looking to bypass the park fee, there's usually lots of spots nearby on the road. But just remember, that'll mean you need to make the 4 mile round trip walk in the scorching sun (not recommended).
Stop #8: Emerald Bay State Park and Vikingsholm (plus Inspiration Point)
Whatever you do, you cannot miss Emerald Bay State Park on your drive around Lake Tahoe. I mean, it's not called Emerald Bay for nothing! There's panoramic views, rich history and architecture, and you'll get to see the only island in the lake – Fannette Island.
It's absolutely mind-blowing. Such a contrast between the turquoise blues and the shimmering greens. To really make the most of it, set aside an hour or two and make the trek down to Vikingsholm, a Scandinavian castle in the forest.
Before/after your visit, make a quick stop at Inspiration Point nearby. The colors of the bay are absolutely unreal (I couldn't peel myself away!). You won't want to put your camera away — I promise you!
FYI: Emerald Bay is another state park in Lake Tahoe, meaning you'll again need to pay $10/car to enter. You can always park on the road for free though if you can find a spot (harder said than done, but worth a shot)!
Stop #9: Kiva Beach (dog-friendly!)
If you want a super-easy-to-access sandy beach right on the shoreline, look no further than Kiva Beach. It's more of a local's beach, and everyone takes their dog here!
The parking's a bit tight as the lot is small and fills up fast. We got lucky to find parking in late afternoon.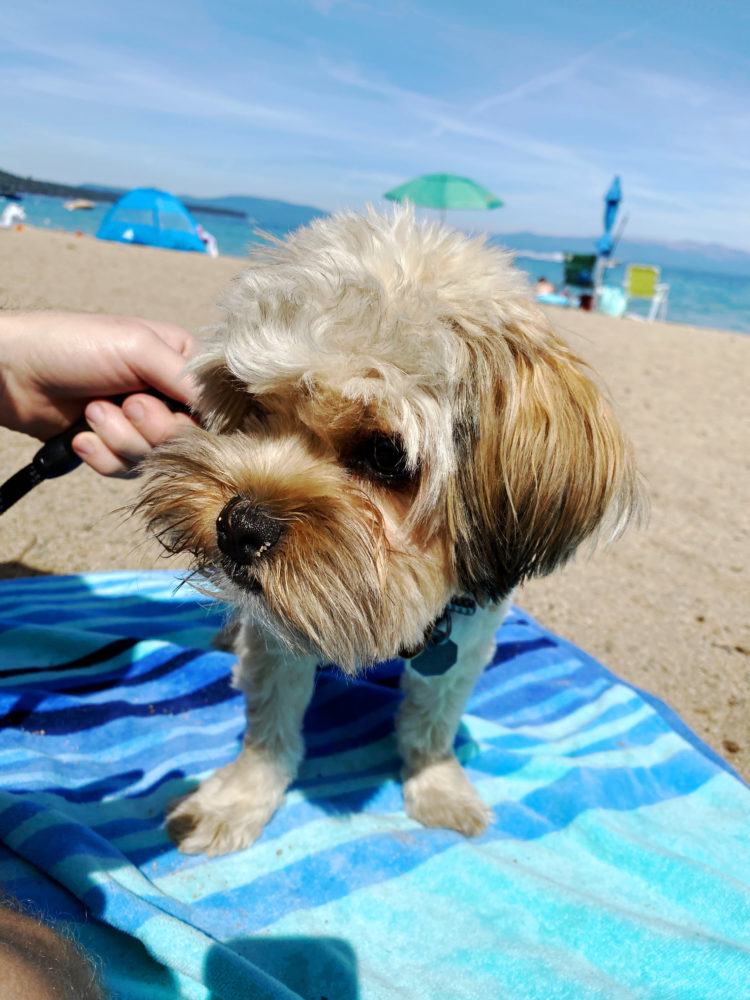 We loved taking little Kona here, and although he's more of a dry land kinda guy, he still had lots of fun! There were so many dogs splashing in the water, making for great dog-watching for us!
Psst — Kiva Beach is adjacent to a fragile marsh-zone, so keep that in mind if you're frolicking around in the area. Don't wanna disturb the wildlife! If you're lucky you may even see some bald eagles and/or osprey!
Stop #10: Stateline (and Heavenly Village and Gondola)
Hiking not really your thing? No problem there! Thankfully, you can still get sky-high views of Lake Tahoe from the gondola. Heavenly Gondola is open all year-round, and although it's a tad pricey (~$50 per person), once you see the lake for yourself up there, you won't be disappointed.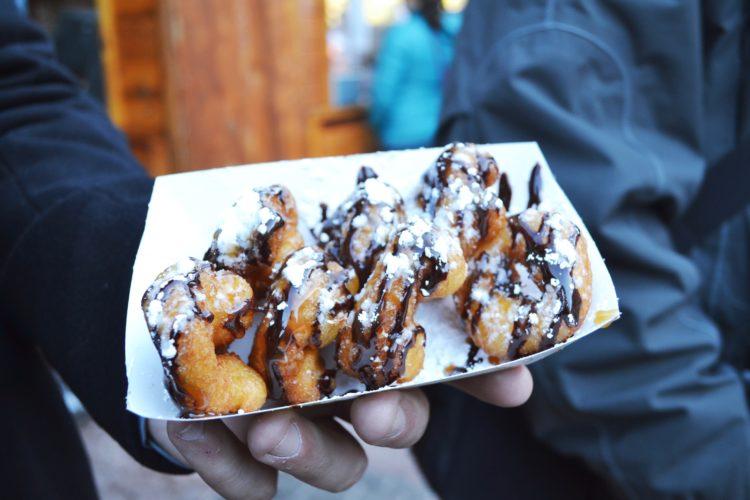 We actually haven't been up the gondola in summer (prying ourselves away from the lake is hard), but I promise it's super beautiful in winter.
Don't feel like shelling out all that dough? Take a walk in Heavenly Village and indulge in some Heavenly Donuts instead. Yummm.
Stop #11: Cave Rock
Okay, so if you wanna come here for sunset (which I highly recommend), you'll have to backtrack just a bit, but the extra bit of driving is well worth it!
Cave Rock is one of Tahoe's best easy hikes, and as I mentioned before, a haven at sunset! The trail is only .8 miles (roundtrip), and you'll witness some stunning views of the vivid blue lake (with snow-capped mountains in the background!).
Thankfully, most of the trail is relatively flat (although you do have to scramble up some rocks at the very top for the best views). If you're staying for sunset, be EXTRA careful climbing down!
Psst: Parking can be a little difficult as there's not really an actual parking lot at the trailhead per say.
Stop #12: Logan Shoals Vista Point
I had never even heard of Logan Shoals until doing some research on driving around Lake Tahoe. And there's no reason not to go — the viewpoint is a mere .2 miles away on a paved walkway — and dogs are allowed!
Climb past the big rocks to see an even better view, although there's no handrails so be extra careful! Plan about 20-30 minutes or so here!
If you're feeling extra adventurous you can make the steep, rocky trail down to the water. Again, be careful — it's slippery with sand on the rocks.
So there ya have it — all the best stops on a Lake Tahoe drive! I hope this guide to driving around Lake Tahoe was helpful. 🙂
Looking for more California content? Explore my other California guides here!
Did you know that …
When you purchase something through our links, we earn a small fee (but you still pay the same)! Win-win! If you found this article useful, consider using the links within the article or below. Thanks for your support!