Every month, I share what I've been up to, some of my current favorite things, possibly some personal info (if there's anything I can't stand not to share!), and of course adventures in San Francisco and beyond.
Find all of October's tidbits here.
And all of a sudden, ↓↓↓
It's Holiday Season!
I honestly cannot believe it's already December. Like, for real. Where did the time go? I could have sworn we just moved to San Francisco a few months ago…. I made a holiday wishlist for you guys, mostly travel related, that's not up yet. I'm a bad blogger sometimes… whoops! (It'll be up soon, hopefully!)
AND I finally got my Travel Shop and Resources pages up. Took quite a while, but I have a feeling you guys will love it! Go check it, now! 🙂
Weekend Adventures
+ Big Sur/Carmel
My husband signed up for the Monterey Half Marathon, so of course I decided to make it into a weekend! We headed down from San Francisco after work on Friday and made it just in time to check into our AirBnB and grab some dinner. If you're ever in the area, I highly suggest Yafa – everything we ate was beyond amazing.
The next day was spent traipsing around Big Sur. Beautiful California coastlines, stunning views of the Bixby Bridge, drinks at Nepenthe, and the epic waterfall at Pfeiffer State Park. So. much. blue (and teal, and turquoise, etc.
He finished the Half Marathon in record time. I'm always so proud of him every time he crosses the finish line! This was his third one this year!
+ Marin Headlands
Adventuring at home to the fullest! The Marin Headlands are about an hour north of us in Northern California. We headed here last year with my parents when they came to visit, and the views are just too good not to make an annual short trek up there. If you're looking for unspoiled views of the Golden Gate Bridge, this is your spot. Full post coming soon with all my recommendations of where to see this beauty of a bridge.
Home Life
+ We spent Thanksgiving with some family and some friends (and some of their family). The food was ridiculously delicious, and I'm so thankful we were invited into such a warm and generous family's home. It's tough being away from my family back in New York during the holidays, but I'm thankful we got to FaceTime with them for a bit. Still walking off that chocolate cake.
+ I made it my mission to go on a few hikes this month since the rain is undoubtedly coming in San Francisco any day now. Fit two in, one with a friend visiting from Connecticut, another in Wunderlich State Park with some new hiking buddies! The leaves are just starting to change colors, and both hikes were absolutely beautiful. Don't make fun of my "yoga"!
+ Volunteering at a food bank was a highlight of the month for me, as I don't help out those less fortunate as much as I could. Sorting cans for two hours (while laughing with some new friends) was a great way to spend a chilly evening, and really makes you appreciate all that you do have. I plan on volunteering more in the new year, in some shape or form, whether it be at the food bank or the ASPCA.
Social Media
Most liked Instagram Photo = 889 likes (!!!)
Mendocino really blew me away. Who would think that photo above was taken in Northern California?! Not I! Pure beauty.
A few close contenders, all taken in Bora Bora:
Check out more photos (and follow me on instagram) here. 🙂
By the Numbers:
It's always fun to look at the social numbers. Can you tell I actually like math? :p
Facebook: 3,210 3,288 Fans (+78)
Instagram: 8,875 10,671 Followers (+1,796)
Twitter: 13,056 13,571 Followers (+515)
It's kinda sad how slow Facebook progresses. But at least the numbers are in the positive, right?
I finally finished reading Crazy Rich Asians, and although the middle took me quite some time to get through, the ending was phenomenal. There's a sequel (China Rich Girlfriend), and I'll definitely be reading that soon.
Where'd You Go Bernadette was a quick and easy read, which only took about a week or so. The fact that I brought my kindle to work (to read during my lunch break) definitely helped!
Just finished reading The Vacationers last night, and it's a whole lotta fun. Imagine being 18 and spending 2 weeks in Mallorca with your parents, older brother, and your mom's two best friends. So many disasters waiting to happen.
Looking for more girly novels to read on your next trip? Check out my list of 30+ books, which I hope to finish by the end of 2016!
For Your Wishlist
It's almost holiday season! Tell me- where did the time go?! I swear I just started my new job a month ago (I started in August), and now it's almost Christmas! I starting putting together a hip travel wish list (will be done soon, promise xx), for all your travel obsessed girl friends. If you end up buying something for yourself, I won't tell Santa. 😉 Some of my favorites on the list: cool girl gold headphones, a bright and cheery passport holder, and this color block tumbler. (PS- click on photos below to buy).
New on the blog as well:
(a whole long photo list of things I currently use on my travels, or awesome recommendations by others)
Also, my resources page is newly updated. Check it out to learn more about my photography gear, how I edit my photos, and what sites I use to plan and book trips.
New Posts
Kinda proud that I got SIX awesome posts completed in November! 🙂
Travel and Life: October 2015 | Learn about what I got up to last month, and some photos of my adventures in Napa Valley and New York!
Reaching New Heights in Napa: Hot Air Ballooning over the Valley | Something thats's been on my bucket list for years, and I finally got to cross it off in Napa Valley! The views were magical, and the flight wasn't scary, at all!
2015's Best Chick Flicks to Read on Your Next Trip | I got behind on my reading for sure, so I made this list of 30+ books on my agenda for the new few months. Now I have no excuses not to read! I spent a while selecting the funniest, most hilarious, girl boss books, and I highly encourage you to make your own book list!
Snapshots of Antigua, Guatemala | Phew, I finally got through and edited my photos from Antigua Guatemala! What a colorful city it is! Hope to go back in the future!
Airplane Entertainment: How to Keep Yourself Sane on Long Flights | Long flights are the worst!!!! Learn how I occupy myself during those 12 long boring hours sitting in coach.
How to Get Cheaper Airfare Every Time (GUARANTEED!) | Updated this old post to add in more of my tips and tricks on how to save big bucks when buying plane tickets! 14 top tips to be exact!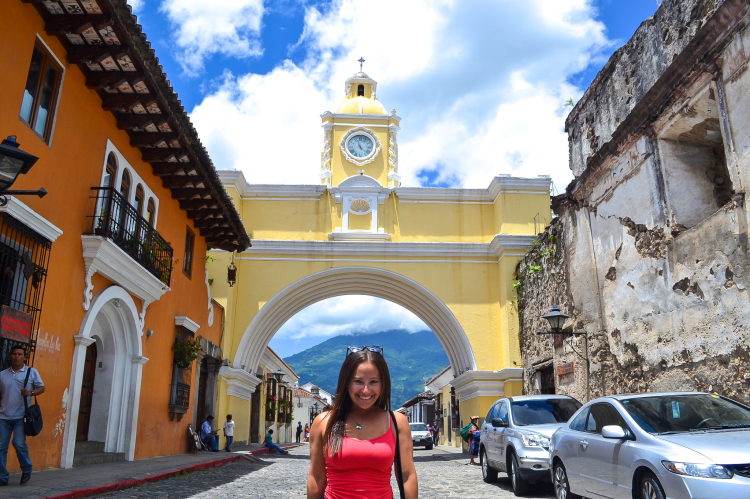 > a city you don't want to miss in Guatemala | www.apassionandapassport.com" width="750″ height="499″>
Goals:
Progress on Past Goals:
+ read/finish two books ✓ | I did it! Finished reading Crazy Rich Asians, and started and finished Where'd You Go Bernadette and The Vacationers, all recommended.
+ spend less time on my computer/phone ✖ | Definitely didn't meet this goal. The first thing I look at when I wake up is my phone, and it's the last thing I see before I go to sleep. NEED to change this horrible habit of mine… any tips?
+ get 10k followers on Instagram ✓ | COMPLETED by a landslide! I surpassed 10K in only 2 weeks, and now I'm over 600+ my goal. Thanks for all of your support!
+ go on 2 weekend trips ✓ | Big Sur and the Marin Headlands
+ try 4 new restaurants ✓ | Gelato Classico (yum doesn't even begin to describe this place), Ramen Yu-Gen, Cafe Epi, Paris Baguette, Cafe Grillades, Lilly Mae's, and Yafa. Oh, and we found bagels almost as delicious as those in NYC (a few minutes from our apartment). 🙂
+ make 4 new recipes ???? | Hmm, there was those pumpkin muffins, turkey tacos, and hmm… need to keep better data on this goal.
+ 10k+ steps a day on my fitbit ✖ | Sad to say I let this goal go by the waste side. It's getting chilly, damnit! My hour walks after work have completely diminished, and now I spent that extra time on the couch. Whoops.
Not terrible. Completed 4 goals, bombed 2, and a had questionable one.
New Goals for December:
+ do a few "holiday-ish" things | (we're going to Mexico over Christmas (#yay), so we'll have to make more of an effort to do things before)
+ read 2 more books, again | (SO many good ones on this list, I can't wait to read them all)
+ start (and finish) planning a last-minute trip to Scottsdale | (I have a few days before Mexico, so why the hell not?)
+ 10k+ steps a day on fitbit | (for real this time…I do have Mexico to be in shape for..)
Blogging Accomplishments:
+ 10K Followers on Instagram (!!!), a major accomplishment in my book. PS: I'm sharing photos of Bora Bora now – go check them out.
+ Another Instagram yay moment: a few big influencer accounts featured me, and by big, I mean accounts with 35K-100K followers. Thanks #thetravelfever and #vacationwolf! And then 4 more featured me. I'm excited to see what comes of this. Just shows that hashtags really do work, and large feature accounts check on each other to see who's featuring who.
+ Lonely Planet noticed me again! Still no feature, but hey, I'll take it (for now). That's me super excited about it in the photo below. 😉
+ LIGHTROOM improvements. I know, I know. I talked about Lightroom last month. But it's just so awesome (and surprisingly so easy to use), I just couldn't not share it again. I've learned even more features this month, and I can't wait to see what the future holds for my photography using this powerful editing tool. Move over Photoshop, Adobe Photoshop Lightroom 6 is where it's at. (download it here).
+ Working with a few tourism boards over the next month and I'm excited to share some articles about these fantastic areas! More to come later. 😉
Around the Web
Some of my favorite travel reads this month
+ Isla Mujeres: My Mexican Island Paradise | Turquoise waters, Harry Potter references, and the fact I'm going to Mexico in a few weeks. >> what could be better?
+ How I Found My Soul Mate on the Road | A super honest and well-written piece. And not what you're expecting. Just read it.
+ 10 Tips to Stay Warm and Stylish This Winter | Because let's face it, I'm not one for style when I'm chilly.
Coming Up:
HOLA, we're headed for Mexico (cue the Mexican accent). We'll be spending Christmas on the beach this year, can't complain about that! Our days will be spent visiting Mayan Ruins, ziplining, exploring cenotes, and swimming with turtles (eeee my favorite). Photo below taken during our last Mexico visit to Cabo.
I'm also planning a long weekend trip to Scottsdale, Arizona with a girlfriend of mine. Think cacti, hiking, and heated pool time. So much to plan, so little time. Oh, and there's a few holiday parties and San Francisco exploring in the mix. Oh December, where has the year gone?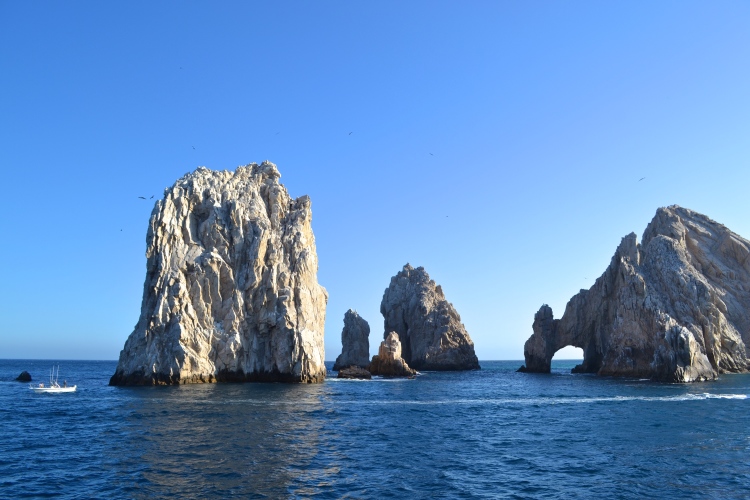 How was your month?
Go on any fun adventures?
Meet any of your goals?
What do you have planned for December?