I'm no stranger when it comes to flying high above new destinations I'm discovering.  I've been in a helicopter zipping throughout canyons and waterfalls in Maui, took off via seaplane above Seattle, and most recently, drifted away in a hot air balloon above the vineyards in Napa.
So when I began researching things to do in Scottsdale, Arizona, I knew seeing the Sonoran Desert from the sky was an absolute must (I had to show my partner-in-crime, Nicole, what all the fuss was about!)
A little about the desert: The McDowell Sonoran Preserve is a large (approximately 100,000 square miles!!!) permanently protected desert habitat that covers large parts of the Southwestern United States and parts of Mexico as well. While we would only be seeing a small portion of this desert landscape from above, it definitely gave us an idea of the expansiveness and grandeur of this area.
Pre-Flight
We appreciated the fact that Hot Air Expeditions picked us up (bright and early) from our hotel, as I was definitely too sleepy to be driving at 6:30am. Once arriving at the take-off site in the heart of the desert, we got to witness the balloons being inflated by larger than life motorized fans, and even help a bit in the process!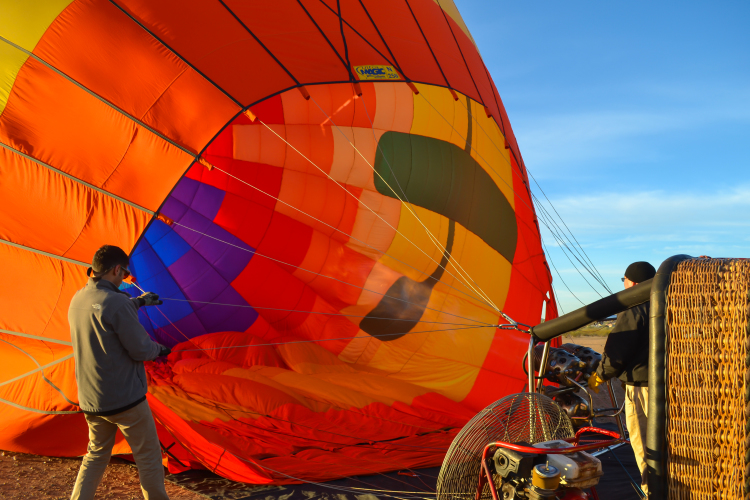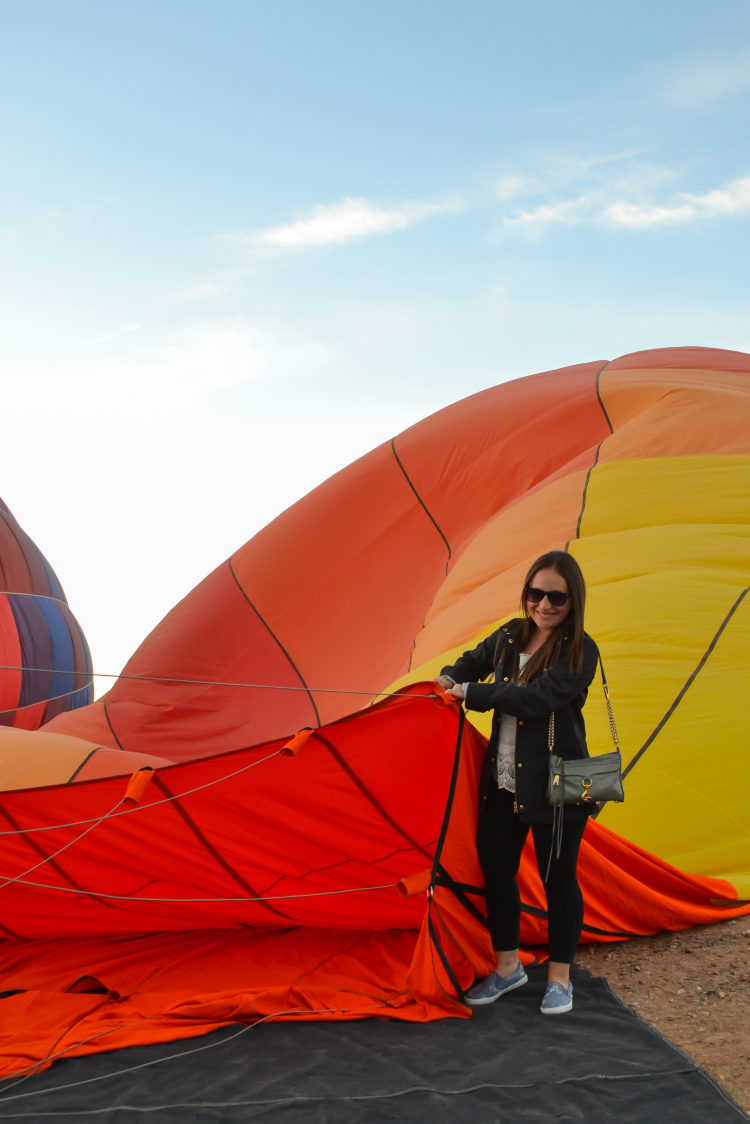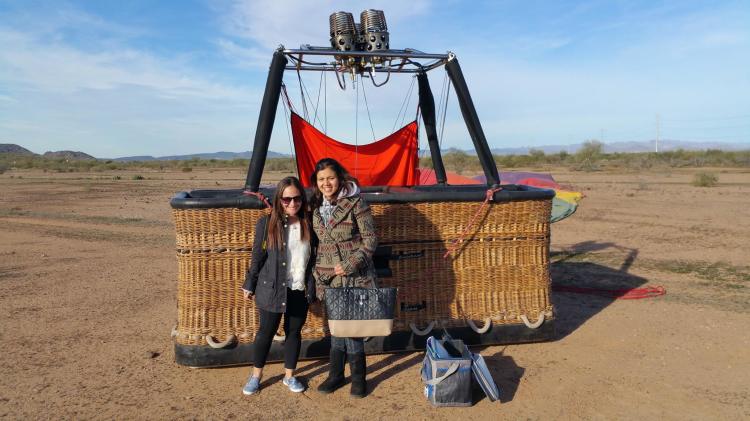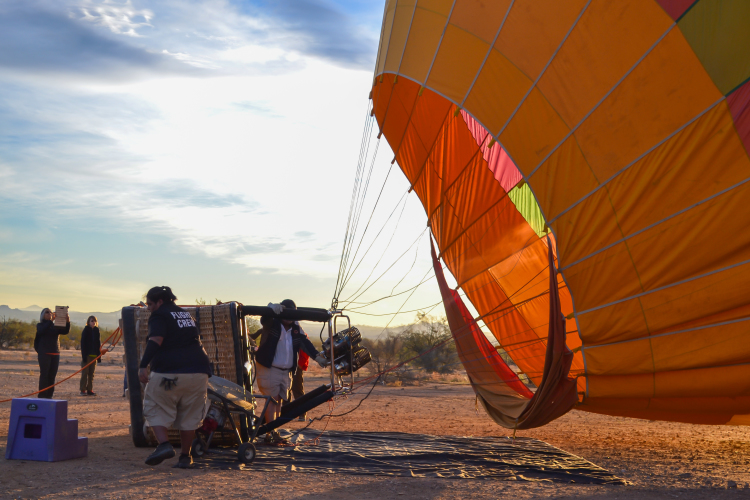 Up, Up, and Away
And then, after climbing into the basket, we were off!
Imagine drifting across the desert, hair gently blowing in the wind, safe and secure in your basket, with giant saguaro cacti and the desert landscape beneath your feet. This (amateur) photographer's ultimate dream!
The balloon flew low enough to admire some desert critters, and up to several thousand feet which provided great views of the mountain ranges surrounding the area. We were lucky to witness a coyote running throughout the landscape – can you spot him below? Look for the shadow if you're having a hard time. 😉 We kept our eyes peeled on the ground shortly thereafter hoping to spot more of these fast runners.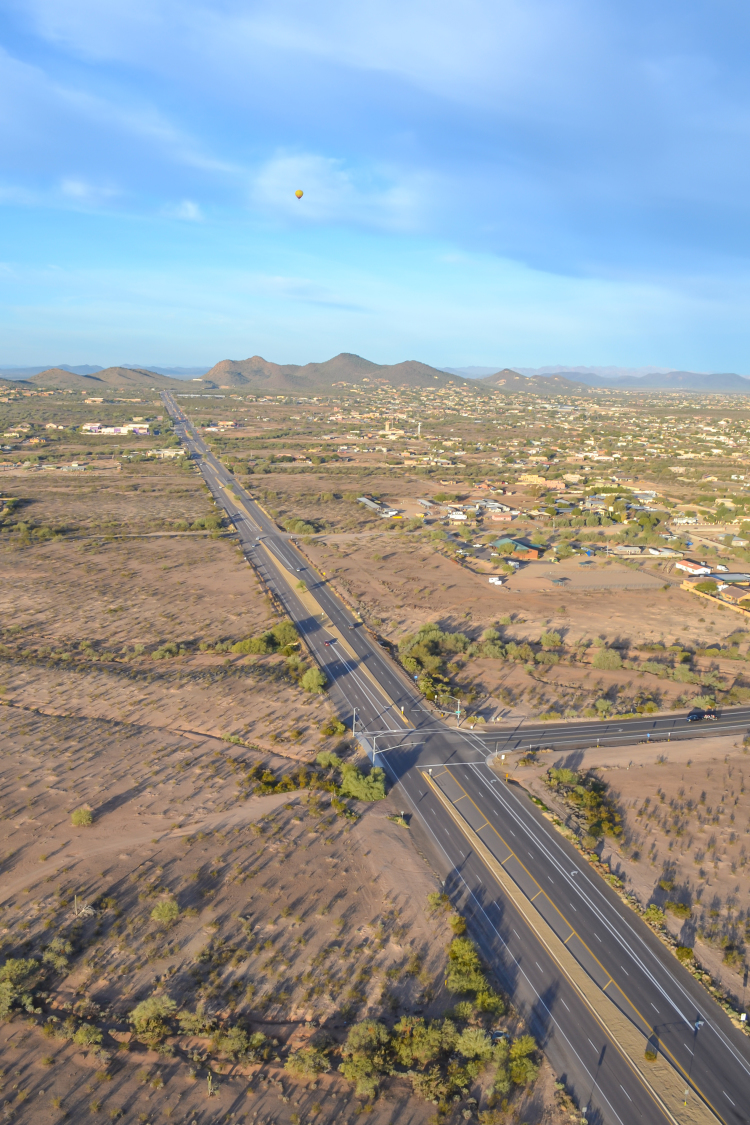 It was the ultimate sunrise at 3,000 feet in Scottsdale.
Everywhere we looked was a new photograph to take and a new found appreciation for the vast world we live in. The flight lasted about an hour and 40 minutes, but leave about 4 hours open for the entire hot air balloon experience.
Back to Earth
One of the best parts? The champagne toast after hitting the ground (smoothly!), much needed after a 5am wake up call. 😉 I especially appreciated all the little details, including the cutest hot air balloon plates set up during breakfast and the babybel cheeses. (What can I say? This girl loves her cheese.)
We feasted on a light assortment of fruit, warm croissants, and cheese in the middle of the desert, with cacti soaring in the distance. You really don't realize just how big they are from the height of the hot air balloon!
With colorful balloons in the distance, soft rolling hills all around, and giant cacti down below, it was the ultimate way to spend a morning in Scottsdale, Arizona. You even receive a Masters of Hot Air Ballooning (at least thats what we called it) post flight!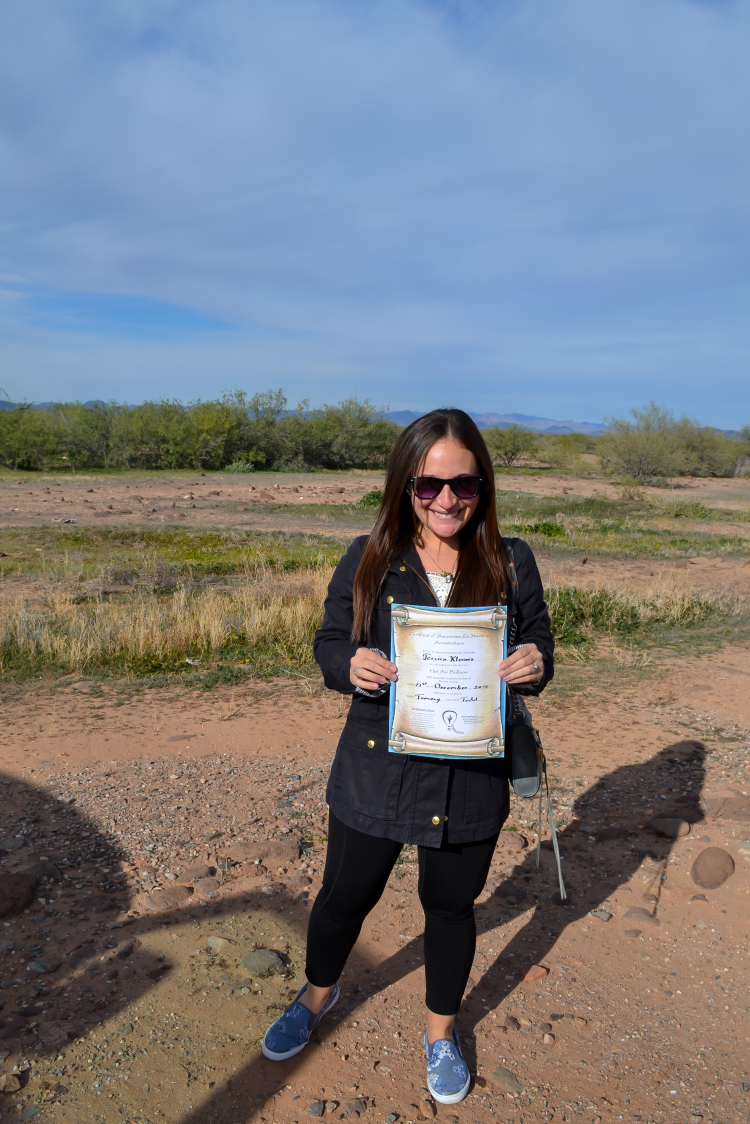 A definite bucket list experience crossed off for Nicole and I (my second balloon ride in months!)  If you are unsure of whether to book this morning in the sky with Hot Air Expeditions, I say, go for a hot air balloon in Scottsdale!  Hold your fear of heights aside, and I'm positive you won't regret basking in the sun feeling as peaceful as ever for an hour or so.
A Little (Important) Info
Safety: Thankfully, hot air ballooning is one of the safest forms of flight known to man. Each balloon pilot holds more than 100's of hours of flying experience, and a Certified Pilot's License. Not only are the balloons inspected regularly, but flights only go out in optimal weather conditions – safety is the company's number one priority.
Weather: Before drifting away, the weather needs be to just right. If it's too windy or other unstable weather conditions arise, your flight will be rescheduled at your convenience.
No wonder Hot Air Expeditions is rated the best balloon flight in Phoenix for 20 years by Fodor's Travel.
Is a hot air balloon ride in Scottsdale on your bucket list?!
I was hosted by the Scottsdale CVB and Hot Air Expeditions, but as always, all opinions (and cheese-loving statements) are my own.