Looking for things to do in Austin, Texas?! You've come to the right place!
Austin is both the state capital of Texas and the live music capital of the USA. With the city motto being 'Keep Austin Weird', you can be sure to find something for everyone!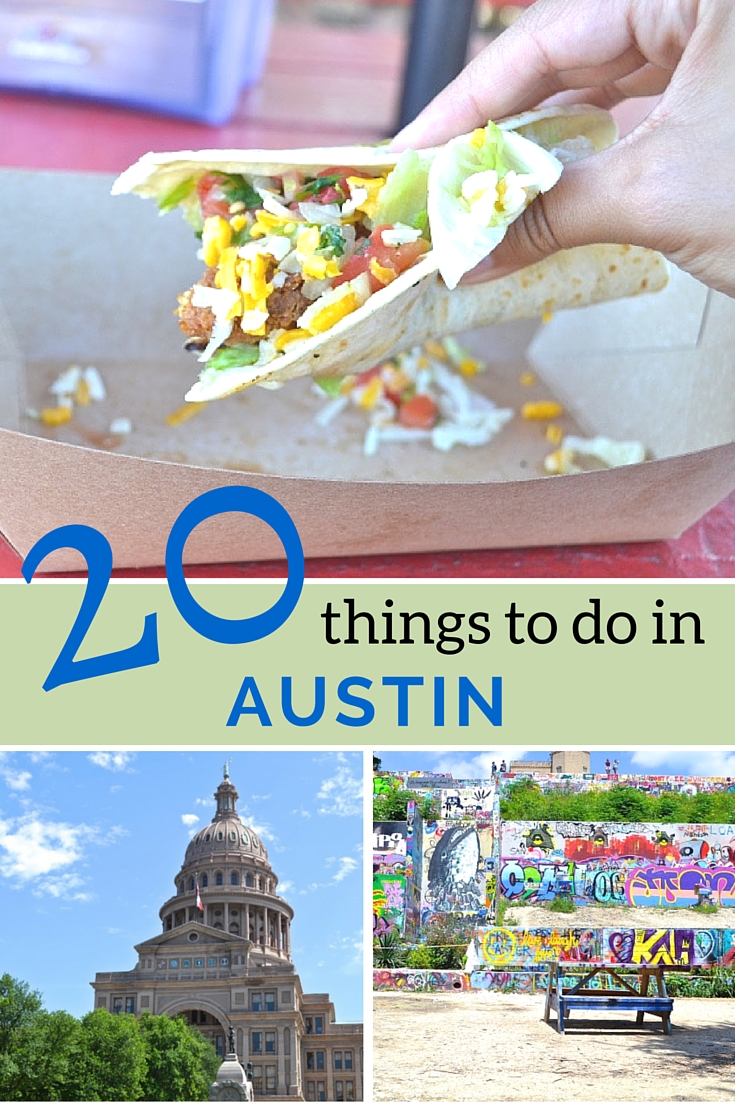 After I visited a few months ago, I've been longing to go back. There are just so many things to do in Austin, it's kind of impossible to cover them all in a long weekend. I asked my friend Natalie to give me some more suggestions for my next visit, whenever that may be (hopefully sooner than later)! Together, we share our top things to do in Austin. Enjoy! 🙂
WHERE TO GET THE BEST FLIGHT DEALS TO TEXAS:
I swear by Skyscanner and Google Flights, and always always always use these two sites when looking for airfare. The option to watch prices and get email notifications are top notch and one of my favorite features of the two. Always check budget airlines that may not be listed, especially if you are coming from other areas of the US with shorter flight times. A great list of budget airlines can be found here.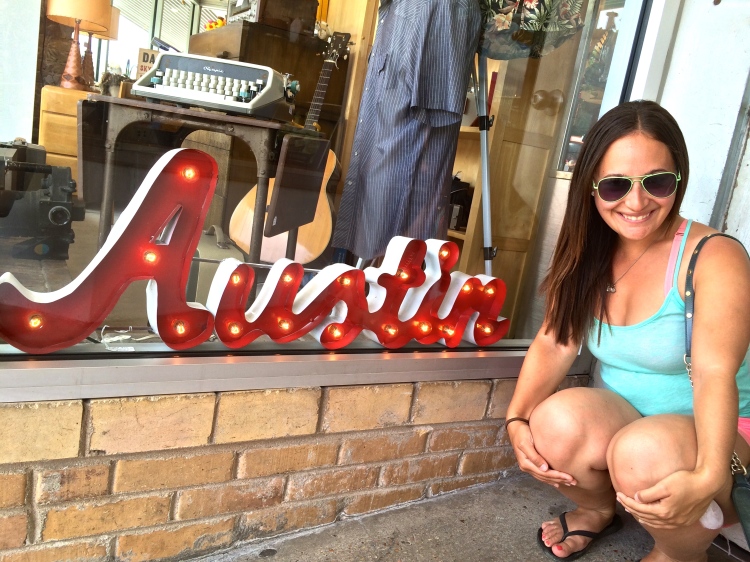 But before we get started, here's a few things to pack to Austin to ensure a happy weekend. 🙂
What to Buy/Pack for your Trip (rotate sideways on Mobile)
Some top things to do in Austin:
1) Sixth Street Historical District
This 9 block area is the place to find great live music and is home to many festivals throughout the year like the Pecan Street Festival, South by Southwest, and The Republic of Texas Biker Rally. Stroll along the streets listening and when you find something amazing pop in, have a drink and sit a spell! Or better yet, wheel around via Segway learning all about Austin's interesting history!
2) Wander around South Congress Street
Congress Street is the perfect spot to appreciate the culture of 'Keep Austin Weird'. People watching is fun – quietly spot unusual colored hair, tattoos and piercings and window shop!! Try Lucy in Disguise with Diamonds for the greatest costume rental spot anywhere! If you feel the need to dress up like something, they can help you!
Hungry? Join a food walking tour along Congress Street! Lots of delicious signature dishes from award winning restaurants, dessert included. My favorite, any day! And no teeny tiny samples here – come hungry, you'll be provided with lots of full size items!
In the mood for shopping? Look no further than Uncommon objects. You'll find anything from beaded handbags to lamps made out of animals – and truly everything you can imagine! Need a sweet treat? Big Top Candy Shop is the place for you! Candy from your younger days and crazy stuff like bacon flavored dental floss. The decorations along are worth the visit, but don't visit without trying the sodas. They have real soda jerks!
3) Go Mural Hunting
You can't visit Austin without hunting down at least a few murals. Some are exceptionally hidden and take some serious scouting for. If you're really into the art, I highly recommend taking an Austin Street Art Segway Tour! You're bound to see the top murals, and a bunch of hidden ones not commonly found by the public. And what's more fun than wheeling past famous murals, graffiti, and other colorful oddities of the city – and stopping to take photos of course!
Read Next: All My Favorite Murals in Austin, Texas (Plus Plenty of other Austin Photo Spots!)
Two of my favorites: "I love you so much" (on the side of Jo's Coffee) and "Til Death do Us Part" (a few locations). Here's a map of murals in Austin– take a look – there are so many!
4) Watch the Bats
Underneath the Congress Street bridge is the largest urban colony of Mexican Free-tailed bats in the world. How many little winged creatures is that? 1.5 MILLION bats migrate each spring from Mexico to Austin and in early June each mommy gives birth to a baby. When the babies are about 5 weeks old they are big enough to fly with mommy each night to eat insects for dinner. They fly each evening. Hop on this tour or this one (ghost stories included) and they'll show you the perfect spot to watch the bats.
5) Try the Barbecue
Texans love barbecue and it is a religion here so trying a few will give you the scoop on what all the fuss is about. Give these a try: Kerlin BBQ, John Mueller Meat, Co., Freedmans, Rudy's, Salt Lick, Stiles Switch BBQ & Brew, and Franklin Barbecue. Dress for a mess and dig in!
Next time I'm in town I'm seriously considering hopping on this Salt Lick and Winery Shuttle – what's better than barbecue and wine tastings all in one day?!
6) See what Tex-Mex is all about!
Tex-Mex is Texas' version of Mexican food and it is delicious! The amount of Tex-Mex restaurants is staggering but these are some top favorites: Roaring Fork (extra credit for a fun name!), South Congress Cafe, Chi'lantro, El Caribe, and Chuy's.
7) Marvel at the State Capitol Building
One of my favorite things to do in Austin! When you visit, you'll understand the saying, "Everything is bigger in Texas!" because the dome of Texas' state capital building is a full 7 feet taller than the national capital building in Washington, D.C.! Texans must have invented the saying, "Go BIG, or go home!"
If you're interested in learning more fun facts about the capital building, sign up for a Capitol Tour via Segway! Super touristy, but oh so much fun! Psst – you'll not only visit the State Capitol of Texas, but 6th Street, Congress Avenue, and so much more. More like a mini city tour if you ask me.
8) Visit the University of Texas
This world class university is beautiful and worth a visit. Many of the walls and buildings are made of Texas limestone and you can see the imprint of fossils.
Look for statues of the famous like Barbara Jordan, who broke the glass ceiling as the first African American to be elected to the Texas Senate and the first black female to be elected to the US House of Representatives, and weird art like the enormous canoe sculpture outside the Hackerman building. Not sure you'll be able to find all these alone? Join a 1-hour U of T tour!
Want a truly Texan experience? Go to a UT football game!
9) Get Weirded Out at The Museum of the Weird
To say Austin is weird is a huge understatement. Here, you'll learn about the famous haunted hotel in Austin (The Driskill, where you can still stay the night today), see "live" models of two headed pigs and other weird animals, and even witness a pretty weird show! If you've been, you know what I mean. Not everyone can handle an electric pulse on their tongue…
You'll never get some of the images out of your head – trust me, I still see that Ice Man in my dreams every once in a while. Well worth the few bucks.
10) Peruse the City Wide Garage Sale – Vintage Market
Shop till you drop at this indoor, rain or shine garage sale. Once home to personal garage sale type items, now you are more likely to find antiques and collectibles than someones lot of used yarn or toys the kids have outgrown. Open weekends at least once a month. Check the website for details and $1 off coupons – www.citywidegaragesale.com
11) Eat a Donut (or two) at Gordoughs
Your tongue will thank you, I can promise you that. With over 20 different creative creations to choose from, you won't get bored of the flavors. This only means you're more than likely to go for seconds. Will you have the Mother Clucker (yes, a donut with chicken), Son of a Peach, or a Funky Monkey?
12) The Bullock Texas State History Museum
Looking to understand Texan's great fondness for all things Texas? This museum gives a history of the Lone Star state along with an interactive movie which is not to be missed (When you jump after the rattle snake scene, don't say I didn't warn you!).
You can't miss the museum as it has the HUGE star out front. Worried that state history is boring? This museum also houses a roller derby exhibit! Austin loves roller derby and the costumes are so cool. Check them out and choose your favorite.
13) Lady Bird Johnson Wildflower Center
Stop to smell the roses and whatever else is blooming during the season of your visit at the Lady Bird Johnson Wildflower Center. Lady Bird Johnson, wife of President Lyndon B. Johnson, but was best known as being a very savvy business lady and lover of nature and flowers. See flowers and more on a tour around the Ladybird Lake!
14) The Cathedral of Junk
Nothing says Austin Weird like a 6 ton pile of junk in someone's backyard. Vince Hanneman started building this creation in 1988 and hasn't stopped adding, tweaking, or fighting to get to keep his creation. The neighbors aren't fond of it, but everyone else in Austin thinks it is just awesome! Call ahead to make sure he'll be there and tour. You have to see it to believe it!
15) Get colorful at Hope Outdoor Gallery
You will want to stay here for hours, as this is one of most colorful places in all of Austin. Local artists come all the time and are constantly covering the current pieces of art with their own touches. Definitely a fun way to spend an afternoon. Bring your camera!
16) Zilker Park
Stretch your legs and work off some of those vacation calories at Austin's 351 acre park. There are almost too many activities to list: hiking, biking, kayaking, jogging, sand pit for the little ones, jungle gym area for the medium sized kiddos and a train ride for the young and young at heart!
17) Watch the Sunset at Mount Bonnell
A short hike from the road, the views from the top of Mount Bonnell can't be beat. A little ways away from Downtown Austin, so if you don't have a car, hire an Uber and you'll get there in no time.
The views aren't too bad during the day, either. 😉
18) Trailer Food
Austin loves its weird served up 9 ways til Sunday and eating from a trailer fits the bill perfectly! You can find everything from sandwiches to cupcakes, burritos to barbecue. Belly up and taste it all! This tour includes some of the best food trucks in the city! Mmmm… the bbq is calling my name.
19) Zip Line
Texas' longest zip line is right here in Austin! Soar over canyons and hills and water on this 3 hour zipping adventure! Do you have a love of adrenaline? This fits your bill as the last part of the zip line experience is from 20 stories high and zips you 2800 feet across Lake Travis. Not for the faint of heart or light of weight – as the minimum weight requirement is 70 pounds.
20) Barton Springs Pool
Cool off in the natural 3 acres pool which is fed from natural underground springs. The water is always 68-70 and perfect for swimming year round. You are in good company – Robert Redford learned to swim here when he was just 5 years old! The pool depth is from 0-18 feet and is surrounded by grassy areas for lounging. Open daily EXCEPT Thursdays.
Looking for some adventurous things to do in Austin? This Barton Creek Mountain Biking Tour may be exactly what you're looking for. And yes, you'll still get to go swimming after cycling just about 8 miles through Texas Hill Country along the creek.
Other things to do in Austin if you've got more time:
Visit Texas Hill Country: not only will you explore most of the city on this tour, but you'll also visit Texas Hill Country in West Austin, which definitely shouldn't be missed! Catch great views of limestone hills, clear lakes, and impressive mansions. Sounds like my kinda day. 🙂
Haunted Austin Evening Adventure: Austin is spooky! Just read about the Driskill Hotel and you'll understand why.
Take an Austin Brewery Tour: You'll stop at 3 award winning micro-breweries, learn how beer is made, tour the facilities, and drink delicious liquid gold. What better way to spend a few hours?
Further Reading and Resources for a Trip to Austin, Texas
Austin, Texas is a very popular destination, and because of that, there's certainly some very valuable resources to read when planning your trip. A few of my favorite resources include:
Tips for Getting the Right Accommodation for Your Budget
Whether your budget is quite large or you're hoping to visit with minimal expenses, finding the best deal on accommodation is super important. One of the most important parts of travel planning, actually!
If hotels are your thing, I highly suggest you check out HotelsCombined in order to find the best deal. Unlike many other booking websites, they scour the web for the best deal from a multitude of booking sites all in one place. You can be sure you're getting the best price. Try them out and see!
Prefer an apartment? I highly recommend you take a look at AirBnB. You can choose from entire homes, apartments, or private rooms – depending on your preference. AirBnB has the greatest number of options and are usually less expensive than staying a hotel. Sign up with this link and you can earn $40 off your next stay!
Last minute travel plans? Check out Hotel Tonight to score a last-minute hotel stay! Use my promo code JKLEINER for a free $25 towards your first booking.
Where to Stay in Austin:
Luxury:
W Austin: Centrally located in Austin, this hotel is located in the Second Street District and is near Austin City Hall and Governor's Mansion. Additional nearby points of interest include Texas State Capitol. Basically, a wonderful location for a long weekend in Austin. At W Austin recreational amenities include an outdoor pool and a health club. The hotel also features a restaurant and a full-service spa. Check prices here.
Moderate:
Hyatt Regency Austin: This 16-story Austin Downtown hotel is adjacent to Lady Bird Lake, steps away from the South Congress Avenue and 6 blocks from Sixth Street, where live music, choice restaurants, and quaint shops abound. Less 1 mile from Austin Convention Center. Guests can take a dip in the hotel's outdoor pool and spa tub, relax on the sundeck, enjoy the view over the Lady Bird Lake, or rent mountain bikes nearby for a spin around the scenic 9-mile Town Lake Trail. Check prices here.
Budget:
Doubletree Hilton Austin: This Spanish-Colonial-style hotel is between the two hottest spots in the city: within 5 miles of downtown Austin, and 6 miles from the Domain, the city's core cultural, business, and entertainment venue. Doubletree Hotel Austin provides an outdoor pool and spa tub, and a fitness center with cardiovascular and strength-training equipment. Check prices here.
Have you been? What's are some of your favorite things to do in Austin?
This post was a collaboration between A Passion and A Passport and The Educational Tourist – thanks Natalie for sharing some of your Austin highlights with us!