Looking for information on taking a hot air balloon in Napa Valley? Here's my exact experience — and yes, it was worth the early morning wake up call!
You know those things that are so high up on your bucket list that you don't think they're actually achievable?  Yea, that was hot air ballooning in Napa for me.  So when two good friends came up to celebrate a special birthday, I ultimately decided I would finally tick this one off the bucket list.  (That was until I found out the birthday boy was afraid of heights – we left them on the ground that morning.)
My Hot Air Balloon in Napa Valley Experience
Our flight was arranged with Napa Valley Aloft, and I give them two thumbs up. Remarkable service, personable and knowledgeable pilot, smooth flight, and delicious breakfast. Can't ask for much more.
Pre-Flight Fun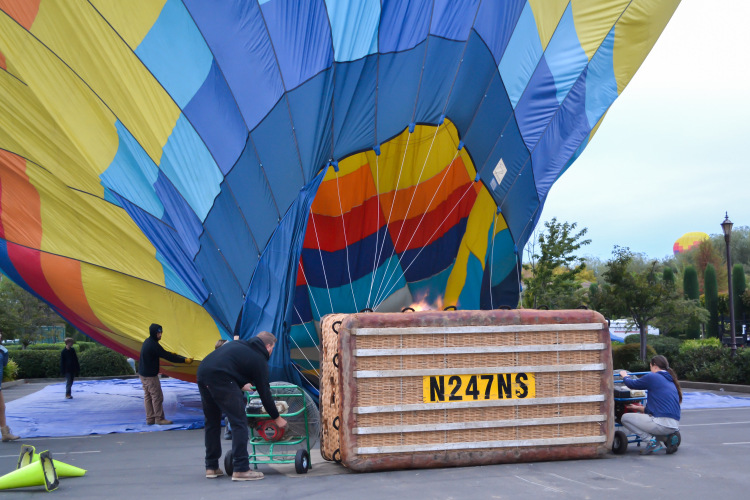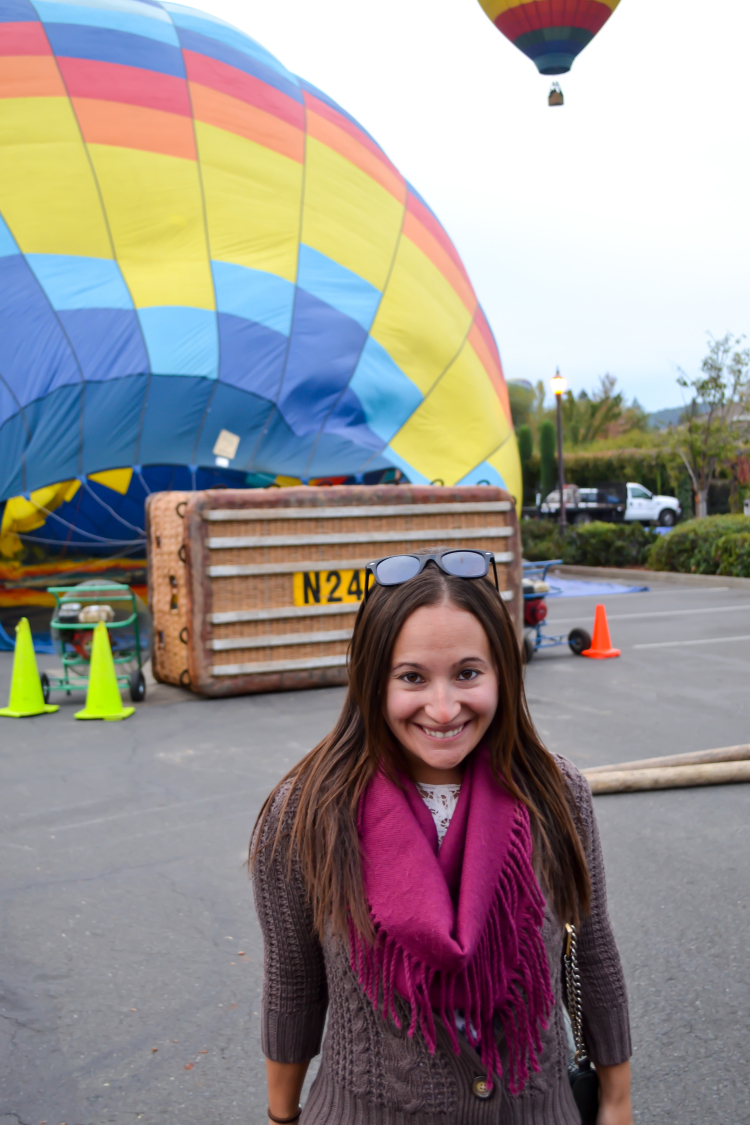 What's your ideal Sunday morning (at 6am) look like? Betcha didn't think I would say waking up. Add in a hot air balloon ride in Napa, and it instantly gets that much better.
From the moment we booked the experience, email communication was great, and we knew exactly what to expect on the morning of the flight. The meeting spot was easily recognizable (even in the morning darkness), and there was coffee, tea, and small pastries laid out at check-in.
The group was huddled together to go over safety breachings, an explanation of how the morning would pan out, and then we were further divided into smaller groups based on balloon and pilot. Each balloon is named after a different ballroom dance, ours was Tango, how fun!
A few moments later, we were outside watching the crew prep and blow up the balloons. A sight to be seen for sure.
Up, Up, and Away
Take-off was simple (well, for the passengers, the crew works hard!). You should see those guys hauling the balloon – it's remarkable what they do.
We were 12 passengers and the pilot in the large basket, and it didn't feel crowded at all. Every single one us had panoramic views of the valley, and it was evident that the group was highly enjoying themselves due to the look of sheer awe. Our pilot was Jayson, a very warm, funny, and gifted balloonist whose enthusiasm and passion for ballooning was quite obvious.
And as the sun began to rise, up the balloon went.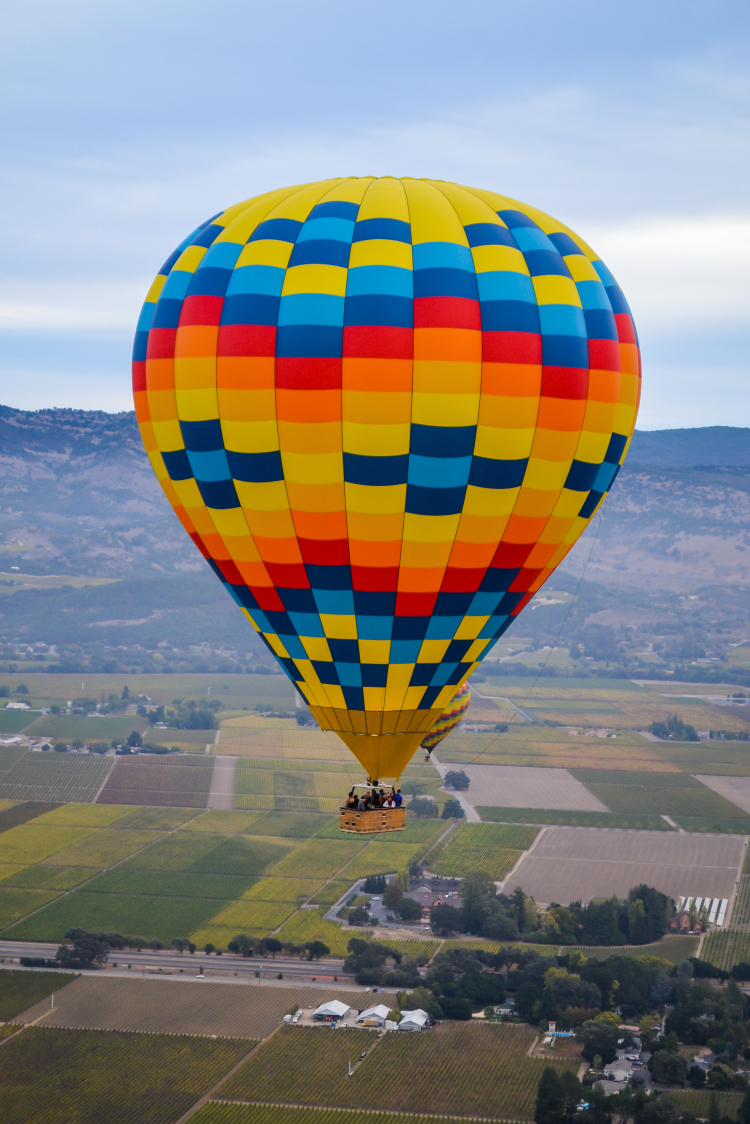 The balloon ride was so smooth – I honestly never knew if we were drifting or going up or down. The panoramic views were inspiring, I couldn't peel my eyes away from the balloons in the distance and the vineyards down below. Although it was a cloudy morning, the sun peeked out a few times.
We were literally drifting above the valley.  It was pure magic.
I'm sure you're asking me this: "Was it scary?" — I have no fear of heights and I had the time of my life. I can see those with a fear of heights feeling a little anxious and unsure of the situation at times. With that being said, hot air balloons are perfectly safe, and I highly encourage those even with a fear of heights to go for it. Just don't look down!
During our flight, our pilot answered all of our questions about what he was doing (it's more complicated than it looks), and about the art of ballooning in general. He made sure to turn the balloon around so everyone had views from all angles, and bobbed the balloon up and down for even different perspectives.
Landing and Breakfast
An hour and a few minutes later, our time in the sky had ended, and we were ready to get back on the ground. Landing was super smooth, with just that one small bump when the basket hit the ground.
Thumbs up to a successful morning!
After a very early morning in the sky, my stomach was growling like no other. Thankfully, the next item on the menu was breakfast. And what a memorable breakfast it was. The diverse menu of hearty eggs and sausage to vanilla yogurt with granola and berries sure filled everyone's hunger, all while hearing tales of Jayson's ballooning escapades. Plus, champagne and mimosas!
When booking the hot air balloon package, you have the option to add a champagne brunch on at the end. And what a great idea that is. Mimosas at 10am after drifting in the sky above the vineyards among other beautiful balloons? I can't think of a better way to end an already spectacular morning.
All in all, it was definitely worth the super early wake-up call. Magic happens at sunrise in Napa – you just need to be awake to see it.
Choose Napa Valley Aloft.  Here's Why:
A family owned business and only 8-14 passengers go up in each balloon
Panoramic views for all
Champagne breakfast post-flight
Each pilot has had extensive training, some with 20+ years of experience
Safe and reputable
The only company who has ballooning rights to Pope Valley – a nearby area with views of the valley in case of foul weather at original meeting spot. You're in Napa – you want to make sure you're getting what you pay for – a hot air balloon flight above the vineyards.
A big thank you to Napa Valley Aloft for our invitation for this spectacular, memorable first hot air balloon flight. We experienced first-class and friendly service from the moment we booked our reservation to our last sip of the mimosas at the post-flight champagne brunch.
Is a hot air balloon in Napa Valley on your bucket list?