Half Moon Bay (and the Ritz Carlton) are places I could go back to every weekend.
I must admit, when I'm on vacation or traveling, I hardly make use of the hotel. I'm normally in and out, with a full agenda of activities to do, things to see, and food to eat.
With that being said, The Ritz Carlton Half Moon Bay was the perfect place for our staycation. We were not only able to catch up after my week in New York City, but escape the everyday of our area. We were able to relax without the pressure of needing to do anything and everything (in true Jess- fashion), but could focus our energy on ourselves. There's no such thing as the go-go-go attitude at the Ritz, and just being there instantly puts you into a calm and relaxed state.
It was a pretty epic weekend, I might add. Without any adrenaline sports or uphill hiking. Let me convince you:
1) Rooms with a View
Our room on the sixth floor provided some of the greatest views I've ever had from my hotel window. And I could even see the view from our King bed! Imagine waking up to the sight of the waves lapping on the sand… I'll let that sink in for a moment. Pure perfection.
The rooms are modern in nature, with a bunch of coastal elements thrown in, making it the perfect balance by the seashore. Our room came with plush terrycloth bathrobes, a coffee and tea maker, and a flat screen tv (which was changed to a fireplace video after turndown service- swoon). It's the little details, people, it's the little details.
Coastal luxury at it's finest!



If you're looking for a private oasis and a little more privacy, consider a guest house on property. They are the ultimate in exclusivity, and closer to the pool!
2) Cozy communal fire pits on the Ocean Lawn
I desperately wish I could live at the Ritz Carlton Half Moon Bay just for this amenity itself. I truly appreciated the fact that the fire pits were on during the day as well as at night, so we could read outside while warming our toes. This is where everyone comes together at night to roast marshmallows and assemble s'mores. Mmm.. just thinking about that makes me hungry for some sweets!
3) Complimentary Glass of Wine
Any hotel that offers it's guests a complimentary glass of wine upon check-in (or any time the guest prefers, from 12pm-10pm- because drinking before noon is unreasonable, right?), is a winner in my book. The receptionist suggested we get our glasses of vino around 7pm and head outside to watch the sunset. And that we did. 🙂
4) Golf Courses on Site
Not only does the Ritz Carlton Half Moon Bay showcase one golf course, but two magnificent championship courses, both with ocean views. My husband will most definitely be back to play a round or two! If you ask the guy in the pro shop about discounted rates, he'll share some secrets about how to play for less… #score.
5) Secluded Location… But not too secluded
There's a lot to do in Half Moon Bay, but you honestly wouldn't find the Ritz unless you're looking for it. You'd probably pass by the road entrance without even knowing it! Definitely makes it feel a bit more private. With that being said, as long as the address is in your GPS, you'll know when you find it- trust me.
The ultimate hidden gem.
You would never guess that The Ritz Carlton Half Moon Bay is only a 25 mile drive from the airport. It's located on a bluff overlooking the Pacific Ocean, but is easily accessible from surrounding cities including San Francisco, Santa Cruz, and Napa Valley.
6) Navio
If you're looking for a memorable meal, make a reservation at Navio, the hotel's most luxurious dining experience, featuring coastal cuisine and an open-air kitchen.
Every single bite we ate, from the lobster bisque and grilled octopus to the bass and filet mignon, was absolutely delicious and perfectly cooked. Props to the chef! The only bummer? We were too stuffed to enjoy a s'mores kit by the outdoor fire pits.



If you happen to be dining on a Sunday, I've heard the brunch is amazing. Sushi, caviar, local cheeses, a raw bar and decadent desserts. Please report back to me after a few mimosas. 🙂
7) Indoor/Outdoor Pool
Ok, so technically you would call this pool an indoor one, but with the ability to prop it's ceiling open, the terminology got a little fuzzy to me.
The pool, just steps away from the main house of the Ritz Carlton, offers heated water 7 days a week for a little easy swimming. There are two hot tubs as well for those chilly days. Or when you just wanna close your eyes and drift off for a few moments.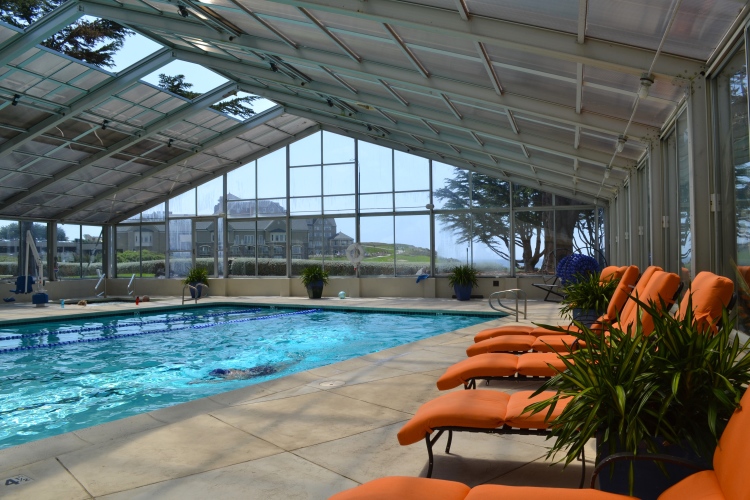 8) Spa
Unfortunately we didn't have time to get any treatments, but from the looks of the spa menu, I'll definitely be back. Pumpkin Facial, Ocean Mist Stone Ritual, or Matanzas Creek Luxurious Lavender Body Massage, anyone?
There are even sauna and steam rooms for use free of charge if you decide not to book a treatment. The co-ed whirlpool (bathing suits required) is on my list for my next visit!
9) Half Moon Bay Sunsets
I'll just let the photo do the talking…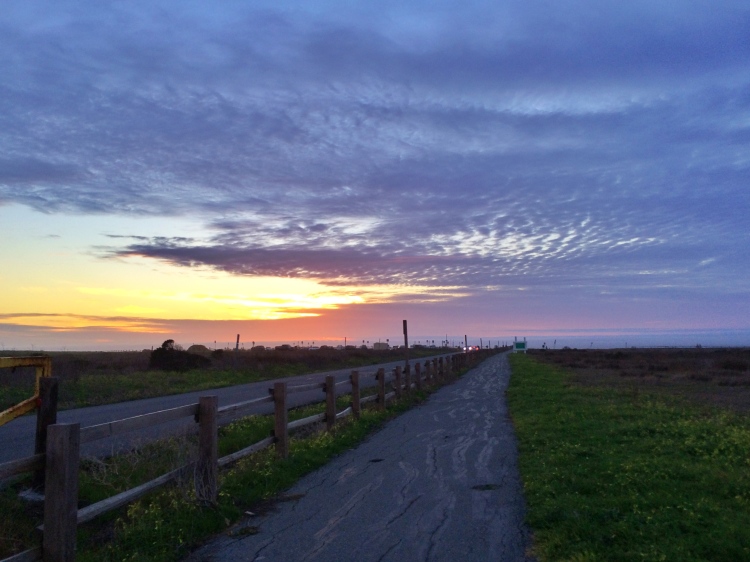 10) Top-Notch Service
It's undeniable. The Ritz Carlton has some of the best service you'll find these days. Everyone is always smiling and very friendly and welcoming, and always willing to go the extra mile to make your stay a memorable one. The turn down service was some of the best I've ever had, from the obligatory sweets on our pillow to munchies and wine throughout the day.
11) Outdoor Space
Easily one of my favorite aspects of the resort. As noted earlier, you'll find fire pits on the Ocean Lawn, where you can sip cocktails during the day and roast marshmallows and assemble s'mores by night. If you're feeling the least bit chilly (which is bound to happen at some point in Half Moon Bay), the Ritz will supply you with blankets to wrap yourself in. Chilly just means snuggling up in lounge chairs under blankets drinking hot chocolate and wine. And that's perfectly fine with me! 🙂



12) Multiple Dining Options
Besides Navio, there's the Conservatory Lounge, which offers lunch and dinner with views of the Pacific Ocean. Don't miss out on some homegrown cocktails here – the Ritz actually uses ingredients grown right in The Conservatory, called The Growing Wall. The Modern Mint Julep, Summer Basil Smash, and the Passion Martini sound deliciously perfect to me.
If you're a wine enthusiast, make sure to stop by the ENO Wine Bar, featuring wine flights and wines by the glass. Wine tasting on property? Sounds pretty cool to me.
Lastly, you can also order some snacks and drinks on the Ocean Terrace. The oyster bar was right up my husbands alley.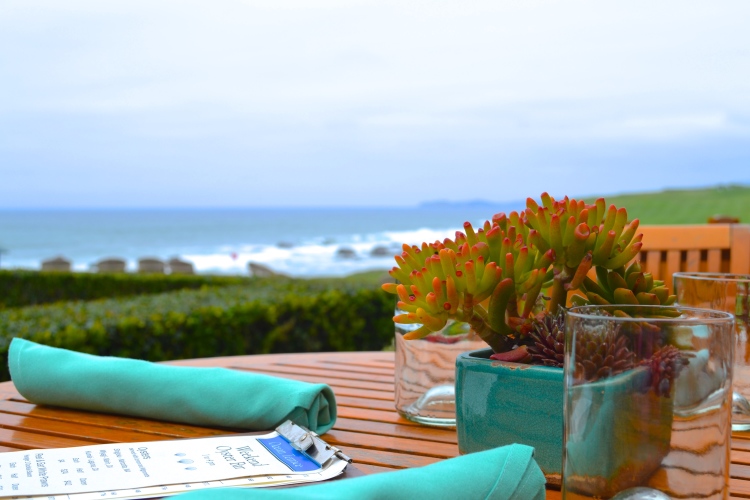 And a few more reasons to love The Ritz:
Complimentary bikes located near the pool area available for checkout
Segway tours located on premise- one of the best ways to see the area
Lighted tennis courts available for use to hotel guests
Final Word
Would I recommend this hotel to everyone I know? In one word, yes. You really can't go wrong here. It's the absolute perfect place for a special occasion, or why not treat yourself?! You deserve it.
More Information
Hotel Website: The Ritz Carlton Half Moon Bay
Location: 1 Miramontes Point Road, Half Moon Bay, California 94019 USA
Accommodation: Luxury
Price Range: $$$
Disclaimer: The Ritz Carlton Half Moon Bay provided us a spacious King room, as well as a delicious dinner at Navio, however, as always, all opinions are my own. I only recommend hotels that I'll keep going back to!
Follow my travels and fun by "liking" my Facebook Page! Thanks! 🙂