Planning a trip to Northern California and looking for the best things to do in Half Moon Bay?! Keep on reading, as this guide will surely entice anyone to take a day trip from San Francisco to Half Moon Bay (or longer!)
Imagine scenic spring walks amongst wild flowers, all the locally grown produce you could want, golden sandy beaches beneath the bluffs, and fresh sea food for lunch. That, my friends, is Half Moon Bay in a nutshell.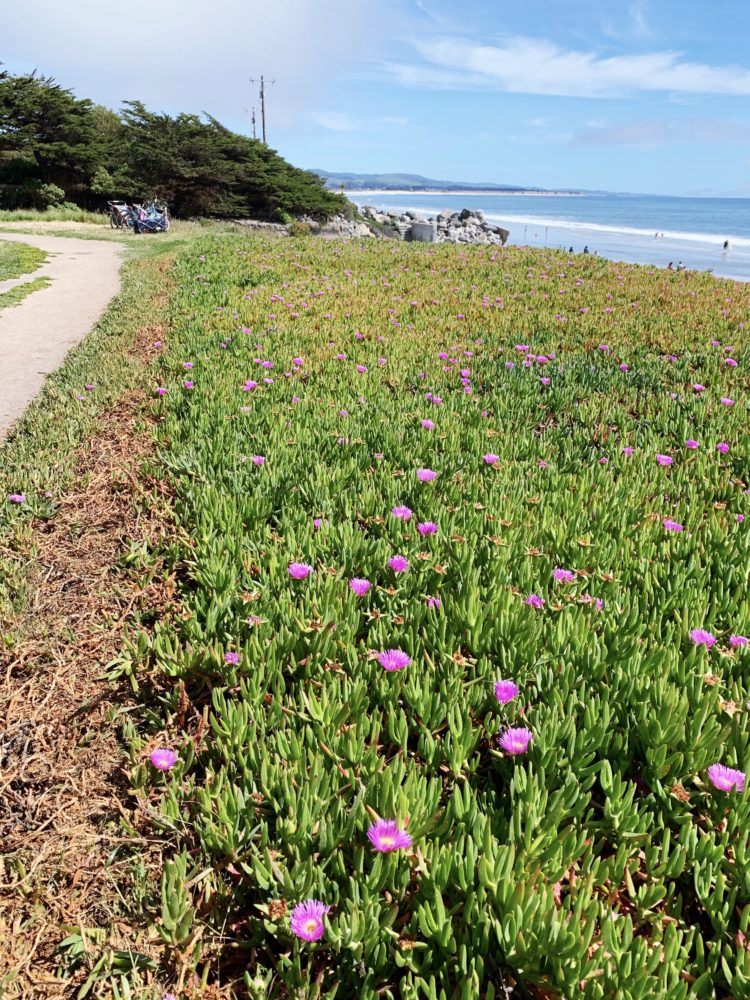 Oh, plus lobster rolls, because no visit to HMB is complete without a visit to Sam's Chowder House. And no one should leave Sam's (or Half Moon Bay in general) off their California coast itinerary.
The first time we visited San Francisco (before moving to the Bay Area shortly there after), we had never even heard of this area. Let alone all the wonderful things to do in Half Moon Bay! We drove the 30 minutes to the coast after a firm recommendation, and found ourselves giddy with excitement as we were shoving our faces with lobster rolls and clam chowder.
We've been back dozens of times since that initial visit, and love spending our weekend mornings strolling by the beach, coffee in hand, feet in the sand. Who knew that a few years later we'd call the Bay Area our home, and be able to spend entire weekends in the cozy seaside village of Half Moon Bay (aka HMB)? We definitely didn't see that coming!
So let's get to it – I can't wait to share all my favorite things to do in Half Moon Bay with you all! But first, answers to a few common questions:
Where exactly is Half Moon Bay?
This sleepy coastal city isn't terribly far from anywhere in the San Francisco Bay Area. Although, always expect some traffic, especially if you're visiting on the weekend.
Because of it's location, Half Moon Bay makes for the perfect day or weekend trip from San Francisco, Santa Cruz, or the SF Bay Peninsula.
BUT these estimated driving times are without traffic. And there's sometimes a whole lot of it. This is primarily because there's only one way in and one way out of Half Moon Bay, depending on where you're coming from. And the streets get backed up, like really backed up.
Suffice it to say, plan to leave home for HMB on the earlier side to avoid any traffic mishaps. And to be on the safe side, just expect some traffic.
If you've never been here before, or don't have access to easy transportation, I highly suggest you spend the night! Yes, you can most definitely knock a bunch of these things to do in Half Moon Bay off your HMB bucket list in one day, but why cram it all in?
Psst: Half Moon Bay actually spans along the Pacific Coast Highway from Montara to Pescadero (and inland), encompassing a bunch of small towns, but this post will be covering the coastal town of Half Moon Bay (and it's parstituants) itself.
I have a separate post on my favorite spots between San Francisco and Santa Cruz which covers the entire area (including Pacifica, HMB, San Gregorio, and Pescadero — ohhh the artichoke bread).
If you're looking to take a much longer trip down the PCH, check out all my favorite stops on the Pacific Coast Highway – yes, all 75 of them!
When To Visit Half Moon Bay
Half Moon Bay is best visited during Spring and Fall. The summer tends to be extremely foggy, and winter calls for storms and high surf.
But the weather in Half Moon Bay tends to be temperamental at best. We've seen crazy clouds and fog at any time of year, as well as sunny, clear skies in the winter months. We even experienced 80 degree sun-filled days this past January! You kinda never know, so just plan for it all!
And then there's the perpetual fog/marine layer. Thankfully, fog usually clears up by midday, but don't be alarmed if the day turns out to be cloudy. The views are still glorious, I promise.
I always suggest bringing along a light jacket or sweater in order to deal with the crazy, constantly changing, California coastal weather. On a typical day, you'll find temps between 58 and 67 degrees F, but remember, you're basically at the beach, so it can get windy!
However, (of course there's a however), it typically feels a lot warmer in the sun. So when my phone/car say it's in the mid-60's and the sun is shining, I usually don't even need a jacket! We always dress incorrectly, so now we just keep layers in the car just in case.
Where to Sleep: Hotels in Half Moon Bay
There are a few accommodation options in Half Moon Bay, but I strongly suggest spending a night (or two) at the Ritz Carlton Half Moon Bay. With beautiful coastline views of the Pacific Ocean, cozy well-appointed rooms, and exceptional service, there's a reason this high-end spot is on so many California bucket lists.
Read about my stay at the Ritz Carlton HMB here! Psst – it was everything and then some.
Yes, it's a more pricy option, so consider spending an anniversary or special occasion here! And make sure you get the s'mores kit. Oh my god.
Other hotels include The Beach House (right next to Sam's Chowder House and free breakfast!), Seal Cove Inn (refined B&B with a pool and hot tub near tidepools to explore), and Oceano Hotel & Spa HMB (waterfront with balconies and fireplaces). I've never stayed at any of these so can't vouch for them personally, but they're places on my list for next time!
Things to Do in Half Moon Bay
Horse Back Riding at Sea Horse Ranch: See the beauty of the coastline while on a guided horse back ride. First time riding? Don't fret. I went riding for the first time ever with them, and I felt very safe and comfortable with my helmet on! Hoping to go again soon! Definitely one of the most unique ways to enjoy the beach, and something I recommend to everyone looking for things to do in Half Moon Bay.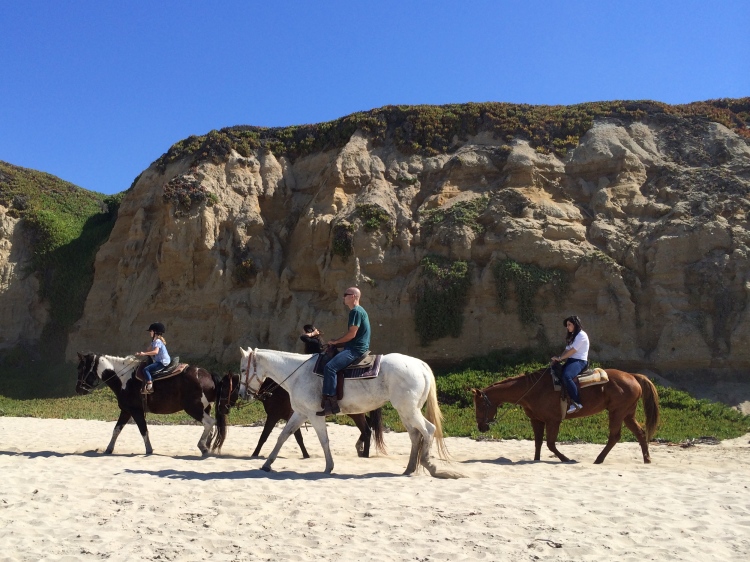 Roast Marshmallows and Make S'mores: There's absolutely no better way to spend a chilly evening in the area. Head to the Ritz Carlton Half Moon Bay and enjoy their outdoor communal fire pits, perfect for roasting marshmallows and s'more making.
Or have a cocktail and watch the sunset at the Ocean Terrace Bar. Fancy a pile of Alaskan King Crab legs? You're in luck – standard menu item on the Raw bar. (All more than acceptable options).
We once stayed the night at the Ritz and the views of the nearby golf course with the ocean in the distance more than made up for the (somewhat-significant-but-not-entirely-crazy) cost.
If you're looking for a night of classy luxury away from the busy life of San Francisco, the Ritz Carlton Half Moon Bay is your best best. Just promise you'll send me some s'mores! 😉
READ NEXT: Our beachy-chic stay at the Ritz Carlton!
Go Kayaking/Canoeing: If you're up for a little adventure, paddle around Pillar Point Harbor on an organized tour in a kayak, or rent a stand up paddle board- wet suit and safety instruction included. Something still on my Half Moon Bay bucket!
Have a Lobster Roll at Sam's Chowder House: Yes, you'll find this in the "where to eat" section below, but lobster rolls at Sam's are my absolute favorite! So of course I had to include it as many times as I could!
We love to get the "naked" rolls (fresh lobster in butter) and sit outside on the patio in the sun overlooking the Pacific Ocean. It's by far one of our favorite things to do in Half Moon Bay, and a place we've been gushing about (to just about everyone) for years!
And psst – there's beach access directly behind Sam's. Just walk to the left of the restaurant from the parking lot, go down the stairs, and voila – beach!
If you're reading this and can't get down to HMB but I have you craving a lobster roll, there's usually a Sam's Chowder Truck in Golden Gate Park. Shhhhhh!!!
Discover the Beaches of HMB: There are numerous worthy beaches all along the coast, so make a day out of it and explore as many as you can (or do as we do and just keep going back 😉 ). A few of my favorites- Poplar, Mavericks, and Miramar.
The beaches of HMB are more for hanging out on. You'll see groups of friends/families sitting on the sand having picnics. Bring a picnic blanket, some snacks, some beers, and you're good to go.
Many visitors are surprised to hear this (especially out-of-towners), but you can't really swim in HMB. Not only is the Pacific Ocean kinda too cold in Northern California, but Half Moon Bay is known for strong rip and high tides.
Note that the beaches are located below some spectacular bluffs – beautiful, but that means you'll need to trek down on rocky paths if you can't find a set of steps nearby.
Visiting in winter? Look out on the horizon – you may be lucky to spot a few whales or pods of dolphins!
Watch the Surfers at Mavericks Beach: THIS is the spot to watch surfers on the west coast, as the biggest, best, most perfectly insane waves can be found here. And some are even as massive as 60 feet high (when the conditions are right); absolutely incredible.
How do the waves get so large? Winter storms and underwater geography combine to crease some of the most dangerous waves… in the world. So, if you're just getting started, let the pros ride these massive waves, and save your board for another beach.
There used to be an international surfing competition over here, but it's been cancelled the past few years (due to the waves not being large enough). Hopefully it returns! If you're super into the sport and local, make sure to keep tabs on when the Mavericks Challenge will happen.
Being one of the largest one-day invitational surf competitions in the word, it's definitely a bucket list item for any surfer dude. During the international competition, 24 big-wave surfers are invited ride the waves at the legendary Mavericks surf break.
Half Moon Bay Coastside Farmer's Market: HMB is full of charming farms and nurseries, so there's no better place to check it all out than at the Farmer's Market! You'll find fruit jams, fresh pies, locally sourced coffee, and a plethora of locally-grown fruits and vegetables. Think strawberries in the spring, sweet cherry tomatoes in summer, and orange squash in the fall.
You can even chat with the farmers and growers to learn exactly when your produce was planted and picked!
The market occurs on Saturdays from May through December, from 9am-1pm. If you're visiting on a different day, check out Andreotti's Farms – I'm dying to go their to see the sunflower fields!
Segway Tours along the Coastal Trail: Probably my favorite way to get around! Segways are just so much better than walking, and way more fun! It's takes a few minutes to get used to, but once you have it, you'll never want to walk again!
Go Tide Pooling: The JV Fitzgerald Marine Reserve is a marine protected area, where you can see lots of different creatures, including starfish, crabs, barnacles, mussels, sea urchins, and more. Make sure you check the schedule for low tide – you won't see anything (and I mean anything!) during high!
As it should be, JV Fitzgerald is a no-take area, which means you're not allowed to take anything (and I mean anything, not even a shell). Let's do our part to help preserve and protect the delicate creatures who call the tide pools their home. <3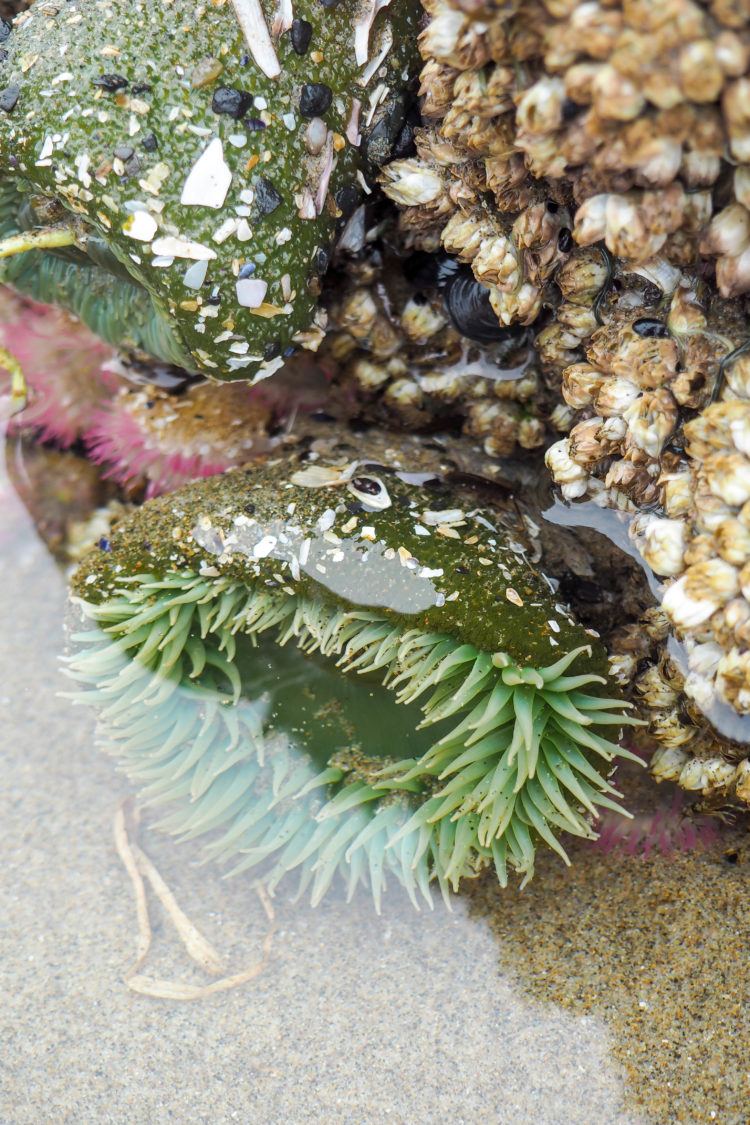 Wander around Half Moon Bay Main Street: Check out the numerous galleries, independently owned shops, and quaint little restaurants. The street isn't too long, but it's a great place to stop for an hour or two to grab lunch or dinner in between activities or beach lounging.
Walk the Coastal Trail: The Half Moon Bay coastal trail is 3.5 miles of scenic beauty along the Pacific! You don't have to walk the whole thing, so pick a spot to park and get moving.
We usually park at Poplar Beach, then choose a direction to walk in. Some of it's paved, some of it's trail, but no matter which way you go, you're promised unparalleled views of the Pacific ocean. My favorite's in the early spring when the wildflowers start to bloom, known in Half Moon Bay as the "sea of yellow".
Other times, we park at the Ritz Carlton which has free designated spots for Coastal Trail users (just tell them at the entrance). If you pick this way, you'll walk past a few beautiful golf courses as well! Beware, it can get quite windy over here, especially in the cooler winter months.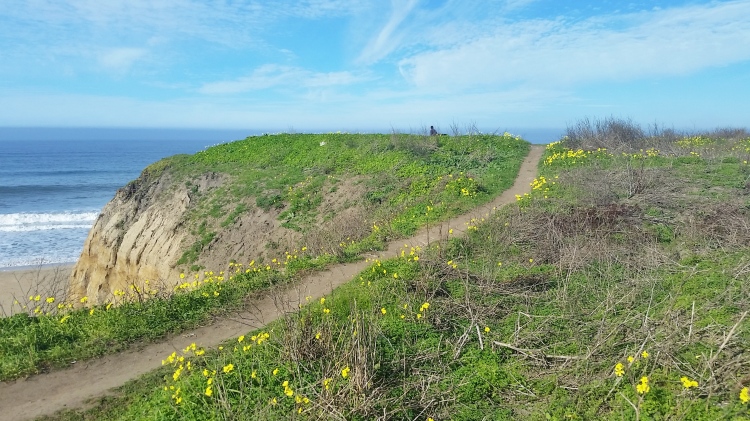 Get your Hike On: Half Moon Bay has numerous trails, two favorites including Purisima Creek Redwoods and Montara Mountain. Purisima offers 24 miles of trails through the redwoods for casual strolls or difficult hikes with gorgeous views of the Bay Area.
A few miles north you'll find Montara Mountain, which is a long uphill hike, but on clear days, provides some of the best views of the Pacific Coast. You can even see the Golden Gate Bridge from a number of stops. Definitely on my San Francisco Bucket List for sure.
Play Golf: Okay, so I know this isn't for everyone, but if you're an avid golfer, just know there's a bunch of courses here in HMB!
Take in the Sunset(s): There's absolutely nothing better than witnessing a beautiful sunset with the ones you love. Just check out my sister-in-law and little nephew below – this photo makes me swoon! And the one's in Half Moon Bay are some of the best I've seen in the Bay Area.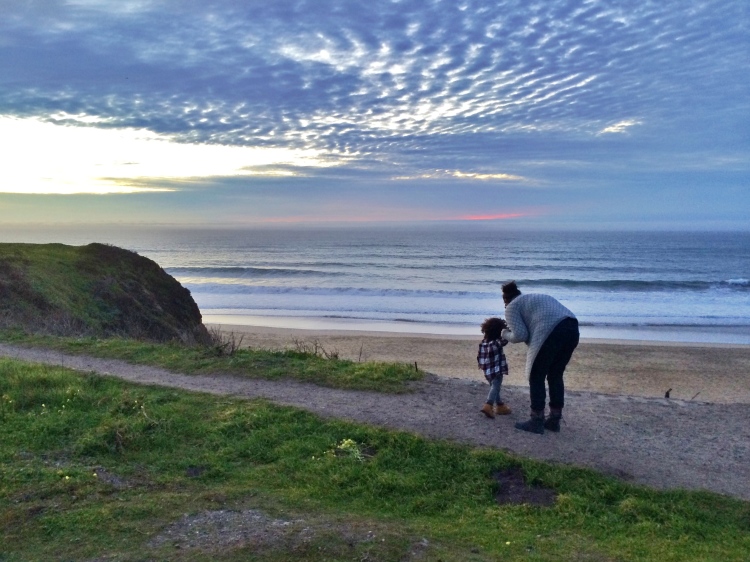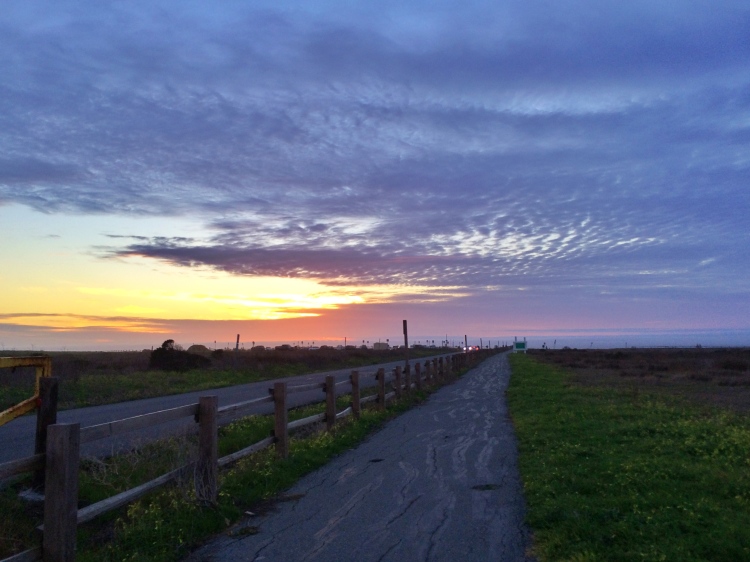 Seasonal Things to do in Half Moon Bay
Sure, Half Moon Bay is wonderful anytime of year. BUT if you happen to find yourself visiting during one of the months below, make sure to check out the seasonal activities! Half Moon Bay is SO MUCH FUN in the fall, and I keep finding myself going back year after year!
Lemo's Farms for some Fall Fun: If you have young kids, or are undoubtedly a kid at heart, you'll enjoy the frozen custard and other sweet treats. It gets super crowded during the fall months, but worth it at least once. The perfect spot to pick out your pumpkin!
We went with my then-2-year-old nephew a few years ago and it was so much fun! There's even a small petting zoo for the kids! AND corn stalks to wander through!
Wild Mustard Fields in February and March: You're driving by and then BAM — huge fields of tiny yellow flowers. Those are the wild mustard fields, popping up every February in HMB. The farm recently started letting visitors in with paid admission, after they've had problems with people unfortunately trespassing in the past for photos. Lots more info here!
U-Pick Sunflower Fields in September and October: Always wanted to wander throughout a bright yellow sunflower field? Now's your chance — at Andreotti Family Farms! This is one of my favorite fall activities in Half Moon Bay, and I can guarantee you'll have oh so much fun. All my sunflower field tips here!
Farmer John's Pumpkin Farm: Another great fall activity, and it's located literally right next to the sunflower fields (so, definitely combine the trip!). You'll find pumpkins of all different colors, and I loved just reveling in the fall spirit for a while!
Other Things to do Near Half Moon Bay
Take a Side Trip to Pescadero: Just about 30 minutes south of Half Moon Bay, you'll find Pescadero, a charming little town with world-renowned artichoke bread. Make a stop at Pie Ranch to pick up some fresh produce and a seasonal pie as well. Pigeon Point Lighthouse (my favorite and where I take ALL visitors) and more tide pools are nearby too!
READ NEXT: All Favorite Stops in Pescadero (+ bonus Davenport!)
Watch the Elephant Seals at Ano Nuevo State Park: If you're visiting the area from December – March, you're in for a treat. Every year during these months, a large colony of elephant seals assemble on the beach to molt and give birth. If you're lucky, you'll see some pups! Do note this access to see the elephant seals requires a moderate hike, so bring your sneakers and leave your sandals in the car.
Places to Eat in Half Moon Bay
SNACKS + DRINKS
BREAKFAST, LUNCH, + DINNER
Hope you enjoyed my personal favorite things to do in Half Moon Bay! Have you been before? What are you adding to your HMB bucket list?!