Heading down the California coast and looking for the best Pacific Coast Highway road trip stops? I've got you covered – I've driven the length of Highway 1 numerous times!
On any PCH trip you'll find rugged, wild beauty, small town charm, big city sights, sunbathed lifeguards, and obnoxious elephant seals. There's wild zebras, stunning coastline views, fresh oysters and lobster rolls, palm trees for days, and water so turquoise you won't believe you're in California. The list goes on and on.
It's by far one of the most famous drives in the USA, and a classic American road trip that should be on everyone's bucket list. It's what California dreams are made of!
I feel so lucky to live in California and be able to drive portions of the Pacific Coast Highway whenever I please! On a typical weekend you'll find us hopping in the car driving down (or up!) the coast, sometimes to Mendocino, other times a quick day trip to Santa Cruz, and more recently all the way down to OC's Huntington Beach and San Clemente.
California is absolutely stunning, and after making these Pacific Coast Highway stops, you'll quickly understand my obsession with the state. And I can guarantee you'll be just as enamored – it's hard not to!
Instead of just sharing the most common stops on the Pacific Coast Highway in this PCH blog post, we're getting super specific here. Most Highway 1 trip planners recommend the same exact stops while driving the Pacific Coast Highway, but I'm sharing a plethora of my own favorites as well as all those more popular ones. This way, you don't miss anything!
From exact restaurants (and menu items) I love, scenic coastal trails and tide pools not everyone knows about, where to go winter whale watching, and oh so much more.
And if you're not sure how to start planning, this Pacific Coast Highway road trip itinerary will surely help! Do them all or pick out your favorites – I promise you'll have the most amazing time exploring California.
Common Questions about driving the Pacific Coast Highway:
Where does the PCH start and end?
Technically, the Pacific Coast Highway starts near Leggett in Mendocino County and ends in Dana Point in Orange County. Many people (including my previous self!) assume the PCH spans the entire coast of California (from the California/Oregon border down to San Diego) – but that's wrong information! Ya learn something new everyday, right?!
And no, the Pacific Coast Highway does not include the coastal areas of Oregon or Washington, although you'll find plenty of PCH resources covering them. They're a great addition if you wanna extend your PCH trip, just know they are technically not part of Highway 1.
How long is the Pacific Coast Highway drive?
At just over 656 miles, the Pacific Coast Highway is the longest state route in California. To put that into perspective, it'll take about 17 hours to drive the entire thing (without stops and traffic).
With that being said, don't rush it!
Psst: Don't make the mistake of driving inland. It's much shorter to drive straight from Leggett (the starting point of the PCH) to Dana Point (the ending point), at around 10 hours.
You don't wanna do that as you'll be missing out on the entire coast (since GPS will take you on completely different highways – the 101, 580, and the 5). In order to see all the best Pacific Coast Highway stops, you'll need to make sure to drive down Highway 1, which hugs the coast.
Are the PCH and Highway 1 the same thing?
Yup! Highway 1 is literally the Pacific Coast Highway. It does get a tad confusing, as it's also commonly referred to as "the California Coast", California 1, State Route 1, California Highway 1, Coast Highway, PCH (the acronym for Pacific Coast Highway), and most simply, "The 1" (typically by locals).
And to make matters even more confusing, some parts of Highway 1 have other names as well (including the Cabrillo Highway and Shoreline Highway).
When's the best time to complete this Pacific Coast Highway road trip itinerary?
We're blessed here in California – there's never really a bad time to be driving the Pacific Coast Highway. However, if you're looking for sun, make the trip during late spring (April/May) to early fall (September/October).
BUT do note that weather can be temperamental on the coast, no matter the month. Don't let that deter you – just keep a light jacket and sweater in the car.
While checking out the best stops on the Pacific Coast Highway, you'll most likely encounter a whole slew of different weather – fog, sunshine, overcast skies, misty mornings, marine layers, etc. You may even see all of these in the same day!
Skip the winter months (November to March-ish, although highly dependent on the year), as this is when California see's it's most rainfall.
Also, skip May and June since they're known for cloudy weather. Us locals actually refer to them as "May Gray" and "June Gloom". You probably won't get clouds all day everyday, but it's hard to say if the clouds will burn off mid-day or if the clouds will persist until night fall.
My favorite time for a Pacific Coast Highway road trip? I'd opt for early Fall if you can swing it – the weather will be near-perfect, summer crowds will have lessened, and high season hotel prices will be slowly dropping. It's our favorite time of year for a Pacific Coast Highway drive.
Which direction on the PCH should I drive in?
I like driving from North to South, since you'll be on the coastal side of Highway 1, meaning better views of the ocean. Plus – many of the best Pacific Coast Highway stops have turn-offs/parking lots closer to the ocean (driving south will give easier access to these).
If you're a nervous driver who doesn't feel comfortable on cliffs, you may want to consider driving from South to North, as you'll be on the inside lane of the PCH and further from crazy cliff droppings.
Since I'm typically coming from San Francisco, I've listed my favorite stops on the PCH from North to South, just FYI. 🙂
Can I really make all 75 of these Pacific Coast Highway stops in one trip?
It really depends how long you have for your PCH road trip and how jam-packed you want your days to be.
If you want to follow this exact Pacific Coast Highway road trip itinerary, I'd plan for at least a week. And a week is realllllly cutting it close. I'd aim for 10+ days or so. Thankfully, a lot of the stops are pretty close together, so if you start your days early and plan efficiently, you can see quite a lot each day.
If you've already been to the main cities on this list of PCH stops (San Francisco and Los Angeles), feel free to skip them so you have more time for other less discovered areas. BUT if this is your first time to California and you've never had a mission burrito in SF and haven't marveled at the Griffith Observatory in LA, don't miss those!
It'll take approximately 17 hours or so driving down Highway 1 from Leggett to Dana Point. However, in order to save some time, your GPS may tell you to drive a bit inland on the 101 (depending on which PCH stops you make).
This is fine, just know you won't be driving on the coast the ENTIRE way and will miss out on a few ocean views. Thankfully there's SO much to see, a few missed scenic stops is ok – especially if you're short on time!
What's included on this list of the best Pacific Coast Highway stops?
I've listed out all my favorites – from semi-secret local stops to all those well-known tourist favorites. You'll find a beach with a huge rock shaped like a shark fin, the best lobster rolls known to man, my all-time favorite place to watch the sunset, and even a glitzy castle and a kitschy pink hotel.
Food is a big thing for me (did someone say pie?), so I've also made sure to include my favorite foodie spots as well! We all gotta eat anyways, may as well make the meal a good one!
So, put on your seatbelt, plug in your GPS, and get ready for the ride of your life. Let's get this Pacific Coast Highway road trip itinerary started!
NORTHERN PACIFIC COAST HIGHWAY STOPS
Leggett to Monterey
1. Pacific Star Winery (Fort Bragg)
Let's start this Pacific Coast Highway road trip itinerary with something everyone loves most – wine! And great views!
We just learned about Pacific Star Winery on our last trip to Mendocino and Fort Bragg, and I have to stay, it's now one of our favorite Pacific Coast Highway stops! My suggestion – do the $10 tasting (you get to try 6 different wines!), and bring along some picnic supplies (we love some meat, cheese, and crackers). There's tables and comfy adirondack chairs overlooking the rocky coastline to use.
2. Glass Beach (Fort Bragg)
The next stop on this list of best stops on the Pacific Coast Highway is one I'm sure almost everyone's already heard of – Glass Beach!
I'm sure you've seen photos of it before (it's commonly on lists of the most beautiful places in California). This rocky waterfront area is known for its colorful sea glass dotting the shore. And where did the smooth glass come from?? Years of dumping garbage on the coastline near the northern part of the town.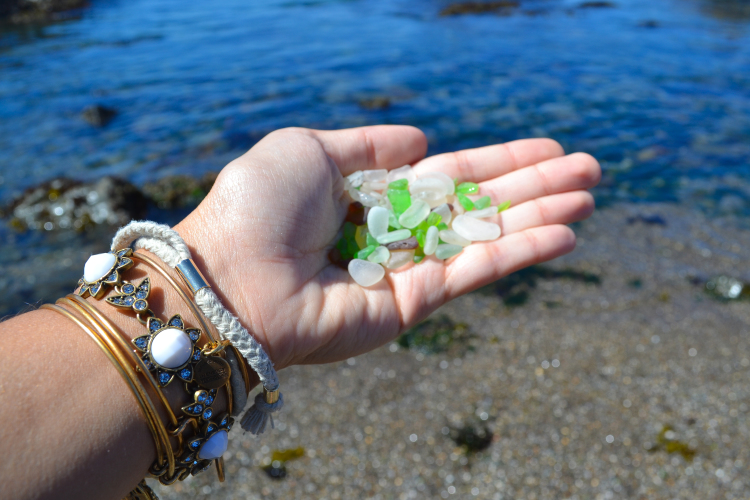 I remember collecting sea glass when I was a kid so I loved this spot when we were visiting Fort Bragg!
Unfortunately, the amount of sea glass is not as plentiful as it once was (mainly due to people filling up zip lock baggies and taking the glass from the beach). Because of this, you may be slightly disappointed and/or underwhelmed as the current beach does not look exactly like those stunning photos online.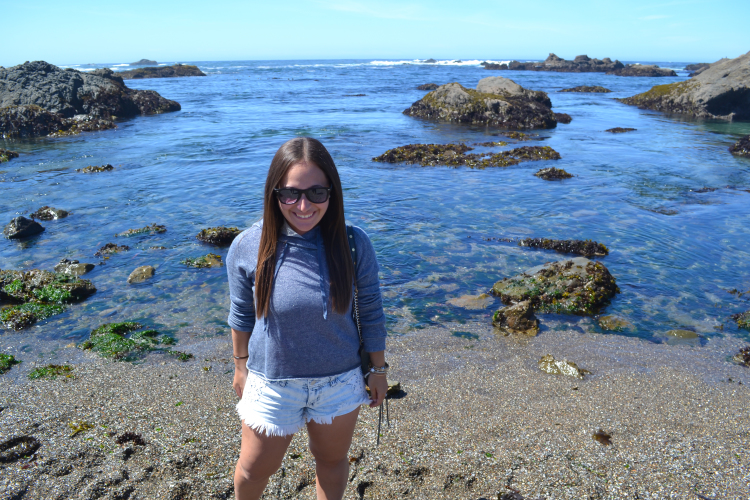 But, it's still beautiful, and kinda fun to look through the sand and find little treasures!
However, do your part and DO NOT TAKE ANY SEA GLASS FROM THE BEACH. I repeat – leave the glass at the beach. Don't take any of it home. Sure, gather some up for photos (like I did), but leave the glass on the beach once you leave.
Local Tip: I've heard there's more glass on the beach a bit south of the main beach. You will have to walk down a cliff to reach this area though (ever since a landslide took the stairs out a few years ago).
And if you don't see much glass, look for creatures in the tide pools instead. 🙂
3. Cowlicks Ice Cream (Fort Bragg)
Figures that the second stop on this Pacific Coast Highway road trip itinerary guide is for ice cream. That's typical me. Typical, typical me (haha).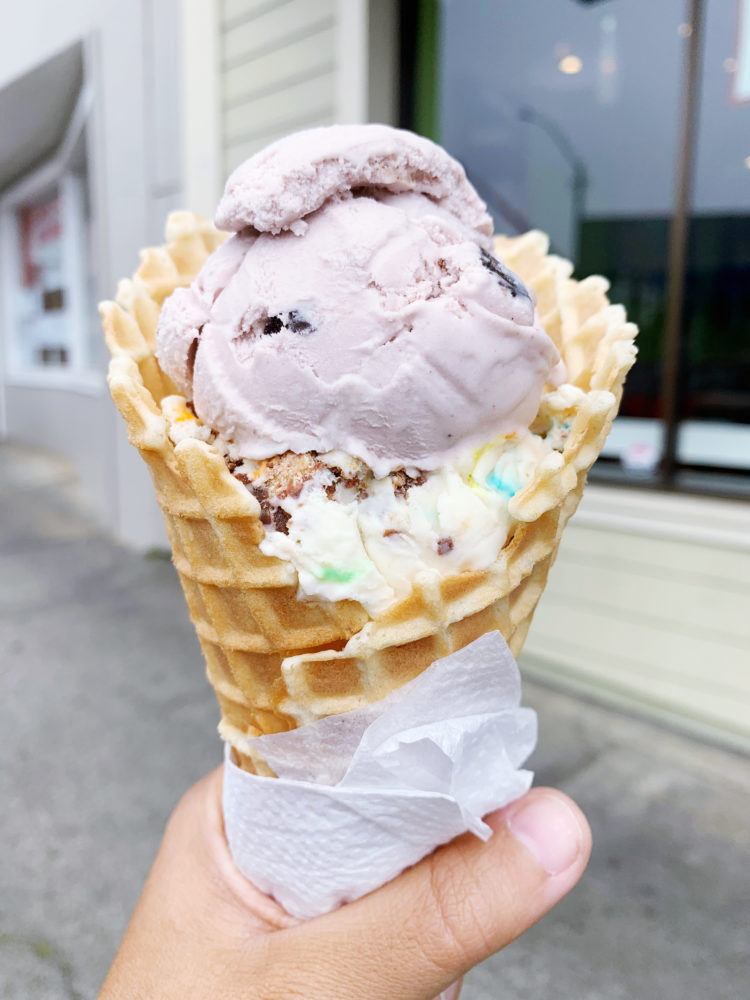 Homemade ice cream AND homemade waffle cones? What could be better? I'm still dreaming about the raspberry chocolate chunk. You won't miss it in downtown Fort Bragg- you'll smell the cones being made before you even reach the shop.
Psst: I asked to sample about 8 flavors and the staff didn't even bat an eye. My kinda place!
Grab your (homemade waffle) cone to-to, and walk around the cute town of Fort Bragg for a bit!
4. Mendocino Coast Botanical Gardens (Mendocino)
I'm a sucker for any kinda botany, and the botanical gardens in Mendocino are no exception. The rhododendrons (and the carnivorous plants section) are just exceptional! As are the various sculptures and other pieces of art in the gardens. AND the garden paths go all the way down to the ocean!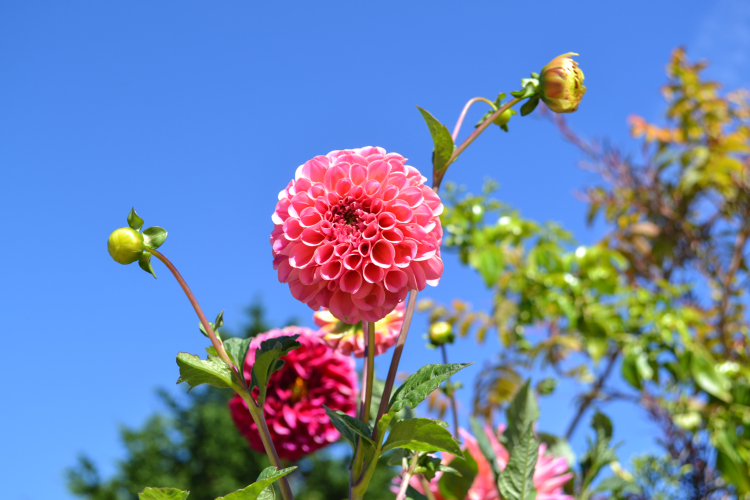 To be honest, I was a bit underwhelmed at first considering the $15 admission price. But after walking through the gardens and admiring the sweeping, rugged ocean views out back (and realizing how much it must cost for upkeep of the place), I'd gladly pay again.
5. Mendocino Headlands State Park (Mendocino)
Move over, Big Sur! But really, this stretch of coastline on the California coast is jaw-droppingly 1100% stunning – and a lot less crowded!
If you're looking for a hiking stop, you'll wanna explore the headlands as it's definitely one of the most beautiful and best stops on the Pacific Coast Highway for hikers. But be careful on those million dollar cliffs, as it's a steep drop down!
There's miles upon miles of trails along a cliff, as well secluded beaches, towering redwood trees, cypress groves, and just ocean views for everyone. A great place to spot whales in the winter as well!
→ Lots more info about Fort Bragg and Mendocino right here!
6. Point Arena Lighthouse (Point Arena)
If you're a sucker for lighthouses like me (you'll see a few more scattered throughout this Pacific Coast Highway road trip post), you'll fall in love with the historic lighthouse in Point Arena. And boy is it historic – it just celebrated its 150th anniversary in 2020!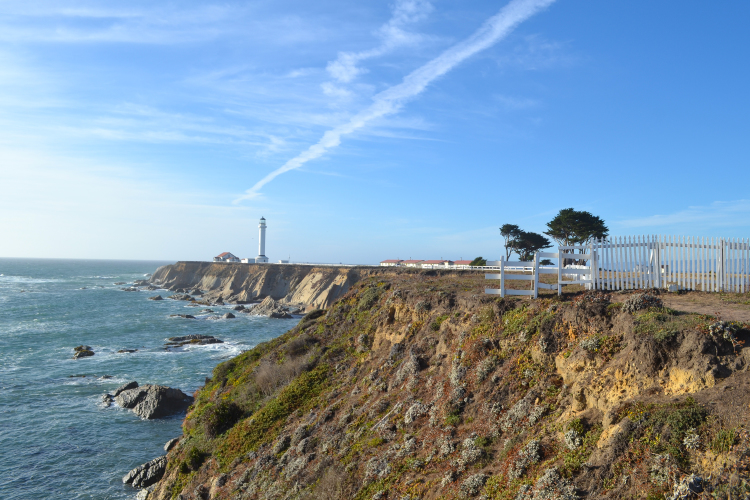 And get this – It's actually the tallest lighthouse in California you can climb, at 145 steps up! There are daily tours offered here (around $8), where you can climb up, explore the 1896 Fog Signal Building, and roam around the beautiful area – there's over 23 acres!
Entrance is only until 4pm, so plan accordingly if you really wanna climb up!
And like other spots on the Pacific Coast Highway, this is one of the best whale watching areas in Northern California! Gray whales! Humpbacks! The occasional pod of killer whales! Just incredible!
7. Patrick's Salt Water Taffy (Bodega Bay)
If you've never had fresh taffy, you're really missing out. And Patrick's is the best place to go!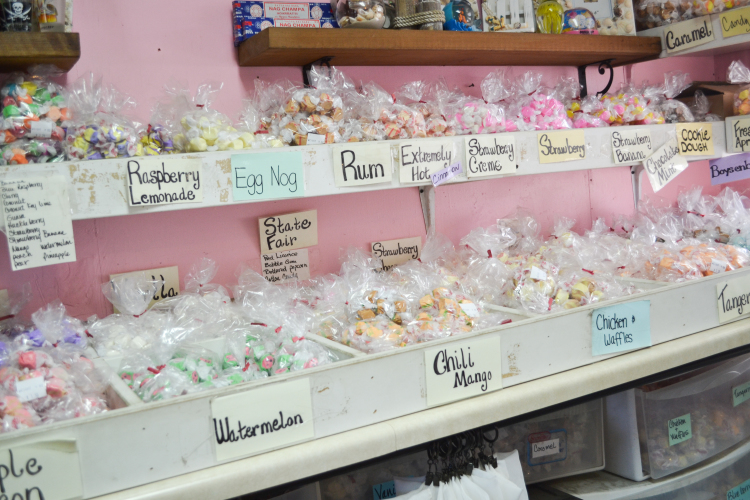 Pick up a few bags of that sticky/sweet salt water taffy for the rest of your Pacific Coast Highway road trip! There's soooo many flavors to choose from (a nearly endless selection), but I always opt for the orange vanilla creamsicle and raspberry lemonade.
The ultimate taffy heaven. And it's cute and instagrammable (with it's striped pink and white building). What else do you need to know?! Don't miss out on one of the yummiest Pacific Coast Highway stops.
8. Spud Point Crab Company (Bodega Bay)
Clam chowder and crab sandwiches. Two of our favorite things on a windy trip driving down the PCH. And boy does Spud Point deliver. Yes, it's kinda bare-bones, and the line is usually long, but a large cup of steaming, perfectly seasoned New England clam chowder makes up for anything. And plus, the views from the picnic tables are great!
Make sure to stop by Bodega Head to look for whales afterwards (especially if you're visiting in winter!)
9. Hog Island Oyster Co. (Marshall)
You cannot visit Northern California without slurping down a few fresh oysters, you just cannot. They're kinda iconic to the area. There's raw oysters of course, but I've heard the BBQ chipotle bourbon butter oysters are irresistible.
This hotspot does tend to get quite crowded. My advice – book ahead and reserve a grill (they consistently sell out). Bring your own wine and snacks and make a picnic out of it!
If you're lucky, you'll be there on a "shuck your own day" – which is exactly like it sounds! Super fun and super messy!
TOO CROWDED? The Marshall Store and Tomales Bay Oyster Company are other great nearby options if you can't get a table at Hog Island Oysters.
10. Cypress Tree Tunnel (Inverness)
This'll be a quick stop, but a stop we love to make to admire the Cypress trees. And yup – it's literally a tunnel formed by cypress trees! A bit secluded so keep your eyes open for deer grazing nearby.
If you're longing for that perfect instagram shot, plan to get here early in the morning as it gets kinda popular with photographers (and tourists).
BONUS STOP: That famous shipwrecked boat you see all over IG is also here in Inverness. It's kinda hard to find as it's located behind a small grocery store. Put "Point Reyes Shipwrecks" into Google and you'll find it no problem. 🙂
11. Muir Beach Overlook (Muir Beach)
Another quick stop, but well worth it for the Pacific Ocean views. This iconic staircase leads to a small overlook, and on a clear, sunny day, you can see for miles and miles!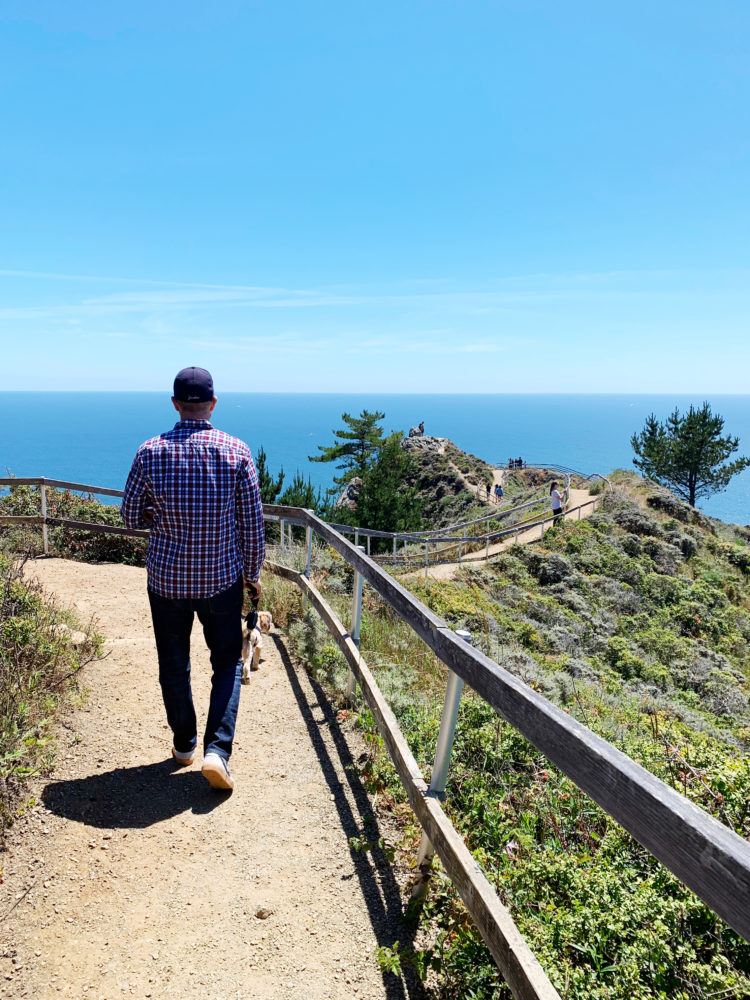 The weather highly affects this, so you won't see too much if there's a ton of fog of course! Skip it if the weather's not cooperating. We've gone a few times and have always been blessed with near-perfect weather, but I think we were just lucky. :p
Local Tip: Parking can be kinda difficult on the weekend, but just be patient and you're bound to get a spot, eventually. :p
History Fact: Soldiers used the bunkers here to watch out for future attacks after Pearl Harbor! Crazy!
→ Read about all these stops and more: Mendocino to San Francisco Road Trip Stops
12. Stinson Beach (Mill Valley)
Sure, Northern California isn't really known for its beaches (the water's a tad too chilly for most), but Stinson really takes the cake.
For starters, the sand is super soft and fine, the parking lot is large (but get there early to ensure a spot), and there's lots of space to spread out (the beach is super long!). One of the best Pacific Coast Highway spots, especially if you're longing for some beach time before getting down to SoCal (later on this PCH trip).
And plus – if you walk to the Northern side of the beach, there's puppies! Oh so many of them! We love to bring Kona here and just relax on a blanket in the sun for a few hours.
13. Sausalito Waterfront (Sausalito)
One stroll in Sausalito and you'll feel as if you stepped into a Mediterranean wonderland. No joke – the coastal town is full of nautical themed shops, sweeping bay views, and waterfront restaurants. I mean, some even dub it California's Amalfi Coast.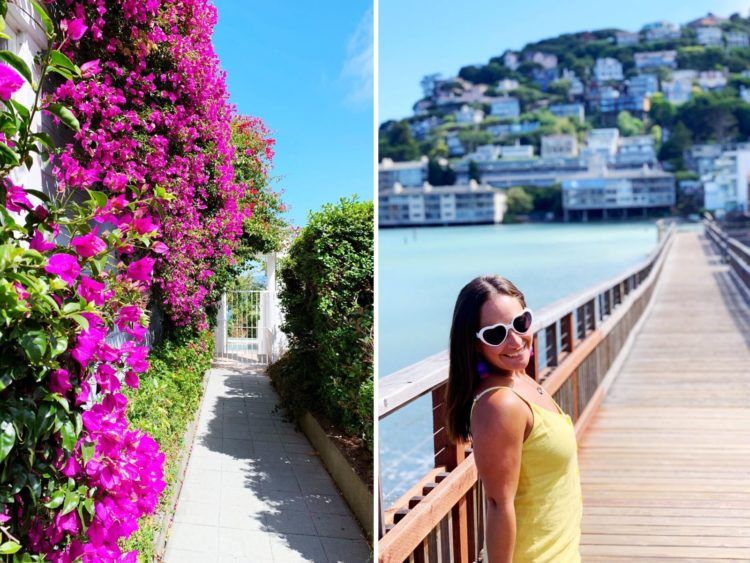 Don't miss a cone at Lappert's – a favorite in the area (and known for their Hawaiian flavors!). Other top things to do include checking out the famous houseboats, walking along the Bridgeway Promenade and boardwalks, admiring the stunning sailboats, and taking a seaplane tour (needs to be arranged in advance).
14. Point Bonita Lighthouse (Marin Headlands)
Dramatic views, an interesting history, and hospitable docents! And it's FREE!
The hike from the parking lot isn't too bad (a half mile downhill on a paved road through a tunnel, although there are a few steep-ish parts). The pedestrian bridge to enter the lighthouse is spectacularly scenic, but it does get kinda chilly! My suggestion – bring a light jacket.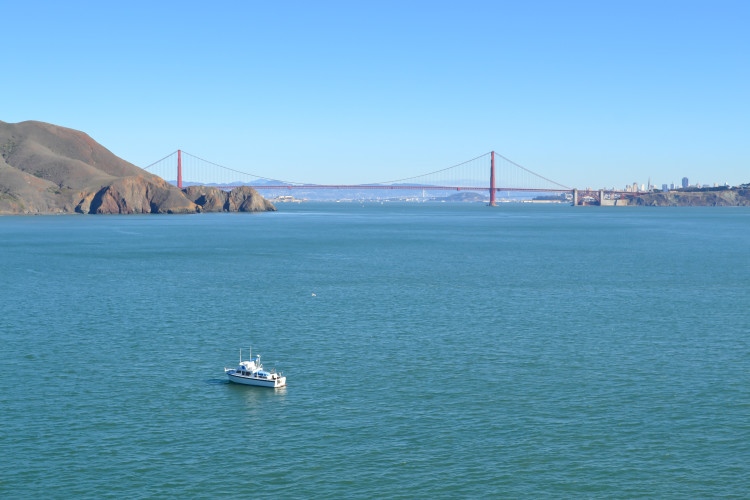 Honestly? It's kinda like a secret jewel of the Bay, as many locals don't ever even make it here. Shame on them!
You have to really plan your PCH road trip right if you wanna make it here though – the lighthouse is only open to visitors on Sundays and Mondays from 12:30-3:30pm. Call the Marin Headlands Visitors Center to confirm, as they tend to close if the weather isn't great.
Extra time? → make a quick stop by Rodeo Beach (it's only 5 minutes away).
15. Muir Woods (Mill Valley)
You've gotta stop by to see the towering redwoods! I mean, it's quintessential Northern California afterall. Muir Woods has numerous trails, some easy, some more challenging, but all within the forest of the majestic old-growth redwood trees. Don't rush through – I recommend arriving early before it gets packed.
Do note that the National Monument has gotten so popular (with more than 1.5 million visitors each year) that you now need to make a parking reservation. No reservation, you're not allowed in. :p
16. Battery Spencer (Sausalito)
Before crossing the bridge, I've got one more Pacific Coast Highway road trip stop for you – and it's one of my favorites!
Looking for those panoramic postcard views of the famed Golden Gate Bridge? Yup, you'll find that picture-perfect view of the crimson cutie (and the sparkling bay itself) over here. Parking can be rough, as the lot only holds about a dozen cars. Read all my top tips for visiting Battery Spencer here!
There's lots of history in the area as well, so be sure to check out the old abandoned military buildings if that's your thing.
There's another famous viewpoint right around here as well – The Golden Gate Bridge View Vista Point. I find the views more impressive from Battery Spencer though (and the latter's much easier to get to when driving south over the bridge coming from up the previous stops). If you only have time for one, I choose Battery Spencer!
→ Check out all my favorite views of the Golden Gate Bridge here!
SAN FRANCISCO
San Francisco is a major city along the PCH, so I just couldn't leave it off this list. Sure, you could spend a week (or longer) and still not see everything SF has to offer, but it'd be a shame to skip it entirely on your Highway 1 road trip.
And yes, it's where I live, so of course I dub it one of the best stops along the Pacific Coast Highway. I'm sharing a few of my favorites here!
17. Lyon Street Steps (San Francisco)
If you're a sucker for pretty views like I am, don't miss the Lyon Street Steps right outside the Presidio. You can either admire the view from the tippy top (park on Lyon Street) or get a grueling cardio workout on the 288 steps up. It's not sooo bad – I've walked up numerous times.
Take a walk around the neighborhood as well, it's where the seriously wealthy live and where all my dream homes in SF are located…
BONUS STOPS: Lovers Lane (and Andy Gritth's art installation – Wood Line) is only a few minutes walk away from the steps. It's an easy one-mile walk through the peaceful eucalyptus forest. Aaaand you may as well walk over to the Palace of Fine Arts (it's only a few minutes away from Lover's Lane, haha).
18. Lands End (San Francisco)
Hey, another walk in San Francisco! Most of SF is just eating, and drinking, and walking (and eating again), so if that's how you're spending your time here, you're on the right track.
This semi-moderate stroll in SF takes you along the rocky and windswept shoreline of the city, with views of the bay and Golden Gate Bridge! We always take visitors to Lands End, and they're just as wowed as we always are.
It's not difficult per say, with some of the path being paved in the beginning and the trail turning into rocks and dirt and a few steep stairways. Don't miss the Sutro Baths and the Land's End labyrinth (look on a map as it's kinda hard to find if you don't know where you're going).
We like to walk around the Sea Cliff neighborhood first (the houses here are OMG), have a light lunch at the Cliff House (don't miss the popovers), and then continue our walk along the Land's End Trail.
19. Haight Ashbury Neighborhood (San Francisco)
Get ready to get your hippy on, because The Haight was historically home to famous singers like Janis Joplin, the Grateful Dead, and Jimi Hendrix in the 1960's. Expect some major flower power vibes over here!
We love strolling along Haight Street, checking out the bizarre although brilliant treasures found at boutiques scattered around. Don't miss the extravagant hats at Goorin Bros, vivid tie-dye apparel at Love on Haight, and plenty of spooky taxidermy at Love to Death. It's one of my favorite neighborhoods in San Francisco, and there's always something going on around here.
FUN FACT: The Haight was one of the few districts in SF that wasn't hit too hard by the 1906 earthquake, meaning you'll find the highest concentration of Victorian homes here! If the hippy movement is of particular interest to you, you'll really enjoy THIS tour we took a few months ago! It was so interesting, and we even saw where plenty of rockstars once lived.
20. Golden Boy Pizza and cannolis from Stella in North Beach (San Francisco)
Another neighborhood in SF you've gotta check out is North Beach, home to two more of my favorites: Golden Boy Pizza and Stellas.
Golden Boy Pizza is a funky little joint, with memorabilia everywhere you look. They serve sicilian slices (square pizza) here – from classic cheese and pepperoni to veggie pesto, clam & garlic, and Italian sausage. FYI – cash only, and not many seats.
We tend to take our pizza to go, and sit in Washington Square in front of the landmark Saints Peter and Paul Church. I'm originally from NY and love Golden Boy, so you know it's good (as my pizza standards are higher than average).
And while you're in the area, may as well make a quick stop into Stella's for a chocolate chip cannoli or two. Mmm I dream about that ricotta.
21. Murals and Mission burritos (San Francisco)
It'd be a shame to continue your Pacific Coast Highway drive without stopping for some Mexican food. I mean, this is California afterall, known for our authentic Mexican deliciousness.
So before you leave my favorite city (SF of course), you've gotta make a stop in the Mission. And the two things the Mission is known for? Murals and Mission burritos.
For Mission burritos, stop by either El Farolito or La Taqueria – two local favorites. Get the carne asada, it's droolworthy and then some. The burritos are larger-than-life (they really are – they last me 3 meals!). So beware – if you're not 1000% starving, I recommend sharing.
For murals and street art, head on over to Balmy Alley and Clarion Alley. The murals here are not just intricate works of art – the pieces have meaning, teaching about gentrification, modern politics, and the immigrant experience in SF.
22. Mori Point (Pacifica)
You won't typically find Mori Point (and Pacifica in particular) on any list of the best stops on the Pacific Coast Highway. BUT this just isn't any old list full of only the popular PCH spots. I'm here to truly show you my favorites!
Mori Point is actually a 110-acre park, but I'm talking about the point itself – a bluff jetting out into the Pacific Ocean. Come here for the moderate workout, stay for the sweeping views of the peninsula coastline. Just wear sunscreen on a hot day – there's absolutely no shade over on these hills!
And if you're kinda hungry, may as well check out the Taco Bell in Pacifica. I mean, there's Mountain Dew Margaritas (and beer and wine and other frozen drinks sold), what could be better?
In all seriousness, the fast-food joint is literally right on the beach (giving it the title as the most beautiful Taco Bell in the world – yup, the WORLD!). So, reward yourself with a crunch wrap supreme and your drink of choice and watch the surfers while you eat on the beach. My kinda afternoon. :p
23. Sam's Chowder House (Half Moon Bay)
As you make your way down the coast, you'll come across Half Moon Bay. It's one of the most underrated stops on the Pacific Coast Highway, and one of my all-time favorites.
I'm gonna say this loud and clear to make sure your PCH road trip itinerary includes this- MAKE SURE TO STOP AT SAM'S FOR A LOBSTER ROLL. You can order something else too (I recommend the clam chowder when it's chilly), but promise me you'll order a naked lobster roll too.
I've been gushing about this local spot for ages, and it's where I bring practically everyone who visits me! Not only is the lobster so melt-in-your-mouth delicious, but Sam's is literally on the beach, meaning you get phenomenal views from the outdoor patio.
BONUS PACIFIC COAST HIGHWAY ROAD TRIP STOP: The Half Moon Bay Coastal Trail. If you wanna walk off those buttery lobster-induced calories, park by the Ritz Carlton (in one of their special "Coastal Walk parking spots" – a local secret), and walk on the nearby trail! You'll see a beautiful golf course, sweeping views of the whole area, and plenty of puppies!
24. Pigeon Point Lighthouse (Pescadero)
Okay, so if you haven't guessed by now, I kinda have a thing for lighthouses. I just think they're absolutely phenomenal for some reason! And the Pigeon Point Lighthouse is probably one of my favorites OF ALL TIME.
Why? Well for starters, it's set on the beautiful Norcal Coastline on a scenic oceanside cliff, with dramatic views all around. AND you can spot harbor seals on the nearby rocks and whales off in the distance! AND there's even a hostel like 10 feet away if that's your jam. Currently on my California bucket list.
25. Pie Ranch (Pescadero)
When you're cruising down Highway 1 and feelin' like some pie would be nice, make a pit stop at Pie Ranch in Pescadero. It's a working farm/ranch selling not only organic pies, but farm fresh eggs, homemade jams and pickles, and an abundance of hot sauces.
And plus, Pie Ranch is a nonprofit organization helping to cultivate a healthy food system – boom! Another reason to have some pie, right?
Do note that the mini pies tend to sell out on the quicker side, so if you can, get here at around opening (or before noon on weekends) for more options.
26. Shark Fin Cove (Davenport)
Looking for one of the least discovered Pacific Coast Highway stops? Head on over to Davenport! And why's this place called Shark Fin Cove anyways? Well, the large rock looks exactly like a shark fin! Unleash your inner mermaid (but don't go swimming here – the sea is too rough)!
Be prepared to hike down a short, steep hill to get to the beach (with no designated path). And once you're down, there's tide pools and caves to explore! If you don't feel like trekking down to the beach, don't fret. You can see the view from above on the bluffs, only a few minutes from the small parking area.
Psst – there's no signs here, so make sure you pop it into GPS, and be on the lookout for a small gathering of cars along the side of the highway.
→ READ NEXT: ALL these stops between SF and Santa Cruz are included (in more detail!) here! We've been LOVING exploring this region and I'll be updating it as we find more cool spots!
27. Marianne's Ice Cream or the Penny Ice Creamery (Santa Cruz)
If you're in dire need of an ice cream break when driving the Pacific Coast Highway (I always am), you've got your options for you here in Santa Cruz.
Marianne's is an old-fashioned ice cream shoppe, with a crazy amount of flavors and oh so popular. The line moves exceptionally fast, I promise.
The Penny Ice Creamery is just as delicious, boasting more artisanal-type ice cream with creative seasonal flavors. And whatever you do, opt for the toasted marshmallow fluff topping at Pennies. ALWAYS.
28. Santa Cruz Beach Boardwalk (Santa Cruz)
Now this is what Santa Cruz is known for. When you picture Santa Cruz, you probably imagine a kitschy (in-all-the-right-ways), vibrant amusement park, long stretches of sand, and carnival snacks. Well, you're not wrong! And plus, it's all free (well, not the rides or snacks, but there's no entrance fee).
Don't miss the famous Giant Dipper, the indoor/outdoor arcade, some salt water taffy, and a long stroll on the beach. We love to wander around, grab a cotton candy or corn dog, and just people watch.
29. West Cliff Drive (Santa Cruz)
If you're looking to take a scenic stroll, West Cliff Drive's your best bet. It's by far one of my favorite places in Santa Cruz, especially on a warm, sunny day. Keep your eyes on the Monterey Bay, it's absolutely epic.
The path is a full 3 miles (starting from Bay Street to Natural Bridges), but like the Coastal Walk in Half Moon Bay (above), you can just walk as much as you'd like!
30. Natural Bridges Monarch Trail (Santa Cruz)
Driving the PCH in winter? THIS is one of the must-see Pacific Coast Highway road trip stops. I mean, there's butterflies! And tons of 'em!
Imagine thousands upon thousands of these black and orange beauties flying about the Eucalyptus trees. It's quite a sight to see. I couldn't take my eyes off them – I probably stared in awe for over 30 minutes!
Psst: Monarch migration season in Santa Cruz is from October to January. You won't see butterflies in other months.
If it's not butterfly season, I personally wouldn't feel the need to walk the trail (there's nothing too spectacular about it besides the monarchs). Insead, make a short pit stop at Natural Bridges State Beach Vista Point Overlook for some pretty cool views!
31. Colorful buildings in Capitola (Capitola Village)
Cute colorful beach town alert!
If you've already had your fair share of beach time for the day, just make a quick stop in Capitola! The colorful buildings next to Capitola Beach (which are actually vacation rentals, so yes – you can fulfill all your rainbow-colored dreams!) are what I come here for! You'll feel like you've been transported to a little town in Italy (ever heard of Burano?!).
Looking for a great view? Grab a coffee at Mr. Toots and you'll see what I mean!
CENTRAL STOPS ON THE PACIFIC COAST HIGHWAY
Monterey to Santa Barbara
32. Lovers Point Park and Beach (Monterey)
A great place to stretch your legs or just sit on a bench and watch/listen to the waves. In spring the ice plants bloom bright pink everywhere near the trail, which makes the whole area blanketed in pink (best in April and May)! Make sure to climb the rocks for some super-awesome views of Monterey Bay.
COME FOR SUNRISE → Since the park is east-facing, it's one of the only spots on the West Coast where you can watch the sunrise over the water!
And please oh please, DO NOT FEED THE ANIMALS (there are plenty of super-cute sand squirrels here, but let's keep them wild)! And talking about animals, the Monarch butterflies migrate nearby every year as well!
33. Pavel's Backerei (Monterey)
Authentic french treats, anyone?! Pavel's is by far the #1 breakfast spot in Pacific Grove! They've got giant donuts, apple fritters, butter croissants, tons of danishes, cinnamon raisin brioche, cheddar sourdough loaves, and oh so much more. Mmmm, now I'm craving a bear claw!
My suggestion? Grab a few pastries and bring them along on the 17 Mile Drive (the next recommendation on this list of Pacific Coast Highway stops!) If you've got time, check out the famous butterfly house nearby — it's crazy eccentric and all kinda wacky!
34. 17 Mile Drive (Monterey)
Who's up for a scenic drive? Expect mansions, golf courses, and of course that stunning CA coastline. We love driving the 17 Mile Drive, and have done so half a dozen times (it's just that gorgeous)!
While there are 17 official places to stop (you'll see them on the map), don't feel like you have to stop at each and every one. My favorites are the Lone Cypress, Inn at Spanish Bay, Bird Rock, Restless Sea (huge waves!), Seal Rock, and of course, Pebble Beach.
Some people don't think it's worth the $10, but I do. 🙂
35. Carmel Beach (Carmel)
White sand. Golden sunsets. A scenic pathway just above the beach. And free parking (and restrooms!). What else could you want?
And plus, dogs are welcome, which makes my heart exceptionally happy! We love to stay and watch the sunset (it's absolutely mindblowing). Beach fires are also allowed, which I'm hoping to do next time!
Like the rest of NorCal and Central California, the water's too cold for swimming (although perfect for walking and taking in the scenic beauty). You will however find plenty of surfers (in wetsuits) riding the waves!
36. Town of Carmel-By-The-Sea (Carmel)
If there's one charming little town you shouldn't miss when driving the Pacific Coast Highway, it's Carmel-By-The-Sea. I mean, even the name itself sounds whimsical!
We LOVE wandering the European-style town, full of fairytale-style cottages and local restaurants.
And get this – there's no house numbers over here! Every house has its own name, like Birdsong, Sea Urchin, and Periwinkle. If you walk around you'll see what I mean!
Another fun fact: You'll need a permit if you wanna wear high heels (yes, really!). How wild is that?!
What to do? Go wine tasting, check out some art galleries and boutique shops, explore the Historic Carmel Mission, and just take in the scenery. And the town is literally dog heaven on Earth, as they're allowed practically everywhere. YAY!
37. Point Lobos State Natural Reserve (Carmel)
Get ready for a coastal paradise! The water just sparkles over here!
Before you leave Carmel, don't miss the stunning Point Lobos. There's plenty of scenic trails here, and I love them all! But promise me you won't miss the China Cove and Bird Island lookout points! There's even a whaling museum if you're into that kinda thing (confession – I've never been). And the tide pools are absolutely incredible, with tons of crabs, anemones, lizards, etc.
If you're a nature fiend you can easily spend an entire day here, but you can see oh so much in just a few hours as well if you'd prefer to get your PCH trip moving along.
Psst: The parking lot will likely fill up by mid-morning. Full already? You can easily park along the road outside the park and walk over in about 10 minutes.
BONUS STOP: Garrapata State Park Bluff Trail! We recently found this spot on the side of the highway as we were driving to Big Sur, and just knew we had to pull over! Kinda unknown and one of the best secret Pacific Coast Highway spots on this list! A short 15 minute walk along the cliffs with beautiful views of the coast and even a waterfall! I wanna go for sunset next time!
38. Bixby Bridge (Big Sur)
Ahhh, the gateway to Big Sur.
When people say they can't wait to visit Big Sur, they're typically talking about getting that iconic shot of the Bixby Canyon Bridge. And why is it oh so famous? I mean, just take a look at it! There's crashing waves and a golden beach on one side, and lush mountainous hills on the other, all spanning across a steep canyon!
It's actually one of the most photographed bridges in all of California, and I can easily see why.
You'll pass another bridge on your way south (right before the famed Bixby Bridge), so don't get confused! That's the Rocky Creek Bridge, FYI. It's well worth a quick stop when it's sunny – the water down below is reminiscent of Hawaii!
39. Mcway Falls (Big Sur)
This is most definitely one of the best stops on the Pacific Coast Highway, and rightfully so. McWay Falls is drop dead GORGEOUS! And how could it not be? It's literally a waterfall flowing right into a small emerald cove of the Pacific Ocean.
And even better, it's only about an 8 minute walk from the road (the mini trail is no more than half a mile). When people say they're "hiking" to McWay Falls, they're really just casually strolling down a paved path. Now you know!
The beach is inaccessible (it's actually illegal to go down there), which just means you'll always get that perfect photo!
Psst: McWay Falls is actually located within Julia Pfeiffer Burns State Park, but you can just park on the side of the highway and walk in.
More Big Sur tips and road trip stops here!
40. Nepenthe (Big Sur)
Whenever we're in Big Sur, we always stop for a cocktail (or two) at Nepenthe! You are literally sitting on the cliffside, with the mountains and forest on one side, and ocean (and sunset) on the other. Talk about remote. And gorgeous.
There's also classic California cuisine served here, but we typically come for drinks with a view. And plus, it's pretty pricey, so we opt for liquid lunches instead. 😉 If you're hungry for some food, I've heard the Ambrosia burger and homemade apple pie is top notch.
41. Purple sand at Pfeiffer Beach (Big Sur)
Huge rock formations. PURPLE SAND. And a pristine beach that's typically not very crowded.
Just so we're clear on expectations, the entire beach isn't made up of purple sand, but you'll find spots with some scattered throughout the beach. And unfortunately, the sand is at its most purple right after it rains. BUT the beach is stunning nonetheless. Even if you don't get to witness the purple sand, the iconic keyhole arch at Pfeiffer Beach is worth the short detour!
Psst → you'll need to drive down a winding 2-mile dirt road and pay a fee to access the beach, but it's worth it! There's no sign, so be sure to turn onto Sycamore Canyon Road (leading to the beach). Directions here.
42. Elephant Seal Viewing Point (San Simeon)
Have you ever seen an elephant seal? They make the most ridiculous noises, have the strangest looking noses (trunks?), and are just wild and wacky all over. Don't expect peace and quiet over here! Watch them waddle in and out of the water, throw sand over themselves, and brawl with each other – so fun to observe!
There's a few places along the Northern Coast to see elephant seals (Ano Nuevo being another popular spot), buuuuut the viewing point in San Simeon is right off the highway. You literally park and walk for 5 minutes, and there are the seals. Can't get much easier than that!
43. Hearst Castle (San Simeon)
Opulent, grandiose, and crystalline. Just a few words to describe the majestic Hearst Castle. You'll need to make a reservation to explore, and I highly suggest the Grand Rooms tour if it's your first time visiting (ohhh that Neptune Pool is my favorite).
And once the tour is over, go check out the manicured grounds! I wanna go back right now just thinking about it!
And where did this random castle (one of the best Pacific Coast Highway stops by far) even come from? Well, my history-loving friends, the castle was designed and constructed by William Randolph Hearst (the publishing tycoon) and his architect Julia Morgan. It took quite a few years to build, from 1919-1947, with Hearst passing away a few years later in 1951.
Be sure to look out for zebras on the side of the road (yup, you read that right). Hearst was a wacky man!
44. Moonstone Beach Boardwalk (Cambria)
More beach views – what can I say? But this is a list of the best Pacific Coast Highway road trip stops after all, so they'll be lots of them! And don't miss Moonstone Beach in Cambria — such a chilled out spot that I can't wait to explore more of.
The boardwalk is roughly a mile, but we typically don't walk the whole thing. Watch the waves crashing on the rocks dotting the coastline, relax on a bench, and/or just walk through the wildflowers surrounding the pathway!
You can hang at the beach for a bit, but it's not our favorite beach on the coast (much better beaches a bit south in my opinion). Perfect for a stroll with some coffee in hand!
45. Linn's Easy as Pie Cafe (Cambria)
I first visited this retro pie shop on the PCH not too long ago, and am kicking myself we hadn't made it there sooner. I mean, PIE! Homemade olallieberry pie (a cross between a blackberry and raspberry). Not too sweet and not too tart, with a flakey buttery crust. Delicious isn't a strong enough word.
Sit out back in the private garden patio – it's so cute! The city loves their olallieberries so much there's even a whole festival dedicated to the famous berry every year!
You can also get pie at Linn's Restaurant (same owners), but it's more pricey (and fancy) over there.
46. DAOU Vineyards (Paso Robles)
Okay, so this spot is not technically on the 1, but it's pretty darn close. And those cheese plates are really something else.
While the tasting fees are a bit higher than most other wineries around (it's more of a social club kinda feel), it's a great place to relax for a bit. The entire space is just extraordinary with some of the best views of all of Paso Robles with rolling hills and lavender fields in the distance.
My suggestion – get a bottle (skip the pricey tasting) and just sit outside soaking up the scenery. Soul of a Lion is a crowd favorite!
You'll need to add about an extra hour of driving to this Pacific Coast Highway road trip itinerary if you wanna check out Paso Robles. Highly recommended if you're a wine lover!
If you wanna spend more time in Paso, check out Sculpterra Winery and Vineyard. We recently spent a lazy afternoon here, sipping rose while feasting on burgers from the on-location food truck and listening to live music. The entire area is full of ornate sculptures, manicured gardens, and lots of green space for DIY picnics! Calcareous is great too- we loved the views and lavender!
47. Cayucos Beach and Pier (Cayucos)
If you're looking for a beach day on the Central Coast, Cayucos is where it's at. The sand is oh so soft and the water is pretty clear; just watch out for the tiny sand flies. And make sure to seal up your food or the seagulls will come investigating!
And once you're done lounging, take a relaxing stroll on the pier – the surfers are so fun to watch from above!
If you're in Cayucos, don't miss a quick stop at Brown Butter Cookie Company. It was unfortunately closed when we visited, but I've heard this is an absolute must-stop on any PCH road trip. And who could say no to cookies?!
48. Morro Rock (Morro Bay)
As soon as you approach Morro Bay, you'll quickly notice the 581-foot rock jutting out of the Pacific Ocean. And that, my friends, is Morro Rock (it's kinda hard to miss as long as the weather's clear as it dominates the landscape for miles). It's an iconic landmark of the area so make sure to take some photos!
You can park right at the base of the Rock and walk alongside it. Don't miss the cute little otters holding hands in the water (and yes, they actually DO hold hands – it's the sweetest sight!).
And it was actually formed by ancient volcanic magma → pretty cool, right?!
If you're a fan of sand dollars (like myself), there's a ton of them at Morro Rock Beach. I found over a dozen in less than 20 minutes!
49. Spooners Cove + Montana de Oro State Park (Los Osos)
These next two stops on the Pacific Coast Highway are literally a 5 minute walk away, so I included both here!
Spooners Cove: A secluded rocky cove sheltered by high sea cliffs with tide pools and ancient layered sedimentary rock of all different colors. What could be wrong? And plus, it's one of the only beaches in the area that dogs are allowed, so we love bringing little Kona here when we're in SLO for the weekend. You can also find small chunks of jade in the sand if you look hard enough (I don't have the patience for that though… haha).
Montana de Oro State Park: This is the place to come if you wanna get your hiking on. There's a whole bunch of trails leading to views of super unique rock formations. The park also has caves and tidal pools with oh so many shells, snails, clams, and sea anemones. You might even see people biking here as the path is relatively flat!
50. Bubblegum Wall (San Luis Obispo)
Another quirky and quick spot for you, and not to be missed on any PCH road trip.
Imagine an alleyway filled with pieces of chewed gum covering the walls. ALL the walls. Yup, that's Bubblegum Alley in a nutshell. It's sticky, ooey, gross, and satisfyingly interesting all at once.
My advice – grab some bubblegum from the old-fashioned candy shop a few blocks down and get blowing! (Psst: regular old minty gum just won't do the trick – and yes, I've tried, multiple times).
51. Madonna Inn (San Luis Obispo)
It's whimsical, it's charming, and it's kitschy all at the same time. This hotel is one of the most famous on the entire West Coast. You've just gotta stop by!
Each of it's 110 rooms are all uniquely decorated, from prehistoric caves with matching leopard print bedding to lavish pink rooms with velvet sheets. Even if you don't plan on spending the night, grab some cocktails, indulge in pink champagne cake (what the Madonna Inn is known for), and take some fun photos!
Read all about my stay at the Madonna Inn here — psst; there's tons of pink photos in there!
52. Sally Loo's Wholesome Cafe (San Luis Obispo)
Whatever you do, don't leave SLO without a proper brunch at Sally Loo's. Yes, the line is usually out the door and you'll wait even longer for your food, but it's worth the wait and then some. Being organic and homegrown, the dishes are cooked to perfection, alongside coffee, house-made pastries, and even speciality mimosas.
We like the egg sando on sourdough, kale and sausage breakfast burrito, sweet potato quinoa bowl, coconut banana bread, and pistachio glazed scones. Sit outside in the sunshine, or take your pick of one of the cozy booths indoors – this place is the absolute cutest.
53. Oceano Dunes SVRA (Pismo Beach)
Sand dunes in California? Yup – you don't need to go all the way to the Sahara for the epic experience. You can walk along the ripples (there's over 5 miles to explore), rent ATVs and dune buggies to go off-roading, and even drive your car on the beach. It's actually the only stretch of coastline in Central California where cars are allowed!
We rented ATVs with a few friends of ours last year and it was such a wild time! I don't think I've ever smiled and screamed more (at the same time) than I did when we were off-roading. What a heart-pumping sand adventure (make sure to close your mouth, it does get windy at times!).
Just please be careful, as these large toys can be dangerous no matter who's handling them.
SOUTHERN PACIFIC COAST HIGHWAY STOPS
Santa Barbara to Dana Point (and beyond)
54. Santa Barbara County Courthouse (Santa Barbara)
You may be asking "Is a county courthouse really one of the best Pacific Coast Highway stops?" Yes, yes, and yes. Picture this: a distinctive four-faced clock tower, a red tiled Mediterranean-inspired roof, and manicured gardens all around. It has Santa Barbara written all over it!
But the best part? The clock tower observation deck! One of my favorite views of Santa Barbara up here – and it's all free! Next time I visit, I plan to bring a picnic to enjoy in the sunken garden!
Just an FYI: the clock tower closes a bit earlier than the rest of the complex at around 4:45pm. Plan accordingly if you wanna go up!
I also love the hand-painted murals, all the elegant arches, and the wrought-iron chandeliers. Not your typical courthouse, that's for sure!
55. State Street (Santa Barbara)
Looking to take a scenic stroll? Historic State Street in downtown SB is lined with palm trees, and I never get tired of looking at the distinctive architecture.
There's outdoor, open-air shopping (tons of cute boutiques), plenty of hip restaurants and cafes, and ICE CREAM!

Promise me you won't leave without grabbing a cone at McConnells – I love nearly all the flavors, but salted caramel chip and double peanut butter are my two faves.
And if you walk the whole street, you'll run right into Stearns Wharf, another one of the best places on the PCH!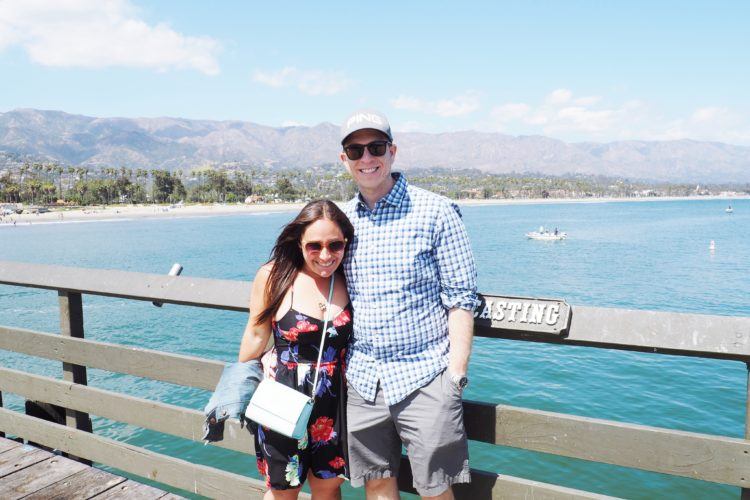 56. Chromatic Gate (Santa Barbara)
Sure, this stop is purely for instagram, but it's so colorful and happy so who cares?! Yea, it's technically an art structure, but you'll see plenty of people posing under the rainbow colored gate – and of course I was one of them. :p Whip out your camera – don't be shy!
57. Brunch at the Belmond El Encanto (Santa Barbara)
If you're looking for a luxe lunch, look no further than the Belmond. It's not everyone's cup of tea (as there are other great food spots in Santa Barbara for half the price), but if you're here for a special occasion, I say go for it. And mmm, the brioche french toast (it's stuffed with Nutella and bananas).

It's pretty expensive, but the views make up for the high price tag. If you can, walk around the property for a bit before/after brunch – the pool looks absolutely TO DIE FOR and I'm trying to find an excuse to stay here for the night!
58. Butterfly Beach (Santa Barbara)
However you spend your day in Santa Barbara, make sure to head on over to Butterfly Beach for sunset. While the sun doesn't set directly on the water (despite numerous sources saying it does…), the sky typically turns a soft pinkish color and it's oh so mesmerizing.
Bring a bottle of something yummy and some dinner – voila, the perfect date night! You'll probably see a few couples doing the same.
There's a bike/walking path we love to stroll along above the beach – it's full of flowers and so much beauty.
If it's high tide there won't be much beach to see, but it's still beautiful nonetheless.
59. Point Dume (Malibu)
More coastal cliff hikes with more spectacular Southern California views. And you can reach the top in under a mile! Most of the hike is through sand though, which is always more difficult for me so take that into account (but hey, it's a great workout!).
If you're visiting in early spring, you'll get to see the wildflowers against the blue water – absolutely stunning! And always be on the lookout for wildlife – there's frequently sea lions and dolphins around, and even whales depending on the season!
Fun Fact: A bunch of movies were filmed here, including Planet of the Apes and Iron Man!
Continue your workout by walking on the isolated beaches below to Paradise Cove – a friend and I did it and despite getting a tad wet (okay, a lot wet), it was an absolute blast!
60. Santa Monica Pier and Pacific Park (Santa Monica)
A bit old-timey and a bit kitschy, but I love it nonetheless being a tourist trap. And it reminds me of the Santa Cruz beach boardwalk a bit! Expect to find street vendors, live music, a high-tech arcade, souvenir and ice cream shops, an aquarium (!!!!), fishermen, and plenty of places to eat (like PierBurger and Bubba Gump).
There's even a mini amusement park here on the pier in Santa Monica, aptly named Pacific Park (makes sense, right?)! If you can time your visit right, go on the rollercoaster at sunset – you'll be rewarded with the most amazing views of Santa Monica beach.
61. Venice Canals (Venice)
Longing for a leisurely stroll before/after the chaos of Santa Monica/Venice Beach? Head to the Venice Canals! You'll feel like you've been transported to Europe- trust me! Walk around the man-made canals of the Venice Canal Historic District neighborhood (built all the way back in 1905!). There are 5 canals in total, with lavish houses lining the canals, many with boat docks, and bridges connecting the two sides of the canals.
Be sure to either ask for directions or look them up on the map (they're a few blocks inland from Venice Beach) – you could easily walk right past them if you didn't know where you're going!
62. Abbot Kinney Blvd (Venice)
Trendy, sophisticated, and cool with a laid-back Venice vibe. Abbot Kinney is a mile long road full of chic boutique shops, hip eateries, and a bunch of galleries/colorful street art. It is known as the "coolest block in America".
And it's one of my favorite places to go for a stroll in Venice Beach! You'll find tons of one-of-a-kind local goods and the latest fashions (I love stopping by The Piece Collective, General Store, and BURRO flagship – such eclectic stuff in there!).
Hungry? Grab some brunch from The Butcher's Daughter, brioche donuts from Blue Star, and ice cream from Salt & Straw (mmm two of my favorite Portland eateries). There's a Blue Bottle Coffee here, as well as the high-end Intelligentsia Coffeebar.
→ If you've never been to LA before, I suggest making the slight detour. But if you have, continue your Pacific Coast Highway drive down the 1 to Orange County. Sure, the next few aren't technicallyyyy stops on the Pacific Coast Highway, but shhh… you're close enough!
63. West Hollywood (Los Angeles)
The neighborhood of West Hollywood is one of my favorite areas in all of LA. It's creatively eclectic, dons one of my favorite brunch spots, and oh so trendy.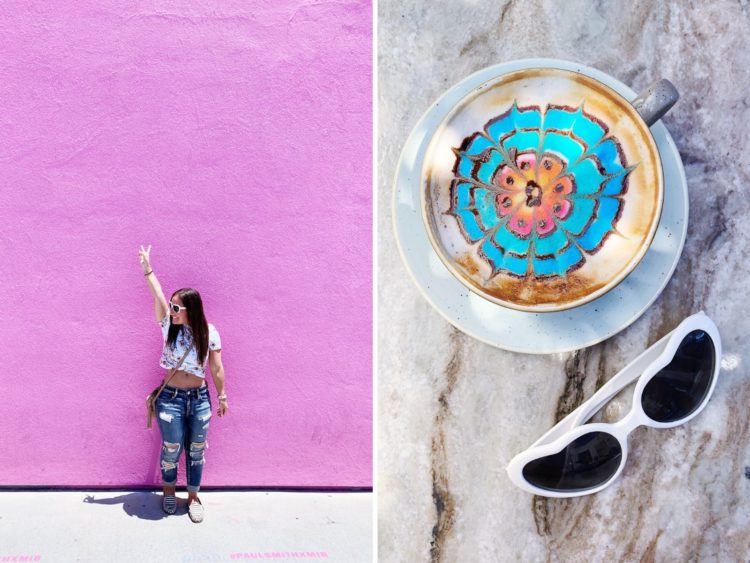 Don't miss Melrose Avenue – a hip and sophisticated street with a whole slew of not-to-miss spots. Thirsty? Head to Alfred's Tea Room (or Alfred's Coffee) for a particularly delicious cup (the matcha latte is a popular favorite).
And it wouldn't be a proper visit to Melrose with stopping at Paul Smith's Pink Wall (8221 Melrose), the Made in LA Wall (8025 Melrose), and the Retna Wall (8826 Melrose).
A few blocks over you'll find Sunset Blvd, home to The Butcher, The Baker, The Cappuccino Maker. All the food is pretty good, but don't leave without trying the bananas foster french toast, ricotta pancakes, and a rainbow cappuccino!
64. Little Tokyo (Los Angeles)
LA is super varied, and there's so many nooks and crannies to discover (if you've got the time), but I always seem to make it to Little Tokyo. Sure, the performances and shops are fun, but I come for the food. There's mochi ice cream! And udon! Loco moco! Yakitori! Instagrammable soft serve! Old-school sushi joints! Self-serve boba! Imagawayaki (red bean pancakes – my favorite)!
Fun Fact: Little Tokyo is actually the heart of the largest Japanese-American population here in North America!
Once you're full, just take in all the culture. The neighborhood is bustling with it.
65. Griffith Observatory (Los Angeles)
You just can't visit the city and not head to the Griffith Observatory, you just can't. Oh the views, from every angle!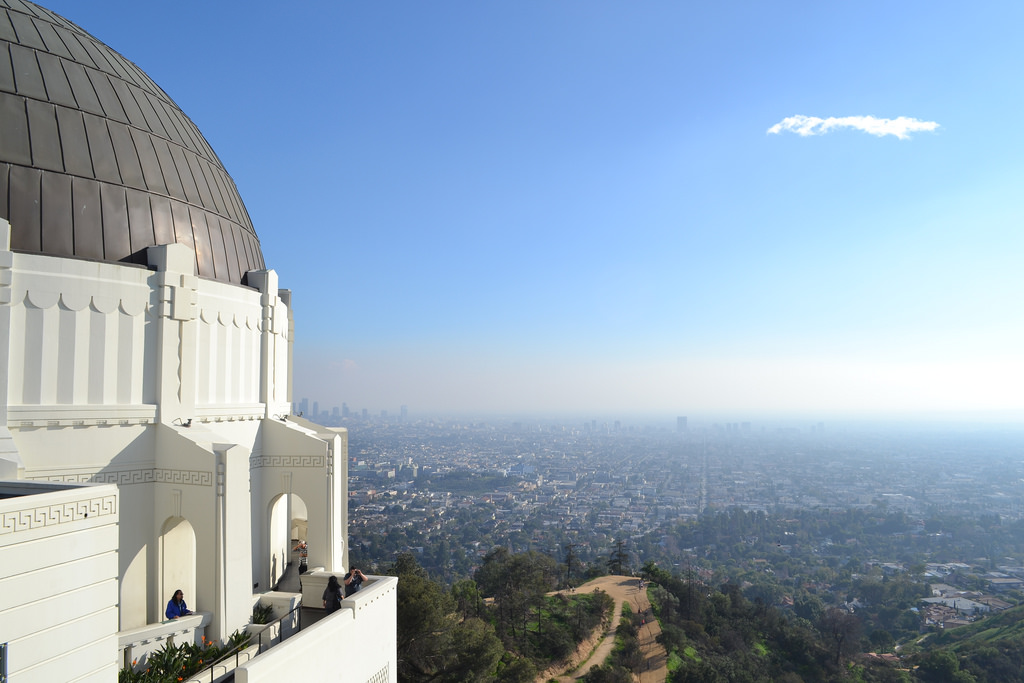 Besides boasting phenomenal views of the city, Griffith Observatory is the place to be when you want to get your science on. The inside of the facility has top-notch astronomy displays, including a full display of every element on the periodic table (if you're into that kinda stuff) and a wide array of constellations and planets to ogle at.
I'm fascinated by the night sky, so this place was right up my alley.
And plus, if you're looking for views of the Hollywood Sign, you'll find them here as well.
66. The Broad Museum (Los Angeles)
I'm sure you've seen those photos of the huge metallic-looking balloon animals. That's at the Broad Museum in DTLA. Since I've already shared so much natural beauty on this list of the best Pacific Coast Highway stops, I figured I should add a museum or two into the mix!
Since it's free to see the permanent collection galleries (yup, FREE!), the line's usually pretty long. I recommend getting Egg Slut to go (more on that below) to eat while standing on line. Make sure to check out Yayoi Kusama's Infinity Mirror Room – it's absolutely wild (although you'll have to pay for that).
The contemporary art museum cost a cool $140 million to build, so you know it's worth your time.
Any Disney fans in the house? The Walt Disney Concert Hall is literally right across the street – go check it out! The architecture is striking!
67. Egg Slut (Los Angeles)
Sucker for breakfast sandwiches? Don't miss Egg Slut located within Grand Central Market – it's kinda an institution around here.
The line is always pretty long, but it goes fast – I promise! My order of choice? A bacon, egg, and cheese sandwich with a glass of freshly squeezed OJ (so refreshing on a hot day). Sounds simple (and it is), but they just make it to perfection. Try the chipotle ketchup if you wanna kick it up a notch!
The Bradbury Building is right across the street if you're interested in seeing some Victorian architecture, complete with wrought-iron stairs and birdcage elevators!
68. Huntington Beach and Pier (Huntington Beach)
The sunsets are pretty, the surfers are out and about, and it's a great place to stretch your legs (it's one of the longest piers in California!).
Walk to the very end and you'll find Ruby's Diner, a '40s-style chain and staple to OC. And make sure to order a milkshake!
And while you're in Huntington Beach, you may as well make a quick stop at the largest surfboard in the world. I mean, HB is Surf City USA afterall!
BONUS STOP: Driving the Pacific Coast Highway with your pup (or just love watching dogs happily run on the beach)?! Consider making a stop at Dog Beach! This is one of the only beaches dogs are 100% allowed in Orange County.
69. Frozen Bananas on Balboa Island
You heard me right! This tiny (man-made!) island town has become known for their loaded frozen bananas – and we always make sure to get one (or two) whenever we're in the area. I mean, what's better than a chocolate-covered frozen banana dipped in sprinkles or peanuts (or your choice of topping) on a hot day?
And don't fret; there's numerous places on Marine Avenue to pick up a frozen banana. Popular spots include Dad's Donut and Bakery Shop and Sugar 'n Spice (essentially the same thing, but I prefer Sugar 'n Spice since it's the original celebrating over 75 years of frozen bananas).
The peninsula is super cute to walk around, but do yourself a favor and park on the main strip and then walk over the bridge to the island. It's typically a madhouse (in terms of parking) over here. Put this on your OC bucket list; you won't be disappointed.
70. Inspiration Point (Corona Del Mar)
Get ready, because the views have just gotten that much better. And Inspiration Point (the cute park overlooking Corona Del Mar beach) is where we'll start. There's sailboats going in and outta the harbor, multi-million dollar homes to gawk at, and that picture-perfect view of the beach. Doesn't get much better than that.
Stay here as long as you want – you can either walk right on by and go down to the beach, or pull up a BYO-chair and hang out on the grass (what we like to do).
71. Crystal Cove State Beach (Laguna Beach)
Ok, so out of transparency, this is one of the Pacific Coast Highway stops we have yet to cross off this list (due to poor planning on my part, wah). BUT it's been on my California bucket list forever, so I of course wanted to let you know about it!
There's a whole slew of trails to hike (with ocean views), plenty of caves and tidepools to explore, and you can even rent a cabin for a night (although they get booked up super far in advance so plan ahead!).
Do note it costs $15 to enter the state park/beach, and you'll have to pay to park upon entering as well.
72. Crescent Bay Point Park (Laguna Beach)
A pretty small park located in a neighborhood of Laguna, and not on many lists of the best Pacific Coast Highway road trip stops. But it's my favorite place in Laguna, and one of the best stops on the PCH (in my opinion, of course).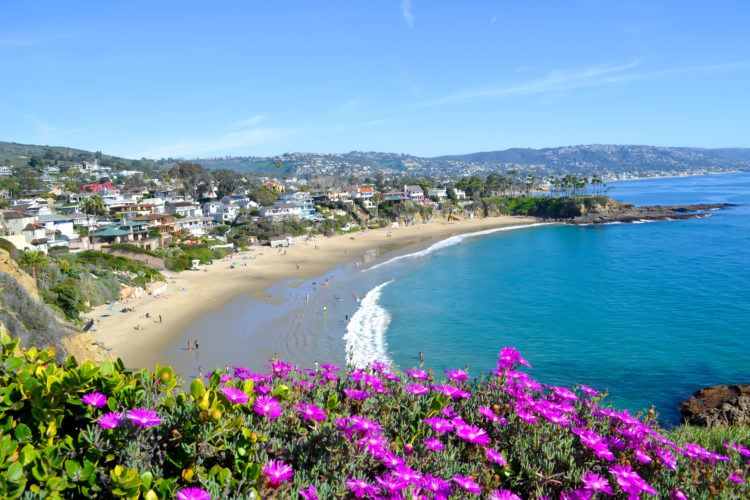 This will likely be one of the shortest stops on your trip- but the views! OHHH the views! We've been a few times and I'm amazed each and every time. The water of Crescent Bay looks like pure turquoise from above – we've even witnessed a proposal up here!
73. Heisler Park (Laguna Beach)
More million dollar views! Crazy, amiright?! I couldn't get over the glistening turquoise water below!
Get ready for a quiet walk, towering palm trees, and fresh ocean mist. Heisler Park is stunning and then some. Try and go in the morning; it's so serene and peaceful (definitely more crowded in the afternoons).
There's a bunch of art pieces scattered around the park to check out as well (the whale's my favorite)!
Beware – there's not much shade, so come prepared with your sunscreen and water bottles! Or pick up a boba tea at Tippy's to bring along (a family-run business within walking distance of Heisler Park and named after a dog they rescued!).
And since you're already over here, head on over to Main Beach and snap a photo with the historic lifeguard tower!
74. Sunset at Strand Beach (Dana Point)
The sun setting on the wet sand with the green cliffs in the distance and multi-million dollar homes perched above. OMG.
I can't believe this is California. Absolutely remarkable. If you're a sucker for sunsets like I am, PLEASE do not skip this.
The beach is located down a cliff, but thankfully, there's an easy way to get down. You can either take the elevator (they call it a funicular but it looked like a regular elevator to me), or the gradual steps and pathway (which really wasn't that hard at all). You miss some of the views via funicular, so I'd pick the path!
And ALWAYS stay a bit after the sun dips below the horizon – that's when the colors really start to show off!
75. Maison Cafe & Market (Dana Point)
We were thoroughly impressed with this charming little cafe, and I just couldn't leave it off this list of best Pacific Coast Highway stops.
There's loads of Italian and French-inspired dishes on the menu, but we personally loved the ricotta blueberry toast and the sweet potato sausage frittata. I'll be trying The Dutch baby and the nut butter toast next time!
I even read somewhere that they collect pieces of china – so it's all mix and match! So cute!
76. Dana Point Headlands (Dana Point)
The last of the last stops on this list of the best Pacific Coast Highway stops! Woo – you made it!
The headlands are a protected marine nature preserve, with sandy beaches, sweeping ocean views, and yup – more tide pools! Take the 3 mile loop, it's super easy and super scenic. I always love a good nature walk. Don't miss the cave (only accessible at low tide!) and the interpretive center.
Psst – you can park at the huge lot at Strand Vista Park (for free!) and walk on over!
BONUS SPOT! Casa Romantica Cultural Center and Gardens (San Clemente)
Okay, so the PCH drive technically stops at Dana Point, but we loved San Clemente so much I'd be silly not to include it. And plus, it's only a few minutes away from Dana Point (about 10).
This nonprofit organization has preserved the building for over 90 years, and they've done a fantastic job! There's lots of history to learn about, but don't feel bad if you're just here for the views of the beach and pier. And all that greenery in the gardens! Guilty!
And while you're here in San Clemente, grab some brunch at Cafe Mimosa, take a walk on the coastal trail, and finish off the day with some ice cream bars from Southswell.
So there ya have it – the best Pacific Coast Highway stops, according to me! I hope this helps you plan your Pacific Coast Highway road trip itinerary!

Looking for more California content? Explore my other California guides here!
Did you know that …
When you purchase something through our links, we earn a small fee (but you still pay the same)! Win-win! If you found this article useful, consider using the links within the article or below. Thanks for your support!