Planning a trip to the California coast and looking for things to do in Santa Cruz? You've come to the right place!
Sweeping coastal views. Towering redwoods. Quirky downtown. Santa Cruz is the epitome of a surf town in Northern California. It's got a cool hippy-dippy vibe, it's a bit quirky, and a bit surfer-dude (actually, a whole lotta surfer-dude). And it's a whole lotta fun. It's also got some of my favorite ice cream around! So check out these 15 things to do in Santa Cruz and design your own perfect beach vacation!
I live about an hour north of Santa Cruz in the San Francisco Bay Area, and am filled with glee whenever someone mentions a spontaneous weekend trip to Santa Cruz. We make the trip to this quintessential California beach town a few times a year, and are constantly finding new things to do in Santa Cruz!
I've put together this Santa Cruz blog post with my friend, Carol of Wayfaring Views, who also makes the trip quite often as well! Enjoy, and lemme know how you like the ice cream. :p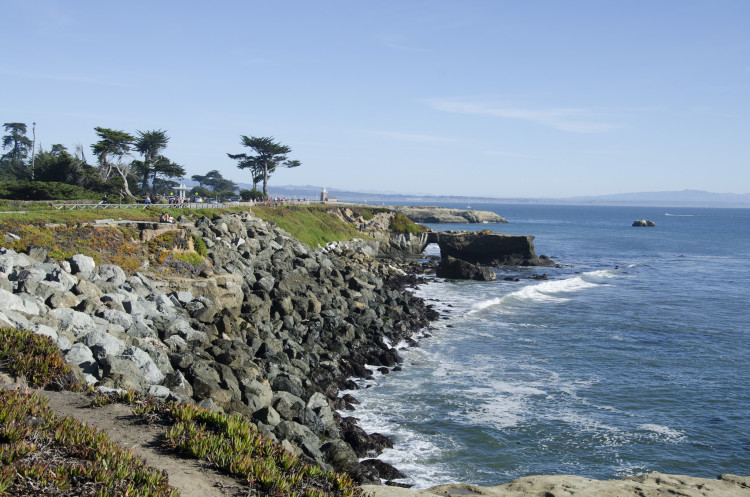 BUT FIRST, THE BASICS
Closest International Airport: San Francisco (SFO), ~2 hour drive
Most Well-Known for: Santa Cruz Beach Boardwalk
When to Visit: April through October, although my favorite time of year is early Fall
How to Get Around: If you're just staying downtown you can walk, but you'll a car if you wanna get to other spots (highly recommended)
If you're looking to take a much longer trip down the PCH, check out all my favorite stops on the Pacific Coast Highway – yes, all 75 of them!
PRE-TRAVEL GUIDE TO SANTA CRUZ
How to Get to Santa Cruz:
Thankfully, getting to Santa Cruz is pretty easy, as long as you have a car. If you're from outta town, and by that I mean outta driving distance, you'll need to get yourself to SFO (San Francisco) first. From SF, Santa Cruz is about 1.5 hours south (without traffic, and there tends to be a lot on the weekends).
You'll most definitely wanna make a few stops along the way (Half Moon Bay and Pescadero are my favorites) so plan accordingly! Have a bit more time? Why not grab some artichoke bread and visit a lighthouse on this San Francisco to Santa Cruz itinerary here. I lay out all my favorite stops on the coast over there!
And plus, Santa Cruz is located right on the Pacific Coast Highway, so you can make a MUCH longer road trip outta it if you're in the mood to travel. All my favorite PCH road trip stops over here!
Getting Around
Santa Cruz might be a small town but it spreads all over the place. If you're staying at a hotel near/in the downtown area, you can easily walk to the Boardwalk and Pacific Ave (two of the most popular things to do in Santa Cruz).
But most of these things to do in Santa Cruz will require a car, so it's a good idea to either rent a vehicle or plan to take Ubers/Lyfts.
I like to search via this site in order to compare rental companies to see who has the best price. They check out all the major websites, and you can customize what you need as well! You'll most likely be coming from the airport if you're visiting, so aim to pick up your car rental from SFO.
Where to Stay in Santa Cruz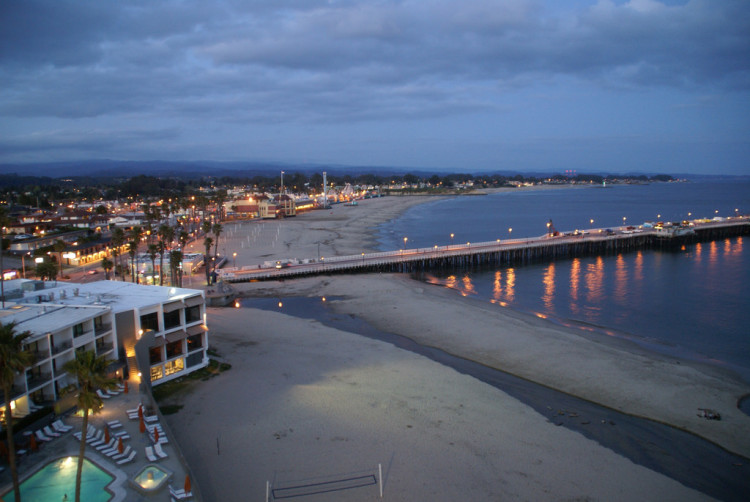 Santa Cruz lodging ranges from basic beach motels to high end B&Bs. You'll need to pick your price-point to find the best accommodation that's right for you. Here are a few suggestions:
Four Stars: The Dream Inn will give you a modern mid-century room, a pool and fabulous sunset view from the balcony.
Three Stars: The Rio Vista Inn & Suites is a cute restored Victorian located conveniently between downtown and the boardwalk. They offer a generous breakfast buffet, helpful staff and cozy, well furnished rooms.
Two Stars: The Coastview Inn Santa Cruz isn't fancy but it will do the trick. It has basic motel amenities and is located right across the street from the beach and boardwalk.
What to Pack
This section of California coastline is often foggy in the morning, warm at midday, and cool at night. With that being said, pack layers and be prepared for wardrobe changes! If you are going to the beach, it might be worth your while to buy some cheap beach chairs and a small cooler. You can always discard them at your hotel when you go home.
When to Go
April/May and September/October are always the best times to visit the coast. The weather is usually warmer and you can avoid the summer vacation crowds. And if you can, any weekday will always be less crowded than the weekend! Traffic is real here you guys, unfortunately! So grab a friend, ditch work, and head off for a fun day in Santa Cruz!
COMMON QUESTIONS ABOUT SANTA CRUZ
What can you do for free in Santa Cruz? There's actually lots to do in Santa Cruz for free. Take a stroll on the boardwalk, look for whales, wander West Cliff Drive, and relax at the beach!
What is Santa Cruz known for? It's hippy culture and laid-back vibe, beautiful natural environment (with redwoods and the beautiful Pacific Ocean), moderate climate, and all things surf. It's classic California in a nutshell.
What is there to do in Santa Cruz besides the boardwalk? This post should definitely answer that question in muuuch more detail, but to summarize, there's West Cliff Drive, Natural Bridges State Beach, the Mystery Spot, whale watching, butterfly admiring (in season), go wine tasting,
What are the best day trips from Santa Cruz? Monterey, Carmel, Big Sur, Pescadero, Capitola, and Half Moon Bay are some of my favorites!
Is Santa Cruz safe? The area has unfortunately gotten a bad rep due to higher-than-average property crimes (stolen bikes, backpacks, etc). Always lock your car and never leave your stuff unattended. Other than that, it's pretty safe! Violent crime is pretty rare here, thankfully!
Top 15 Things to Do In Santa Cruz
Check out this itinerary for how you can combine some of the suggestions below into a chill weekend getaway in Santa Cruz.
1. Santa Cruz Beach Boardwalk
The Santa Cruz Beach Boardwalk is an old timey amusement park with arcade games, rides, and fried foods. They have rides at all thrill levels and the park is conveniently located on an expansive beach. There's warm sand, hot rides, cool surf, and tons of free entertainment! And don't forget to indulge in a deep fried Twinkie (or two or three). 🙂 As they say, you only live once!
The beach boardwalk is definitely one of the most popular things to do in Santa Cruz, so expect crowds in the summer. It's the top Santa Cruz attraction by far. You'll see families with young kids, teens hanging out, couples holding hands, and locals strolling by.
From late May to late August, the boardwalk and all the attractions are open daily. During other times of year, the boardwalk is open on weekends and holidays, but note that the rides food vendors are closed during the off-season. The arcade and laser tag are still open though, yay!
2. Spot Sea Lions at Santa Cruz Wharf
Take a stroll from the boardwalk down to the wharf and check out the resident population of sea lions. While there, be sure to spend some time scanning the ocean. There are regular migrations of gray and humpback whales in the spring and fall. And the elephant seals and dolphins live in the area year round.
3. Go Sea Kayaking
If you would like to get closer to sea lions and otters, take a kayak tour with Venture Coast Santa Cruz. They offer two hour paddle tours that includes a guide and all of the necessary equipment. They even offer sunset and cave tours.
4. Visit Ano Nuevo State Park
If you are really into marine mammals, then Ano Nuevo should top your list of things to do in Santa Cruz. The park is located 20 miles north of Santa Cruz. They have a year-round population of resident elephant seals. The park is very popular and they have limited spots so make a reservation in advance if you want to go. And have you seen an elephant seal before?! What strange and intriguing looking creatures!
5. Take a slow coastal drive
After your state park visit, take a slow drive back south along Highway 1. The road follows right along the cliff and offers wide open sea views. There are many pull-outs where you can stop and see yet more seals and sea lions.
6. Watch the Sunset at Natural Bridges State Beach Park
Natural bridges has a fun beach any time of day, but it really shines at sunset. Grab some snacks, pull up a chair, and gaze at the ocean. No better way to end the day in Santa Cruz!
7. Watch the Surfers
Santa Cruz truly is a surf town, attracting surfers from ALL OVER THE WORLD (whoaaaa).
When the waves are up, you can watch the surfers catch the waves all along West Cliff Drive (more details below) and Pleasure Point. If you're interested in learning, there's plenty of surf schools around with beginner lessons.
Read Next: The Ultimate California Coast Road Trip Itinerary
8. UC Santa Cruz Arboretum
The UC campus arboretum is a research and teaching facility. Not only do they have over 300 different plant species, including native California plants, but also rare species from around the world! They have botanical art, bird watching, a gift shop, and tours as well.
9. The Mystery Spot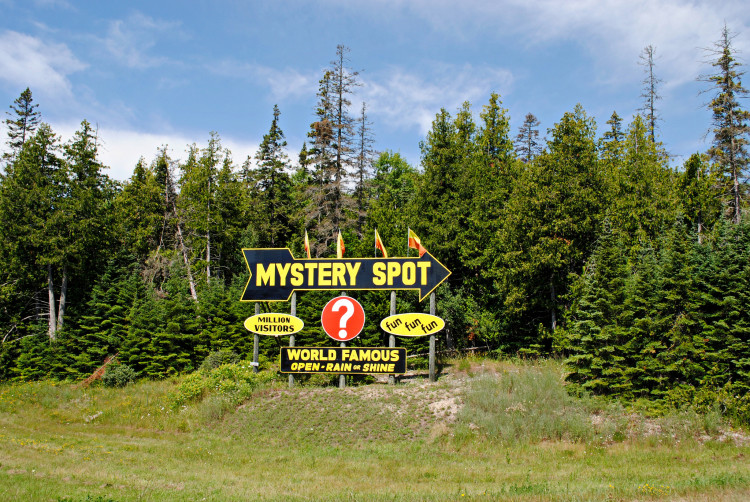 The Mystery Spot is one of those quirky things to do in Santa Cruz that you should only attempt with your tongue firmly planted in your cheek. It's located in the nearby redwood forest and allegedly sits upon a "gravitational anomaly". The 45 minute tour will show you amazing feats that defy the laws of physics. It's goofy fun and not to be missed during any weekend in Santa Cruz.
10. Hike the Redwoods
After you defy gravity, put your feet back on the ground and take a hike. The Nisene Marks State Park isn't far from the Mystery Spot. Hiking there will take you through 30 miles of trails in the ancient, fragrant groves. There are also lush second growth redwoods in the Henry Cowell State Park. Or for coastal views, you can hike the trails at Wilder Ranch State Park.
11. Stroll Around Downtown
You can kill a lazy afternoon strolling down Pacific Ave in downtown Santa Cruz. Stop into Bookshop Santa Cruz for some excellent staff pics, have some coffee in Verve, and hit up one of the 12 stores selling shoes.
12. Eat Dinner Downtown
Spend a fun evening eating and drinking on Pacific Ave. For dinner, you can have your pick of cuisine at either the Surfrider Cafe (beach casual), Laili Restaurant (Greek) or Oswalds (New American). All delicious and extra satisfying!
13. Have a Post-Dinner Drink
After dinner, go to the Pour Taproom where you can pour your own from a wide variety of beers on tap. If you prefer your drinks with umbrellas, go to the Hula's Island Tiki Room. But beware of the devil rum because they pour drinks with a heavy hand into a very large glass – aka don't plan on waking up early the next morning!
14. Get Rid of Your Hangover with Breakfast
If you had the tiki bar rum drinks, then perhaps the next morning you'll be wanting a big breakfast to tamp down the jitters. The Walnut Cafe and Zachary's will fit that bill and fill your stomach. Both are right in the downtown area and helpful to cure any hangover!
15. Go Wine Tasting
Did you realize so many things to do in Santa Cruz involved alcohol?! 😛 Start all over again and go wine tasting! There are 62 wineries in the Santa Cruz mountains, including very tasty offerings from Ridge. There are also some tasting rooms right in the downtown Santa Cruz area.
Piece together your own itinerary with these top things to do in Santa Cruz and have the perfect beach getaway! Now get planning, my friends!
Other things to do in Santa Cruz:
West Cliff Drive
monarch butterflies at Natural Bridges Monarch Trail
ice cream from Mariannes and/or The Penny Ice Creamery
surfing museum
the Wharf
take a day trip to Capitola
Have you ever been to this area of California? What are some of your favorite things to do in Santa Cruz?
Thanks again, Carol! 🙂