Heading to California and looking for the best day trips from San Diego?! Keep on scrollin', my sun-lovin', beach babe – you'll find some of the best day trips from San Diego below!
Since moving to California, I've explored a great deal of the state (Lassen National Park, Yosemite in the summer AND winter, Napa, Santa Cruz, Mendocino, Santa Barbara, Hearst Castle, Russian River, Los Angeles multiple times, etc, etc), but haven't yet made it down to San Diego! Trust me – I've been dying to go, but for some reason haven't quite found the time to add it to my insane travel schedule (check out my 2017 year in review to see what I mean).
Because of this, I've asked my friend Angelica from Good Trip Bad Memory, a local San Diegan, to share with us her favorite day trips from San Diego!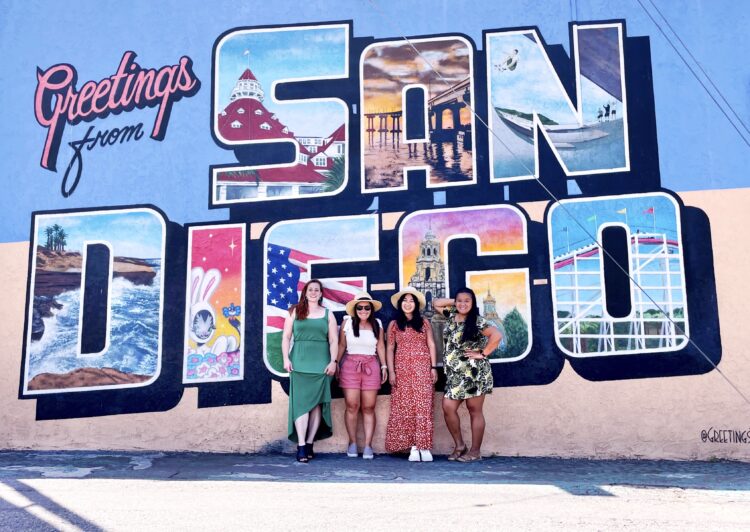 San Diego's nickname is "America's finest city," but sometimes the best part is getting out. In a single day, you can enjoy sunny beaches, green mountains, and expansive deserts, and visit sleepy suburbs, small towns, theme parks, and vineyards along the way. Have you mostly explored the area and are looking to venture further? If so, here are some of my favorite day trips from San Diego.
But first, a few pre-travel tips!
How to get around San Diego
To get around like a local San Diegan, you need a car or car rental. Public transportation for the most part is terrible, and only particular neighborhoods themselves tend to be walkable- not traveling between them. If the high speed Southern California roads scare you, you could always Lyft or Uber, but without a car, staying within the city (let alone doing day trips) is hard.
Note: Of this list, Disneyland is the only place you can get to easily without a car. If interested, you could take the Pacific Surfliner train from downtown San Diego to Anaheim, and then there's a free shuttle from Anaheim's train station to Disney.
Where to stay in San Diego
If you do get your car, staying anywhere can be easy because there are freeways everywhere. If you want to be by the beach and relax, La Jolla is your area. If you want to go to the beach and party, check out Pacific Beach. If you want more of a hipster neighborhood, check out North Park. If you are looking for LGBTQ friendly, the whole city is, but Hillcrest is the district for you. Downtown of course is in the middle of everything and it's easy to get around from, but I prefer the neighborhoods since they have more of a personality.
When to go
If your image of San Diego is sunny skies, DO NOT go during May or June! These months are known as May Gray and June Gloom, because every morning is filled with the most depressing thick clouds (and this is coming from someone who used to live in Seattle).
Otherwise, the temperature all year is usually pretty stable between 65-75°F in San Diego itself, but as you go more inland (which most of these day trips do), keep in mind that you'll be away from the coast so the temperatures will vary greatly. Even if San Diego is 75°F, inland areas can go past 100°F! So for these trips, I would recommend not going in the summer to not only avoid the hot weather but also to avoid the crowds of other tourists and locals on summer vacation.
Important things to pack
Related to the above, make sure to pack layers so you'll be prepared for wherever you go. People are very casual here but still somehow look like models, so bring whatever you want. If it's fashion forward but in a relaxed way, you'll fit right in. Also, open toed shoes are very common (flip flops, wedges, sandals, etc) in the city, but if you'll be walking a lot, shoes like Vans are also common and comfy.
Now that you're prepared, let's get started on some fun-filled San Diego day trips!
Best Day Trips from San Diego
Carlsbad
Distance from San Diego: 40 min (~35 miles)
If you're looking for one of the best day trips from San Diego in the sunny spring months, Carlsbad is your answer. Why? That's easy! Because that's where one of the largest flower fields in southern California is located – yes, I'm talking about the Carlsbad Flower Fields!
Top things to in Carlsbad:
Frolic in the Carlsbad Flower Fields from March to May! If you're as obsessed with pretty blooms as I am, get ready. This place will blow your mind.
Grab donuts from The Goods – with flavors like stuffed Nutella and s'mores, you'll wanna save room for dessert.
Go for a walk on Carlsbad State Beach (either on the sand or the paved pedestrian path), and be sure to look out for dolphins (they're frequently spotted here!)
Eat panda dumplings, indulge in bao buns, and slurp on ramen at Harumama Noodles + Buns
Sip some craft cocktails and make s'mores at Campfire – a super buzzy outdoor space that's oh so much fun
Go strawberry picking at the Carlsbad Strawberry Company from February to June for the sweetest, most delicious berries ever (there's sunflowers, pumpkins, and a corn maze in the fall)
Take the kids to LEGOLAND California, and play out all your lego-themed dreams (there's even a dinosaur and mini star wars land – completely made out of legos)
San Clemente
Near perfect weather. White, sandy beaches. Spanish-style architecture. Rich history. Golf cart culture (yes, really)! San Clemente is one of the chillest towns in all of Orange County. And we're obsessed. It's now our favorite town in all of OC, and we can't wait to go back (hopefully way sooner than later).
We found the town to be a spunky mix of old-town Spanish flare and that small-town beachy vibe we seem to love. It's actually referred to as the Spanish Village by the Sea, how fun is that?! And it's one of the easiest day trips from San Diego, being only an hour away!
Distance from San Diego: 1 hour (~60 miles)
Top things to in San Clemente:
Go for a stroll on Avenida del Mar, San Clemente's main street with lots of cute boutiques and restaurants
Be wowed at Casa Romantica Cultural Center and Gardens – those arches and tiles are just remarkable, and OH the views of the Pacific!
Walk down the San Clemente Pier for the best views of the beach and endless blue water views
Go beach hopping – you've got your pick of San Clemente Beach, Calafia, Trestles, and T-Street Beach
Stroll along the San Clemente Coastal Trail, the dog-friendly wide dirt path that connects all the beaches
Watch the surfers at Trestles or T-Street Beach, or get out on a board yourself!
Have a picnic and watch the sunset at Parque Del Mar to see the sky come to life – ohhh the colors! Absolutely mesmerizing (reason enough to day trip from San Diego!)
2. Wine Tasting in Temecula
Beer not your thing? If you drive about 60 miles north of San Diego, you'll hit Temecula, a smaller city known for amazing wine, huge vineyards, and alcohol packed wine tours. Temecula Valley is almost like Napa Valley for Southern California.
I personally am not sophisticated enough to tell the differences between wines (well, beyond red, white, and rosé), so I actually choose wineries here based on which have the most interesting Groupon because there are a ton! Some of the Groupons/wineries offer food in case you want snacks or are traveling with someone who doesn't drink but still wants to enjoy the cute wineries.
And if you've got more time and are looking for something somewhat thrilling to do in Temecula, you can even take a hot air balloon ride over the vineyards! Editors Note: I flew in a hot air balloon in Napa Valley and it was fantastic!
Beer Tasting on Hops Highway
Distance from San Diego: varies based on brewery
San Diego and the best craft beer you'll ever have in your life go together like peas in a pod. There are amazing breweries all over the city, but if you drive about 35 miles north of downtown to I-78, you can find dozens of breweries and taprooms across different cities right off of this highway- so much so that it has been nicknamed Hops Highway!
San Diego's official website has a sample tour of breweries you can try out, and this website dedicated to craft beer in San Diego lists out virtually every other brewery on that highway if you want to try more from the other breweries. Just make sure you have a sober driver if you do this, or make sure to go as part of a tour so they can drive you.
Balboa Island
Ohhh, Balboa Island. The peninsula is super cute to walk around, but do yourself a favor and park on the main strip and then walk over the bridge to the island. Despite being one of the best day trips from San Diego, it's typically a madhouse (in terms of parking) over here. And once you walk over, you'll find charming boutiques, upscale restaurants, and tons of boats and yachts.
But whatever you do, don't miss one of their famous bananas! This tiny (man-made!) island town has become known for their loaded frozen bananas – and we always make sure to get one (or two) whenever we're in the area. If you're looking for a day out in the sun, Balboa Island is easily one of the best day trips from San Diego.
Distance from San Diego: 1 ½ hours (~85 miles)
Top things to in Balboa Island:
Go for a stroll on Marine Avenue, where you'll find ton of chic coastal shops (think unique nautical designs, stylish beach accessories, and beach-inspired art and jewelry)
Get out on the water with a paddleboard, kayak, or boat!
Visit the Balboa Island Museum to learn about the community traditions of surfing, fishing, The Wedge, and more (and better yet, it's free to enter!)
Rent a small electric Duffy Boat, and then ride around gawking at all the million dollar yachts and multi-million dollar mansions
Cruise around Newport Harbor and look out for whales and dolphins (gray whales, blue whales, humpbacks, and orcas can be seen depending on the season)
Disneyland
Slap on some Mickey Mouse ears and stroll on into the most magical place on earth! This day trip from San Diego will take some planning as you'll need to get your tickets in advance. Feast on sugary cotton candy, fawn over your favorite characters, and be flipped upside down on one of the many exhilarating roller coasters.
A trip to Disneyland is hands down one of the most iconic things to do in California and one of the best day trips from San Diego. You'll probably wanna grab a Disneyland Park Hopper ticket so you can move from Disneyland to California Adventure freely.
Distance from San Diego: 1 ½ hours (~95 miles)
Top things to in Disneyland:
Sip out of this world cocktails, beer, and wine at Star Wars: Galaxy's Edge
Feast on the famous Disneyland snacks (bonus points if they're mouse-shaped): try Pineapple Dole whip (adults – ask for rum!), sugary Mickey beignets, Mickey ice cream bars, and anything from Jolly Holiday bakery on Main Street (for the most instagrammable Disney desserts)
Go shopping at Downtown Disney, and buy a pair of ears to wear in the park!
Go on as many thrill rides as you want, but don't skip the tamer ones: popular rides include The Matterhorn, Indiana Jones Adventure, Space Mountain, Buzz Lightyear's Astro Blasters, Pirates of the Caribbean, and of course the newly opened Star Wars: Rise of the Resistance
Watch the Main Street Electrical Parade and then the fireworks show at the end of the night
Stand in line and meet some Disney characters!
Take some fun photos at some of the best Disney photo spots – In front of the castle, on the The Walt Disney bench, at The Mad Tea Party in Fantasyland, and of course with some of those famous massive balloons
Huntington Beach
Close your eyes and think of classic California. I bet wide-open beaches lined with palm trees, people cruising on their bikes, surfers cruising the waves, and perfect sunsets along the pier come to mind. And that beautiful place you're picturing? Well, my friends, that is the ever-so-stunning Huntington Beach, California. One of the best day trips from San Diego!
Distance from San Diego: 1 ½ hours (~95 miles)
Top things to in Huntington Beach:
Watch the surfers ride the waves from the Huntington Beach Pier, then stop at Ruby's Diner for a classic milkshake!
Learn about the surf culture at the International Surfing Museum, where you can say hello to the father of surfing, Duke Kahanamoku, see some cool boards, and just soak up the chill vibes.
Rent a beach cruiser bicycle and cruise along the boardwalk, stopping at Dog Beach and Bolsa Chica State Beach on the way!
Take a surf lesson – I mean this place is called Surf City USA for a reason.
Grab dinner at Dukes, a Hawaiian themed restaurant with amazing Hula Pie for dessert (don't miss it!).
End your night with a bonfire on the beach (bring all the fixin's for s'mores if you've got a sweet tooth)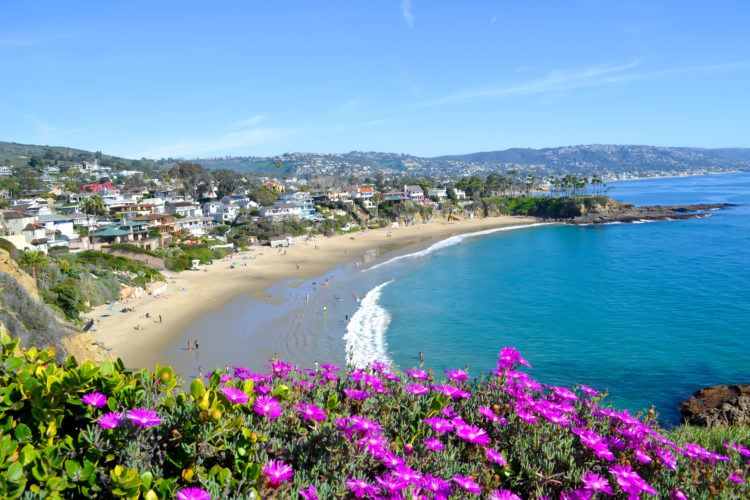 Borrego Springs
Borrego Springs is that quirky desert town everyone forgets about it (although not as eccentric as Salvation Mountain and Slab City!). It's laid back and unpretentious, with fabulous night skies and a super funky art scene.
I imagine Borrego Springs is what Palm Springs was like decades ago — pristine desert landscapes, super starry dark skies, crystal clear air, extraordinary spring wildflowers, and oases full of cacti and palm trees. And it makes for one of the best day trips from San Diego from late October to early April (it's way too hot other times of year, just FYI).
Distance from San Diego: 2 hours (~85 miles)
Top things to in Borrego Springs:
Hike The Slot – with its alien-looking landscapes, a narrow siltstone canyon, and spectacular cliffs, it's such a fun morning activity.
Check out the metal sculptures in Galleta Meadows, one of the quirkiest roadside attractions in California, and such a fun spot for creative photos!
If you don't mind driving back to San Diego at night, plan to go stargazing! The town is California's only International Dark Sky Community for a reason!
Take a 4×4 tour of Anza-Borrego Desert State Park – yes, you'll need a proper vehicle for this, but you can go off-roading to Font's Point and the surreal desert badlands (California's Grand Canyon)
See the palm tree oasis along the Borrego Palm Canyon Trail, a 3 mile round trip (flat!) hike that's essentially self-guided nature trail through the desert (bring A LOT of water)
Anza-Borrego Desert State Park
Distance from San Diego: 2 hours (~85 miles)
This is another great escape from the city since the desert is in the middle of nowhere and everything is quiet and calm. One of the day trips from San Diego if you're looking to get away from it all, for sure! There are a ton of hiking trails here since it's California's largest national park- just make sure you stay prepared with a lot of water.
After a hike or two, you can check out the town, which is small but full of art stores. Speaking of art, along the drive you may notice that there are crazy animal sculptures throughout the desert. There are usually dirt roads you can pull into to see these closer.
Even though this post is about San Diego day trips, if you end up visiting at night, you can see some of the most stunning views of the stars. In fact, the park is an official night sky community, meaning they actively maintain the lights at night to keep it dark.
6. Playing Local Tourist in Julian Mountain
Julian is an old gold mine town that a lot of local people take day or weekend trips to. Similar to Alpine, it's an escape from the coastal San Diego city to tree covered mountain town. Julian is especially nice if you're into shopping local stores- there's a lot of locally made food and also trinkety souvenirs.
Last, they're known for their apples and apple pie which are serves all year round but are especially delicious during apple season (the fall).
Palm Springs
Palm Springs is your quintessential California desert town, perfect for chill girls weekends, wild bachelorette parties, romantic couple escapes, and everything in between. A big draw: it's consistently beautiful with near-perfect weather — I don't think we saw a cloud in the sky our entire visit! It's one of my new favorite places in California, and we can't wait to head back.
If you're looking for a design-focused city with palm tree lined streets, colorful accommodations, vintage shopping, and an all-around relaxing ambiance, you NEED to spend a long weekend in Palm Springs ASAP. A true mix of classic hipster vibes and that desert bohemian spirit. You'll love it, I promise! Plus — there's a whole lotta sunshine (and low humidity — thank the hair gods).
Distance from San Diego: 2 ½ hours (~125 miles)
Top things to in Palm Springs:
Go on a DIY Palm Springs door tour! We had such a great time searching around for all the colors of the rainbow — Yellow doors, bright turquoise doors, orange doors, lime green doors, pink doors, you name it!
Hike the Andreas Canyon loop in Indian Canyons – come early to see the groves of spectacular California skirted fan palms, the Andreas Creek, and even a mini waterfall before it gets too hot!
Stroll through the Moorten Botanical Garden, a cactarium filled with succulents, cacti, and even desert turtles (we loved them!)
Find art in the desert at DesertX – it's essentially an outdoor art scavenger hunt in the middle of the Coachella desert! What could be better?
Chill by the pool, and yes, day passes are available to some of the best spots in the city (we love The Ace Hotel!)
Walk around Palm Canyon Drive with tons of hip restaurants, unique shops, galleries, and a newly redesigned downtown plaza.
Glamis Sand Dunes
Looking for one of the best action-packed day trips from San Diego?! The Glamis sand dunes are a ways away (deep in the California desert), but I promise you they're so worth it! I wouldn't have you going outta your way if they weren't. Breathtaking, surreal, and absolutely amazing. It felt like we were on a different planet — even Jumanji 3 was filmed right here!
Surprisingly, we found them even more impressive than the sand dunes we had recently seen at Death Valley National Park! For starters, you literally drive right up to the dunes, and secondly, the sand is so much more pristine! We didn't have to walk forever through the sand to find those perfect ripples (like we did in Death Valley).
Distance from San Diego: 2 ½ hours (~150 miles)
Top things to in Glamis:
Gaze out into the never-ending sand dune view – no really, they go as far as the eye can see!
Watch the sunset at the Ledge – there's nothing more spectacular than watching the sun go down over the endless sand
Take photos! Bust out that flowy dress and work those angles!
Watch everyone race up and down Oldsmobile Hill – it's truly a fantastic sight
Try some world famous "Glamis Crack" because deep-fried Oreos with vanilla ice cream is alway a good idea (grab some from Daddy's Famous Food)
Joshua Tree
Wild and wacky Joshua Trees. Rugged rock formations and giant boulders. That arid desert landscape. Dark starry night skies. And even a rich (and quirky) cultural history! That's Joshua Tree National Park in a nutshell — and it's 100% worth spending at least a day there!
Being one of the furthest day trips from San Diego on this list, you'll need to wake up early if you wanna fit a lot in! But thankfully, the park is easy to navigate and you can see a whole lot in a short amount of time! Plan to spend the day admiring the wacky trees, climbing up huge rocks, watching the climbers, and heading to the highest point in the park for sunset.
Distance from San Diego: 3 hours (~150 miles)
Top things to in Joshua Tree:
Admire the teddy bear cacti at the Cholla Cactus Garden, one of the most popular areas of Joshua Tree National Park!
Hike to Arch Rock (a natural granite arch) then wait on line and climb up to take that obligatory photo
Find Skull Rock, a funky rock formation which looks exactly like it sounds – a human skull!
Run up and down the giant boulders at Jumbo Rocks – I guarantee you'll feel giddy like a kid again!
Witness body of sapphire-blue water in the middle of the barren desert landscape at Barker Dam, as long as it's not all dried up
Hidden Valley Nature Trail is one of the most popular hikes in all of Joshua Tree, so make that your first stop
Stay for sunset and watch it from Keys View, the highest vantage point in the park
8. Off-roading in Ocotillo Wells
If you want a more intense trip to the desert, check out Ocotillo Wells. This area is popular for its ATV and dirt biking opportunities- which is a really fun and unique way to explore the land. This is right next to the Anza Borrego Desert, but is a day trip in its own right because of how long you'll want to spend riding around. A lot of places offer all day rentals, and remember to wear long, breathable clothes.
Similarly, you should remember to bring enough water here and also there are amazing views of the stars if you happen to stay the night.
9. Two for one trip to Los Angeles
This is a bonus because there are way too many things to do in Los Angeles to fit a day trip. Maybe you could see a district or try a specific set of restaurants or go to a couple of museums in a day, but if you take a day trip to Los Angeles, you will likely be wishing you had more time there (and also because even though it's only 100 miles from San Diego, the traffic will eat up a lot of your day).
Los Angeles has a completely different vibe than San Diego, so it really feels like you're in a new place. For a day of food, I would recommend hanging out around Grand Central Market, where you can try a lot of different things at once, and for a day of cool art and cute pictures, I would recommend going to one of the many museums. If you'd like another theme park, Universal Studios is right there.
10. Traveling abroad to Baja California, Mexico
And last, this is a bonus because I haven't done it yet so technically I can't vouch for it. But miles-wise, Mexico would make a closer day trip from San Diego than anything here because the border is just 20 miles away! I've heard from longer time San Diego residents that the coastal cities in Baja California like Rosarito and Ensenada have great surfing, scuba diving, and tasty seafood.
And there you have it- the best day trips from San Diego! Hopefully these help you as you explore not just the city, but also the awesome activities around!
Looking for more California content? Explore my other California guides here!
Did you know that …
When you purchase something through our links, we earn a small fee (but you still pay the same)! Win-win! If you found this article useful, consider using the links within the article or below. Thanks for your support!