Planning a visit to Yosemite National Park in March or another time during the winter?! This post is just for you! Yosemite is such a winter wonderland, and you'll quickly see why!
Come read about all the best things to do in Yosemite in the winter; plenty of spectacular photo stops and short wintery hikes included! Psst: Yosemite in March was absolutely stunning… see the photos below! 🙂
Are you wondering "Is Yosemite even open in the winter?" Well, my snow-fanatic friend, you're in luck, because Yosemite National Park is open 24 hours a day, 365 days a year! And yes, even when it snows!
The fluffy white stuff just makes it all that much more magical, trust me! The crowds vanish, icicles dangle from tree branches, snowflakes coat the Valley, and the entire park is so calm and bright. A winter wonderland for sure!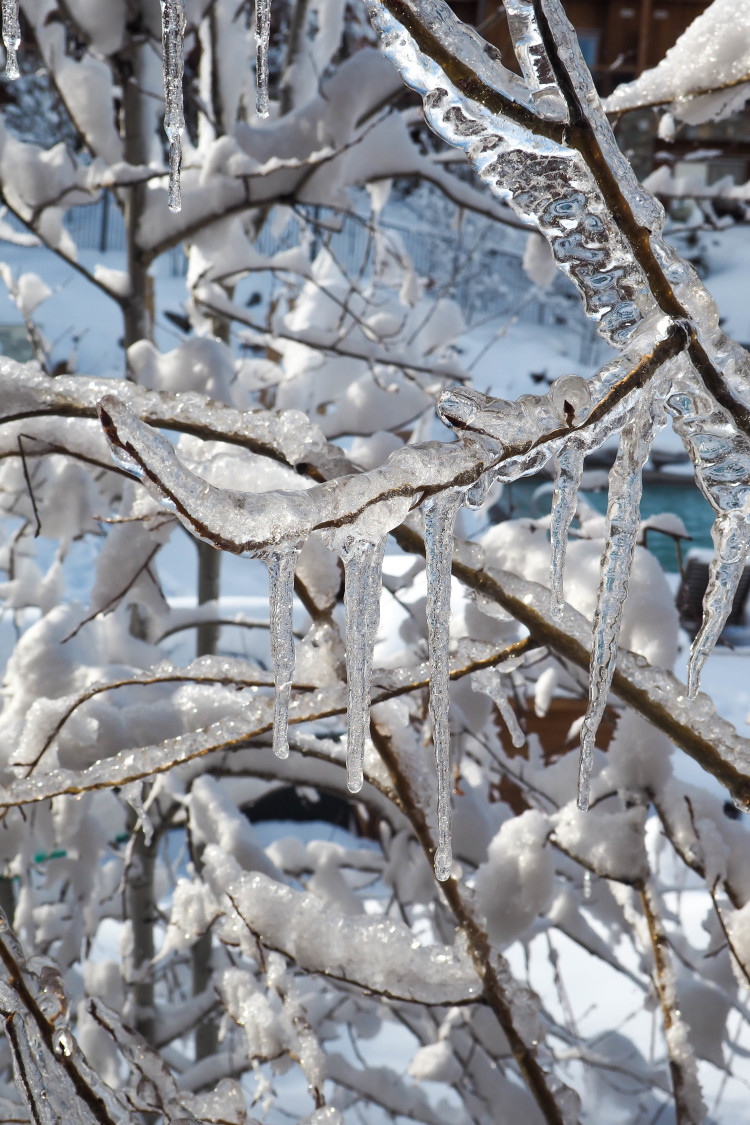 We found Yosemite in March (when we visited and when all these photos were taken) to be absolutely wonderful. There was still snow falling, the winter and holiday crowds had dissipated, and rates were not as high as during the peak of summer.
If you're looking for stunning beauty and some solitude during winter, consider making the drive to Yosemite National Park- only a 4 hour drive from San Francisco.
Planning more weekend getaways from the Bay Area?! Check out other weekend trips from San Francisco here and short road trips from SF here!
You don't need any reservations to visit the park, but just note that tire chains may be required depending on road conditions, and something you may want to invest in beforehand.
We were invited to stay at Rush Creek Lodge a few weeks ago (mid-March), and we hopped on the opportunity to visit Yosemite National Park in the winter! Since we had never visited the park in winter before (only during late spring and early fall), we were beyond ecstatic to witness Yosemite in March in all it's snow-covered glory.
And with winter and snow comes less visitors, meaning we were lucky enough to have numerous spots in the park all to ourselves! And the lodge? Blew all our expectations out of the water, but more on that below. Hint: free unlimited s'mores. 😉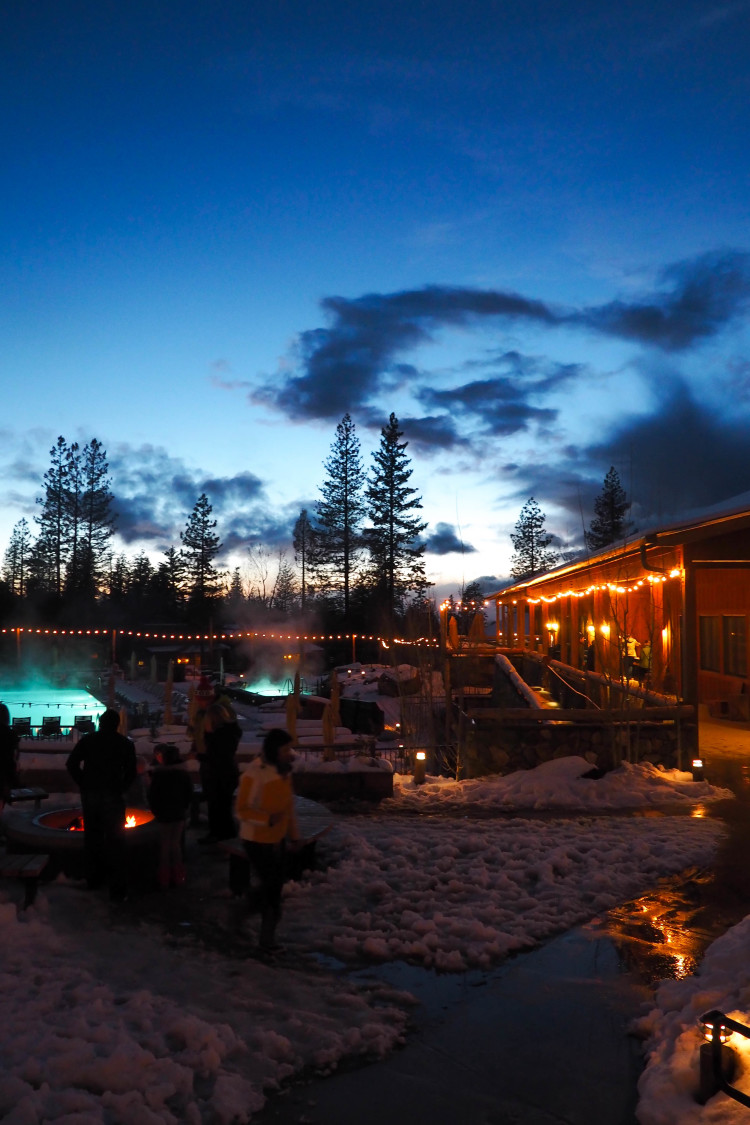 Safety and Road Conditions/Closures:
Some roads in the park will close due to snow around late October and stay closed through May or June (depending on the year and how much snowfall Yosemite receives; roads open and close on different dates every year).
It's important to note that the main road which leads to the super popular photo spot of Glacier Point (Tioga Road) is closed during the winter as conditions are too dangerous (yes, even if you're visiting Yosemite in March… you'd think spring is starting to bloom but not here!).
In addition, although the Hetch Hetchy Entrance Station is open during wintertime, it's only available for driving during daylight hours.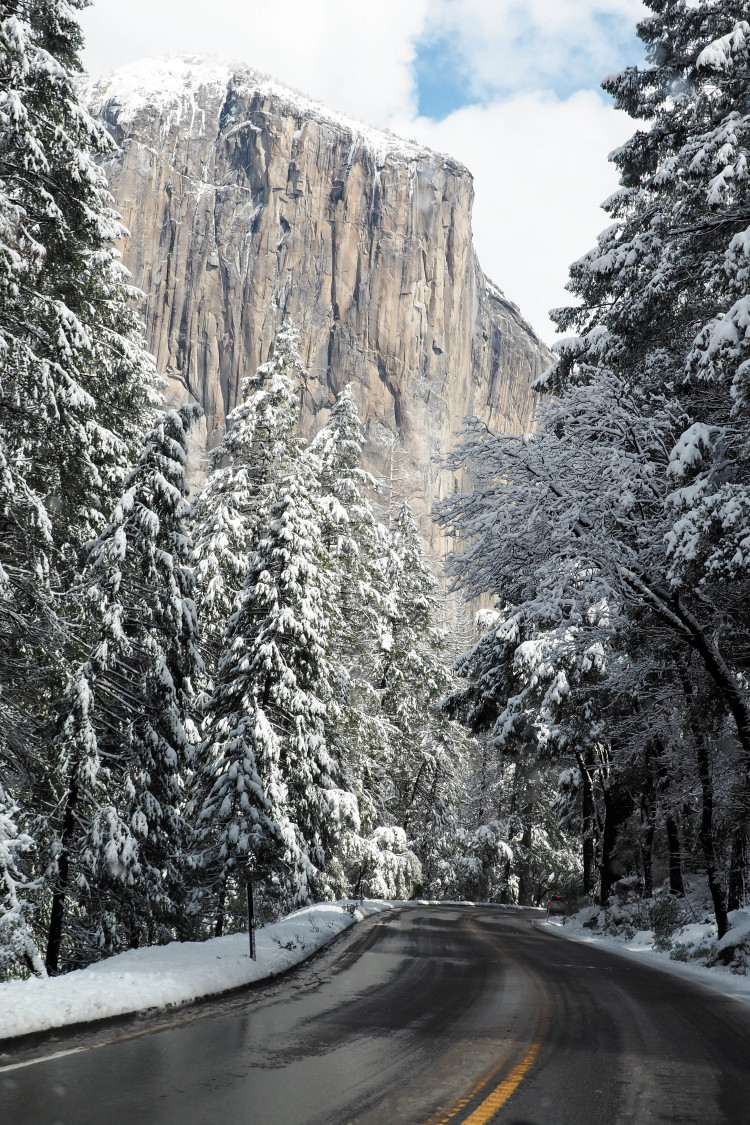 Yosemite Valley and Wawona remain accessible by car all year round (roads are maintained but chains may be required), so it's a good idea to plan your trip and things to do in Yosemite in winter around these areas.
It'd be horrible to be wishing and hoping to do a particular hike/drive, only to find out the road is closed during wintertime. Do your research ahead of time and all of your snowy expectations will be met and then some! Just be sure to bundle up!
Be sure to check out the latest road closures and conditions here before and during your trip to Yosemite when visiting in the winter.
Weather in Yosemite during March:
You guessed it, it'll most likely be chilly when you visit Yosemite National Park during the winter months.
Temperatures and snowfall range depending on where you are in the park and your level of elevation, with average high temps in Yosemite Valley of around 50°F (10°C), and average lows being around 30°F (-1°C).
You may in fact get lucky and get to witness a bright and sunny day, which is quite common (!!!), but also realize that cloudy and/or foggy conditions with rain and snow are more than possible as well.
Yosemite in March (we visited mid-month) was cool and snowy, although I've heard others experience 65°F weather this time of year.
How to Get Around Yosemite in the Winter:
I highly recommend visiting Yosemite in the winter with an AWD SUV, as it makes driving through the snowy park much easier. We saw a few regular cars/sedans on the road, and were so so glad we brought our SUV. One car was even stuck in the snow and people were pushing it out. Others had to put chains on outside in the freezing cold (not fun).
Winter conditions (bringing extra complications) are common from November through March, but can can really occur any time. Be prepared!
You'll be glad to know that the Yosemite Valley Shuttle runs one of it's routes year round, and has stops at or near all overnight accommodations (located within the park), stores, and major vista points.
The shuttle runs from 7am – 10pm. Note that detours may be made due to road closures and extra time should be planned to get from spot to spot.
A Quick(ish) Note on Chains:
You'll most likely be required to bring chains along with you in March (and all of winter in general), but that doesn't necessarily mean you'll be required to put them on your wheels.
We were lucky that we were driving an AWD SUV with snow and mud tires (not sure if you have these? Check for "S+M" on your tires), and chains were not required during our time in the park for AWD vehicles with snow tires.
If you're driving a regular sedan, you'll most likely be required to put on chains for safety reasons when ice and snow are present. You can either purchase these before your trip at your favorite auto shop, or right before entering the park after you pay the National Park fee.
In addition, you're able to pay park staff to install the chains for you should you require assistance.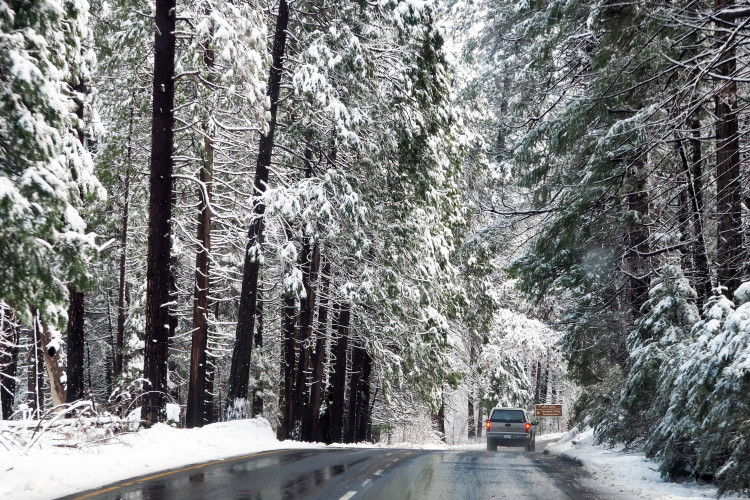 What to Pack for Yosemite in the Winter
As expected, Yosemite in the winter months gets pretty damn chilly. You'll wanna prepare for the cold temps and pack the necessary gear! Thankfully with the right stuff, you can stay warm and dry even when it's wet and chilly outside! No one likes wet feet – that's the absolute worst!
After going on quite a few snowy weather winter getaways, I've kinda perfected the ultimate packing list. But first, a few tips:
Piece of advice #1: Invest in warm and waterproof snow boots with a proper grip. When ordering, opt for a size slightly larger than normal, as you want to allow for thick socks and toe warmers. If your boots are too tight (and your toes are crammed together), your feet will never stay warm enough.
Piece of advice #2: HOT HANDS. Enough said. But in all honesty, hot hands saved our frosty fingers on more than one occasion. What are they, you ask? They're these magical dry packets filled with iron (among other scientific things) that intensify in heat once activated. Basically – super technological hand warmers that stay warm for up to 10 hours. And they are a godsend. You'll want at least 1 pair a day. Buy on amazon here.
Here's my winter weather recommendations for what to pack for Yosemite National Park in the winter:
Warm Winter Coat: For those frigid winter days, you'll really wanna invest in an insulated parka. I've got my eye on this North Face parka (I currently wear one from 10+ years ago – it's about time for a new jacket). Looking for one a bit less expensive? This one's crazy popular on social media, and with the length and sherpa-lined hood, I can totally see why. However note that it's only water resistant, not waterproof, so not the best choice for those crazy snowy days.
Packable Puffer Jacket: I wear this one – it's lightweight and water resistant, plus comes in a bunch of fun colors and the pockets are super deep (perfect for storing your phone). It packs down to almost nothing in the little included pouch – perfect for travel!
Fleece Zip-Up: On those absolutely frigid days when you need a little something between your sweater and warm winter coat, a fleece zip-up (like this Columbia full-zip) will come in handy. There's a reason it's got 45k positive reviews!
Base Layers: I've been wearing heat tech long sleeve tees ever since I went to Banff a few years back, and they've saved me from those frigid temps! They're super lightweight and perfect to wear under a sweater, and leave you feeling dry and warm without the bulk!
Fleece-lined leggings: I used to layer two pairs of regular leggings, but now that fleece-lined leggings are a thing, I only wear those! They're just as comfy as regular leggings, but keep your legs staying warm and toasty. I've worn these pairs a few times and they've been great, and come in a bunch of fun colors! If you're looking for something to wear under jeans or snow pants, these come highly recommended (although too thin to wear on their own; more like a base layer).
Chapstick: Cold and dry air make your lips susceptible to chapping super easily. Ugh, the worst! I'm low-key obsessed with this cocoa butter swivel stick – it makes your lips so super soft and it smells a tad like chocolate! My favorite! It also works wonders on dry, chapped skin. You'll wanna reapply multiple times throughout the day. Psst – not all chapsticks are created equal, and some will even make your chapped lips worse (true story). Avoid any containing ingredients like phenol, menthol, and/or salicylic acid; these actually make your lips drier. I always stick to Vaseline (these mini pots are small enough to throw in your purse) or a cocoa butter stick.
Power Bank: After relying on friends' spare batteries for far too long (thx friends), I finally invested in power banks of my own, haha. Batteries die out faster in the cold, so come prepared with a power bank to recharge your stuff on the go. This compact power bank gives up to 10 full charges! I always throw this tiny one in my bag also, just in case, as a backup. My phone is my life-line (especially when traveling solo), so I like to be extra prepared!
Warm Gloves: I like to take a few pairs of gloves with me – loving these wool-blend mittens and this pair that's super lightweight and waterproof (good enough to go skiing in).
High Socks: Choose wool ones that wicker moisture and keep your feet dry all day long. Synthetics are a no-go, especially in winter. These merino wool socks are super warm and so incredibly soft (and nope, not itchy at all contrary to popular belief) and perfect under snow boots. You'll never wanna take them off… just buy a few pairs! I recommend layering your socks and actually wearing 2 pairs at all times (I typically do one shorter, ankle length merino wool sock underneath, and a longer, mid-calf merino wool pair on top).
And now the fun part! Things to do during your winter visit to Yosemite National Park!
Things to do in Yosemite in March (and in the winter months in general)
Photo Stops and vista points:
We wanted to see the most beautiful spots in Yosemite during the winter since we had only been in the spring, and loved being able to drive our SUV around the snow-coated valley to find these. No hiking required!
Honestly, any drive through the valley will bring you impressive views – I promise! We stopped on the side of the road more times than we can count, and I took over 500 photos in just one day – guilty! These snowy vistas are photographer-friendly for sure, can you blame me?!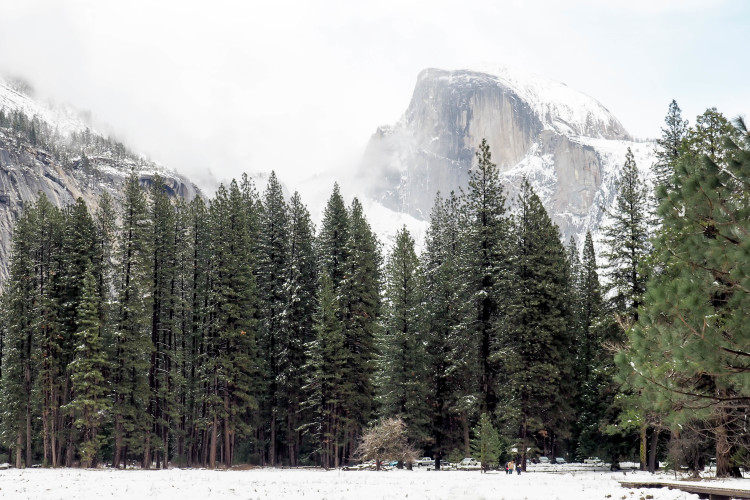 Just be extra careful and only pull off the road when you are positive you'll be able to get back on (i.e. don't pull off into a pile of snow, when there's a steep drop off nearby, etc…).
Tunnel View: This is one of the viewpoints you see on all those postcards, and rightfully so! Ansel Adams made this view famous long ago, and Tunnel View is an absolute must stop for any visitor to Yosemite, even if you've already visited. Seeing Tunnel View in winter was dramatically different than the viewpoint in summer.
Located in Yosemite Valley just outside the Wawona Tunnel on Highway 41, this is one of the most popular vista points and therefore will be the spot with the most crowds during your winter visit.
And even better – no hiking (at all) is required! The best view of the valley is seen here: Bridal View Falls on the right, Half Dome in the center and El Capitan on the left. Extraordinary, spectacular, and majestic. Promise me you won't miss this! And make sure to take a photo or two (or 78 if you're like me). :p
Valley View: We absolutely LOVED this viewpoint and were so lucky that it had starting snowing right when we arrived. It's an absolutely wonderful spot for photography, and when you want to take a little break and soak up the tranquility of the valley.
The backdrop of the majestic mountains were framed with snow-covered rocks and the gentle Merced River. Absolute heaven and easily accessible by car!
Sentinel Bridge: This bridge spans across the Merced River, and boasts an impressive, yet well-known view of Half Dome. But because it was winter, we had the bridge all to ourselves at multiple instances!
Note you'll need to walk on a snowy boardwalk throughout the meadow before reaching the bridge. And from the bridge, it's also possible to see Yosemite Falls, depending on weather conditions of course.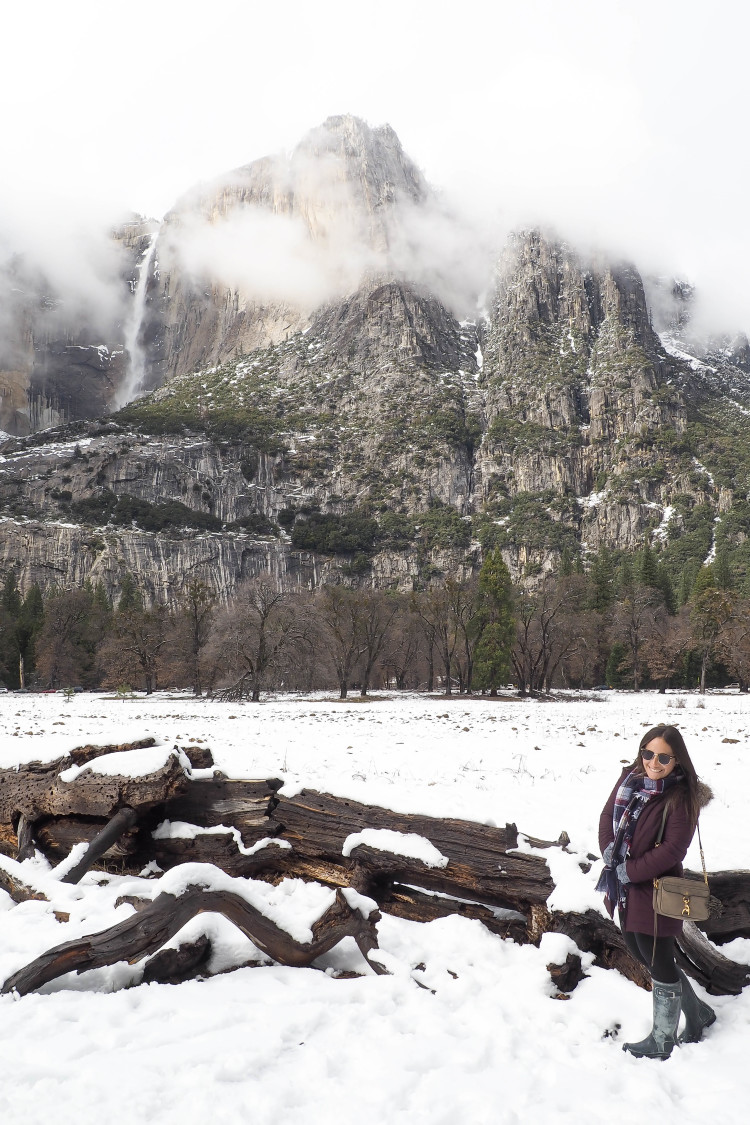 Yosemite Valley Chapel: This Chapel was built in 1879 and is the oldest standing structure in Yosemite National Park! Wow. And it's still being used for worship, weddings, vow renewal ceremonies, and more!
Take a few moments to gaze up at it's simple architecture – and be sure to turn around as the scenery is just as stunning with your back to the chapel as well!
Hiking in Yosemite During the Winter:
If you're feeling a bit adventurous and aren't afraid of getting a little wet (depending on the conditions of course), there are numerous winter hikes to take in Yosemite. Don't let the snow scare you!
Note that you'll want to obviously dress for the occasion and possibly invest in winter traction devices for your shoes and/or trekking poles as these will come in handy on those parts of the trail that are snowy and/or icy.
Most of the trails in Yosemite Valley (that don't lead up the valley walls) are open year round. This means that they're still accessible in March and winter as a whole! YAS! And of course, the crisp winter temperatures are ideal for working up a sweat!
The most common short hikes in Yosemite during the winter include: Bridalveil Falls, Lower Yosemite Falls, Mirror Lake, and the Vernal-Fall footbridge section of the Mist Trail. These are all hikable during winter in Yosemite, except after super heavy snowfalls (as the trails won't be trekkable due to all the snow and ice).
When hiking in Yosemite during the winter, always be extra careful and as mentioned above, be on the lookout for slippery ice and snow on the trails.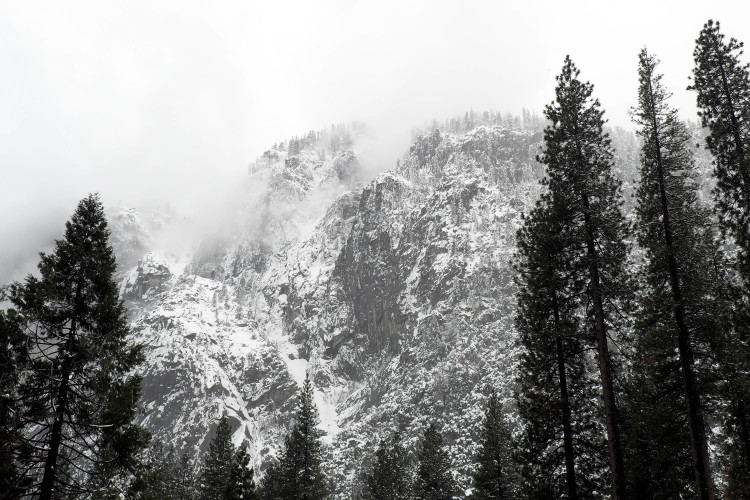 Bridalveil Falls: ½ mile round trip
If you only do one hike during your time in Yosemite in winter, make it the short walk to Bridal Veil Falls. Being only ½ mile round trip, even those scared of the cold will appreciate the dramatic waterfall at the end. We did the entire walk in under 20 minutes, and didn't freeze to death.
Base of Lower Yosemite Falls: 1 mile round trip
Haven't had enough of waterfalls just yet? You're in luck, because another easy and relatively flat hike is to the base of Lower Yosemite Falls. Clocking in at just around 1 mile round trip, this hike is for novice and experienced hikers alike, and standing below the rushing falls will surely impress anyone.
Mirror Lake: 3 miles round trip
Up for a bit of a longer hike? Depending on the shuttle bus, you can be dropped off at the start of the hike or a bit of a ways away (turning it into a 5 mile round trip hike), so be sure to ask about the public transportation before making the trek.
Also, consider how filled up the lake will be, as the ranger at the information center informed us that the water levels were not as high as they were in summer, which deterred us from doing the hike.
I've seen gorgeous photos of Mirror Lake surrounded by snow, so you may get luckier than we did!
Hang at Rush Creek for the afternoon
Hang out at Rush Creek Lodge (if you are in fact staying the night – HIGHLY recommended and more information below). Consider getting a Signature massage, cozy up by the fire with some hot chocolate and a book or play some board games, and/or get a drink at the bar (lots of yummy wintery options)!
My favorite: Stuff your face with complimentary (aka FREE) s'mores at the outdoor fire pit (bundle up, the marshmallows are worth it!) – every night from 6-8pm. That's TWO hours of FREE s'mores! I could have eaten a whole dinners worth of that messy chocolatey gooey goodness.
Where to Stay in Yosemite (especially during the winter)
As noted above, we chose to rest our heads at Rush Creek Lodge and are more than thrilled we did so. The lodge, being the first new resort to hit Yosemite in 25 years, far exceeded our expectations and you can bet we'll do everything in our power to make a return trip next year.
Some of our favorite aspects about Rush Creek Lodge:
It's gorgeous, it's that simple! The entire lodge was built using the finest wood, which makes the entire place just smell absolutely amazing. Modern yet still keeping it's rustic edge, the lodge is absolutely impeccable and we could have stayed a few more days no problem!
It's super close proximity to Yosemite's entrance. Rush Creek Lodge is only about a mile from the west gate into the National Park. Literally minutes away from Yosemite National Park. Can't beat that, especially when it's winter and the roads at not at their finest! It's important to note it'll be another 40 minutes of driving or so to the Valley (where all the photo stops and hikes I mentioned above are located, like this cheesy photo of us at Tunnel View). 🙂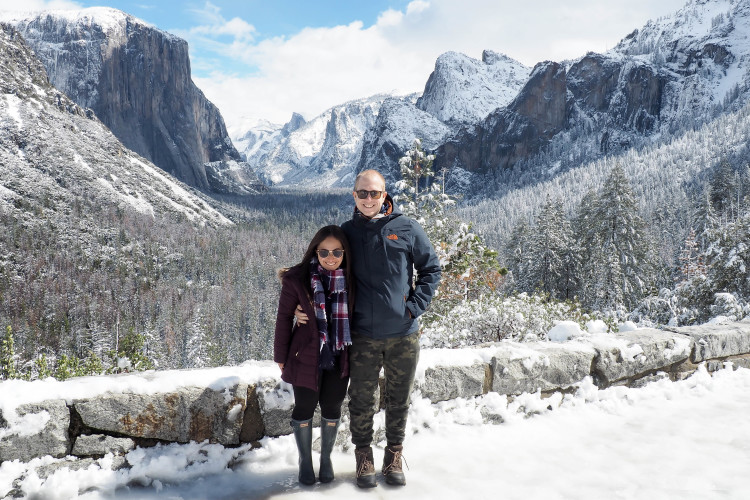 Nightly s'mores around the outdoor fire pit. Need I say more? Don't let the chilly air deter you from snacking – the s'mores, available from 6-8pm every night, are more than worth it. Stand by the fire and you'll be more than comfortable!
Year-round outdoor pool. Yes, it's surrounded by snow, but thankfully the pool is heated! We unfortunately forgot our bathing suits and therefore didn't make use of the pool, but the cool blue waters made for beautiful photos against the wintery white snowy background!
Multi-use community room: With a fire roasting at all times! The room is full of timeless couches and chairs, making you immediately feel at home. And plus, there's a ton of board games and books – perfect for those few hours after a hike before dinner or if you're just feeling rather lazy one morning.
The Fudge Brownie Sundae: Okay, I just gave this dessert it's own bullet point, it was that delicious. A warm, gooey, fudgy brownie slathered with caramel and chocolate topped with bananas and vanilla ice cream? You bet I'll be talking about that for weeks to come.
Signature Massage: Let's just say I was in a complete daze the minute I walked into the massage room. Using hot stones as well as chakra stones, this signature massage will leave you feeling all kinds of relaxed. Highly recommended. The massage therapist got out all the kinks and managed to massage all those stiff muscles from our trek into the park the previous day.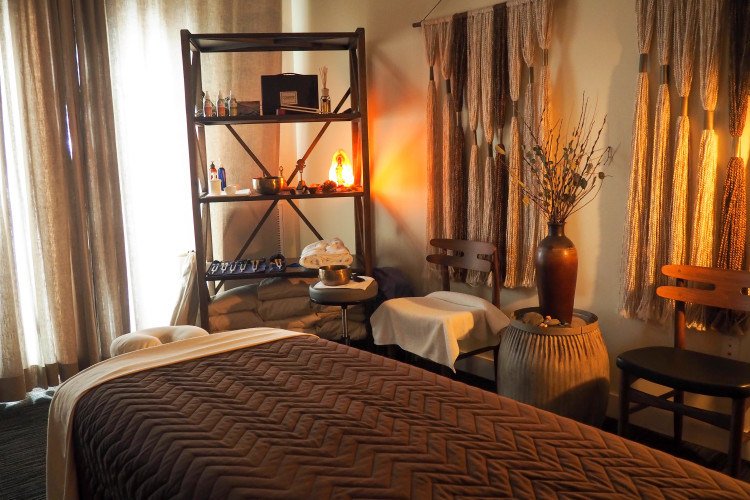 Mountain lodge style breakfast options: Boy oh boy did we love the breakfast here. Fried egg sandwich on sourdough bread with fig jelly and skillet potatoes!? Yes please! Breakfast burrito with potatoes, chorizo, black beans, pico di gallo, cheddar, and ranchero sauce? Give me more! We honestly could have eaten the breakfast for every meal (and portions were HUGE! – we should have shared!)
In summary, visiting Yosemite in March was absolutely fantastic. Hardly any crowds, light fluffy snow but not freeeeeeezing weather, minimal chain requirements with an AWD, and even some sun breaks!
I mean who wouldn't want unlimited s'mores, cedar signatures massages, stunning natural vistas without the crowds, a fully stocked bar, and cozying up by the far all in a modern rustic setting? Hello! Yes, please!
I highly recommend traveling to Yosemite in March, (and any other winter month for that matter), and we'll definitely be back next winter (fingers crossed).
Have you visited Yosemite in March or winter before?! Heading there soon? What are you most interested in doing?