Where are the best places to photograph the Golden Gate Bridge, you ask? I'm here to share all my favorites spots to see the crimson cutie!
After living in the San Francisco Bay Area for a year and a half (boy, time does go by quickly!), I've managed to see the famed Golden Gate Bridge from a variety of angles. And let me tell you, that things a beauty no matter where you're standing. There are, however, quite a few favorite spots amongst locals and tourists alike to view the Golden Gate Bridge.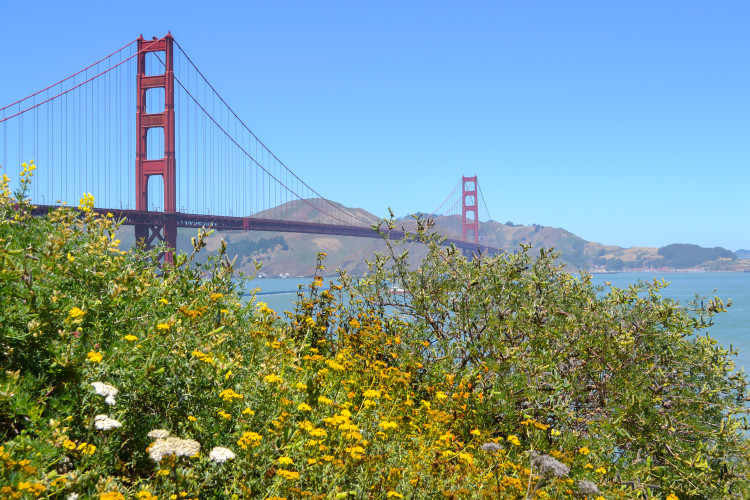 I'm a sucker for sunny San Francisco days, but if you're looking for that iconic shot, the fog is where it's at. However, be aware that if you attempt to photograph the bridge in heavy fog, there might not be much to see!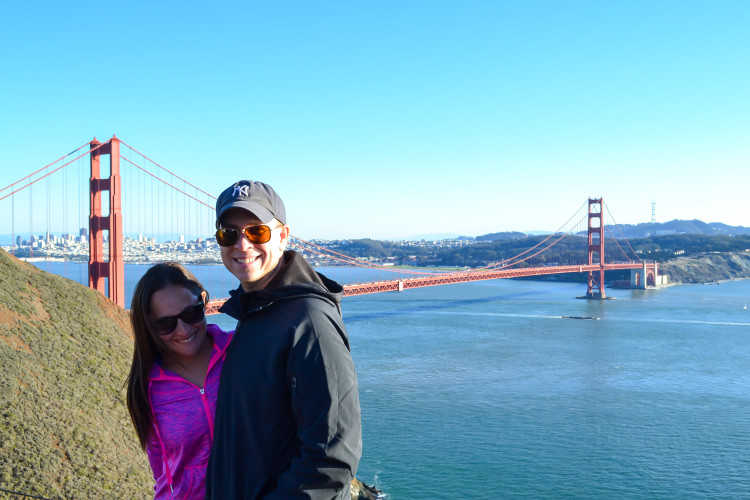 SAN FRANCISCO SIDE // south of the bridge
Fort Point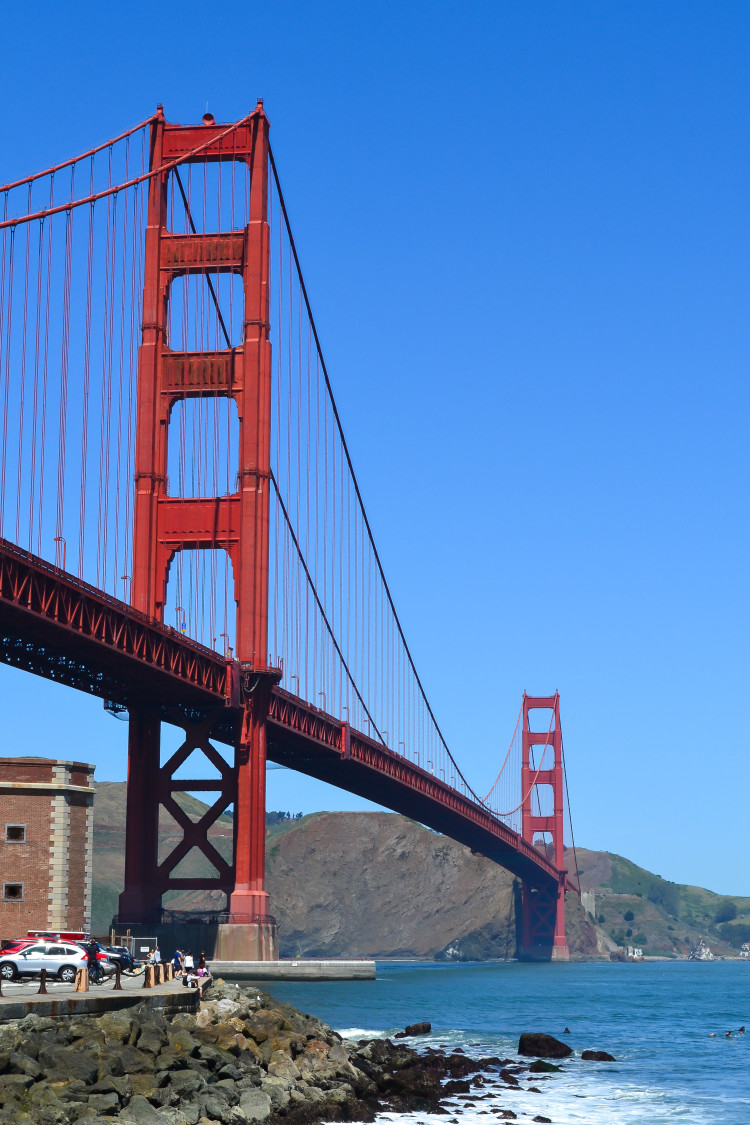 No possible way to get closer to this crimson cutie than under the bridge at Fort Point (well, unless you're actually standing/driving on it!) Set aside some time to explore the Civil War Fortress, something that's still on my San Francisco Bucket List. Or stay a while and watch the surfers!
Crissy Field
One of my all-time favorite places to spend some time and people watch. And those views of Golden Gate – swoon! Be sure to pack a picnic lunch and a blanket and sprawl out on the grassy lawn. Plus, if you're touring the city via car, this area has ample parking! #score
Lands End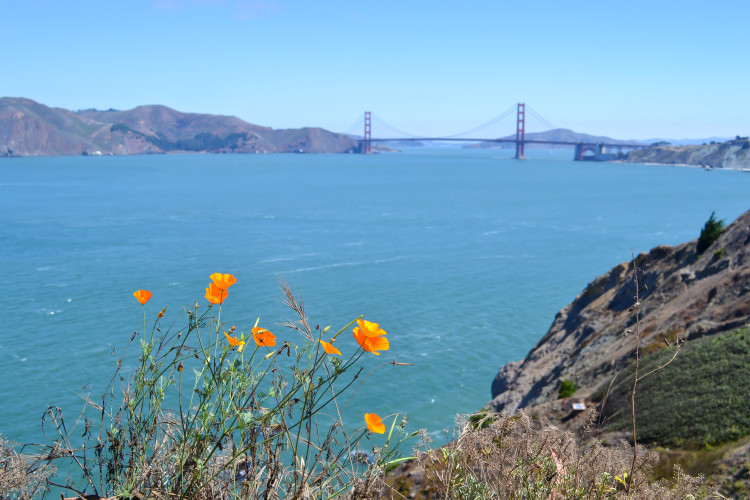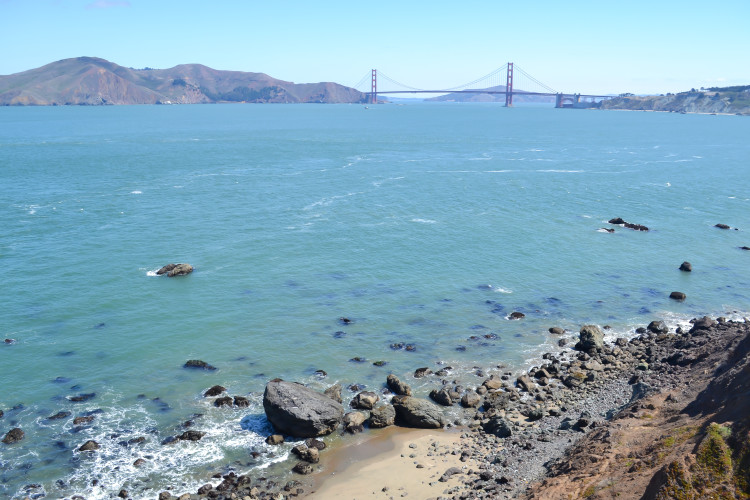 First off – sorry for the all photos, I couldn't pick just one! Ready for a short hike with some of the most dramatic views you'll see on your visit? Put on your hiking boots (but really, sneakers are fine) and head on over to Lands End to be blown away by the vista points. Reward yourself with a drink or two at The Cliffhouse, a hotspot in San Francisco (the popovers are divine!)
Read Next | Lands End: A City Hike Through San Francisco
Bakers Beach/Marshalls Beach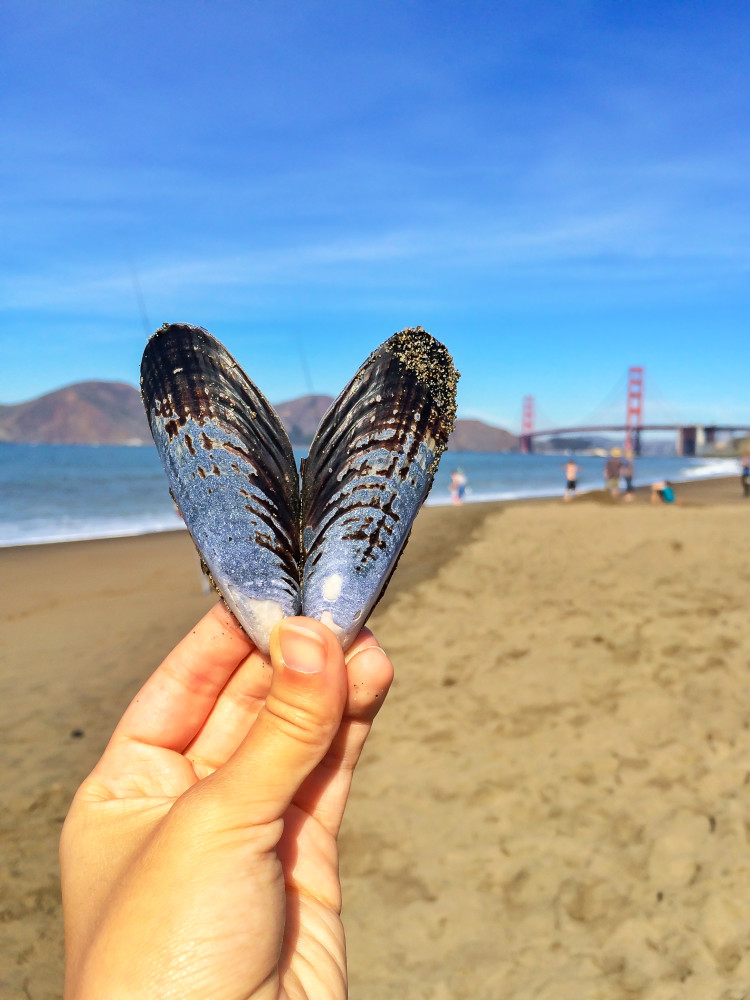 Another one of my favorites! White Bakers Beach is easily accessible, Marshall's Beach is a bit more tricky to get to. There may be some scrambling involved. Be aware that you may find some nudists hanging out (no pun intended 😛 ) at either beach.
Hike from Crissy Field to the Bridge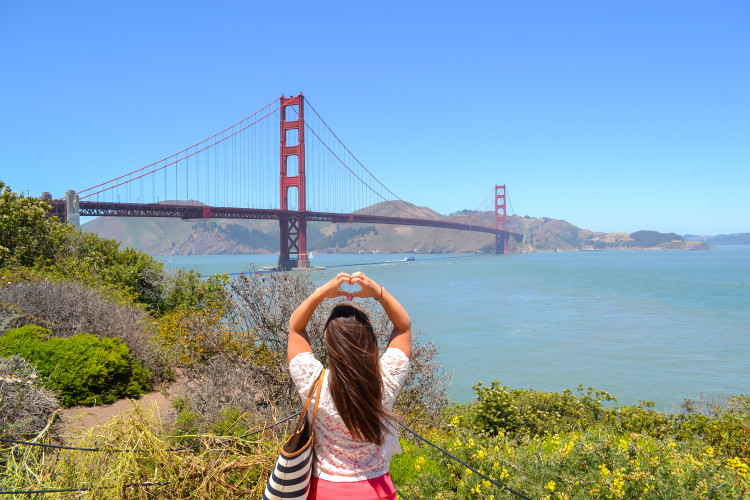 I promise you that you'll find some of the best views on this short hike/walk. Numerous vantage points of the bridge await. On a beautiful sunny day, there's nothing better than walking from Crissy Field to Golden Gate Bridge. Take a snack to eat on the way and the chipmunks will love you! It's by far my favorite place to take visitors!
ON THE BRIDGE (drive/walk/bike)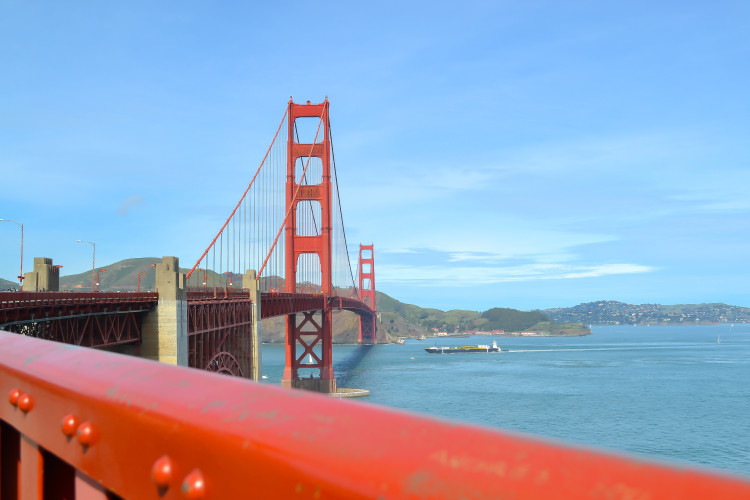 There is nothing more iconic than being on the Golden Gate Bridge itself. If you're really looking to photograph it from up here (and you should!), I suggest walking. Just remember, the bridge is 2 miles long, each way, so be sure to plan accordingly if you've got other things on your agenda. My suggestion – walk until you reach the first trough (that tall part), take some silly selfies, then turn back around. Walkers – look out for bikers and be sure to stay in the "walkers" lane.
UNDER THE BRIDGE
One of the absolute best places to see the Golden Gate Bridge is from underneath it – literally! Head out on one of the many bay cruise options, and you'll get up close and personal with your eye on the prize! From short 1 hour cruises to champagne brunches and romantic dinner cruises, there's definitely lots to pick from, with some even under $35!
Recommended options:
Golden Gate Bridge from the Air Seaplane Tour: Sail along San Francisco's breathtaking waterfront, under the majestic Golden Gate Bridge, and around notorious Alcatraz Island. Discover San Francisco's history via an award-winning audio commentary, available in 16 languages.
California Sunset Cruise: Enjoy spectacular views, appetizers and live guitar music in a casual and fun atmosphere. Sail past Alcatraz, around Angel Island, along Tiburon and Sausalito, and under the Golden Gate Bridge.
Champagne Brunch Cruise on SF Bay: Enjoy a sumptuous buffet brunch on this 2 hour cruise on San Francisco Bay. enjoy the onboard entertainment as you view the Golden Gate Bridge, Alcatraz Island and the memorable San Francisco skyline.
ABOVE THE BRIDGE
There's nothing quite like seeing the Golden Gate Bridge and all of San Francisco from the air. Not only will you get an absolutely spectacular view of the famed bridge, but you'll also see other SF landmarks as well, including Twin Peaks, Trans America Pyramid, Alcatraz Island, Coit Tower, and the Ferry Building. And that Pacific coastline! Nothing beats the coast!
Obviously in order to get above the these icons, you'll need to take a plane ride over the Golden Gate Bridge. A few recommended options below:
Champagne Flight: San Francisco Seaplane: Take a romantic and special Seaplane tour of San Francisco Bay to share with that someone special. The champagne will flow as you look out on this beautiful bay on your Alaskan Bush Plane!
San Francisco Bay Aerial Tour: You haven't properly discovered San Francisco until you've seen it from the air. Hayward Flight operates the safest, most exciting flights over San Francisco. See memorable sights from a great vantage point, such as the Golden Gate Bridge, and Alcatraz.
Golden Gate Bridge from the Air Seaplane Tour: Take to the air to experience San Francisco in a way many only dream of! Fly over the iconic Golden Gate Bridge, and around the bay up to the town of Sausalito.
MARIN HEADLANDS SIDE // north of the bridge
Hawks Hill
SWOON! Just look how amazing this spot is! Make sure you venture on over to the other side of Hawks Hill as well. Although there's no bridge view here (endless ocean views instead), it's just as splendid and much quieter.
Vista Point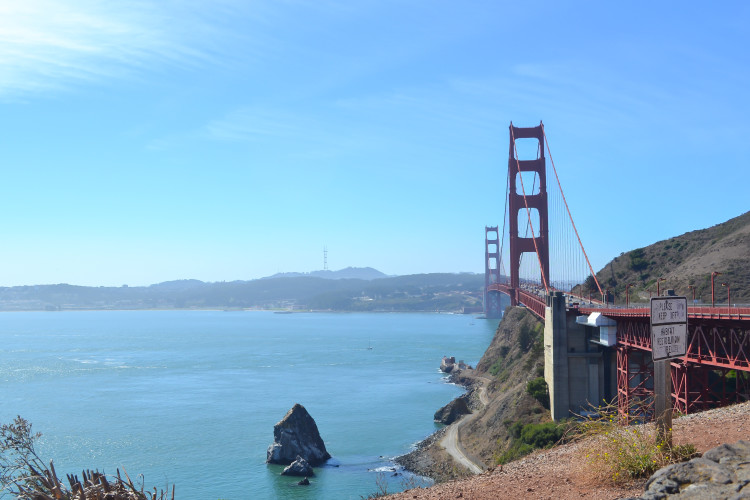 Lemme tell ya, this place is swarming with tourists for a reason. The views are downright spectacular. We were silly and visited as our first stop on our road trip to Mendocino, juuuuust as the tour buses were arriving. Aim to arrive before 9 and the place won't be ridiculously crowded.
Pro Tip: You can access this spot super easily as you're driving north on the bridge, heading to Marin County. Just don't miss the turnout – it comes up pretty fast once your off the bridge.
Battery Spencer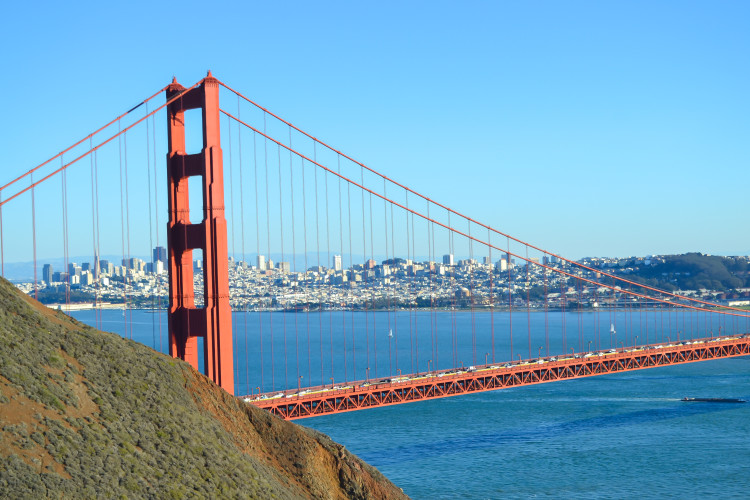 Those iconic post card views were all taken here at Battery Spencer. With the right angle, you'll have the entire city of San Francisco in your shot, making it quite memorable if you ask me. Even more magical at sunset.
En Route to Point Bonita Lighthouse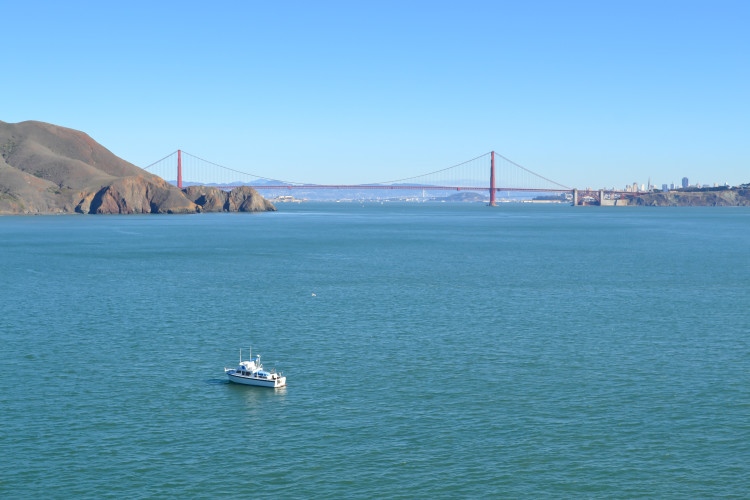 A bit further off the typical tourist trail, but if you're heading to Marin County anyways (for other views perhaps, or for some fantastic hiking), be sure to add the Point Bonita Lighthouse to your agenda. I totally wasn't expecting this, but the short walk to the entrance of the lighthouse provides some of the most spectacular unparalleled views of the bridge I've seen! An absolute must in my book! And hardly crowded!
What's your favorite vantage point of the Golden Gate Bridge?