Heading to San Francisco and looking for the best things to do in Sausalito? Keep reading for not only what to do in Sausalito, but for plenty of restaurant recommendations, Sausalito tours, and other not to miss hot spots!
Looking for a fun escape from the SF Bay? Take the ferry over to Sausalito, a chic Mediterranean-feeling coastal town only a few minutes away from the bustling city. You could easily spend a whole day or weekend here!
This quaint and historic area is full of exquisite restaurants and sweeping bay views (don't miss the famous ice cream at Lapperts), and you'll find numerous things to do in Sausalito any time of year. Whenever we're looking for an easy day trip full of relaxation and scrumptious food, we always find ourselves driving over the bridge to Sausalito.
And now that I'm writing (and gushing) about this picturesque location, I think another return trip is in order!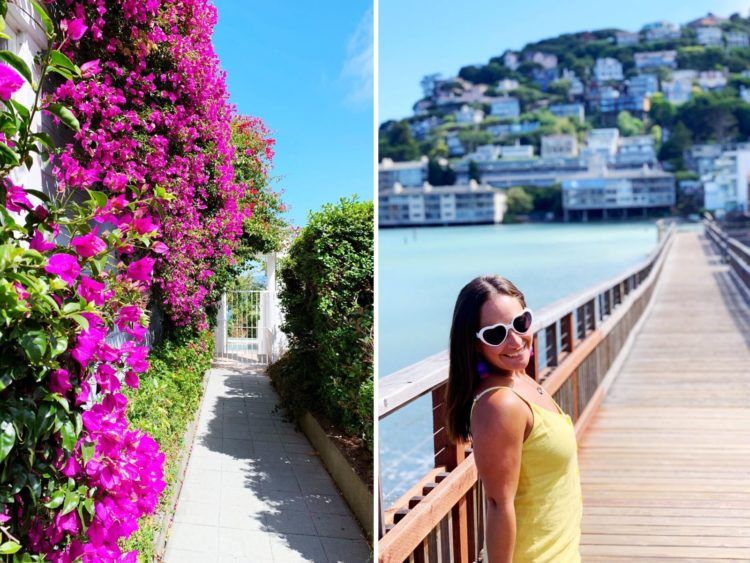 In my opinion, Sausalito is one of the prettiest towns in the Bay Area.
The area gets pretty busy, but for good reason. Here you'll find waterfront restaurants (with fresh seafood), cute nautical themed shops, and the popular ice cream shop, Lapperts. Some even dub it California's Amalfi coast, and while it IS downright beautiful, I'm not so sure anything can compare to that famous coastline in Italy.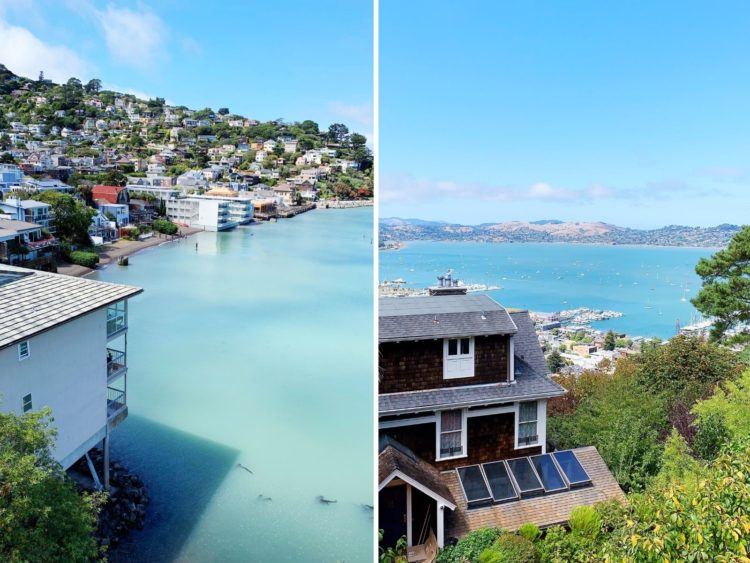 I strongly urge you to pick up a cone of your favorite flavor and sit in Gabrielson Park watching the sail boats go by. You can take a stroll along the historic waterfront, rent bikes, or even kayak around the bay. Sausalito surely is the place to be on warm, sunny days.
Make sure you stay for sunset – it's absolutely amazing and like no other (but bring a sweater – it gets chilly at night)! With views of the bridge and city skyline, it's a nice place to unwind after a busy week. Longing for a day trip outta San Francisco? Head to Sausalito.
P.S. Visiting Northern California and looking for more activities/things to do in the area? Check out these links: A First Time Visitors Guide to San Francisco , 30+ Day Trips from San Francisco, Best Desserts in San Francisco, 25+ Long Weekend Trips from San Francisco, The Ultimate San Francisco Food Bucket List
How to Get to Sausalito:
You basically have two options when figuring out how to get to Sausalito from San Francisco. Sausalito is located a bit north of the city in Marin County, on the northern end of the Golden Gate Bridge.
You can either 1) drive over the Golden Gate Bridge from SF or 2) take the ferry from San Francisco to Sausalito.
The drive should take approximately 30-45 minutes depending on traffic and where you're coming from within the city, while the ferry is roughly 30 minutes. If you're taking one of the many Sausalito tours offered below, your transportation may be included so be sure to check that out!
More info on the two options below:
Option 1: Driving Over the Golden Gate Bridge
Due to its close proximity to the city, many visitors decide to drive over the bridge. Note that you'll need to pay a hefty toll (currently $7 with FasTrack, $8 without), and cash is not accepted. If you've rented a car, be sure to ask your rental car company how toll are processed (read more information about this here).
Psst: The Golden Gate Bridge toll is electronically assessed in the southbound direction (going into San Francisco), so you wont pay on your way over to Sausalito, but on your way back into the city.
Read Next: Where to Find the Best Views of the Golden Gate Bridge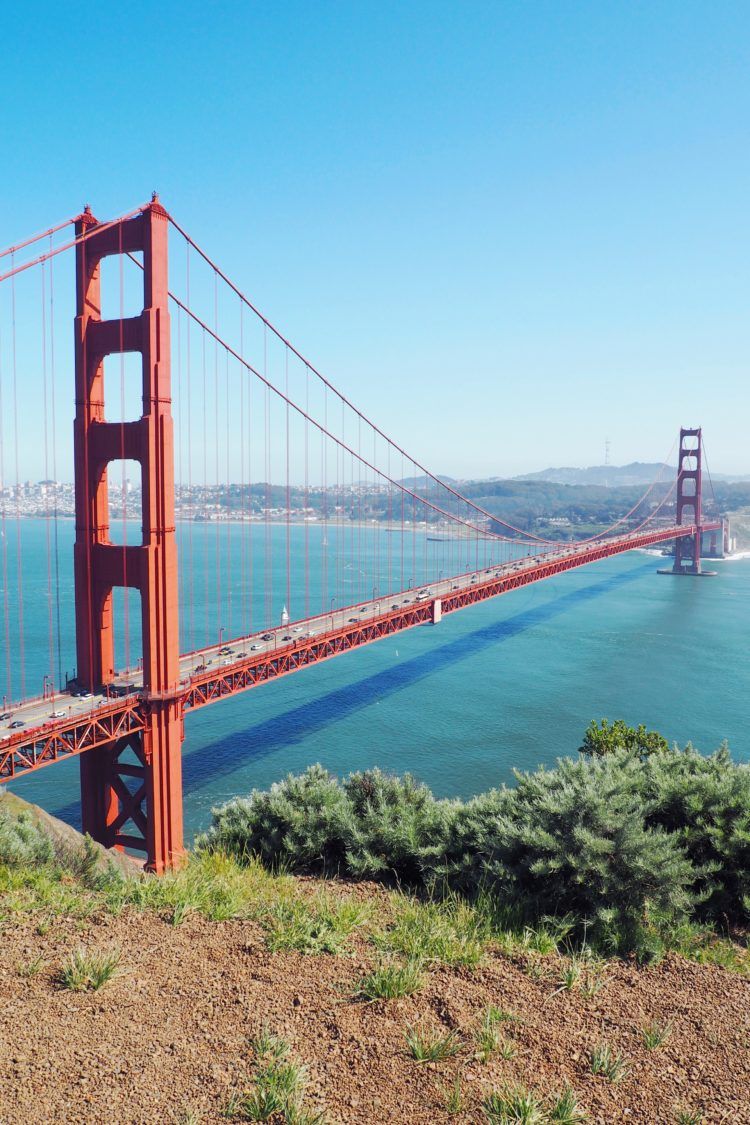 Option 2: Taking the ferry from San Francisco to Sausalito
Not the proud owner of a sweet ride in this crazy expensive city? Aren't planning on renting a car during your trip to San Francisco? Don't fret. That's where the ferry from San Francisco to Sausalito comes in!
There are several different companies (Blue and Gold Fleet, Golden Gate Ferry) that depart from San Francisco to Sausalito, with two departure location options (either the Ferry Building/Golden Gate Bridge or Pier 41/B&G). No matter which location you leave from, the trip will take approximately 30 minutes, and cost ~$10 each way.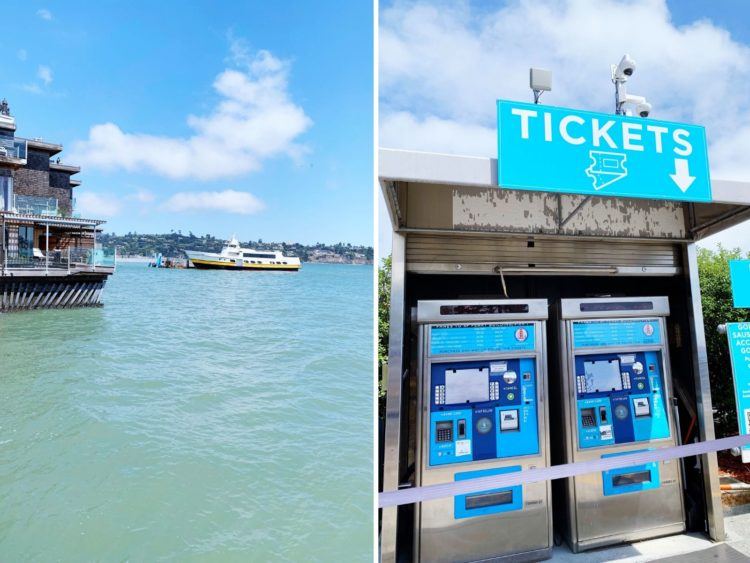 And not only will the ferry get you from San Francisco to Sausalito quickly (and thankfully in a cost-effective manner), but the ferry route will also provide you with absolutely stunning views of the Golden Gate Bridge! Note that most ferries will not operate during inclement weather, so don't count on it if a storms a brewing.
See the schedule for Golden Gate Ferry here. (sails to the Ferry Building at the end of Market St. )
See the schedule for Blue and Gold Fleet here. (goes to Pier 39 / Pier 41 in Fisherman's Wharf)
EXTRA OPTION: Biking over the Golden Gate Bridge!
Ready for a full day of exploring? Consider biking to Sausalito! Thankfully, recent updates on the Sausalito side of the bridge make it safer than ever to ride down the hill into town. Just FYI, the route is about 8 miles or so, including the bridge.
If you're planning a full day of things to do in Sausalito, you may want to drive over as biking takes significantly longer. Paid and free bike racks are plentiful near the ferry in Sausalito, so plan on locking up your bike around there.
Note that you can ONLY park and lock your bike in designated bicycle parking spots – if not, you may get a hefty ticket!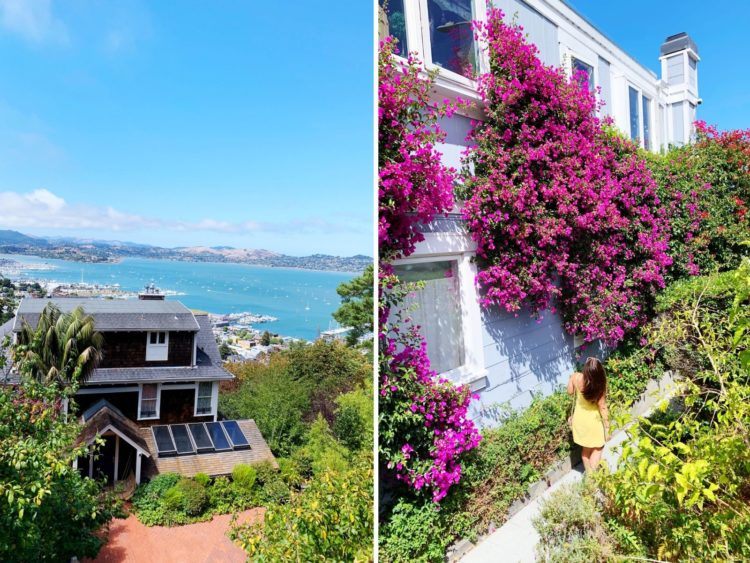 Worried you'll be too tired after a fun day in Sausalito to bike back? No worries – you can head back to SF (to either the Ferry Building or Fisherman's Wharf) by ferry, and yes, you can easily bring your bike along!
Note that you'll need to rent a bike in either San Francisco or Sausalito itself, as there are no bikes for rent at the bridge itself. (Okaaaay, so I guess there's actually three options of making your way from SF to Sausalito.)
Best Things to do in Sausalito: All My Favorites!
And once you get there, there's tons of things to do in Sausalito, from shopping at the cutest boutiques, gawking at the unbelievable scenery and houseboats (!!!), and stuffing your face with all it's yummies, you'll be back before you know it.
And with Sausalito's protected "banana belt" weather, there's never really a horrible time to visit. You can bet that it'll usually be way nicer over here than in SF itself.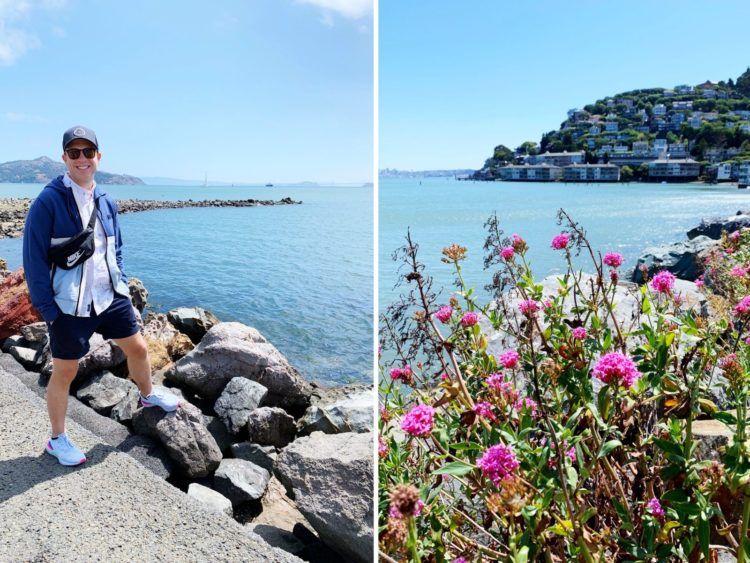 1) Walk along the Bridgeway Promenade and Sausalito Boardwalks
Yes, Sausalito boasts numerous places to stretch your legs! Any visit to this charming seaside town calls for long waterfront walks on the Bridgeway Promenade and Sausalito Boardwalk. Besides all the locally owned shops and restaurants you'll find along the way, there are absolutely fantastic views of the San Francisco Bay and Angel Island.
You'll also most likely encounter a man balancing rocks (just FYI – he'll demand a few coins if you take a photo), the bronze sea lion statue (only seen during low tide), and quite possibly a few seals swimming in the bay.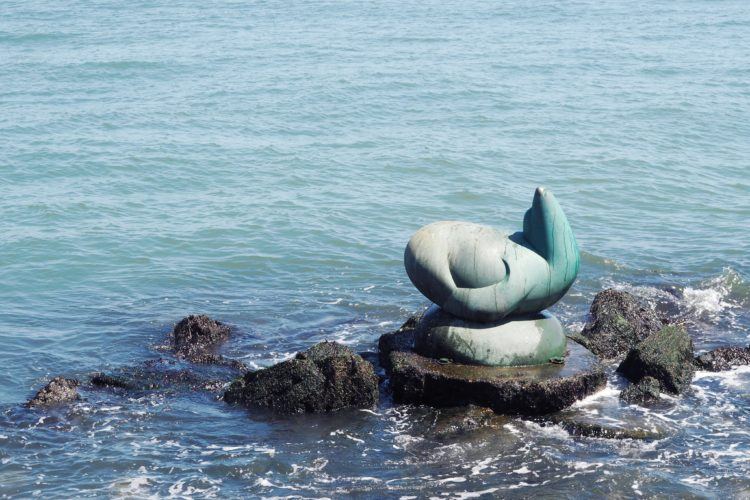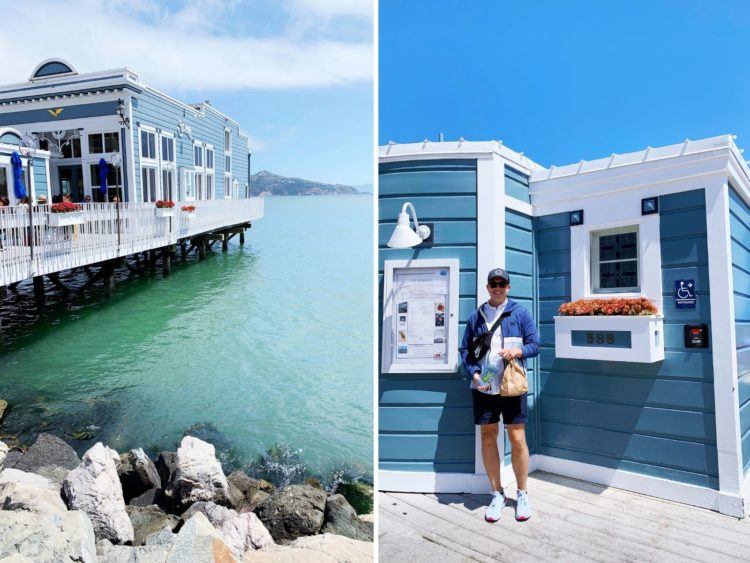 You have two directions to walk: north towards the marinas (hello, impressive yachts) with Mt. Tam in the distance, or south towards the bay with the city skyline in the background. Both are equally as stunning, but if you want to catch the perfect panorama of San Francisco, be sure to head past Excelsior Lane.
Be sure to walk far enough to take photos of the colorful houses in the distance in the nearby mountains – you'll think you were transplanted to Italy (or another laid-back Mediterranean destination) for a hot second!
2) Grab an ice cream cone from Lapperts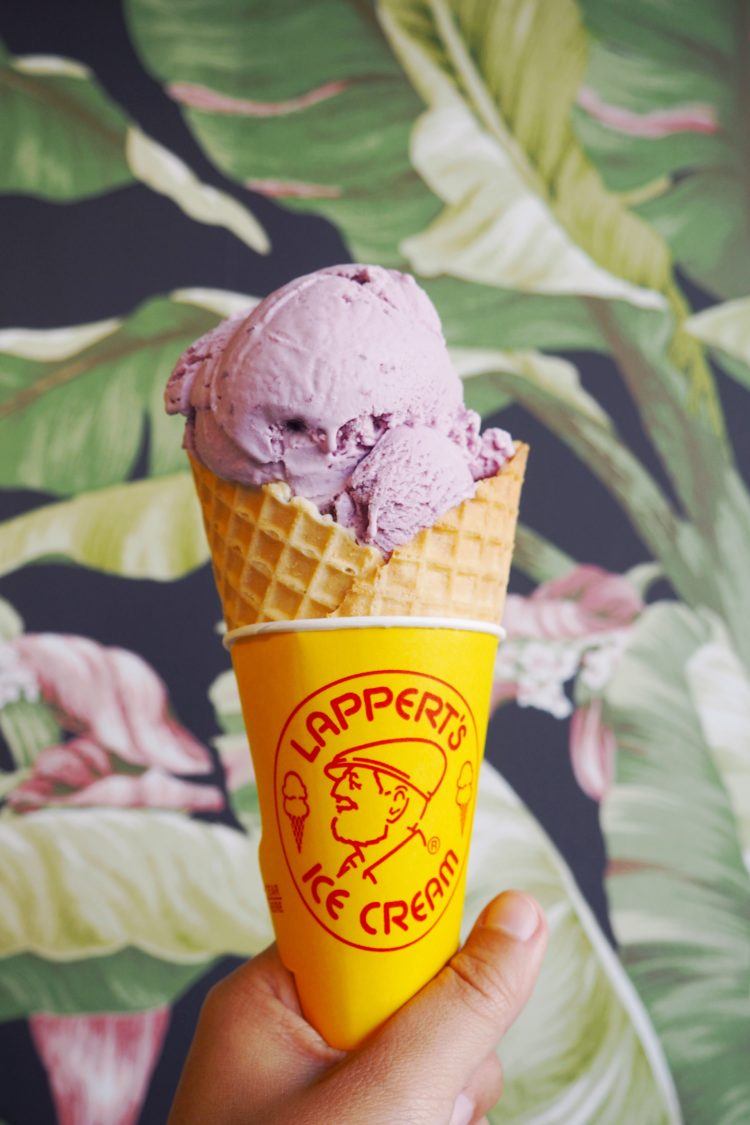 No visit to Sausalito would be complete without a cone from the area's famous Lappert's Ice Cream. Since Lapperts is a true Hawaiian staple, you'll find unique hawaiian-inspired island flavors on rotation, including ube, caramel coconut macadamia nut, horchata, and kona mocha chip.
Expect to shell out a bit more cash than you normally would for ice cream, but the scoop sizes are definitely on the generous side. Sure, you'll wait on line (that's a fact), but there's nothing better than a cool frosty treat on a sunny day in the Bay.
Local's Tip: I usually get some ice cream and head to nearby Yee Tock Chee Park or Gabrielson Park to finish eating (if I haven't finished stuffing my face already).
Read Next: The Ultimate List of San Francisco's Sweets and Treats
3) Sit and Picnic in Gabrielson Park
Gabrielson Park is a nice little park on the water away from downtown Sausalito. Meaning way less crowds. Score!
Take along picnic supplies and set up shop on the grass – the views (of Angel Island!) can't get much better! In the summer, Gabrielson Park is also the site of a weekly jazz festival; otherwise, it's relatively quiet for those in the know to enjoy.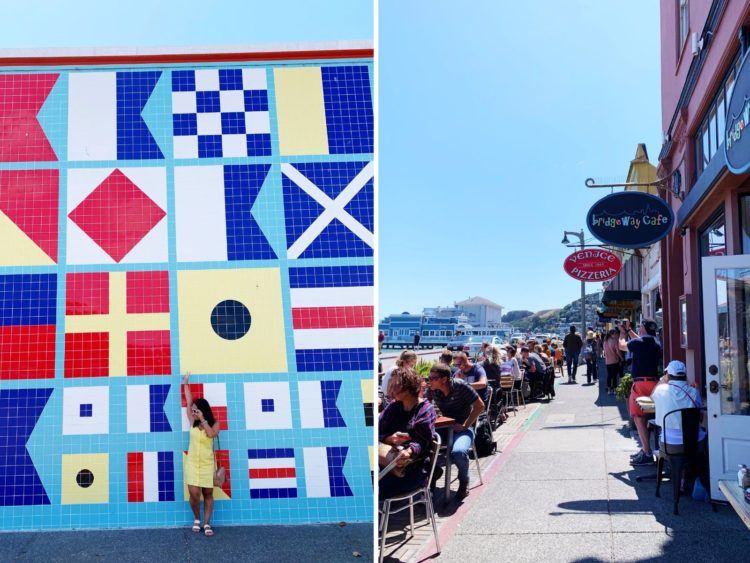 4) Check out the houseboats
You haven't successfully explored Sausalito if you haven't checked out the local houseboats. The area has some unique and high-end houseboat communities, which, you honestly won't believe until you lay eyes on them.
They've been a part of Sausalito's waterfront since the 1880s (used as regular boats in the warm summers), and then pulled to shore during the chilly winters. It was after World War II and the following era of peace and love in the 1960's that first attracted the free-spirited Bohemian crowd, ultimately becoming vibrant artists' colonies. You'll still find artists living there today, as well as others who enjoy this unique and idyllic lifestyle.
You'll need to make your way to the Marinship neighborhood (about a 40 minute walk or 8 minute cab ride away from downtown), but once there, it's totally worth it.
You'll find a bunch of communities made up of over 500 floating homes! Floating homes? What? The locals prefer to call their residences "floating homes" instead of "houseboats". The floating homes are much like those on land, and are subject to property taxes, have all the amenities of a regular home, and some with decks and barbecues.
You can walk around the houseboat marinas any time of year (check out Galilee Harbor and Waldo Point Harbor), but in order to actually go inside a few, you'll need to go on a public tour, below:
Take a Houseboat Tour!
If you're visiting in late September, plan to get tickets to the Sausalito Floating Homes Tour in advance – you won't want to miss it! On the tour you'll learn all about this novel way of lifestyle that most haven't even dreamed of. I mean, can you even imagine living on a boat?! Get a sneak peek into 15-20 floating homes, and ask all the questions you want!
5) Hang out in the Marinship neighborhood
And since you're already in the area to see the houseboats, or should we say "floating homes", you may as well explore the neighborhood a bit more. This area is Sausalito's only industrial waterfront area, and is a bit funkier and grungier than other parts of the seaside town.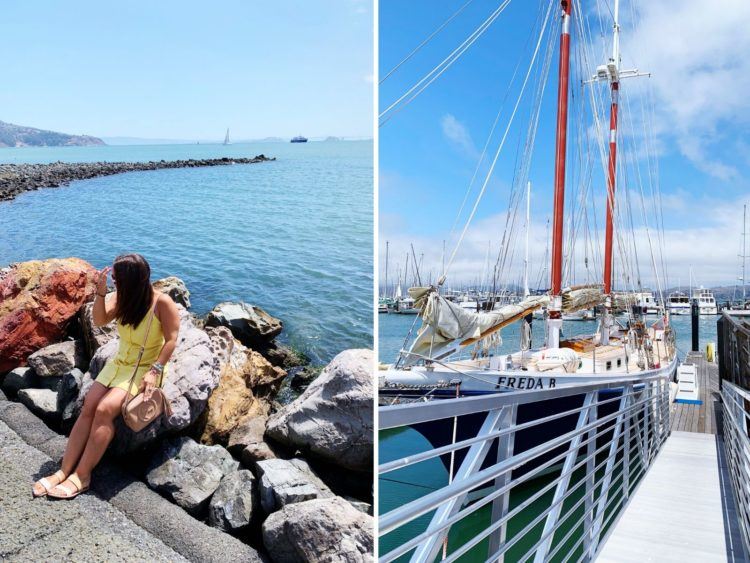 You'll come across sailboats for rent, canoe and rowing rentals, all those boat docks with the floating homes I'm so eagerly stressing for you to visit, an unexpected beach (bring your bathing suit and go for a swim!), and Le Garage, an indoor-outdoor French Restaurant.
Many don't even venture into the Marinship neighborhood when deciding which things to do in Sausalito, so make sure to add this into your itinerary!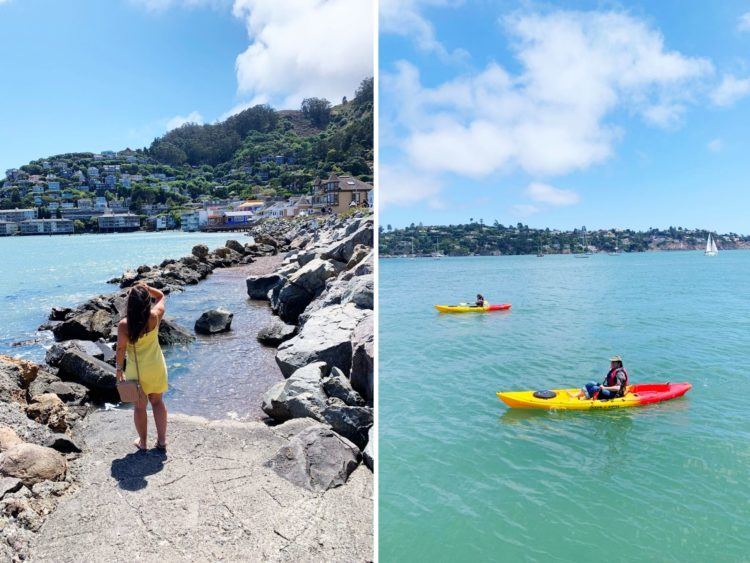 6) Take a Seaplane Tour (!!!)
Itching to see Sausalito and San Francisco by air? Book yourself on a seaplane tour above the Bay, taking off from the lovely bayside village that is Sausalito!
In just 30 minutes, you'll be able to see Baker Beach, the Pt. Bonita Lighthouse, the Golden Gate Bridge, Crissy Field, Downtown San Francisco, the prison of Alcatraz, where the Giants play – AT&T Park, and finally Angel Island!
And once the seaplane tour is over, if you book this package tour, a complimentary shuttle will whisk you back to the city (to grab some lunch), then then it's off on the ferry to Alcatraz for a full guided tour. Book Seaplane Flight and Alcatraz Combo Tour here.
7) Plaza Viña del Mar Fountain and Park
Centrally located in downtown Sausalito, this small Spanish-feeling plaza boasts plenty of benches and grassy areas to just sit and relax. Enjoy the surroundings, people watch, admire the monumental fountain, and take a look at the iconic elephant statues.
The park and its surroundings are downright beautiful, with palm trees dotting the triangular-shaped square. Grab a snack, and just spend a few moments relaxing here.
8) San Francisco Bay Model
Located in the northern Marinship neighborhood (same area as the houseboats), you'll find a 1.5 acre working pneumatic model of the San Francisco Bay. Yes, 1.5 acres. It's enormous, and even better, it's free to visit! The 3D representation of the bay was built for the army in 1957 in order to test the impact of suggested changes and its nearby waterways (all the way from the Pacific Ocean to Sacramento).
This impressive model can simulate currents, river inflows, and even tides. Since the model is not currently used anymore (they're up to speed and working with computers nowadays), it acts as an interactive exhibit for visitors interested in learning more.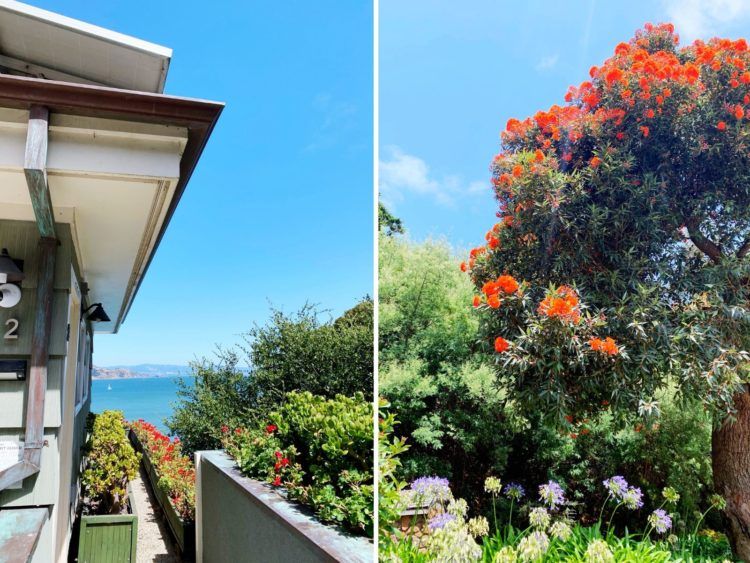 9) Bay Area Discovery Museum
Wondering what to do in Sausalito with kids?! This suggestion is for all of you bringing along your kiddos! The Bay Area Discovery Museum is a one-of-a-kind indoor/outdoor facility that will offer tons of fun for kids 1-8ish.
The unique museum features hands-on art and science exhibits, workshops, cultural performances, and festivals. Other areas include nature labs (an impressive sand and rock area), design areas, research tools, musical instruments, and science tools – so definitely a unique space for kids who like to work with their hands! And plus, there's great views of the Golden Gate Bridge!
10) Gallery 111 Art Studios
One of the most impressive items on this list of things to do in Sausalito has got to be the talent of local artists! And here at Galley 111, you'll be able to admire oh so many of them – around 85 artists work in the studios here. From painters, photographers, and sculptors, to weavers and jewelry makers, you won't leave without being blown away by the impressive collections of these Sausalito artists.
Remember reading about the artists living on the houseboats above – yeah, a handful of them work over here! You can visit the Gallery 111 building (with bright and spacious lofts acting as art studios) during normal business hours. Tours are available as well.
Address: 480 Gate 5 Road, Sausalito
Sausalito Combo Tours
If you're visiting San Francisco (and unfortunately aren't one of the lucky ones to call the Bay home), I strongly urge you to get outta the city even more!
Since you're visiting this site it's obvious you're considering heading to Sausalito, but what about some of the other SF day trips! The tours I've picked out below go to not only Sausalito, but also some of my favorites – Muir Woods, Napa Valley, Sonoma, and Berkeley. Check out the tours below and promise me you'll explore more of the Bay!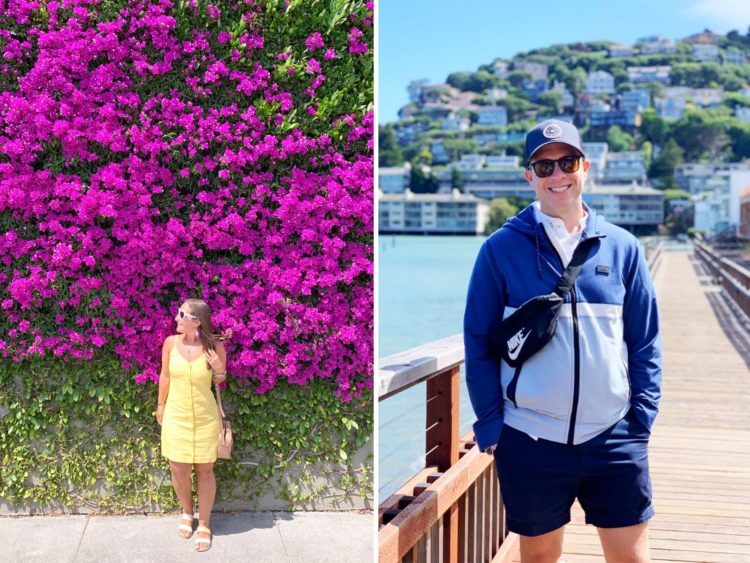 Where to Eat in Sausalito
Sausalito has an impressive food scene. Besides the ice cream that it is so well known for (Lapperts, I'm looking at you), there's tons of options for when you actually want something a bit more billing. Sooo many of these restaurants have absolutely fantastic views of the bay, so plan to visit a few and get some drinks! A few hot-spots to check out below:
Napa Valley Burger
Sausalito Taco Shop
Fish and Chips Sausalito
Scoma's of Sausalito
Sausalito Bakery and Cafe
The Spinnaker
The Trident restaurant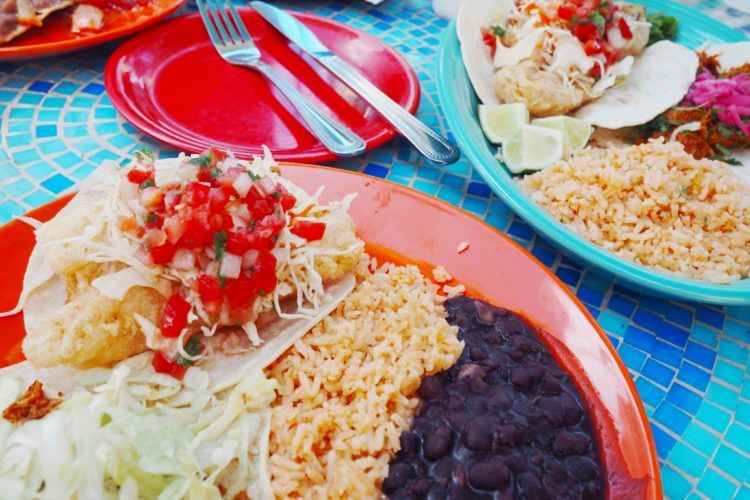 Where to Stay in Sausalito
Sure, Sausalito can be visited as an easy day trip from San Francisco (lots more day trip ideas from SF here!), but if you want to see the area in it's best light without all the heaps of visitors, plan to spend the night in town. Yes, you'll unfortunately pay top dollar, but we already knew this – much like the rest of SF, Sausalito isn't a budget town.
The Gables Inn Sausalito: Polished lodging in a refind historic hotel offering free WiFi & continental breakfast, plus evening wine (and cheese!) receptions. Key features: 5 minutes from the Sausalito ferry terminal, designer toiletries, in-room fireplaces, whirlpool tubs, patios/balconies, and city skylines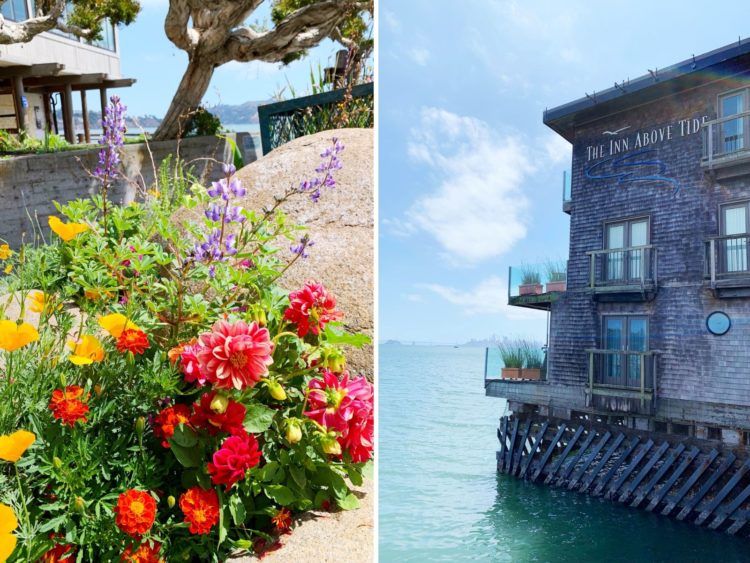 Casa Madrona Hotel & Spa: Elegant modern lodging in an 1885 mansion with a full-service spa & an upscale Italian restaurant. Key features: ocean views, suites with separate living areas, fireplaces, balconies, full-service spa with steam room and fitness center, and classic Italian restaurant on-site
Hotel Sausalito & Suites: Luxe rooms & suites in a mission-style boutique hotel with harbor & park views, plus free WiFi. Key features: 1-minute walk from ferry terminal, stained glass windows, views of Vina Del Mar park and harbor, outdoor seating deck, complimentary coffee and breakfast pastries in cafe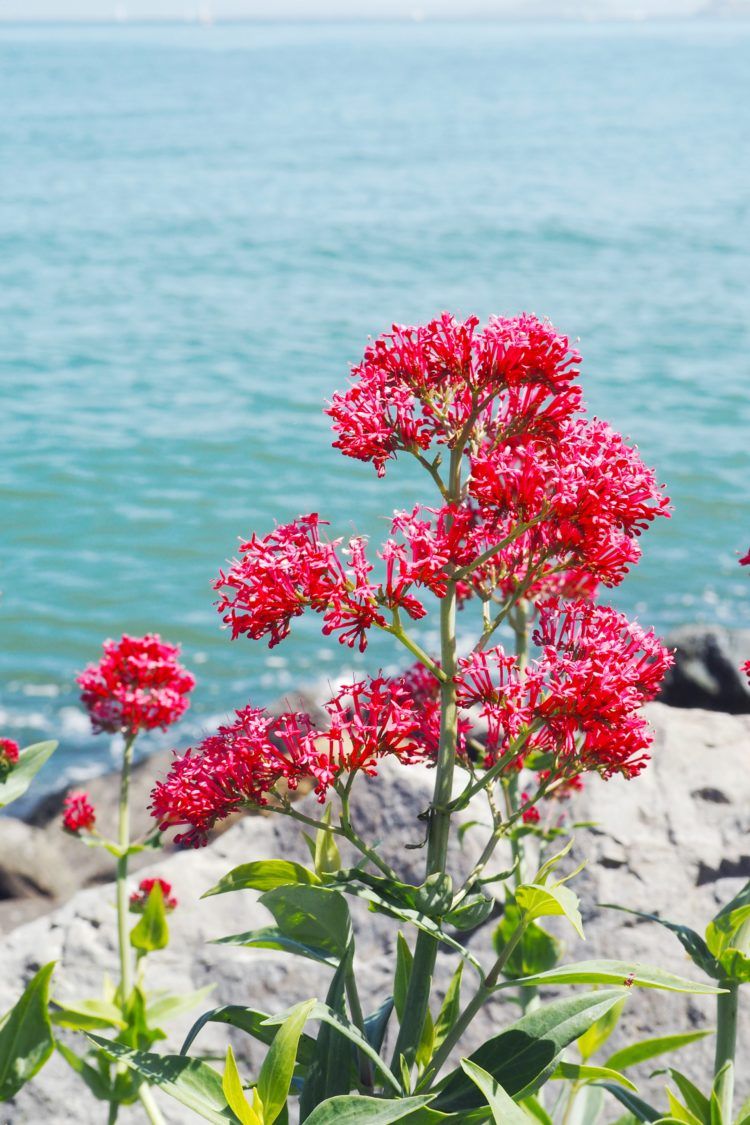 The Inn Above Tide: Warm rooms & elegant suites, some with decks, in a posh bayside hotel offering free breakfast. Key features: 1-minute walk from ferry terminal, walk-in showers, designer toiletries, bay or skyline views from floor-to-ceiling windows or decks, fireplaces, whirlpool tubs, in-room spa treatments, evening socials with wine and cheese, bikes for rent
Cavallo Point Lodge: Sophisticated upscale rooms & suites, plus a spa, yoga classes, a cocktail bar & an acclaimed restaurant. Key features: overlooks Golden Gate Bridge, fireplaces, suites with separate living areas, free shuttle to Sausalito Ferry Terminal and Francisco, cocktail bar with live music, fine-dining restaurant, gym, spa, and yoga classes. Cooking classes are available for a fee.
Find more hotels and accommodation options in Sausalito here.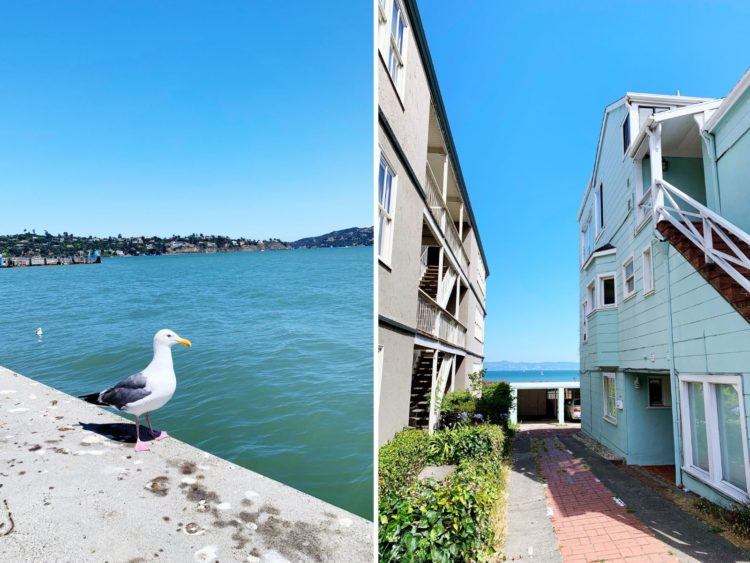 – Other Attractions near Sausalito
Tiburon, Muir Woods. Fort Baker, Vista Point, Battery Spencer/Hawk Hill, Marine Mammal Center, & Rodeo Beach
– Visiting Northern California and looking for more activities/things to do in the area? Check out these links!
I hope this post has helped you figure out what to do in Sausalito for your first or next trip!
Looking for more California content? Explore my other California guides here!
Did you know that …
When you purchase something through our links, we earn a small fee (but you still pay the same)! Win-win! If you found this article useful, consider using the links within the article or below. Thanks for your support!