Heading off on a long weekend in LA and Santa Monica? You're in luck, my California-loving friend, this post was made just for you!
When you've ticked off the necessary touristy hot spots in the LA area, it's time to explore a bit off track, cool girl style! And this -long weekend in LA- itinerary will do just that! If you're a fan of donuts, murals, and spectacular scenic spots, this itinerary was made absolutely for you! I've narrowed down this guide by both day and neighborhood, so you'll get an idea of what you'll be able to accomplish day by day.
I followed this exact itinerary during my long weekend in LA (more or less, bathroom breaks added in for comfort of course :p), and while I certainly ran around a lot, it was most definitely do-able. Note that I traveled in January when the sun sets rather early (around 5pm-ish), so those summer months will allow even more daylight for activities.

*I traveled solo for a long weekend in LA and felt safe the entire time. I was most nervous about wandering around the Venice Boardwalk by myself, but found it to be cleaner and safer than I had originally remembered. I probably wouldn't recommend DTLA or Venice solo after dark, though.
First time in Los Angeles and looking for the essential "tourist experiences"? Check out these posts: The Perfect Way to Spend A Day (or Two) in LA + 25 Essential LA Experiences
First-Timer Tips:
Use Uber Pool. It's huge here. And with rides as low as $2.99, so cheap as well.
Don't lose your train pass/card. You'll have to waste another dollar each and every time you want to purchase a ride between Santa Monica and DTLA (or for any other stop). I "lost" mine and had to buy another, later to find it in my jacket pocket. Whoops!
There's no such thing as too many donuts. Try them all. You'll be walking a lot. Treat yourself.
While we're at it, there's no such thing as too many murals either. Photograph each and every one.
There's traffic. A lot of traffic. Don't rent a car. I repeat, do not rent a car. You'll regret it. Plus, parking can be a b*tch (and expensive) at times.
WHERE TO GET THE BEST FLIGHT DEALS TO CALIFORNIA:
I swear by Skyscanner and Google Flights, and always always always use these two sites when looking for airfare. The option to watch prices and get email notifications are top notch and one of my favorite features of the two. Always check budget airlines that may not be listed, especially if you are coming from other areas of the US with shorter flight times. A great list of budget airlines can be found here.
Where to Stay:
I highly recommend staying in the Santa Monica neighborhood during a long weekend in LA as the train/metro is right there, and the bus to various parts of the area run quite frequently (every 10 minutes or so).  I was on a modest budget so I chose to rest my head at HI Santa Monica, and I was thoroughly impressed with the hostel. 
Minus a breakfast-to-be-desired (hey, they had free bottles of OJ for grabs), the space was modern, clean, and in a safe location.  Plus, the 3rd Street Promenade and the beach were only a few steps away.
Looking for more luxury options? I've heard wonderful things about the Fairmont Miramar Hotel and Bungalows, Oceana Beach Club Hotel, and Viceroy Santa Monica, all which I hope to stay at in the future (when I've allotted more cash to accommodation) and all located directly on the beach.
What to Pack (rotate sideways on Mobile)
Long Weekend in LA + Santa Monica (4-Day Itinerary)
Day 1: Santa Monica + Venice
Morning:
1.Start off your day at Sidecar Donuts, famous for their huckleberry donuts and coffee. I decided to save my sweet treat for later, but if your stomach's a-growling, there's absolutely no shame in stuffing your face first thing in the morning. All the cool kids are doing it. :p
2. Check out a few murals on your way to your next stop, particularly the Love Berto Mural (1011 Broadway), a 15 minute walk from Sidecar and the Saskia Mural located at Vidiots (302 Pico Blvd). So much color I loved it!
3) Breakfast burritos, anyone?! Stop for an egg, avocado, and cheese burrito at Dog Town Coffee to-go, and bring it the beach. The community around Dog Town Coffee is so super cute you'll want to snap a few photos along the way as well. People watching at Santa Monica Beach while munching on your breakfast is my perfect start to a perfect morning.
Afternoon:
4) Once you're done eating, walk along the pedestrian path to Venice Beach, which will take you roughly 40-60 minutes depending on how leisurely you walk and how many photo stops you take.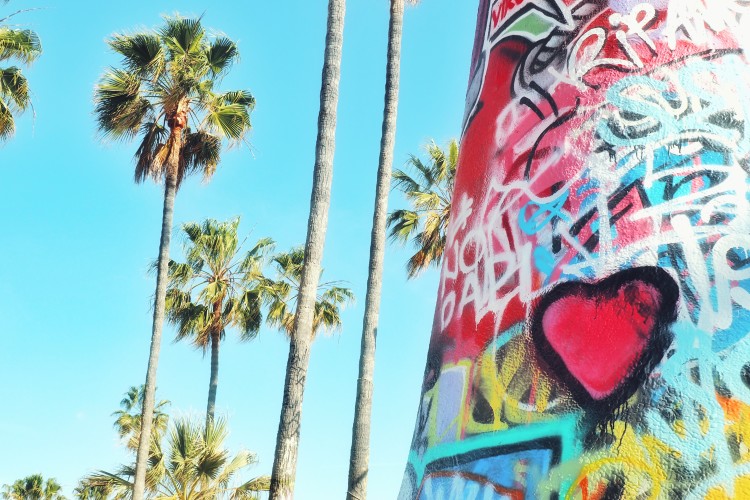 It's a flat, easy walk that is extremely doable, but be sure to stay on the pedestrian paths as they intersect and intermingle with the bike paths.  You can easily rent a bike and ride to Venice Beach instead, but I opted not to and was glad I chose to walk. 
You'll eventually come across the Venice Beach Boardwalk, which is full of hundreds of street vendors and performers, including break-dancing, jugglers, mimes, and musicians.  You'll also see medical marijuana dispensaries, shops to buy sunglasses, shirts, and other souvenirs, and plenty of restaurants, juice spots and bars, as well as a big amount of homeless and hobos – it's all part of the culture!
Don't miss the skateboarders (found on a skate park on the sand), a photo at Muscle Beach, a refreshing bowl of Acai, and the Venice Beach art and graffiti walls (always changing). Plan to spend about 2 hours at the boardwalk.
5) Had enough of the sensory overload and chaos?  Head to the Venice Canals, a short 15, 20 minute walk from the boardwalk.  There are 5 canals in total lined with houses, sidewalks, and bridges, forming their own little community, which is downright spectacular to see on a sunny day! 
It's a wonderful spot for a leisurely stroll!  Plan to spend about 45 minutes to an hour here wandering in awe while pretending you're in Europe during your long weekend in LA!
6) Abbot Kinney Boulevard is next on our agenda, which is full of creative and quirky shops and the most delicious ice cream known to man, Salt and Straw (most definitely worth the wait and an absolute must-eat during your long weekend in LA). 
Some of my favorite shops include The Piece Collective, General Store (3 min walk from The Piece Collective), BURRO flagship, Mollusk Surf Shop, Intelligentsia Tea, Salt and Straw ice cream, and The Butcher's Daughter. 
Looking for more murals?  You'll find plenty here, including Uniwolfcheetah Mural, the Greenleaf Chopshop Mural, The Otheroom Mural, and a palm tree mural across the street from 3 square cafe, among others.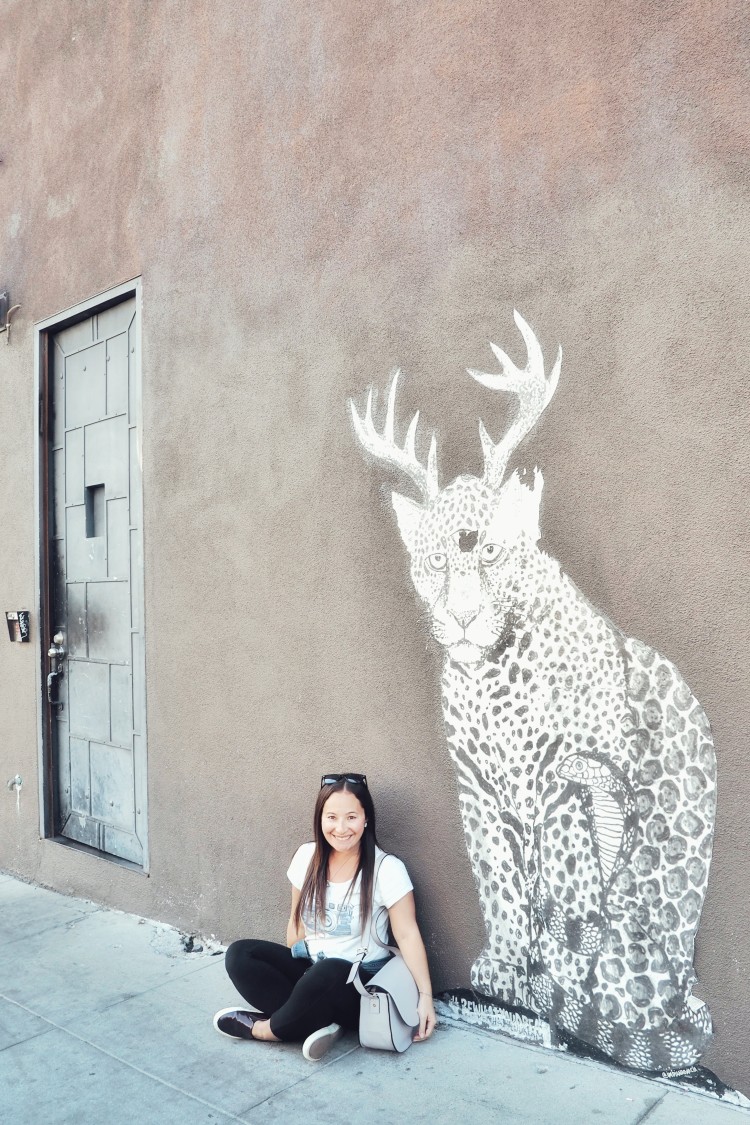 Night:
7) If you're not too tired, head to the Santa Monica Pier for sunset, which was one of the highlights of my entire trip.  The lights are infectious, and the energy is just booming. 
Be sure to try a churro and/or a funnel cake (the ultimate boardwalk food), and ride the West Coaster in Pacific Park (the amusement park located on the pier) – the only oceanfront rollercoaster on this side of the country.  Yes, it's a bit touristy, but the sunset and rides make up for that in my opinion. 
NOTE: If you're staying in Santa Monica, you can opt to spend time at the pier any night as it's relatively close and within walking distance to many hotels.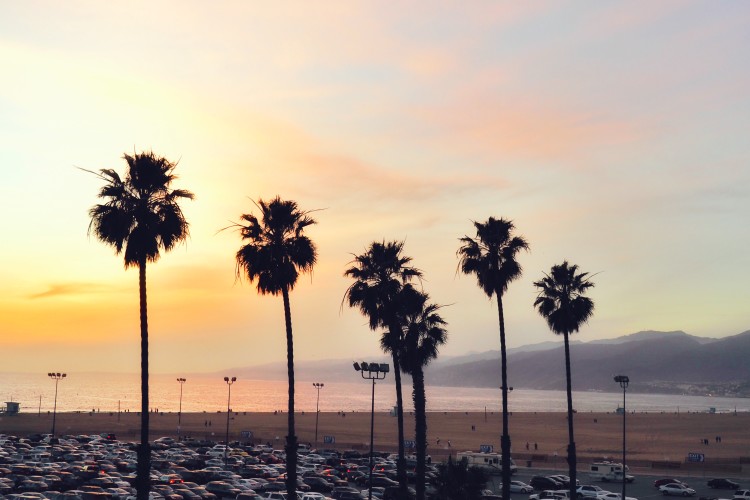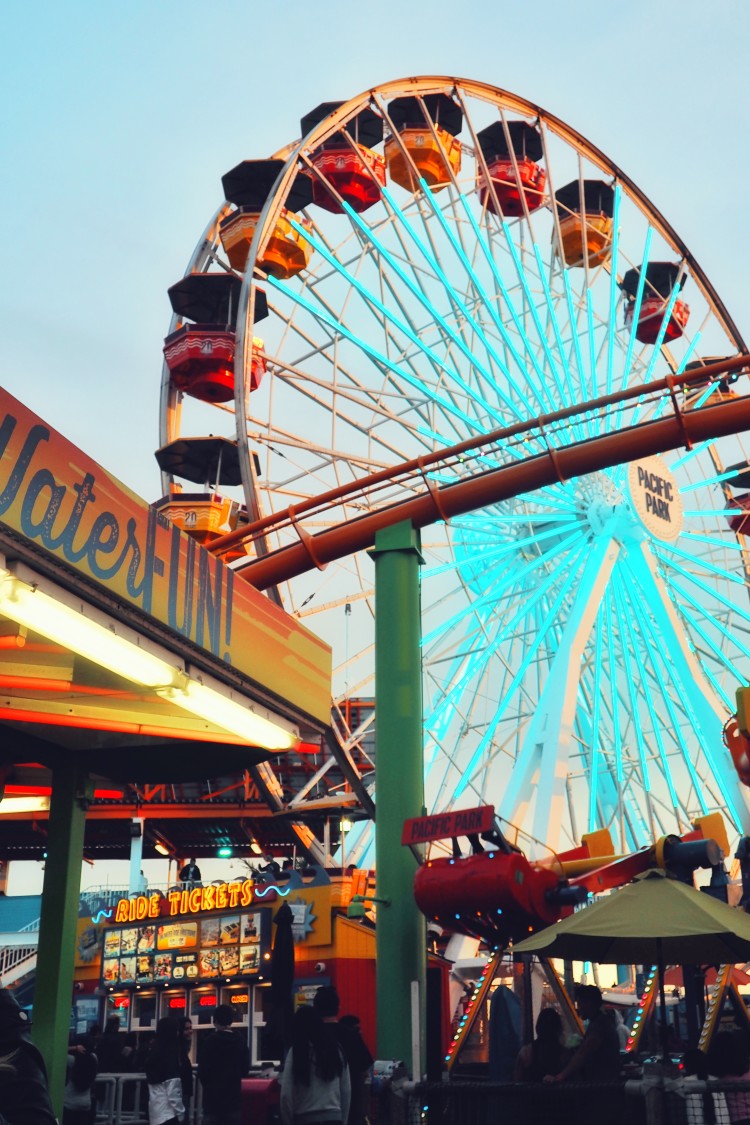 Day 2: Downtown LA
1) First things first, get on line for The Broad Museum.  This contemporary art museum, newly opened in late 2015, has been popular ever since and the long line shows it!  I waited almost 2 hours, but when a museum this good is free (yes, completely FREE), it's hard to complain.  Bring a few snacks and you'll be good to go. 
Get there first thing in the morning (a bit before opening), you and hopefully won't have to wait too, too long.  Or better yet, reserve a ticket in advance to skip the line.  Plan to spend 2 hours or so here once you get in.  The works are absolutely phenomenal.
2) Check out the Disney Concert Hall, a block or so away from The Broad. Just marvel at the architecture for a moment or two.
3) It's time for some food, and Eggslut is the answer.  This super-casual, egg-centric food stand, located in the Grand Central Market, boasts some of the best egg sandwiches in the city, or better yet, in all of California.  Try the fresh orange juice as well, it's the perfect mix of sweet and citrusy.  Indulgent, messy, and satisfyingly eggy. 
Prepare to wait on line (15-20 minutes), as it's a popular spot in the city, but not to miss during your long weekend in LA.
4) Across the street from Eggslut, you'll find The Bradbury Building, an architectural landmark and the oldest commercial building remaining in the center of DTLA. 
Behind it's extremely modest exterior, you'll be rewarded with a light-filled Victorian court that rises almost fifty feet with open cage elevators, marble stairs, and ornate iron railings.  Pure magic if you ask me. Worth a quick 15 minutes or so.
5) My favorite spot in all of the city during a long weekend in LA: Little Tokyo (I visited twice!) This area is the heart of the largest Japanese-American population in all of North America, and is full of all things Japanese – a Sanrio store and all! Try all the treats, including fruity pebbles and bacon mini donuts from Cafe Dulce, mochi ice cream from Mikawaya, red bean buns, and bubble tea.
6) If you're still hungry and in that asian spirit, head to Sugar Fish for dinner, home to some of the best sushi in town. Again, there may be a wait as it's an especially popular spot and quite small interior, but well worth it if you ask me (and are in the mood for some fish).
Day 3: Downtown LA
1) It's back to DTLA today! Grab some breakfast at Verve Coffee, which is known for being the most photographed patio in all of LA, and for good reason – it's absolutely stunning! A super cool vibe, and wonderful selection of beans, but you'll pay the price (at least double that of Starbucks or other chains). If you're in the mood, check out the Ace Hotel, with great views from the upstairs bar and patio lounge. I missed it this time, but I plan on taking my camera up there on my next trip to LA.
2) After your coffee fix, hit up The Last Bookstore, the ultimate book haven for any book lover. Make sure you take the stairs to the second level, complete with art installations (including a tunnel of books) and epic views of the tens of thousands of books down below. A great atmosphere and creative vibe with great pricing on both new and used items.
3) Next up, the LA Arts District! Tons of hip coffee shops, plenty of colorful murals, and the sweetest pie in all of LA at The Pie Hole. My plan was to have no plan at all – to wander around, photograph some murals, and admire the nitty-gritty of the whole area.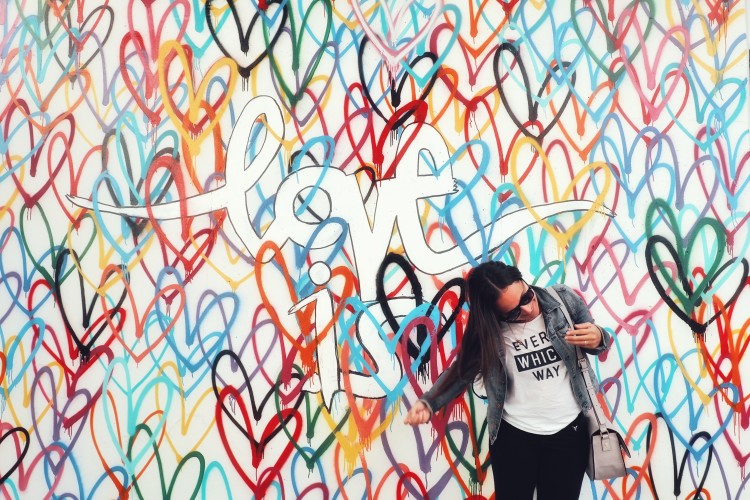 4) Before heading back to Santa Monica, stop by Bottega Louie for a few of their delectable macarons! With so many flavors to choose from, I couldn't choose just one! The raspberry and birthday cake were my favorite!
5) BEACH and RELAXATION TIME! By this time on your long weekend in LA, a little relaxation is in order. The entire itinerary is go-go-go (I know…), and while it's all fun and exciting, it's definitely tiring! Spend some time on Santa Monica Beach and call it an early night.
Day 4: LACMA + Melrose Ave
1.Start off the morning at the Los Angeles County Museum of Art, or LACMA as it's known by locals.  You may recognize the urban lights exhibit located directly outside the museum, but the rest of the museum is worth the $15 entry fee. 
Note that the LACMA is closed on Wednesdays, so plan accordingly.  Plan to spend 2-4 hours here, depending on how much you want to see, since it is the largest art museum in the western United States!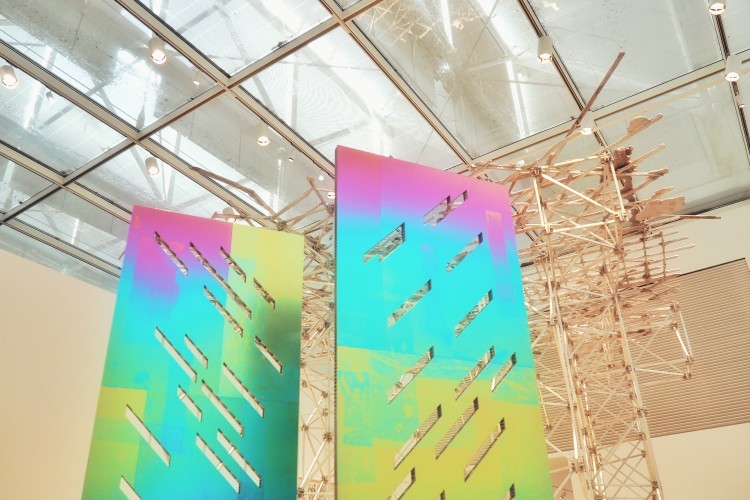 2. Spend the rest of the day on Melrose Avenue, a hip and sophisticated street a bit west of DTLA.  The avenue is quite long, so plan to Uber it around if you're hoping to check out different parts.  I was lucky enough to be visiting a friend with a car on this day, but Uber would have been just as easy since parking was a tad difficult. 
Any caffeine lovers out there?  Head to Alfred Tea Room or Alfred Coffee for a particularly delicious cup with delectable flavors.  A few murals not to miss: Paul Smith Pink Wall (8221 Melrose), Made in LA Wall (8025 Melrose, Cisco Home), and Retna Wall (8826 Melrose, Craigs).
3. If you've got some time and are staying in Santa Monica, check out the Santa Monica 3rd Street Promenade, full of restaurants and shops. Eat at either Bruxie's for mouth-watering chicken waffles or Greenleaf for more asian flavors.
4. Up for some late-night donuts?  Take a quick Uber to DK's Donuts & Bakery to pick out a few of their creative concoctions, including a donut/waffle hybrid dubbed the "wownut" and more crazy toppings than you could ever imagine. So many different donut creations it's overwhelming, but in the best way possible. 
I fell asleep early, what a shock, I know, so I got my fix of DK's in the morning before heading off to the airport.  Your long weekend in LA isn't complete without some of the good stuff.
Additional Suggestions for long weekend in LA (If you've got more time):
The Getty Villa in Pacific Palisades (FREE), closed Tuesdays
Stahl House (need to book a tour)
Michel Torena Stairs
Hike to the Hollywood Sign
California Donuts (in Koreatown)
Kreation Cafe for smoothies and juices
Read more about LA and the surrounding areas:
All open in NEW tab:
Have you been to LA before?  What would you add to the list?