Heading to Southern California soon and looking for some day trips from LA? You've come to the right place!
LA sure is one of the best cities in the world; however, its traffic and crowds will surely drain you at some point! Therefore, there's no better way to escape the city than by getting outta town for the day – and by day trip I don't mean Disneyland (that's too obvious)! Whether it's an excursion to a small California town to dive into some culture, or into nature – mountains and beaches are plentiful here– everything is possible when it comes to day trips from LA. Because I'm adventurous and love to see as much as I can, I'm a fan of combining a few places at once, especially if it's a longer drive, but of course, you can solely focus on one place if you don't feel like moving around too much.
Jennifer from Discovering Legacies has been an L.A. resident for almost eight years and has explored the city's surroundings quite a lot! Therefore, since I recently moved to San Francisco and am keen on exploring more of The Golden State, I've asked Jennifer to share her favorite recommendations for best day trips from LA. If you're not from around the area, you'll be able to find flights to Los Angeles quite easily as LAX is a major hub for many airlines.
For all of these day trips from LA, a car is your best bet. For San Diego and Orange County, Greyhound buses or the Amtrak are possible as well, as are organized tours which simplify transportation if you haven't rented a car nor want to deal with public transportation.
Best Day Trips from LA:
1 | For culture enthusiasts: Cachuma Lake, Solvang, & Santa Barbara
For this day trip from LA, it's best to get an early start. If you don't have any trouble getting up in the a.m., drive so that you can witness the sunrise at a beach of your choice along the way – it's the best and most relaxing way to start your day!
Take the 101 to the 154 and find Cachuma Lake on your right after less than two hours. Even though you can't swim there or get into the water, this recreation area with camping facilities situated within the Santa Ynez and Sant Rafael mountains is just wonderful if you just want to relax and have a BBQ, for example. The County of Santa Barbara's website recommends visiting during any season.
Once you had enough of the scenic views, make your way to Solvang, a small, picturesque town established by Danish colonialists with European feels and foods in the middle of California. Indulge in delicious baked goods and sausages, wander through the center of town, take a ride in a carriage, or visit an ostrich farm – whatever you do, you'll most likely feel like you're in Europe.
On your way back from Solvang, stop in Santa Barbara, one of California's most infamous college towns, and take a sunset stroll by the beach. Then, have dinner at an ocean view restaurant or somewhere in Downtown along State Street.
Read Next: The Ultimate California Coast Road Trip Itinerary
2 | For (underage) drinkers & party lovers: Mexico
Why not combine your day trip from LA with a country hop to Mexico? Don't forget your passport for this one! Leave in the early morning hours, pass San Diego, and take the last exit of the 5 freeway where you can leave your car in a parking lot on the right (not more than $10-12 per day). Cross the street on foot, walk over the bridge, and simply continue across the border.
Once in Tijuana, Mexico, stock up on the delicious street food – yummy tacos and mini pancakes. Ask for the bus station and take a bus (or cab depending on your budget) to Rosarito or Ensenada. Enjoy fresh sea food and cheap drinks in both cities, ride horses or four-wheeler's along the beach or just stroll through the streets.
Make sure you know from where your last bus back to Tijuana leaves and don't miss it! Also, the line to enter the US is always longer than the other way around, and waits can sometimes take up to an hour or two, on weekends possibly even longer.
Read Next: A Long Weekend in Cabo, Mexico
3 | For city kids: La Jolla, San Diego & Coronado Island
On your way to San Diego, be sure to stop at La Jolla to get close to, look at, listen to, and smell the seals, or jump into the refreshing water at the beautiful cove.
Once in San Diego, you can choose between visiting Balboa Park, taking a stroll along the harbor, eating Mexican lunch or dinner in Old Town, hitting up some wineries, checking out a museum, or having a happy hour drink in the Gaslamp district.
To top off your visit, drive over the Coronado Bridge or take a boat to Coronado Island. Enjoy the wonderful beaches there, some good food, and admire the once largest resort hotel in the world. Makes for one of the most wonderful day trips from LA, that's for sure!
4 | For beach bums: The best of Orange County
The cities that are about to follow boast the most beautiful beaches in Orange County. To skip traffic, leave L.A. early and start off with a breakfast or brunch in San Clemente. If you like more crowded beaches, spend your afternoon in San Clemente.  
However, if you love surfing or prefer a less populated beach with almost no tourists or buildings in sight, check out Trestles, only three miles south of San Clemente. Take exit 72 for Cristianitos Road and park right by the freeway. From there, just follow the surfers on a one mile walk to the beach and enjoy the peacefulness.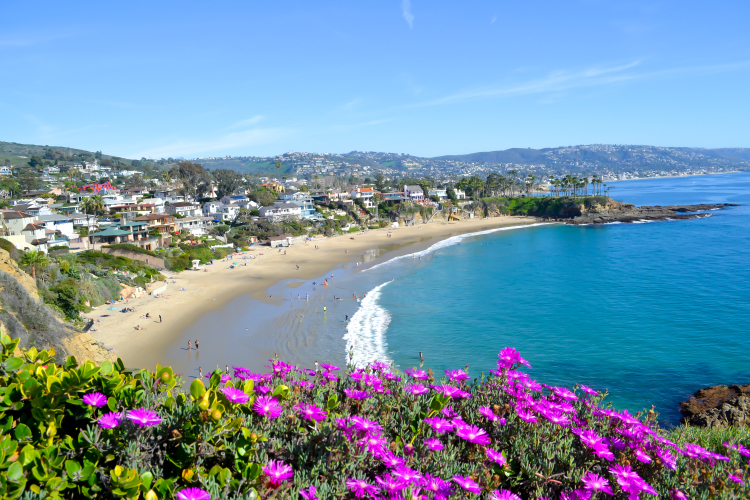 Read Next: Itinerary for Sunny Southern California
To finish up your day trip from LA, drive back up north to Dana Point, take a walk along the beautiful yacht harbor or do some late afternoon small boutique shopping in Laguna Beach. For dinner during sunset, either of these cities' ocean view restaurants will serve as a perfect finish for your O.C. beach day trip from LA.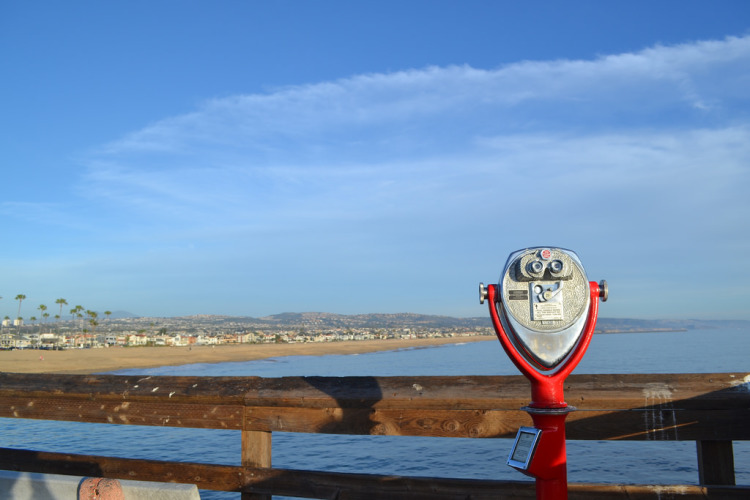 5 | For hikers: Potato Chip Rock
I bet you've seen this iconic rock formation countless times on Instagram, but people rarely know that it's actually in California, not far from LA! One of the most exhilarating day trips from LA lets you work on your fitness: Poatato Chip Rock.
Start your hiking adventure by driving to 14644 Lake Powey Road and finding a parking space for $5-7 per car or park for free close by highway 67. You can even take your dog!
Don't forget to bring water, energy food, and plenty of sunscreen. If you forgot either of them – there's a convenience store by the lot. On hot days, make sure to start your hike in the early morning!
The hike to the Rock is quite strenuous and can take up to 4 hours, also depending on how long you have to wait in line to get your IG shot. Yes, there's a line to do that – cuz, you know, everyone's gotta show off on social media, right?
Actually getting on top of the rock may be a bit scary for some because you've got to jump over quite the gap! But encouragement from fellow hikers will help you get over potential jumping fears and take a picture for you. It's worth the shot!
6 | For desert lovers: Palm Springs, Salton Sea, Salvation Mountain (Slab City)
Start your day off with a brunch in Palm Springs, continue to Salton Sea, and check out the abandoned ghost town of Salton City. From there, keep driving southeast until you hit Slab City. Having been in L.A., you've probably forgotten that small towns like these even exist! Being in Slab City feels like you just went back in time!
A bit outside this tiny town, you'll find Salvation Mountain – absolutely one of a kind! Not only art lovers and pilgrims will be in awe of this colorful, random mountain which was erected by artist Leonard Knight.
For the best atmosphere at this place, climb to the top and watch the sunset from there. Note: your drive back will take you about three hours, so take that into account if you don't want to be driving much in the dark.
7 | For big spenders: Catalina Island
This day trip from LA is even better on your birthday because you'll get a free ticket to go to the island when you travel with a companion! Besides nice views, this will be the only free thing on this island. But the good thing is: because literally everybody there is on vacation, you'll feel like you are too!
You can park your car in Long Beach or San Pedro from where the boats leave. Your tickets can be reserved at the Catalina Express' website. Choose Avalon as your destination port. A roundtrip costs almost $75 per person. The first boat leaves Long Beach at 6 a.m., the last one Avalon at 7:30 p.m. Make sure to get in line early.
The city is very walkable, and you'll find plenty of restaurants and bars by the waterfront. Catalina also offers a beach club, hiking, ziplining, snorkeling and scuba diving, paragliding, golf, island tours, sailing, and much more. It's a place made for you to leave your money. But the views and atmosphere are worth it – just go on your birthday! 🙂
Are you heading to Los Angeles soon?!  Make sure to schedule in some time for a few of these day trips from LA!