Looking for the best San Francisco day trips? Read on for my top 30+ picks, with tons of kick-ass views, charming small towns, orgasmic ice cream, white-sand beaches, and some hot shopping spots (among tons of other things). These day trips from San Francisco will have you wishing you allowed more time to this area for sure – you'll see!
When you're sick and tired of the crowds and have exhausted your list of things to do in SF (if that's even possible, haha), don't fret: there are a whole slew of San Francisco day trips to choose from. Once you've done all my favorite things (which I've curated into a super-easy-to-follow 3-day San Francisco itinerary), head out of the city for the day!
pin for later:
PSST → if you're from outta town, I wouldn't recommend a day trip unless you've got at least 3 days in San Francisco. Check out that itinerary, then add on an extra day or two for some of these spots!
San Francisco is a dreamers paradise. People come from all over the world to admire and photograph the Golden Gate Bridge and bask in the warm weather (it's not as chilly as people make it out to be- you just gotta learn to layer). There's some of the best Mexican food in the world, cable cars rolling up and down the hills, and enough green space/parks for all if everyone decided to have a picnic on the same day.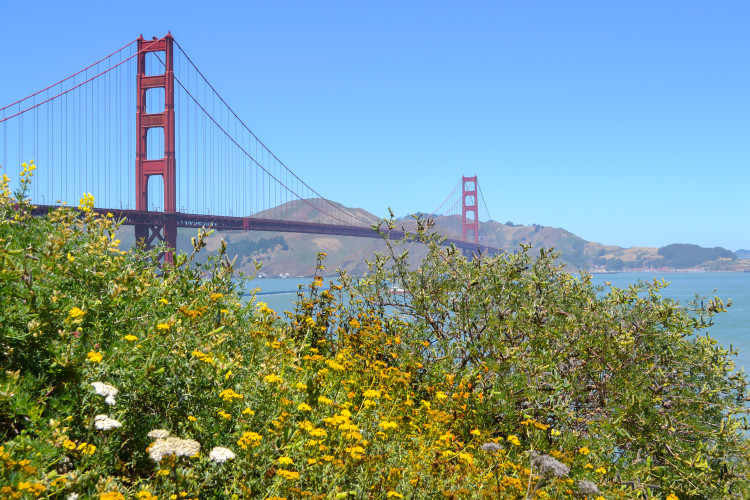 It's electric, moody, exhilarating. To quote Anthony Boudain, "Any one who doesn't have a great time in San Francisco is pretty much dead to me." Robin Williams even stated, "There's no question this is where I want to live. Never has been." It's obvious the City by the Bay holds up to it's high standards. And there's tons to do here.
But what about when you want to get out of the city? Bored of the burritos and the strenuous steep hills. If such a thing ever happens (the shock, the horror!), there are numerous day trips from San Francisco (yes, all 30+ of these!) which are all within an hour-two hours drive (plus traffic of course, can't forget about that…).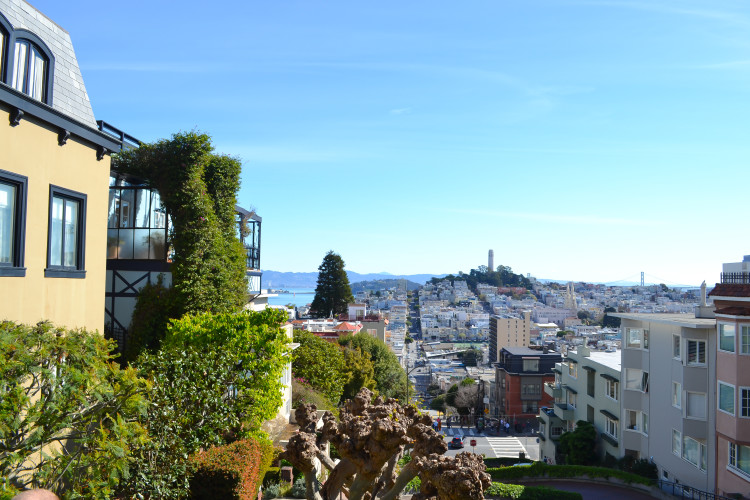 When deciding where to move from NYC, my husband and I instantly fell in love with the idea of the San Francisco Bay Area. Why? Mostly due to the year round pleasant weather, but a close second was the fact that we could escape fast-paced city life in less than an hour.
With multiple easy day trips from San Francisco, we now use our weekends to explore the surrounding areas to forget about our mundane work lives (we're being dramatic, the work week isn't sooooo bad, as long as avo toast and boba is involved).
If you're visiting San Francisco for the first time, I highly recommend you plan a few days within the city itself.
If you're a seasoned visitor and/or much prefer little seaside towns/nature/wine compared to big city life, I highly urge you to hop in the car, pick out a few of these San Francisco day trips, and go exploring.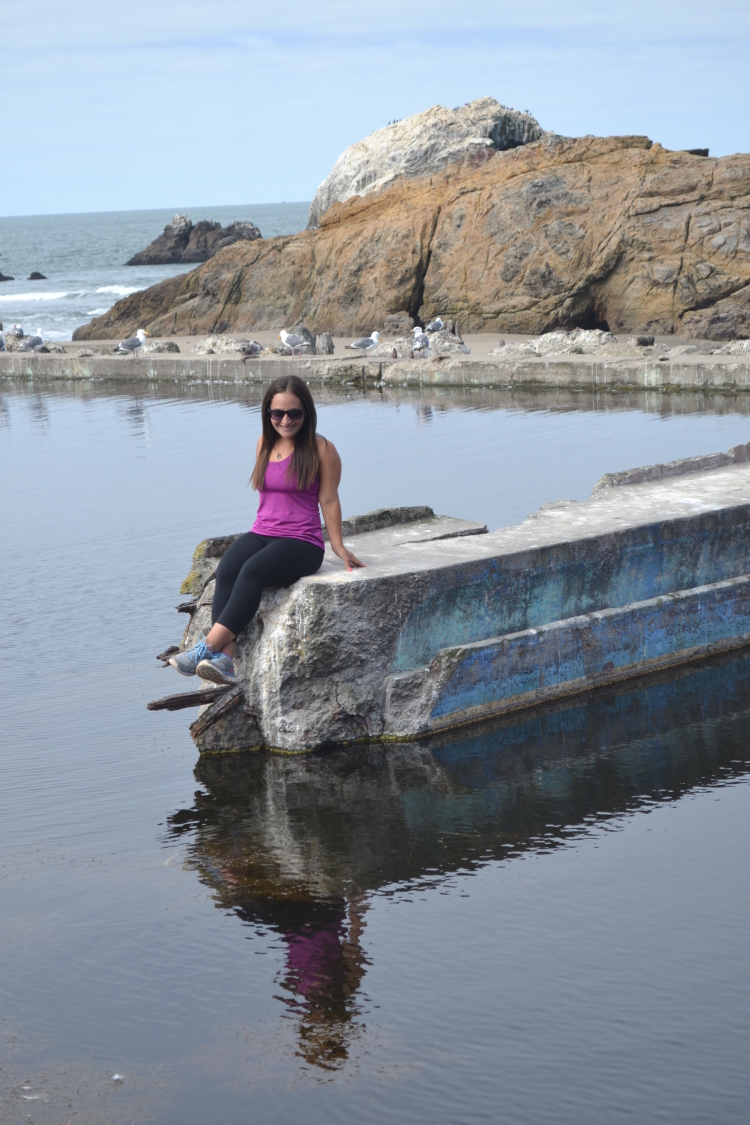 TO NOTE: Understand that the SF Bay Area is densely populated, meaning traffic can and should be expected. Time to destinations can vary greatly depending on traffic conditions, hence why I suggest day trips that are less than 2 hours away without heavy traffic.
Everyone who lives in the area knows it takes waaaaay longer than 30 minutes to reach Walnut Creek from the city, and you definitely cannot get to San Jose in less than an hour. Time also depends on where in the city you'll be coming from, as traffic/one-way roads in the city can easily add 20/30+ minutes to expected times. Don't let this deter you from taking day trips from San Francisco, it's just something to keep in mind.
Yes, all of these day trips from San Francisco can be completed in a day (hence the posts' title), but I encourage you to stay the night to get a real feel for the area! I've listed the area's best hotels for you to check out as well!
Have even more time? Check out this popular list of the best road trips from San Francisco and the best weekend trips from San Francisco.
Best Day Trips from San Francisco
*Listed by distance from SF
North Bay // Day Trips North of San Francisco
1. Marin Headlands
Distance: 9 miles / 25 minutes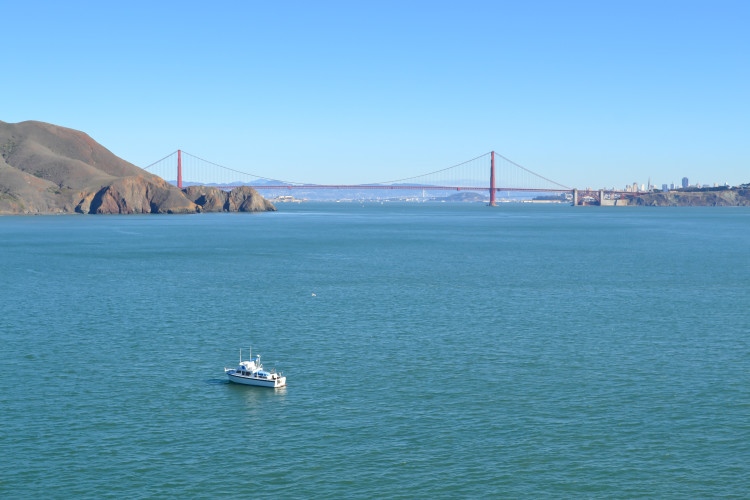 Looking for those postcard views of the bridge? You'll find them over here in the Marin Headlands at both Hawk Hill or Battery Spencer. Head down to Kirby Cove as well for a different perspective, but note that you may find nudes hanging around here (this IS San Francisco we're talking about).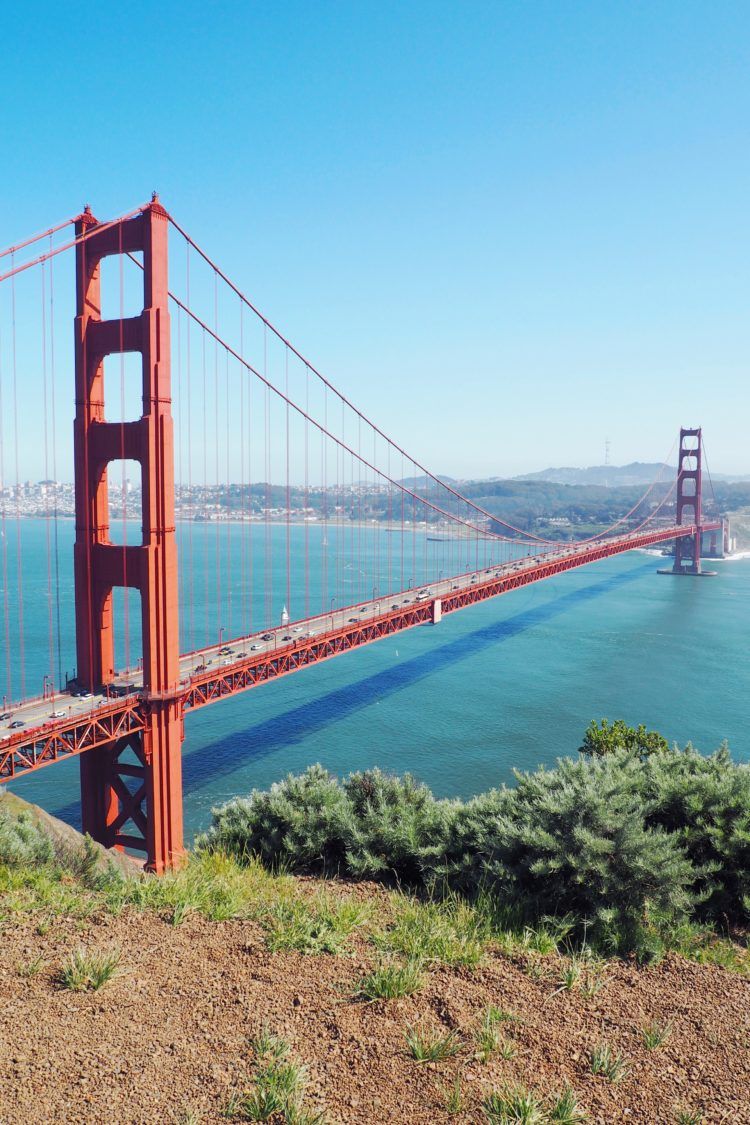 The Marin Headlands also boasts miles and miles of picturesque hiking trails, the Point Bonita Lighthouse, the Nike Missile Site, Fort Cronkite, Rodeo Beach, and The Marine Mammal Center.
Make sure to bring your own drinks and snacks, as there is literally no place in the Headlands to get food (although you could venture on over to one of my favorite San Francisco day trips – Sausalito – to fix any hangry moods).
Read Next: Where to Find the Best Views of the Golden Gate Bridge
2. Sausalito
Distance: 10 miles / 25 minutes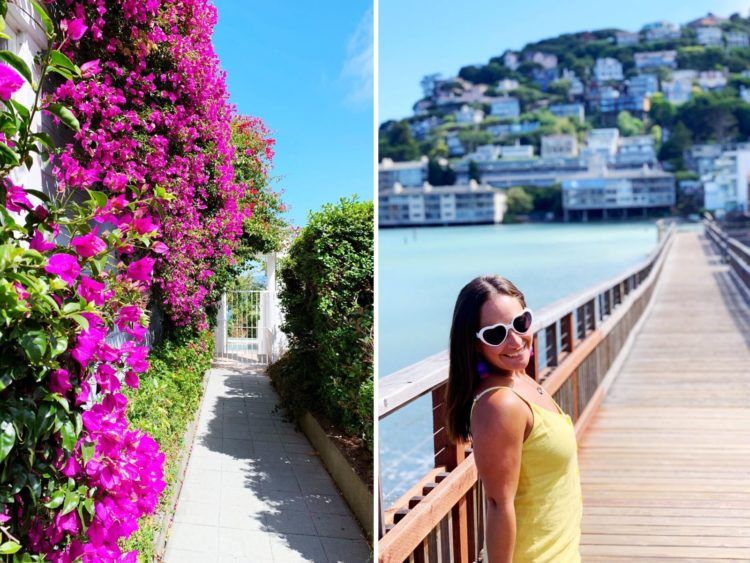 Sausalito is by far one of my favorite San Francisco day trips. It doesn't hurt that it's oh so close to the city, yet boasts a completely different vibe from it's neighboring areas.
Either cross the Golden Gate Bridge via car or hop on the ferry from SF, and you'll instantly feel like you've arrived at a chic Mediterranean coastal town. With over 500 houseboats, fantastic food, famous artisan tiles, and tons of World War II history, this easy day trip from San Francisco is worth the quick 30 minutes or so to get here.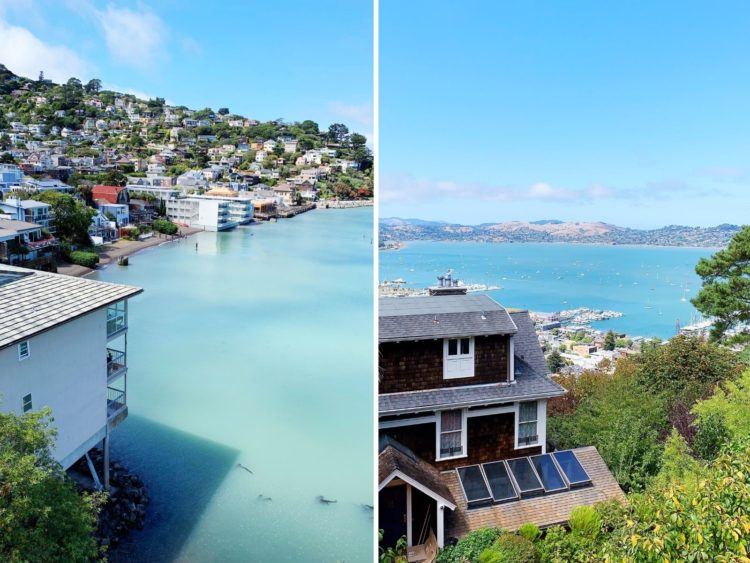 The views from Sausalito are top-notch; go and see for yourself. And don't leave without indulging in some ice cream at Lapperts (the Ube Macapuno flavor is my favorite)!
Read Next: Day Trip to Sausalito from San Francisco >> All You Need To Know
3. Angel Island
Distance: 17 miles / 32 minutes
Angel Island, located in the SF Bay, offers expansive 360° views of the San Francisco skyline, the Marin County Headlands and Mount Tamalpais. What more could you possibly want only a few miles from SF proper? Quite possibly one of the best day trips from San Francisco for this fact alone!
You can even hike the entire circumference of the island in about three hours! Understand that you'll need to ferry out from either San Francisco or Tiburon and it's wise to plan your trip around the ferry schedule, especially in the cooler winter months as the ferry doesn't run as often.
4. Muir Woods National Monument
Distance from San Francisco: 17 miles / 37 minutes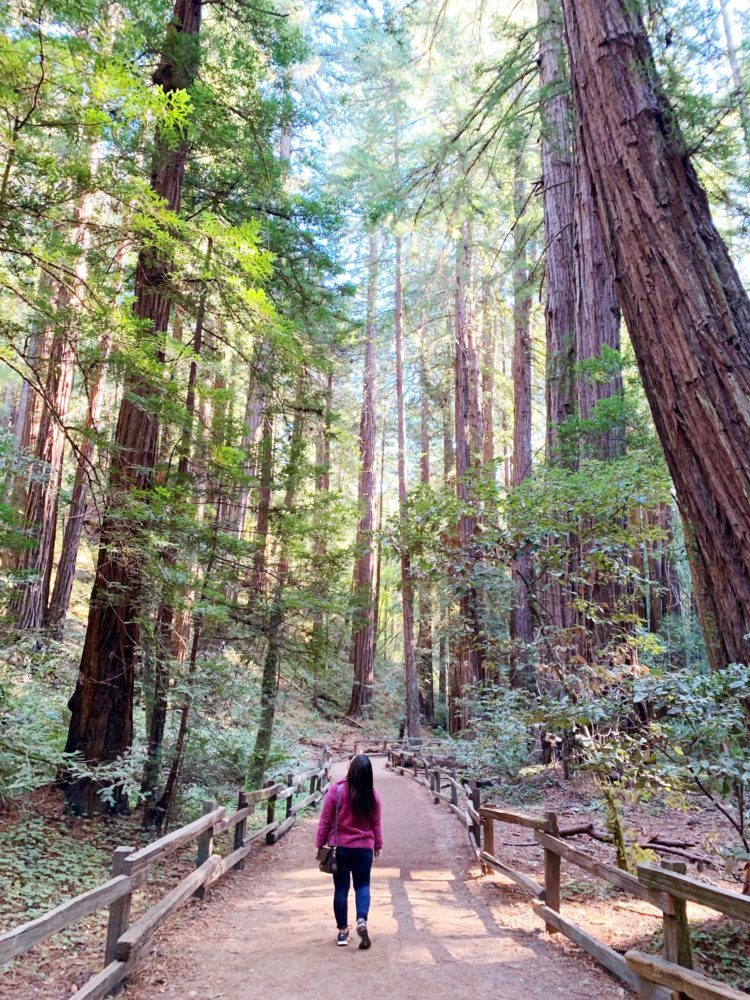 Can you believe that some of the tallest redwoods in the entire country can be found less than an hour north of San Francisco? You could spend hours just roaming through the giant, majestic forest, hiking on the many trails around the park. Note that there are numerous spots within the SF Bay Area which boast redwoods as well, but this log of day trips from San Francisco wouldn't be complete without adding Muir Woods to the list.
Since it is a highly sought after spot, the area can get exceptionally crowded, and you now need to reserve a parking spot before entry because of this; they can fill up fast, so be sure to book your spot well ahead of time. If you don't feel like having to arrange transportation and parking yourself, opt for an organized tour from San Francisco (many which stop in Napa as well!).
Read Next — The Perfect Day Trip from San Francisco to Muir Woods
5. Benicia
Distance from San Francisco: 36 miles / 42 minutes
What better way to escape the city than by taking a day trip to Benicia, a small-town seaside beauty only an hour north of SF. This waterside city boats fantastic waterfront views, with plenty of activities to please any visitor.
From hikes and picnics at Crockett Hills and glass blowing at Lindsay Art Glass, to a scenic palm-tree lined waterfront promenade and horse riding at The Benicia State Recreation Area, it'll be more than easy to fill a day in Benicia.
History buff? Learn about the small town's past (shaped by canneries, tanneries, and military) at Camel Barns (aka Benicia Historical Museum), which used to actually house camels! Don't leave without checking out Tannery Row, the hub of Benicia's social scene, and full of restaurants, local shops, and taverns.
And fun fact, Benicia even served as the state capital of California for nearly thirteen months from 1853 to 1854. If you're interested, tours at the former state capitol building within the Benicia Capitol State Historic Park are available! Bet you hadn't have even heard of this San Francisco day trip before!
6. Mount Tamalpais State Park
Distance from San Francisco: 23 miles / 50 minutes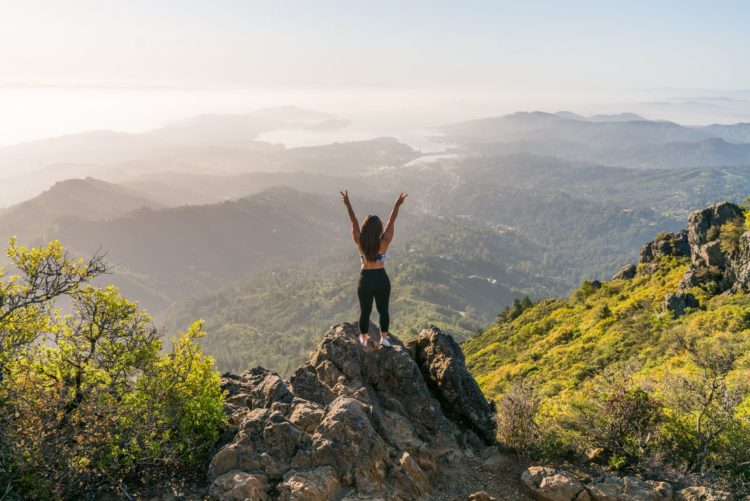 Whether you're up for a strenuous hike, a quick drive throughout the park, or something in between, you'll be enamored with the beautiful 360 degree views of San Francisco, Oakland, the bay, etc.
There's a whole slew of pull outs for photo opportunities, tons of hiking trails, and just beauty all around, with flowing waterfalls in the winter and wildflowers in the spring. If you're driving, make sure you go slow and practice some patience, as the drive is full of windy curves and you'll see a bunch of cyclists on the road on the weekends.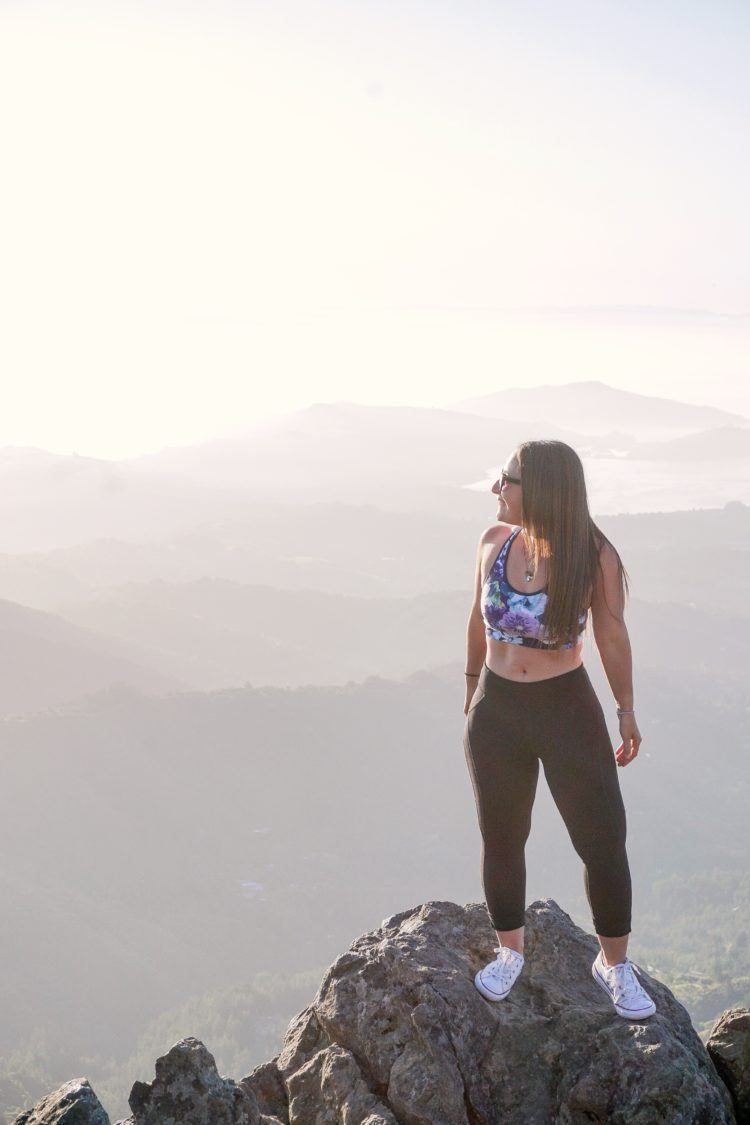 Feeling a bit extra? Wake up before 5am to catch the sunrise at the top of the mountain at East Peak. Sure, the early morning wake-up call is a b*tch, but those vistas galore across the bay views are worth it. And the photos? Yes please.
Note that it can get foggy at times so it's best to go on a clear day. My friends practically forced me to do this, and I'm still thanking them to this day. Thanks Kristen for this epic photo. 😎 That early morning light, please and thank you!
7. Stinson Beach and Bolinas
Distance from San Francisco: 24 miles / 52 minutes
This 3-mile long beach seems worlds away from the big city, yet it's less than an hour from San Francisco. Spend your day taking walks on beach (it is quite long!), collecting sand dollars, building sand castles, playing frisbee, and enjoying the beautiful sunset.
Or you could just sit on the beach and read and enjoy the wind and waves and shore birds. All great options! Beware that it can be foggy in the morning, making the air rather chilly, so it's best to dress in layers. Lots of restaurants and shops nearby as well for when hunger strikes!
We love coming here with Kona – part of the beach is dog friendly so you'll see tons of cute pups playing in the sand and running in the water!
8. Sonoma County
Distance from San Francisco: 44 miles / 57 minutes

Sure, we all know that Sonoma is one of the best wine-making regions of the world, but its way more than that. Visitors can sample olive oils at The Olive Press, Sonoma's first olive mill, and learn all about the olive oil making process between carb-drizzled tastings.
Hoping to get a bit more active than stuffing your faces with wine and olive oil? You can find adrenaline junkies at Sonoma Canopy Tours flying through the California redwoods on ziplines (at up to 40 mph!) and crossing sky bridges. Most definitely my thing.
Visiting in either Spring or Summer? Go check out the over-popular farmers market, held in the square weekly, and go take a wildflower hike on the Overlook Trail (a scenic 3-mile hiking trail though meadows & grasslands). Hood Mountain Regional Park offers outstanding hiking, mountain biking, and equestrian trails for you active ones out there who've had their fair share of vineyard visits already.
Looking for some stunning landscapes without the exercise (aka had too much wine?) The Quarryhill Botanical Gardens, with one of the largest collections of Asian plants in the world, may be exactly what you are looking for.
9: Petaluma
Distance from San Francisco: ~40 miles / ~1 hour drive
Being one of the largest cities in Sonoma County, Petaluma is not to be missed (and one of our favorite day trips from San Francisco). What used to be a bustling egg industry (true story!), is now known as a foodie haven in Northern California! And my friend Annette even has a restaurant over there (it's called Sugo Trattoria and you should definitely order the bruschetta).
Don't leave the area without grabbing a slush/ice cream combo from Wicked Slush, AND a mini fruit pie from Petaluma Pie Company (there's also savory pies if you've had too many sweets).
Sample some cheese along the California Cheese Trail (yes, it's a thing!), and you can also take full tours, attend cheese-making classes, and more! On my California bucket list, that's for sure! While the Sonoma Cheese Trail takes you all over the county, there's a few good spots in Petaluma – including Achadinha Cheese Company, Ramini Mozzarella, and McClelland's Dairy.
A few other things to do: go hiking at Helen Putnam Regional Park, grab some fresh produce from the Petaluma East Side Farmers' Market, go for a scenic walk at Shollenberger Park, walk along the waterfront and grab a beer at Brewsters Beer Garden, and of course go for a few wine tastings!
10. Point Reyes National Seashore/Station
Distance from San Francisco: 29 miles / 1 hour, 2 minutes
I don't know a single local SF-er who hasn't given me this recommendation when begging asking for San Francisco day trip ideas. You could easily spend an entire weekend here, but it's also possible to fill a full varied day in Point Reyes, I promise you that!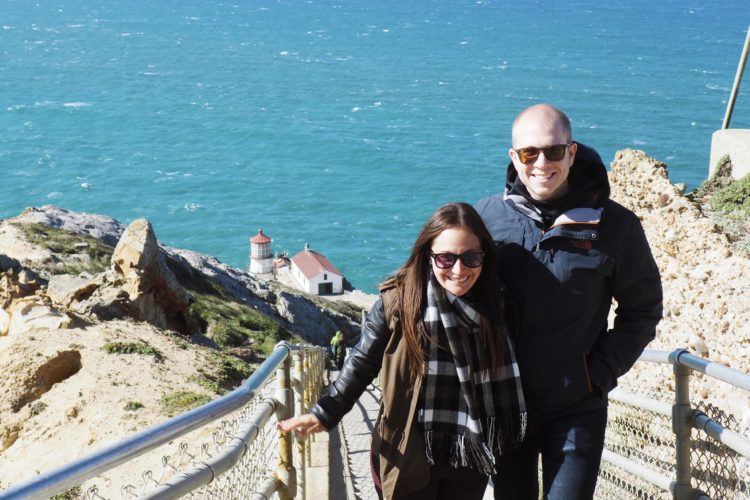 First things first, take the long, windy drive (past working dairy farms and ranches) over to the Point Reyes Lighthouse. Beware it can get quite cold, with ferocious winds attempting to knock you down (no joke – I almost blew away). And if you're lucky, you may even come across some elk!
Grab some oysters at Hog Island Oyster Co or the wildly famous Tomales Bay Oyster Co (make reservations in advance) and sample some fresh cheeses at Cowgirl Creamery. Have more time? Check out the sea lion overlook, Drakes Beach, the Cypress Tree Tunnel, and the Inverness Shipwreck.
11. Napa Valley
Distance from San Francisco: 58 miles / 1 hour, 6 minutes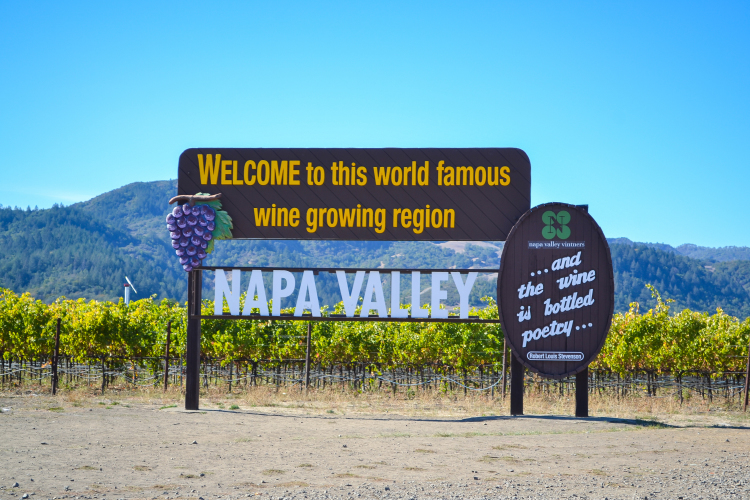 No trip to San Francisco is complete without sipping some wine in Napa Valley. There are dozens of gorgeous vineyards, many with their own private wine tasting.
Remember to be safe though! If you wind up needing to stay the night, I highly recommend the Andaz Napa. When you're not touring a vineyard or stomping on your own grapes, check out downtown Napa, go olive-oil tasting, and/or get a revitalizing massage.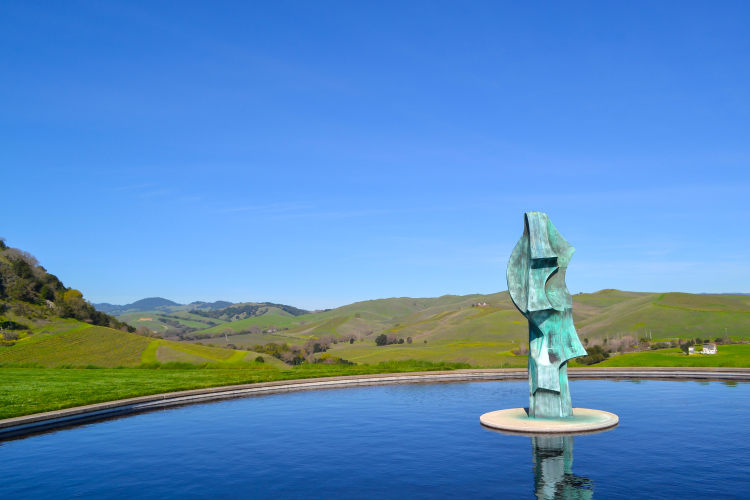 Something else to add to the bucket list – a hot air balloon ride over Napa. The ultimate experience, which I treated my husband to on a cool, autumn day! It's the perfect time to support Napa Wine Country – they are starting to recover from the horrendous fires that occurred not too long ago and could use any tourism they can get.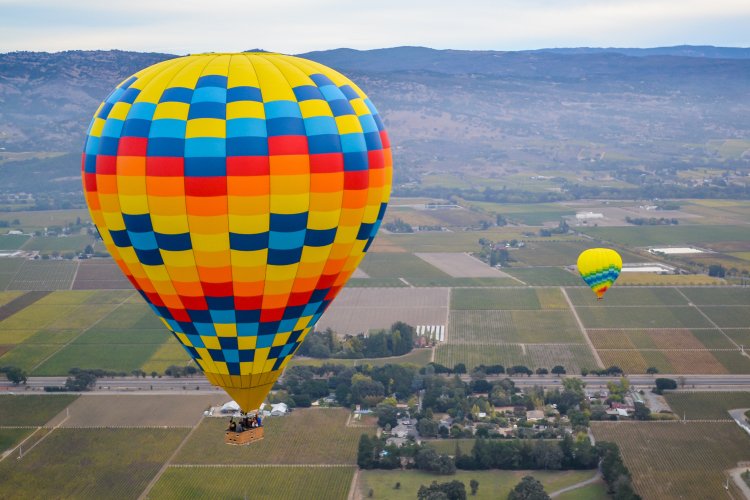 Read Next:
12. Guerneville
Distance from San Francisco: 55 miles / 1 hour, 7 minutes
I spent a relaxing weekend in Guerneville not too long ago, and because of it's small size, it definitely makes it on the list as one of the top day trips from San Francisco as well. And if you're a foodie like me (let's face it, I plan half my trips around food), you'll find no shortage of things to eat and drink in this area.
As just stated, of course my favorite thing to do included stuffing my face – can you blame me? What Guerneville lacks in size, it definitely makes up for in hip eateries!
First things first – order a breakfast biscuit from Big Bottom Market Biscuits. Ridiculously flaky. Exceptionally flavorful. My speciality spinach, bacon, and cheese biscuit met all of my biscuit expectations and then some.
Next up – One walk into Nimble and Finns and you'll see why this place is always crowded. ICE CREAM. And even better, they applause unlimited samples. I opted for the chocolate raspberry (#yum). Promise me you won't leave without grabbing a slice of pie from Chile Pies Baking Co. (located in the same building within the beautiful Guerneville Bank Club).
Looking for a popular dinner spot before heading back to SF? Check out Boon eat + drink, easily Guerneville's hippest spot – tables are never left empty for long.
Coming solely for the alcohol? Sip some fantastic pinot noir at Ferrari-Carano Vineyard (what the area is best known for), and go (free) champagne tasting at Korbel!
Armstrong Redwoods State Reserve (a bit further down on this list) is not too far from Guerneville, so you can definitely break up your noshing and alcohol sipping with a side trip to the giant redwoods all in one day.
Read Next: A Relaxing Weekend at the Russian River and Guerneville
13. Inverness
Distance from San Francisco: 43 miles / 1 hour, 14 minutes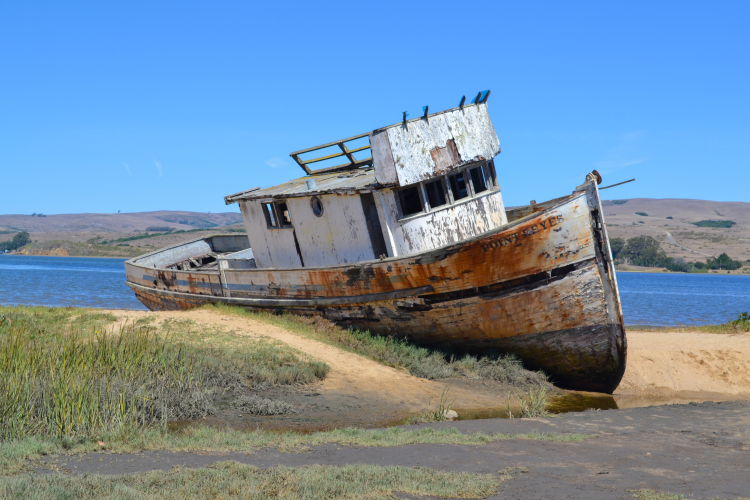 Looking to spend a day near/on the water? Head north of the city to Inverness, and you'll be in oyster and kayaking/hiking land. And this is where you'll find that famous abandoned boat that washed up on the shore dubbed the "Point Reyes Shipwreck".
Located right behind the grocery store in the town of Inverness, this ruined ship is super symbolic to the area. Why? The ship was named "Point Reyes". Cell service is not the greatest in this neck of the woods, so it can be slightly difficult to find if you don't know where to look.
And get ready for the activity of the day – kayaking along the Point Reyes Peninsula, paddling and looking for seals at the same time. My suggestion – take a boat out a few hours before sunset to catch magic hour at it's finest. Perfect for photos!
Finally, you can't leave the area without some oysters! Stop by Drakes Bay Family Farms or Saltwater for oysters and some local eats before heading home!
14. Armstrong Redwoods State Reserve
Distance from San Francisco: 77 miles / 1 hour, 30 minutes
SF-ers, we sure are lucky, because we've got those towering majestic redwoods in other spots besides the ever-popular (aka ridiculously crowded) Muir Woods.
Armstrong Redwoods State Reserve, located just north of Guerneville (check out my weekend in Russian River/Guerneville here), offers short, flat loops through the beautiful groves of old growth redwoods that anyone can easily enjoy. Looking to break a small sweat?
The park also boasts longer uphill hikes to tackle for those a bit more ambitious that offer fantastic views of the area. Take a few hours to just enjoy the peace and quiet, stare up at the ancient giant redwoods, and bring along a picnic lunch.
South Bay/SF Peninsula // Day Trips South of San Francisco
15. Pacifica
Distance from San Francisco: 15 miles / 20 minutes
Looking for a beach day but don't feel like hanging with the masses at Ocean Beach? Or don't wanna trek all the way to Stinson Beach or Half Moon Bay? Head on over to Pacifica! There's four main beaches to choose from (Linda Mar, Sharp Park, Rockaway, and Gray Whale Cove).
Plus, my favorite trail in the entire Bay Area is over here – Mori Point! If you get welcomed with a sunny day (unfortunately the fog takes over sometimes), it's even possible to feel like you're in Hawaii for a hot minute.
It's not too difficult, and there a bunch of other hikes in Pacifica to check out (including my other easy favorite – Devil's Slide).
And once you're done with beachin' and hiking, make sure you venture on over to Taco Bell. Yup, I just said Taco Bell, haha. It's recently been turned into a Taco Bell Cantina, and serves alcoholic slushies on the beach. We've had a few too many Mountain Dew margaritas recently, whoops!
Read Next → A Perfect Day in Pacifica (including all my favorite coastal hikes)
16. Woodside for Fioli Gardens
Distance from San Francisco: 32 miles / 33 minutes
You guessed it – much of Woodside is wooded, bursting with tall redwoods, Douglas fir, oaks, and eucalyptus. Drive around and you may in fact feel like you're in a real-life-tree-covered forest. The town is no stranger to horses (with many residents actually owning), and you may in fact spot some on the horse trails as you navigate your way through the area.
Head on over to Alice's Restaurant for some burgers and BBQ and eat in a rustic cabin. I bet you'll enjoy the wooden-cabin-in-a-dense-forest vibe with some brunch in your mouth.
You'll also find Filoli Historic House and Garden here, a whimsical garden with enough plants and flowers to engulf an entire small city. With different blooms year round, you can go back time and time again and still be surprised!
Don't miss the many nature trails in Woodside's open space reserves, with Purisima being a favorite among locals and visitors alike.
17. Half Moon Bay
Distance from San Francisco: 29 miles / 38 minutes
Sure, there are a few beaches in San Francisco proper, but the beaches in Half Moon Bay aren't filled with (as many) tourists, probably 'cause they're a bit further and less well-known. Win-win for everyone, right?! My favorites being Poplar and Miramar Beach, with plenty of dogs running and splashing in the water (my ultimate fantasy world).
The water is still chilly (it's the Pacific- nothing we can do about that!), but the Coastside Trail with it's stunning views and wildflowers can't be beat. If you like horseback riding, this is one of the best places to go for a ride in all of the Bay Area. Don't miss Sam's Chowder House, which serves the most tantalizing buttered lobster rolls, and you guessed it, clam chowder. Choose a table on their balcony- I promise, you're in for a treat.
And while you're over there, I strongly urge you to grab a cocktail at the Ritz Carlton and admire the views of the Pacific. What can be better after a day of sunning at the beach? They even have outdoor fireplaces (note, bring some marshmallows)- how cool is that?
Depending on when you visit, you may be able to check out the stunning yellow wild mustard fields (in February), u-pick sunflower fields (in September), and Half Moon Bay pumpkin patches (in September and October).
Read Next:
18. Silicon Valley (The Peninsula)
Distance from San Francisco: 40 miles / 39 minutes
No one really thinks about heading south to the Peninsula, but there's actually so much to do here. A few of my favorites:
Taking a tour and exploring Stanford University's campus (spoiler alert – its beautiful and fabulous and now I kinda wish I went there…)
Visiting the Facebook "Like" Button (only when visitors request it, haha)
Grabbing some boba and going for a stroll in San Mateo's Rose Garden
Meandering around the neighborhood downtown areas for a more suburban-y feel (my favorites being Burlingame, San Carlos, Mountain View, and Palo Alto)
Walking around Seal Point Park (with the puppy, of course!)
The Downtown areas of Palo Alto and San Carlos are my favorite. Be sure to check out CREAM (world-class ice cream sandwiches), Orens Hummus (some of the best Mediterranean cuisine you'll find), and Sushirrito (yes, they serve sushi burritos) in Palo Alto.
Refuge (for some hardcore Pastrami sandwiches), Boba Guys (for you guessed it, some of the best boba in the area), and Blue Line (some of my favorite pizza in the Bay Area) are wonderful in San Carlos.
I also enjoy B Street & Vine, King Fish, Wursthall (get the beer cheese pretzel) and Ramen Dojo (by far the BEST ramen with lines to boot – get there at 5:15 for the first seating) in Downtown San Mateo and Milagros, Nick the Greek, and Vesta in Downtown Redwood City.
But really, there's SO MUCH good food over here it's a shame most SF-er's never make it down here on a more regular basis.
Looking for a bit of nature between your eating binges? Go for long walks at Seal Point Park, Coyote Point, the canals of Foster City, and the lake in Redwood Shores. I also love grabbing some boba and walking around the Rose Garden in downtown San Mateo.
Want to get a bit more sweaty? Go hiking at The Stanford Dish or walk amongst the trees at Edgewood State Park.
If you feel like going shopping head to the Stanford Shopping Center, an upscale mall where you'll find all your big name brands. Confession- I go for the Chipotle, MELT, and Pinkberry!
Don't forget to check out the dozens of concerts at Shoreline Amphitheatre every summer – the lawn seating is the best and definitely not hard on the wallet. We make sure to go to a few shows every summer!
There's honestly SO much over on the peninsula – I need to write an entire post dedicated to it!
19. Los Gatos
Distance from San Francisco: 51 miles / 52 minutes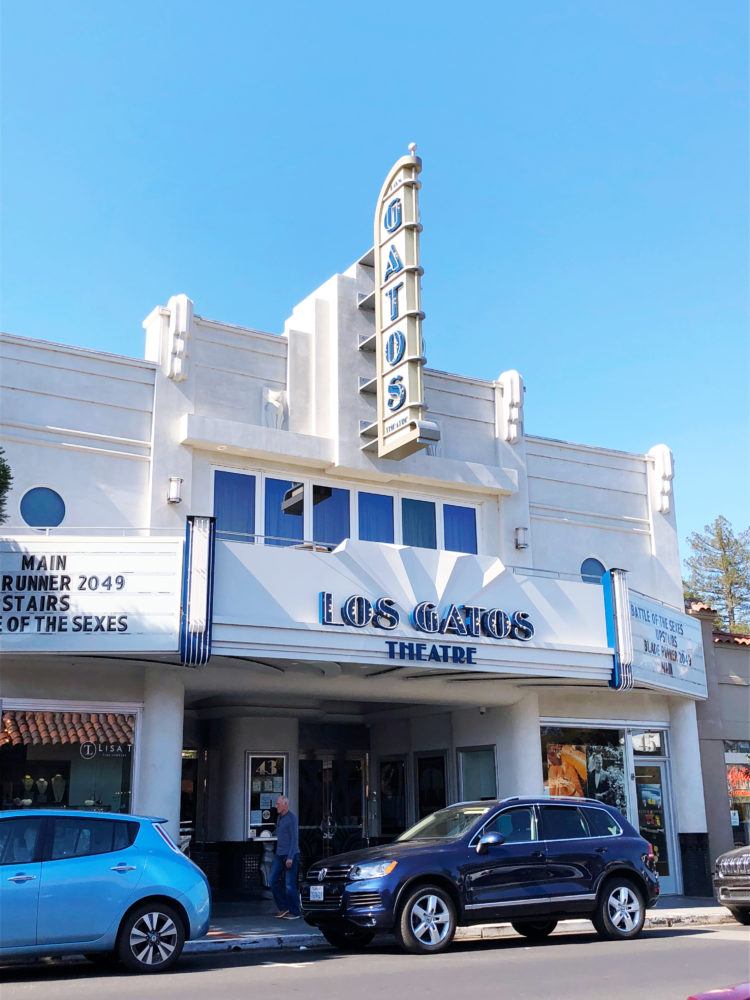 Head south for the day to Los Gatos, and you'll love it's unique architecture, pedestrian-friendly design, small town charm, and super quaint manicured downtown area. And be sure to notice all the cute kitties around town (it is in fact called Los Gatos "The Cats"!).
Check out the natural beauty of Novitate Park (only a few blocks from Testarossa Winery) and the Los Gatos Creek Trail, which goes through several parks, Vasona Lake, between mountains, and up to Lexington Reservoir. It's quite a lengthy trail, but well worth the effort, and a fantastic spot for long-distance runners.
You'll also be wowed by Castle Rock State Park within Los Gatos as well. There are numerous trails, ranging from a couple of miles to a 10 hour full day hike! The trails take you through wooded, shady areas, and then out to some amazing lookout points – a perfect place to stop and watch the sunset. Goat Rock Lookout is a favorite of many. Psst – the rocks are great for bouldering/rock climbing if you're into that sorta thing!
A bit away from Los Gatos (but not too far) is the Hakone Estate and Gardens – if you're into Japanese gardens, you'll absolutely love it! I took my parents here on their last visit, and we loved touring the grounds – tons of koi fish, giant bamboo stalks, and traditional Japanese architecture.
20. San Jose
Distance from San Francisco: 49 miles / 55 minutes
Sure, San Jose gets a bad rep, especially from us here in SF, but surprise, surprise, there's actually some pretty cool stuff down here. If you're looking to get some sunshine, spend some time at the San Jose Heritage Rose Garden, Plaza de César Chávez, or the Japanese Friendship Garden in Kelley Park.
Hayes Mansion and the Winchester Mystery House are also worth a peek, as well as doing some upscale (window) shopping at Santana Row.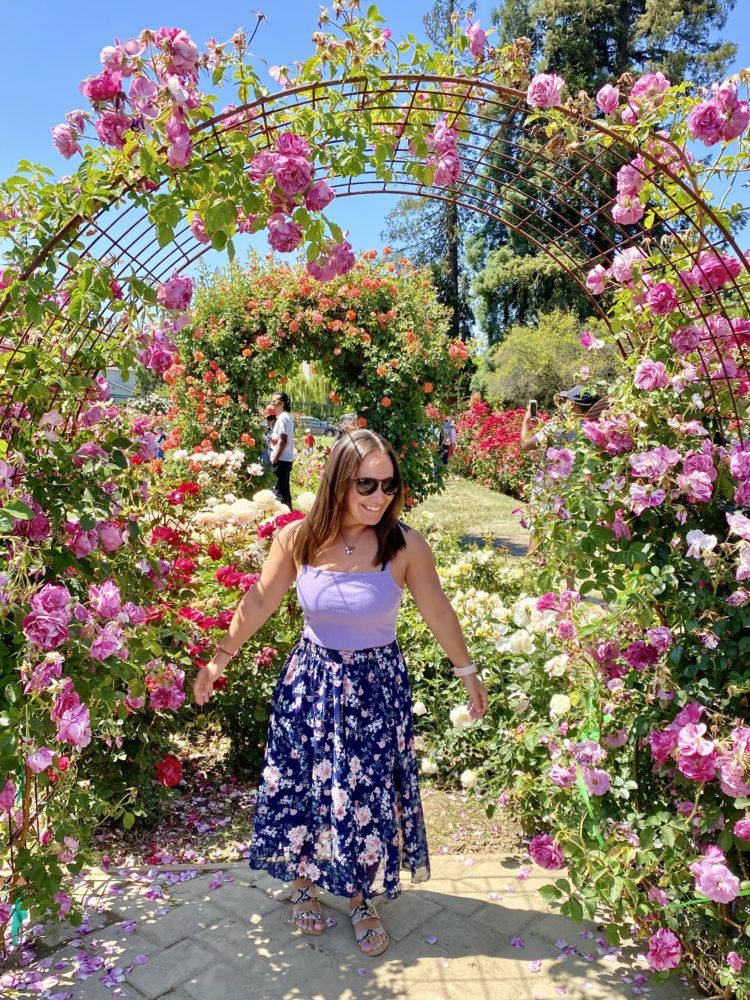 Science and tech geeks will love Downtown San Jose's Tech Museum of Innovation, with its hand-on exhibits devoted to the exploration of the such.
The downtown area also boasts plenty of bustling beer bars and cocktail haunts, as well as a mix of casual and upscale restaurants. Don't leave without checking out San Pedro Square Marketplace, a fantastic spot for quick eats and some real good ice cream!
21. Pescadero
Distance from San Francisco: 46 miles / 57 minutes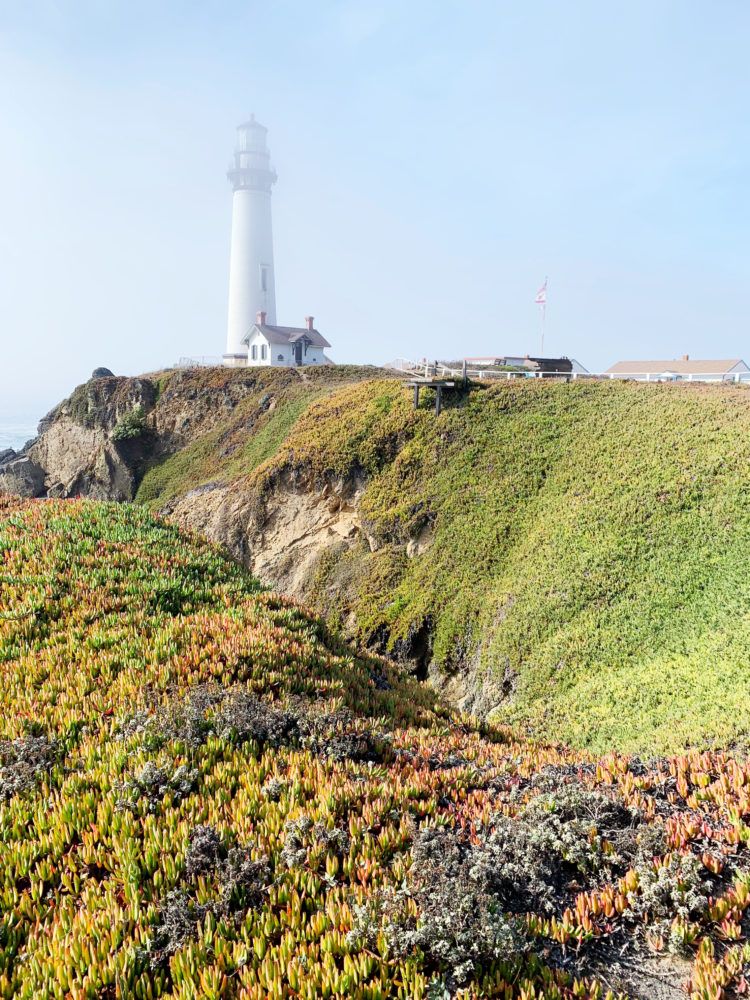 With miles upon miles of undeveloped, rugged coastline, you can certainly escape big city life by taking a day trip from San Francisco to Pescadero. Make sure to grab some tacos from the resident gas station (yes, there's actually a taqueria [Taqueria y Mercado de Amigos] within the station) and some artichoke soup from Duarte's Tavern.
Read Next: A Mini Road Trip from San Francisco to Santa Cruz [all the best stops], with much more info about these hot spots in Pescadero I'm speaking so highly of.
Must do's include a trip to Ano Nuevo State Reserve to listen to the bark of the oddly looking elephant seals, organic berry picking at Swanton Berry Farm (in season), and watching the goats at Harley Farms. Oh, and you can't forget about Pie Ranch, because um, pies (obviously).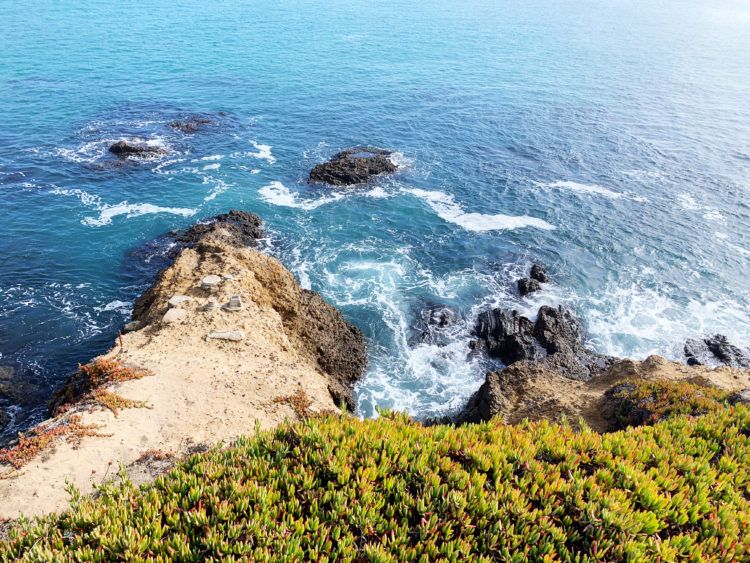 You can also spend this scenic seaside day with a quick hike down to the tidepools (with tons of sea creatures) and beach hopping between San Gregorio, Butano, and Bean Hollow State Beaches.
Make it your business to visit the Pigeon Point Light Station (I have this thing with lighthouses, I tell ya), which is actually associated with a hostel super close nearby! I know the thrill of a hostel doesn't appeal to many, but can you imagine walking up right at the base of a lighthouse? Still on my SF bucket list!
22. Santa Cruz
Distance from San Francisco: 73 miles / 1 hour, 14 minutes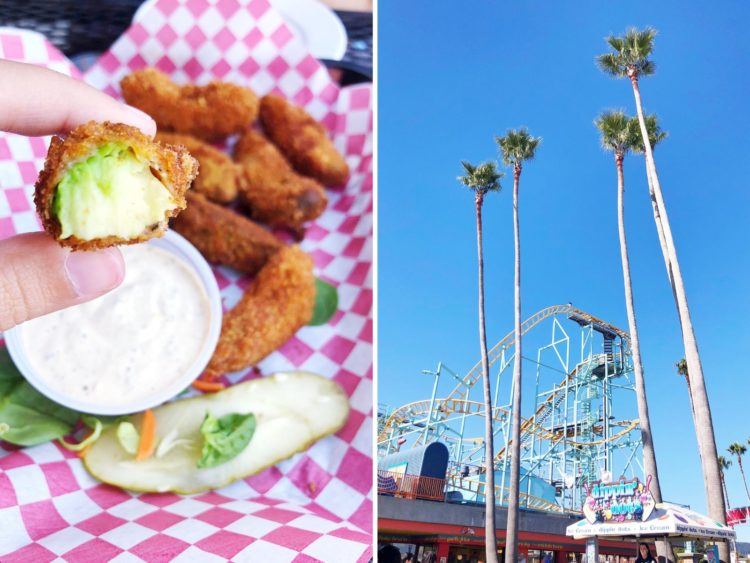 Drive an hour south (give or take a bit) and you'll be rewarded with a slower pace of life and plenty of areas to relax and watch the waves roll in. Although you could easily spend over a week here, a day trip from San Francisco will provide you just enough time to get your feet wet (figuratively and literally).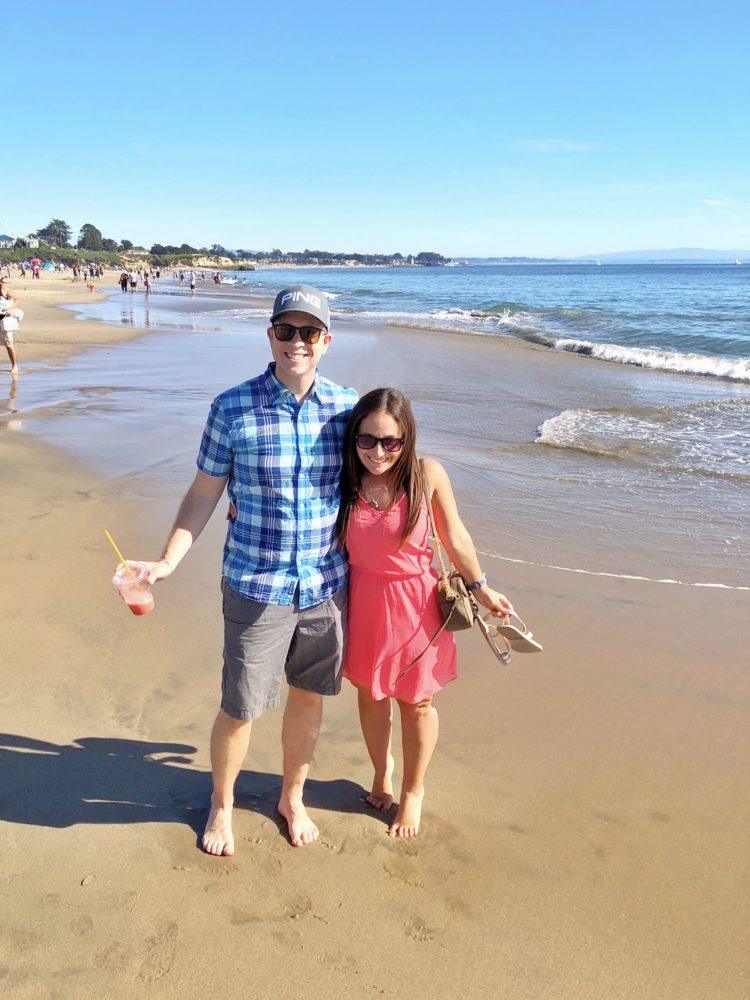 Here in Santa Cruz you'll find quaint little cafes, world-class surf spots, hikes, otters and seals splashing around in the water, and local farms and markets (among much more). I can't wait to head down this summer for some beach time and boardwalk amusement time (yes, they have a spinning roller coaster here).
Read Next: The Perfect Day in Santa Cruz (lots of fun ideas here!)
I don't care what you do, but make sure you stop at the famous ice cream shop, Mariannes. The Penny Creamery is a very close second, though, and you can actually order a marshmallow topping which is out of this world. Can you tell I like ice cream a little bit more than the average person? Santa Cruz makes for a perfect and relaxing San Francisco day trip.
23. Gilroy
Distance from San Francisco: 78 miles / 1 hour, 15 minutes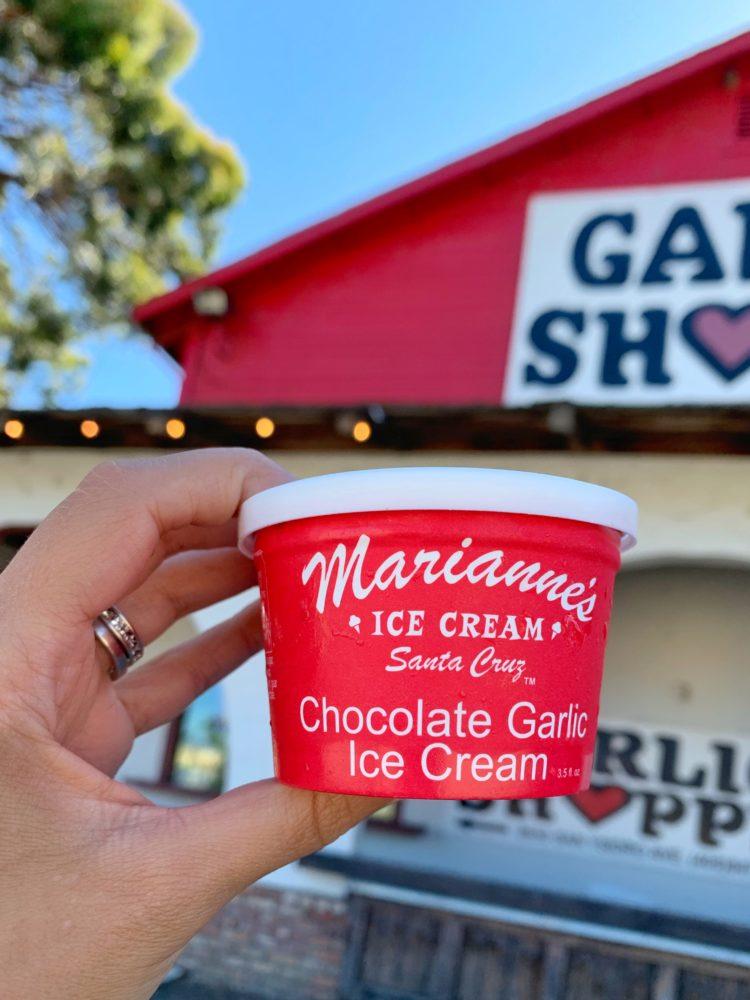 Gilroy, being the Garlic capital of the world, is an absolute haven for any garlic lover. Yet still fun for everyone else, I promise! You'll be utterly amazed after a walk through The Garlic Shoppe and Garlic World; minced, roasted, crushed, chopped, and then some.
And obviously, yes, everything is garlic related. If you're wondering why garlic plays such a big role in the city of Gilroy, stop by the Gilroy Museum, which will be sure to answer all your garlic-related history questions.
Garlic fiends – Don't miss the annual Garlic Festival held every summer in the area! With garlic beer, garlic ice cream (I though the first bite was kinda weird and then I kinda liked it!), and just about garlic everything else, you can be sure to get your fill of garlic in just a single day. Just bring some mints. :p
Garlic not your favorite thing in the world? The Farmers Market may be more your thing. From May through October you'll find the freshest organic produce, complete with tons of free samples no matter if you're not buying anything. You'll also find fresh fruit and veggie stands on the side of the road (where I once found 3/$1 avocados, ya'll) – bring some chips.
Looking for something else besides food? Head to the Gilroy Majestic Gardens, laden with rainbow-colored flowers and stunning backdrops. Or check out Gilroy Yamato Hot Springs and/or Las Animas Veterans Park to get some of your nature fix.
24 and 25. Monterey/Carmel
Distance from San Francisco: 118 miles / 2 hours
Okay, so this one's kinda pushing it, as there'll likely be a decent amount of traffic coming from the Bay and you definitely wont get there in under 2 hours. BUT hey, get an early start and drive back once the sun goes down?
I've been to this area more times than I can count, and am constantly finding new things to do on this part of California's rugged central coast. Besides the super obvious Monterey Bay Aquarium (undoubtedly one of the best aquariums in the U.S), Cannery Row, and Fisherman's Wharf, you'll find whale watching, kayaking, and spectacular nature activities all over the area.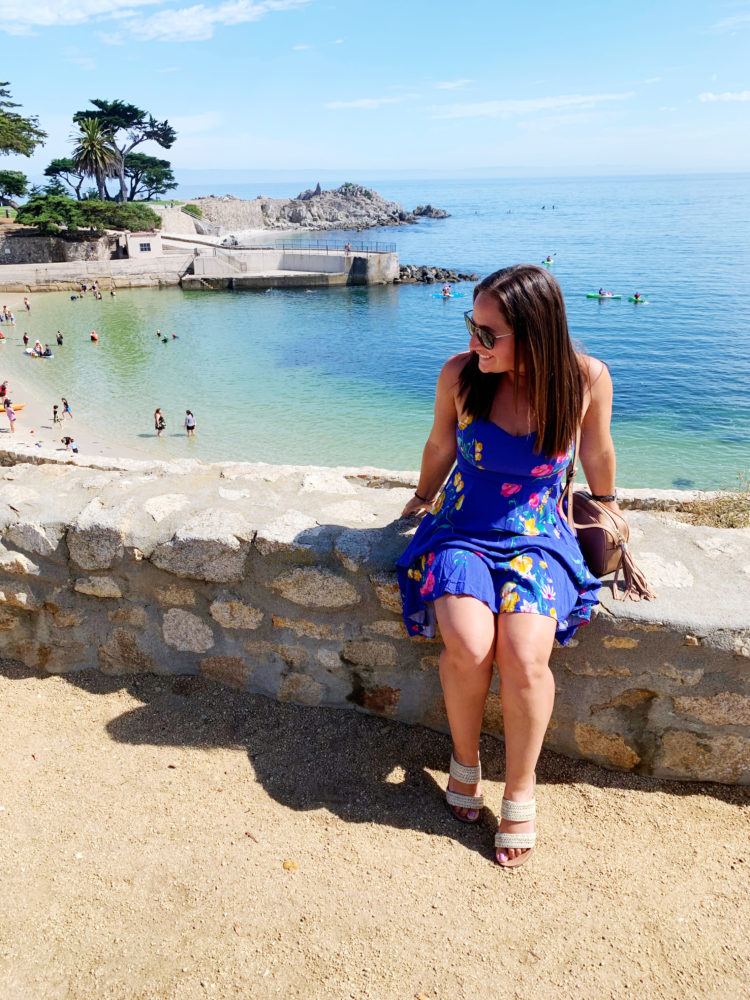 Go tide pooling at Asilomar State Beach, view the sea lions and harbor seals (springtime is best as the pups are being born, but be careful not to get too close!), watch butterflies in Monarch Grove Sanctuary (from mid-October to mid-February), and drive the 17 mile drive (worth the few bucks).
In Carmel you'll find a charming European-style village, with a small-town atmosphere and quaint downtown area full of unique shops, boutiques, art galleries, and wine tasting opportunities!
The beach shouldn't be missed either, as the sand is super soft and pure white – unlike the usual rocky California beaches. Note that the city of Carmel does not allow big chain restaurants or hotels in town, so you 100% won't feel like you're in SF anymore!
There's definitely enough to do here to make it into a weekend trip, I can promise you that. If you only have one day I recommend you spend your time in one or the other (Monterey or Carmel), and save the other for next time. And yeaaaa, Big Sur is VERY worthy of a trip, but it's too far for a day trip from San Francisco in my honest opinion.
East Bay and Beyond // Day Trips East of San Francisco
26. Oakland
Distance from San Francisco: 13 miles / 20 minutes (but plan for a decent amount of traffic)
Everyone thinks of Oakland as the place most likely to get your car broken into, but this ain't the case (in most parts of the city). With the cute boutiques in Piedmont, the beautiful, tree-covered Hills in Montclair, and the incredible food scene of the entire area, you won't even feel like you're in Oakland.
Venture on over to Rockridge and you'll find a picturesque and vibrant neighborhood with a funky assortment of restaurants, bars, and shops. My favorites being Tara's Organic Ice Cream, Zachary's Chicago Pizza, and Cholita Linda (for some of the best cuban food around).
Tons more Oakland foodie spots over here all approved by my friend Lia the Oakland expert.
A few more on my Oakland food/drink bucket list: that famous fried chicken sandwich from Bakesale Betty, deliciously creamy mac n' cheese from Homeroom, tequila tasting at Calavera, fresh-squeezed grapefruit greyhounds from Cafe Van Kleef, and brewing and bottling your own beer at Diving Dog Brewhouse.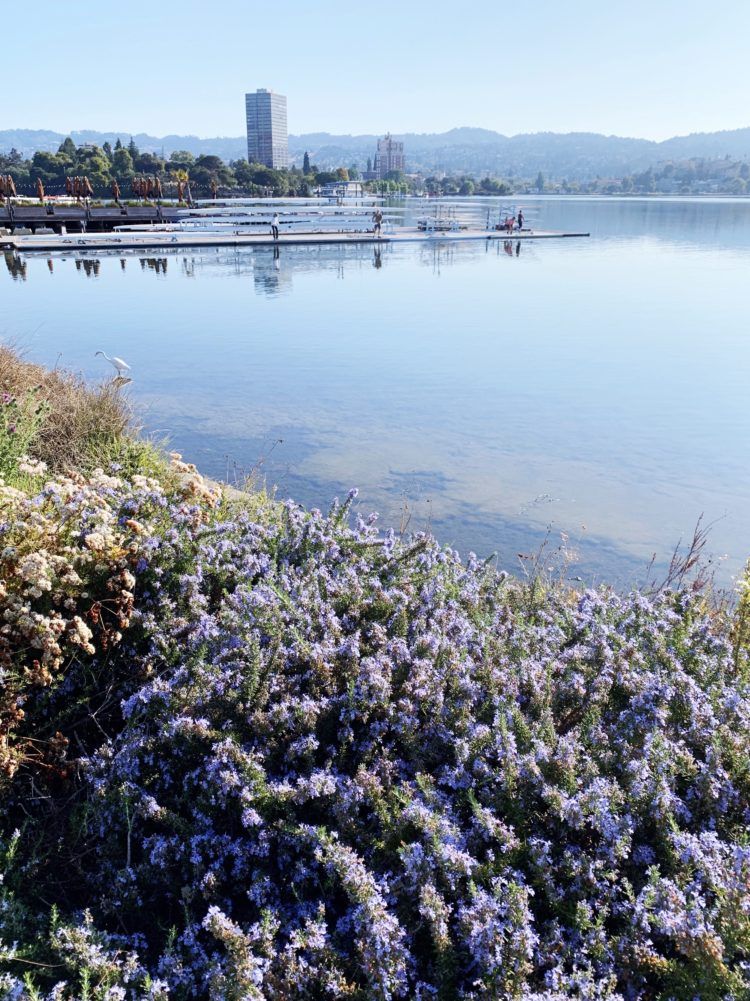 Once you've filled your stomach, be sure to visit the stunning Lake Merritt (rent a boat!), the Mormon Temple in Oakland Hills (fantastic architecture and stupendous views), Jack London Square in the heart of downtown (super bart-able), and treat yourself to a wild Raiders game at the Coliseum if you're feeling a tad frisky.
Any art lovers over here? Be sure to pop around the rad downtown murals, and be sure to check out Oakland's diverse art scene during the month of May during Oakland Art Month.
Promise me you won't leave Oakland without checking out the wooded giants in Redwood Regional Park, located in the hills east of Oakland, with tons of trails to wander and burn off those calories.
Craving a few more active activities? Fly through the sky at the circus school on a trapeze, and explore the Secret Stairs of the East Bay (with more than 400 paved pathways and staircases latticing up and down the slopes of Oakland).
27. Berkeley
Distance from San Francisco: 14 miles / 20 minutes
Oh, my love for Berkeley is never-ending, and quite possibly one of my all-time favorites from this list of day trips from San Francisco. The city has changed quite a bit, and what was once the bohemian flower-power center of the 60's has evolved into a fine culinary and cultural scene.
Sure, the area is still well-known for its quirkiness and all things weird, but now you'll find foodie hotspots such as Ici Ice Cream, Cheeseboard and Sliver Pizza, Gregorie's (get the potato puffs), and La Note (for some french inspired fare) dotting the area. Make sure to venture over to the Gourmet Ghetto for more of the good stuff (food, guys, we're talking about food).
Once you're done eating, smell the flowers at the Berkeley Rose Garden, stroll down Telegraph Ave and around the UC Berkeley campus (and head to Sather Tower for fantastic sky-high views), window shop at the largest reptile museum in the country/world, and drive past the Fish House and Boat House.
Don't miss the Downtown Arts District, Tilden Park, and Golden Gate Fields for some horse action on $1 Sundays.
28. Walnut Creek
Distance from San Francisco: 25 miles / 29 minutes
Walnut Creek is an all-American area, the perfect blend of quaint and cosmopolitan. With its abundance of public parks (all 22 of them), tree-lined downtown walkways with it's free trolley, year-round sunny skies, and tons of gardens, this is most definitely one of the chicest day trips from San Francisco.
If you're a succulent-obsessor like me (I just bought about 23 of these babies last weekend), you'll love the Ruth Bancroft Garden, loaded with an extensive collection of succulents, cacti, and other drought-tolerant flora.
Looking to literally smell the roses? Head over to the Gardens at Heather Farm, with it's 1,000+ rose bushes. Don't leave the area without trying some bread and pastries from A Sweet Affair, all made from scratch on site.
Child at heart? Go check out Waterworld California, the Bay Area's largest waterpark, full of raft slides, a lazy river, and the new "Break Point Plunge", which sends thrill seekers down six stories inside a tube.
29. Mission Peak
Distance from San Francisco: 44 miles / 47 minutes
Up for a challenge? What about to the peak of one of East Bay's most difficult hikes? That's right, put on your hiking boots (or sneakers, totally fine), we're going to Mission Peak! This 6.2 mile round trip hike (up and back down the mountain) is no easy feat.
With no tree cover whatsoever, prepare for ample sun throughout and make sure to take along enough water (and snacks if you're like me). Don't miss out on that iconic photo at the top, although you'll most likely need to wait your turn on a 20-30 minute line (just wait, the photo is always worth it).
30. Livermore
Distance from San Francisco: 44 miles / 47 minutes
Everyone needs a shopping day every once in a while. And an outlet mall with Amorino (that's flower shaped ice cream for anyone who lives under a rock) is definitely the place to do it.
With a fantastic Kate Spade outlet (I'm guilty of leaving with a new bag each and every time), food truck options for lunch, and enough stores to keep you busy for hours, a day trip from San Francisco to Livermore will keep you busy if you're in the mood to spend some cash. Come early Sunday morning at opening and you'll beat the crowds no problem.
And if you'd rather spend your cash on some adult beverages, there's tons to choose from (roughly 41 boutique wineries and five breweries) that dot the valley as well. Beautiful rural landscapes, vibrant downtown district, great food, and wonderful people will make any day in Livermore a pleasant one. And plus, if you're looking for some warm/hot weather during San Francisco's chilly "summer", you'll find the sun in Livermore.
31. Vacaville
Distance from San Francisco: 55 miles / 56 minutes
Like Livermore, Vacaville boasts a pleasant, Mediterranean climate year round, which means when you're freezing in June in SF, you'll be able to whip out your summer attire over here! If you want to get your sweat on (which you should!), plan a hiking day in lovely Lagoon Valley Park, which offers great views of the city and beyond.
On a clear day, you can see the snow capped Sierras, the high rises of Sacramento, Mount Diablo, and occasionally Mt Tamalpais from the American Tower in the park. Or you could spend your time playing frisbee, watching the pups in the nearby dog park, or having a picnic.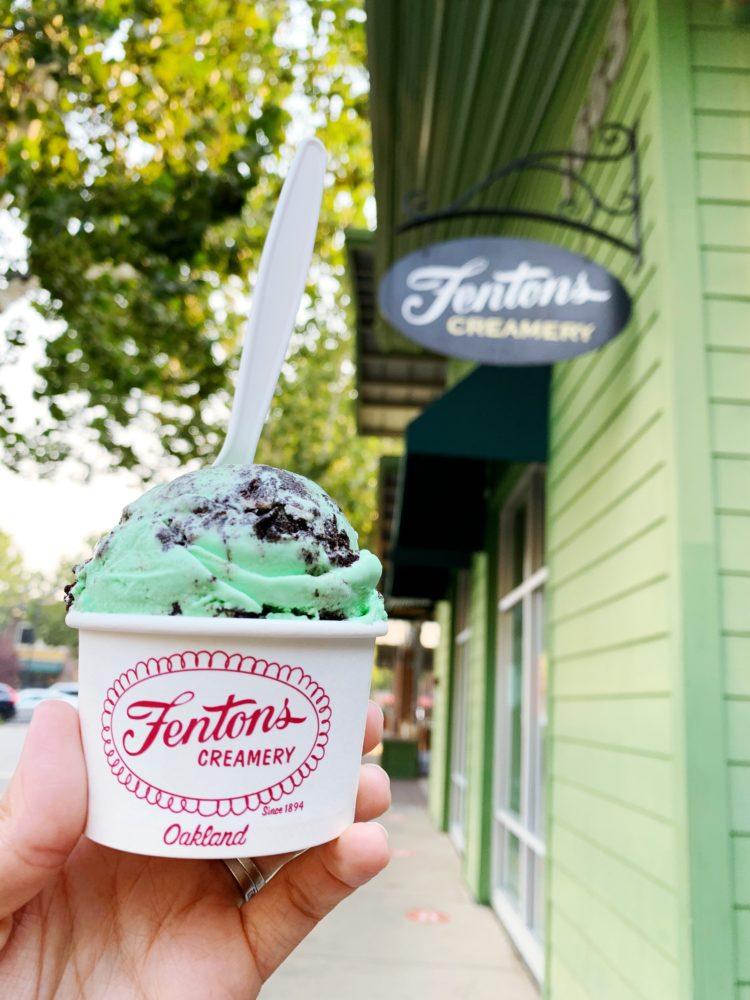 And after all that hiking, treat yourself to a sundae at Fentons Creamery, a favorite ice cream parlor by many, and a damn good reason to go to Vacaville (yes, my ice cream obsession is real you guys). :p Additional ideas for this day trip from San Francisco: Vacaville Farmers Market, Adobe House (full of historical artifacts), and the Vacaville Premium Outlets.
And before/after your visit to Vacaville, make a quick stop at the Jelly Belly Factory for a guided tour of the facilities or to grab a few bags of some candy! Look out for the Belly Flops – heavily discounted jelly beans because of their odd shapes!
32. Mt. Diablo
Distance from San Francisco: 41 miles / 1 hour, 16 minutes
Had too many sweets last week? Spend the day hiking Mt. Diablo's famous 13 mile loop, located in the Diablo Range in Contra Costa County. This hike's total elevation gain is roughly 3320 feet, and takes about 7 hours with photo stops. Make sure to bring your camera, because the view at the top is absolutely remarkable.
And head straight to the summit for the famous view – you can see San Francisco and the sea one way, and the snow capped mountains the other way. The park consists of tons of foothills for us all to enjoy, just please respect this land and realize just how difficult it has been for the area to preserve and protect it from development. Psst – head to the park in the spring or fall. It's when the hills turn a brilliant green color, the weather is mild, and the sun shines!
33. Brentwood
Distance from San Francisco: 56 miles / ~1 hour
Looking for to pick some fresh fruit near the Bay? Trust me – there's nothing sweeter than perfectly-ripe cherries. Head on over to Brentwood, home of the U-Pick cherry farms. And there's tons of farms and orchards to choose from – Nunn Better U-Pick Farms, Mike's U-Pick (two locations), 5 Star Cherries, and Freitas Cherry Ranch. And how do you know which cherries are ripe? Look for the ones deep red in color; they'll be the sweetest.
You'll wanna head on over around mid-to-late May, as this is when cherry picking typically starts. Depending on the year (and growing season of course), you'll be able to find cherries as late as July (although they may be picked through by then). Make sure to load up on water and sunscreen as it's hot hot hot over there in the summer.
There's also strawberry picking in Brentwood (and Pescadero, too, I may add), which is something I can't wait to cross off my 101 in 1001 list!
34. Sacramento
Distance from San Francisco: 88 miles / 1 hour, 26 minutes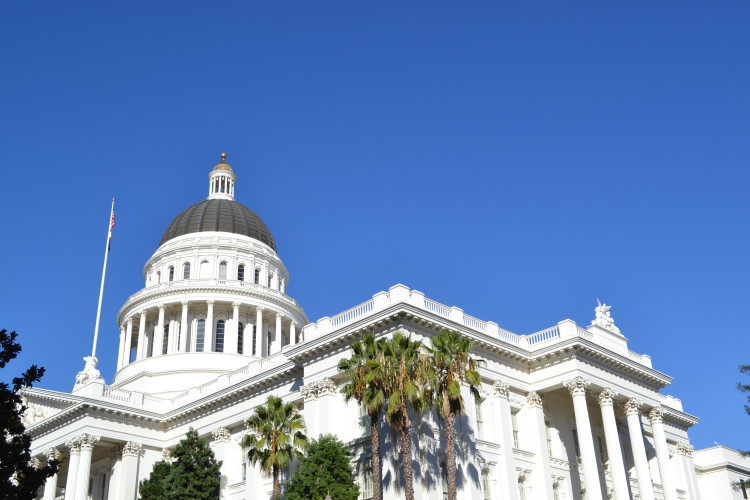 California's state capital often gets overlooked, but after visiting once for a quick 24 hour trip, I'm yearning to go back! This underestimated city is full of river views, historical museums, craft beer, and outdoor activities, worthy of any day trip from San Francisco.
Don't miss the following donut shops and cafes: Danny's Mini Donuts, Baker's Donuts, Temple Coffee & Tea, Marie's Donuts (which is open 24 hours and serve all hours of the night), and Dutch Bros. Coffee (and yes, I ate at all of those in my short time in Sacramento #whoops).
Foggy and gloomy in San Francisco? Head on over to Sacramento, which boasts a spectacular climate year round. At about 2 hours away (provided there is a bit of traffic, which there always is), this trip can be done in a day if you don't mind the drive, but you can always stay the night to have a bit more time. Another one of the San Francisco day trips I'm hoping to get back to in the near future!
35. Yosemite (best to go with a tour company)
Distance from San Francisco: 167 miles / 3 hours, 5 minutes on a good day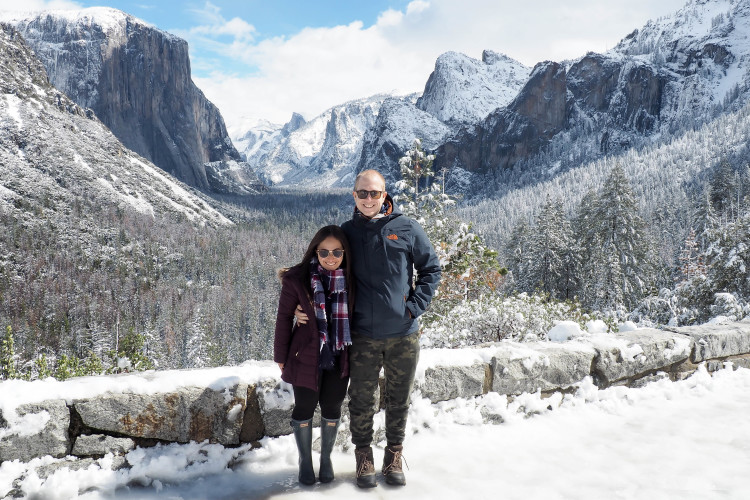 By far one of the longest day trips from San Francisco, but definitely worth the drive to Yosemite if you've only got a days time to see the park. I highly recommend joining a group tour since it's easily 4 hours each way if you encounter any traffic, and this can leave you too tired to actually appreciate the beauty of the park!
And plus, by joining a tour you'll be driven from spot to spot by knowledgeable guides who make the trip often, guaranteeing you see the best of the park in a limited time. Don't miss Glacier Point, the ever-so-famous Tunnel View, Taft Point, and Bridalveil Falls, all which can be seen in a day on a guided tour of Yosemite. We've visited Yosemite in both Spring and Winter, and can say both times boast spectacular mountain and waterfall views, with drastically different temps!
Learn More and Book Tour to Yosemite
Read next: The Best Way to Spend a Day in Yosemite, and then read this: Winter in Yosemite: Top Things to Do
Are you visiting San Francisco soon?! Which of these San Francisco day trips will you be adding to your itinerary?
pin for later:
Looking for more California content? Explore my other California guides here!
Did you know that …
When you purchase something through our links, we earn a small fee (but you still pay the same)! Win-win! If you found this article useful, consider using the links within the article or below. Thanks for your support!