If you're looking for things to do in LA, you've come to the right place!
When you think of Los Angeles, you probably think of the Beach Boys, surfing, and celebrities. While this is all true, LA is much more than that! Any Angeleno will tell you that LA is a melting pot for all kinds of activities, food, cultures, and spots to explore.
You can get to the beach, mountains, desert, and the forest within an hour, which makes your vacation filled with possibilities! Put visiting Los Angeles as your next #bucketlistitem- you won't regret it!  I'm visiting LA next week, so I've asked my friend Karina from Spot the Red Head to share her favorite LA must-do's with me! Enjoy!
But first things first: Where to Stay in LA
When deciding where to stay in LA, all the options can make it somewhat daunting. However, there are a few main areas I recommend:
1. Santa Monica:
Located on the western edge of LA and steps from the beach, Santa Monica's your best bet if you want to wiggle your toes in the sand every morning. With tons of restaurants and shopping nearby on Third Street Promenade, and the eclectic Venice Beach Boardwalk a quick bike ride away, I can promise you you'll never get bored here.
$ – If you're on a budget, your best bet is to stay at HI Hostel Santa Monica. Literally around the block from the beach, the largest hostel lockers I've ever seen, and free daily breakfast, lack of cash is no excuse here!
$$ – Ocean views calling your name? Check out the Le Meridian Delfina Santa Monica. California-inspired decor and an outdoor pool await! Prefer to be on the beach (ok fine, a 3 minute walk), you may like The Hotel California- Santa Monica. And with quirky rooms featuring surfboard headboards, who wouldn't want to stay here?!
$$$ – With chic public areas, posh balcony rooms, and ocean view dining, there's no better place to stay than Loews Santa Monica Beach Hotel. Super upscale and super awesome. Check out the Hotel Shangri-La Santa Monica if you're looking for more of an art-deco feel (complete with a rooftop bar and poolside cabanas).
See all hotels in Santa Monica.
2. Beverly Hills and West Hollywood (WeHo):
Stay in Beverly Hills if you're looking for luxury (this is where Rodeo Drive is located), and West Hollywood if nightlight and culture/hot trends are more your thing. There's really no wrong option here, with my top recommendations below:
$ – Super stylish and sophisticated, on a (kind of) budget- The Orlando is just minutes from The Grove (a must-do) and plenty of top eateries. Unfortunately you won't find many low-cost options here.
$$ – Sofitels never disappoint, and the Sofitel Los Angeles at Beverly Hills is no exception! Get a room with views of the Hollywood Hills, and make sure to try out the onsite restaurant serving classic French cuisine.
$$$ – Afternoon tea and spa/rooftop dining sound like your jam? Check out the Peninsula Beverly Hills, a super chic 5-star hotel surrounded by tropical gardens. Rather pricy, but worth the money for a special occasion.
See all hotels in Beverly Hills.
See all hotels in West Hollywood.
I honestly don't recommend staying in either Hollywood or Downtown LA, as they are overly congested with both tourists and locals headed off to work (aka say hello to massive traffic jams). If you want to explore these areas, they're easy to get to via public transportation from either Santa Monica or WeHo.
Things to do in LA:
First and foremost, if you want to do a bunch of activities in LA, it's definitely worth it to get the Go Los Angeles Card, which gives you entry to over 37 attractions and will save you loads of money. I've used these passes in various cities around the states, and have always been grateful that I bought them in advance.
1. Get Wild- Animal Style at IN-N-OUT
Anyone from California will tell you that the FIRST thing you should do after touchdown in LA would be to get an In-N-Out Burger! LA has TONS of amazing food options, but if we are being honest, In-n-Out is a staple. Try a Double-Double with Animal Style fries! You can't get it anywhere else and a belly full of in-n-out is the fuel you'll need for adventure.
2. Get Lit at Lacma Lights
The Urban Lights exhibit by Chris Burden is a classic art piece that has made it into many Hollywood movies, like 'No Strings Attached' with Ashton Kutcher and Natalie Portman. The light poles are refurbished from the 1920s and they make for a beautiful photo backdrop. If you make it here early in the morning, you may have them all to yourselves!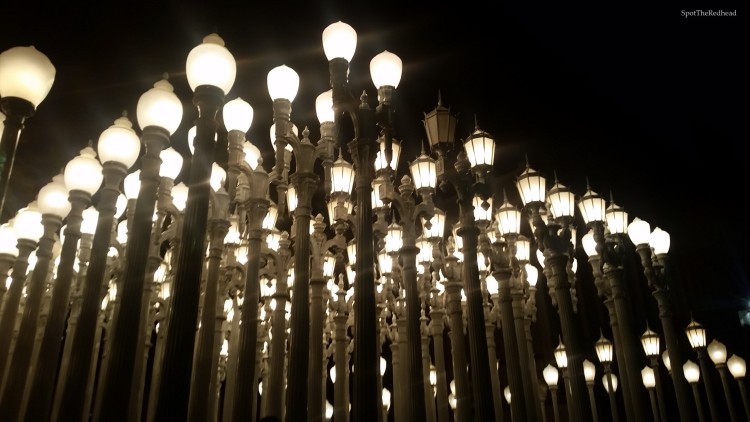 3. Stargaze at Griffith Observatory
If you want a night full of magic, take a drive up to the Griffith Observatory around sunset. It's a bit of a winding road up the hill, but you'll spot the BEST view of LA from the Observatory. Stay until nightfall to see the city light up like the night sky. So romantic!
4. Go to Universal Studios
Not just for kids anymore!  This park will have you smiling from ear to ear all day long, with its action packed entertainment – thrilling rides, numerous shows, tour a real working movie studio, and visit LA's best shops, restaurants, and cinemas at CityWalk.  
My advice – get Universal Studios Front of the Line Tickets.  Make sure to use the button below to score your front of the line tickets, and skip wasting time at the beginning of your day.
4. Play with The Puppies at Dog Beach
If you're wondering how a day at the beach can get any better, let me tell you: ADD PUPPIES! Grab a pup and head to either Rosie's Dog Beach, Huntington Dog Beach, Point Fermin Park, or Leo Carrillo State Park Beach. Not only will you enjoy some of California's best beaches, your dog will love you too.
5. Airplanes and Bacon at Maniac Mikes
A quirky breakfast cafe on the outskirts of LA is perfect for pilots and plane-lovers alike. You'll eat breakfast and watch cable planes take off and land. The food there is traditional eggs, pancakes, and fresh biscuits and the people are very warm. You'll even meet a pilot or two and get offered to take a ride on their planes! This airplane cafe is a local favorite, so go now before everyone finds out about it!
6. Hike the Hollywood Sign
You cannot visit Los Angeles and skip the Hollywood Sign- It's iconic! The best way to see the Hollywood sign is to hike it! Park on Beachwood Dr. and follow the signs. You'll be hiking up on the backside of the sign, but you'll get an amazing 360-degree view of Los Angeles!
If you're worried about not being able to find the start of the hike, or are traveling solo, I highly advise you to book a group hike, as its never safe to hike alone, no matter how old or experienced you are. 🙂
If you don't feel like hiking, there are great views of the Hollywood sign on the third floor of Hollywood and Highland Center Mall.
7. Stroll Down the Santa Monica Pier
Cue the Beach Boys music and take a stroll down the Santa Monica Pier. You'll pass under the iconic entrance that is over 100 years old! You'll see beautiful vistas of the beach and the city from the end of the pier that will have you saying 'pinch me, I must be dreaming'. Munch on classic burgers and shakes, ride the Ferris wheel, and enjoy the amusement park rides. You could spend a whole day enjoying Santa Monica Beach.
8. Catch Some Waves at Newport's Wedge
If you're coming to California to surf, there is no better place than 'The Wedge' at Newport Beach. 'The Wedge' is classic Californian slang for THE SPOT to go surfing. This place was popular even back in the 1960's because the swells can get up to 30 feet high! Right between the jetty and the sand, on the easternmost point of Balboa Peninsula, is the place to be on a hot summers day.
9. You'll Shut Your 'Pie Hole' When You Taste How Good This Is!
LA Natives know that any sweet craving will be conquered at 'The Pie Hole.' Located in the Art District of LA, across from cool street murals, this heavenly spot has all the goods. Indulge in sweet and savory pies, breakfast empanadas, lattes and more! The Earl Grey and the Mexican Chocolate Pies are must-haves!
10. Walk through LA's Art Walk
If you're an art buff or a savvy instagrammer, you'll enjoy walking through the 2 miles of street art that line the Art District of LA. Just off 4th street and Colyton, you'll find warehouses covered in art that is sure to inspire. Grab a coffee at the cute shops downtown and stroll along the walk! Don't miss out on the super-instagrammable angel wings.
11. Embrace Culture on Calle Olvera
Multicultural is a great word to describe Los Angeles. Grab your camera and explore the Mexican Pueblo on Olvera Street, Little Tokyo, Chinatown, and many more. Calle Olvera has handmade jewelry, leather bags and belts, musical instruments, clothing, delicious Mexican food restaurants, and bands that play music in the plazas. The atmosphere is so friendly and warm, you'll never want to leave.
12. Nom on Tacos, Taquitos, and Burritos
LA is a melting pot- and that pot is full of beans, cheese, and rice! LA has some of the best Mexican Cuisine in the entire United States- so make sure you have some before leaving. Cielito Lindo on Olvera St. has delicious taquitos with homemade avocado salsa. Patty's Tacos has some of the best tacos and burritos in the outskirts of LA. Wash it down with an Horchata or Jarritos, and don't forget to 'gram it!
13. Try Delicious Sausages at WurstKuche
Locals love the Rattlesnake, Jalepeno, and Rabbit Sausages at WurstKuche! Located in the Art District of LA, the menu is so varied and the line is almost always out the door. This place is solid for satisfying any hot-dog cravings you might have. Vegetarians listen up: They also have 3 delicious vegetarian options to try! Try the Louisiana Hot Links, Belgian fries, and the German beer! Best. Day. Ever.
14. Bike down the boardwalk
Nothing says California Dreamin' like biking down the boardwalk on a cruiser. Sport your tank tops (even in winter!), your sunscreen, and sunnies to enjoy a cruise down the boardwalk. You'll pass by muscle beach and spot locals hula-hopping and tightrope walking on the sand. Soak up the sunshine before you head home!
15. Urth Café
If your goal is to catch celebrities on their off-duty days, eat lunch at Urth Café. Located all over LA, this restaurant is always poppin'. Grub on their amazing green tea latte with boba, their sprout sandwich, the Eggs Benedict with Salmon, or the Matcha Tiramisu. You can't go wrong!
16. Take Awesome 'Grams Under The Pier
Walk under any pier in California and you'll see photographers, models, and beautiful views of the ocean. The lighting is magic under the pier and when you go down there, you'll see. If you're looking to meet photographers, models, or locals, the pier is where it's at. Bust out the selfie stick or ask a friend to take your new LA Profile Pic.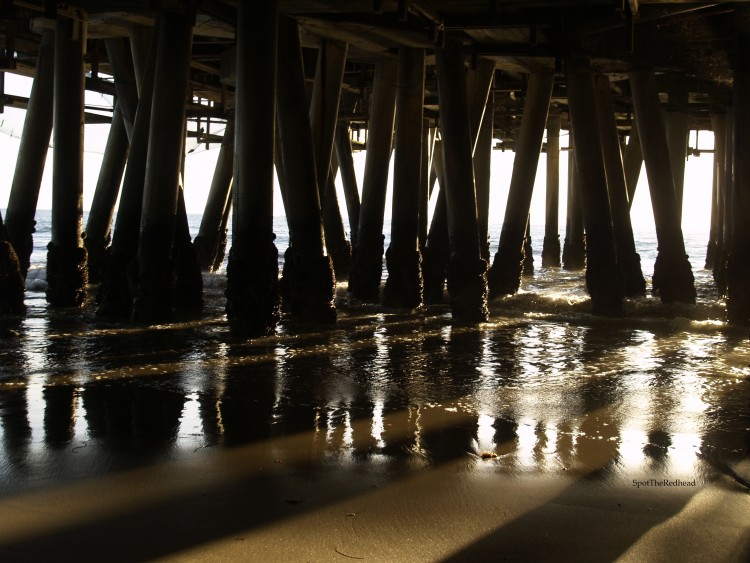 17. LA Zoo
A fun Saturday afternoon activity is to visit the LA Zoo! You'll see everyone's favorites: Monkeys, Giraffes, Elephants, Lions, and Zebras! Spend a relaxing day among the animals and enjoy California's sunny weather. The LA Zoo even puts on holiday events, so check and see if you'll be lucky enough to catch one!
18. Bar 82
You may be grown, but you can still be a kid! Bar 82 in the Art District of LA is a perfect place to take a date or to play retro arcade games with your friends. Located secretly behind this black gate, you can order your favorite drinks and play pinball machines all night long.
19. Art District Brewery
Have you ever been to a BARCADE? The positive vibes and great beer selection make this place a 5 star joint. Wash away the worries of work or an ending vacation with a brew and a game at the Art District Brewery. There's a little something for everyone: Sports buffs will love their sports lounge and gamers will love their old-school arcade games. Bring cash for the machines!
20. Hiking LA
LA natives are all about #WildernessCulture. Hiking is our greatest form of exercise, so be sure to join in early on the weekends. Lace up your kicks and choose between Runyon Canyon (watch out for celebrities), Eaton Canyon, The Claremont 5 Mile Loop, and Escondido Canyon! There are many more but these are the ones I recommend for easy/moderate hiking. As Miley Cyrus sings 'These are the moments you'll remember most. It's the climb!'
21. Walk Of Fame and Hollywood
Everyone in the world knows that Hollywood is the epitome of glitz, glamor, and movie stars. If you're a huge movie-buff, I suggest walking up and down the Walk Of Fame and seeing the TCL Theater entrance. You'll see stars like Marilyn Monroe, Clint Eastwood, Alfred Hitchcock, Harry Potter and even Winnie The Pooh. Be sure to bring cash to take photos with the costumed characters that walk up and down the Walk Of Fame.
If you're really interested, you can even book a movie stars' homes tour! I did this when I was little and am dying to do it again since I've actually heard of some actors and actresses now! Something still on my LA bucket list.
Another tour worth checking out: the 75 minute behind the scenes Hollywood walking tour! Explore Hollywood's landmark theaters, stroll along the "Walk of Fame", see the famous Hollywood sign, and learn about the past 100 years of Hollywood history!
22. Last Bookstore
Hi Book Lovers! Snuggle up at the Last Bookstore and enjoy the cozy ambiance. You'll meet other book-lovers and gab all day over the newest books. They divide their sections by genre and have rows and rows of every kind of book imaginable. There's no better way to describe it than a whimsical labyrinth of books!
23. Catch a Baseball game
LA has a fierce rivalry between the LA Dodgers and the LA Anaheim Angels, but whichever game you attend, you'll have a great time. Sit down with a Dodger Dog, a beer, and enjoy America's past-time. The best part about enjoying a baseball game in California is that you can enjoy the sunshine!
24. Disneyland
Get your Mickey Ears on because the most magical place in the world is only a 30 minute drive from Downtown LA! Visiting Disneyland is an all-day event, so plan accordingly. Kids and adults alike will have the time of their lives here riding the rides and enjoying Disneyland's magical foods!
Quick Disney Tips: Stay to watch the World of Color, try the Clam Chowder Bread bowl in New Orleans Square, and collect fast passes for all your favorite rides first thing in the morning!
25. Take A Day Trip To Palm Springs
Only an hour away, Palm Springs is the quirkiest desert town that has a rich Hollywood history. The greatest Hollywood Starlets from the golden age of Hollywood have vacationed here. From Frank Sinatra to Dean Martin to Loretta Young, you'll be walking through history when you walk through the historic downtown. Palm Springs is famous for it's nightlife, desert dinosaur museums, and delicious restaurants like 'Las Casuelas.' Take a whole day to visit Palm Springs!
While you'll need a week or so in the city to exhaust this list, it's possible to see a whole lot in just one day in LA. I can promise you that!
If you want to make sure you hit all the highlights, I highly recommend this LA small group sightseeing tour. See the historic buildings in the downtown area and mega mansions in Beverly Hills and Santa Monica. Drive along the Sunset Strip and experience the good life on Venice Beach. Just a few of the many many stops you'll make on this day tour. Plus, you won't get lost! Double bonus!
Other posts you might like:
A Weekend in Sunny Southern California
The Best Way to Spend a Day in LA
The Mini Guide to Mendocino, Northern California
The Ultimate Weekend Guide to Half Moon Bay
7 Spectacular Day Trips from San Francisco
The First Timer's Guide to San Francisco
The Ultimate San Francisco Food Bucket List
Further Reading and Resources for a Trip to Los Angeles:
Los Angeles is a very popular destination, and because of that, there's certainly some very valuable resources to read when planning your trip. A few of my favorite resources include:
Tips for Getting the Right Accommodation for Your Budget
Whether your budget is quite large or you're hoping to visit with minimal expenses, finding the best deal on accommodation is super important. One of the most important parts of travel planning, actually!
Have you been to LA before?! What would you add to this list?
Not yet? What's holding you back?!