Planning a day trip to Joshua Tree National Park in the near future? Here's everything you need to know and more! From when to go, what to bring, how to get there, and even all my favorite things to do in this stunning desert landscape.
Wild and wacky Joshua Trees. Rugged rock formations and giant boulders. That arid desert landscape. Dark starry night skies. And even a rich (and quirky) cultural history! That's Joshua Tree National Park in a nutshell — and it's 100% worth spending at least a day there!
I've been loving exploring more of California this past year, and Joshua Tree was no exception! I always thought I was prone to beach vacays, but my recent trips to Death Valley and Joshua Tree National Park surely surprised me! Who knew I could love the desert oh so much?! 
Our day trip to Joshua Tree National Park was filled with all the superlatives you could think of — kinda weird, pretty wacky, super strange, and all kinds of amazing! We spent our one day in Joshua Tree admiring the wacky trees, climbing up huge rocks, watching the climbers, and heading to the highest point in the park for sunset. And we had a blast.
The park is famous for it's starry night skies and surreal geological features — don't miss those, either!
Thankfully, Joshua Tree's a pretty straightforward and easy-to-get-around park, so you can see the main highlights in a day or even less! Perfect if you only have time for a day trip to Joshua Tree! Follow this Joshua Tree one day itinerary and, trust me, you'll see oh so much of the park! Like Death Valley National Park, you can see the major attractions in just one day, despite the park covering around 800,000 acres!
Joshua Trees are a true symbol of the Mojave Desert, and one of the only places in the world you can see these spiky-leaved evergreens. It's a true desert wilderness! There's a reason why ~2.8 million people visit the park each year (day-trippers, rock climbers, and backpackers alike)!
And with that being said, there's no restaurants, lodging, gas, or grocery stores within the park, so you 100% need to prepare ahead! Keep on reading for everything you need to know in order to have a super exciting (and safe!) day trip to Joshua Tree!
About Joshua Tree National Park
Joshua Tree was deemed a national park on October 31, 1994, so it's been around and protected for a while! Let's keep it that way!
The park is roughly the size of Rhode Island, actually a tad bigger! And on that note, the park is so large that it spans two desert ecosystems — the Mojave and Colorado! Not many people know this (I sure didn't)!
The Mojave Desert is the higher and cooler of the two, and where you'll find the highest concentration of Joshua Trees! The landscape of the Colorado Desert is dotted with cacti, including the cuddly teddy-bear Cholla Cactus!
What's a Joshua tree anyways?
Joshua Trees are spiny and twisted tree-like plants that are native to the Mojave Desert. They sure look like something straight out of a Dr. Seuss book, right! They're a surprising sight in the middle of the arid desert environment.
But get this: despite their name, Joshua trees aren't actually trees at all! They're in fact succulents!
And they're actually part of the Agave family, the plant used to make tequila (who knew?!). These wacky plants are an important part of the ecosystem of the desert — lots of birds, mammals, insects, and even lizards live here!
Although Joshua Trees look pretty tough and indestructible, they're in fact pretty fragile! Do your absolute best to not touch them, and never hang on them, lean on them, or anything else for photos!
While Joshua Trees are a good indication that you're in the Mojave Desert, they're also found in the Sonoran Desert in western Arizona (growing next to saguaro cacti) or in the San Bernardino Mountains (mixed with pines). How crazy! We actually saw a whole bunch driving from Las Vegas to Death Valley, and then again heading to the Grand Canyon West Rim from Vegas as well.
A bit of history: Joshua Trees were first recognized way back when by the native Cahuilla people, who used them for tons of their useful properties. Later on, when Mormon immigrants crossed the Colorado River and discovered these wacky trees for themselves, they named them after the biblical figure Joshua.
Planning a Day Trip to Joshua Tree
Where is Joshua Tree National Park?
Joshua Tree National Park is located in Southern California, kinda smack dab between a bunch of major cities! This makes it easily accessible from a whole bunch of spots! 🙂 You can drive to Joshua Tree within a few hours from basically anywhere in SoCal, or even from Las Vegas or Phoenix!
We took a day trip to Joshua Tree from nearby Palm Springs, and thankfully didn't encounter much traffic. We did, however, need to wait about 30 minutes at the West Entrance in order to get into the park — the line was over a half mile long!
Once we got closer to the beginning of the line, we were directed into a separate, shorter line (since we have the National Parks Pass), so thankfully saved a bit of time there! If you're planning on visiting at least 2 other National Parks within the next 12 months, it's definitely worth it to invest in the National Parks Pass — it's only $80 for the year! The fees add up quickly!
I suggest leaving as early as possible no matter where you're coming from, especially if you're basing yourself out of the LA/Orange County area.
If you're visiting from further afield, you'll need to fly in. Thankfully, there's a bunch of airports within driving distance:
Palm Springs International Airport (PSP): closest airport, and only 40 miles away from the park!
Ontario International Airport (ONT): a bit further away, at ~95 miles, but you can sometimes find cheaper flights and car rentals here than at PSP!
John Wayne Airport in Santa Ana (SNA): Where we flew into; takes a little over 2 hours to get to the park.
Los Angeles International Airport (LAX): By far the largest airport, and 150 miles away, but it's ridiculously busy so tons of traffic is pretty common. You'll wanna plan your day trip to Joshua Tree during the week, and leave EARLY!
San Diego International Airport (SAN): 150 miles away (if you're visiting in Spring, don't miss the nearby Carlsbad Flower Fields!)
You can also fly into Las Vegas McCarran International Airport (LAS) and drive the 200 miles southwest to the park, or even Phoenix Sky Harbor International Airport (PHX) which is roughly 225 miles away from the South Entrance.
Weather and When to Visit
I highly recommend planning your day trip to Joshua Tree in either Spring or Fall.
March to May and October to November are when the temps are most comfortable, with an average high of about 85 degrees. Like Death Valley National Park, it's just too damn hot in the summer months — it's sweltering and days over 100°F are not uncommon. No matter the season, it cools down significantly at night, so dressing in layers is key. Here's a quick breakdown:
Fall: Temps cool down after the scorching summer, and climbing season begins! A great time to visit the park (as well as Palm Springs).
Winter: Expect clear skies and maybe even some snow! I once saw a photo of snow in Joshua Tree, and honestly thought it was photoshopped! Nope — it's been known to snow one day out of the year at the park, and if your timing is right, just wow! Winter temperatures can drop well below freezing, so 100% carry extra clothing. It's kinda a gamble.
Spring: Wildflower Season! If there's been a decent amount of rain in fall and winter, you can expect the wildflowers to come out in full force! Temps are comfortable, although it does get quite hot as the months go on. For reference, we visited in late March and it was already pretty warm (think mid-high 70°s). Although sunset at Keys View was exceptionally chilly and windy — I wish I had brought a warm sweater and even some mittens!
Summer: Sweltering and sticky, but hey, the Milky Way's out and about! Please do not hike mid-day during the summer. It's WAY too hot, and honestly, it's just not safe. Average temps in July and August are 101°F, and record highs were recorded at 115°F! Absolutely insane! Plan to do a driving tour of the park, limit your walks, spend time cooling off in the AC, and be sure to stay super hydrated. The intense sunlight and low humidity is no joke!
The park literally never closes. It's open 24/7, even on major holidays (although the visitor Centers have different hours so be sure to check those). I always recommend checking out the official Joshua Tree National Park website to check for trails closures/extreme weather/etc.
How to Get Around: Driving in Joshua Tree
You'll need a car in order to get around on your day trip to Joshua Tree. Unlike other parks (Zion, Yosemite, Rocky Mountain, etc) there's no shuttle or bus system to take you from stop to stop. Driving around yourself is the only way. Thankfully, it's hard to get super lost since there's only 2 main roads throughout the park (Park Boulevard and Pinto Basin Road).
Despite the easy navigation, please watch your speed! Unfortunately, threatened desert tortoises have been killed by speeding cars. 🙁
We drove around Joshua Tree in our rented 2WD Nissan Maxima, stopping at the different attractions. You don't really need a rugged 4WD if you just wanna see the main hot spots of the park since the main park roads are paved. Off-roading isn't allowed anyways as it can trample vegetation and disturb the desert wildlife.
Psst — Don't have a car? You can sign up for a guided tour (below)!
Note that there's NO gas station in Joshua Tree, so I recommend coming with a full tank of gas. We filled up before we left Palm Springs, and had more than enough fuel to get back there for the night.
Joshua Tree has three main entrances, each with their own visitors center. We entered through the West Entrance coming from Palm Springs.
West (Main) Entrance (Joshua Tree Visitor Center): this is where visitors coming from Los Angeles/San Diego/Palm Springs typically enter the park
North Entrance (Oasis Visitor Center): for visitors coming from Las Vegas (I heard the lines are much shorter here on weekends and holidays, so definitely keep that in mind if you're short on time/had some traffic coming from out west).
South Entrance (Cottonwood Visitor Center): Located east of Palm Springs and Indio, this is where visitors coming from Phoenix/New Mexico/Indio typically enter. And plus, if you look at a map, you'll see this entrance takes you through the entire park!
You can always enter at one entrance, and leave through another if that makes most sense for your Joshua Tree itinerary.
Guided Tours in Joshua Tree
If you'd feel more comfortable having someone else do the driving (or just want a more relaxing day), there's a few day tours you can sign up for in advance. Most even bring water and snacks for you!
Joshua Tree National Park Driving Small Group Half Day Tour: See all the major attractions of Joshua Tree National Park on a 4 ½ hour van tour from Palm Desert (right near Palm Springs). Check out the soaring granite formations, the park's famous spiky trees, and even go on an optional short hike or two. And lucky you — they blast the AC between stops so you'll never be too hot (highly needed on those sticky, sweltering days)!
Beginner Group Rock Climbing in Joshua Tree National Park: If you've ever wanted to go rock climbing, Joshua Tree's the perfect place to learn! I mean, it's what half the park's known for! Not only will you learn the basics of the sport from a certified expert, but you'll see the park from a whole new perspective — 100 feet up a wall of granite!
Half-Day Small Group Joshua Tree National Park Jeep Tour: If you want a more rugged experience and to go where most people can't (and don't), this is the Joshua Tree tour for you. You'll go off roading in a 4×4 and into places you can't go in a regular vehicle. It sounds super fun if you don't like run of the mill stuff, or have an extra morning to spend in Joshua Tree National Park!
What to Bring and Wear (Being Prepared in the Desert)
Slather on that sunscreen, the sun is strong over here. And on that note, I always like to take along some SPF lip balm to protect my lips as well.
Keep your eyes protected from the sun with a wide-brimmed hat and sunglasses (like I said, the desert sun is powerful!)
A picnic lunch with some salty snacks (helps your body replace electrolytes that you lose from sweating)
At least one gallon of water per person, per day, preferably in a reusable water bottle so you can fill up at the visitor center if absolutely needed
Wear loose fitting, lightly colored clothing. I made the mistake of wearing a dress for part of the day and couldn't climb up to Arch Rock 🙁 I quickly changed into my shorts and sneakers so I wouldn't be restricted to what I could do after that!
A first aid kit is always necessary when you're out in the middle of the desert with limited facilities (better safe than sorry!)
Carry a headlamp and/or flashlight if you plan to do any sunset hikes or go stargazing (preferably red light for stargazing)
Hiking boots or sneakers will do just fine — I even wore sandals for a bit (not recommended though and it certainly wasn't very comfy; there's lots of sand everywhere and I kept getting rocks stuck between my toes — ouch).
A daypack or small zipped tote bag to carry everything in, especially your water!
A camera to take lots of pretty photos!
Your National Parks Pass if you've got one, of course!
A Special Note on Water
Bring a lot of water. Like, A LOT. Way more than you think you'll need/want. I'm not kidding when I say you need to bring AT LEAST one gallon of water per person per day. The desert gets absolutely scorching mid-day, and most campgrounds don't even have any water to refill your water bottle.
Watch out for heat exhaustion and heat stroke! The desert is no joke! Drink water even if you don't feel like you're thirsty or need it. Your body does!
If you do need to refill your water bottle, there's a few spots with potable water, including the Oasis Visitor Center in Twentynine Palms and the West Entrance Station. You'll have a hard time finding water in the park itself, which is why I highly suggest bring more than you think you'll need!
Entrance Fees
Vehicle Entrance Fee: $30.00
Motorcycle Entrance Fee: $25.00
Individual Entrance Fee: $15.00 (per person, on foot on bike)
All entrance fees give you a 7 day permit to enter, so you can always come back and explore more! If you live close by or think you'll be visiting a few times, the Joshua Tree National Park Annual Pass is more than worth it at only $55.00 for the entire year.
Other Joshua Tree Itinerary Tips
There's no or very limited cell service in the majority of the park, so definitely pick up a map at the Visitor Center before entering the park! You should not expect to rely on your cell phone for GPS or emergencies. We saw a few emergency phones throughout the park, but these are for exactly what they say — true emergencies. Look at a map in advance here to get your bearings before visiting! The only time we had a bit of service was at Keys View since it's higher elevation.
PLEASE leave no trace and do your part to protect the park and all its natural flora and fauna! This means staying away from wildlife (obviously no petting, feeding, or disturbing animals in any way), mutilating or defacing any natural/cultural objects, and packing out whatever you bring in (including garbage when there is no trash bin).
There's zero food in the park. And when I say zero, I mean absolutely nothing. No food facilities at all (kinda like at Lassen Volcanic National Park in NorCal). I recommend bringing along a picnic lunch. Don't be like we did and bring nothing but snacks — we got super hungry! Thankfully, there's some food options right outside the park in nearby towns. We were getting pretty hangry so left the park and crossed our fingers we'd back it back in time for sunset at Keys View).
Stay away from abandoned mines. Yes, there are old mines here. Stay away from them — they can be dangerous.
Supervise your kiddos! There's tons of cacti and climbable rocks almost everywhere, meaning plenty of ways for them to get hurt.
Flash floods do happen — keep tabs on the weather and stay away from drainage areas during and after a thunderstorm. I'd recommend asking the visitor center for more info if you see something questionable in the forecast.
Be careful where you put your hands and feet, especially in spring and summer! Snakes are most active during these months (and there's actually six species of rattlesnakes living in the park — ack!).
Keep wildlife WILD and do not hike alone.
Are Pets Allowed in Joshua Tree?
Yes and no. Pets are allowed to enter the park (and stay leashed at all times). But they are prohibited on any trails within the park — this not only helps protect wildlife at Joshua Tree, but keeps our little furry friends safe as well. In addition, they are not allowed anywhere beyond 100 feet from any park road, campground, or picnic area. It's too hot for them most of the year anyways.
While we typically love taking little Kona everywhere we go, I'm glad we left him safely at home for this trip!
Where to Stay Near Joshua Tree National Park
If you're planning to stay overnight (before or after your day trip to Joshua Tree), you've got lots of options! We chose to stay in Palm Springs (roughly 45-55 minutes away), but there's hotels in a few small towns a bit north of the park. If you've only got one day in Joshua Tree, it's wise to spend the night before so you can start your day in the park as soon as possible!
Here's some fun and quirky recommendations in Joshua Tree, Twentynine Palms, and Yucca Valley (all super close to the West Entrance):
Pioneertown Motel: A cowboy-style cabin, anyone?! Talk about kitschy and quirky! This spot looks like a vintage western movie set, but with all the modern amenities you'd need. And get this — it was originally built in the 1940's to house movie stars shooting western films! I wasn't able to visit on my day trip to Joshua Tree, so I'm adding it to my list for next time!
29 Palms Inn: One-of-a-kind Adobe bungalows and wood-framed cabins. No two rooms are alike, each with its own character and something different to offer! The property sits on 70 acres, with the Oasis of Mara at its core. The restaurant looks really good, too! I desperately wanna stay here next time I'm planning a trip to Joshua Tree!
Spin and Margie's Desert Hide-A-Way: Imagine waking up in a quirky desert chic space! There suites, a private cabin, or even a sleek Airstream Trailer to choose from. This beautiful little inn has gorgeous outdoor spaces, mature landscaping, and a gorgeous swimming pool (for those hot, hot days). Play bocce ball, have a BBQ, relax by the pool, or simply look at the stars. It's truly an oasis in the desert.
The Castle House Estate: The ultimate glamping experience! The property is just minutes from the park, and has even been featured on HGTV! Whoa! It's unique and medieval, and really blends indoor-outdoor living with tons of fun entertainment. There's lots of surprising units to book, like a guard tower, container home, jupe tent, and a whole bunch of yurts!
Psst: There's also camping in Joshua Tree National Park! If campings more your style, there's a whole slew of campgrounds (nine to be exact!) located within the park itself. Although there's over 500 campsites, you typically need to reserve one way in advance (as most are reservation camping).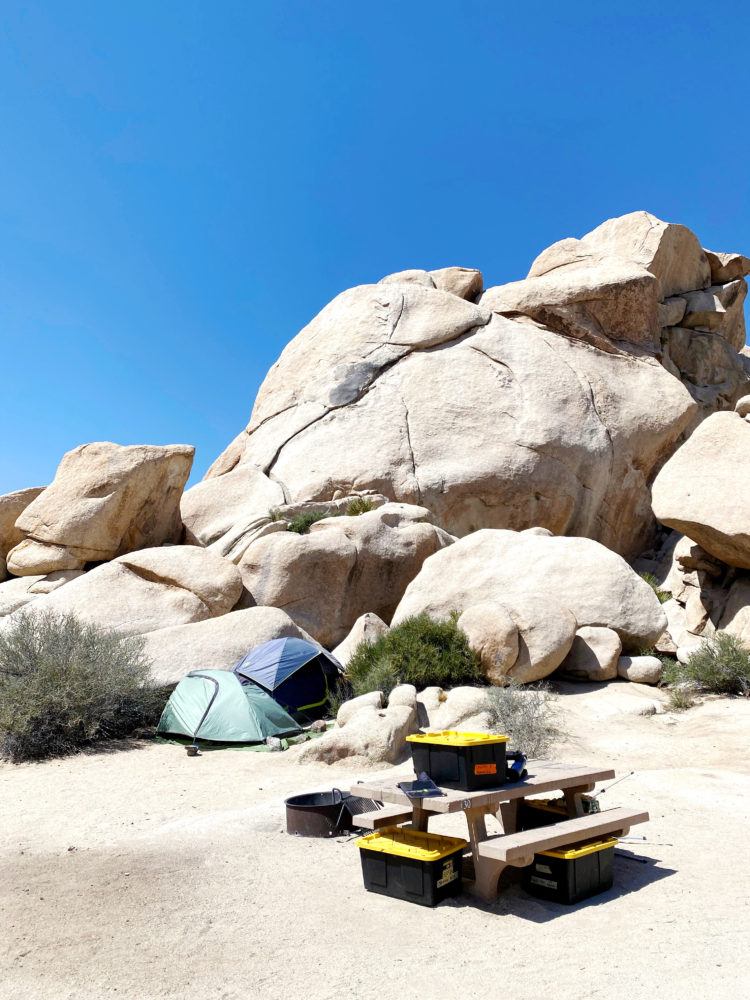 These can get booked up weeks and even months in advance — so, book sooner than later (up to 6 months in advance) on recreation.gov. Note the busy spring season runs from February to May, so plan on booking a few months out if that's when you're hoping to visit!
Thankfully, there are a few campsites that are first-come, first-serve for those late planners! However, they're highly competitive on holidays, most weekends, and the springtime — sooooo, get there early if you're banking on grabbing one of these!
Now, let's get to it — our complete day trip to Joshua Tree, coming right up!
One Day in Joshua Tree Itinerary
Since we were coming from Palm Springs, we entered the park from the West Entrance, near the Joshua Tree Visitors Center.
You can see a whole lot at Joshua Tree on a one-day driving tour of the park. There's only 50 miles of main road between the Cottonwood Visitor Center and the town of Joshua Tree (the furthest points), so it's easy to see a lot in a day!
In all honesty, we had planned to drive to the furthest spot on our Joshua Tree itinerary (Cholla Cactus Garden), but got excited and stopped beforehand! Totally up to you how you wanna structure your day. You can honestly do the stops in any order, but if you wanna organize your day and really optimize your time in the park (with less driving), follow my Joshua Tree itinerary below!
Get ready for a whole lotta giant rock piles, nature walks, impressive biodiversity, and of course the distinctive Joshua Tree!
Stop #1: Joshua Tree Visitors Center
Before heading into the park itself, I highly recommend you make a short pit stop at the Visitors Center. Here you'll find some history and information about Joshua Tree, facilities within the park, and most importantly — to pick up a paper map! As noted above, there's hardly any service in the park itself, so having a paper map is super important and handy!
We picked up a map from the Visitors Center near the Main West Entrance (each entrance has their own visitors center). I even circled the spots I wanted to see on the map so we wouldn't miss anything! Remember — there's extremely limited cell service in the park, so you will be relying on your map!
If you wanna experience a tiny bit of artsy quirkiness that the town of Joshua Tree is known for, make a quick visit to the teeny-tiny "World Famous" Crochet Museum! It's a two minute walk from the Visitor Center (West Entrance). The museum is literally a one-room structure filled with an eclectic assortment of crocheted animals and other creations.
In the same compound, you'll find other pieces of diverse (and wild and wacky) art pieces! It kinda reminded me of the pieces we saw in Bombay Beach at the Salton Sea later on in our trip. Worth a quick stop in my opinion, especially if you don't have time to visit other outdoor art collections in the desert (like the Noah Purifoy Outdoor Desert Art Museum).
Stop #2: Cholla Cactus Garden
Our first official stop on our Joshua Tree day trip! But wait, there's no Joshua Trees here! And that's because the Cholla Cactus Garden is located near the midpoint of the Park, closer to The Colorado Desert (eastern part of the park). Joshua Trees don't grow in this desert ecosystem, only the Mojave (the western part of the park).
Instead, you'll find a whole bunch of cholla cacti, commonly referred to as teddy bear cacti! They look super cute and cuddly from afar, but as soon as you get closer, you'll see they're surrounded by tons of prickly little needles. Do everything in your power to stay away from them — my dress got caught on one of them and it wasn't fun to get out!
The spines detach pretty easily, so it's easy to get one hooked into clothing or skin! And they're painful — just don't get too close and you'll be fine.
The Cholla Cactus Garden Nature Trail is a flat (and easy) loop walking trail taking you throughout nearly 10 acres of landscape filled with teddy bear cholla! I highly advise you to stay on the path and don't venture too far — it's kinda easy to get lost out there.
I've heard the Cholla Cactus Garden is especially beautiful at sunrise! If you're an early riser, this would make a great spot to see the sun come up above the desert. But if this is a true day trip to Joshua Tree (and you aren't staying the night before), you may not have that luxury.
Stop #3: Arch Rock
Wanna see a natural granite arch in California (although a bit different than the ones we saw in Utah)?! Lucky you — it's next up on my Joshua Tree itinerary! Arch Rock spans 30 feet over a huge boulder, and is a pretty walk — as long as you know where you're going! The whole trail is pretty short, at just around 1.2 miles roundtrip.
The parking area was super easy to find — we parked at the new Twin Tanks/Arch Rock Parking Lot (right on the map and clearly marked). But once we actually got outta the car we didn't know exactly which way to go! We then figured out the trail crosses the street and continues on the other side! I guess you could park on the side of the road (make sure it's safe!) to shorten the hike a tad.
We thought we were good to go, but once we crossed the street and continued the trail, we couldn't find the arch rock! Others around us were at a loss too, but then we finally found someone who was on their way back and helped us find it! Once you come upon the Arch Rock sign on the trail, you need to continue on and make your way left, and you'll find it in a few minutes.
I was silly and was wearing a dress, meaning I couldn't climb up to take a photo! Boo — don't be like me! Next time! Oh, note there'll probably be a bit of a line to take a photo, but worth the wait as long as you can scramble up!
Psst: parking is no longer permitted at the White Tank Campground unless you're actually camping there.
Stop #4: Skull Rock and Jumbo Rocks Campground
Located right off the main road, you'll find a giant rock that looks like a human skull! When viewed from a particular angle, it's easy to see how it got its name (look for the two sunken eyes and sunken nasal cavity).
Skull Rock can be pretty crowded; be prepared to wait for a photo with the funky rock formation. We somehow got especially lucky and didn't really have to wait at all!
After a few minutes at Skull Rock, make your way over to Jumbo Rocks. You'll find exactly what you think – tons of massive rocks to climb. I had SUCH a great time running up and down the giant boulders, taking lots of photos, and checking out some mini canyons. Who knew I loved scrambling so much?! I didn't climb too high, but it was still super fun nonetheless. We didn't follow any trails around here, just played around on the rocks for a bit.
Stop #5: Barker Dam
I had heard Barker Dam was especially beautiful in the late winter and early spring months, when the dam is typically filled with water. BUT, since there was significantly less rainfall than in normal years, the whole entire bed was completely dry in March! Once we realized that we turned around and continued on with our one day in Joshua Tree.
But can you imagine seeing a body of sapphire-blue water in the middle of the barren desert landscape? So wild, and kinda like seeing the body of water at the Salt Flats in Death Valley or within the lush Palm oasis in Palm Springs! Nature never ceases to amaze me!
Stop #6: Hidden Valley and Hidden Valley Nature Trail
The Hidden Valley Nature Trail is one of the most popular hikes in all of Joshua Tree. And because of that, it gets pretty crowded. You may wanna do this short hike earlier in the day if you're not a fan of people. :p Or you can detour from the main path and scramble up some rocks to find your own lookout points.
The trail is a mostly-flat one-mile loop with less than 100 feet in elevation change, making it a quick and easy walk! And although it's a short trail, don't miss the otherworldly terrain! The hike weaves through boulders and some of the valley's most interesting rock formations.
Look out for the interpretive signs on the trail to learn about the abundant plant and animal life found here.
Besides the actual nature trail itself, the whole area is filled with miles upon miles of the iconic Joshua Tree! There's lots of great spots for photos here!
Stop #7: Keys View for Sunset
Our last official stop on this one day Joshua Tree itinerary!
Keys View is the highest vantage point in the park, meaning there's epic views from up here, and it's a great spot to watch the sunset! The viewpoint looks out over the entire Coachella Valley, the San Andreas Fault, the Salton Sea, and the San Gorgonio Mountains. When it's an exceptionally clear day, you may even be able to see as far as Signal Mountain in Mexico!
Note that Keys View is about a 20 minute drive from Park Boulevard — meaning, don't wait until the last minute to head here for sunset! We arrived roughly 30 minutes before the sun went down, and while it was difficult to hang out in the cold for so long, it was well worth it!
It was more crowded than I expected, but we found a quiet spot on the ledge to watch the sunset and it was absolutely gorgeous! The most perfect end to our one day in Joshua Tree!
Beware, it gets especially cold up here, and super windy! My husband was NOT having it, so I spent some time at the highest overlook solo for a few photos and then joined him to watch the sunset together.
Optional Stop: Stargazing in Joshua Tree National Park
Since Joshua Tree is a dedicated Dark Sky Park, the night sky is filled with shining bright stars — probably more than you've ever seen before! The Milky Way is visible in the summer months, with August and September being the prime time to see it (if you don't wanna wake up at 4 in the morning other times of year).
If you wanna attempt some photos, make sure to bring along a tripod, a camera with manual settings, and a self-timer remote. Learn your camera settings in advance so you aren't fiddling with it in the dark!
We were headed to Borrego Springs (an International Dark Sky Community) a few days later, so we didn't stick around for stargazing in Joshua Tree. But considering how dark the park was leaving after sunset at Keys View, I can only imagine just how epic it'd be!
Hope this helps you plan out your day trip to Joshua Tree National Park! What are you looking forward to most in this vast protected area in southern California?!
Looking for more California content? Explore my other California guides here!
Did you know that …
When you purchase something through our links, we earn a small fee (but you still pay the same)! Win-win! If you found this article useful, consider using the links within the article or below. Thanks for your support!