Looking for the best road trips from San Francisco? I've got you covered. Skip standing on airport security lines, worrying about baggage fees, and just flying in general. I've compiled all my favorite San Francisco road trips in this (very long) guide below. Now pack up the car, pick a destination or two, and get driving!
Road trips are so our jam, and we're always longing to explore more of California. We've deemed this summer and fall the Year of the Road Trip, and thankfully, there's just oh so many road trips from San Francisco within a short driving distance. Yes, we've done a fair share of these already (whoops – I typically tend to pack our schedule to the brim), but we're longing for some re-do's!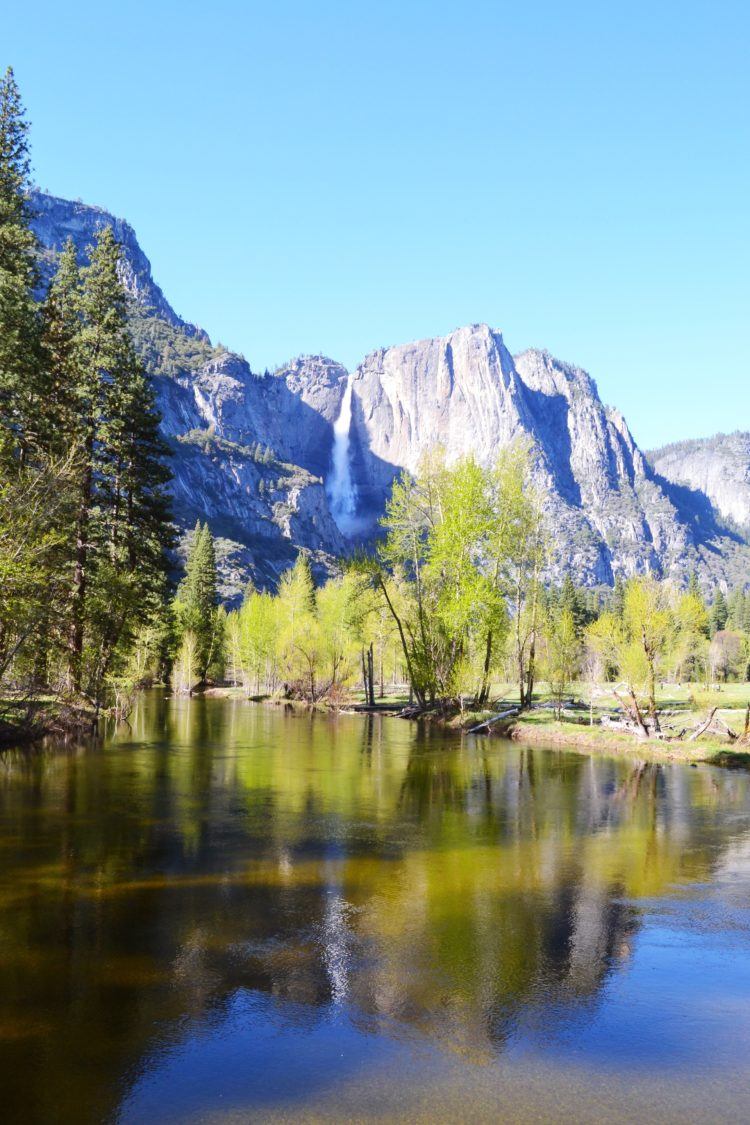 Psst → Visiting San Francisco beforehand/afterwards? Be sure to check out my highly recommended 3-day San Francisco itinerary (full of all my favorite spots!)
Road trips are great when you're looking for more spontaneity. You don't need to book flights weeks ahead of time (nor agonize over flight prices), you can leave at whatever hour you damn well please, and no one's judging you on your bag overloaded with snacks (pretzels and nutella, anyone?).
Plus, taking a road trip typically means you can bring your furry little friend along (Kona's been loving our mini road trips from San Francisco so much – and yes, he told me that :p). Shameless plug: follow his adventures on IG @kona_thecutie.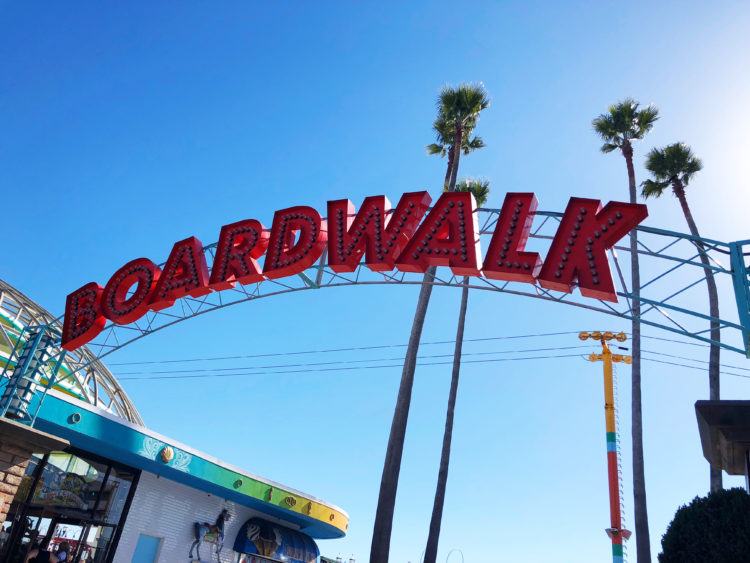 Luckily, San Francisco is in the middle of oh so much. There's wineries up north (actually in all directions, haha), redwoods basically everywhere you look, mountains towards the east, and a bunch of iconic National Parks all within driving distance. We're kinda spoiled if I do say so myself.
Where else can you be hitting the slopes in the morning and laying by the beach mid-afternoon?! You can really go in any direction and find something new (which we're constantly doing). Think tide pooling on the coast, hanging loose in surf towns, riding coasters on beachside boardwalks, scarfing down lobster rolls on the beach, and hiking through volcanic spires and boiling mud pots.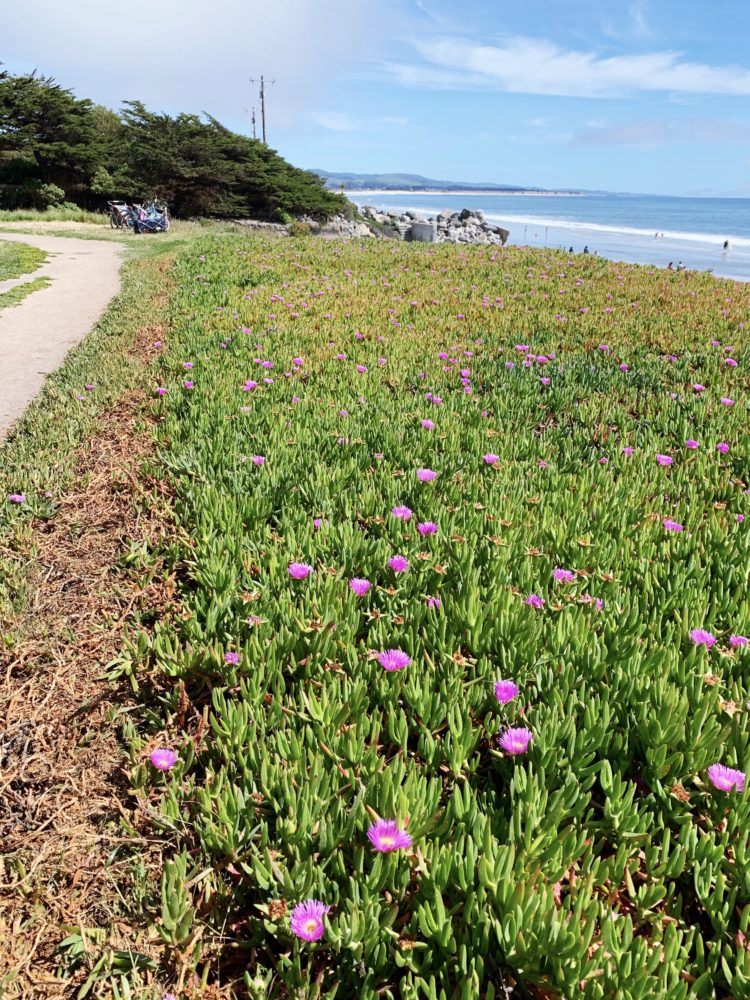 Psst: don't have enough time for an overnighter? Check out this popular post of day trips from San Francisco. On the other hand – have a long weekend to explore and looking to fly? I've got plenty of long weekend trips from San Francisco here!
I've put together a whole long list of our favorite road trips from San Francisco; some only taking a day (if you're very organized and short on time), while others you'll want to set aside a whole week for epic adventures.
Short-ish Road Trips from San Francisco (0-2 nights)
When you only have a night or two available for a road trip from San Francisco, I think it's best to get to your destination on the quickish side. Yes, that means minimal stopping along the way (one of our favorite parts of the actual road trip…), but you'll want max time in your final destination to see and do and eat allll the things. I'm slightly motivated by food (haha), can you blame me?
Thankfully, the spots below aren't too far from the city, so you can pick and choose a few for other weekend getaways.
Santa Cruz/Capitola
Seaside roller coasters, fried avocado chips, sticky cotton candy, and tons of scenic drives/walks. Heading down to Santa Cruz is one of our favorite road trips from San Francisco. It's pretty quick (especially when there's no traffic), and we can always count on the beaches to be sunny (unless the foggy marine layer hasn't burned off yet), the rides to be thrilling, and the ice cream to be artisanal.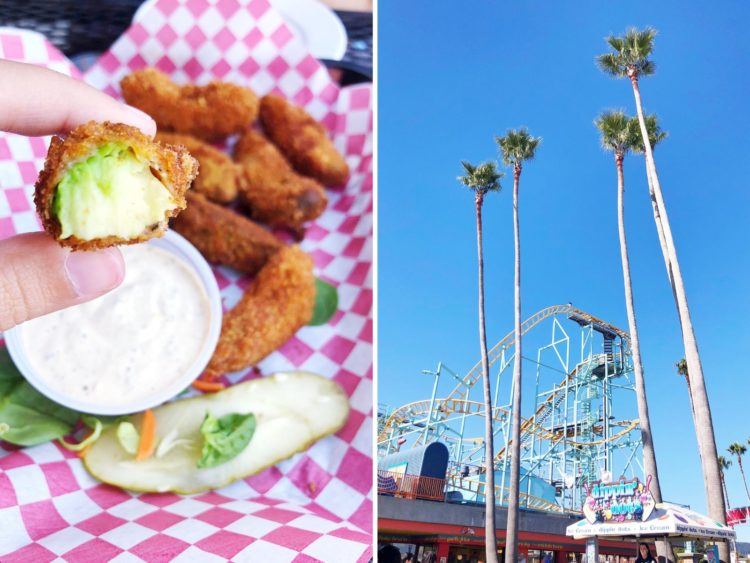 Santa Cruz is a quintessential California beach town after all – a bit hippy, a bit quirky, and a bit surfer dude. Thankfully, this cool, laid back city isn't far from the Bay, so we make the drive pretty often. 🙂
Best Time to Visit: We like heading down to Santa Cruz in early spring (May) and the fall (September – early November), as tourists have either not yet arrived in full force or have mostly gone home. Late summer boasts great weather as well. Do note that Santa Cruz is a seasonal area, with the Beach Boardwalk and Wharf closing once Labor Day hits (the start of off-season).
Don't Miss:
Indulging in ice cream from either Mariannes or Penny Ice Creamery (can't go wrong with either)
Strolling throughout the colorful buildings in Capitola
Walking along the Santa Cruz Beach Boardwalk, cotton candy and/or corn dog in hand
Being wowed at the Mystery Spot
Admiring the monarch butterflies on the Natural Bridges Monarch Trail (October – January)
A visit to the UC Santa Cruz Arboretum
Taking a long walk along West Cliff Drive (don't forget your camera!)
Watching the sunset at Natural Bridges State Beach Park
Half Moon Bay
Want a little beach vacay but don't wanna sit with everyone (and their mother) at Ocean Beach. Head on over to the cozy seaside village of Half Moon Bay.
Okay, I admit we tend to visit HMB on a monthly basis as a day trip – I can't stay away from the lobster rolls for too long. BUT we live a tad closer on the peninsula AND have a car (an odd thing for most living in the big city) – making the drive to Half Moon Bay an easy one for us.
If you're looking to really treat yourself (yolo, right?), spend a fancy night at the Ritz Carlton HMB – we stayed a few years back and are STILL talking about the nightly s'mores around the fire pit.
Best Time to Visit: HMB boasts mild temperatures year-round, but always keep a light sweater nearby (as the weather is pretty temperamental and changes quite frequently). The Pacific Ocean's kinda chilly so I don't recommend planning a swim sans wet suit. If you're looking for fall fun, be sure to visit around Halloween as the farms are full of pumpkin patches and other autumn-y activities!
Don't Miss:
Sweeping coastal views on the HMB Coastal Trail
Lobster rolls from Sam's Chowder House (get the naked roll – it's my favorite)
A sandy beach walk on Popular or Miramar Beach
A quick stroll through the HMB Farmers Market (during spring and summer)
Horseback riding on the beach
Watching the crazy-skilled surfers at Mavericks Beach
Brunch at aviation-themed 3-Zero Cafe
Pescadero
Did someone say artichoke bread? True story – I force my husband to take the drive from SF to Pescadero on a semi-monthly basis just for some homemade garlicky artichoke bread (yes, it's that amazing).
While in town, make a stop at California's most photographed lighthouse (Pigeon Point – it's spectacular; walk all around), grab some pie at the indulgent Pie Ranch (they sell out fast – get there on the early side!), and listen to the loud barks of the elephant seals at Ano Nuevo State Park.
If you have more time, a quick stop at Swanton Berry Farms (for u-pick strawberries depending on the season) and Shark Fin Cove in Davenport never hurt anyone.
*While you could probably technically do this as a day trip from SF, if you wanna explore the surrounding areas a bit as well – Half Moon Bay and Davenport – (without rushing around like a madman), plan to spend the night. And what's better than waking up to the ocean? Not much.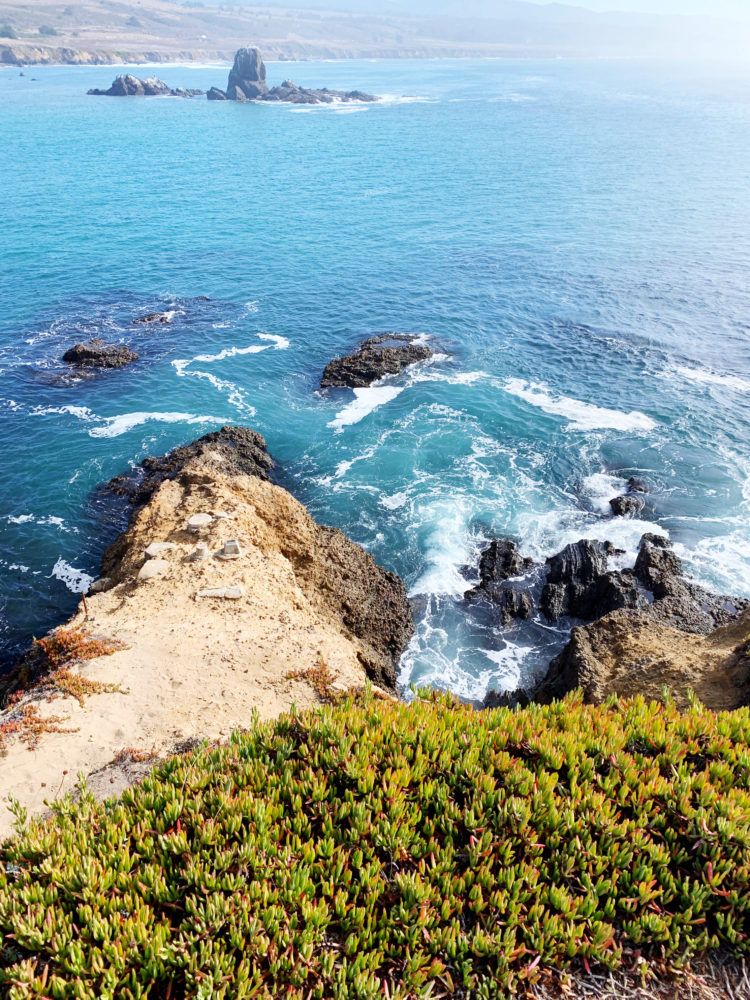 Best Time to Visit: Pescadero boasts similar weather to Half Moon Bay, meaning it's quite unpredictable. We've visited year-round and it's typically either sunny or extra-extra foggy/overcast. Quite a gamble! Do note "rainy season" is generally from Dec-Feb, so you'll encounter more mist and light rain during those months.
Don't Miss:
Grabbing some artichoke bread from Arcangeli Grocery
Watching the waves crash on the rocks at Pescadero State Beach
Playing with the goats at Harley Farms Goat Dairy Farm
Hiking to those super odd, super blubbery elephant seals at Ano Nuevo State Park
Admiring (and photographing) the Pigeon Point Lighthouse
Indulging in some fresh pie from Pie Ranch
Day tripping to Davenport for U-Pick Strawberries and Shark Fin Cove
Yosemite National Park
Ohhh, Yosemite. If I squint my eyes really hard I can make out those Ansel Adams-esque panoramas. We've been to Yosemite more times than we can count, and always find legendary trails to hike, waterfalls to admire, and massive granite formations to gawk at.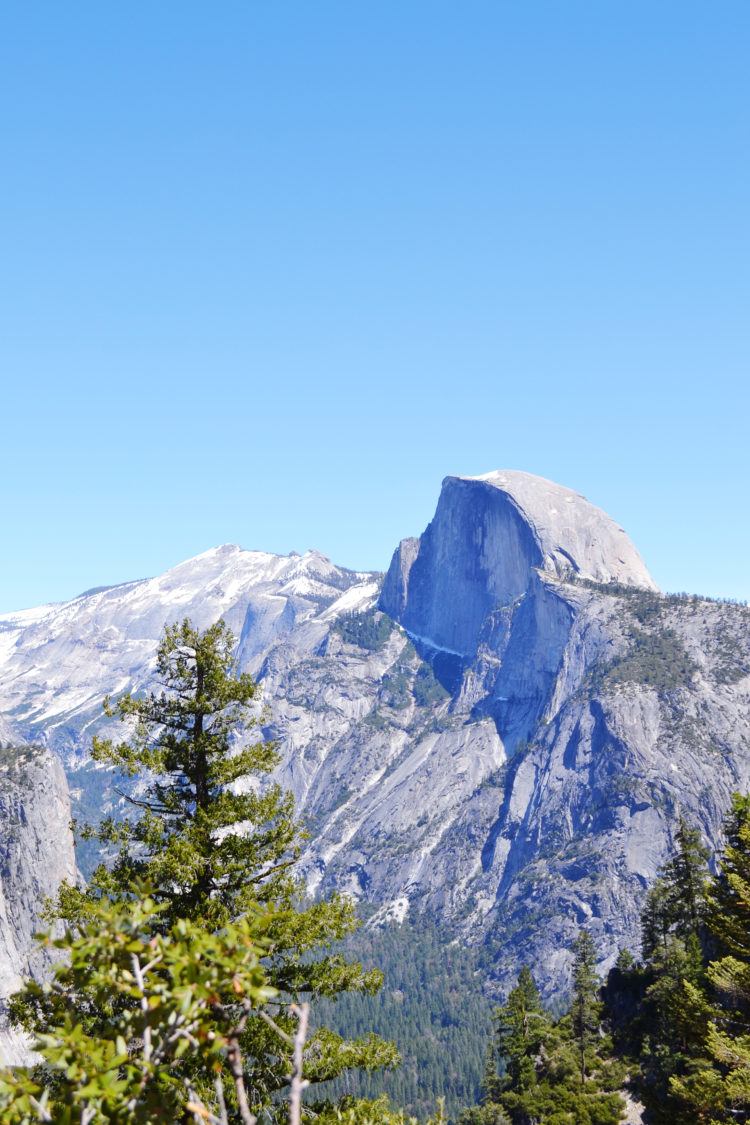 I even went all the way to Yosemite and back in a day once because I was craving the mountains so much… I blame that fresh mountain air.
Yosemite is special all year round – whether you're visiting in the height of summer (just beware of all the crowds) or in the winter (tons of tips here), I can guarantee you'll have a hell of a good time.
Best Time to Visit: Well, summers are ridiculously crowded, so I'd aim for either late Spring (waterfalls are at their best if it's been a snowy winter) or the fall months if you wanna see the leaves change colors. We also love spending winter weekends in Yosemite, as there's so many less visitors and the scenery is absolutely spectacular in the snow!
Don't Miss:
Driving up to Glacier Point (or hiking up there via the Four Mile Trail if you're working on your fitness)
A quick detour to Tuolumne Grove to see the ancient giant Sequoia trees
Photos at Tunnel View in Yosemite Valley
Gazing up at El Capitan
Getting wet and admiring the waterfalls on the Mist Trail (with tons of stairs)
Watching the sunset at Taft Point
Going for an easy stroll around Mirror Lake
Morro Bay
Endless, crystal waters. Vast stretches of golden sand. Boats bobbing along the horizon. And did someone say otters? Yeah, you'll find a lot of them over here in Morro Bay.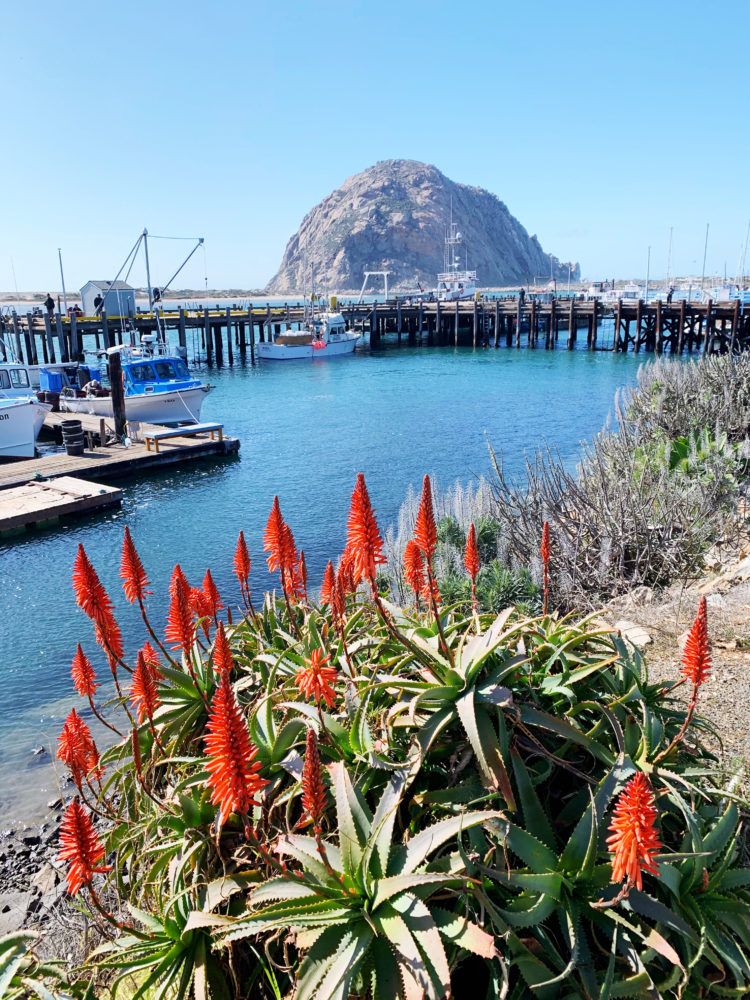 But this ain't your regular quiet fisherman-esque beach town in California – I mean, there's a huge ancient volcanic mound (Morro Rock) at the end of the beach! Sometimes known as the Gibraltrar of the Pacific – you really can't miss it (unless it's covered in fog, of course – which does in fact happen more than you may realize and happened to us on more than one occasion)!
Distance from SF: 230 miles
Drive Time: ~4 hours
Best Time to Visit: Mid-September to early October. Morro Bay is never too hot, and never too cold. Skip the rainy season (November to March) and the foggy season (May and June), and plan your visit in the sunny summer season (July through October). You'll still find some fog in the summer though (known as "fog monster"), although it'll likely burn off around noon.
Don't Miss:
Morro Rock, of course (be on the lookout for sea otters holding hands in the water – yes, they really do hold hands!)
Walking on the waterfront for great views of Morro Rock and for some local shopping
Looking for sand dollars on the beach to the east of Morro Rock
Go kayaking in the harbor to explore the kelp forests
Grabbing some fresh seafood from Dutchman's Seafood House
Hiking at Montana de Oro State Park
Mendocino
We spent a quick weekend in Mendo a few years back, and I've been itching to get back to this fairytale village by the sea ever since.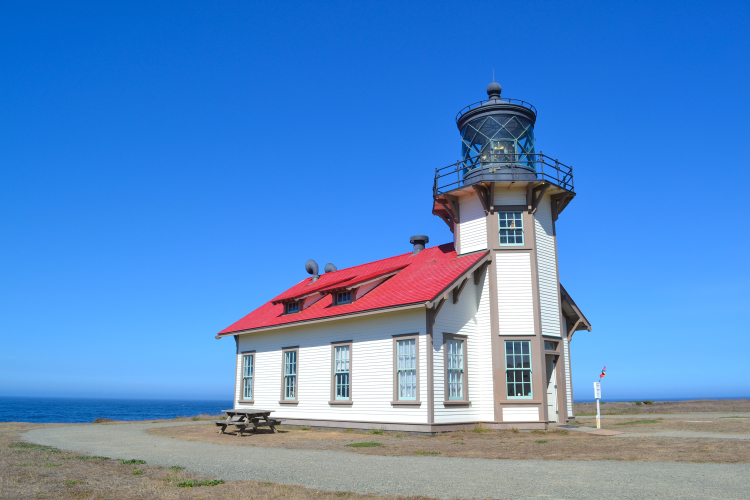 Think Victorian-era homes converted to posh B&Bs, a wild natural setting complete with towering forests and miles and miles of rugged coastline, eclectic galleries and charming shops within the tiny town, a super-starry night sky; the list goes on. It's the perfect place to spend a night or two, especially when you wanna get away from the big city.
Best Time to Visit: If you're looking for sunny days, come between June and August. But be warned – clear skies and warm temps equal crowds. HOWEVER, this ain't the same crowding you'll find in other more well-known spots, like Yosemite and Monterey. You can surely still find some solitude here even in Mendo's busiest months.
Don't Miss:
Chasing waterfalls at Russian Gulch State Park
Watching the sunset along the rugged coastline
Visiting a state park; Mendocino Headlands, Russian Gulch, and Van Damme are all great options
A romantic meal at Little River Inn
Wandering around Mendocino Coastal Botanical Gardens
Walking over to the Point Cabrillo Light Station
Exploring the quaint little town (so much character and charm)
Big Sur
Seaside cliffs. Winding turns. Miles of misty coastline. There's no way I could leave out scenic Big Sur on this list of best road trips from San Francisco, as it's one of my all-time favorite places along the coast. AND it's absolutely GORGEOUS.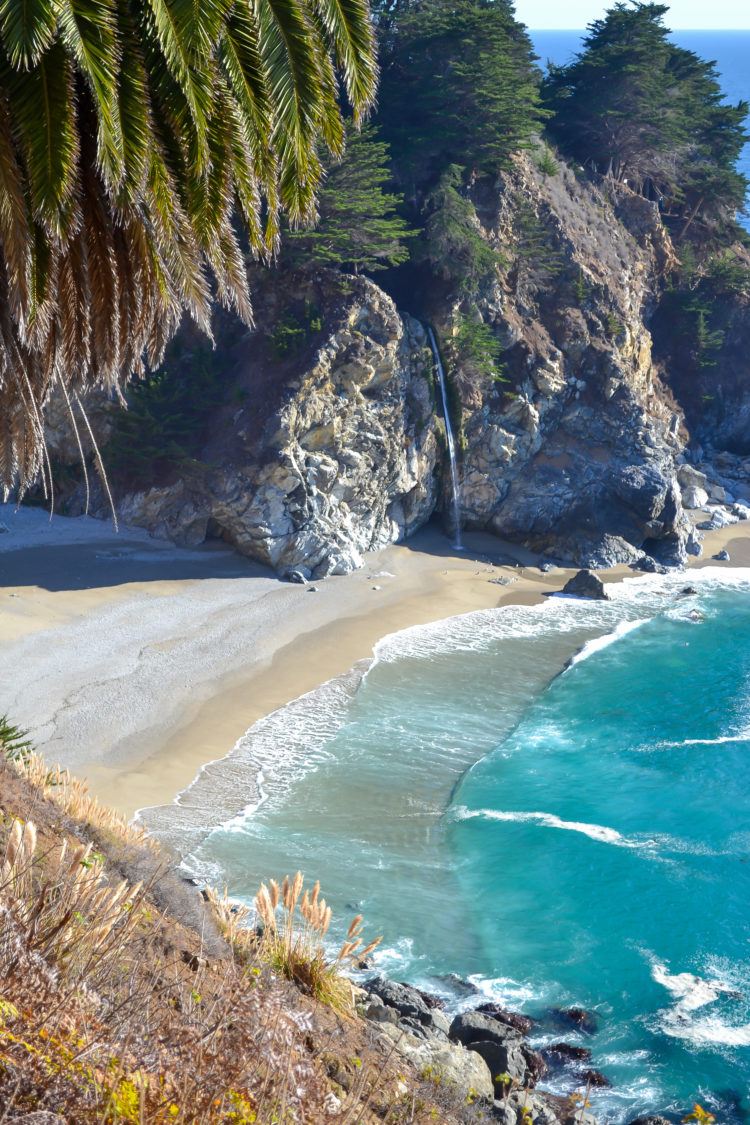 This stretch of coastline on the Pacific Coast Highway is visited by people from ALL around the world, but typically only for a day or so (as part of a much longer CA coast road trip).
If you're living in/near SF, make it your business to spend more than a few hours here – I mean, you live so close, it'd be a shame not to take advantage! And ALWAYS be on the lookout for whales over here (especially in the winter).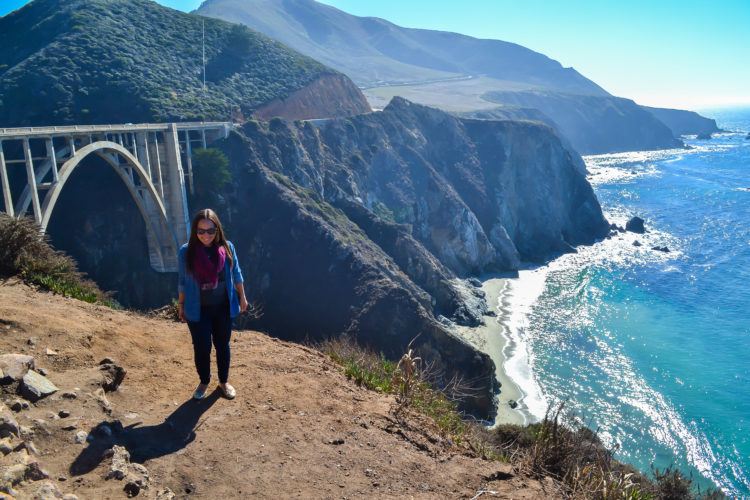 Best Time to Visit: Honestly, Big Sur is a sight to be seen any time of year, but you'll wanna do your best bypassing the morning fog/marine layer. My favorite time to visit is from September to early-November, as this is when much of this part of California is at its warmest (surprise, surprise – not the summer months!).
Don't Miss:
Photographing the iconic Bixby Bridge
Taking a (careful) drive down Old Coast Road
Seeing the purple sand of Pfeiffer Beach
Sharing a slice (or two) of banana walnut bread from Big Sur Bakery – our favorite!
Gasping at McWay Falls in Julia Pfeiffer Burns State Park
Hiking at Limekiln State Park
Sipping some cocktails and apps with a view at Nepenthe
Lassen Volcanic National Park
Steaming hot springs. Bubbling mud pots. Piping fumaroles. That, my friends, is Lassen Volcanic National Park in a nutshell.
It's a shame so many have never even heard of this Northern Californian NP in the Shasta Cascades – even by those from the state! Crazy talk as it's absolutely spectacular! I mean, where else can you witness impressive steaming sulphur vents right in front of your eyes?!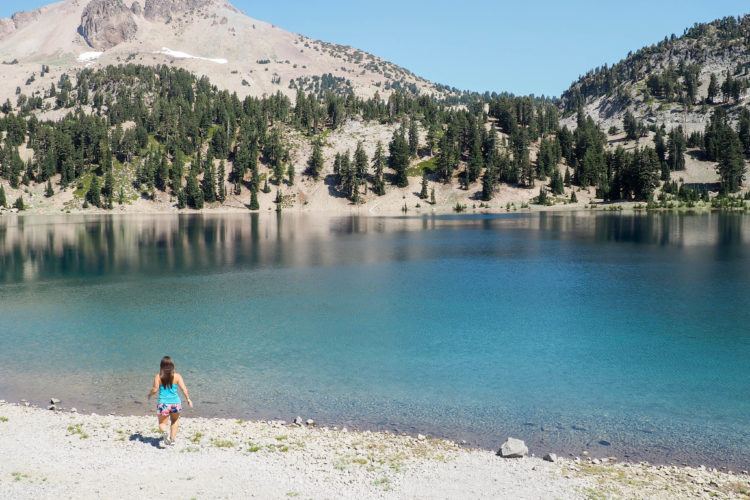 Talk about a wacky natural phenomena (albeit a bit smelly, ok- a lot smelly); it's even said to be called a mini Yellowstone (but without the immense crowds). It's just one of those road trips from San Francisco nobody even thinks to venture out on. Go there NOW before it gets crazy crowded.
Best Time to Visit: Surprisingly, Lassen has one of the shortest visitor seasons of any park in California (due to the elevations and tons of snow). Since the road through the park is typically closed until sometime in July (#snow), you'll wanna plan your trip in late July, August, or September. And once it starts snowing for the season (as early as October), don't expect a visit to be possible!
Don't Miss:
Witnessing the active hydrothermal area of Sulphur Works
A short stop at the beautiful Emerald Lake
Hiking on the Bumpass Hell Trail to see boiling pools of water, watching steam escape from a fumarole, and marveling at unusual multi-colored soil
Chilling out at Lake Helen
Admiring the waterfalls at Burney Falls (my favorite!)
A hike between the three waterfalls of McCloud Falls
Pinnacles National Park
Did you know that California got a new National Park just a few years ago in 2013 (despite being formed over 23 million years ago)? And it's only a few hours south of SF in the Salinas Valley- score!
Imagine jagged pinnacles, volcanic spires, and amazing underworld mazes. Yup, that's Pinnacles. It's one of the lesser-known NPS destinations, probably due to the fact that it's often over 100 degrees.
I haven't actually made it to Pinnacles just yet myself (I had planned a weekend full of hiking with friends but that got cancelled due to the recent virus), BUT it's a spot I'll be visiting as soon as possible!
And psst- you'll probably wanna check out the east entrance, as it's much more action-packed than it's less-developed west side.
Distance from SF: 125 miles
Drive Time: ~2.5 hours
Best Time to Visit: Go during spring to see an abundance of wildflowers in bloom (as well as green grasses), while in fall/winter the temps will be super comfortable for long hikes. Skip visiting Pinnacles in summer, as you won't wanna hike more than 5 minutes in the brutal intense heat (100+degrees F, yuck). Unlike many national parks, Pinnacles is actually more popular in the cooler months, so this is a great addition to your list of winter road trips from San Francisco.
Don't Miss:
Winding your way through dark talus caves (no spelunking experience necessary)
Trekking to High Peaks to see the volcanic pinnacles
Admiring the wildflowers in the spring
Watching the crazy climbers scale the rocky pinnacles (ah!)
Go stargazing under the bright night sky (there's even guided hikes under the stars)
Silicon Valley/"The Peninsula"
EVERYONE forgets about the Peninsula, and I get it – the city's just so much more fun. BUT if you're looking for a relaxing weekend and wanna escape the crowds of SF, head on down to the Peninsula for a few days or so.
We've got Stanford University's campus (you gotta go on a tour or at least walk through it), the San Mateo Rose Garden, a ton of cute downtown areas, and a bunch of green nature-y areas by the bay/different lakes. It's a totally different way of life down here – and it's oh so close to the city!
Distance from SF: 30 miles
Drive Time: ~45 minutes (highly dependent on traffic and where on the Peninsula you wanna go)
Best Time to Visit: The Peninsula is oh so lucky, as we get an extended summer (typically starting late-April/early-May and lasting well into late October). We get regular summer months plus an Indian summer as well, so any visit between April and October will be great.
So basically, if it's foggy and gross in SF in June-July, come on down to the peninsula and you'll more than likely find some sun. Winter rains typically come in Dec – Feb, although there hasn't been much the last few years (bringing us into a drought unfortunately).
Don't Miss:
Grabbing some boba and hanging out in downtown Burlingame, San Carlos, Palo Alto, and Los Altos (my favorites)
Walking around Seal Point Park, the canals of Foster City, and Mori Point
Slurping up noodles and other Asian fare in San Mateo (the ramen… oooo the ramen)
A special occasion meal at Madera, at the Rosewood Hotel in Menlo Park
Getting your hike on at Edgewood State Park (Redwood City), the Stanford Dish, and Castle Rock State Park (Los Gatos)
Strolling through the Hakone Estate and Gardens – I loved it!
Carmel-by-the-Sea
We never seem to get tired of Carmel (I even proclaimed to wanna move there a few years ago…). There's gentle weather year round, rolling hills, powdery white-sanded dog-friendly (!!!) beaches, sea otters playing in the water, and the town's just oozing with charm and character.
I mean, the houses don't even have numbers (they're all called something fun and unique). Out of all the road trips from San Francisco on this list, I always recommend a visit to Carmel for anyone looking for some quaint sea-side village vibes.
Distance from SF: 125 miles
Drive Time: ~2.5 hours
Best Time to Visit: Spring, summer, and fall are all great options with sunny skies, but early fall see's the warmest temps. Summer is typically a bit cooler and windy, with fog rolling in during the mornings.
Don't Miss:
Going for a hike in Point Lobos State Natural Reserve (don't miss China Cove, the Bird Island Lookout, and Gibson Beach)
Walking around town to see what all the houses are called!
Standing on the green at Pebble Beach
Cruising along the 17 mile drive (be sure to pick up a map and make plenty of stops!)
Having a romantic dinner or some drinks at California Market at Pacific's Edge
Grabbing some sweets from Carmel Bakery
Watching the sunset from Carmel Beach
Monterey
Although it's only a few miles away from Carmel, Monterey has a much different feel. For starters, yes, it is a bit more touristy, and it's decked out with popular gift shops/seafood restaurants/bars, but it's by far a favorite of oh so many of the road trips from San Francisco.
Yes – everyone knows Monterey for it's famous aquarium, and it's one aquarium I didn't hate (those jellyfish wow me every time). But while Monterey's best known for it's stunning outdoors and wildlife, it also has some of the state's oldest historic sites! History buffs – you'll absolutely love this place!
Distance from SF: 120 miles
Drive Time: ~2.5 hours
Best Time to Visit: Like Carmel, spring, summer, and fall are all great options with sunny skies, but early fall see's the warmest temps. Summer is typically a bit cooler and windy, with fog rolling in during the mornings.
Don't Miss:
Admiring all the jellyfish at the Monterey Bay Aquarium
Checking out the old cannery buildings along Cannery Row
Shopping and a seafood meal at Old Fisherman's Wharf (touristy and kinda tacky but still fun!)
Keeping your eyes peeled for whales off the coast in the winter
Tide pooling at Asilomar State Beach
Indulging in bear claws and giant doughnuts at Pavel's Backerei
Watching butterflies at the Monarch Butterfly Sanctuary (seasonal)
Beachin' it up at Del Monte Beach and/or Lovers Point Park
San Luis Obispo
Have you heard of that kitschy, all-decked-out-in-pink hotel down the coast? That's the Madonna Inn, and it's located here in SLO, on California's central coast. And while the hotel is pretty iconic to the town, it's more of an anomaly than the norm over here.
San Luis Obispo is typically known for its relaxed pace of life (the acronym SLO is kinda fitting, dontcha think?). I mean, it was actually named the "happiest place in America" back in 2010 by Dan Buettner, so yeah, no reason not to go!
We have some friends who recently moved down to San Luis Obispo, so we've been loving the fact that we can visit them while exploring the area all at once.
Distance from SF: 230 miles
Drive Time: ~4.5 hours
Best Time to Visit: SLO's blessed with comfortable weather year-round, excluding some cold weeks in the winter. The hottest months are August and September, and you'll hardly find any precipitation no matter the month (although skip January and February, as they tend to be the rainiest).
Don't Miss:
Blowing some bubblegum at Bubblegum Alley
Having some brunch at Sally Loos (our new favorite foodie spot)
Hiking at Bishop's Peak for scenic views of the whole town
Checking out the vendors over on Higuera Street (the town's pretty well-known for their farmers' market)
Indulging in some pink champagne cake at Madonna Inn (and taking allll the kitschy photos)
Checking out the 18th-century Spanish Mission
Noshing on some bbq al fresco at Firestone Grill
Lake Tahoe
Longing for a weekend by the lake? Tahoe's one of the prettiest (freshwater!) lakes you'll see in your lifetime (it's actually nicknamed the Jewel of the Sierras)- and it's a mere 4 hours away from SF! AND #funfact, it's actually the largest alpine lake in North America – who knew?!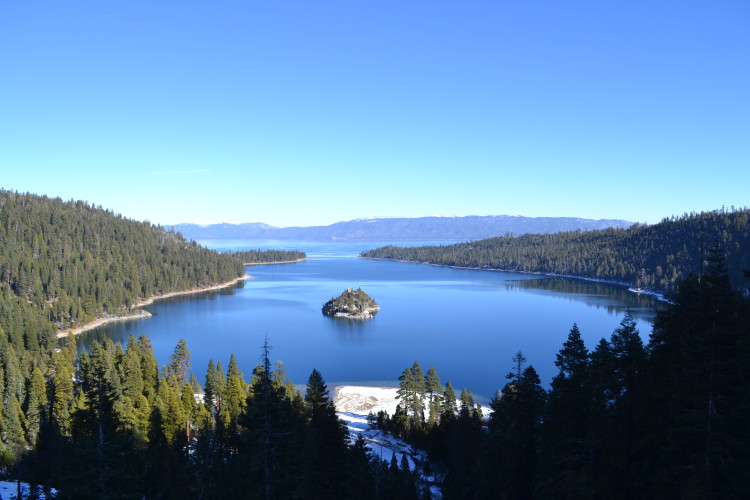 Whether you visit in the warmer summer months to dip in the lake, or plan to ski in the winter, a trip to Lake Tahoe is one of the best road trips from San Francisco you can take year round!
And if you're a newbie to Tahoe, note that there's technically two sides to the lake – North (Incline Village) and South (Stateline and South Lake Tahoe). You can't go wrong with either.
Distance from SF: 190 miles
Drive Time: ~4 hours (highly dependent on traffic)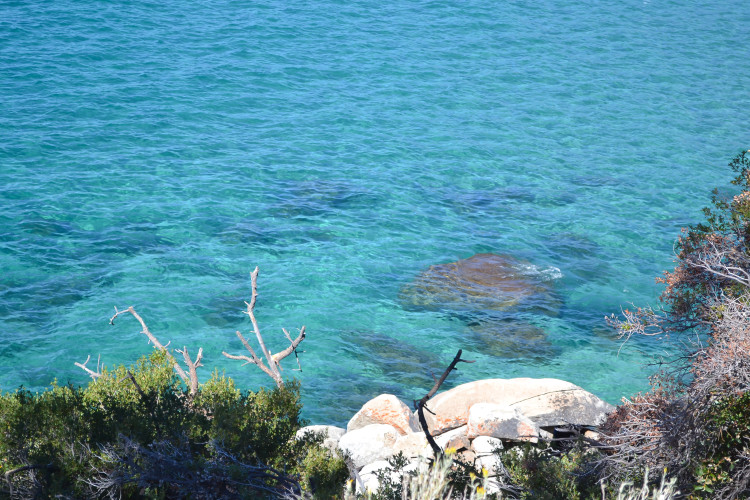 Best Time to Visit: Tahoe has two primary seasons: sun-drenched summer for lake-lounging, and winter for snowy mountain fun along the slopes. But FYI – June through September are typically packed, but still worth it though.
Don't Miss:
Watching the sunrise over Emerald Bay
Driving around the rim of the lake for spectacular views
Skiing at Heavenly Village
Taking the gondola up for even more views
Admiring the rocks at Zephyr Cove and/or Secret Cove
Hiking the Flume Trail for great views of the lake
Stand-up paddling, making snow angels, lounging by the lake, drinking hot chocolate, etc etc etc
Paso Robles
Think wineries, olive groves, sprawling hills, farm fresh restaurants, and lots of tasting rooms (with lots of Merlot and cab variations). You probably could've guessed by reading that mini description of Paso – we're back to wine country!
Napa and Sonoma aren't the only places here in California that specialize in wine. So yup – there's another spot for winos on this list of San Francisco road trips!
While we haven't sipped the good stuff in tooo many spots over here in Paso, we're dying to get back to DAOU (for both their wine and cheese plates). And the dazzling panoramic mountain views, wow, just wow. Get here before everyone else discovers this up-and-coming wine region of CA.
Distance from SF: 205 miles
Drive Time: ~3.5 hours via 101 (longer on the coast)
Best Time to Visit: Early or late summer, as the weather is at it's best, and during the fall grape harvest in October. Wine festivals dominate the area in March and May, so it'll be busy, busy, busy then.
Don't Miss:
Grabbing a cheese plate at DAOU Vineyards and Winery (our favorite!)
Sipping some cabs and merlot varietals (they dominate the Paso wine production)
Being wowed at the Bruce Munro Field of Light art exhibit
Testing some olive oils at Kiler Ridge Olive Farm
Soaking away your stresses in artisan thermal mineral springs
Wandering around historic downtown Paso Robles
Sampling some ciders at Tin City Cider taproom
Taking a half-day trip to Hearst Castle in nearby San Simeon
Napa Valley
Everyone and their mother's heard of Napa. I mean, there's wine – what's not to love?! But haha, Napa is so much more than that – imagine lush rolling hills, miles and miles of vineyards, generous tasting pours, and some truly amazing restaurants (including the ridiculously-priced but highly sought-after French Laundry).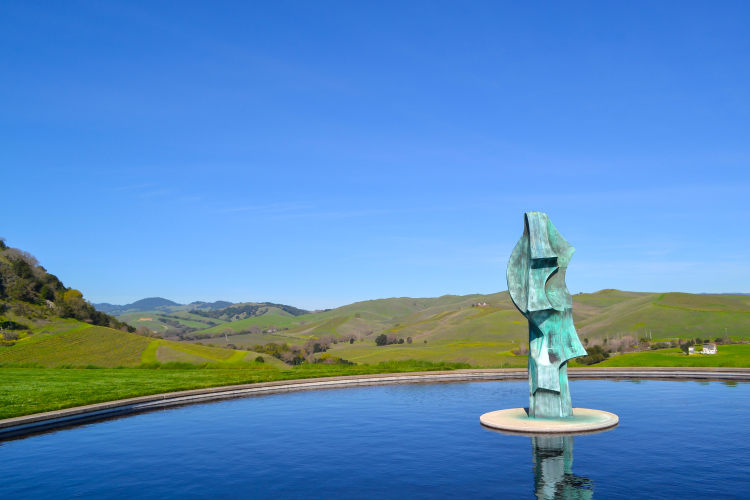 You can stomp on grapes at Sterling, wander throughout the massive castle that is Castello de Amorosa, have a picnic at Peju, and even ride in a hot air balloon above the vineyards. There's really something for everyone in Napa Valley. And even if you don't like wine, you can easily fill a weekend and then some with Napa activities, including olive oil tasting, mud baths, and admiring the winery grounds (tons of ideas over here).
Best Time to Visit: Napa's most expensive in the summer and fall months, as that's when the weather is its most pleasant, the harvest takes place, and when the fall leaves change colors (it's absolutely stunning).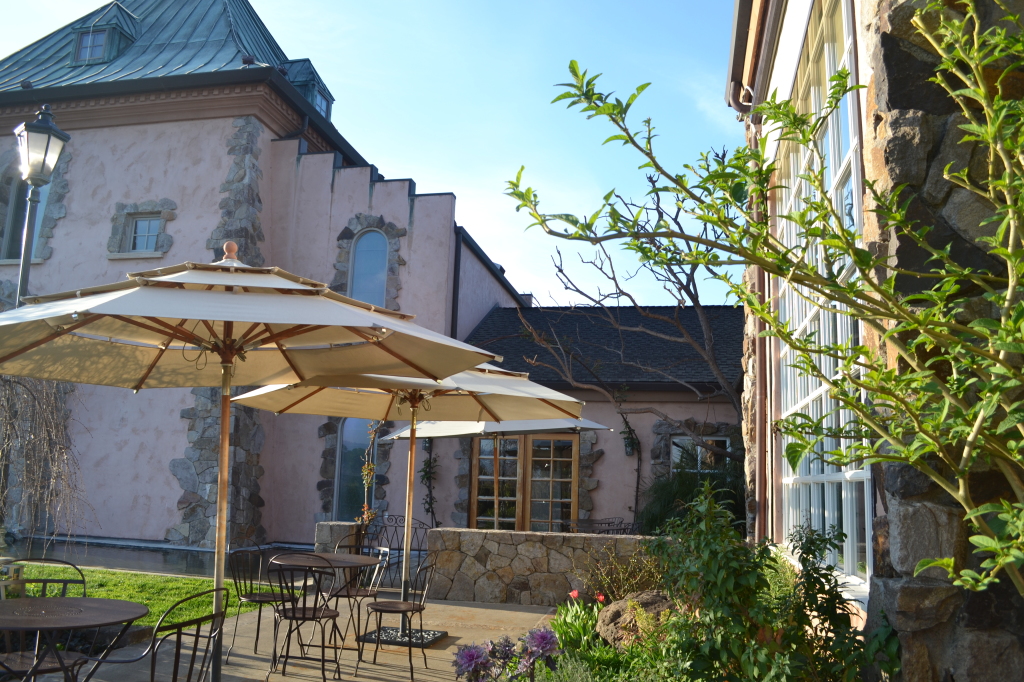 With all that being said, those are our favorite times to go (we typically stay at an AirBnB since hotel prices are pretty astronomical- although I did love my stay at Andaz Napa a few years back).
Don't Miss:
Stopping for sweets and cheese at Oxbow Market
Boarding the Napa Valley Wine Train for spectacular views and a first-class meal
Walking along the riverfront promenade
Eating to your heart's content at any of Thomas Keller's establishments for all kinds of deliciousness (mmm Buchon, my all-time favorite)
Visiting some of our favorite vineyards (Sterling, Domaine Carneros, Peju)
Swirling your glass during a wine discovery class (we've done one at Robert Mondavi)
Viewing Napa from above via hot air balloon
Sonoma
Hey hey, we got ourselves another winemaking region on this list of road trips from San Francisco. While Napa is more glam-worthy, Sonoma is more spread out and expansive (at almost double the size of Napa!), with a much more chill-back vibe. Sonoma's kinda like the gloriously laid-back sister of nearby Napa Valley.
Sonoma even grows tons more varieties of grapes, meaning a larger selection of wines (although Chardonnay, cabernet sauvignon, and pinot noir are the most abundant)! But besides it's sweet stuff, the area's also known for its art galleries, the colonial-era Sonoma Plaza, a seasonal farmer's market, and 19th-century adobe buildings (you've gotta see them).
Distance from SF: 45 miles
Drive Time: ~1 hour (highly dependent on traffic)
Best Time to Visit: Like Napa, Sonoma's great in the summer and fall months, as that's when the weather is its most pleasant, the harvest takes place, and when the fall leaves change colors (it's absolutely stunning).
Don't Miss:
Chilling out in thermal hot springs at the Willow Stream Spa
Wine tasting at 2 dozen wineries by foot (no drinking and driving!)
Shopping at historic Sonoma Plaza
Hiking at the Sonoma Overlook Trail (3 miles round trip) or the Montini Open Space Reserve (multiple trails)
Getting your history on at Sonoma State Historic Park
Guerneville and the Russian River
Looking to get away from it all? Head on over to Guerneville for a weekend full of rest and relaxation, small-town charm, refreshing floats on the river, and scrumptious sweets and food (pies and biscuits, anyone?). Guerneville's changed a lot over the years; what used to be a slow timber town changed into a hippy haven, and is now a hip getaway.
While there are numerous towns/neighborhoods along the Russian River, I like Guerneville for its central location. It's surprisingly hip, and is in the perfect location to explore a few nearby areas (you can easily squeeze in visits to Healdsburg, Bodega Bay, and Sebastopol in a long weekend).
There's some hiking nearby as well, including Armstrong Redwoods Park, which we unfortunately missed but is on the list for next time!
Best Time to Visit: If you wanna get your float on, plan your visit in the warm summer months of July-early September. The water is just too cold at other times of year.
Don't Miss:
Floating down the leisurely Russian River via kayak or inner tube
Exploring Guerneville's main street and eating your heart out (don't miss Nimble and Finns, Big Bottom Market Biscuits, and boon).
Taking a drive to Bodega Bay for fresh crabs at Spud Point Crab Company and to Bodega Head to search for whales
Browsing the rustic and retro Guerneville Main Street Stores
Experiencing the majesty of the redwoods at Armstrong Woods
Relaxing at Johnson's Beach
Sipping pinot noir in the garden at Ferrari-Carano Vineyard
Tasting (free!) champagne at Korbel Champagne Cellars
Glamping in a boutique Airstream trailer or camping in a luxury tent
Fort Bragg
What used to be a gritty lumber town is now a top coastal getaway in Northern California. Fort Bragg is home to the nostalgic Skunk Train (offering tons of scenic nature views), the ever-so-popular Glass Beach (with it's rainbow colored sea glass), rustic Noyo Headlands Park (with whale watching boats), and MacKerricher State Park.
Sure, you could probably combine a trip to Fort Bragg and Mendocino as a single road trip from San Francisco, but depending on much you've got planned on your agenda, you may wanna make them separate trips.
Best Time to Visit: If you're looking for sunny days, come between June and August.
Don't Miss:
Grabbing some homemade waffle cones from Cowlicks Ice Cream
Searching for colorful sea glass on Glass Beach (although it's pretty much all picked through already – and just so we're clear, it's illegal to take any glass)
Walking through the pint-sized Sea Glass Museum
Weaving through the redwood forests via Skunk Train
Searching for wildlife (various birds and harbor seals) at MacKerricher State Park
Kayaking among river otters at Noyo River
Sacramento
Sac gets a bad rep, with many locals from the Bay not interested in driving the few hours to the capital city (it's not your typical tourist destination, I get it). But I promise you, Sacramento is super up-and-coming, and I can't wait to go back (I've been but it was a few summers ago).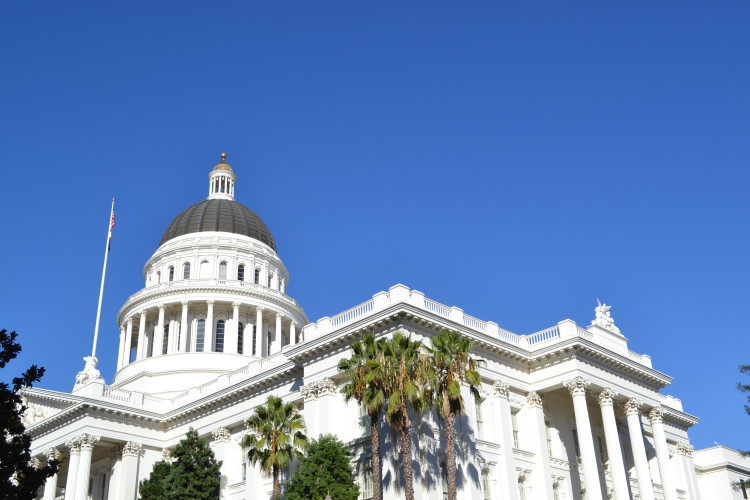 There's now microbreweries, trendy boutiques, elegant Victorian-era homes, leafy parks, and farm-to-fork cuisine, all blending seamlessly into a chic urban vibe. I mean, a few of my friends have even bought houses here, so I guess it's not all bad!
History lovers will fall in love with all things state capitol, as there's the Capitol Museum, Old Sacramento Waterfront, California State Railroad Museum, and Sacramento History Museum.
Distance from SF: 90 miles
Drive Time: ~2 hours (expect tons of traffic)
Best Time to Visit: If you want to avoid Sac's scorching summers (it gets hot hot hot here), plan your visit basically any other time and you'll be golden. Spring and fall are best.
Don't Miss:
Admiring the State Capitol Building and visiting the museum
Checking out Sac's thriving foodie scene (so many hotspots for donuts, even at midnight!)
Taking a walk along Old Sacramento's Waterfront
Hunting for colorful murals around town
Getting your art on at Crocker Art Museum
Boating/water skiing/kayaking on the Sacramento (or American) River
Day tripping to Apple Hill for some microbrews and all-things apples
Redding and Mount Shasta
Longing for some sunshine? With over 300 sunny days, you're bound to find some warm air in Redding (#funfact: it's actually the 2nd sunniest city in the US).
Redding icons include a giant sundial (morphed into a bridge), million-year-old caves, and spectacular views of Mt. Shasta from Castle Crags State Park. And plus, Downtown Redding has no shortage of public art spaces, music performances, and hot dining spots.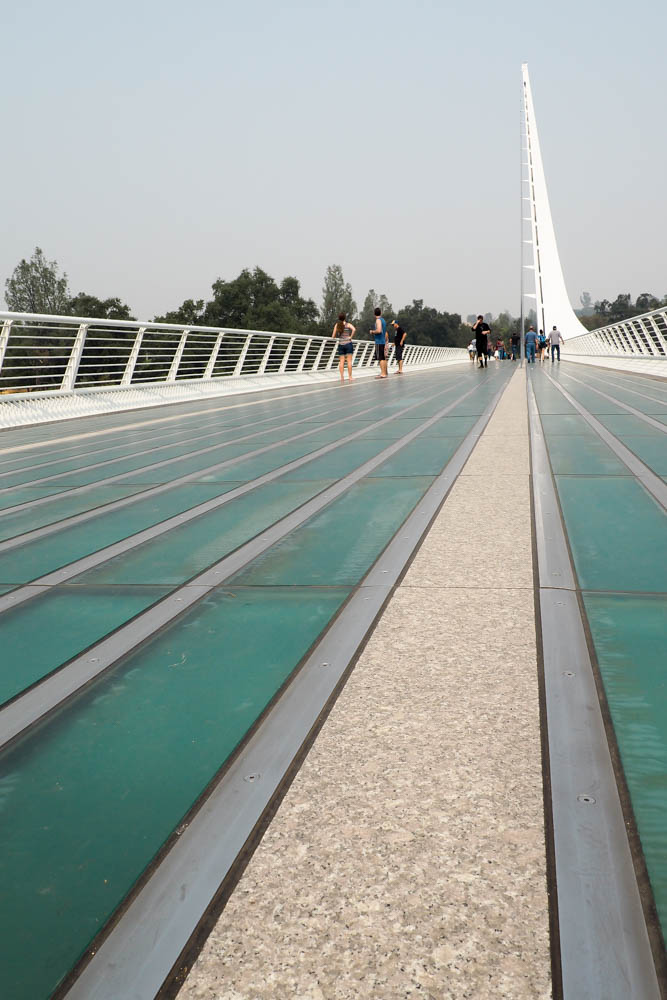 We stopped at Whiskeytown Lake as well, and I can promise it's a perfect spot to watch the sunset.
On the flip side, the rugged 14k-foot volcanic mountain of Mount Shasta is just begging to be explored; there's backcountry skiing, climbing, and tons of panoramic views. And the skiing is almost half the price of similar conditions in Tahoe – win win.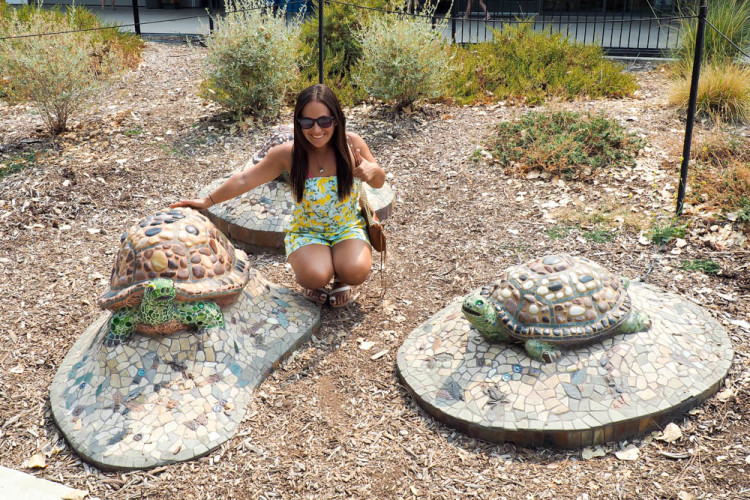 Distance from SF: 215 miles
Drive Time: ~3.5 hours
Best Time to Visit: Like Sacramento, Redding's heat gets quite intense in the summer months. My top picks: spring and fall. Or winter/early spring if you're looking to get your skiing on at Mount Shasta.
Don't Miss:
Going on a free tour of the Shasta Dam (or just wandering around yourself)
Checking out the architecture of the Sundial Bridge in Turtle Bay Exploration Park
Boating/floating on Shasta Lake
Trying your hand at fly fishing
Taking the free tour of the Shasta Dam
Admiring the 6,000-feet tall crags in Castle Crags State Park
Exploring limestone caves in Shasta Caverns
Other recommended road trips from San Francisco: Travertine Hot Springs (high up on my California bucket list), Jenner, June Lake, Gold Country, and Livermore Valley.
Longer Road Trips from San Francisco (3+ nights)
While most of these road trips from San Francisco can be done in 2 nights, there's a few spots that kinda require an additional day or two. This is not to say you absolutely cannot get by with only 2 nights, but I feel they're better explored with at least 4 days (including driving), so you actually have time to get outta the car and explore. And if you have even longer, there's more time to make fun stops along the way!
COMING SOON!
Even Longer Road Trips from San Francisco (5+ nights)
Sure, if you had all the time in the world, you could drive anywhere from San Francisco, haha. Here's a few ideas to get you started. 🙂 These road trips from San Francisco are best taken when you have at least a week (can be done in less, but where's the fun in that?).
Cross Country Road Trip (San Francisco to New York City)
You're probably calling me crazy, but have you ever dreamed of taking a cross country road trip? This may be just the right time to do so!
We drove from NYC to the San Francisco Bay Area when we moved to CA a few years back, and I don't see any reason why the opposite drive wouldn't be just as epic. Say hello to all the quirky roadside attractions (like the Jolly Green Giant in Blue Earth, Minnesota), tons of coffee pit-stops (and therefore bathroom breaks), and all the fast-food you can get your hands on (this is an American road trip, am I right).
You have your choice of basically visiting anywhere you wanna go, but I recommend picking a few spots you'd likely go otherwise, because, well, why not?!
Do note that you basically have two options when traversing the country if you wanna keep it simple and stick to one or two main highways on your drive: north via I-80 or south via I-40 or I-10. We chose to take the Northern Route for reasons I honestly don't remember (haha).
Read all about our cross country road trip and all our stops here!
Best Time to Take this Trip: I highly recommend making the long cross country trip between the months of May and October, as the weather will be at its mildest in most parts of the country (meaning easiest road conditions and less chance of snowy problems).
However, if you really wish to make the trip in the winter and early spring, you'll want to plan your drive along the southern route and into Texas.
Where to Stop Along the Way (where we stopped along our DIY Northern Route):
Lake Tahoe, California
Reno, Nevada
Bonneville Salt Flats, Utah
Salt Lake City, Utah
Rocky Mountain National Park, Colorado
Medicine Bow, Wyoming
Wall Drug, South Dakota
Badlands National Park, South Dakota
Mount Rushmore, South Dakota
Madison, Wisconsin
Chicago, Illinois
Philadelphia and Pittsburgh
Pacific Coast Highway (San Francisco to San Diego)
The California coast is inspiring. Eclectic. Mesmerizing. And full of so much more nature and sweet treats than you ever realized. Along with charming beach towns, tons of lighthouses, a castle with zebras on the side of the road (!!!!), and otters/whales/harbor seals/etc. I could spend my entire life exploring the Pacific Coast Highway and probably never be satisfied.
Sure, you could technically drive all the way to San Diego in a mere 3 days or so from SF, but you'll miss out on so much along the coast. If you just wanna get to San Diego, better off flying anyways!
Do note if you wanna head up north via the PCH, that's a great idea too!
Best Time to Take this Trip: I recommend either late March – early May, or the late summer/early Fall (late August to October). Much of the coast can get quite gloomy in the summer (true story – not many realize that!), and with so much to see, it'd be a shame if that mid-morning fog never burns off!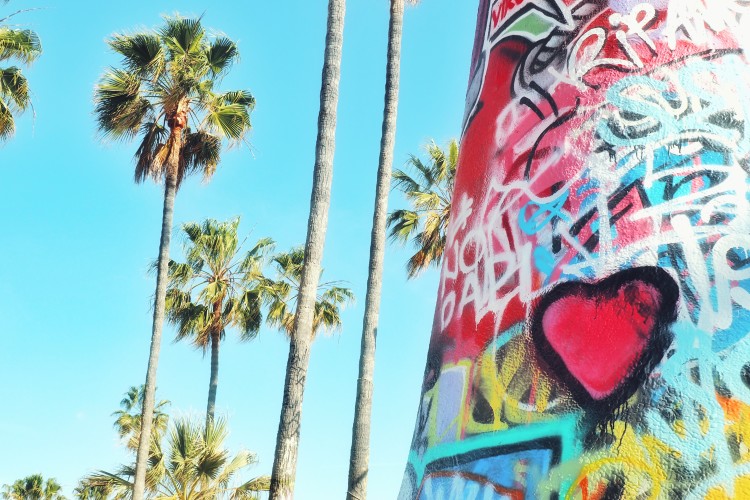 But in all honesty, the weather on the coast is pretty temperamental, so just cross your fingers for fog-free/mist-free days and carry along a sweater at all times.
READ NEXT → We have a whole post dedicated to the best of the best of the Pacific Coast Highway, so be sure to check that out before planning your trip!
Where to Stop Along the Way:
Monterey/Carmel/Big Sur
Morro Bay/San Luis Obispo
Santa Barbara
Malibu
Orange County (Long Beach/Huntington Beach/Laguna Beach)
Carlsbad (don't miss the Carlsbad Flower Fields if you're making the drive March to May!)
Pacific Northwest (San Francisco to Seattle)
Sure, it's a long drive (about 38 hours one way, with stops – whoa), but this is one of the best ways to see so much of the Pacific Northwest. And you'll even check two more states off your bucket list!
If you follow my San Francisco to Seattle road trip itinerary in full, you'll be exploring numerous National Parks, sipping wines in gorgeous tasting rooms with even more spectacular views, hiking to boiling mud pots, being wowed at tons of waterfalls, relaxing on sandy and rocky beaches, stuffing your faces with orgasmic donuts, and oh so much more.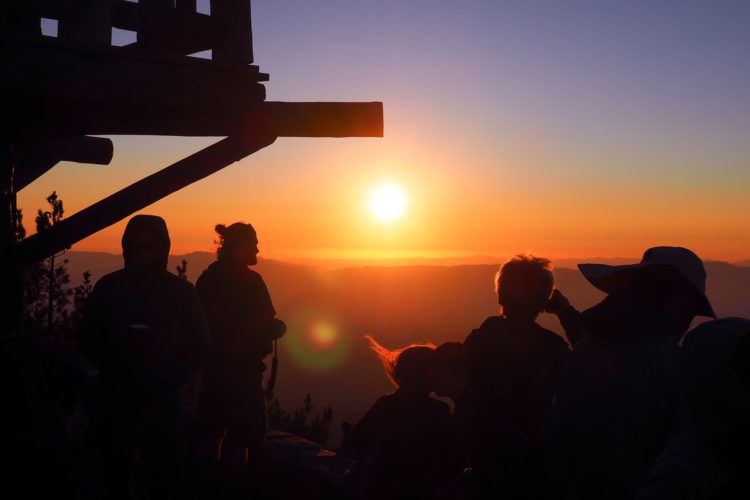 Best Time to Take this Trip: If you have your heart set on seeing the famed blues of Crater Lake and doing some hiking in Lassen, you'll want to make this drive when the roads leading to the parks are open, typically between June and September/October (because #snowfall). If you're leaving those out of your SF road trip, any time of year will work.
Where to Stop Along the Way:
Redwood National Park
Cannon Beach
Mt. Hood
So, there ya have it. A whole long list of the best road trips from San Francisco, in my opinion. :p Where are you headed off to this year?! Any SF road trips I missed?