Planning a trip to the desert and looking for things to do in Death Valley National Park? You're in luck, because I've put together a massive guide! Full of places to see, where to stay, and a comprehensive Death Valley itinerary. You'll be on your way in no time!
Death Valley is the hottest, driest, and lowest national park in the USA. It's also one of the hottest places on Earth (it gets to a blistering 120°F in the summer). And this heat is no joke — it's called Death Valley for a reason!
Out of all the national parks in California, if you're looking for a wide variety of landscapes and adventures, definitely choose Death Valley.
The park is a land of extremes and contrasts – there's salt flats, sand dunes, and even slot canyons to explore. Pastel-covered mountains. Creeks and waterfalls (which are weird to find in the middle of the desert).
And scientific mysteries like rocks sailing across dry beds of mud. It's weird and wild, and a great place for adventurers — as long as it's not summer. It is one of the best places for a winter weekend getaway in the states if you're looking to escape the cold!
My never-ending California bucket list is full of things to do in Death Valley, so I was ecstatic when we finally went and I got to cross a few off!
Before I share my Death Valley itinerary and all the fun things to see/do, I'm sharing some tips below!
Death Valley Travel Tips
Where is Death Valley National Park?
Death Valley National Park is located in south eastern California, bordering the state of Nevada. It's actually not too far from Las Vegas — only 2 hours away! If we're getting super specific, it's a desert valley in Inyo County, east of the Sierra Mountains!
How to get to Death Valley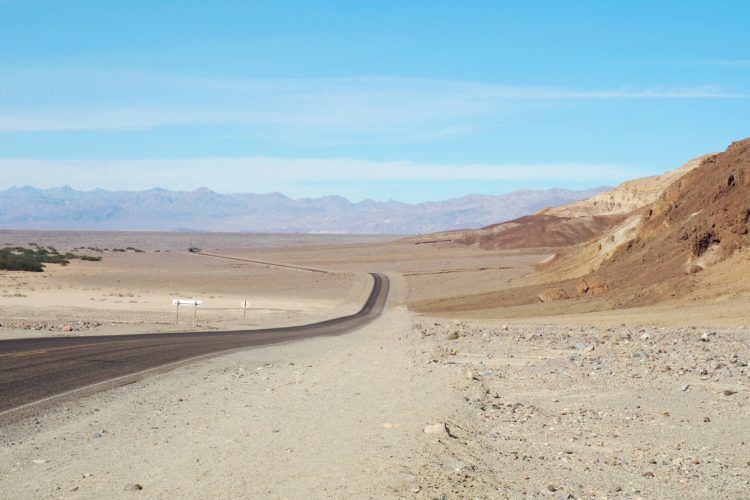 From Las Vegas
Death Valley is kiiiinda in the middle of nowhere, so plan to do a bit of driving no matter what. Your best bet would be to fly into Las Vegas (landing at McCarran International Airport), and then make the ~2 hour drive to the park.
There's two main routes to choose from when driving from Las Vegas to Death Valley:
Pahrump and Death Valley Junction (via NV-160)
Indian Springs and Amargosa Valley (via US-95)
Our GPS told us to head to Pahrump, go north to Amargosa Valley, then continue to Death Valley Junction. Not entirely sure why, but we made it there! On our route we passed by fields of wacky Joshua Trees, super wild terrain, and even a town known for its UFO sightings. It honestly looked like we were driving through another planet! That's California for ya!
From Los Angeles
While Las Vegas is definitely the most convenient option, note you can also drive to Death Valley from Los Angeles. It'll take approximately 4 ½ hours (plus all that inevitable LA traffic), so you may wanna stay for an extra night.
How long to stay in Death Valley
We stayed 2 nights, 2 ½ days and thought it was perfect. We kept our exploring to the main highlights near Furnace Creek, so note if you wanna see more, plan another day or two.
There's honestly so much to see, just note you'll need to do some long-ish drives. We didn't feel like the extra driving, so we stuck to the main areas near Furnace Creek. I've heard of people staying a week or longer if they wanna explore further afield — like The Racetrack and/or Ubehebe Crater.
Day Trips to Death Valley
Would I recommend visiting Death Valley as a day trip from Las Vegas? Probably not, as you'll miss out on so much of the park.
If you can stay at least one night, definitely do! If you absolutely cannot, get a super early start, and plan to drive back to Las Vegas in the dark.
There's a few tours which take visitors to the park from Vegas, which I highly recommend as they'll know the best spots and you won't have to drive back after a long, tiring, and possibly sweaty, day.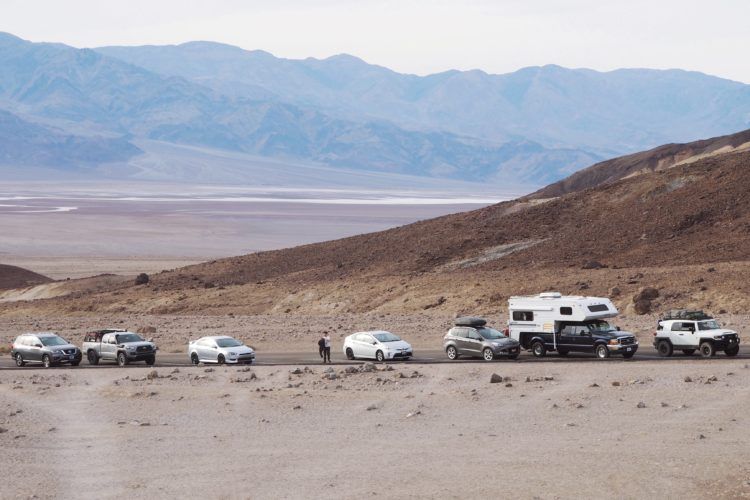 A few recommended tours:
Death Valley Small Group Full-Day Tour from Las Vegas: This tour takes you to all the major Death Valley hotspots, including Dante's View, Badwater Basin, Zabriskie Point, Devil's Golf Course and more, all in just one day from Las Vegas! Plus an included picnic lunch in Furnace Creek! It doesn't get easier than that!
Death Valley (plus Rhyolite) Full-Day Tour from Las Vegas: Explore the old ghost town of Rhyolite, snag a view of the valley from Hell's Gate, visit Badwater Basin, Zabriskie's Point, the Devil's Golf Course, the Furnace Creek Museum, the Salt Lake, the Sand Dunes and Artists Pallet. Phew — what a day! Breakfast and lunch included!
From Las Vegas: Death Valley Trekker Tour: Not only does the tour visit the main highlights of Death Valley (Badwater Basin, Zabriskie Point, etc), but also to the quirky Area 51 Alien Center and Rhyolite Ghost Town, all on a luxurious all-terrain vehicle.
Where to stay in Death Valley National Park
Since Death Valley is exceptionally large (3.4 million acres — whoa!), it's wise to think in advance which parts of the park you wanna visit. And then pick a hotel/campsite nearby! Most visitors stay in Furnace Creek, which is kinda in the middle of all the popular sights — and where we chose to base ourselves (at The Ranch at Death Valley).
Staying inside Death Valley National Park
Hotels inside the park:
There's a few hotels located inside the park, but like in Yosemite, they're pretty pricey. However, given its large size, I highly recommend staying within Death Valley itself if you can swing it.
The Oasis at Death Valley (located in Furnace Creek) – 2 separate facilities, roughly a mile down the road from each other:

The Ranch at Death Valley: Where we stayed! The Ranch is a family-friendly resort with on-site restaurant, outdoor pool, large grounds, and a general store. We loved the extensive remodeling they just did! The rooms are kinda basic, but for the price and location, the hotel can't be beat.
The Inn at Death Valley: First-class resort with a swanky pool and beautiful patio for sunset wine and cheese. Best for couples and those looking for a super-chic stay.
Stovepipe Wells Village Hotel (located in Stovepipe Wells): No-frills lodging with a restaurant, outdoor pool, general store, and property dogs. Much quieter than other areas of the park. Close to the Mesquite Flat Sand Dunes and Mosaic Canyon hike, but further away from the attractions near Furnace Creek.
Panamint Springs Resort (located in Panamint Springs): Small cabins with great views and excellent service. Far removed from the main hotspots of Death Valley, so be prepared to drive a decent amount everyday. Don't miss Darwin Falls if you're staying in Panamint Springs!
Camping within the park:
Luckily, if you don't mind getting your camping on, there's quite a few campgrounds located within the National Park (for far less $$$ than any hotel you'll find). Furnace Creek Campground fills up the fastest (due to its prime location), so book that sooner than later! And it's also the only campground with RV hookups.
If you're planning to camp in the winter months, keep in mind it gets super chilly at night. With that being said, due to extreme heat, only a few campgrounds are open in the blistering summer months from May – September.
Campgrounds:
Furnace Creek Campground (fee)
Stovepipe Wells Campground (fee)
Mesquite Spring Campground (fee)
Wildrose Campground (FREE!)
Emigrant (FREE!)
Thorndike (FREE!)
Mahogany Flat (FREE!)
Staying outside Death Valley National Park
Hotels outside the park: Death Valley is quite remote, so unless you don't mind driving a fair amount each day, I don't recommend staying outside the park. However, there's a few spots to consider:
When to visit Death Valley
When you visit the park makes all the difference. And I'm not even joking. Visit between late-October and early-April, as other months see scorching hot temperatures that are simply too unbearable.
But whatever you do, SKIP THE SUMMER. Don't even attempt a visit — you'll be unbearably miserable. No one likes sweating and feeling sticky literally 24/7. And you won't even be able to comfortably visit half the interesting things to do in Death Valley.
I don't usually include monthly averages in blog posts, but it's kinda hard to put into words just how hot the park is almost year round, so here ya go:
| | | |
| --- | --- | --- |
| Month | High Temp (°F) | Low Temp (°F) |
| January | 68 | 41 |
| February | 75 | 48 |
| March | 84 | 57 |
| April | 93 | 65 |
| May | 99 | 73 |
| June | 113 | 85 |
| July | 118 | 91 |
| August | 116 | 89 |
| September | 108 | 79 |
| October | 93 | 64 |
| November | 78 | 49 |
| December | 66 | 41 |
The way longer answer:
FALL/SPRING:
Spring in the most popular time to visit Death Valley National Park, because — wildflowers! If there's been decent rain in the winter months, there might just be color in the desert (usually peaking late March to early April).
Fall is another great month to visit — with milder temps and clear skies. We visited in late fall (mid-November), and found the temps to be almost perfect. I was anticipating cool-ish weather, like low-60s or so, but it was actually a tad warmer. Definitely dress in layers as mornings are chilly and afternoons are nice and pleasant.
As soon as the sun sets, the temperature drops drastically and almost all of a sudden, so definitely keep a jacket/warm sweater in the car.
WINTER
Death Valley is one of the best national parks to visit in winter. The average temps range from the mid-60s to the low 70s, making hiking actually enjoyable! Do note that overnight lows frequently drop into the upper 30s, so you'll need to bring some cold-weather clothing (think, hats, gloves, etc) for stargazing at night. And unlike other parts of the county, there's lots of clear and sunny days!
One negative of a winter visit is the fact that daylight hours are so much shorter (the sun set around 4:30pm in November when we were there). Make sure to get an early start if you truly want to maximize your time.
→ Read Next: 22 Stunning National Parks to Visit in Winter
SUMMER
Summer starts early in Death Valley, with temps heating up by March, and in the 90s by April. Soon enough, the extreme heat is unbearable to enjoy most activities. It's hottest in July, with an average high temperature of ~115°F (with records in the 120°s as well)! Talk about sweltering.
With this being said, summer is not a great time to visit the park, as heat exhaustion and dehydration happen all too frequently.
Despite what I mentioned above, if you're still planning to visit during summer (highly, highly discouraged), plan and pack accordingly. You'll wanna get your hiking and exploring done in the early morning before the area really heats up. Bring at least a gallon of water per person per day, and don't overwork yourself. If you're feeling the effects of heat stroke, take it easy for a while and get outta the sun.
Where to eat in Death Valley
Well, there's not many options, and the restaurants that are there are definitely on the pricier side. We had granola/protein bars for breakfast (which we brought from home), skipped lunch everyday (fueled up on snacks), and saved our big meal of the day for dinner.
We're usually big foodies, but there's no reason for huge meals in Death Valley. Plus, there's nothing spectacular to write home about. Keep your foodie trips to Japan, Mexico City, and Rome!
With that being said, highly recommend bringing along snacks with you. Either buy them at home or in Vegas — you'll be glad you have them.
If you do wanna eat in the park like we did for dinner, check out these two spots:
19th Hole (a casual bar at The Furnace Creek Golf Course – the burgers were great)
Last Kind Words Saloon (at The Ranch at Death Valley; the food was good but it was unnecessarily pricey)
Additional Death Valley National Park Tips:
You'll wanna fill up on gas before entering the park, and then once again when you leave (Pahrump's a good option). The limited options in the park are pretty expensive.
100% bring snacks with you (either from home or Vegas). The food is pretty pricey in the park, and there's not many other options nearby.
Although things look pretty close on the map, they're much farther than they seem. Definitely plan out your days ahead of time so you're not zigzagging back and forth.
I recommend renting an SUV and/or a vehicle with 4WD. We had to drive down some pretty gnarly dirt roads, and we just stuck to the typical tourist spots. I think a typical car would have been ok, but we definitely felt more comfortable being a bit higher up to have more clearance off the ground on those iffy roads.
The name implies there's no life here, but there's actually some desert plants and wildlife in the park. If you're lucky you may spot some coyotes, bighorn sheep, and even pupfish (when there's water in the park).
Things to do in Death Valley National Park
We've gotten to all the things to add to your Death Valley itinerary — woo! The best part! I've broken them down by Otherworldly Landscapes, Viewpoints, and Short Hikes and Walks. Pick a few from each section and plan your few days in the park (unless it's summer – then stick to mostly viewpoints).
Note if you only have 2 days or so inside the park, all of these things to do in Death Valley won't really be possible. You'll want at least 3-4 days to conquer them all. I've included a suggested Death Valley itinerary at the end to further help with your planning.
Otherworldly Landscapes in Death Valley
Mesquite Flat Sand Dunes
OMG this was SO. MUCH. FUN. And by far one of my favorite things we did in the park. Sculpted sand dunes as far as the eye can see. Long-curving shadows. And mountains on the horizon. Now this is what I'm talking about. We spent all morning climbing up and running down the dunes!
The dunes are HUGE, and walking on them is a super surreal experience. It's crazy to think this is California!
Definitely don't leave the sand dunes off your Death Valley itinerary. I promise you'll feel like you woke up in the far depths of the Sahara Desert (still on my bucket list).
Get up early and head out just after sunrise – the colors on the sand really shine in the morning! And plus, walking in the sand is way harder than it looks, so it makes for a great morning workout! If you wanna try something fun, bring a sled or piece of cardboard for sand boarding!
You can actually see the 100-foot sand dunes from the parking lot, but you'll need to trek quite a bit for the good stuff. This is because the dunes closest to the parking lot will be covered in footprints, and you'll only be able to see those untouched ripples in the sand by walking 20-30 minutes out. BRING WATER – it's tough walking in the sand.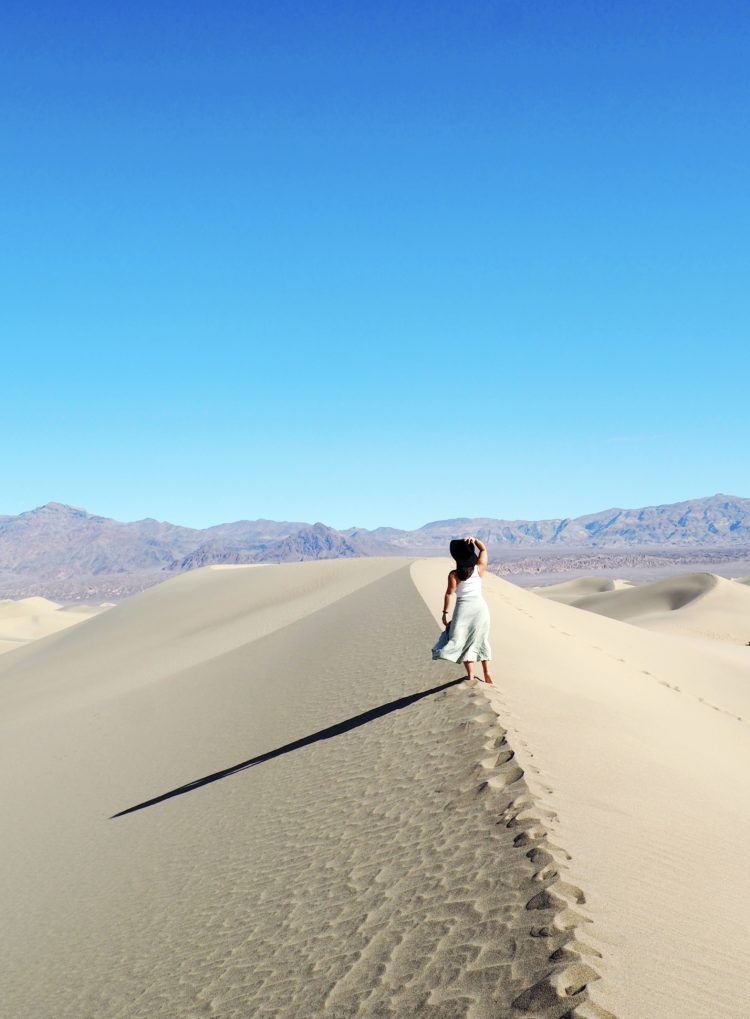 Good to know — there's actually other sand dunes in the park as well! I heard Eureka Dunes and Ibex Dunes are even more spectacular than Mesquite Flat, but they're much more remote and much more difficult to reach. We stuck to Mesquite and were more than satisfied.
And plus, the Mesquite Flat Sand Dunes are the largest dune field in Death Valley, so there's lots and lots to explore.
Badwater Basin Salt Flats
Imagine walking out to a bed of geometric-shaped salt flats as far as the eye can see. Yup, that's Badwater Basin, the lowest point in North America at 282 feet below sea level! It kinda reminded me of the Bonneville Salt Flats which we saw on our cross country road trip from NYC to San Francisco.
Out of all the things to see in Death Valley, don't miss a visit to Badwater Basin. Like at Mesquite Flat Sand Dunes, the salt flats start right from the parking area, but you'll need to walk pretty far out to get those views you see online. We saw the polygons starting to form pretty fast when we looked closely, but they're nothing like they looked in photos.
We walked for what felt like 35 minutes and still didn't reach it. Next time! (I later did some research and found out you need to walk at least 1-2 miles to reach the salt hexagons). 110% NOT recommended in the heat of summer.
And make sure to look closely at the salt formations in detail — they're pretty wild! And you betcha I tasted the salt (and yes, it was salty).
Don't miss the small natural pool next to the boardwalk. It's definitely a sight to be seen in the middle of the desert (although highly undrinkable due to all the salt).
If you're lucky to visit after a rainfall, the flats will even look like a huge mirror, which typically only happens in winter.
Ubehebe Crater
Ever see a large volcanic crater 600 feet deep and ½ mile across?! You'll find that over here at the Ubehebe Crater. And plus, it's ridiculously fun to say, pronounced U-BE-HE-BE. C'mon, you try saying it out loud. Fun, right?
You can see the giant crater from the parking lot, — or, you can hike to the bottom of Ubehebe Crater or to Little Hebe Crater instead.
Although it's not entirely known when this impressive crater was formed, scientists have confirmed it could have been as recent as 300 years ago. That's like, during your great-great-grandmother's time. And how was it formed anyways? By a steam and gas explosion when hot magma rose up! Science is so cool you guys.
Honestly, it's quite a far drive out (around an hour and a half each way from the Furnace Creek area), so I don't recommend it if you're short on time (like we were). We'll have to add it to our Death Valley itinerary when we have more time
The Racetrack
Moving rocks in the middle of the desert? WHOA! Another wild and wacky thing to do in Death Valley — anyone sensing a theme here? And no, there's no actual sports cars here. Just rocks on a barren desert landscape.
The Racetrack is a playa (a dry lakebed with over 1,000 feet of dry mud), known for it's moving rocks and surface trails. You guys — THE ROCKS MOVE COMPLETELY BY THEMSELVES. Wait, what?! You heard me right. Just another mystery of the desert.
Many theories have been suggested, but a recent research project suggests the rocks move with a rare combination of rain and wind. The heavy rain makes the surface extremely slippery, while strong winds cause the large boulders to skid.
The Racetrack is really far out there (~3.5 HOURS from Furnace Creek, each way), so we chose to skip it this time around. Also, the road to get there is remote and pretty rough, meaning you'll need good tires and a 4×4 high clearance vehicle. We'll be sure to add it to our Death Valley itinerary for next visit (maybe, haha).
Viewpoints for your Death Valley Itinerary
Viewpoints are some of the best things to do in Death Valley National Park in the summer, partially because there's little to no effort required. Plan to spend some time at all of these if you're visiting when it's super hot out. But even then, you'll wanna run right back to your air-conditioned car.
Dante's View
Out of all the things to do in Death Valley, driving up the windy, curvy roads to Dante's View is towards the top of our list.
From up here at 5,476 feet, you can see Badwater Basin, Telescope Peak, and even Mos Eisley (in a famous Star Wars scene). The 360° views in every direction are absolutely spectacular. A great spot for panoramic photos, as you can see 100s of miles, and a highlight of our trip for sure!
You'll need to drive up a curvy, windy road to get here, but I promise the views alone are worth it! And although you can see quite a lot from the parking lot, walk along the path to get even better unobstructed photos.
Many say Dante's View is best at sunset, but we went in the early morning and were utterly amazed. I don't think there's a wrong time of day to head up here.
Because of the super-high elevation, it's much chillier up here than down in the valley (~20-30° cooler). Be sure to bundle up or steal your partner's winter clothing (I had to wear my husband's hat because my head was so cold!).
I recommend heading to Dante's View either on your way into Death Valley from Las Vegas or on your way out. On the map, it looks like it's pretty close to Badwater Basin, but it's actually on a different road (and an hours drive away).
Zabriskie Point
When you think of Death Valley, what quickly comes to mind? I betcha those colorful badlands and rock formations do! Makes sense – Zabriskie Point is one of the most popular things to do in Death Valley!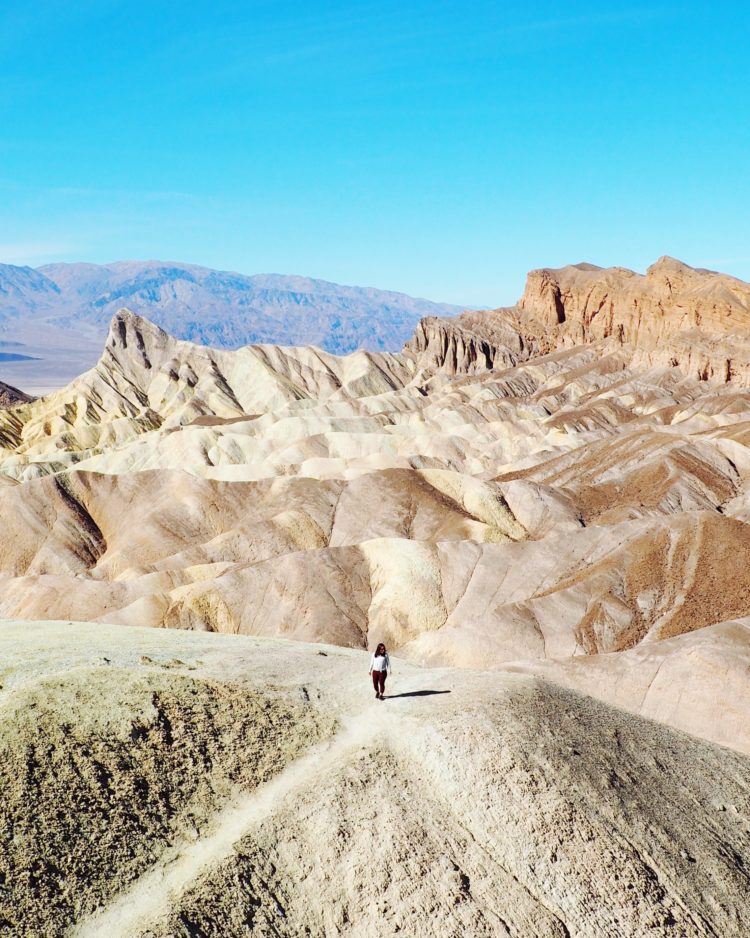 And thankfully, it's super easy to get these views — no hiking required. After a short uphill walk on a paved path, you reach a scenic overlook with unobstructed 360° degrees from the top. Gazing down at the Martian-like moonscape below you will make you feel like you're on a different planet, easily.
A few hiking trails start here (one that goes all the way to Golden Canyon!), but we just walked around the viewpoint and took (loads of) photos.
Fun Fact — the badlands are made of sediments from Furnace Creek Lake which dried up 5 million years ago – whoa!
We actually visited Zabriskie Point twice — once in the early afternoon, and once or sunset! I will say the colors really come out at sunset, but we loved our visit earlier as well. The viewpoint is really easy to fit into your Death Valley itinerary and I recommend going a few times to see how the lighting changes the landscape.
Devils Golf Course
This area of Death Valley definitely looks the most hellish — there's jagged spires, large stalagmites, and spiky mounds covering the ground. Be extra careful walking around – the ground is super sharp!
There's a bunch of pull offs on the road (the entire landscape is considered the Devil's Golf Course), so pick and choose a favorite or two to check out.
Psst: There was once a lake here, and once the water evaporated (around 2,000 years ago), it left behind a 1,000 layer of salt! It was said that "only the devil could play golf here", alas the name was born!
Artists Drive and Artists Palette
Artists Drive is easily one of the most unique things to do in Death Valley, featuring natural pastel colors on the canyons (everything from blue and purple and green). A geologist's true paradise with it's multi-colored mineral rocks and canyons!
At about 5 miles in, you'll reach Artist Palette — the main attraction of Artists Drive! Get out, soak it all in, take photos of the multi-colored canyons, and possibly hike down closer (we stayed at the top).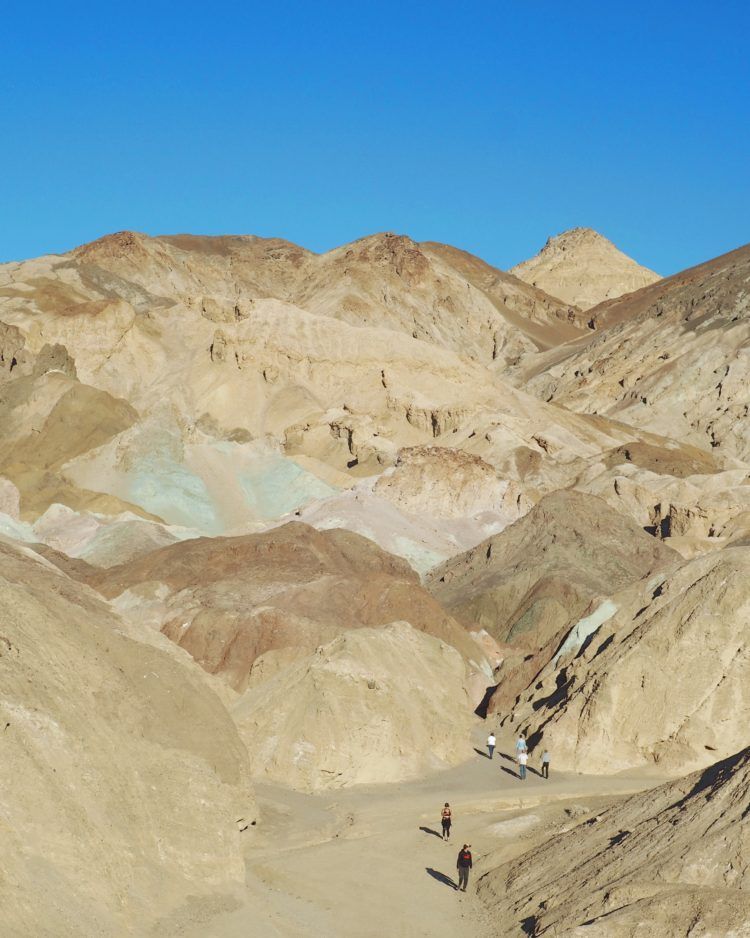 And where do all the colors come from? Well, time to get all sciency! The colors are produced by oxidation of metals and elements found in the ground. What does that mean exactly? I'm not entirely sure, but colors!
We actually visited twice — once when it was pretty cloudy, and once when the sun was shining directly on the canyons. And I must say, the colors were that much more impressive in the sunshine!
There's actually two viewpoints along the drive, but the second one is by far the more popular. There's no true colors at the first stop.
The actual drive is pretty short (a one way loop of ~9 miles) and takes you through canyons and past mountains, but honestly, it wasn't any more impressive than the hikes we did. Be on the lookout for more colors, though. The road is pretty windy and has some dips, so take it slow and be careful!
Walks and Short Hikes in Death Valley
Out of all the things to do in Death Valley, we really enjoyed the few short hikes we went on! We didn't tackle anything strenuous, and kept our walks/hikes to around 2-3 miles. The heat in November was warmer than we expected!
Important Safety Information When Hiking in Death Valley:
Avoid hiking in extreme heat. If you're visiting in summer, it's probably not a good idea to go on any hikes at all. Just being brutally honest here.
Drink lots and lots of water, no matter the temperatures and season. And always be on the lookout for signs of dehydration in yourself and friends/family. Think dizziness, nausea, and headaches. Get out of the sun immediately and drink more water as soon as you feel any dehydration effects!
Protect yourself and always wear sunglasses, sunscreen, and a wide-brimmed hat.
Before sitting/reaching, look out for rattlesnakes, scorpions, insects, and other animals. The desert is home to more than you think.
As always, leave no trace and never feed/touch/chase wildlife.
Golden Canyon Hike
Imagine towering golden walls (hence the name!), minor rock scrambling (although, honestly, not much), and low overhangs. This was such a fun hike! From the trailhead, there's a few different hikes you can choose from, ranging from short, easy strolls to strenuous adventures.
We hiked to the Red Cathedral, for a total of ~3 miles roundtrip. It was the perfect amount of time for a moderate mid-afternoon hike in the shade (although would have definitely been way too hot in the blazing summer months).
You can actually hike all the way through the badlands to Zabriskie Point, but that was a bit much for us (~4 miles one way, meaning ~8 miles roundtrip).
Salt Flats Interpretive Trail
A stream flowing in the middle of the desert more than 200 feet below sea level?! Yup, that's over here!
The interpretive trail is one of the less popular things to do in Death Valley National Park, but it's a pretty quick stop! In just 0.5miles, you'll reach the edge of a salt flat — and it's super easy (and on an actual boardwalk).
Honestly, if you're already planning to visit Badwater Basin (which you 1000% should), I'm not sure if the Salt Flats Interpretive Trail will be mind blowing. Which is why we chose to skip it.
But if you're visiting in the spring, you may just wanna make the stop. The area is home to rare pupfish in the spring-fed Salt Creek, which are most frequently seen from March – May.
Harmony Borax Works Interpretive Trail
Harmony Borax Works is a historical place in the Furnace Creek area with a short ~0.4 loop trail. The most exciting part — you get to see the old twenty mule team borax wagons. History buffs — be sure to check this place out!
What's borax you ask? Don't worry — I wasn't too sure myself. Borax was that stuff commonly found in detergents, cosmetics, and glazes, and it's also a known pesticide and flame retardant. (Usage has been a big source of debate, due to possible safety concerns). People use it today mostly for laundry and fighting stains.
And of course a little history lesson: When borax was found in the area in 1881, a plant was opened to process the stuff a few years later. It was way too hot in the summer months, so the work was moved to the Amargosa Borax Plant. Since it was so difficult to get the final product from Death Valley to the marketplace, they used large mule teams and double wagons through the Mojave Desert. This is where that romantic image of the "20-mule team" comes from!
Twenty Mule Team Canyon
Okay, so this isn't an actual hike in Death Valley, but a beautiful drive along an unpaved road through colorful, eroded badlands. If you're looking for the best light, drive the ~2.5miles (one way) in early morning or late afternoon.
Star Wars fans unite — scenes from Return of the Jedi were filmed here!
Mosaic Canyon Hike
Out of all the short hikes we did, Mosaic Canyon was definitely one of my favorite things to do in Death Valley. It wasn't hard per say, but there was a good amount of slick rock to maneuver and higher rocks to climb on. We trekked through narrow canyon slots, polished marbleized rock, and in and around high marble walls.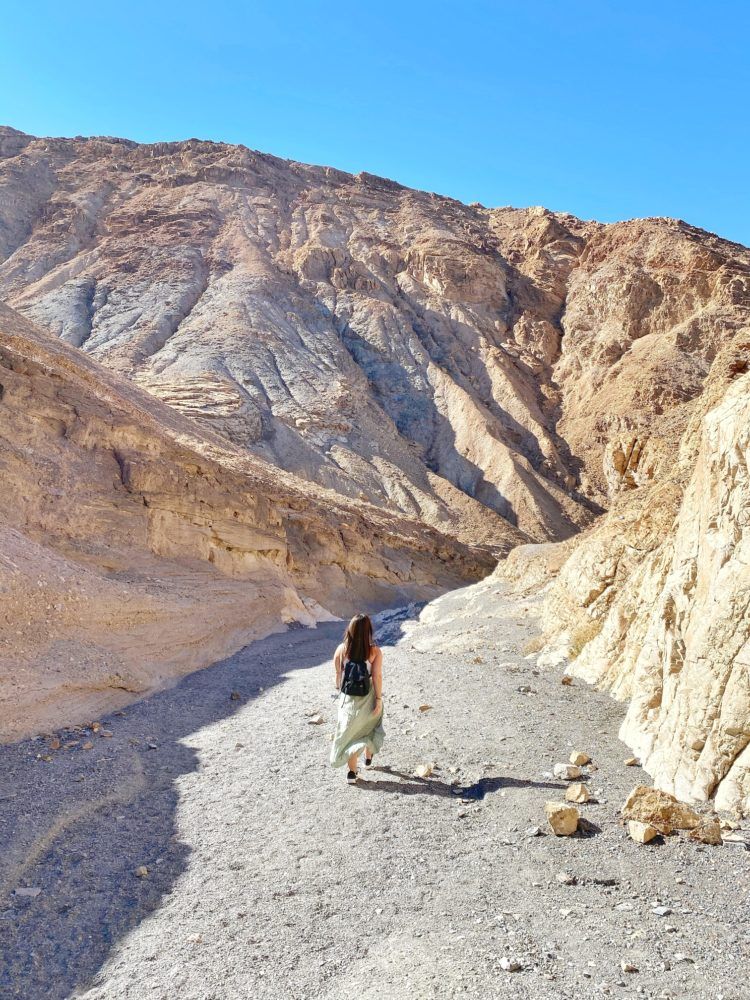 Mosaic Canyon is known as a "geological art gallery" — full of unique smooth walls, irregularly shaped fragments, colorful swirls and chutes, and alabaster rocks. Tons of geological history here! In my opinion, the prettiest part of the hike was the first ½ mile of the slot canyon – it's where the canyon is the most narrow and unique (my favorite part).
Do note you need to drive down a ~2 mile dirt/gravel road to get there, so just be aware! Also, NEVER enter the canyon when it's raining or there's talk of a storm rolling in. Although it doesn't happen often, flash floods fill the canyon and block off passages.
Natural Bridge Trail
Looking for an easy hike? Why not walk the 2 miles (out and back) to the natural bridge (makes for some awesome pictures)?! Photos remind me of the sandstone arches in the national parks in Utah! And it only takes about 15 minutes to walk to the bridge, so if you're short on time, you don't even have to do the whole trail.
You'll also get to see mud drippings on the canyon wall, a dry falls and vertical chute (which used to flow thousands of years ago), and large boulders lodged within. It honestly sounds pretty cool.
I'm kinda bummed we missed this trail (I didn't do proper research beforehand), but there's always next time!
Darwin Falls (Panamint Springs)
A year-round 80-foot waterfall in the middle of the desert? You heard that right. This hidden gem can be found in another section of the park, near Panamint Springs.
You can see Lower Falls on the trail after about 20 minutes or so, and Upper Falls if you're down to do some moderate climbing afterwards. This surreal and special place is a rare oasis with water and even some stream crossings!
Honestly, the road to get there isn't in the best of conditions, so it'll probably take a while to get down the 2-mile road. And as always, stay on the trail and watch for vegetation!
Stargazing in Death Valley National Park
If there's one thing you MUST add to your Death Valley itinerary, it's stargazing in the middle of the desert.
I thought the night skies in Kauai, Thailand, and San Blas (Panama) were otherworldly, but Death Valley really takes the cake. I mean we saw the milky way with our own naked eyes, and even the bright lights of Jupiter, Saturn, and Mars. To say I was overly-excited is a massive understatement. If only I was better at astrophotography.
Death Valley National Park is actually an International Dark Sky Park! What does this mean exactly? That the night skies are some of the darkest in the entire United States — whoa! When you look up at the skies in Death Valley, you can see the universe the way it looked over 100 years ago (due to very little light pollution).
And plus, it's one of the best things to do in Death Valley no matter the season — the nights are never quite as hot!
Tips for stargazing in Death Valley
Download a night-sky app (before you visit Death Valley or using your hotels wifi) so you know what you're actually looking at! We didn't do this, but thankfully a couple nearby told us about the planets!
For the ultimate experience, visit during the new moon. This is when the moon isn't visible at all, meaning the sky will be darker, resulting in seeing more stars!
Pick a place with little to no light pollution — this means you'll have to get away from the hotels, roads, and highways.
Let your eyes properly adjust to the darkness! It takes roughly 30 minutes for our eyes to see the most stars – just bundle up!
Consider bringing along some binoculars or even a telescope! I so wished we did that! Just a word to the wise: learn how to use/set up your equipment ahead of time! It'll be super hard to learn in the pitch black!
Stay at least two nights. While skies are typically clear, cloudy nights do happen. On our first night we actually couldn't even see a single star due to immense cloud cover. Thankfully by the next night, it was all cleared up!
Where to go stargazing in Death Valley
Harmony Borax Works: Most people choose to visit this spot, since it's super close to the hotels and visitor center in Furnace Creek. This is where we went! Psst: Photographers will love the historic buildings and mule cart for night photography.
Mesquite Flat Sand Dunes: While you can see oh so much of the night sky here, since it's located pretty close to the highway, there's a bit more light pollution from nearby headlights. But if you're staying in Stovepipe Wells, it's not far!
Badwater Basin: Although the sky can be somewhat obstructed from the mountains, checking out the stars from the saltwater flats is definitely an experience!
Recommended Death Valley Itinerary (from Las Vegas)
If you have 2 nights, 2 ½ days like we did, I'd recommend the following Death Valley itinerary:
Day 1 in Death Valley
Drive to Death Valley from Las Vegas (~2 hours). Leave early (latest 8am) to have ample time in the park on Day 1 in order to cross a few highlights off your list of things to do in Death Valley.
Although, we decided we needed an early breakfast from Egg Slut in Las Vegas so didn't make it to the park until around 11am or so — whoops!
Check out the following on your first day in Death Valley:
Dante's View
Zabriskie Point
Golden Canyon Hike
Harmony Borax Works Interpretive Trail
Stargazing at Harmony Borax Works
Day 2 of your Death Valley Itinerary
Today's your only full day in the park, so make sure to wake up early to take FULL advantage. Especially if you're visiting in winter, since the sun will set early (think 4-4:30ish) and there'll be significantly less daylight.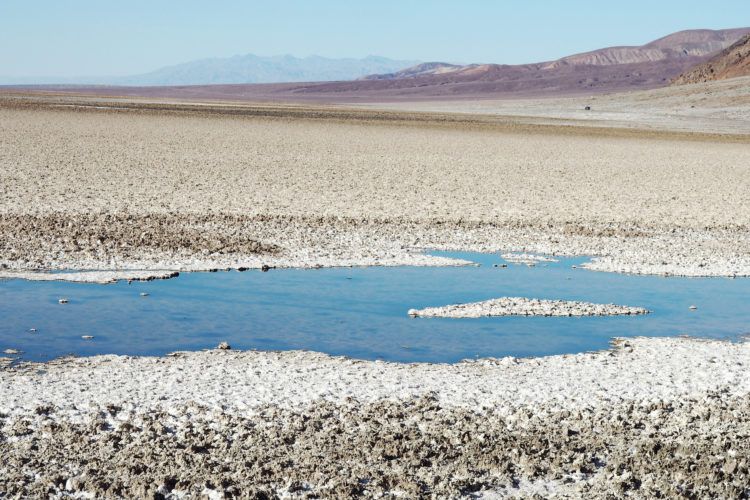 Check out the following on your second day of your Death Valley itinerary:
Mesquite Flat Sand Dunes
Mosaic Canyon Hike and/or Natural Bridge Trail
Salt Flats Interpretive Trail
Devils Golf Course
Badwater Basin Salt Flats
Artists Drive and Artists Palette
Sunset at Zabriskie Point
Stargazing night #2!
Note: You can choose to spend the second night in Death Valley or head back to Vegas. We're glad we stayed so we could see the stars (it was cloudy our first night).
Day 3 in Death Valley
Depending on what time you need to be back in Vegas, spend the day however you like!
Do whatever you didn't get to on Days 1-2, or drive out to Ubehebe Crater and/or The Racetrack for the moving rocks. Just know it'll add significantly more driving time.
I hope this helps you plan out your Death Valley itinerary! Which of these things to do in Death Valley National Park are you most excited about?
Looking for more California content? Explore my other California guides here!
Did you know that …
When you purchase something through our links, we earn a small fee (but you still pay the same)! Win-win! If you found this article useful, consider using the links within the article or below. Thanks for your support!