Looking to take a drive from San Francisco to Santa Cruz? Craving scenic strolls, fresh seafood, and kitschy amusement park rides? I've got all the best road trip stops listed below, whether you just wanna hit up a few or spend the whole morning/afternoon on a day trip to Santa Cruz.
I love a good road trip. There's no denying that. Even if it's just a quick day trip down the coast of California.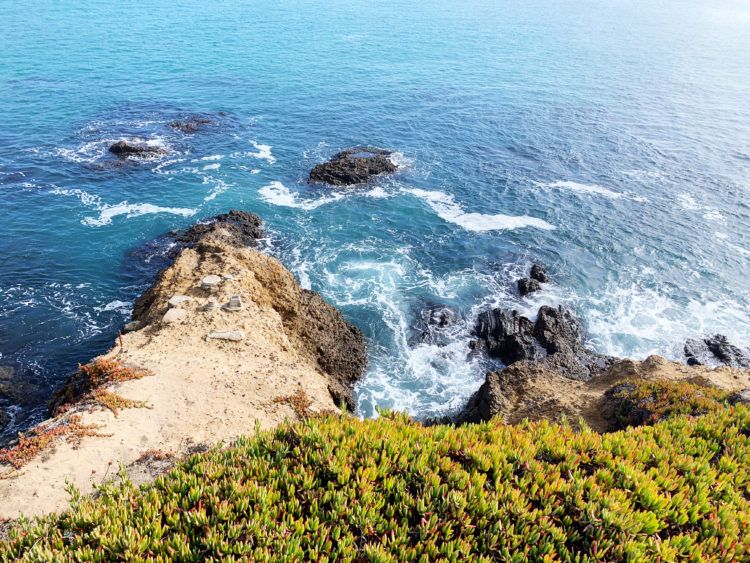 The stretch of coastline from San Francisco to Santa Cruz doesn't get much love, but after living on the peninsula for the past few years, we've explored the area quite a bit. And lemme tell you, there are a-plenty of stops to make on any San Francisco to Santa Cruz road trip. From lighthouses and tide pools (complete with starfish, anemone, and sea urchins) to the best pie in the area and melt-in-your-mouth lobster rolls, we always find a good time.
This trip from San Francisco to Santa Cruz can be done as a day trip (although you probably won't be able to make alllll these stops), or on a much longer multi-day California coast road trip. I've put a star next to my favorite stops in case you're short on time.
How long does it take to get from San Francisco to Santa Cruz?
It takes less than 2 hours to get from the big city to the laid-back surfer town of Santa Cruz (with no traffic of course) on Highway 1, so you'll be able to make a handful of stops in a short period of time. And thankfully, nothing is too far from each other!
However, of course you'll plan to stop (as I'm guessing you came across this blog post to find some stops along the way), so while it's not a lot of driving, the stops do of course add some time.
→ If you're from SF and need to rent a car (the only way to do this mini Santa Cruz road trip), I typically find good deals here.
Do note that if you wanna spend ample time in Santa Cruz (aka the majority of the day), maybe just pick 1-2 of these stops and save the rest for later. Also, it may be wise to skip Highway 1 altogether, and take the quicker route inland on US 101 and CA 17.
Santa Cruz deserves more than a fraction of a day, so if you wanna get to most of these stops from San Francisco to Santa Cruz AND do all the things in Santa Cruz itself, I highly recommend spending the night down there.
→ Lots more epic day trips from SF here and tons of awesome things to do in Santa Cruz here.
Weather along the Coast
The coast is known to be foggy, so be sure to bring a sweater/light jacket. However, the weather is super weird over here – as in one minute it could be super cloudy and windy, and the next, sunny and blue skies. Always come prepared with extra clothing in the car (I like to keep a jean jacket in the back seat just in case).
Expect a day full of mist, fog, sunshine, wind, overcast, warmth, and cold (haha, sorry, but that's just the truth). The occasional clear, sunny day does happen, but that's definitely not the norm. Late summer, early fall is your best bet for sunshine and clear skies.
So let's get to it; all the best stops from San Francisco to Santa Cruz, coming right up (going north to south).
BEST STOPS FROM SAN FRANCISCO TO SANTA CRUZ
1. *Mori Point (Pacifica)
Put on your hiking boots (actually, just sneakers are perfectly fine); we're headed to the coastal bluffs! The first stop on this mini San Francisco to Santa Cruz road trip is Mori Point, located in Pacifica. It's just about 15 minutes from the southern part of the city, but you'll feel a world away from all the hustle and bustle.
Mori Point is actually 110 acres of coastline, beaches, and bluffs, complete with ocean views and hiking trails, but I typically just walk the wooden plank to the beach.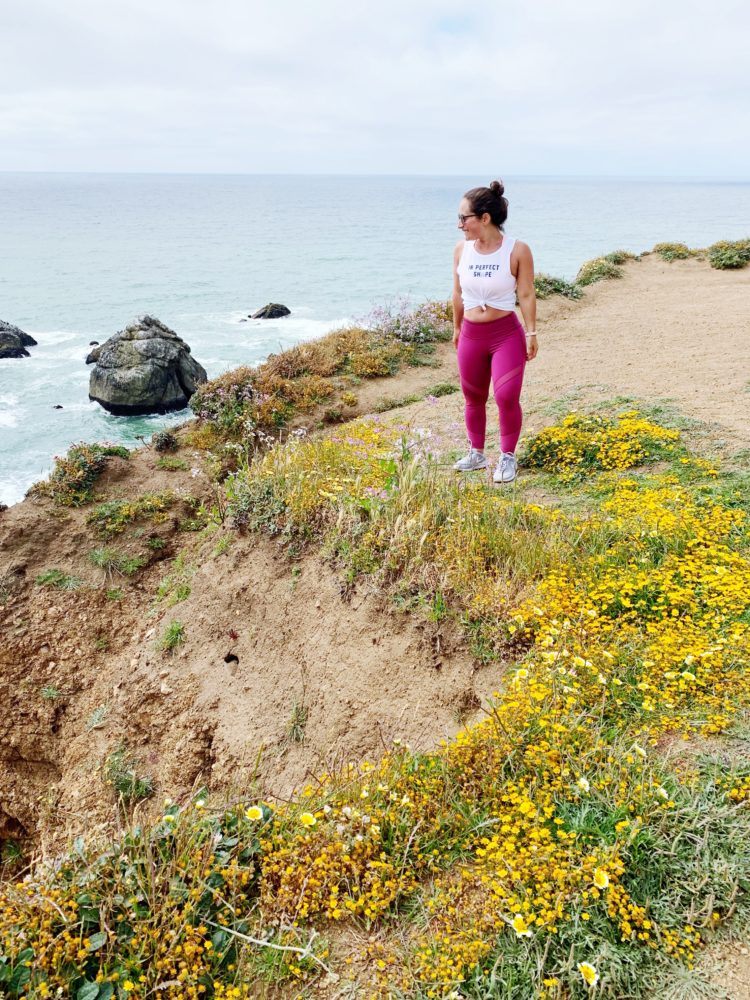 Thankfully, you can make the walk as easy or difficult as you want. There's plenty of rolling hills and cliffs to climb making for semi-moderate hikes, or you can simply walk the wooden planks to reach the coast (what we typically do).
And yay, it's super dog friendly, so you're bound to see a whole slew of playful pups along the way! Look out for wildflowers in the spring, and if you're lucky, you may even see some whales in the distance come winter.
Do note that the parking lot is pretty small (and fills up fast on the weekend), so be prepared to park on a nearby side street (not usually a problem).
Psst: bring a light jacket as it's typically pretty windy, especially at the top if you're climbing some hills.
2. Pacifica State Beach and Taco Bell (Pacifica)
If you need a bit of beach time after your sweaty hike, drive a few minutes south to Pacifica State Beach (also known as Linda Mar Beach and Taco Bell Beach in case you're doing additional research for your day trip to Santa Cruz).
Thankfully, the crescent-shaped beach is rather wide, as it's Pacifica's most well-loved and definitely most-populated (so don't expect to find the beach all to yourselves). And yes, dogs are welcomed over here as well!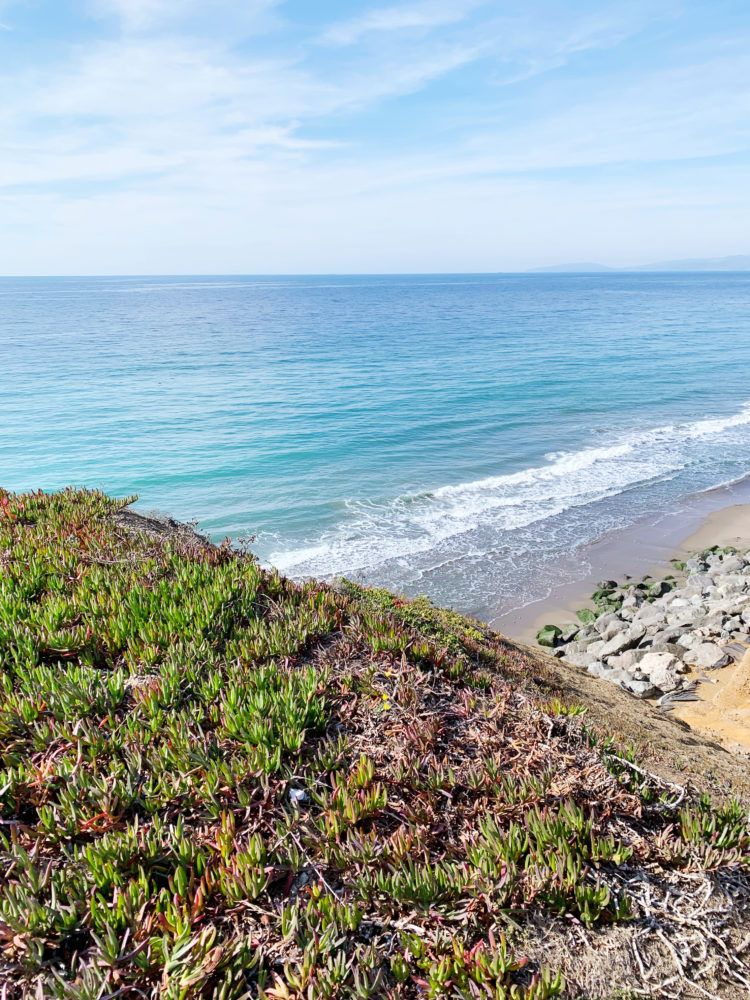 Any bird lovers in the house? Lookout for the endangered western snowy plovers in winter; although they camouflage into the sand as a primary defence mechanism, so they're kinda hard to spot.
There is a daily fee to park in the lot ($7 for 4 hours or less), so keep in mind if you're just planning on "seeing" it for a few minutes.
And ha – why did I put Taco Bell on this list of stops from San Francisco to Santa Cruz? Well, my crunchwrap-supreme-loving friends, you'll find your favorite grubs here at the fanciest Taco Bell over here in Pacifica. It's been newly remodeled into a Taco Bell Cantina, all shiny and new, now selling wine, beer, and frozen drinks – all overlooking the beach!
If Taco Bell's not calling your name and you're in the mood for some fresh seafood instead, try Camelot Fish and Chips (a tiny little place we thoroughly enjoy).
3. JV Fitzgerald Marine Reserve (Moss Beach)
Time to get tide-pooling on the California coast! The Fitzgerald Marine Reserve is a protected area for the tons of diverse marine life found over here. Starfish, crabs, barnacles, mussels, sea urchins, algae, and more can be found along the rocky seashore in the intertidal (the area between low and high tide).
Do note that JV Fitzgerald is a no-take area, meaning you're not allowed to take anything from the reserve, including shells, sand, rocks, driftwood, animals (obviously), etc. It makes my heart happy to see initiatives in place that really help preserve and protect the delicate creatures here (unlike when we visited Glass Beach in Fort Bragg).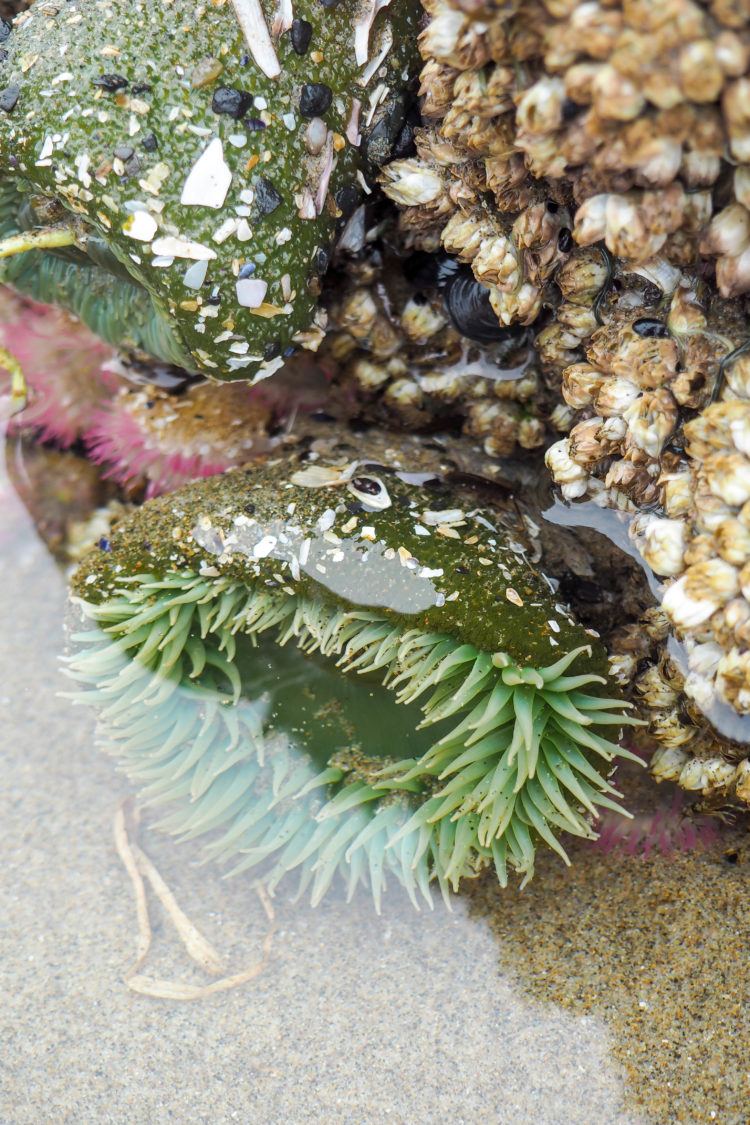 Make sure you check the schedule for low tide and plan your visit around it– you won't see anything (and I mean anything…) during high tide (the tide pools will be filled with water, making them completely inaccessible)! The best time to visit is during a zero or negative low tide (meaning the rocks are exposed), under 1 foot.
4. Half Moon Bay
I'm not gonna get into HMB too much since you can really spend an entire weekend there (and plus, I already have an entire post dedicated to the tiny town).
It's one of our favorite spots between San Francisco and Santa Cruz, so don't worry, I'll list some of my Half Moon Bay favorites below for anyone wanting to make a quick-ish stop. Do note the suggestions below will take up the better portion of the day, so maybe just pick 1-2.
*Sam's Chowder House: Do not miss this spot. I repeat. DO NOT MISS SAM'S CHOWDER HOUSE. Known for their naked lobster rolls and creamy clam chowder, of course, it's the place we take ALL our visitors. The views are phenomenal, so be sure to plan some time here to kick back and relax with some drinks on their outdoor patio (doesn't make sense to come here and sit inside, in my opinion). Our all time favorite restaurant on the coast, as long as it's a clear, sunny day!
Half Moon Bay Jetty (right near Sam's): Yeah, technically it's just a fishing pier, but if you're waiting for a table at Sam's (there's typically a long-ish wait), you may as well take a walk over here! Go to the back of the restaurant, walk down the steps, and voila – the stunning Pacific Ocean! The jetty itself isn't the attraction, but the spectacular views along this stretch of coastline is! And plus, it's less than a 10 minute walk; may as well spend your time waiting for lobster rolls with your feet in the sand!
Farmers Market: If you're visiting Half Moon Bay during the spring and summer months, be sure to check out the farmers market full of a wonderful selection of fresh and local produce. Think flowers, honey, homemade pies, skincare products, pottery, tamales (yes – tamales!), granola, and more. Kinda small, so makes for a quick stop (and plus, the samples!).
Main Street for Shopping and Eating: Check out the numerous galleries, independently owned shops, and quaint little restaurants over on Main Street in Half Moon Bay. The street isn't too long, but it's a great place to stop for an hour to grab lunch on your way from San Francisco to Santa Cruz if you're feeling a bit peckish.
Poplar Beach: There are numerous worthy beaches all along the coast in Half Moon Bay, but we love Poplar the most. We just do. Mavericks (where you can watch the surfers ride thrilling waves) and Miramar come a close second.
*Half Moon Bay Coastal Trail: Soooo, since the entire coastal trail is actually 11.5 miles (one-way!), I have a slight suspicion you won't be walking the entirety of it. We like parking at the Ritz Carlton (there's a free section in the garage for those walking the coastal trail), and walking left on the path from there. You'll come across a beautifully manicured golf course, lots of poppies (and puppies!), and tons of ocean views. One of our favorite ways to spend an afternoon.
*Ritz Carlton HMB: Ohhh, the Ritz. You better believe the fancy hotel chain is all that and more in Half Moon Bay. Visitors are encouraged to come for cocktails and to watch the sunset/indulge in late-night smores at the Ocean Terrace Bar. We had the opportunity to spend the night a few years back (I gushed all about it over here), and we're STILL talking about our dinner at the on-site restaurant. Kinda pricey (c'mon, it is the Ritz), but great to check out even if you're not planning on staying over.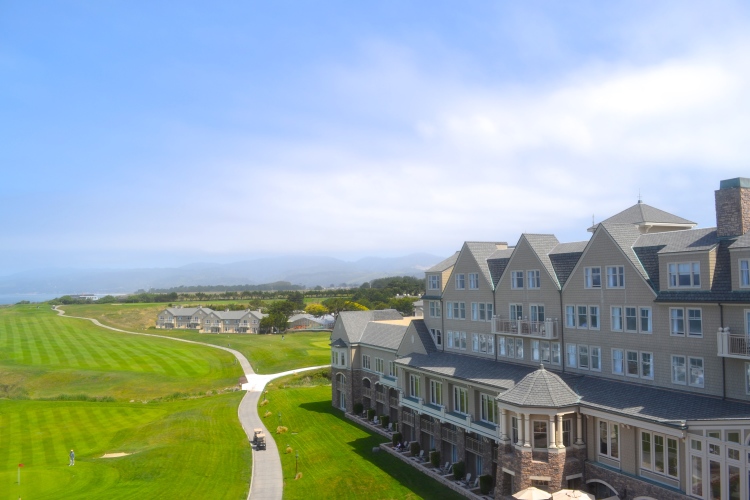 5. Beaches along the Coastline
Yes, the entire drive from San Francisco to Santa Cruz is basically along the coastline, but hey, you can never have too much beach time (especially here in CA).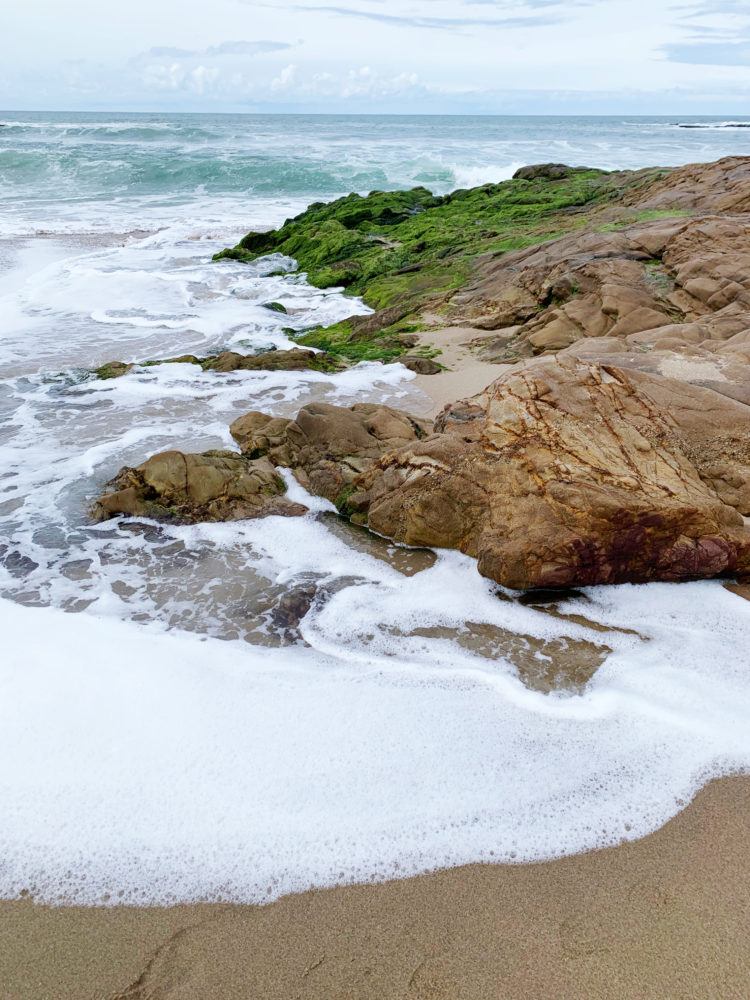 There are plenty of options between Half Moon Bay and the town of Pescadero (my next recommended stop), with some popular ones listed below:
San Gregorio State Beach: A stunning, sandy beach on the mouth of a creek with driftwood and even caves and fossils to explore between the sandstone cliffs. There's a big parking lot and a great spot for picnics on the bluffs above the beach, but do note that it costs $8 to park for the day. And yay, dogs are allowed! Be aware of a nearby clothing-optional beach (called San Gregorio Private Beach). There's a separate privately-owned access point so you shouldn't come across it unless you're specifically looking for it.
Bean Hollow State Beach: Significantly smaller than the others, but hey, dogs are allowed and it's free, so you don't get much better than that! Note that there are zero facilities here, so it's not really the kinda place you stay all day (although fine if you're just cruising by for a bit on your way from SF to Santa Cruz).
Pescadero State Beach: Fishing, driftwood, sunbathing seals, large crabs, and a great place to just watch the world go by crashing on the rocks. And sandy coves to explore! Again, like other spots listed above, this is a great place for tide pooling if you happen to catch the beach at low tide. This is the beach I'd pick if we weren't traveling with a puppy in stow. Yes, it's – free (woo!), but no dogs are allowed.
6. *Arcangeli Grocery Co. (Pescadero)
Please oh please do not pass by Pescadero without stopping at Arcangeli Grocery (also called Norms Market). The second you walk in, you'll smell the locally-famous homemade artichoke garlic bread – grab a loaf or two! The loaves are filled to the brim with huge chunks of artichoke hearts; and trust me, carbs have never tasted so good.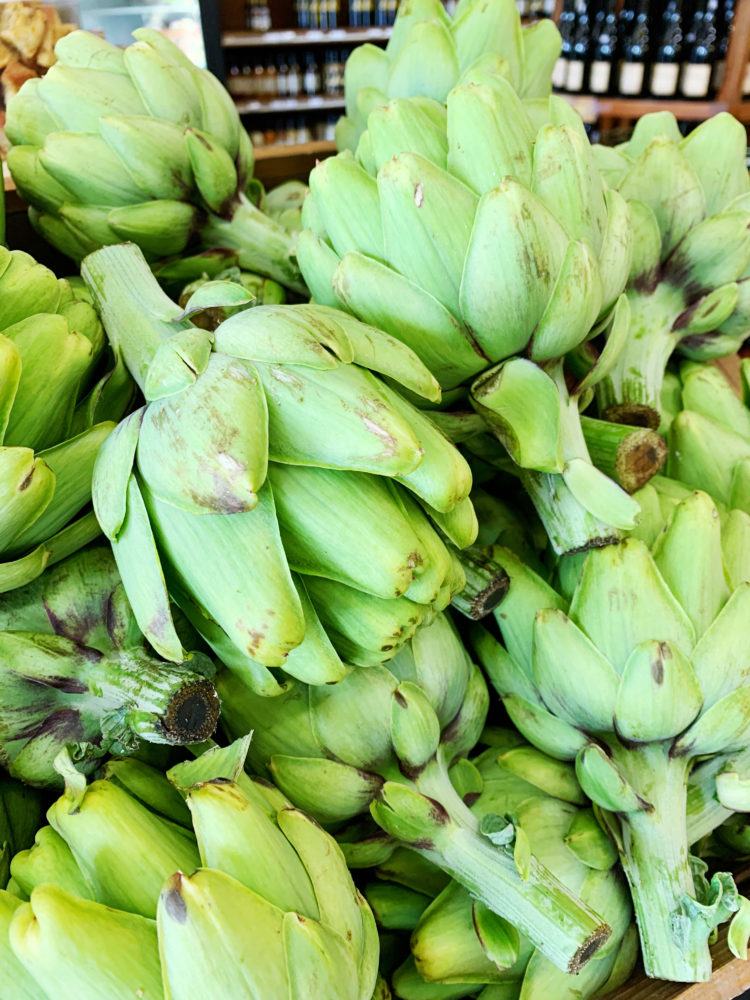 True story – we've driven all the way down to Pescadero just for a loaf (and promptly ate ½ in the car heading home). We're obsessed and I'd go down every weekend if I could.
If you're looking for something with a bit more nourishment, grab some salami and cheese for a DIY picnic, or simply order some freshly-prepared to-go sandwiches from the back.
7. Harley Farms Goat Dairy (Pescadero)
Baby goats and fresh cheese? Don't mind if I do.
Not many dairy farms still make cheese from milk produced on their own farm (this was surprising to me too), but the folks over at Harley Farms absolutely do! The farm shop carries their farmstead cheeses, farm honey (the habanero nectar sounds perfect), chocolate truffles, jams and jellies, and goat-milk scented soaps and lotions. Try the lavender goat cheese, just do it.
Visiting during the early spring (March-April)? Don't miss the baby goats – they're too adorable and oh so much fun to watch! And be sure to check out the llamas over in the barn! Join a guided tour to learn all about the goats and Harley Farms in general (their story is pretty interesting).
If you're lucky, you may even catch a reservation at the occasional farm-to-fork lunch or dinner (although the meals do sell out months and months in advance). The meals are served in the rustic hayloft of the working goat dairy barn, and I've heard the tablescape is downright fantastic. Always and forever on my California bucket list, although kinda pricey at about $200 a head.
8. *Pigeon Point Lighthouse (Pescadero)
You wouldn't wanna miss California's most photographed lighthouse, now would you? Built in 1871 to guide ships on the Pacific Coast of California, it remains the tallest lighthouse on the west coast and is surely a sight to be seen.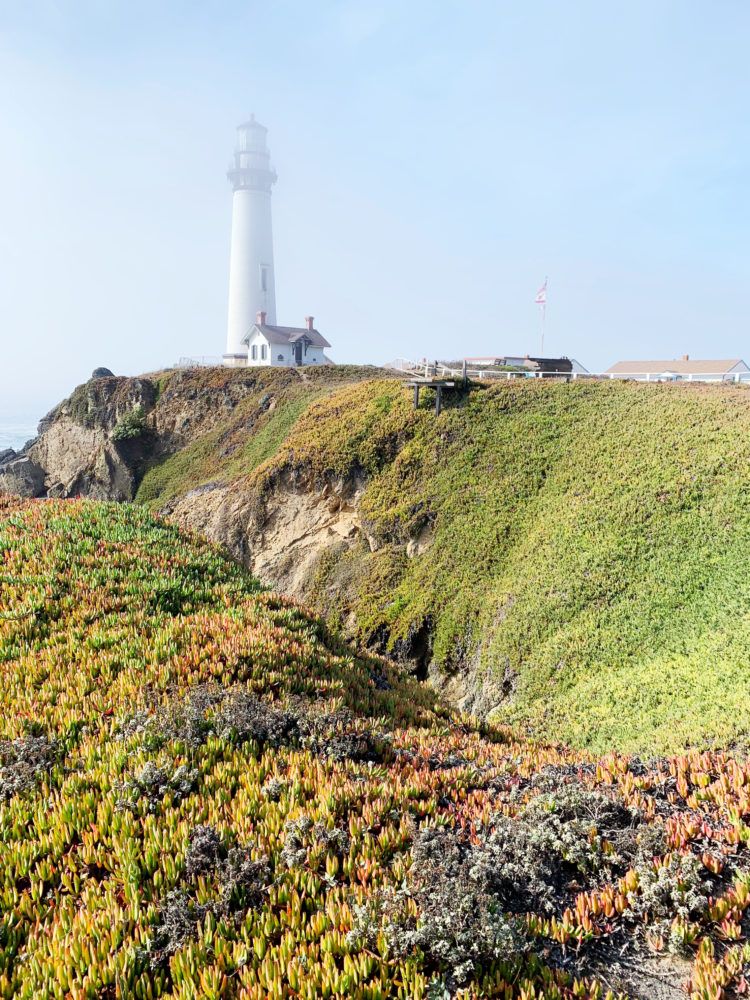 Be sure to walk around the grounds of the lighthouse on the boardwalks and trails, as there are dramatic, picturesque views on all sides! You can sometimes see harbor seals resting/playing on the rocks behind the lighthouse, and definitely look out for whales in the distance in the winter.
Although the lighthouse is still active, do note repairs are starting in Spring/Summer 2020 (possibly later), which will most likely last a few years. Thankfully, you can still visit and see the Fresnel Lens (weighing a whopping 2,000 pounds) temporarily housed at ground level in a nearby building on the grounds (until the tower is repaired)! Just note you cannot go inside the lighthouse at this time.
There's even a hostel located next door to the lighthouse (converted from the old lighthouse staff housing) in case you wanna stay the night (but be sure to book in advance as they fill up).
9. *Pie Ranch (Pescadero)
Riiiiight off the side of the highway, so you literally can't miss it. Here you'll find sustainable and locally grown produce, preserves, fair-trade coffee, local goods, and you guessed it, homemade pies and pastries (#yumm).
The pie menu changes seasonally, and actually each and every day, as items highly depend on what's being grown and picked at that time. And yup, everythings fresh over here, from their lemon buttermilk pie and strawberry tarts to the orange blossom galettes and honey nut oat pies.
Unfortunately, the mini pies usually run out around 1:30pm (or there's super slim pickings), so get there earlier in the day if you really want your choice of pie.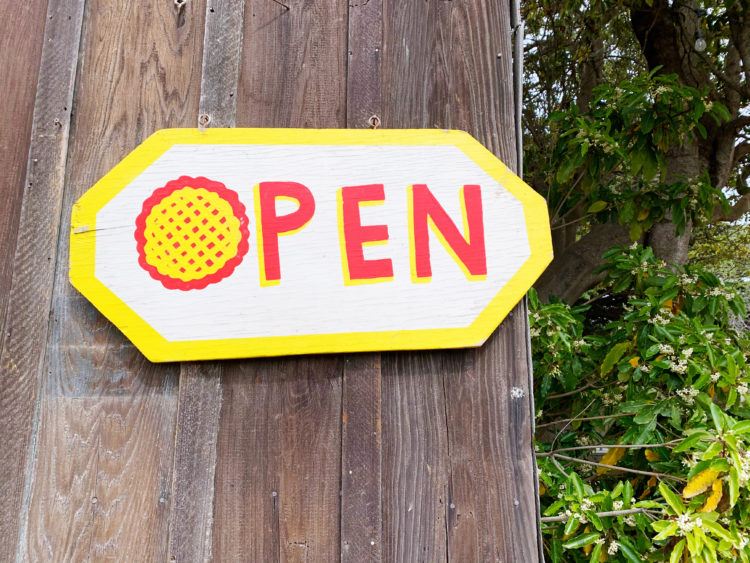 And get this – all profits from the Farmstand go directly into their non-profit educational farm programs. Love this and an even better reason to buy all the pies!
10. *Ano Nuevo State Park (Pescadero)
Yes, Ano Nuevo is a huge state park, but many come simply to see and hear the loud barks of the peculiar-looking elephant seals. And it's a sight to see – Ano Nuevo holds the second largest mainland breeding colony of the northern elephant seal in the world.
What's an elephant seal, you ask? Don't worry, I had never heard of them before moving to California either. Think huge, blubbery mammals with long noses resembling those of elephants, making tons of noise – grunts, snorts, gargles, belches, and squeaks. Don't expect peace and quiet over here!
These ocean giants are massive in size, with males being 14-16 feet long and weighing in up to 2 ½ tons.
If you're visiting the area from December – March, you're in for a treat. Every year during these months, a large colony of elephant seals assemble on the beach to molt and give birth. If you're lucky, you'll see some pups! The park offers docent-guided walks, taking roughly 2 and a half hours and 3-4 miles on varied terrain. However, if you're just taking a day trip to Santa Cruz and wanna see and do all the things, I'd probably choose to skip the seals as they take up a good portion of the day. Save it for another time when you've got more than a day to explore the area.
Other times of year, remember to pick up a free permit from the entrance station, as they are now required to hike to the breeding site in order to protect the animals.
Do note that a state fee applies to enter Ano Nuevo, so just be prepared with a bit of cash. 🙂
11. Swanton Berry Farms (Davenport)
Come for the strawberries, stay for the baked goods and hummingbirds (no really, there's tons of them here). Famous for its soups, locally-made jams, fair trade coffee, and hot apple cider, and by far the BEST strawberry shortcakes, olallieberry cobbler, and berry cheesecakes in the Bay. Buy a few things and have a picnic out front!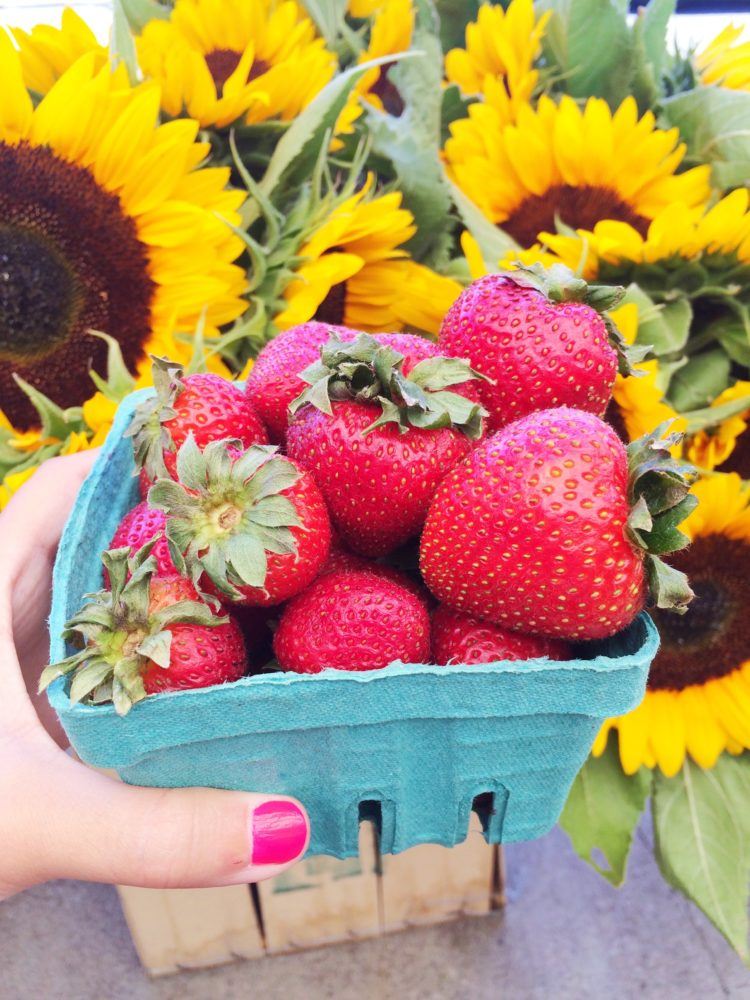 Not only do they sell all the above, but in the late spring/summer months, you can go out into the field and hand pick your own berries. We missed it last summer, but will definitely be going this year. 🙂
12. American Abalone Farms (Davenport)
So, full disclosure – I've actually never been here before. BUT if you're a fan of fresh shellfish (especially oysters and abalone), this is the place for you. I mean, you do get to shuck your own oysters and then eat them, of course.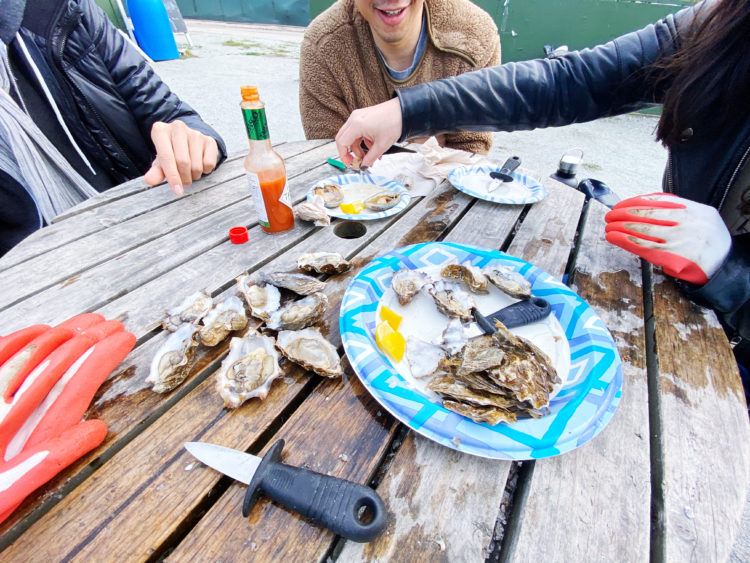 I've heard only but good things about the spot, with friends raving about the fresh fish and an interesting experience with abalone. Kinda bare bones and a tad pricey, but hey – when in Rome!
Hot tip: bring your bottle of wine, as there's a nice deck area to enjoy your food with views of the ocean. Or grab a dozen oysters and head to the beach next door. The epitome of a Californian experience.
13. *Shark Fin Cove (Davenport)
A beach with a rock shaped like a shark fin? Sign me up.
Do note that if you want to get down to the beach, it's pretty steep, so good footwear is recommended (I was wearing sandals at the time so decided not to go down – I'm a pretty clumsy hiker even on a good day). Once you're down at the beach, there's caves and tidepools to explore. However, do NOT attempt to go swimming here; not a safe place for that as rip currents are known over in these parts!
However, if all you do is take a look from the top, it's still worth a quick stop in my opinion (being it's on the way to Santa Cruz and absolutely brilliant). There's a short trail up on the bluffs with views of the beach and the unique rock formation below.
Trust me, you won't realize you get here when you do. It's quite unassuming from the tiny parking area on the side of the street, so be sure to put it in Google Maps. There's no sign for it, so just stop when you see other cars. 🙂
14. Last stop: Santa Cruz!
Woo – you made it all the way from San Francisco to Santa Cruz! And it's either taken you 3 hours or 3 days (with all there is to do along the way), haha.
I won't go into tons of detail since I have an entire post dedicated solely to Santa Cruz, but here are my favorites in town:
Penny Ice Creamery: Homemade artisanal ice cream made from scratch in-house. The flavors change with the seasons, and feature locally farmed and organic ingredients. Get the gingersnap ice cream (if it's available), and always add the marshmallow fluff on top (what they're famous for!)! Try both Marianne's (listed below) and Penny's, and compare (never enough ice cream in my opinion).
Marianne's Ice Cream: Kinda an institution over in these parts (don't worry, the line moves fast). Don't leave Santa Cruz without a few scoops from this old fashioned ice cream shop; not hard to do considering there's over 105 flavors to choose from. Think pistachio cardamom, oatmeal raisin cookie dough, snickerdoodle cookie, and German chocolate. Samples are highly encouraged! Psst – 1. portions are large and 2. it's cash only, so bring a few bucks.
Santa Cruz Beach Boardwalk: Now this is what Santa Cruz is typically known for. I mean, a kitschy amusement park right on a mile-long stretch of sandy beach? The tackiness just adds to the fun – trust me. It's free to walk the boardwalk, but of course the rides and snacks cost a pretty penny. Don't miss the famous Giant Dipper, the indoor arcade, the taffy, and of course a long stroll on the beach. You can't forget some cotton candy and/or a corn dog, preferably once you're done riding the coaster. One of our favorite spots to lounge around in the summer.
Natural Bridges Monarch Trail: Interested in seeing the great migration of the monarch butterflies? Santa Cruz is an excellent spot! There are thousands and thousands of the orange and black beauties flying around and clustering together high up in the eucalyptus trees. Note that unless you've got a pretty heavy duty zoom lens, the butterflies are too far away to photograph, so put your phone down and take in this magical experience with your bare eyes. While butterflies are only seen from October to January (as they migrate south in the warmer months), the trail is open all year long and is beautiful in and of itself (butterflies or not).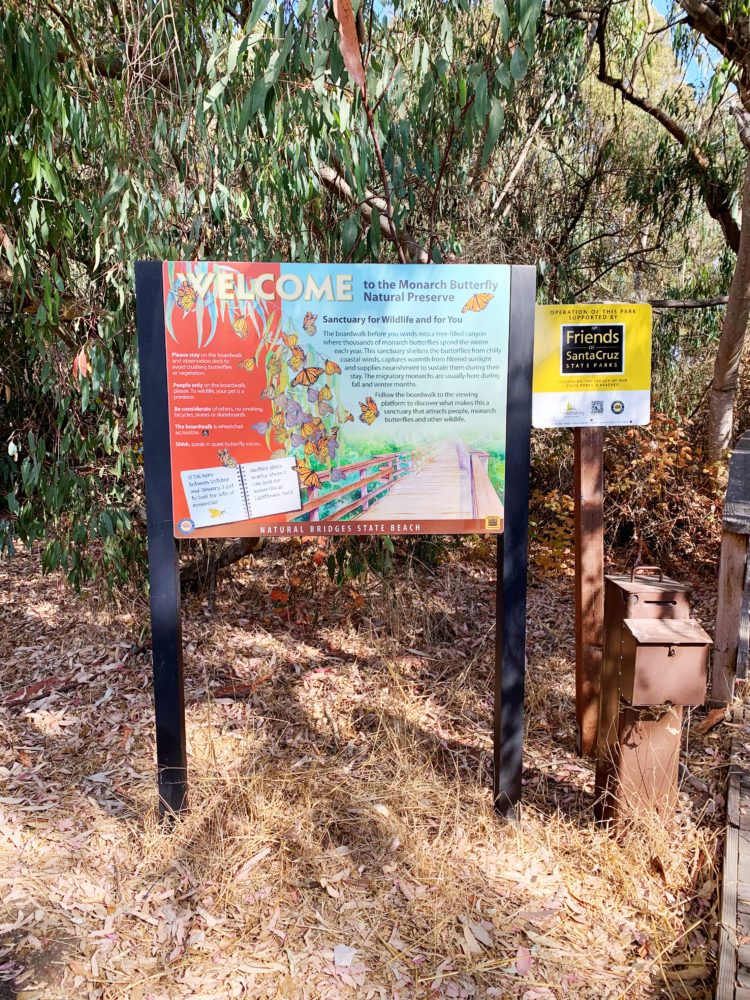 Take a walk/drive on West Cliff Drive: If you're looking to take a scenic stroll, West Cliff Drive's your best bet. On my most recent day trip to Santa Cruz, this was quite possibly my favorite spot! Expect stunning views of the Monterey Bay, a surfer statue, Lighthouse Point, and tons of bike/walking paths. Be on the lookout for whales and dolphins as they're frequently spotted off the shore. Although the entire path is a full 3 miles, you don't have to walk the entire way – park and meader around for a bit.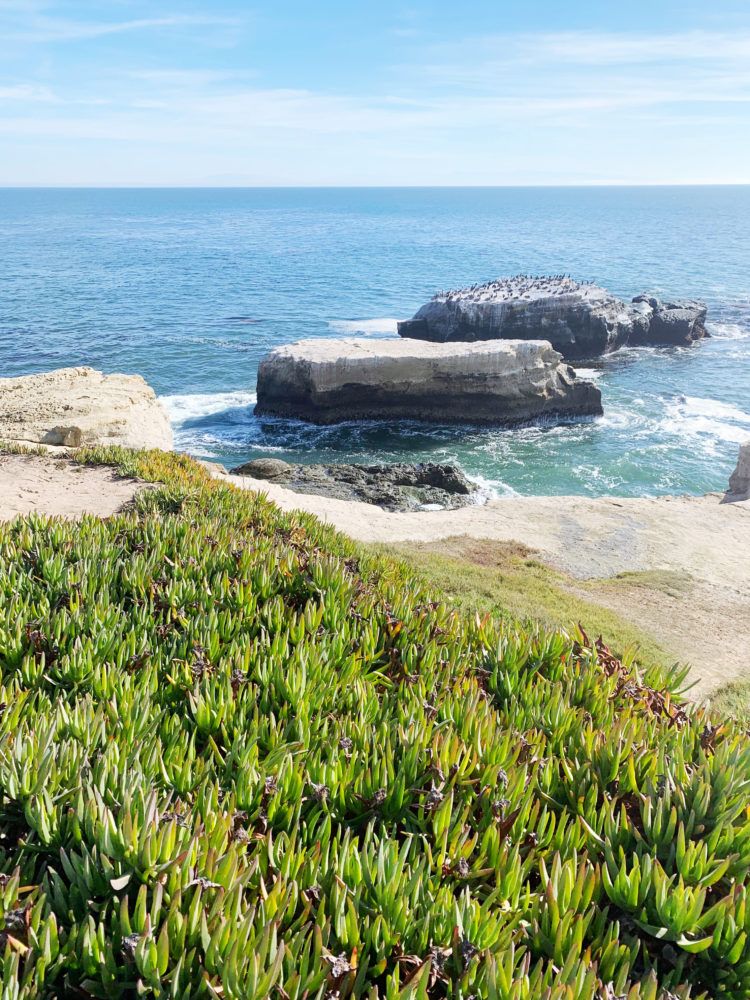 Are you headed from San Francisco to Santa Cruz soon? What are you most excited about on your day trip to Santa Cruz?!
Looking for more California content? Explore my other California guides here!
Did you know that …
When you purchase something through our links, we earn a small fee (but you still pay the same)! Win-win! If you found this article useful, consider using the links within the article or below. Thanks for your support!