Headed off to Hawaii and looking for the perfect Oahu itinerary? Keep reading for a fun-filled 5 days in Oahu, which will cover everything you need to know and then some! Soft sandy beaches, that cool island breeze, and of course a few mai tais await! Pack your bags, we're off to Oahu!
Ohhh — Hawaii. A place we love and frequent quite often. I mean, how could we not living so close by in San Francisco (ok, so it is a 5 hour flight, but who's counting).
Oahu is the most touristy island in Hawaii (and also the most visited!), but we still love it! It's a complete island paradise full of over 125 beaches, famous world-class surf, the bustling city of Honolulu, and a unique Polynesian history. From the waterfalls, snorkeling, and waves to hip nightlife, trendy eats, and modern shopping, we just can't get enough of the third largest island in Hawaii.
The island is home to the state's capital and largest city, Honolulu. Because of this, Oahu is a blend of buzzy city life and beachy island oasis. Don't miss the North Shore — we love it up there! There's truly something for everyone — super soft sand, delicious malasadas, easy (and strenuous) hiking opportunities, and action-packed adventures for those thrill-seekers.
You'll see after reading through this Oahu itinerary that it's nearly impossible to get bored here. And if you're a photographer or just love getting fun IG pics, don't miss out on these Oahu photo spots! The island is oh so colorful — I had such a hard time putting my camera away!
Yes, we love Maui the most, but Oahu will always be memorable to us (for a few reasons!). We spent my 30th birthday skydiving on the north shore (STILL cannot believe we did that), and my husband even ran his first-ever Hawaiian marathon on Oahu (he's since ran marathons on Kauai and Maui)! Me? I don't run, I just welcome him at the finish line with malasadas.
→ Read Next: The Ultimate Hawaii Bucket List (with over 200 things to do on the islands!)
So what are you waiting for? Grab a mai tai and let's dig in! I've got a full Oahu itinerary planned out, plus all the logistics you need to plan your trip.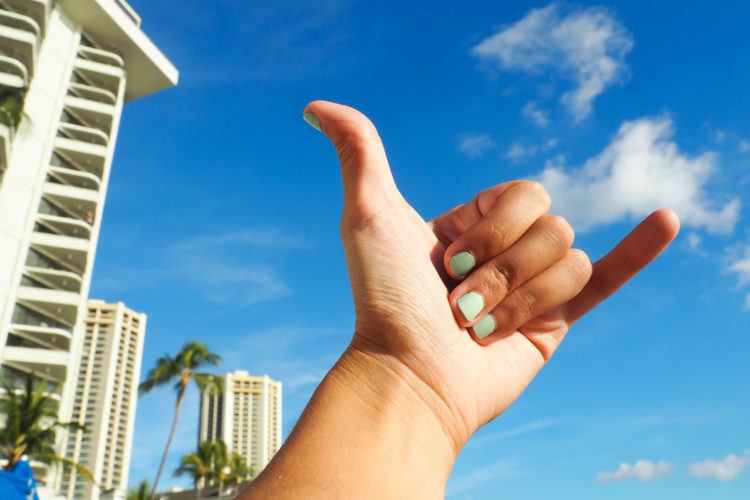 Oahu Itinerary in a Nutshell
Day 1: Pearl Harbor + Honolulu
Day 2: Diamond Head + Waikiki
Day 3: Hanauma Bay Snorkeling + Southeast Oahu
Day 4: Pillbox Hike + Lanikai Beach + More
Day 5: North Shore + Dole Plantation
About this Oahu Itinerary: You can easily change around any of the days (for example, day 2 of this Oahu itinerary on your actual day 4, etc), as there's not really a rhyme or reason why I chose this specific order. I did however (carefully) group each day's activities, so you'll wanna keep those together for less driving and maximum island time. 🙂
Island Hopping in Hawaii: Planning on doing some island hopping? Check out these additional resources:
Where is Oahu?
Oahu is one of the main islands of Hawaii, located in the middle of the Pacific Ocean. It's the second farthest from the mainland, between the islands of Kauai (the farthest) and Maui/Molokai.
Everyone always talks about Honolulu and Waikiki, and yup — those are both on the island of Oahu!
Logistics for your 5 Day Oahu Itinerary
How to Get to Oahu
Oahu is in fact an island, so you'll obviously need to fly there! When you fly into Oahu, you'll be heading into Honolulu International Airport (code HNL). Make sure to look out the window as you arrive — the turquoise waters will blow you away before you even touch land!
Thankfully, there's tons of nonstop flights from the mainland headed to Honolulu International, Hawaii's largest airport. And because of this, you may be able to find slightly cheaper tickets than to the neighboring islands of Maui and Kauai.
Flight Time: No matter where you're coming from, it'll take a while to get to Hawaii (flying across the Pacific takes time!)
Flights from SFO (San Francisco) to Oahu are roughly 5 hours, 20 minutes, with the flight from LAX (Los Angeles) being slightly longer at 5 hours, 40 minutes.
Obviously, if you're coming from elsewhere on the mainland, flight times will vary!
Psst → the flight home will always be at least an hour shorter due to wind patterns.
Flight Prices: I normally find flights from the West Coast to Hawaii for approximately $450, although I've seen them offered as low as in the $300's roundtrip.
And now with nonstops from Southwest in the picture, I can sometimes find flights from SFO to Honolulu for as low as $200 round trip. If you ever see one of those babies, snag them right up (they don't stay around for long).
Should you stop on the West Coast of the mainland first? Well, that's entirely up to you, but I'd highly recommend it! Not only will you possibly save a few pennies on the flights, but you can spend a few days in California (while adjusting to the West Coast time zone, ultimately helping with jet lag in Hawaii) and get two trips outta one!
How to Get Around Oahu
If you're just planning on staying within the city (Honolulu), you can easily get by with walking and taking the trolley.
BUT — don't spend all your time in Honolulu! Promise me you'll venture out to other parts of the island! Doing so means you'll need to get around some other way.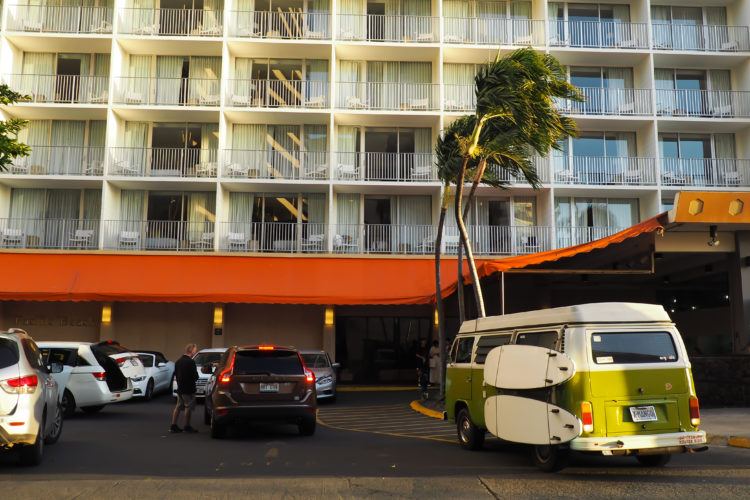 If you plan to explore the North Shore (a must), relax at Lanikai Beach, and/or watch the sunset at the Tantalus Lookout (our favorite) with ease, public transport just won't cut it. Planning on following this Oahu itinerary? You'll undoubtedly need to rent a car.
Renting a Car:
Most people who come to Oahu rent a car. The island is pretty spread out (besides the bustling city of Honolulu), so you'll want an easy way to get around. Driving in Oahu is easy, although you will experience some traffic in the busier tourist seasons and during morning and evening rush hour. Remember – people live here, meaning people go to work each and every day!
There's tons of rental car agencies with pickups directly at the airport. Do note that parking can be somewhat of an issue in Honolulu, so you'll wanna make sure your hotel has a spot/lot for you.
→ I like to search via this site in order to compare rental companies to see who has the best price. Feeling a bit extra? Splurge on a convertible or an open-air jeep – this is Hawaii afterall! Treat yo-self!
Public Transportation on Oahu:
The Bus: Thankfully, Oahu has an excellent bus system, aptly named "The Bus"! Couldn't be easier than that, right? Although it mostly services Honolulu (so yes, Waikiki's included), the bus system has lines extending out to almost every major town on the island. HOWEVER, it'll take ridiculously longer to get from place to place using The Bus vs. your own rental car.
And just to note, some bus stops only see buses once an hour on Sundays, holidays, and in less traveled areas. With that being said, if you don't wanna rely on the bus (and possibly wait around for an hour), just rent a car.
One way fares are $2.75, while a 1-day pass will put you back $5.50.
Waikiki Trolley: Hands up if you like an easy hop-on, hop-off bus! If you're looking for a super easy way to see oh so much of the city, the Waikiki Trolley might just be perfect for you. The Trolley can also take you to other spots like Pearl Harbor, Diamond Head, and Ala Moana. Some bus lines can get crowded though, so you may have to wait for the next bus (wasting precious vacation time).
Ride Shares on Oahu: Yes, Uber and Lyft have made their way to Honolulu! If you're not renting a car, I recommend using Uber or Lyft to get you from the airport to your hotel. In addition, do note that Uber/Lyfts are typically not available in every part of the island, only the more touristy areas. Plan to use it for short trips around Honolulu, but don't rely on it for longer rides.
When to Visit Oahu: Crowds and Weather
It's honestly never a bad time to plan an Oahu itinerary — the island has a year-round tropical climate afterall! Meaning, the weather's pretty much almost perfect all the time. Temps range from 80°F during the coldest months, while the warmest months don't go past ~88°F or so. See, I told you — pretty darn perfect!
Expect temps to be a tad chillier at night once the sun goes down. Nothing a light jacket can't fix!
But with all this being said, Oahu does have two distinct seasons: rainy season (winter) and dry season (summer). Don't worry — both are warm and tropical, but if you HATE the rain (like me), stay away from the rainy season. It can rain any time of year, but it's way more wet and windy in the winter. But it doesn't rain every day (or all day, either), so you'll still get lots of sunny, dry days in winter.
Surprisingly, despite the rain, the highest tourist season is during the winter! Must be because everyone's looking for a little respite from their actual freezing/snowy winter on the mainland.
If I had to pick when to visit Oahu, I'd choose the shoulder seasons of mid-April to early June or between September and mid-December. You'll likely be able to find some deals on airfare and hotel rates, it'll be way less crowded (although, when is Hawaii not crowded?), and there's lots of fun local festivals going on!
A little more in-depth here:
Winter: Rainy Season (November to March) — While winter is considered the rainy season, it thankfully doesn't rain every single day. Sometimes there's short spurts of rain (and then sunshine and rainbows), while other days it might rain heavily for an extended amount of time.
If you don't want rain, stay away from December through February, as it's the rainiest time (although the rain typically falls overnight). Mid January through mid-April has the coldest ocean temps, so just be aware if you plan to do some snorkeling.
Summer: Dry Season (April to October) — Summer is dry season, with June through August being the driest (no rain over here!). You'll find the warmest ocean temps in August through early November, so forget about that wetsuit!
Microclimates: Regardless of the season, you won't find rain on the entire island. Like San Francisco, Oahu has microclimates, meaning different areas of the island experience different rain patterns and weather. If it's raining where you're at, it might make sense to head to the other coast to escape the rain! In general, it's typically drier on the Leeward Coast (west) and wetter and greener on the Windward Coast (east).
Where to Stay in Oahu
Oahu is divided into a few main regions, being Honolulu/Waikiki, the North Shore, Leeward Coast, Central Oahu, and Windward Coast. Visitors primarily stay in Waikiki, the Leeward Coast, or the North Shore.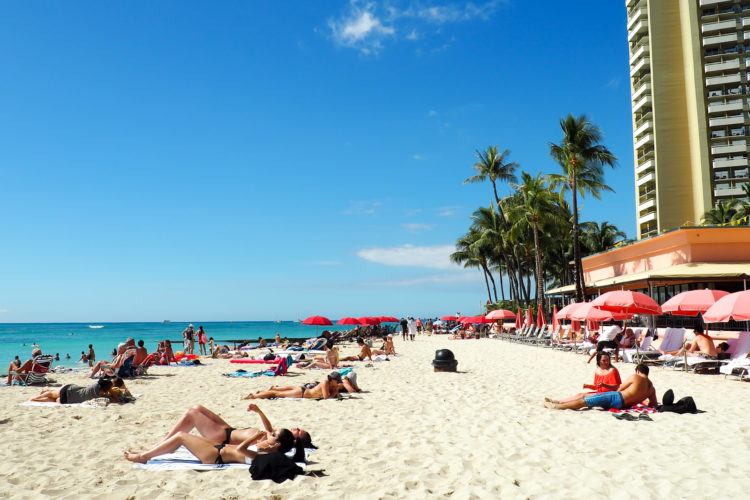 Waikiki
Most of the island's hotel rooms are found in Waikiki (Honolulu), so naturally, that's where most visitors book when planning their Oahu itinerary! However, like any big tourist city, there's both pros and cons of staying here:
Pros of staying in Waikiki:
There's lots to do here! Beaches, museums, historic and cultural sites, animal attractions, etc. Lots of shopping and tons of restaurants, too!
You don't need a car to explore Waikiki and most of the city is pretty walkable! There's even shuttles from the airport right to Waikiki.
Hotel prices are competitive and you may be able to snag a cheap hotel room. Since this is a city with tons of hotels, there's more to choose from.
Getting around is easy with the trolley and TheBus.
Cons of staying in Waikiki:
It's super crowded, especially on the beach. And yes, this also means there's lots of traffic while driving in the area as well.
Parking fees at the resorts in Waikiki are astronomical — some even charge as much as $45 per day to park overnight.
You might end up staying in the city your whole 5 days in Oahu, instead of feeling like you had a truly relaxing beach vacation.
Most of the beach resorts in Waikiki charge a daily resort fee, adding to the overall nightly expense. Be sure to look out for these before booking! The Outrigger Waikiki Beach Resort is actually one of the only beach resorts that doesn't charge this pesky fee.
Recommended Hotels in Waikiki
The Royal Hawaiian: Have you ever seen photos of an iconic pink hotel right on the water in Oahu? That's this one! It's even been nicknamed the Pink Palace of the Pacific — and it's easy to see why! Although we've never stayed, we've wandered the grounds, snuck a peek at the (gorgeous) pool area, had a few mai tais at the bar, and even indulged in pineapple scones for breakfast one morning. To say we're dying to stay here is a massive understatement! It's a little pricey so would make for a perfect birthday or anniversary trip!
The Laylow, Autograph Collection: What's better than a chic hotel with a mid-century vintage Hawaiian vibe?! Spoiler alert — not much. The place is super trendy and I've heard the on-site bar/restaurant, The Hideout, is amazing! I've been wanting to stay here as soon as it opened. Can you blame me?
The Modern Honolulu: Another trendy hotel right on the waterfront with a cool retro and modern vibe at the same time. I wanna stay here to check out the sleek rooms!
Surfjack Hotel & Swim Club: A mid priced island-chic designer boutique that's actually one of Waikiki's most popular places to stay. Surfjack really plays up the 1960's Hawaiian beach culture. Plus, the pool is super fun and Olive & Oliver (located within the hotel) serves up great coffee and is 100% instagrammable!
Sheraton Waikiki: Your standard chain hotel, taken up a few notches! The Sheraton's located right on Waikiki Beach, has three restaurants, a spa, and a gorgeous infinity pool (plus another with a waterslide!!!). All in all, a great location and stay.
Moana Surfrider: Being the oldest hotel in Waikiki (open since 1901!), Moana Surfrider definitely deserves a spot on this list. Perfect location and I'd definitely pay a bit more for an oceanview!
A Note on AirBnbs in Waikiki (and Oahu in General)
We used to LOVE staying in AirBnbs — up until kinda recently honestly. For quite a few reasons, actually:
The fees have become astronomical. A cleaning fee. A host fee. A myriad of other fees. Once you add them all up, that inexpensive Airbnb stay isn't so cheap anymore. I've seen stays double in price due to fees.
Super confusing cancellation policies. Just look at the policies — they're all so wacky and extra confusing! In this day and age, we only book accommodation we can cancel super easily without penalties. I've even messaged Airbnb hosts to confirm cancellation polices (which seemed too good to be true) and they've said the ones on their page are not correct? Hmm… that sounds super tricky to me and not something I wanna deal with in case I do need to cancel.
Managed by non-locals. Most (not all) Oahu Airbnb properties are managed by people on the mainland — not Hawaii itself. This means you're not supporting the Hawaiian economy, but those with additional properties who don't even live in Hawaii.
With all this being said, I recommend staying in a hotel instead. This is what we've been doing for all our recent trips. By doing so, you're actually supporting the local economy! Think of all the locals who work in hotels — from the management and front desk staff to the cleaning staff and kitchen staff. These people rely on jobs in Oahu itself.
If you do feel the need to book an AirBnb (I get it, sometimes it's the better choice for you and your family), PLEASE find a property that is managed by a local on the island itself. Thank you. ?
Other Places to Stay in Oahu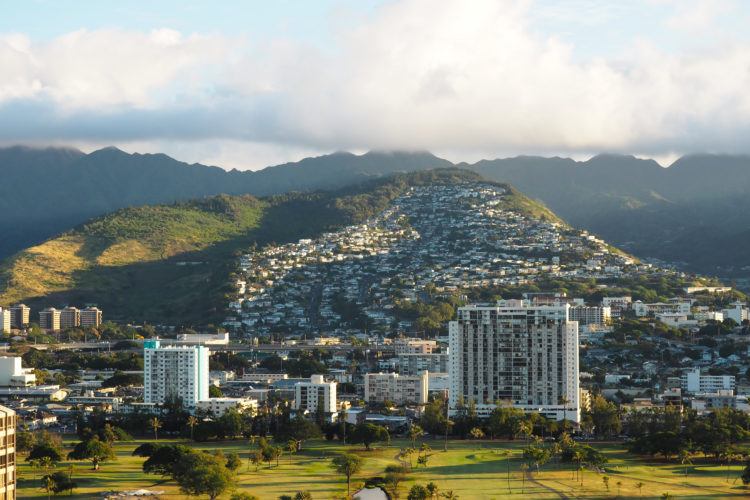 West Side of Oahu (Leeward Coast): Found on the western coast of Oahu, you're going to find sunnier and drier weather than other parts of the island. If you're looking to sunbathe and improve your tan, this is the place for you.
Recommended hotels: Four Seasons Resort at Ko Olina (one of the best luxury resorts in all of Hawaii), Marriott's Ko Olina Beach Club (poolside bar, anyone?!), and of course we can't forget the Aulani, A Disney Resort & Spa in Ko Olina (absolutely amazing for families with kids!).
North Coast: Oahu's chilled out surf town, with laid back vibes and pristine beaches. This scenic area is much quieter than bustling Waikiki, so consider a stay here if you're looking to slow down a little.
Recommended hotels: There's not tons of options here, but the Turtle Bay Resort is great for couples looking for a truly relaxing getaway, and I've heard the Courtyard by Marriott North Shore is a great pick as well (come for the lagoon-style pool, stay for the modern amenities).
Oahu Packing List
When packing for your trip, you wanna make sure you've got all the right clothing and gear for everything you've planned for your Oahu itinerary. Think about the activities you'll be doing, and prepare for those!
Everyone will need their typical everyday clothing (shorts, t-shirts, tank tops, etc). A few pairs of shoes is a good idea — I recommend bringing a pair of flip flops, sandals, dressy shoes (for a nice dinner out), and sneakers/hiking boots if you're planning on doing some hiking.
Women's Packing List: You'll obviously need all your favorite beach attire, including bathing suits (buy a few new ones!), beach cover-ups, loose cotton dresses, a cute sun hat, casual and dressy sandals,
Psst: Women — If you're planning on taking a surf lesson, be sure to pack a bathing suit that stays put and has good support. You don't wanna fall out if you accidentally wipe out! :p
Men's Packing List: Be cool and casual during the day (my husband loves short sleeve button downs for a more polished look), but be sure to check the dress code for any restaurants you really wanna go to. Men might need pants and dress shoes to enter.
Other Miscellaneous Items to Pack for Oahu
Other Important Things to Keep in Mind
Never take shells or sand home: You may be surprised, but it's actually against state law to take sand from any beach in Hawaii. Leave the sand at the beach for everyone to enjoy. If you don't abide by the laws, you could see a hefty fine of upwards of $100,000. Yup — they're serious over here. And while you're at it, don't bring home any shells or rocks either.
Respect wildlife: Like in Maui, PLEASE keep wildlife WILD. NEVER attempt to chase/touch/pet/feed ANY wild animal. This can potentially do harm to these beloved creatures, and possibly cause unnecessary distress. And remember, always wear reef-safe sunscreen.
Respect the local culture: It comes as no surprise that the majority of Hawaii's diverse population lives on Oahu. The locals take great pride in their deep culture, values, and traditions of the Native Hawaiian people. A real fusion of East and West cultures. Respect it.
Forgo the straw and plastic bag: Hawaii is leading the way in becoming more self-sustaining. Do your part and don't make it any harder for them. This means use less throw-away plastics (better for sea life anyways), don't waste water, and recycle the best you can. The islands will love you for it!
Oahu vs. Honolulu vs. Waikiki
Just to make sure we're all on the same page, as mentioned before, Honolulu and Waikiki are located on Oahu. And Waikiki is actually part of Honolulu! To make things super simple (because I understand it can get confusing if you haven't been to the island before):
Honolulu is a city on Oahu
Waikiki is a beachfront neighborhood within the city of Honolulu
Kinda like how San Francisco is a city in California and The Mission is a neighborhood in San Francisco! 🙂 Or for all you East Coasters out there, how like NYC is a city in New York and the Upper East Side is a neighborhood in NYC. 🙂
5 Day Oahu Itinerary
Day 1: Pearl Harbor and Downtown Honolulu
Morning: Pay Your Respects at Pearl Harbor
You simply cannot visit Honolulu without paying your respects at Pearl Harbor. It's easily Hawaii's top tourist attraction, with millions of people visiting each year! Make sure to add Pearl Harbor to your Oahu itinerary — it'll be somber yet beautiful for sure.
What's the significance of Pearl Harbor you ask? I'm sure you heard of it, but don't worry — we're not all history majors (I probably should have paid better attention in US History class).
Pearl Harbor was the scene of the devastating Japanese air attack on December 7, 1941, which catapulted the US into World War II. More than 2,400 Americans died on this day, while another 1,000 were wounded. I highly recommend you take the time to visit this historical Hawaiian naval base; granted, your visit will undoubtedly be a heavy one. Visit the landmarks and memorials, and be sure to soak in a bit of history.
Most people probably don't realize this, but there's actually four Historic Sites of Pearl Harbor open for visitors. It's way more than just the memorial above the sunken ship of the USS Arizona.
USS Arizona Memorial
USS Bowfin submarine
Battleship Missouri Memorial
USS Oklahoma Memorial and Pacific Aviation Museum
However, if you don't have 6 hours or so, you'll wanna prioritize the USS Arizona Memorial (the most popular memorial at Pearl Harbor).
Look below the water's surface and you'll be able to see the rusty USS Arizona — yes, the actual ship from the 40s is still at the bottom of the harbor. You may even see droplets of oil leaking out of the ship — we saw swirls of oil and honestly couldn't believe it. There's also a room in the back dedicated to those who lost their lives on the USS Arizona, with names engraved.
Wanna make sure you don't miss out on any important history? Sign up for a narrated audio tour of Pearl Harbor here! Or, if you want to combine Pearl Harbor with a tour around the island, this Oahu and Pearl Harbor Sightseeing Tour may be just perfect for you.
A few important tips:
Go early. The earlier the better. Pearl Harbor gets especially crowded on weekends and during prime tourist season.
Dress with respect. Remember, this is in fact a memorial. Leave the skimpy skirts and tops at home. Don't even think about wearing a bikini here. You don't have to dress formal per say, just be tasteful. You're not going to the beach.
Leave your things in the car/hotel. When visiting Pearl Harbor, you'll need to go through security, and you cannot bring any bags with you.
Afternoon: Downtown Honolulu
Next up, spend some time in and around downtown Honolulu! This is where you'll find all those skyscrapers and the lavish Iolani Palace. Downtown Honolulu is Oahu's bustling political and business hub, but don't fret → there's actually lots to see! My top recommendations (all easily walkable):
Arvo Cafe for Brunch/Lunch: Ohhh, we love this cute little plant-filled coffee shop! Don't miss the loaded avocado toast, halloumi burger, a lavender latte, and some fresh squeezed OJ! Make sure to go here first thing after Pearl Harbor since they close at 2pm.
Walk Around Kakaako and Look for Street Art: There's a whole bunch of murals in this hip little area, with many claiming Kakaako to be Honolulu's trendiest district. The murals get refreshed during the Pow Wow Street Art Festival every February, so you never know what you'll find! We loved wandering around finding all the colors and taking fun photos!
Iolani Palace and King Kamehameha Statue: Opulent, grand, and spectacularly unique. Iolani Palace is the former home of the 19th century monarch, with a museum and optional tours. Learn all about the life of the King and Hawaiian history in general. A must-do on this Oahu itinerary for history lovers! Don't miss the King Kamehameha Statue (featured in Hawaii 5-0!) right across the street.
Aloha Tower and Marketplace: Head up to the 10th floor observation deck (for free!) for perfect views of Honolulu Harbor and the Ko'olau Mountain Range. The building actually used to be a lighthouse. You can have your first acai or shave ice here at HItalian (highly recommended).
Washington Place: More history here (built in 1847), and home to Hawaii's rulers, past and present. Starting with Queen Lili'uokalani, and now the official residence of the state's governor. Free tours are offered, but even just a look outside at the colonial mansion is worth a few minutes!
Foster Botanical Garden: Who doesn't love a botanical garden? It's small, but a great respite from the busy city! Relax and enjoy the sounds of nature, and check out the Cannonball Tree and rainbow eucalyptus (a must if you're not visiting the Road to Hana on Maui)!
Other things to do in Downtown Honolulu:
The Friends of Falls of Clyde (Maritime Museum)
The Cathedral of St. Andrew (Episcopal Church with stained glass windows)
Point Panic (great ocean views)
Kuan Yin Temple (Buddhist temple with beautiful gardens)
Eternal Flame Memorial (dedication to the people of Hawaii that have served in the US Armed Forces)
Night: Waikiki Sunset Cruise
It's your first day of this Oahu itinerary — don't miss your first Hawaiian sunset! Psst: they're absolutely remarkable. And seeing the sunset from the water with the gentle rocking of the boat is oh so relaxing!
Unless you've got a friend with a boat (ha!), you'll need to book yourself on a tour. I highly recommend this Sunset Cocktail Boat Cruise (who doesn't like hanging out on a 53-foot catamaran?!).
Savor freshly prepared "pupus" (appetizers) like avocado poke and taro rolls with lilikoi butter (yummm) and sip on tropical Hawaiian cocktails, all while admiring Hawaii's beautiful coastline. Book sunset cruise here.
Grab dinner afterwards in Waikiki. Some of our favorite spots:
Marukame Udon (always a long line but well worth the wait for these Japanese noodles)
Roy's (for a bomb ass special occasion dinner – get the lilikoi cheesecake, always)
Dukes Waikiki (come for the fish tacos, stay for the hula pie, and sit in the sand)
Chef Chai (for some top-notch Asian Fusion)
Yard House (a high-end sports bar with lots of beers on tap)
Paia Fish Market Waikiki (the BEST fish tacos on the island)
Day 2: Diamond Head Hike and Waikiki Beach
Morning: Diamond Head Crater Hike
Does climbing up an extinct Hawaiian volcanic crater sound like your kinda morning? You're in luck, because we're headed off to Diamond Head, the world's most famous crater. Honestly, even if you're more of a "lay-on-the-beach-sip-mai-tai's" kinda girl (or guy!), get your butt up and do it anyways. :p
You'll thank me once you reach the summit — all your huffing and puffing will be rewarded with panoramic 360-degree views of Waikiki Beach and all of Honolulu. The views are downright STUNNING (think emerald green mountains against sparkling aquamarine water), making for the perfect early morning adventure before hitting the beach.
Although the hike is only about 1.6 miles round trip, you'll find lots of windy, rocky, uneven and narrow trails. Oh, and expect some steep stairs as well. Makes sense – you're climbing up 500 feet to the top of a crater!
If you'd feel more confident with a guide, don't fret! You can easily join a Diamond Head Crater Morning Adventure Hike. You'll even learn about Hawaiian history, volcanic formation, and bird and plant species from your guide. The tour is super highly rated and you'll be done before lunch time! Read reviews and book guided hike here.
Plan for about 2-3 hours, depending on how much time you want at the top and how skilled of a hiker you are. Definitely start early — you'll avoid the lines and crowds on the stairs (it gets busy and the stairs are narrow).
Make sure to take lots of water (and a hat and sunscreen)– the sun is strong here! While it's a super popular hike and honestly not all that difficult (even with all the stairs), it can be taxing in the heat. I didn't hydrate nearly enough and honestly almost passed out!
→ Note the entrance fee is $5 per car or $1 per individual walk-in — all paid in cash.
Afternoon: Beach and Explore Waikiki
After that early morning hike, fuel up with some acai at da Cove Health Bar and Cafe. If you need something with a bit more substance (or just wanna try all the things), head to Rainbow Drive-In for a Hawaiian plate lunch!
Finally — beach time! Waikiki Beach is one of the most famous beaches in all of Hawaii, and for good reason! 2 miles of soft, white sand, alongside the highrises and backed by palms, make up one of the busiest and most cosmopolitan areas on Oahu. There's parasailing, boogie boarding, surfing, canoeing, and lots of people watching over here! Or find some sand and just relax with a good book.
Once you've had enough of the beach, go for some mai tais at The Royal Hawaiian (our favorite spot!), grab some banana ice cream in a papaya boat at Banan, get a shave ice or two at Waiola Shave Ice, and pose for a pic with the Duke Kahanamoku statue (he's only "the father of modern surfing", so, no big deal). :p
But whatever you do, don't miss indulging in a few malasadas at Leonard's Bakery. From passionfruit to custard, I always suggest you order a plain glazed, the macadamia nut (my personal fave), a chocolate filled, and one flavor of the day. We've been to Oahu more times than I can count, and still dream about the Portuguese donuts once we're back home in San Francisco. We've even toyed with the idea of shipping a box to our house!
Night: Tantalus Lookout for Sunset
Head up to Tantalus Lookout at Puu Ualakaa State Park for sunset! It's quite the panoramic show and only about 15 minutes from Waikiki. You can even see striking views of Diamond Head and the Waikiki skyline. Come a bit early (the parking lot isn't huge), set up a blanket on the grassy lawn, and watch the sky change colors.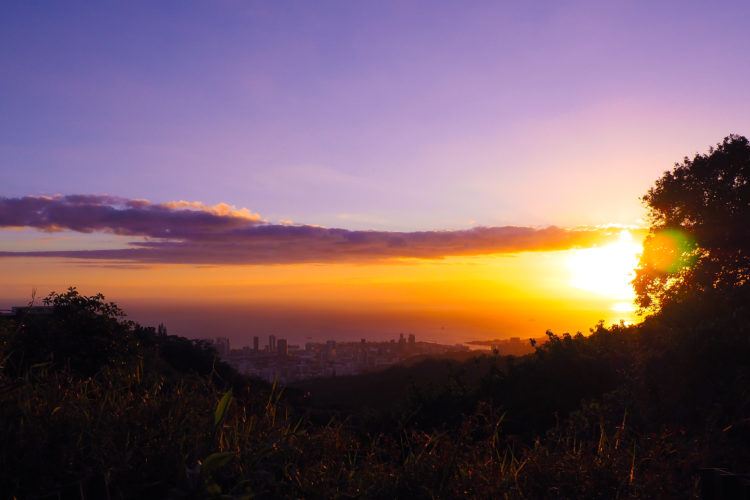 Note that you'll need to drive up a windy mountain road to get here, so be especially careful on your way back down in the dark. Take it slow!
Day 3: Hanauma Bay Snorkeling + East Oahu
Morning: Hanauma Bay Nature Preserve Snorkeling
First up on day 3 of this Oahu itinerary – snorkeling in the clear, cool waters of Hanauma Bay! Throw on your plastic fins and snorkel, and get ready to see the underwater world teeming with sea life!
Imagine snorkeling in an aquarium – that's what it feels like over at Hanauma Bay! This pristine and protected marine ecosystem (former volcanic crater) is full of beautiful coral reefs, loads of tropical fish (like the ridiculously colorful parrotfish!), and other sea life. You may even spot a harmless reef shark and/or a green sea turtle if you're lucky! And it's great for both beginning and avid snorkelers.
Before snorkeling in Hanauma Bay Nature Preserve, you'll need to watch a short video in the marine education system. You'll learn about the marine life, preservation of the park, and rules and safety while snorkeling.
Just remember — you are NOT allowed to touch or walk on any coral (it's actually a law here in Hawaii!) and NEVER mistreat the marine animals (no chasing/petting/feeding/etc). Also – be sure to have reef safe sunscreen, as other sunscreens are not allowed in the bay.
Some logistics to help plan your visit:
Hanauma Bay is closed every Monday and Tuesday to help repair the ecosystem and conserve the reef. This is great because it means the fish and bay have 2 days of undisturbed rest!
Open 8am to 4pm, with no entry after 2pm (night snorkeling was discontinued years ago). Get here early to ensure a parking spot.
No walk-ins allowed; you must arrive by vehicle
Entrance fee is $12 per person (with locals and kids free), plus a $3 parking fee
There is NO rental equipment at the bay, so be sure to bring your own snorkel gear. We like renting from Snorkel Bob's in Honolulu.
Afternoon: East Oahu
You've got quite a few options after snorkeling, all on the east side of Oahu within easy driving distance of Hanauma Bay.
A few ideas:
If you're feeling famished and need a quick pick-me-up, head on over to Teddy's Bigger Burgers (a colorful spot for some creative burgers), Fatboy's Hawaii Kai (for some poke bowls and plate lunches) and/or Island Brew Coffeehouse (for some high quality Hawaiian coffee and light bites with a view)!
China Walls and Spitting Cave: Such beautiful views of the Pacific here, with lots of ledges and cliffs making for interesting photography. You may even catch some cliff-jumpers here! Be extra careful during high tide. Worth a quick stop. A great spot for sunset if you're not interested in a luau.
Lanai Lookout: Another popular lookout point with panoramic views of the ocean, cliffs, and even neighboring islands! A great place to sit and just watch the waves. Add this to your Oahu itinerary for great views with little effort (my kinda experience :p).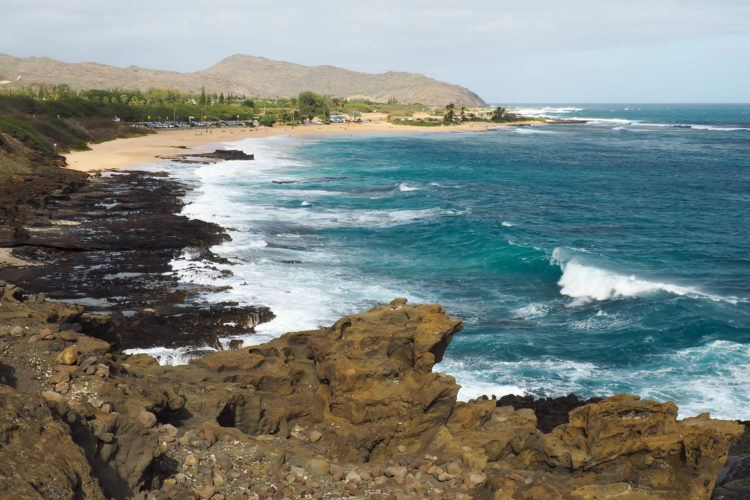 Koko Crater Railway Trailhead: Put on your hiking boots, it's hiking time! This steep hike is actually an abandoned railroad track on Koko Crater, with over 1,000 uneven steps (straight up the hill — a great leg workout). There's little shade, so make sure you slather on the sunscreen, wear a hat, and bring plenty of water. Although I've never done this hike myself, I've heard that the views from the top are more than worth it! Plan 2-3 hours or so for the hike up and back down.
Halona Blowhole Lookout and Beach Cove: Wanna watch water shoot 30 feet into the air from a lava tube? Head over to the Halona Blowhole Lookout. It's absolutely insane. And once you're done at the blowhole, walk down a short trail to Halona Beach Cove. Don't miss the secret cave, swimming in the scenic cove, and watching the little crabs on the rocks.
Makapu'u Beach and Makapu'u Tide Pools: Another long stretch of white sand, perfect for surfers in the winter (with a strong rip curl) and calm waters for wading around in the summer. Head north a bit to check out the tide pools formed from black lava at the Makapu'u Tide Pools.
Makapu'u Point Lighthouse Trail and Lookout: A pretty easy trail to the historic red-roofed lighthouse (built in 1909), being only 2 miles roundtrip. On a clear day, you may even see Moloka'i and Lana'i! And if you're visiting in winter (November – April), be on the lookout for migrating humpback whales from the trail!
Night: Luau and Dinner
You can't come all the way to Hawaii and not include a luau on your Oahu itinerary! Luau's are grand celebrations of food, music, and culture, so what better way to end the night. There's a whole slew of options to choose from, but no matter which you pick, you'll be dining on a kalua pig cooked in an imu (oven in the earth), haupia (coconut pudding), and poi (Hawaiian taro). And of course throwing back a few too many cocktails. 😉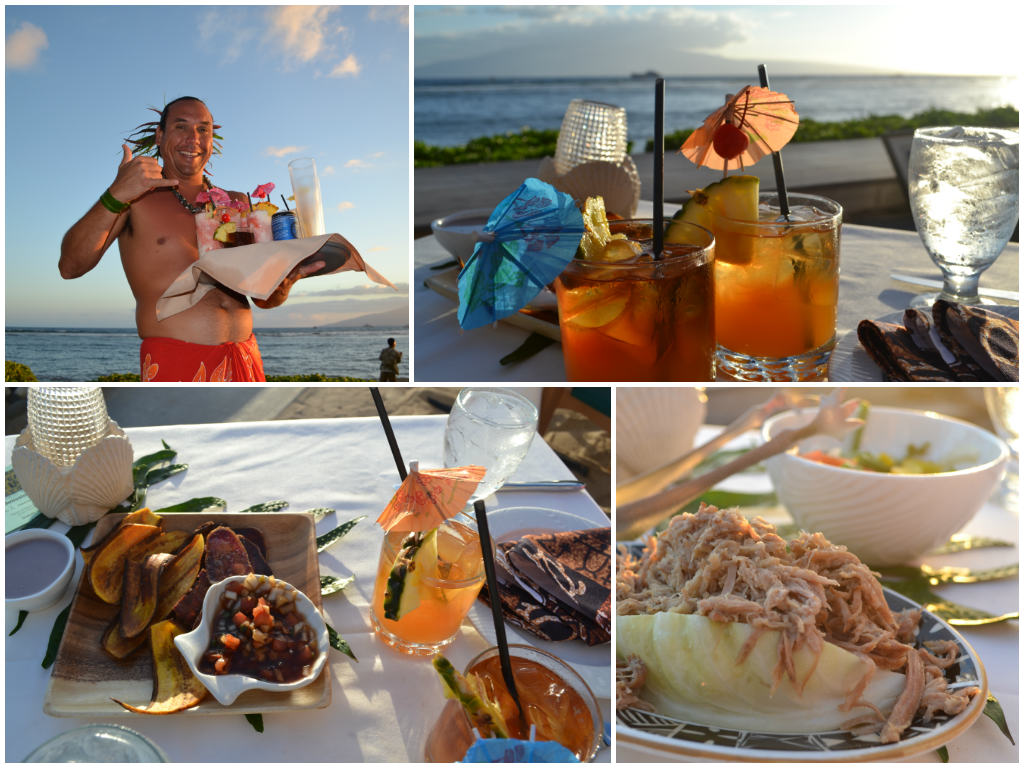 Some luaus to choose from:
Day 4: Pillbox Hike and Lanikai Beach
Morning: Pillbox Hike and Lanikai Beach
Pillbox Hike: Wake up early again, we're going hiking! While not one of the longest trails, the Pillbox hike may be one of the prettiest and historic on this Oahu itinerary. During your trek you'll stumble upon two colorful and graffiti-covered military bunkers, and witness a stunning panoramic view of Lanikai Beach. And when I say stunning, I mean stunning.
We honestly couldn't believe just how spectacular the views were — tons of swaying palm trees, crystal clear turquoise water, of course the two mokes (those pointed rocks you see in the photos) jutting out of the water. Once you reach the pillbox, you'll be rewarded with 360° degree views of all of Lanikai Beach and West Oahu.
Be prepared for some climbing, and I hope your sense of direction is good – we attempted this hike and for some reason couldn't even figure out which trail we should be on! Although it apparently only takes about 15-20 minutes to reach the first pillbox, prepare for a steep and slippery incline. There's even ropes at various spots to help with the climbing.
Lanikai Beach: Once you're done with your sweaty morning hike, off to the beach it is! If you looked up the definition of a white-sand beach, the first thing that would pop up is a photo of Lanikai! Bleached sand, translucent waters, picturesque palm trees – it's one of those places perfectly crafted for postcards. And you get to visit!
Change into your swimsuit and spend the afternoon dozing on the coast, or taming your adventurous side with kayaking and scuba diving. Just remember there's very little shade, so don't forget your sunscreen!
Late Afternoon: Ho'omaluhia Botanical Garden and Byodo-In Temple
Ho'omaluhia Botanical Garden: How does 400 acres of tropical plants sound? Honestly – it's one of the best places in Oahu to see tons of flora and fauna. It's huge, gorgeous, and not too crowded! And it's FREE! Don't miss the lake, the lush lookout points, and unique plant species everywhere (there's even guava and cacao)! You may even feel like you're on the Na Pali coastline in Kauai for a hot second! Kinda makes you feel like you're walking through Jurassic Park.
The Byodo-In Temple: Missing Japan? Head to this replica of an elaborate and historic Japanese Buddhist temple. There's manicured gardens, tranquil meditation sites, and even a lovely koi pond. Look out for the black swans and peacocks! And it's only $5 per person for entry.
Night: Haleiwa Joe's Haiku Gardens for Dinner
You gotta include at least one special dinner on your Oahu itinerary. And not only does the restaurant overlook the beautiful Haiku Gardens and pond, but the food is phenomenal, too!
My recommendation: Go on the earlier side, put your name down, and walk around the gardens while you wait for your table. You'll feel like you're eating dinner in Jurassic Park!
Definitely get the prime rib if it isn't sold out (it's popular for a reason!).
Psst — there's actually another location of Haleiwa Joe's in the actual town of Haleiwa, but I recommend the Kaneohe location at Haiku Gardens instead (the scenery is much more lush and memorable).
Day 5: North Shore + Dole Plantation
We're getting out of Honolulu again — plan to spend the entire day on the North Shore! There's honestly so much to do! Do note the North Shore is about 45 minutes from Honolulu, so you'll wanna get an early start if you wanna see and do lots on this list!
The things to do/see/eat on the North Shore are kinda broken up into two main areas: Haleiwa and the Pupukea area. They're only about 15 minutes apart, so don't feel bad if you're zigzagging a bit.
Read Next: All My Favorites on Oahu's North Shore (plus everything you need to know)
Here's my top recommendations: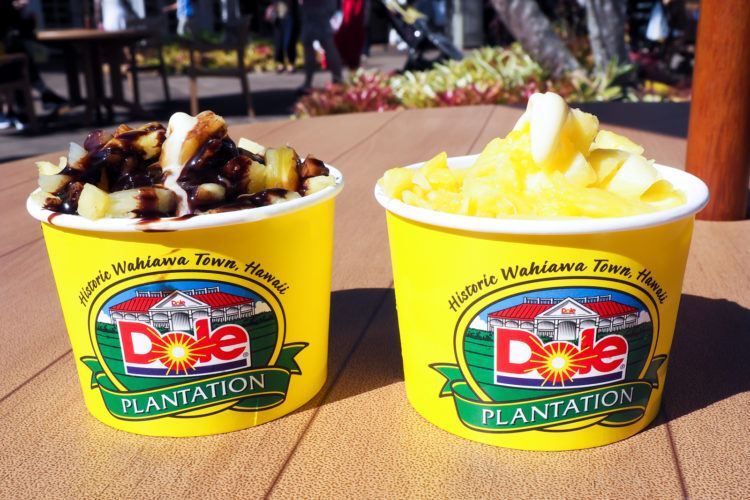 Dole Plantation Extra Add-On: On your way to Haleiwa from Honolulu, you'll pass by the Dole Plantation. Make a short stop here to look around the gardens, walk through the maze, and of course have an early-morning pineapple dole whip — beware, it's pretty sweet! There's also tons of pineapple treats for purchase (for now or to save for later!). Plan to get here when they open (10am, closed on Wednesdays) so you have the rest of the day to explore the North Shore.
Breakfast: If you're skipping the Dole Plantation, have some breakfast at either Kono's Northshore Haleiwa or The Sunrise Shack. Both great options! Make a quick stop at the North Shore Marketplace if you wanna do a bit of shopping!
Relax at Laniakea Beach: Beach time! And get ready — because we're off to see the sea turtles! If snorkeling isn't your thing, you can thankfully still see some of these gentle giants on shore just basking in the sun here at Laniakea Beach on Oahu's North Shore.
The Hawaiian Green Sea Turtles have been frequenting these sands for decades, so do your part and respect them and their land. It's illegal to chase, injure, hunt, touch, hold, or harass them in any way. Admire them from afar (use your zoom lens to take photos).
Back to Haleiwa for lunch and a snack: Honestly, even if you're not terribly hungry, you gotta check out at least 1-2 of these spots. One of my favorite things on the north shore is all the amazing food options, so make some room and indulge a bit!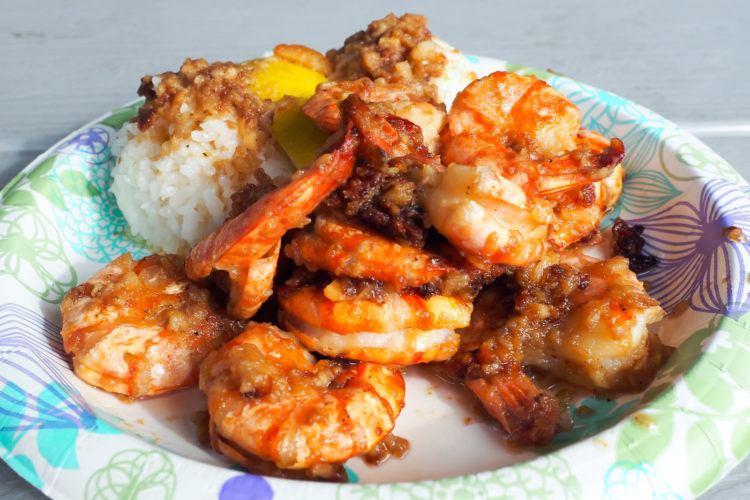 Lunch Options:

Giovanni's Shrimp Truck: I betcha know what you're coming here for, haha. This parking lot establishment is known to be crazy, chaotic, and downright busy, and this seems to deter a few people. BUT the lines will still be long and some even wait for up to an hour and a half. And yes — the shrimp is that good, although we've heard it's not as good as it used to be back in the day.
Haleiwa Beach House: Another casual seafood restaurant, but expect some more elevated dishes like surf 'n' turf, pupu platters, and colorful cocktails! And plus, it's located right on the waterfront, making for great lunch views.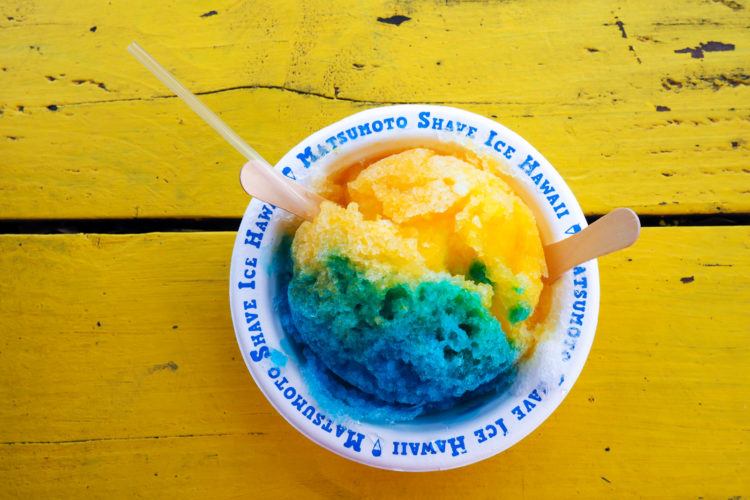 Snack Options:

Matsumoto Shave Ice: This place is kinda an institution around here on the North Shore. Yes, it's a very popular spot and may in fact be wildly crowded, but the shave ice is worth it. I promise x 1000. Always get some ice cream and a snow cap (my favorite).

Haleiwa Bowls: Grab an acai bowl from this little thatched kiosk. There's juices, smoothies, and even cold-brew coffee if you need a little kick of caffeine.
Tidepooling and snorkeling at Shark's Cove: This rocky coastal area is great for exploring, whether you're tidepooling and/or snorkeling. I recommend bringing some water shoes as the rocks getting in and out of the water can be quite slippery and sharp!
Watch the sunset at Sunset Beach: It's one of the best beaches on the island for sunset! It's popular but there's lots of space for everyone. And if you really wanna take your sunset to the next level, grab some pie at Ted's Bakery (we love the chocolate haupia pie the most!).
Psst: If you're an adrenaline junkie, you may wanna consider going skydiving at the Pacific Skydiving Center (we did this for my 30th birthday!) or even shark cage diving (which we did on my 34th birthday!) today. Both start early near Oahu's North Shore, so you'll still have some time for other nearby activities.
I hope this helped you plan out your 5 day Oahu itinerary! Get ready to sip some mai tais and sit in the sun! Bring me back a malasada — pretty please! 🙂