Looking for things to do in Montreal in the winter? You're in the right place! Keep reading for a whole slew of Montreal winter activities, sure to make any snow lover pleased with their decision to head here!
Did you know that the winter in Montreal stretches from November to the early weeks of April? That's surely a looong time! Yup, it's safe to presume that a blanket of snow covers the City of Festivals for almost half the entire year.
But unsurprisingly, the city lives up to its nickname and doesn't disappoint festival lovers by going into hibernation in the winter, providing it's visitors a bunch of things to do in Montreal in the winter! In fact, many travelers say that the best time to visit Montreal is absolutely in it's snowy season after all!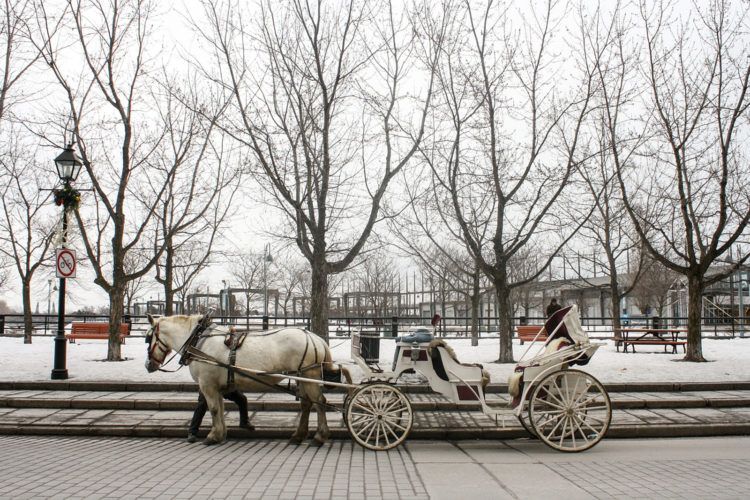 This isn't hard to believe, I mean winter brings with it tons of magic-inducing things- from breathtaking icy landscapes and hard-core winter activities, to warm comfort food and loads of joy, a visit to Montreal in the winter season can't be beat. This is probably why the festivities don't end even when the temperature hits sub-zero!
Hence, despite the cold, you will see hundreds of tourists out and about in the city, partaking in all the Montreal winter activities available to us all!
Planning a Montreal Winter Weekend Getaway
Weather in Montreal during the winter
Get ready to bundle up, because things can pretty dang chilly in Montreal in winter. Temperatures vary between -2°C/28°F to -15°C/5°F (yikes!) with January being the coldest month. On average, it snows on half the days between December-February.
There's pretty much always a thick blanket during the winter months; it's estimated that Montreal has over 1 cm of snow on the ground for 109 days of the year. In December, there tends to be around 8 cm, which increases to 15 cm in January and a whopping 18 cm in February. Talk about snowed under!
Occasionally, Montreal also experiences freezing rain during the winter time, which can be very unpleasant to be out and about in, so if that happens make sure you stay inside with some hot cocoa and poutine!
→ Read Next: A Summer Weekend in Montreal
How to get around the city in winter
Montreal's Metro system is fast, well-connected, and most importantly much warmer than travelling on foot! There are several options for multi-trip and multi-day passes for extra ease. A three-day pass costs C$19 ($14 USD).
Much of Montreal's downtown centre – including many metro stops – is connected by the Underground City so you can walk from A to B without having to endure sub-zero temperatures.
It's also pretty easy to hail a cab in Montreal. Teo Taxi is regarded as one of the most reliable firms and their cars are all electric, so they're environmentally friendly, too!
What to Pack for Montreal in the Winter
As expected, Montreal in the winter gets pretty damn chilly. You'll wanna prepare for the cold temps and pack the necessary gear! Thankfully with the right stuff, you can stay warm and dry even when it's wet and chilly outside! No one likes wet feet – that's the absolute worst!
After going on quite a few snowy weather winter getaways, I've kinda perfected the ultimate packing list. But first, a few tips:
Piece of advice #1: Invest in warm and waterproof snow boots with a proper grip. When ordering, opt for a size slightly larger than normal, as you want to allow for thick socks and toe warmers. If your boots are too tight (and your toes are crammed together), your feet will never stay warm enough.
Piece of advice #2: HOT HANDS. Enough said. But in all honesty, hot hands saved our frosty fingers on more than one occasion. What are they, you ask? They're these magical dry packets filled with iron (among other scientific things) that intensify in heat once activated. Basically – super technological hand warmers that stay warm for up to 10 hours. And they are a godsend. You'll want at least 1 pair a day. Buy on amazon here.
Here's my winter weather recommendations for what to pack for Montreal in the winter:
Warm Winter Coat: For those frigid winter days, you'll really wanna invest in an insulated parka. I've got my eye on this North Face parka (I currently wear one from 10+ years ago – it's about time for a new jacket). Looking for one a bit less expensive? This one's crazy popular on social media, and with the length and sherpa-lined hood, I can totally see why. However note that it's only water resistant, not waterproof, so not the best choice for those crazy snowy days.
Packable Puffer Jacket: I wear this one – it's lightweight and water resistant, plus comes in a bunch of fun colors and the pockets are super deep (perfect for storing your phone). It packs down to almost nothing in the little included pouch – perfect for travel! 
Fleece Zip-Up: On those absolutely frigid days when you need a little something between your sweater and warm winter coat, a fleece zip-up (like this Columbia full-zip) will come in handy. There's a reason it's got 45k positive reviews!
Base Layers: I've been wearing heat tech long sleeve tees ever since I went to Banff a few years back, and they've saved me from those frigid temps! They're super lightweight and perfect to wear under a sweater, and leave you feeling dry and warm without the bulk!
Fleece-lined leggings: I used to layer two pairs of regular leggings, but now that fleece-lined leggings are a thing, I only wear those! They're just as comfy as regular leggings, but keep your legs staying warm and toasty. I've worn these pairs a few times and they've been great, and come in a bunch of fun colors! If you're looking for something to wear under jeans or snow pants, these come highly recommended (although too thin to wear on their own; more like a base layer).
Chapstick: Cold and dry air make your lips susceptible to chapping super easily. Ugh, the worst! I'm low-key obsessed with this cocoa butter swivel stick – it makes your lips so super soft and it smells a tad like chocolate! My favorite! It also works wonders on dry, chapped skin. You'll wanna reapply multiple times throughout the day. Psst – not all chapsticks are created equal, and some will even make your chapped lips worse (true story). Avoid any containing ingredients like phenol, menthol, and/or salicylic acid; these actually make your lips drier. I always stick to Vaseline (these mini pots are small enough to throw in your purse) or a cocoa butter stick.
Power Bank: After relying on friends' spare batteries for far too long (thx friends), I finally invested in power banks of my own, haha. Batteries die out faster in the cold, so come prepared with a power bank to recharge your stuff on the go. This compact power bank gives up to 10 full charges! I always throw this tiny one in my bag also, just in case, as a backup. My phone is my life-line (especially when traveling solo), so I like to be extra prepared!
Warm Gloves: I like to take a few pairs of gloves with me – loving these wool-blend mittens and this pair that's super lightweight and waterproof (good enough to go skiing in).
High Socks: Choose wool ones that wicker moisture and keep your feet dry all day long. Synthetics are a no-go, especially in winter. These merino wool socks are super warm and so incredibly soft (and nope, not itchy at all contrary to popular belief) and perfect under snow boots. You'll never wanna take them off… just buy a few pairs! I recommend layering your socks and actually wearing 2 pairs at all times (I typically do one shorter, ankle length merino wool sock underneath, and a longer, mid-calf merino wool pair on top).
Ready to make all your winter wonderland dreams come true? Here's a brief glance at all the things you can do in Montreal in winter:
Things to do in Montreal in the Winter:
Stuff yourself silly on an Old Montreal Food Tour
Wondering what to do in Montreal in the winter? Well, my glutinous friends, sightseeing and stuffing your face isn't a bad place to start! Since your body totally needs some extra fuel in the face of these freezing temperatures, eating is one of the best things to do in Montreal in winter (no judgments here, heck, I'm even endorsing it!). And a Montreal food tour is a great place to start!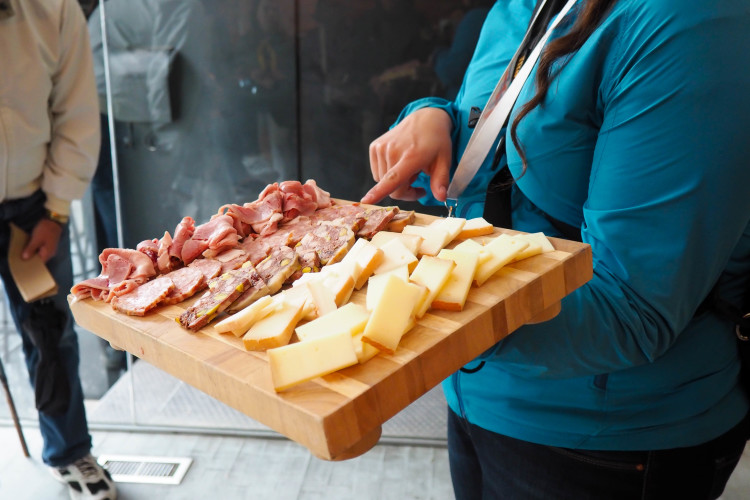 During this three-hour, 2.3 km walk you'll see iconic Montreal monuments, such as the Notre Dame cathedral and the Old Port, as well as enjoying cosy sit-down restaurants and even a brewpub for some well-earned craft beer. With its winding streets and historic buildings, the Old Town is an enchanting district to ramble around on a snowy day and you get to learn about Montreal's history and food culture as you do it.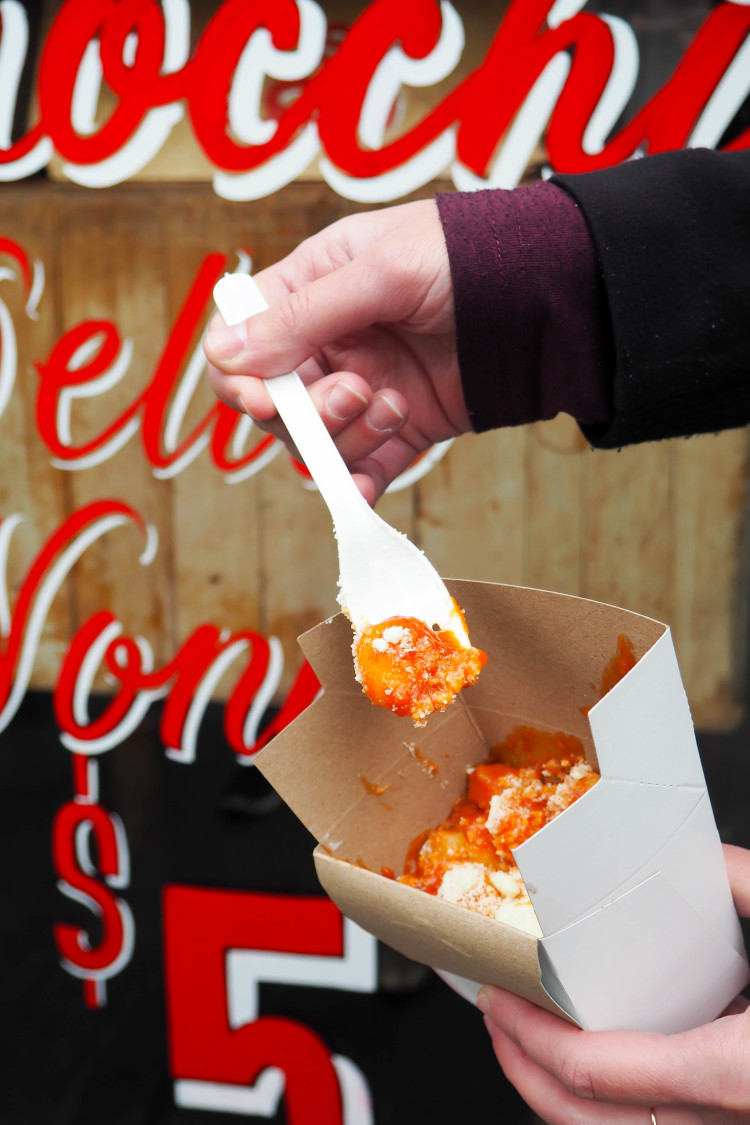 Plus, the food is perfect warming-winter grub. This tour will leave you feeling cosy, cultural, and content (although your pants may feel a little tight…). Don't blame the messenger though! Read more and sign up here to lock in your spot!
Winter Activities on Mount Royal
Fun fact – Montreal is actually named after Mount Royal! This small mountain lies just west of downtown Montreal and it's an outdoor sports hub at all times of year. For outdoor adventurers, all of the best Montreal winter activities can be found here! During January and February you can go cross-country skiing, and even take lessons if you're new to the sport.
From December until early March you can ice-skate on beautiful Beaver Lake – providing it's completely frozen over, of course. Tubing tends to open in mid-December and the lanes overlook Beaver Lake, so you can take in the scenic views as you scream and holler your way down the mountain. You can also enjoy a snowy hike up the mountain but again, it's weather-dependent.
Indulge in a beaver tail and some warm maple taffy
No, not the actual tail of a cute furry animal. BeaverTails are popular Canadian donuts made of fried, stretched-wheat pastry, covered with all kinds of delicious gooey messes. These treats are so iconic that the word is even an official entry in the Canadian Oxford dictionary! You can choose from a variety of toppings including cinnamon sugar, nutella, and, of course, maple spread.
Since a sugar-fix is key to enjoying Montreal in the winter, you've also got to try some warm maple taffy! This quintessentially Canadian candy is a sweet, thick, chewy treat which, when served warm, is just what you need on a cold day.
Maple taffy is best enjoyed at one of Montreal's sugar shacks – cabins where maple sap is boiled to make Canada's iconic syrup, often with adjoining cafes and restaurants. L'Érablière Charbonneau is regarded as one of the best!
Dance away at the Igloofest
Igloofest has to be one of the coolest (or should that be coldest?) electronic music festivals around! Held in Montreal's Old Port, the festival spans three weekends, usually the last two in January and the first one in February (but make sure you double check!)
The festival plays host to some of the biggest names in the EDM world – 2019's lineup includes Diplo and Gramatik. Despite the cold, this wintery festival is one of the hottest events of the year and attracts thousands of attendees. Dancing under the stars to world-famous DJs is definitely one of the best ways to stay warm in Montreal in the winter.
Stay warm and museum hop
Baby it's cold outside, but it's warm within the walls of Montreal's many museums. Visit the Maison Saint-Gabriel Museum to learn about the city's French colonial past and get a glimpse of what daily life was like in the city during the 17th and 18th centuries.
Learn even more about Montreal's past at the McCord museum, which houses extensive collections dedicated to preserving the city's history, as well as wider Canadian heritage.
Art lovers should definitely head to the celebrated Montreal Museum of Fine Arts – it's one of the most visited museums in North America thanks to its impressive collections. Meanwhile, the Redpath Museum is a must-visit for those interested in natural history.
And even if you're not gung ho for museums, you may find it a nice respite from the chilly outdoor temps.
Play at Fete des Neiges
There are so many things to do in Montreal in winter at Fete des Neiges, aka Montreal Snow Festival. The festival takes place over four weekends in January and February, from 10am – 8pm on Saturday and 5pm on Sunday. It's a family-oriented event in Parc Jean-Drapeau where people of all ages can enjoy a ton of Montreal winter activities – and I mean a TON.
As well as skiing, snowshoeing, and ice-skating, there are hockey tournaments, sled races, workshops, and live shows. Seriously, you could spend days here without getting bored. It's very well-equipped for families with lots of kid-friendly facilities available. What's even better is that admission and many of the activities are completely free! Hurrah! A late holiday gift to all!
Wander around the markets
Montreal is home to some truly awesome markets. Since we've established that stuffing your face is one of the best Montreal winter activities, head to the Jean Talon market in Little Italy for fruit, cheese, chocolate, pastries, and more!
Atwater Market in the Saint-Henri area is also home to a ton of local specialties as well as some excellent butcher stalls. There are also lots of fairs and holiday markets in Montreal in the winter, such as the Nutcracker Market and Merry Montreal (the latter also hosts a pretty awesome NYE party!) Head here for gift ideas and Christmas trinkets galore!
Go underground
When things get too chilly above ground, head to Montreal's Underground City to stay warm. Many venues in the heart of Downtown Montreal, such as offices, hotels, malls, and Metro stations, are linked below-ground by a series of interconnecting tunnels.
It's a pretty genius solution to the bitter winter temperatures. Over half a million people use this network every day to get around during the winter months, so exploring it is a great way to experience Montreal like a local!
There are tons of shops and cafes in the City – it almost feels like a giant underground mall! Spending a couple of hours exploring the Underground City is definitely one of the best things to do in Montreal in winter – and a great excuse for a little retail therapy. There's even a piece of the Berlin Wall located inside! It's pretty vast, so make sure you pick up a free map from one of the connected Metro stations.
Marvel at the Notre-Dame Basilica
The snow-covered Notre-Dame Basilica is hands down one of the most impressive sights in Montreal in the winter. You'll feel teeny-tiny as you stand outside this Gothic revival church and even more so when you venture inside.
Its opulent, richly colorful interior is truly a sight to behold, especially the vaulted ceilings which are painted deep blue and scattered with stars to resemble the night sky.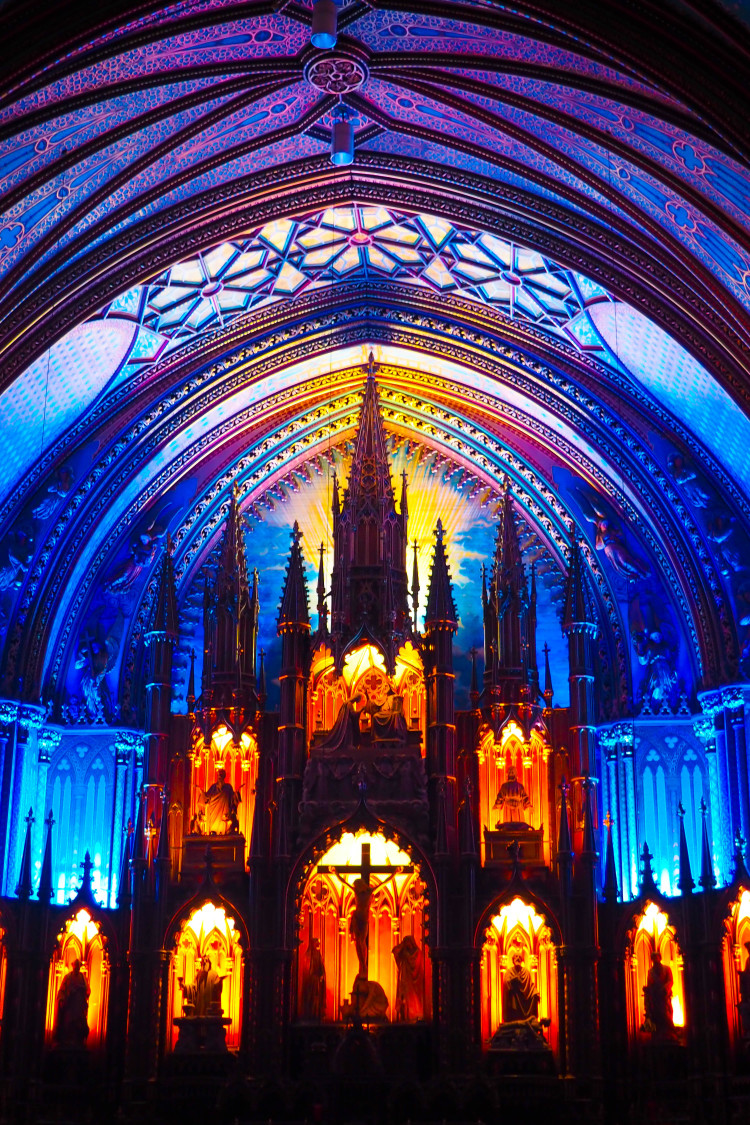 The Aura light show takes place inside the church most evenings at 6pm but there are slight variations, so check their website beforehand.* It's a truly extraordinary show, so try to catch it if you can! When I last visited the city, I was so mesmerized by the basilica the first time that I visited again the next day – it's impressive to say the least.
Ice skate and hang around the Old Port
The Natrel skating rink in Montreal's Old Port will have you feeling super festive from the second you set foot on the ice. Lots of fun events take place on the rink, such as cardio training sessions on Wednesdays, 'Skate and Mingle for Singles' on Valentines' Day, and Karaoke on Ice at the start of March!
The highlight, however, has to be the Natrel Fire on Ice spectacle which takes place on four consecutive Saturdays in December and January.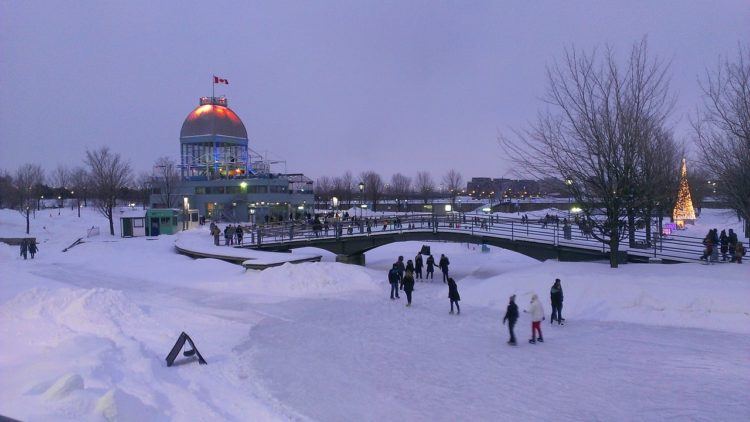 You can enjoy it stationary or skate around the rink as you ooh and aah at the amazing fireworks. Catching the show is hands-down one of the best things to do in Montreal in winter so don't miss it!
Montreal High Lights Festival
Also known as Montreal en Lumiere, this eleven-day festival has been lighting up the city since the year 2000 and it gets bigger and better every year! Designed to add a little magic to Montreal in the winter, the festival comprises over 200 cultural activities across the city, including dazzling light shows, live performances and even a giant, neon-lit maple ferris wheel!
Much of the action takes place in the Place des Festivals of the Quartier des Spectacles, Montreal's main entertainment district. You can even zipline across the site to enjoy aerial views of the festivities. The festival usually takes place during the last week of February, and many activities and performances are completely free. Yay!
Watch a hockey game
Ask any Montrealer what to do in Montreal in the winter and they'll probably tell you to head to a hockey game. It's an iconic Canadian sport, after all. The Montreal Canadiens are one of Canada's seven NHL teams, so don a jersey and see if you can get tickets to a game!
Lots of major games take place in the Bell Centre and the atmosphere is always buzzing. If you don't manage to make it rinkside, there's always the option of cheering on your team of choice from one of the city's many sports bars. There's always a rocking party (replete with a mechanical bull) at Chez Serge if hockey really gets you hyped up, or enjoy some no-frills fun at Bar Saint Laurent Frappe.
If you're looking for a great way to spend a weekend in Montreal, check this out.
And this is just the tip of the iceberg, there is a lot more in store for anyone who visits Canada's beautiful city.
Montreal in the Winter In a Nutshell
Montreal is certainly one of the best places to be this winter. It's absolutely sprawling with winter-centric activities that everyone can enjoy. Thus, you can round up your loved ones to make sweet memories, or if you are a solo wanderlust then you can jet off alone to set off some envy amongst your homebound friends.
All we suggest is that you don't be a Grinch and spend winter all cooped up. Rather you should head over to the magical Montreal to end your year with a bang!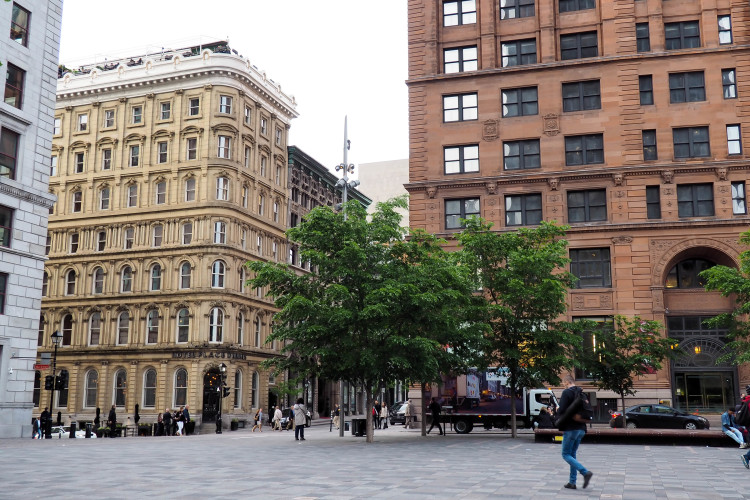 Which of these things to do in Montreal in the winter will you be adding to your list of must-do's in Canada?!