Headed to the Mile High City and planning to spend just one day in Denver? Follow this Denver itinerary for all the top sights and best eats!
Although you'll wanna stay a few days to devour everything in sight – I promise!
Before planning out this Denver itinerary, I honestly had zero clue as to how hip of a city it is. I kinda expected it to feel a bit like Portland, Oregon (which is one of my PNW faves) and maybe even Austin, Texas (just a little bit), but was blown away by all the color and charm. AND the food!
I actually visited a friend who lives in Denver a few years ago, but with all the day trips we took, I hardly had any time to actually explore within the city limits! This time around, I made sure to devote at least one day in Denver.
And what a packed day it was!
Who knew the capital of Colorado was so colorful and cool, hip and trendy? There's thriving craft breweries, tons of cultural attractions, a wild music scene (Red Rocks amphitheatre, anyone?!), and a hot culinary scene fit for any foodie.
And plus, there's phenomenal views of the Rockies, the best mountain range in America. No wonder it's an extremely fun (and popular) city to live in!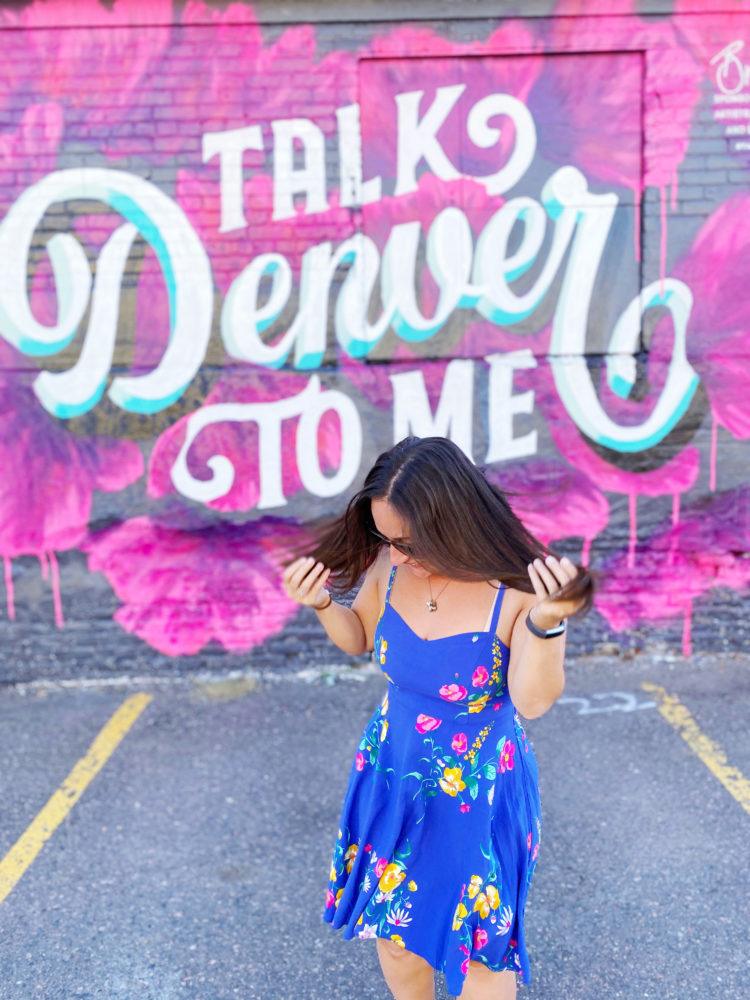 And yes, you really can see so much with just one day in Denver – I promise! The city's the perfect size to explore for those with a short amount of time (just like Charleston!). And I can see it being quite a fun city to explore solo as well!
It's also a great base for exploring the snow-capped Rocky Mountains and the red rocks of Colorado Springs (both nearby!). If you've got at least 2 days in Denver, I encourage you to get outta the city → here's ten day trips from Denver to pick from!
Because of Denver's high altitude, it's also known as the Mile High City. And yes, as the city's nickname suggests, Denver is approximately one mile above sea level. To put that in perspective, New York City is 33 feet above sea level and San Francisco is 52 feet above sea level, compared to Denver's whopping 5,280 feet.
Yup, you read that right: five THOUSAND and two hundred and eighty feet above sea level.
Psst — Read my tips below to ensure a safe visit, as it's located at a much higher elevation than you're probably used to. And no one wants to suffer from headaches and nausea on their one and only day in Denver.
When to Visit Denver:
Unlike certain parts of California (I'm looking at you San Francisco), Denver is lucky to experience all 4 seasons. But whenever you visit, you'll probably get a fair bit of sunshine (as the city gets over 300 days of sun a year!). So bring those sunnies along — yes, even in winter!
SPRING AND FALL
Spring and fall are known to be the most popular times to visit the Mile High City. We chose to spend our one day in Denver in mid-October, hoping for some fall colors and cool, crisp air. Instead, it was in the low 80s and only a handful of leaves had changed colors.
So much for my fall foliage trip!
With that being said, it's so hard to predict when autumn will come! And locals have told me that fall is actually quite short in Denver, so just plan to enjoy whatever weather you get (and don't pack too far in advance).
WINTER
Surprisingly, winters in Denver are pretty mild, so if you don't mind some chilly weather and a tad bit of snow (just maybe!), a visit between November and March may be perfect for you.
It never really reaches freezing temperatures during the day (unlike Banff National Park in Canada!), even during the coldest month of December (with an average daily high of 45 degrees F). And sunny, 60 degree days are not uncommon in winter – how awesome is that?!
However, don't expect Denver to cure all your winter wonderland icicle dreams — head to Rocky Mountain National Park for that!
SUMMER
Summer isn't crazy hot, humidity is low, and the evenings are cool and comfortable. Why such mild weather? The high altitude! I'd still bring a light jacket for nights since the mountain air can bring an unexpected crisp to it!
How to Get to Denver:
Denver really couldn't be easier to access. And I mean it. (Unlike the San Blas Islands in Panama → now, that was a doozy.)
Most visitors will arrive at Denver International Airport (DEN), a short flight no matter which coast you're coming from(~2 hours from San Francisco; ~3.5 hours from New York City).
I was surprised to learn that DEN is the 5th busiest airport in the US, and 16th busiest in the world! Whoa!
Local Tip: If you're absolutely starving when you reach the airport, head to Root Down in Concourse C, one of Denver's most beloved farm-to-table bistros. And just FYI — The original location is in Lower Highlands (LoHi) if you're not hungry just yet.
Little Man Ice Cream has a small outpost here as well, so you can be sure you'll never go hungry in the airport.
How to Get Around Denver:
City Transportation: There's no intricate subway station in Denver like in NYC, but thankfully, there's enough public transport to get around easily. There's the free 16th Street Mall Shuttle (running up and down 16th Street – surprise, surprise), pedicabs around town (especially near Larimer Square), and even scooters available for use almost everywhere.
We saw oh so many scooters! Just shows how fun and young Denver really is!
Car: Since we were taking a few day trips from Denver on our most recent visit, we had a car during our one day in Denver. Parking was never an issue, and we actually preferred being able to quickly head to places (plus it was pretty hot midday).
However, if you're planning to spend all your time in Denver, I honestly wouldn't recommend renting a car. It's not even 50% necessary, so why bother with the extra expense? And plus, we had to fork over unnecessary $$$ for overnight parking since our hotel had no cheap options.
Walking: No access to a car?! Don't fret in the least bit. You can easily walk (almost) everywhere, or take a quick Uber/Lyft between spots. I planned this one day Denver itinerary for those without a car, and included walking times between the different attractions.
How to Get from the airport to downtown Denver itself:
Getting from the airport to your hotel in downtown Denver couldn't be easier. Like really, it's so easy!
Option 1: Light Rail
Once you get off the plane, look out for the Light Rail train (it's right near the new Westin Airport Hotel). And don't worry, you won't get on the wrong line (something I typically worry about the first time I'm arriving into a big city!).
You'll be taking The University of Colorado A Line (or simply the A Line) train, the only line at the airport. The train costs $10.50 per person, each way, and takes roughly 40 minutes from the airport to downtown Denver.
The A Line comes every 15-30 minutes, running all day (minus 2 hours from 1am to 3:15am in the morning). Make sure to buy a ticket in advance at the vending machine on the platform!
You'll get off at the last stop – Union Station (in downtown Denver), where you can either walk to your hotel or take an uber (depending on how close your hotel is of course). We stayed at the Hyatt Regency near the Convention Center and had about a 20 minute walk or so.
Option 2: Rideshare (Uber/Lyft)
If money is no object (or you have TONS of luggage and/or a big family), an Uber may be your best bet. However, it'll set you back at least $60 or so (plus/minus a few bucks depending on where exactly your hotel is).
I don't recommend it unless you've really got a thing against public transportation.
And psst – regular cabs are about the same price, at a set price of $51 + $4.57 gate fee + $5 each additional drop.
Where to Stay in Denver:
If you've only got one day in Denver, I highly recommend staying in downtown Denver, in either Lower Downtown (LoDo) or the Central Business District (CBD).
You can walk to other neighborhoods from Downtown Denver, but it's the most central, which is why I suggest getting a hotel there.
We stayed at the Hyatt Regency Denver at Colorado Convention Center in the CBD, which was a short 10 minute walk to Larimer Square and smack dab in the middle of the city center. We liked staying near Larimer Square since we could easily walk to a whole bunch of restaurants and bars at night. The Hyatt was in a prime location (and moderately priced!), and we could walk anywhere in the city if we wanted.
And plus – you won't need a car since everything on this one day in Denver itinerary is walkable from downtown! And downtown is where most of the city's main attractions are located.
High Rated Hotels in Lower Downtown (LoDo):
Kimpton Hotel Born: Stylish suites in a chic hotel with FREE loaner bikes and Italian dining (and around the block from chicken and waffles at Tupelo Honey!)
The Ramble (technically in the RiNo district): Industrial chic, fashionable dining in refined quarters, and French balconies (!!!). Next time I'm staying here.
The Maven Hotel at Dairy Block: A hip hotel offering modern rooms, city views, a polished restaurant, and a cocktail bar.
Top Rated Hotels in the Central Business District (CBD):
Hyatt Regency Denver at Colorado Convention Center: Contemporary property with a top-floor bar and an indoor pool and spa
Kimpton Hotel Monaco Denver: Posh boutique hotel with vibrant rooms, spa and restaurant, and FREE wine hour (!!!)
Four Seasons Hotel Denver: Upscale luxury in a posh high-rise with chic suites with city views, plus a spa, fine dining, and a pool
The Brown Palace Hotel and Spa: A lauded 1892 landmark, with modern luxury touches and old-world decor. Plus high tea (!!!), fine dining, and a spa. AND it was Elvis' favorite hotel.
Other Areas to Stay:
If you're looking to visit Denver on a budget, consider staying in Capitol Hill. It's great for those on a tight budget as there are plenty of budget accommodations here, including the highly rated Ember Hostel!). One of my friends stayed at The Art Hotel Denver, Curio Collection (over here as well) and really liked it!
Want a tad more luxury outside the busy city center? Consider Cherry Creek! It's only 10 minutes (by car) to Downtown Denver, and the entire area is just gorgeous! Don't miss the roof-top pool of The Jacquard Autograph Collection, or the JW Marriott Denver at Cherry Creek.
Layover in Denver:
Don't have time for a full day in Denver? The city's airport-to-downtown rail line makes for a super easy layover IF you have plenty of time. I mean, hanging out in Denver sounds much more fun than wasting a few hours at the airport.
Although, there are quite a few restaurants to hit up at the airport if your next flight leaves in a few hours. You'll find favorites, Little Man Ice Cream and Root Down, both at the airport.
Honestly, it's not wise to leave the airport unless you REALLY have ample time, say at least 6 hours or so. Hey, you don't wanna miss your next flight, now do you?!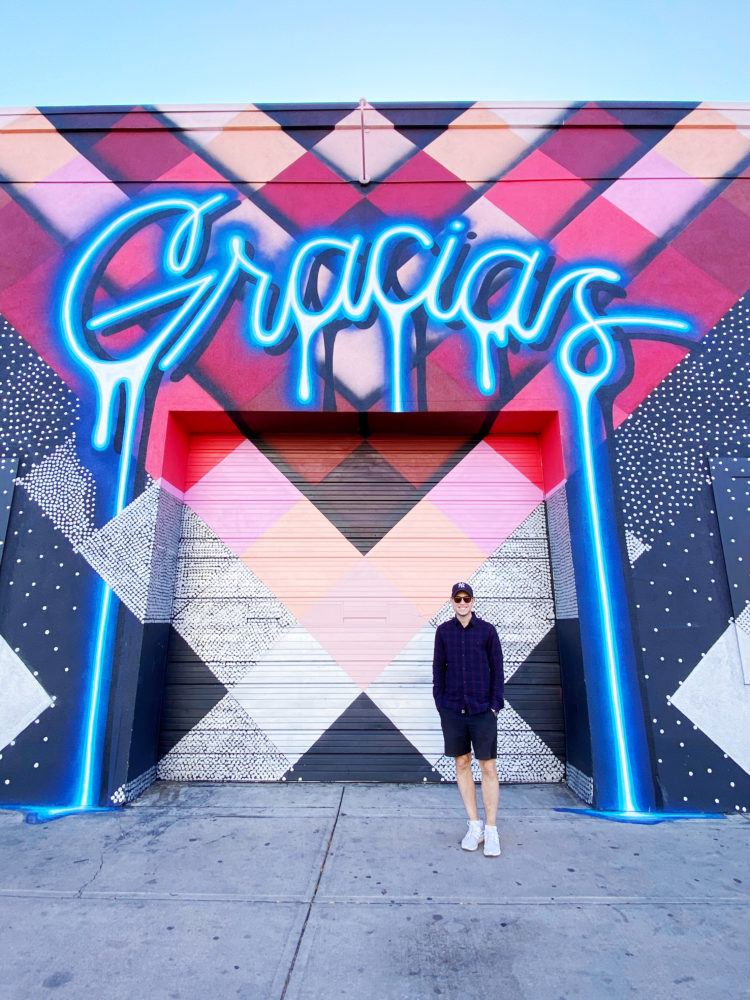 With about a 6-7 hour layover, you'll have about 2-3 hours in the city itself (plan at least an hour from plane to Union Station – door to door – on the light rail, and aim to grab the light rail back about 3 hours or so before your next flight leaves.
While a few hours doesn't give you time to cover all the attractions on this Denver in one day itinerary, you could check out Union Station, find your favorite book at Tattered Cover, walk over the pedestrian bridges into Confluence Park, and grab some iconic ice cream at Little Man.
Just remember it's about 40 minutes each way (with trains coming about every 15 minutes), so give yourself enough time to get back before your next flight.
Additional Tips for visiting Denver:
Plan to smell a lot of pot/marijuana as it's legal to buy weed in Colorado (although it's actually NOT legal to smoke it in public places – which many people don't know).
Pack layers, since the weather changes frequently, and fast! And always pack sunscreen!
Along with any big city, expect to see a relatively large homeless population. We came across many in the Capitol Hill neighborhood, near the Capitol building.
An Important Note on Denver's high altitude:
Denver isn't called the Mile High City for nothing! The high altitude can cause your skin to get dry, really quickly. I made sure to carry around a small bottle of hydrating lotion and chapstick!
You may experience Altitude Sickness. And yes, it's a real thing, and affects everyone differently. We didn't feel the effects (surprisingly, since we both got massive headaches in Mexico City and San Miguel – although a bit higher in elevation), but some do.
You may feel super thirsty, have a nagging headache, and unreasonable fatigue. That, my friends, is altitude sickness. Drink a lot of water (this helps your body adjust to the higher altitude) and don't plan anything strenuous for the first day.
And with that being said, if you're taking any day trips to even higher elevations (say Pikes Peak or Rocky Mountain National Park), let your body adjust to the elevation in Denver for at least a day or so first.
Suggested Denver in One Day Itinerary:
This Denver in one day itinerary assumes you've arrived the night before. If your flight arrives super early and you can get downtown by 10am or so, I'd say that'll work, too!
As mentioned earlier, this Denver itinerary is totally walkable. You can opt to take an Uber if you'd like, especially to/from the RiNo neighborhood, as it's a tad further away from the rest on this list.
And because food is such a major part of experiencing Denver, I'm adding a huge section at the end so you can choose how to fill your stomach throughout the day. Just promise me one thing – you won't miss out on a salted caramel peanut butter cup cone from Little Man Ice Cream. By far the best ice cream I've ever had (and I've had my fair share).
With just one day in Denver, understand you won't be able to do every single thing in the city. But — I promise you can get a really great sense of the area. I'm including a few additional things to do at the end if you've got a day and a half or even 2 days in Denver.
Morning/Early Afternoon: Downtown Denver
1. Colorado State Capitol
Denver is the capital of Colorado, so you can't miss a quick visit! Start off your one day in Denver at the Colorado State Capitol building. Look up in awe at it's beautiful golden dome (made of REAL gold gifted by local gold miners) and admire the super rare rose onyx construction. It's a prominent feature of the Denver skyline, AND reminiscent of the US Capitol afterall.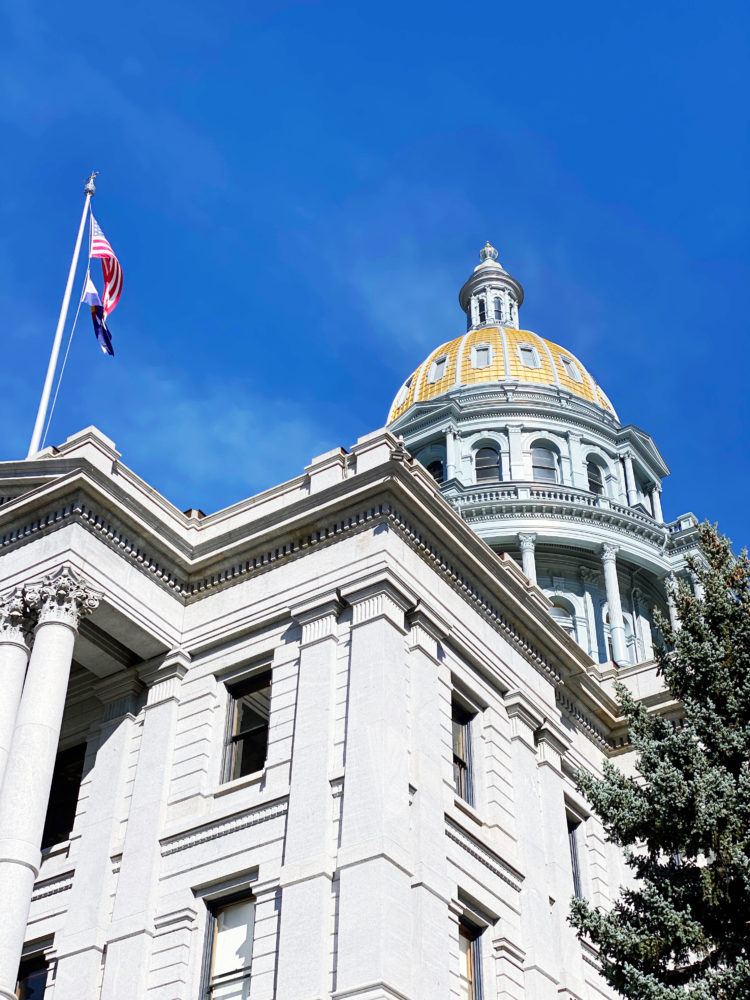 You can normally do free tours of the inside of the building, but it was closed to visitors when we were there. Inside, you'll find a stunning combination of marble, oak, brass, murals, and stained glass windows.
Make sure to climb the steps to see "One Mile Above Sea Level" engraved on the 15th step (although it was later learned that the 13th step is actually one mile above sea level). Whoops!
2. 16th Street Mall
The 16th Street Mall is a 12-block shopping and dining (mostly) pedestrian street which actually reminded me a bit of Las Ramblas in Barcelona! It's on the way to our next stops, so if you're hungry, this is a great area to find some breakfast (Corner Bakery, The Delectable Egg, and Ink! Coffee are all great options on this mile-long block).
There's tons of shopping as well, but I personally wouldn't spend much of your one day in Denver doing so. Check out the D&F Tower, a two-thirds replica of the Campanile of St. Marks in Venice!
You'll come back here later for Larimer Square, so just go for a short stroll and get moving!
3. Tattered Cover Bookstore LoDo
If you're a book lover, you've just gotta check out Tattered Cover. Don't let that old brick building in downtown Denver confuse you— go on in!
Not only is it pretty iconic to the city, but there's an overwhelming selection of books to peruse through! And it's got that old-school bookstore atmosphere (and smell!) which I absolutely adore!
I especially love (and appreciate!) how the staff writes out mini synopsi of their recommended books → makes deciding my next read super easy!
Spend 20 minutes or so hanging out, browsing around, and finding your next favorite author!
4. Union Station
Union Station is a beautifully restored, beaux arts-style transport hub completed way back when in 1914 (it's since been renovated).
Yes, it's technically Denver's main transport hub (with access to the city's light rail, Amtrak, regional buses, and the free 16th Street Mall shuttle), but it's so much more than that!
Go on in, sit in the beautifully decorated Grand Hall, and order a drink from the Terminal Bar.
Union Station is sometimes even referred to as Denver's "living room", with its plush sitting areas and posh bar area. Looks more like the lobby of a swanky hotel than a train station! Trust me!
If you took the Light Rail from the airport, this is where you got off! It's located right in LoDo (Lower Downtown), so you'll definitely pass by it on your way to our next stop. Or if you aren't lugging around some luggage when you arrive, you can simply check it out then! But whatever you do, don't miss it!
→ Psst: If you decided to skip Tattered Cover LoDo, there's a mini Tattered Cover Bookstore here!
5. Confluence Park
Once you're done oohing and aahing at the architecture of Union Station, head on over to Confluence Park! But first, grab a boozy donut from the Habit Doughnut Dispensary! They're infused with liquor from tiny airplane bottles, so perfect for any whisky lovers.
Cross the numerous pedestrian bridges, and you've now arrived at Confluence Park!
Here you'll find some of the best urban green space in the city. There's tons of cute pups playing and running around, locals soaking up the sunshine on the grass, relaxing with a good book in hand, etc. The park is usually pretty quiet, so it's a great respite from the busy city.
People even swim here in the summer (although I don't recommend it since I've read high levels of E. Coli have been found in the water — eek.) Swim at your own risk, and don't let your furry friends drink it!
6. Little Man Ice Cream
Okay, now we're talking and the REAL reason I had you cross all those little bridges (wink, wink). It's ice cream time!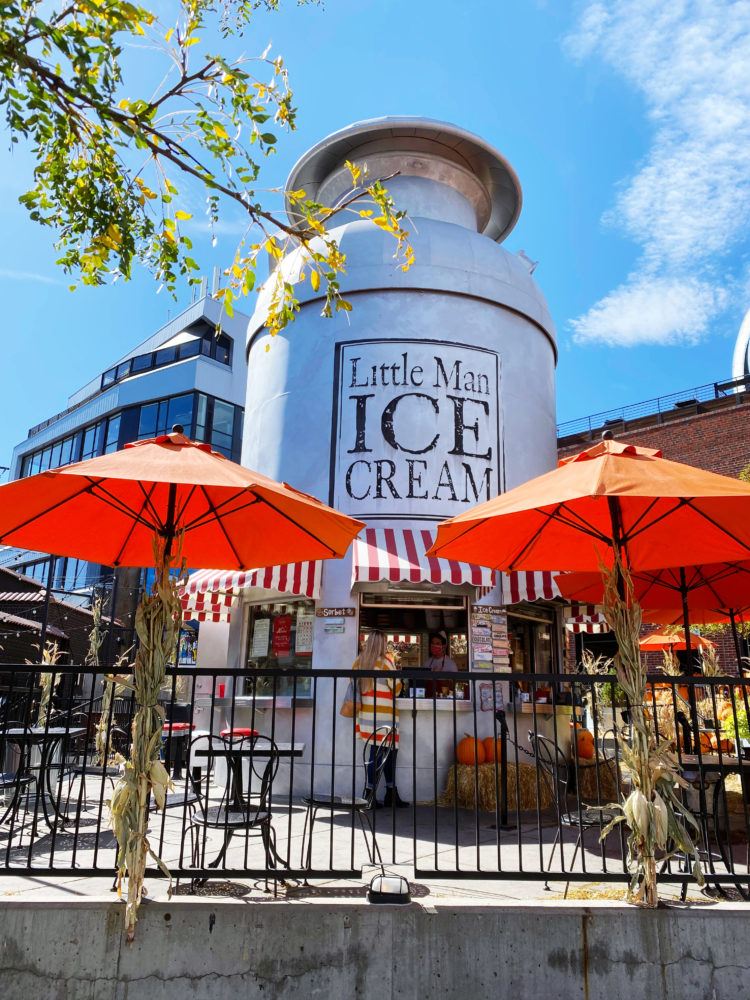 And trust me when I say there's a reason why the line's usually down the sidewalk. You can't miss the milk-jug shaped shop featuring it's creative and unique homemade ice cream flavors. It's easily a Denver staple; I'm sorry, have you even been to Denver if you haven't had a few scoops of Little Man?
What to order? My favorites were the salted caramel peanut butter cup (why hasn't anyone else thought of that) and the dirt 'n worms (totally took me back to my childhood).
They've also got a few vegan flavors on the menu so everyone can enjoy! I've heard the Vegan chocolate salted oreo is absolutely bomb, as is the salted nutella and banana pudding.
You can feel good eating your ice cream knowing that Little Man is donating scoops of rice and beans to developing countries around the world! I can totally support an ice cream shop doing good for the world.
Psst: it's actually open until midnight (true story), so you can come back later for more salted nutella if your little heart desires.
Late Afternoon: RiNo Arts District
Ohhh, RiNo (short for the River North Art District), was one of my favorite areas during our day in Denver! Not only is it super trendy with a bunch of colorful food markets and interesting sidewalk art pieces, but there's contemporary art galleries and hip cocktail lounges (!!!) and brewpubs with tons of craft beverages. My kinda place!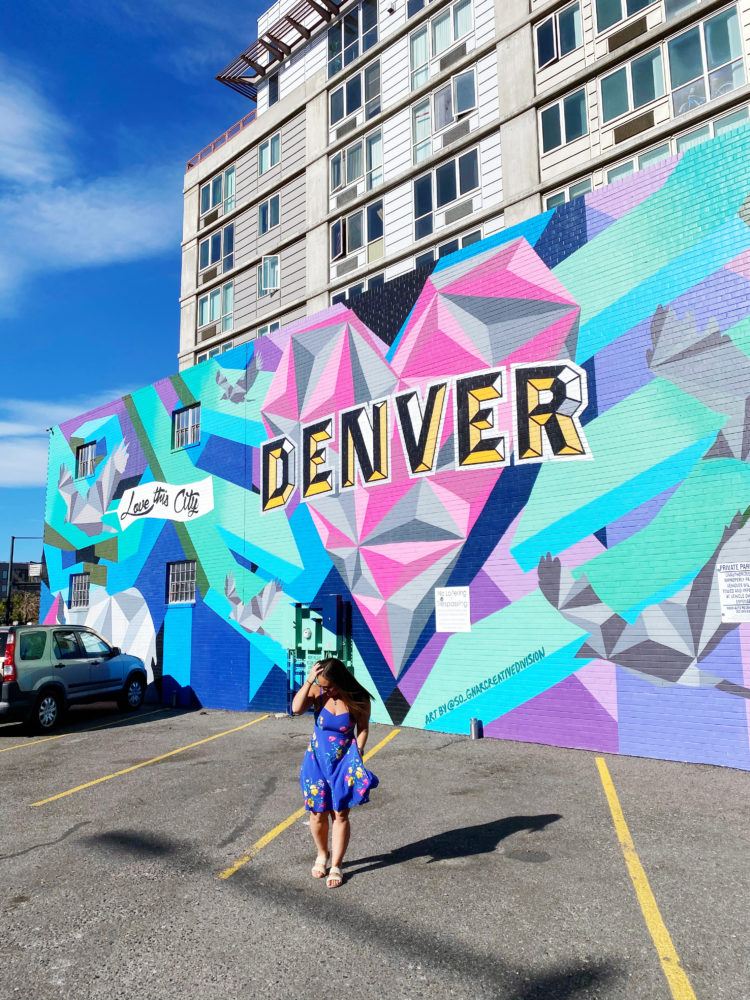 One walk around and you'll definitely feel the urban charm and it's industrial renewal (I mean, there are restaurants tucked in shipping containers afterall!).
I've heard it's pretty popular at night, but trust me → you'll wanna get here before dark in order to walk around and see all the vibrant murals! 110% instagrammable, if you ask me.
Don't miss fancy drinks at Death & Co (within the Ramble Hotel), eclectic shopping at The Source, craft beer at colorful Our Mutual Friend Brewing, a tasting flight at Stem Ciders, some sweets at Denver Central Market (a gourmet food hall in a reclaimed warehouse), and some intriguing contemporary art at fooLPRoof.
Other runner ups include cocktails at The Block Distilling Company, wood-fired pizza at Cart-Driver, live music at Larimer Lounge, and adventurous Mexican at Los Chingones.
Honestly, the options are endless. We could have spent all day here!
And of course, get your fair share of walking around scoping out the colorful graffiti in between the booze! Tons of photo opportunities await!
Night: Larimer Square
Once it gets dark, make your way to Larimer Square, for dinner and drinks (if your poor stomach can handle more booze). We loved the ambiance of the small square, with the signature canopy of lights above and all the historic buildings. It ain't considered Denver's oldest and most historic block for nothing!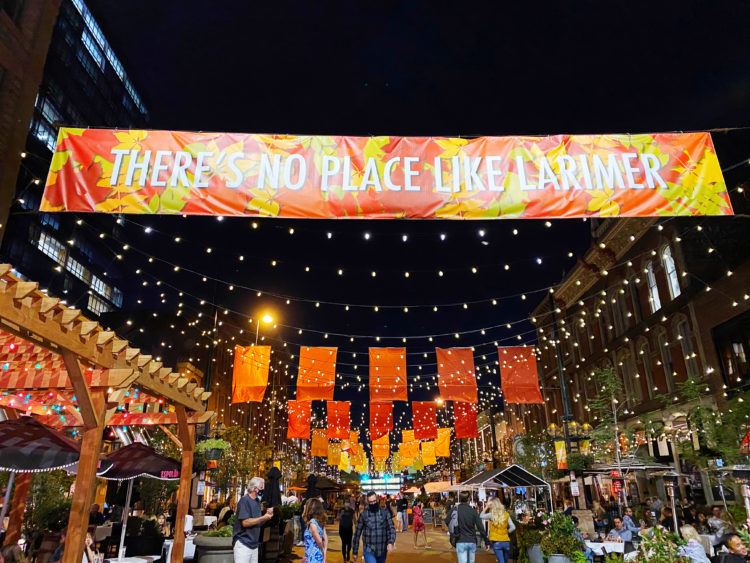 No matter the time of year, there's always something going on. The square was decked out in fall decorations (pumpkins and goards galore), free apple ciders were being passed out, and we (ok, I) loved every second of it.
And if you want even more options, there's tons to pick from on the next street over – the 16th Street Mall!
If you visited earlier in the day, you'll know there's ample restaurants to choose from. You'll also see horse-drawn carriages and pedi-cabs carrying people up and down the mall after dark, as well as more twinkle lights in the trees than you could ever imagine!
Where to Eat and Drink in Denver:
There's honestly too much good food to devour during your one day in Denver. You might just have to spend an extra day here in order to get it all in.
MY TOP PICKS INCLUDE:
pizza and cocktails at Cart-Driver (in an old shipping container!)
fried chicken and waffles at Tupelo Honey (try the mint juleps and po' boys as well!)
biscuit breakfast sandwiches at Denver Biscuit Company
Anything and everything at Little Man's Ice Cream, but especially the salted peanut butter cup if it's on the menu that day
Tacos and tequila/mezcal cocktails at you guessed it, Tacos and Tequila
A kitschy diner experience at Sam's No. 3 (featured on Diners, Drive-ins, and Dives!)
Upside down pineapple pancakes at Snooze AM Eatery (super retro!)
And if you wanna squeeze in one more good meal, head on over to Root Down (there's actually a location at the airport if you missed it in the city).
Other things to do in Denver:
International Church of Cannabis: I had originally wanted to visit this psycho-delic looking church, but opted to skip it once learning it's a cool $25 a person to go inside. I've heard the light show is worth it, though! Go and tell me how it is! Do note it's kinda outta the way (not walkable from downtown Denver), and difficult to include on your Denver itinerary if you aren't cruisin' around town in a car.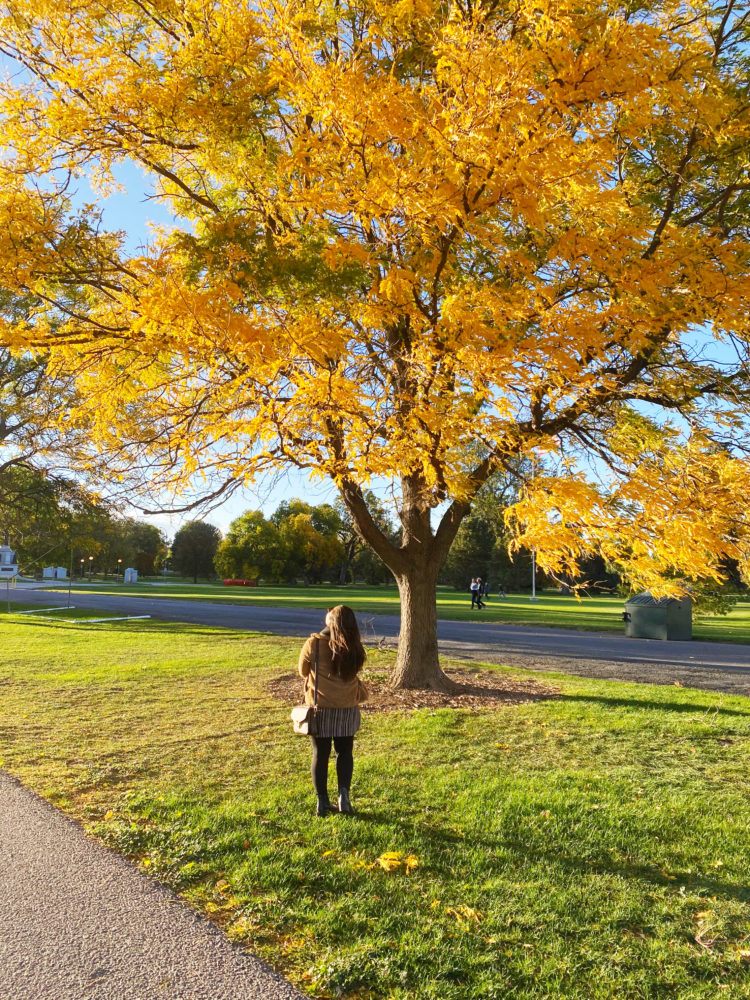 City Park: We visited City Park hoping to see the fall colors, but we were actually too early in the season, and only a few trees had begun to turn! Nevertheless, we found it to be a great place for a long stroll, with tons of leafy trees and a sprawling lake in the middle of the park. And this is where you'll find the Denver Zoo, Denver Museum of Science, and actually a golf course!
Day Trips from Denver
If you have more than just one day in Denver, I highly recommend making a day trip (or two – depending on how long you've got)! Sure, you could spend all your time in Denver itself, but you can actually tick off most of the touristy things in one day, so might as well go exploring elsewhere!
I've got an entire post detailing all my recommended day trips from Denver, but here's three of my favorites:
Red Rocks Park and Amphitheater
By far the closest day trip from Denver, and you really only need an hour or two to check it out! We left the city around 9am, got to Red Rocks by 9:30, and was back in Denver around 11am or so!
Red Rocks opens an hour before sunrise and closes an hour after sunset, so you've got lots of time to squeeze it into your Denver itinerary.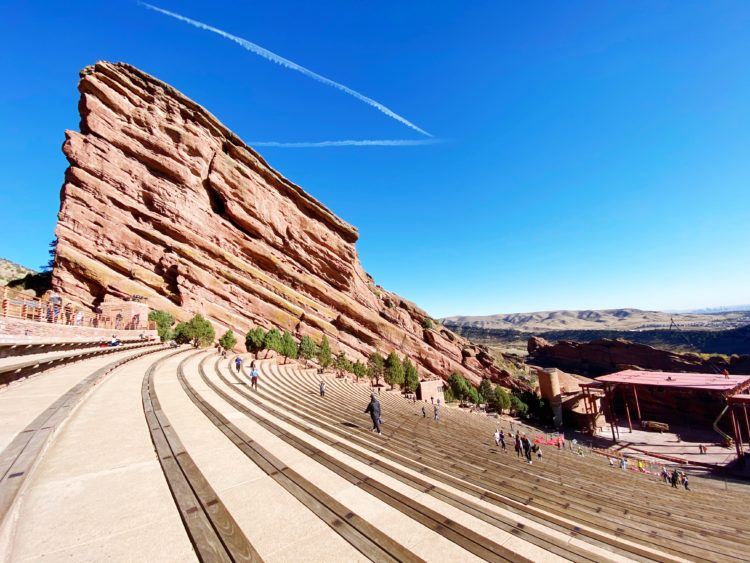 Although you won't be witnessing one of their shows, just standing within the rock walls is worth the short trek from Denver.
With that being said, I wanna see a concert here SO badly – I can't even imagine how epic it'd be! I mean, the giant sandstone walls of the theatre are higher than Niagara Falls – whoa!
2. Rocky Mountain National Park
You're oh so close to the park, so if you've got an extra day in Denver, don't miss Rocky Mountain National Park! With just one day, make sure to drive along Trail Ridge Road, stopping at the Alpine Visitor Center and Alpine Ridge Trail (my favorite spot in the park!) and make the short hike around Bear Lake.
If you're visiting in the fall months, you may be lucky enough to see hundreds of elk grazing around – they're definitely a sight to see!
Tip: Be prepared for any and all kinds of weather. On our most recent visit (in mid-October), there was an unexpected snowstorm, and the main road through the park was closed. Keep a heavy-ish jacket in the car if you're visiting from October – April/May as the weather changes quite frequently, especially as elevation changes.
Spend some time in Estes Park, the little mountain town directly East of the park (and always stock up on homemade fudge and taffy here!)
3. Colorado Springs
Located just about an hour and 15 minutes south of Denver, I highly encourage you to plan a full day exploring Colorado Springs. A few of my favorite activities:
Drive up Pikes Peak (wear warm clothing as it gets super chilly at the 14,115 foot summit) and get a special Pikes Peak donut (apparently they need to use a special recipe because of the high elevation).
Wander throughout Garden of the Gods (located at the base of Pikes Peak), and admire the 1,300 acres of sandstone formations. Don't miss the balancing rock, kissing camels, and the peaks of the Rockies! One of my favorite places in all of Colorado!
Walk through history at The Manitou Cliff Dwellings, a group of relocated Ancestral Puebloan cliff dwellings overlooking the resort town of Manitou Springs. I didn't have time to go, so I'll be saving this for my next visit!
And whatever you do, end the day stuffing your face with extra moist brisket, ribs, sausage, creamed corn, baked beans, and banana pudding at Rudy's BBQ for dinner. The first time I ate here was actually in Austin, Texas, so you know it's legit!
Hope this helps you plan out your one day in Denver! Told ya it was easy! What'll you be including on your Denver itinerary?!