Heading to the desert soon and wondering the best things to do in Scottsdale, Arizona?! Read on for a full weekend in Scottsdale itinerary, full of hikes, hot air balloon rides, and craft cocktails! Basically, all my favorite things.
Wait, what? Are you confused why I was spending a weekend in Scottsdale in the first place?! Welllll….hold up! Scottsdale isn't just for your over folks anymore. It's gotten pretty hip and trendy over the years.
Before you know it, us 20 and 30-somethings will have taken over the area. Although most of us haven't quite discovered what an ideal (and adventurous) location Scottsdale actually is, we'll be storming over Scottsdale sooner than later. A long weekend in Scottsdale may be just what the doctor ordered.
For reals though. When you think of Scottsdale, don't you automatically think of activities meant for an older generation (say, golf, loungin', and spas?) Okay, I can go for a good spa day every so often, but I want to prove that Scottsdale is more than what originally meets the eye.
This area does boast 330 days of sunshine a year, what more could you want? Sounds like the perfect start to a weekend in Scottsdale to me!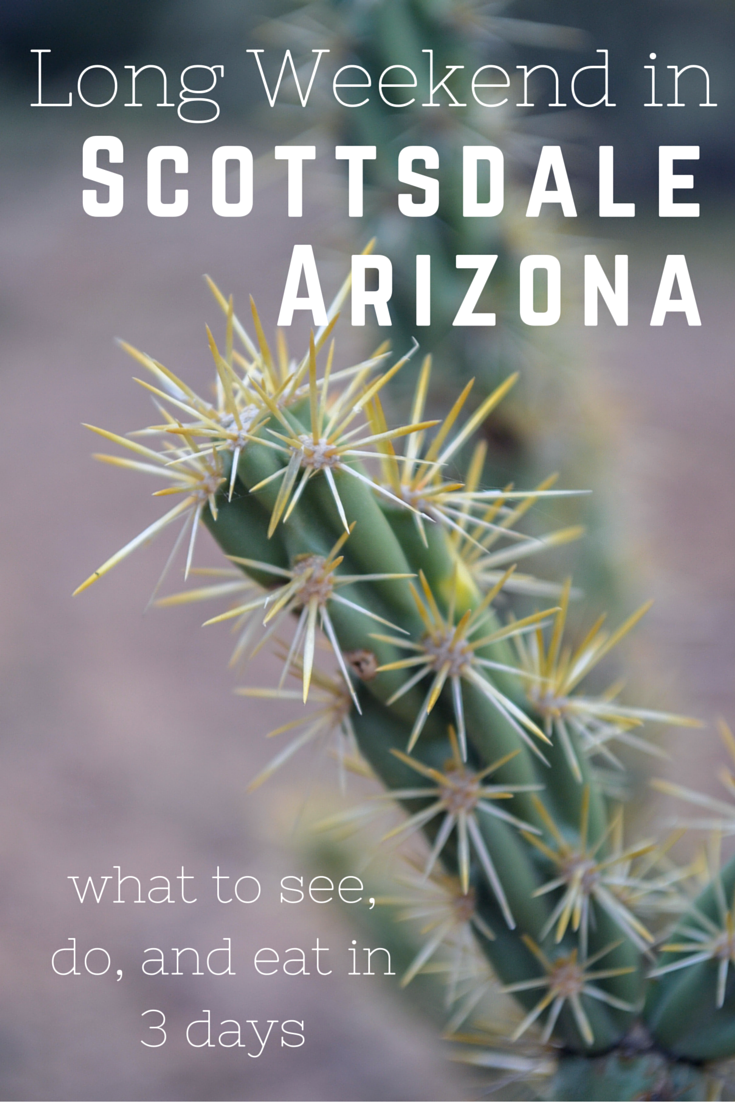 Everyone who I excitedly told that I was headed on a long weekend to Scottsdale Arizona either gave me a blank stare, or just honestly wondered why. "Isn't Scottsdale a destination for older folks?", they all asked perplexed. I promised them I'd share all the adventures I got up to once returning home (and our itinerary promised a full week of full).
Preface: If you like to hike, like to eat (ridiculously delicious) food, wander throughout the desert, and enjoy a hand-crafted cocktail or two, Scottsdale is your jam. You just never knew it before. 😉
Psst – the hotel scene is just as smashing as the restaurant scene. If you're looking for the hippest place in town at a comfortable price, head on over to Hotel Valley Ho, and if modern luxury is more your thing, than you'll just love the Fairmont Scottsdale Princess.
What To Do: A Long Weekend in Scottsdale
If you've never been in a hot air balloon before, Scottsdale is the place to do it. Glide over cacti and witness coyote running about down below. The balloon floats so effortlessly in the morning sun, and it's such a peaceful way to spend a few hours. Hot Air Expeditions provided us with a flawless morning and an experience I'll remember for years to come. I mean c'mon, what's better than hanging out 3,000 feet above the desert during sunrise?
READ NEXT: Hot Air Ballooning in Scottsdale: Soaring High at Sunrise Above the Sonoran Desert
It's worth the early morning wake up call, trust me. With the flight starting so early in the morning, you can save the afternoon for another activity! However, you might want to take a cat nap mid-day or spend an hour or two by the pool before venturing out again!
If there's one thing to splurge on during your weekend in Scottsdale, a ride in a hot air balloon wins every single time.
Go Hiking
If you're excited about seeing the super tall saguaro cacti, then head to Scottsdale. With numerous trails, all for different skill levels, the desert makes a splendid morning or afternoon – just make sure to bring water!
A few recommended hiking trails:
Camelback Mountain (strenuous, brings LOTS of water no matter the season)
The Gateway Loop in The McDowell Sonoran Preserve (4.5 miles)
You'll see more cacti dotting the landscape than San Francisco has seen rain in the past year. (It's a problem).
Get down and dirty for a few hours. A few hours of exercise during your weekend in Scottsdale won't kill you (gotta earn those cocktails!). And make sure to take a photo with the tallest saguaro cactus you find! An absolute must do in Arizona.
Unfortunately it rained on our last day when we were scheduled to go hiking… who knew it actually rained in the desert?!
Musical Instrument Museum
Music (and travel) lovers rejoice! I have found the perfect place for you! You'll think I'm crazy when I tell you this, but you can easily spend all afternoon jumping around from room to room. The MIM features instruments from all over the world (literally, I saw every single country and territory represented), full of authentic pieces played by those in that region.
The world's only global musical instrument museum does not disappoint. Included in your admission is a wireless headset which you are able to use throughout the museum – imagine walking through and having the glorious music from tons of different cultures and countries playing into your ears as you approach that specific exhibit.
There are also high-definiton videos playing throughout as well (accompanied with the sounds through the headsets) – truly a one-of-a-kind experience.
HOT TIP: Be sure not to miss the chiming of the bells in the courtyard – such a magical and peaceful outdoor concert. And pretty spectacular and mind-blowing if you ask me.
Food Tour of Downtown Scottsdale
If you like food, (whose kidding, everyone likes food), book a spot on the Arizona Food Tour of Downtown Scottsdale. Quite possibly the best thing we did in Scottsdale all weekend (besides the hot air balloon ride, of course).
In this day and age, almost everyone and their mother calls themselves a foodie (myself included), and this tour doesn't disappoint! Not only did we learn a ton about the history of Scottsdale, but we ate perfectly seasoned bites and sipped some sangria in the process!
We learned how to pair olive oils to enhance a dish AND shared an entire pizza pie! We sampled green chili sliders, pork shoulder tacos, bruschetta, some fried pickles, and indulged in a liege waffle and Belgian chocolates for desert. Drool. Help me get my tongue off the table – now. You wont leave hungry, that's for sure.
Desert Botanical Garden
Although it was difficult to see the 50,000 (!!!) plants throughout the thematic trails in the dark, the bright lights really made up for it. The Desert Botanical Garden really comes alive at night and is not to be missed during any long weekend in Scottsdale.
If you're visiting before May 8th, don't miss the Bruce Munro: Sonoran Light exhibit. Truly unlike anything I've ever seen before. He uses an array of unconventional materials (think: thousands of plastic water bottles) and hundreds of miles of fiber optics to make this part of the desert glow.
With other work shown in the Guggenheim in New York City and the Victoria & Albert Museum in London, this is an installation to admire.
If you happen to come during the day, don't fret, as The Desert Botanical Garden showcases the world's finest collection of arid-land plants from deserts around the world (aka, pretty freakin' cool).
Learn more about desert landscaping, horticulture, botanical art, and nature photography at workshops and lectures offered on the grounds.
Insights Tour of Taliesin West
A little background to get you up to speed: Frank Lloyd Wright built this masterpiece (along with his apprentices) titled 'Taliesin West' in the 1930s, and was constantly expanding and modifying it until his death in 1959.  The big draw was that the team used materials found in nature (rocks, sand, etc) to keep the design in balance with the surrounding environment.
Can't figure out how to pronounce it? Don't fret – it took me all week to remember. It's pronounced exactly as it's spelled: tah-lee-eh-sin west. Say that a few times and you'll get all those other wacky versions out of your head (at least that's what I did)!
Man, this guy is an architectural genius. I won't spoil all the fun (and his whoa-worthy brain) – you'll just have to visit yourself. 😉 Let's just say this place is pretty damn insta-worthy.
Jeep Tour of the Sonoran Desert
My visit to Scottsdale was the first time I ever laid eyes on a living, breathing desert. And I have to say, I was a little surprised at what I saw. When I think desert, I instantly think of a vast, arid land with little to no plant life, definitely no animals scurrying about, and zero rain.
Well, lets just say that the Pink Jeep Tour of the Sonoran Desert proved me wrong on all accounts.  I am glad to say that the desert is indeed alive, and along with dozens and dozens of species of plants, we saw a few wild horses, cows, and even caught a glimpse of a jack rabbit. He ran away too fast to even think about snapping a photo.
We were taken around the McDowell Sonoran Preserve for an enjoyable few hours, up and down the hills and bumps in the desert. And bouncing around in the pink jeep was half the fun! 😉 I honestly wish I could use the vehicle as my primary mode of transportation everyday.
READ NEXT: Off Roading Through the Sonoran Desert with Pink Jeep Tours
Relax at the Spa
Raise your hand if you could envision yourself relaxing in knee deep bath water with cool cucumber towels laid across your eyes. This girl right here, no doubt.
The Well & Being Spa at Fairmont Scottsdale Princess provided just that, and more. Inspired by Havasupai Falls (a hidden oasis deep in the Grand Canyon – on my bucket list!), this spa surely calls for a few hours of luxury in the afternoon after a busy morning.
I was treated to a 90-minute deep tissue massage, and I honestly wish I could hug my masseuse until she made me stop. Inappropriate much?
The grotto waterfall was the ultimate icing on the cake. Nicole and I relaxed (and splashed around) for over an hour just lifting our heads back feeling the water rush down our faces and backs from the pressure of the waterfall. Oh yea, and you can't forget the wet steam room, eucalyptus inhalation room, swedish dry sauna, hot therapeutic whirlpool, cold plunge pool, and swiss showers.
It's the real deal, folks.
Go with the deep-tissue massage, it was divine. Next time I want to try the Aeria. Hammock Yoga – looks absolutely exhilarating! Here's to hoping I don't fall off the hammock!
Where to Eat: A Long Weekend in Scottsdale
Lucky you, I just wrote an entire post on my favorite places to eat in Scottsdale.
Instead of rewriting those few 2,000+ words, I'll share a few highlights:
Snake Bite Flight, flaming coffee, lobster tacos, and table side guacamole at La Hacienda (Fairmont Scottsdale Princess) <— NEED to go here. It's an all night experience you won't want to miss.
Frosty Ho-J, red velvet waffle, and the oversized cinnamon bun at Zuzu (Hotel Valley Ho) <— absolutely wonderful for breakfast or brunch
Ricotta cheese donuts and classic cocktails at The Upton <— part quirky, part artsy, full flavor
Chia seared tuna, Original Chopped Salad, and the "Heart of Caramel" at Citizen Public House <— get everything 😉
Spicy Thai chicken bowl and the south seas fish tacos at Hula's Modern Tiki <— such great flavors in each and every dish (come here hungry and with friends)
Beet plate, ahi tuna tartare, and the double chocolate s'mores cake at La Talavera at Four Seasons Resort Scottsdale at Troon North <— save for a special occasion, and just go crazy indulging. Share a few things so you can try more of the menu 😉
READ NEXT: The Scrumptious Southwest: Where to Eat in Scottsdale, Arizona
Where to Stay: A Long Weekend in Scottsdale
This historic hotel has seen many a few celebrities over the years, and they still flock to the desert to escape the paparazzi due to it's relatively remote area and the fact that the current guest list is never released. Keep your eye out for celebrities, you never know who you're going to see.
Look closely and you'll see all the personal touches from this privately-owned family business. Upon walking in, you feel like you're in your living room by the fire waiting for a friend to join. The attention to detail is impeccable, with pops of color and OH's featured throughout (the hotels' icon). Definitely no boring beige here! Although the hotel looks ultimately modern in nature, there are tons of vintage elements – subliminal magic at it's finest.
With no resort fees, bikes for rent, and designated rooms for pets, you can't get much better than this in downtown Scottsdale.
Splurge for the Tower Two-Bedroom Suite if you're staying with friends – I promise you every inch of the suite is impeccable. One look of our room and we never wanted to leave. It comes equipped with high gloss kitchen cabinets (with service for 8), a 30-inch cooktop, and a full size refrigerator and freezer (which is perfect for all those leftovers you'll accumulate dining in Scottsdale).
And c'mon, just look at that pool – it was hard to resist even in 65 degree weather.
Read reviews of Hotel Valley Ho and check prices here.
Think vast open spaces, lushly landscaped grounds, and regal Saguaro cacti. This is the desert, after all!
Coming during Holiday Season? You're in luck.  The resort completely transforms into a Christmas miracle, with a full-service ice skating rink, s'more stations, a trolley ride throughout the bright lights, and enough holiday spirit for entire country. 
Visiting another time of year?  Don't fret – the Princess boasts seasonal experiences all year long.  With a Memorial Day Weekend Kick-Off and huge 4th of July party dubbed 'Freedom Fest', summer is a fantastic time to visit.  Spring sees celebrations for Spring Break, Spring Training, Mother's Day, and Easter, while Fall sees a Halloween bash and Thanksgiving fun.
As I mentioned above, the Well & Being Spa (thankfully located at the Princess), was a fine way to spend an afternoon. Those waterfalls were absolutely divine and a nice retreat from our very hectic schedule (we wanted to see and do it all!)
Don't miss La Hacienda if you're looking for a very memorable meal. Snake bite flight and flaming coffees, anyone?
With six sparkling pools (we almost jumped in in 55 degree weather!), and two newly renovated 18-hole championship golf courses, Scottsdale Princess is truly an experience like no other. An upscale resort with all the bells and whistles -and the cutest golden retrievers on campus! I still miss those wagging tags at reception everyday. We could have easily spent another few weeks in this ultimate desert oasis.
Read reviews of the Fairmont Princess and check prices here.
How to Get Around: A Long Weekend in Scottsdale
No doubt you'll need a rental car in order to get around easily in Scottsdale. Unfortunately, Scottsdale really lacks in the public transportation department. Sure, there is a Metro Bus system and a free trolley service, but other than that, a car is kind of necessary if you want to properly explore.
Thankfully, we tested out the brand spankin' new 2016 Kia Optima SX Turbo which we gleefully drove around town all week.   So sleek, so modern, and so ridiculously innovative.   #drivekia 🙂
And this car did not disappoint! With it's seat warmers (and coolers), push-button ignition, and super comfy interior, we were giddy every time sitting down to drive.
Who puts butt coolers in a car?! Seriously! Get outta town! Don't tell me I'm the last to know about this creative invention. We tested them out just for fun too many times to count, and squealed with joy every time the temperature changed. I have a child-like spirit, what can I say? 🙂 Definitely needed in the Arizona heat.
Thankfully, we were picked up for the hot air balloon ride and the Pink Jeep Tour from our hotels (Fairmont Scottsdale Princess and Hotel Valley Ho), as it was nice to let someone else do the driving for a bit.
Promise me you won't forget about Phoenix's little sister in the Southwest! And bring some of your girlfriends for an unforgettable girls' weekend in Scottsdale!
I was hosted by the Scottsdale CVB for the perfect long weekend in Scottsdale, but as always, all opinions are my own.