Looking for information on the salt flats in Death Valley?! This post will answer all your questions and more about the lowest point in America: Badwater Basin!
Imagine walking out to a bed of geometric-shaped salt flats as far as the eye can see. Crisp, white, and picturesque! Yup, that's Badwater Basin, the lowest point in the United States (and North America!) at 282 feet below sea level!
When you really think about it, visiting the salt flats in Death Valley is truly an otherworldly experience. Essentially, you're walking on a HUGE desolate carpet full of table salt — with enormous mountains all around you!
And interestingly enough, Mount Whitney is not too far away, and she gets the opposite award — being the highest point in the contiguous 48 United States! The area really is a land of superlatives! Don't miss it on your Death Valley itinerary!
As soon as I saw a photo of the salt flats in Death Valley (years ago), I knew I needed to get myself to Badwater Basin sooner than later. I mean, it's been on my California bucket list for as long as I can remember! I later learned it's one of the most popular things to do in Death Valley, so I was hooked. Geometric salt flats in the scorching desert?! Sign me up!
After visiting, we decided they resembled the Bonneville Salt Flats quite a bit, which we visited when driving cross country from New York to San Francisco. But far more interesting and with lots more historical significance!
Don't miss this iconic stop on any trip to Death Valley! There's not many other salt flats like it in the world!
What is Badwater Basin?
Badwater Basin is a HUGE area of salt flats in Death Valley! And when I say huge, I mean HUGE huge (at ~5 miles wide and ~8 miles long). They've been formed by water coming into the basin (by rain), and then drying up super quickly due to the insane heat.
Essentially, the salt flats of Badwater Basin are just leftover salt from evaporated water. When heavy storms occur (and they do!), the water forms temporary lakes, which then evaporate! This has happened for thousands (upon thousands) of years, creating this spectacular scene for us all to enjoy!
How Badwater got its name: Back in the day, a surveyor mapping the park couldn't get his mule to drink from the natural spring. He wrote on his map that the pool had "bad water", and well, the name stuck!
Yup, there's actually water out here in the middle of the desert! Badwater Pool (which you can see from the boardwalk — more below), isn't poisonous, just exceptionally salty.
And a few tiny creatures live in it, including the pickleweed, aquatic insects, larvae, and even the Badwater snail! Because of this, do your part and only view the pool from the boardwalk. We saw a few people get closer, ack!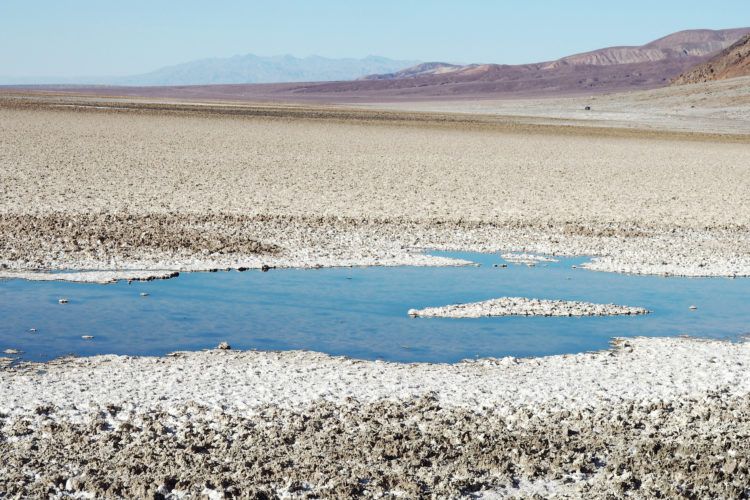 And get this — the pool is constantly evaporating! Meaning the water level changes depending on the season. And even more impressive, is that Badwater Basin see's the fastest rate of evaporation in the nation (due to its low sea level and high heat levels). So sometimes, there'll be no pool at all; all you'll be able to see is the salty crust.
How to get to the Badwater Basin Salt Flats
The salt flats in Death Valley are located in the south end of the national park, along Badwater Road. They're about 20 minutes south of Furnace Creek (the main park hub), so definitely don't miss them!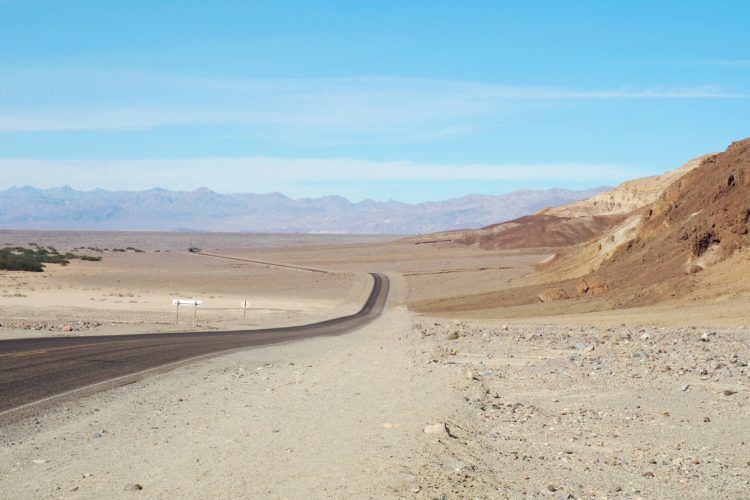 And if you're staying in Furnace Creek (where most hotels and restaurants are), you'll be driving along this road to get to other park attractions anyways. Along the way you'll pass by Golden Canyon, Artist's Drive and Palette, Devil's Golf Course, and a whole lotta open road!
Psst: Badwater Basin is kinda hard to miss. There's only one main road through the park, with a bunch of signs showing the direction to the salt flats.
There's a decent-sized (free) parking lot with small pit toilets if you need them.
When to Visit the salt flats in Death Valley
Honestly, anytime between late October and early March will do. The entire park heats up drastically come mid-late March, with April seeing low-mid 90s°F! Yes, summer comes way early in Death Valley. You won't wanna stay very long if you visit in summer — those scorching intense temps will drain you real quick!
Since the salt flats in Death Valley are ~5 miles wide of flat ground without any vegetation, you'll get zero shade cover. ZERO! Meaning heat strokes are a big cause for concern.
The National Park Service actually doesn't recommend being outside of an air conditioned vehicle for longer than 15 minutes. That should give you a glimpse as to how hot it gets in the summer. I'm dripping with sweat just thinking about it.
For less crowds, always visit mid-week. As most (free) places, weekends will be far busier. 🙂 However, there's lots and lots of space, so don't worry about overcrowding on the salt flats themselves (the boardwalk and parking lot may be a whole other story).
As far as time of day, we visited in the early afternoon, and found it comfortable in mid-November. Sunrise and sunset are popular times to visit for less intense lighting (golden hour!) and cooler temperatures.
Visiting the Salt Flats in Death Valley
When you arrive, I first suggest reading the informative signs on the boardwalk, checking out the Badwater Pool, and looking back towards the mountain to see the small "Sea Level" sign. It's pretty wild to realize just how far below sea level you actually are!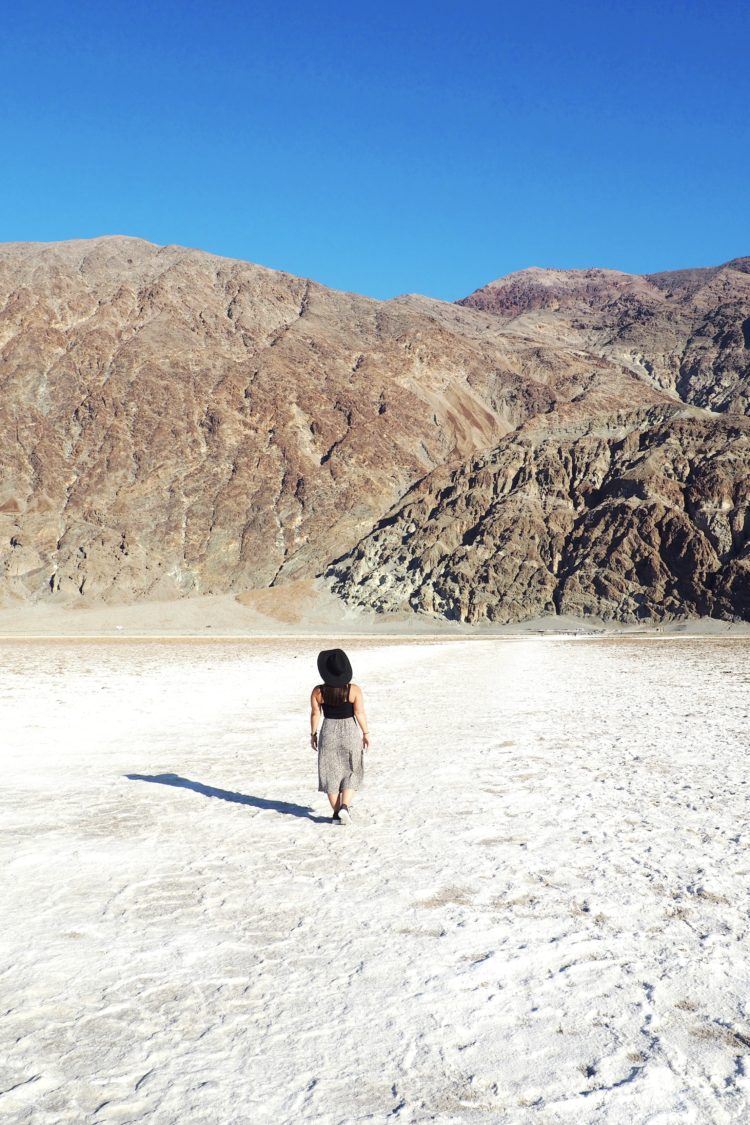 Next, make your way down the boardwalk onto the salt flats themselves! Nope, that's not snow you're seeing! The salt flats start right from the parking area, but you'll need to walk pretty far out to get those iconic, picturesque views you see online.
No matter how long/short your walk is, make sure to look closely at the salt formations in detail — they're pretty wild! You can actually see the individual crystals (!!!); these are formed with rain and then evaporation, leaving the salt behind.
Since the salt flats in Death Valley go on and on and on (for roughly 5 miles or so!), you can walk out in any direction as far as you like. Most visitors don't walk all the way, but the longer you walk, the more rewarded you'll be!
Unfortunately, we didn't actually make it to the crisp, white geometric salt formations. That was poor planning on my part (I guess I desperately needed a guide on the salt flats in Death Valley like this one)! I honestly didn't realize just far you had to walk.
We walked about 30 minutes or so, but we stopped every few minutes for photos. If I had to do it again, I'd walk all the way until those super picturesque polygons, then take my other photos on the way back.
I later learned you need to walk at least 1-2 miles to reach the actual salt hexagons you see in photos. And this is obvious, but 110% NOT recommended in the heat of summer.
Photographing the Salt Flats (Tips and Ideas)
Bring props to try out those perspective shots — anything will do, from a can of soda to a hat. Instagram is a great source of inspiration. I'll definitely be doing this next time!
Try out all different angles; shoot from eye level, ground level, above, etc
Use a macro lens to photograph individual salt crystals and get up close up and personal with the salt
Visit right after it rains to get that fascinating mirror-like reflection you commonly see at the salt flats in Bolivia
If you're looking for a unique aerial view of the salt flats in Death Valley, head up to Dante's View! We loved this spot — just bring a jacket, it gets windy up there!
What to Bring to Badwater Basin
No matter when you're visiting the salt flats in Death Valley, you'll wanna bring along water, and lots of it! Especially if you're visiting in the hot summer months (April – October).
Since there's zero shade out here, you'll also want to slather on that sunscreen and possibly even use an umbrella for sun protection. A wide-brimmed hat never hurts, either!
Wear loose, airy clothing (nothing skin-tight or you'll be sweating like crazy), and comfortable shoes with good traction.
Things to do nearby the salt flats
Since you're already in the area, may as well check off a few things on your Death Valley itinerary. Recommendations here:
Artists Drive and Palette: Make the short 9-mile loop drive past natural pastel colors on the canyons (everything from blue and purple and green). It's a geologist's true paradise with it's multi-colored mineral rocks and canyons!
Natural Bridge Trail: Looking for a short hike? Head to the Natural Bridge, with mud drippings on the canyon wall, a vertical chute, and large boulders lodged within.
Devil's Golf Course: This area of Death Valley definitely looks the most hellish — there's jagged spires, large stalagmites, and spiky mounds covering the ground. Be extra careful walking around here – the ground is super sharp!
Sidewinder Canyon: Pretty desolate and remote, so don't forget your water! You get a great view of the valley once you reach the top, and there's unique light and photo opps for those not scared to do some hiking without much trail guidance.
Hope this helps you plan out your visit to the salt flats in Death Valley! Let me know if you have any further questions. 🙂 Have you visited Badwater Basin, the lowest point in the USA, before?!
Looking for more California content? Explore my other California guides here!
Did you know that …
When you purchase something through our links, we earn a small fee (but you still pay the same)! Win-win! If you found this article useful, consider using the links within the article or below. Thanks for your support!